Introducing the most perfect and easy Creamy Mashed Potatoes recipe I have ever made! So creamy, fluffy and buttery and the added parmesan and seasonings give the potatoes the most amazing flavour!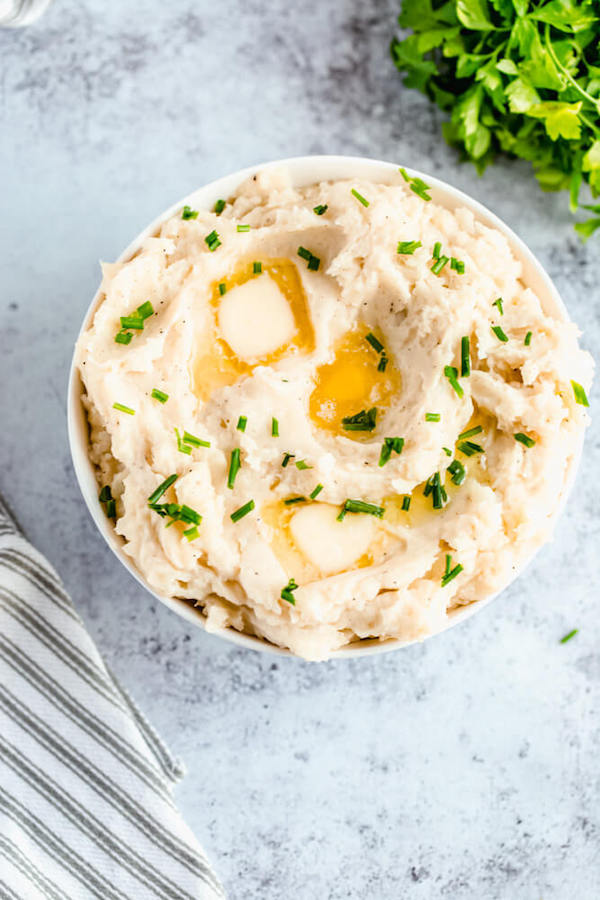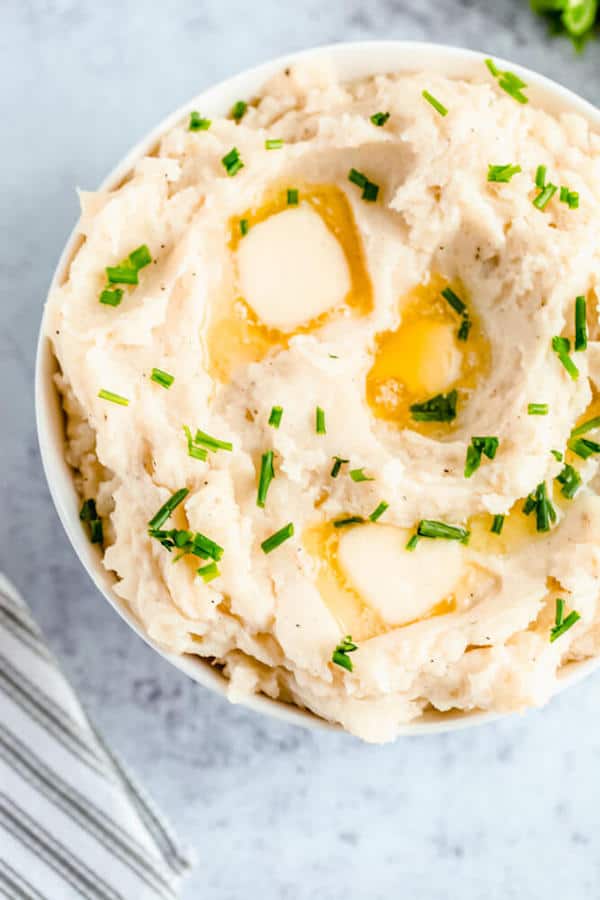 This post may contain affiliate links. As an Amazon Associate I earn from qualifying purchases. Please see my full disclosure policy for details.
Another Thanksgiving recipe for you today! I shared this Cranberry Sauce yesterday, and today I'm sharing my favourite recipe for mashed potatoes! Thanksgiving is already long gone in Canada, so I've pretty much been having my own personal Thanksgiving with all the dishes I've made for the holiday to share with you.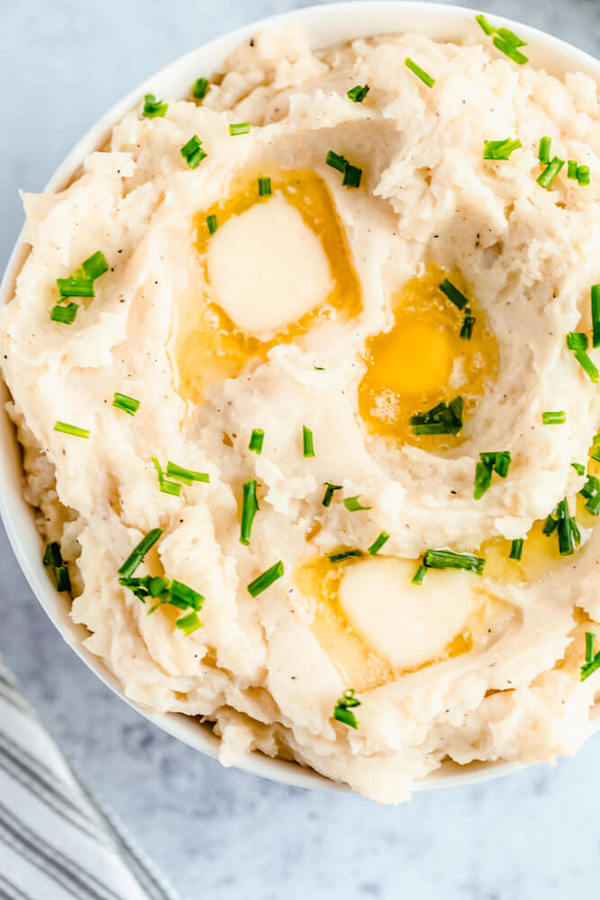 Easy & Creamy Mashed Potatoes
If you're looking for a creamy and fluffy mashed potato recipe that's super easy to make and full of amazing flavour, then search no further! I'm pretty particular about what makes the perfect mashed potatoes: buttery, creamy, VERY fluffy and seasoned to perfection.
I've had my fair share of mashes potatoes throughout my life, yet none of them have achieved all three of those qualities. They were either bland, too chunky, too thin, too firm etc. So after being disappointed by mashed potatoes for so many years, I've finally decided to make my own!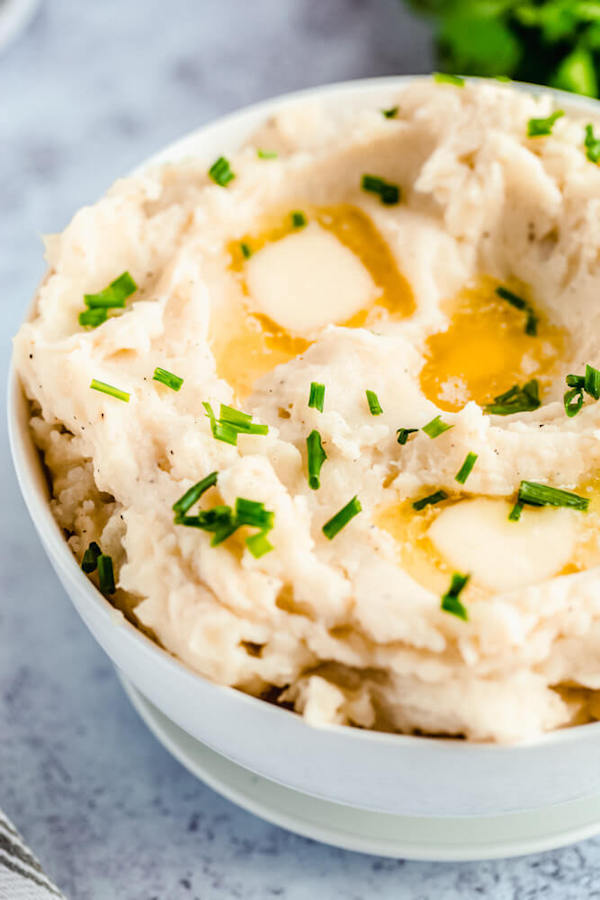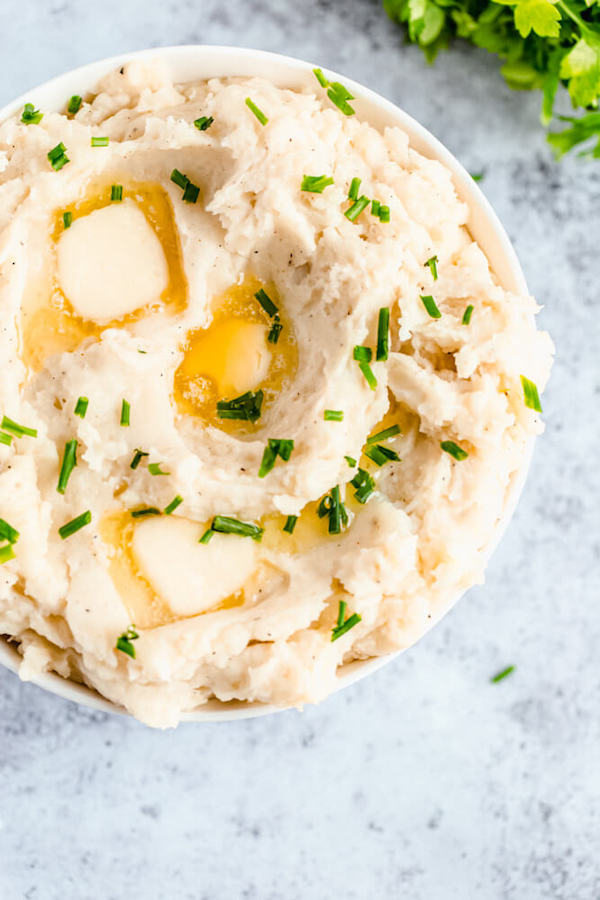 What to Love About This Mashed Potatoes Recipe
There's a few reasons why I, and everyone who's tasted these mashed potatoes, say that it's the best they've ever had. After interrogating everyone who ate the mashed potatoes to tell me what they think of them in a few words or less, here's how they described them:
Super creamy and fluffy
Cheesy, but not overpoweringly cheesy
Very light, not too chunky

Extra seasonings take the potatoes to the next level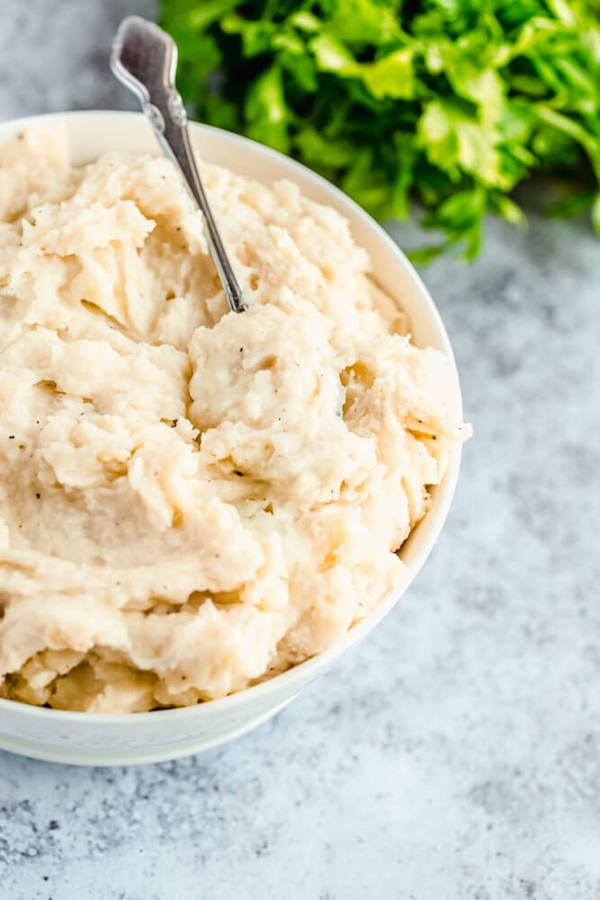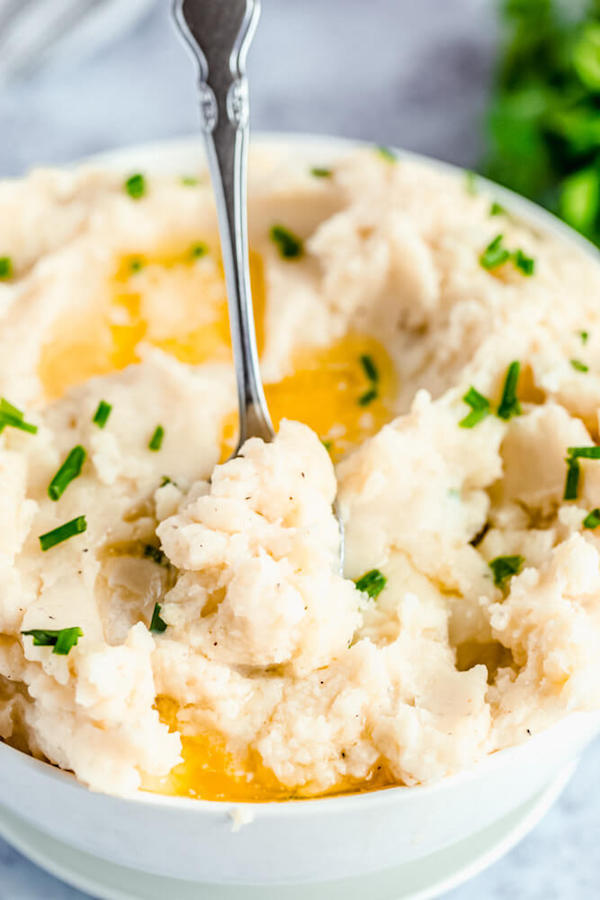 That's what the consumers love about this recipe, but here's what YOU, the person making it, will love about it:
Only 9 easy ingredients are needed (excluding the optional garnish)
After boiling the potatoes, it'll only take about 5-6 minutes for you to put everything together

Seasonings can easily be adjusted to your liking
Only a potato masher and a whisk are needed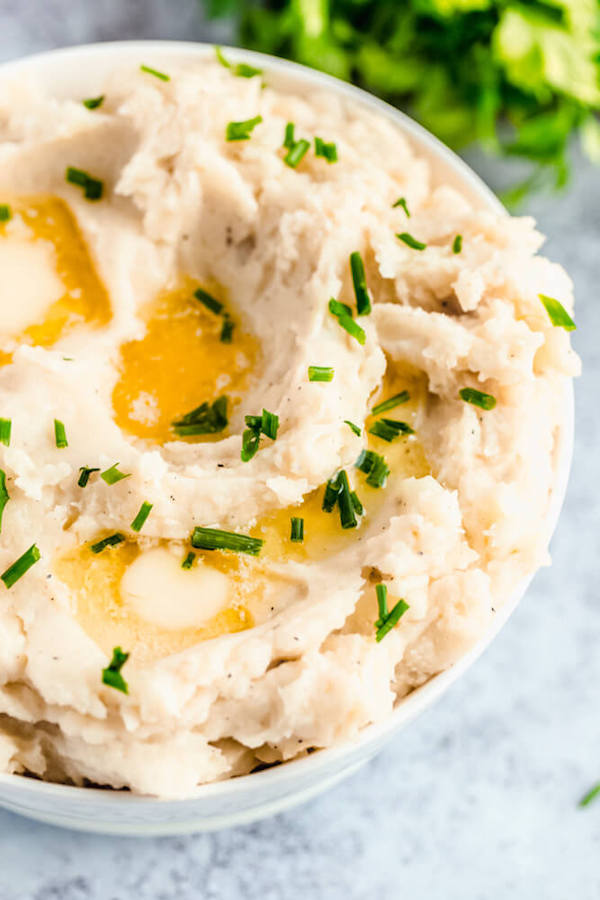 Mashed Potatoes Ingredients
9 ingredients may seem like much, but they're simple ingredients, most of which you probably have already.
Potatoes: 4 pounds is enough to make 6-8 servings, depending on the size of the portions.

Salt: add a tablespoon to the water to add flavour to the potatoes.

Butter: Instead of adding extra salt to the mashed potatoes, I used salted butter. Get the butter sticks, it makes cutting the butter into pieces so much easier!

Heavy Whipping Cream: the KEY to the ultimate creamy and fluffy texture in the mashed potatoes!
Parmesan: I added a cup to give the potatoes a subtle cheesy flavour, but you can totally add more if you want super cheesy mashed potatoes! You can also substitute with white cheddar.

Onion powder, garlic powder, cayenne pepper, black pepper: salt and pepper really isn't enough seasoning for me, so I spruced things up a bit and added some onion powder and garlic powder along with a bit of cayenne to give it a kick!

Optional Garnish: Fresh chopped chives or parsley isn't necessary, but it would make a beautiful garnish if you're serving it on Thanksgiving!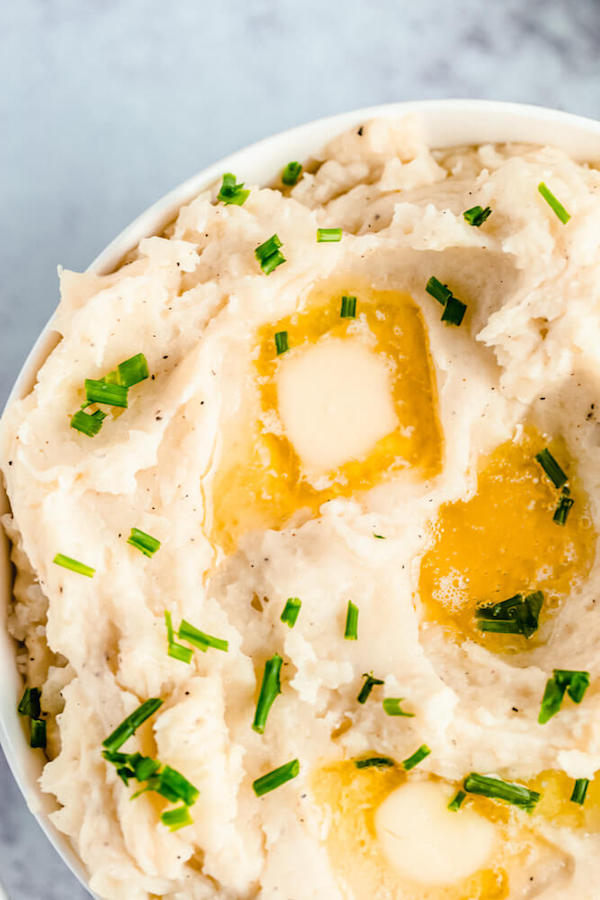 What Kind of Potatoes Should I Use?
For the best mashed potatoes, Russet or Yukon potatoes are the way to go. They're both high in starch and low in moisture, which makes them easier to mash and absorb the cream and butter.
I recommend using potatoes that are close to the same size. Peel the potatoes, then cut them in even halves, then cut those halves into even halves so each potato makes 4 quarters.
If you have a mixture of big and small potatoes, then only cut the small potatoes in halves instead of quarters. Equal sized pieces = even cooking. If you had a mixture of small and large pieces, the small pieces would cook quicker, while the larger pieces would need more time, which would cause the smaller pieces to overcook.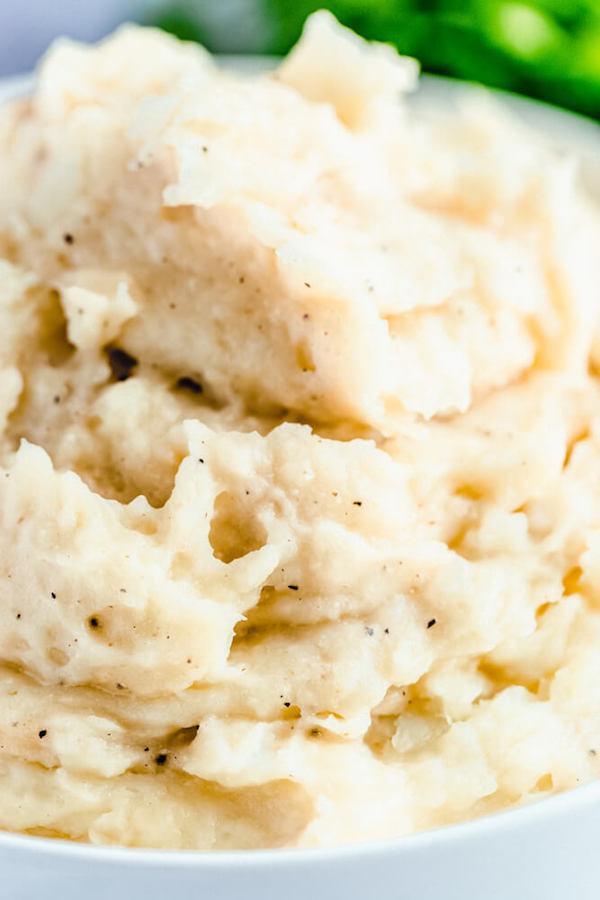 How to Make Perfect Mashed Potatoes
After rinsing the potatoes, pour them into a pot of cold water and salt the water. Turn the stove on to high and bring to a boil, then lower it to medium so it decreases to a gentle simmer. Cook the potatoes until they're perfectly tender. Test by sticking a knife into a piece of potato, and if it slides in and out easily, then the potatoes are ready.
Drain the potatoes, then pour back into the pot. If the potatoes start to collapse on themselves, they are the perfect level of tenderness! Turn the heat back to medium-low and begin mashing the potatoes with a wire masher.
Begin adding the butter, a few pieces at a time, mashing it into the potatoes. Once all the butter has been added, pour in the heavy cream slowly while whisking until it's combined and fluffy!
Add the parmesan and whisk until it's blended into the potatoes. Now mix in the seasonings. I added the measurements I used, but you can taste and adjust the seasonings to your liking, keep some out, use other seasonings — feel free to make it your own!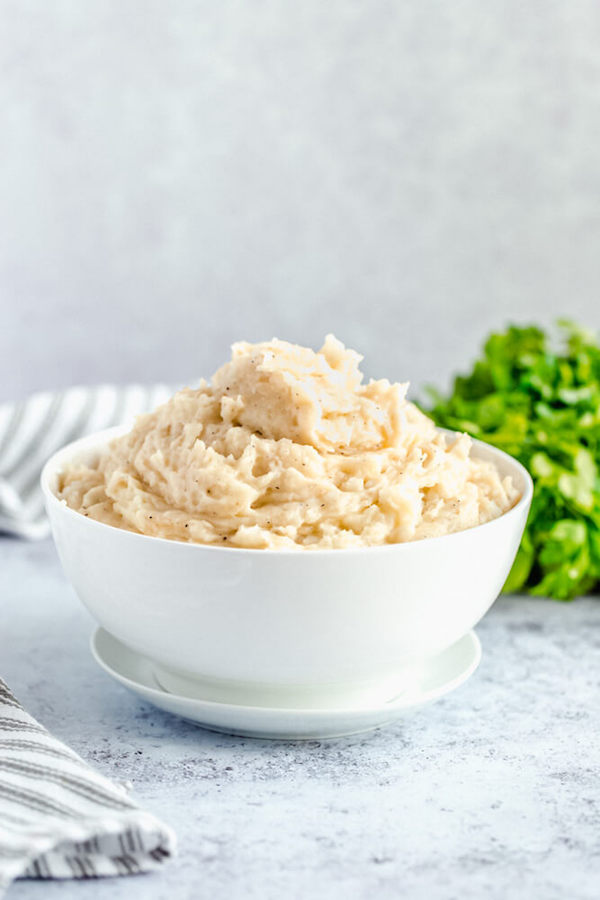 Serve with chopped chives, melted butter, and gravy (recipe coming soon)! These easy and delicious mashed potatoes will surely impress all of your guests!
And So Will These Other Side Dishes:
Homemade Garlic Butter Breadsticks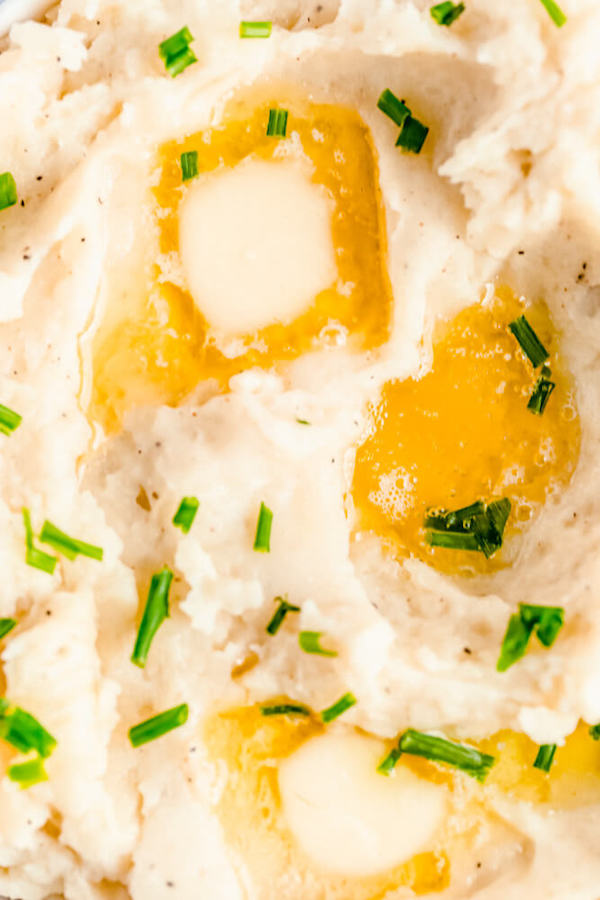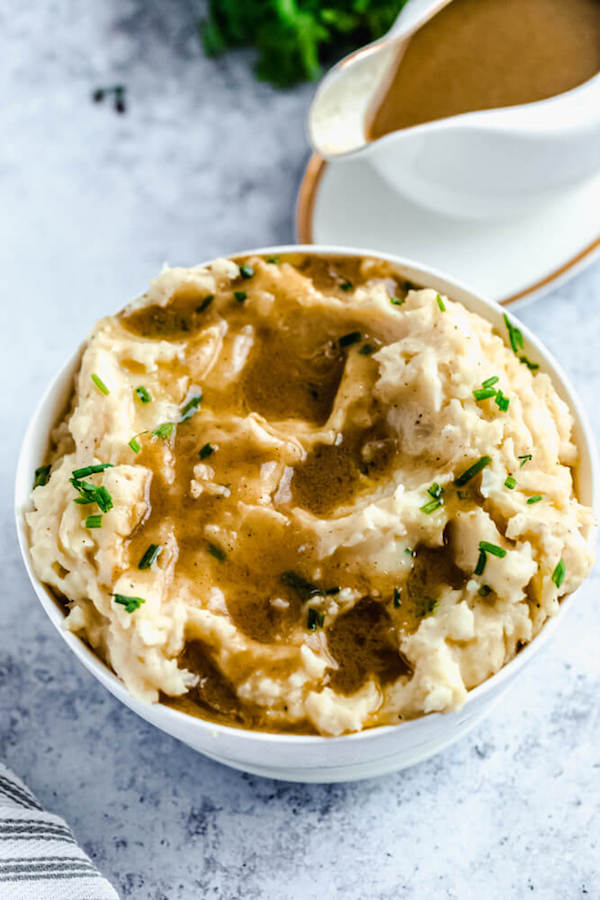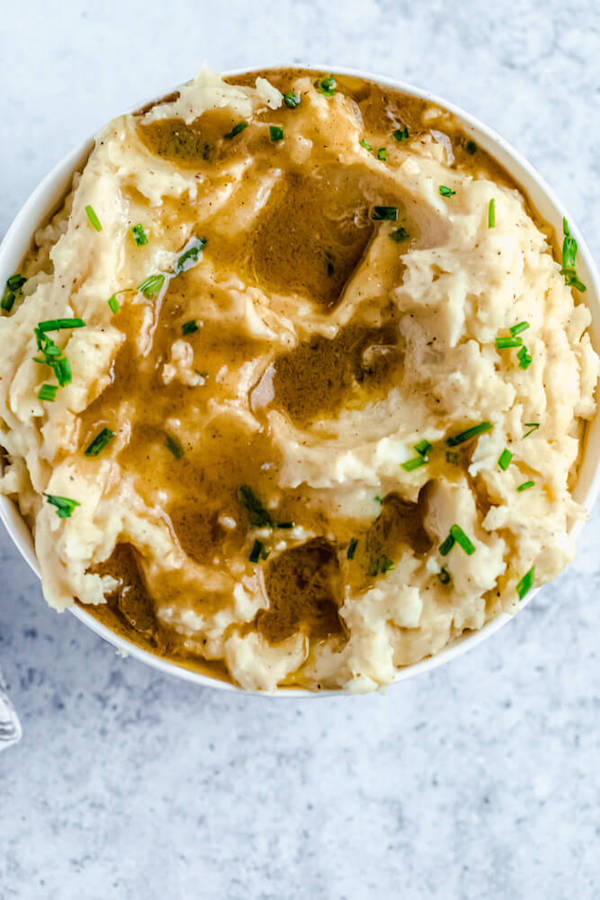 Did you make these Creamy Mashed Potatoes? Let me know how they turned out in the comments below! And don't forget to leave a rating!
>>PIN THIS FOR LATER<<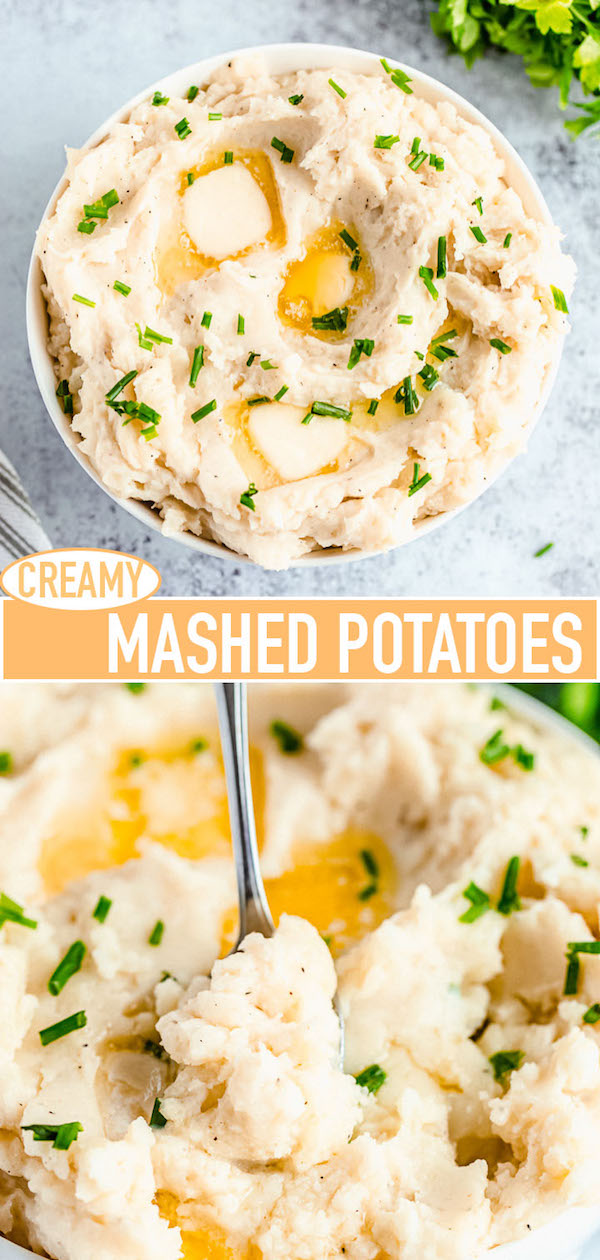 FOLLOW QUEENSLEE APPÉTIT
Like what you see? Make sure you're following Queenslee Appétit for more tasty recipes!
Pinterest | Instagram | Facebook | Twitter |
Have any questions about the recipe? Contact me here, and I'll be happy to help!
SHARE YOUR PICS!
Tag me on Instagram @queensleeappetit or use the hashtag #queensleeappetit so I could see your gorgeous creations!
Let's get mashing!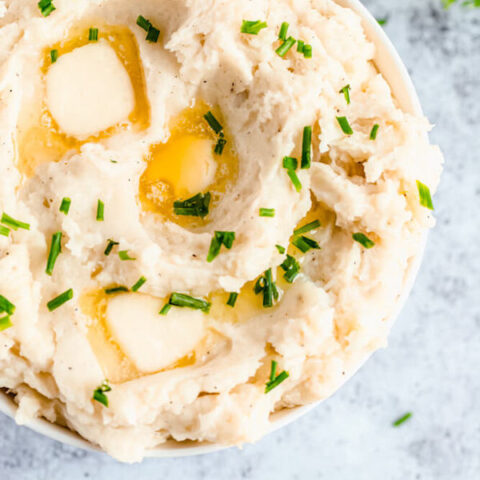 Creamy Mashed Potatoes
Introducing the most perfect and easy Creamy Mashed Potatoes recipe I have ever made! So creamy, fluffy and buttery and the added parmesan and seasonings give the potatoes the most amazing flavour!
Ingredients
4 pounds Russet or Yukon Gold potatoes (try using potatoes that are all the same size)
1 and ½ tablespoon salt
¾ cup salted butter, room temperature
1 cup heavy whipping cream, room temperature
1 cup freshly grated Parmesan cheese
1 teaspoon onion powder
1 teaspoon garlic powder
¼ teaspoon cayenne pepper (optional)
½ teaspoon Freshly ground black pepper, to taste
Fresh parsley or chives, chopped to garnish (optional)
Instructions
Fill a large bowl with cold water. Set aside.
Peel the potatoes. There's no need to wash them yet.
Once peeled, cut the potatoes into 2 equal halves, then cut those halves in half so you end up with 4 quarter pieces. Place them into the cold water and repeat with remaining potatoes.
Note: If you end up with different sized potatoes (some large, some small) only cut the smaller ones in half once because one half of the smaller potato should be about the same size as a quarter of the larger potato pieces.
Rinse the potatoes thoroughly in the bowl of cold water, then drain and pour the potatoes into a large pot of cold water.
Add 1 and ½ tablespoons of salt to the water, then place the pot on the stove and turn the heat to high.
Once the water begins to boil, lower the heat to medium and continue to boil until the potatoes are perfectly tender.
Test the tenderness of the potatoes by scooping out a large piece with a spoon, then inserting a small knife or fork. If it slips in easily and the potato slides off, it's ready for mashing. My potatoes took about 30 minutes, but it may take less or more time for you, depending on the size of your potatoes. So keep checking. You don't want to overcook them.
Drain the potatoes very well, you don't want any water to be in the pot.
Pour the drained potatoes back into the pot and turn the stove to medium-low (this helps the butter melt and blend into the potatoes). Using a wire potato masher, mash the potatoes a few times.
Add a few pieces of the room temperature butter and continue to mash, adding more butter pieces a bit at a time, until all the butter is mostly incorporated.
Slowly pour in the cream while whisking. It may be tough at first while the potatoes are still thick, but once the cream is added, the potatoes will lighten up making them easier to whip.
Add the parmesan and whisk until combined. Add all the seasonings and whisk to combine.
Taste the potatoes and adjust the seasonings to your liking. Since we used salted butter, you won't need to add salt, but if you still want to add some, feel free.
Spoon mashed potatoes into a serving bowl and garnish with chopped fresh chives or parsley. Serve with extra pieces of butter, if desired. Enjoy!
Recommended Products
As an Amazon Associate and member of other affiliate programs, I earn from qualifying purchases.
Nutrition Information:
Yield:

8
Serving Size:

1
Amount Per Serving:
Calories:

520
Total Fat:

32g
Saturated Fat:

20g
Trans Fat:

1g
Unsaturated Fat:

10g
Cholesterol:

90mg
Sodium:

830mg
Carbohydrates:

51g
Fiber:

5g
Sugar:

4g
Protein:

10g
BON APPÉTIT!
Love, Dedra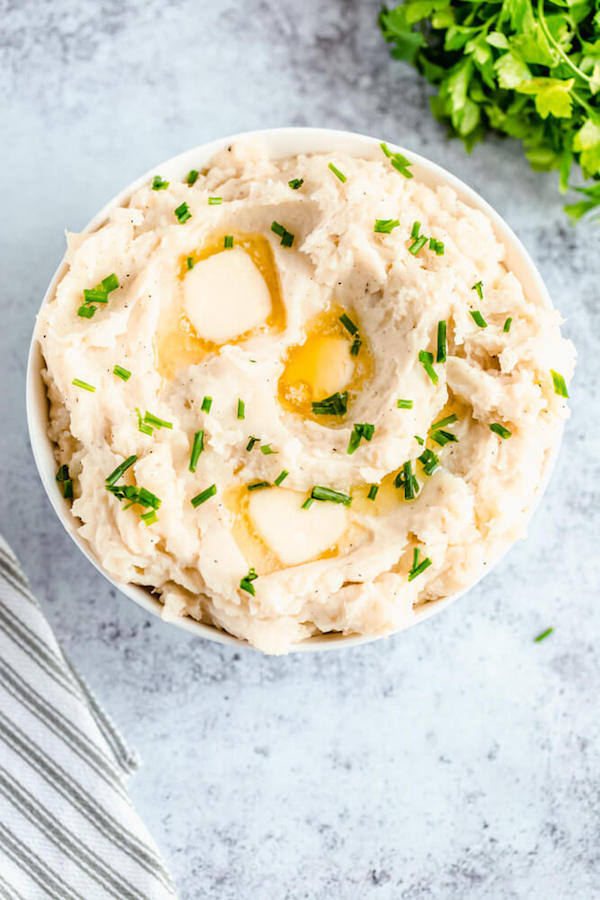 ©QUEENSLEE APPÉTIT. All images & content are copyright protected. Please do not use my images without prior permission. If you want to republish this recipe, please re-write the recipe in your own words, or link back to this post for the recipe.