Soft and chewy peanut butter cookies filled with peanut butter frosting and strawberry jam. These Peanut Butter and Jelly Cookie Sandwiches are a sweet and amazing twist to the classic childhood favourite!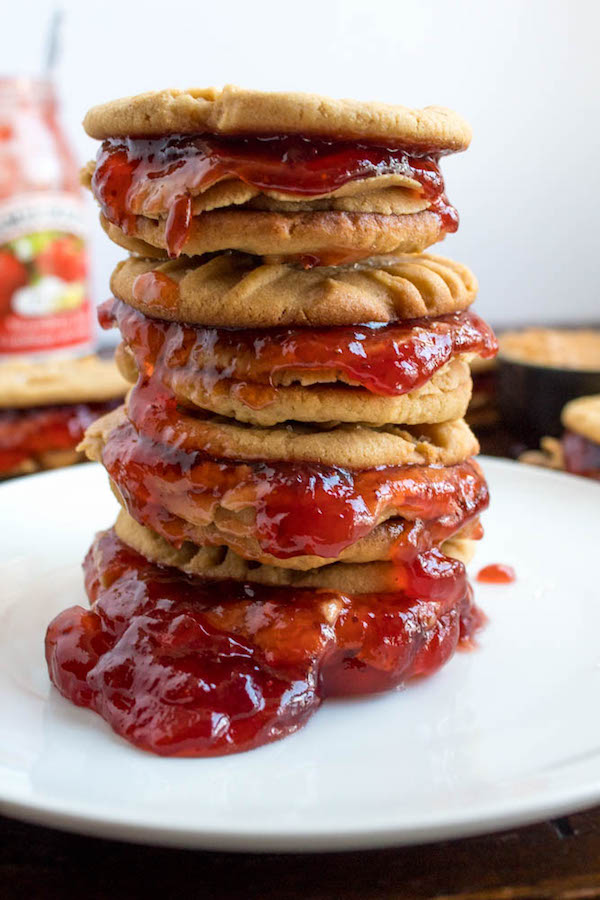 I'll admit, I've only had a peanut butter and jelly sandwich once in my entire life *GASP* I know, it's insane. I've just never been a PB&J kinda gal growing up, but these cookies have opened my eyes.
After making these cookies, I decided to spread these 2 lovebirds on some bread and it was surprisingly tasty. They still taste better in cookies, in my opinion, but I can definitely see why it's a childhood favourite.
These peanut butter and jelly cookie sandwiches are an upgrade of your regular old PB&J sandwiches. I mean, I think we can all agree that cookies are a better snack than sandwiches.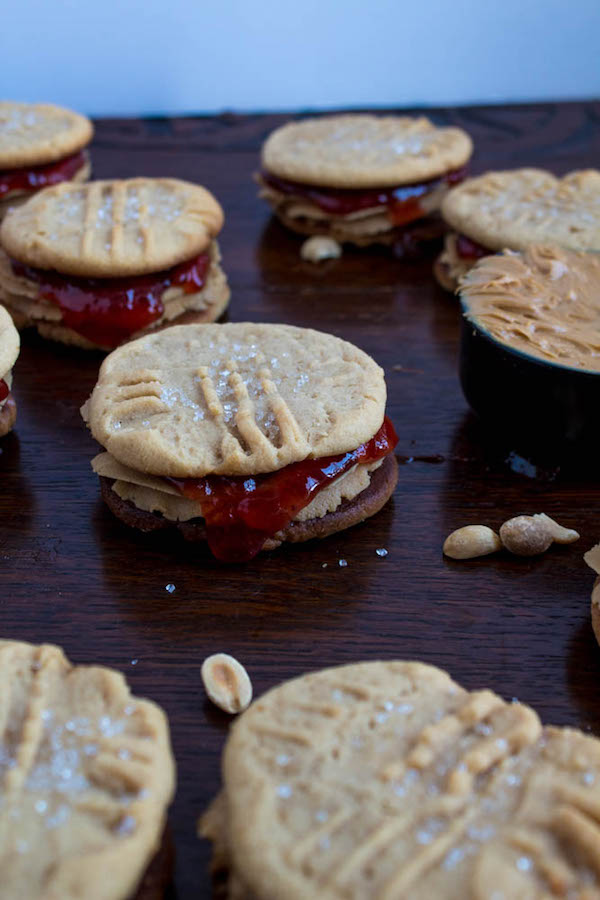 The peanut butter cookies have chewy edges and an incredibly soft centre that will melt in your mouth. I have to resist eating them one by one because of my plans to turn them into something even more delicious! Then again, this recipe yields about 48 peanut butter cookies, so you could get away with snacking on a few.
I adapted my Salted Caramel Chocolate Chip Cookies recipe, and added peanut butter and removed the chocolate chips, gooey caramel stuffing and all of that fancy schmancy stuff. The peanut butter is the main focus in these cookies.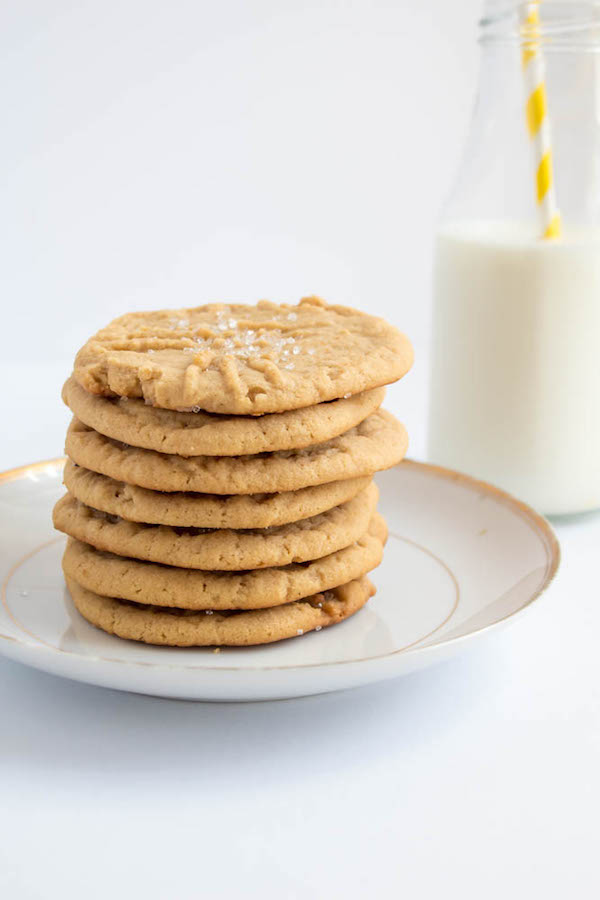 Peanut butter cookies are traditionally crunchy, but I recommend baking them soft. Crunchy cookies just won't work in this recipe. The softness of the cookie needs to blend perfectly with the smooth peanut butter and jelly filling.
I also recommend you use creamy peanut butter. Do not substitute for natural or crunchy etc. This goes for the filling too. The texture of the peanut butter will have a negative effect on the final product.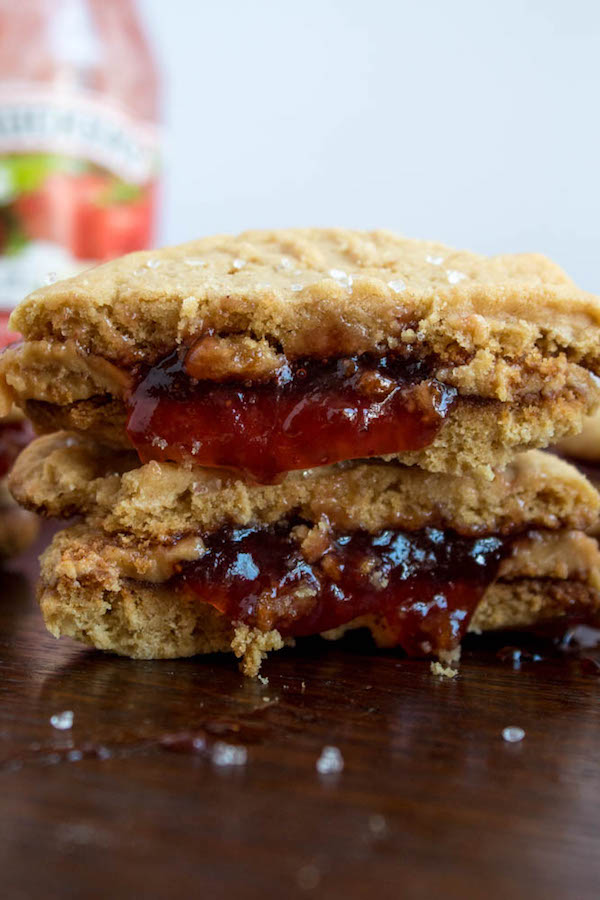 Lastly, you MUST chill the cookie dough for at least 3 hours. If you bake the cookies right away, they will spread too quickly and flatten. Chilling the dough will make the cookies thick and chewy rather than thin and crispy.
The forked criss cross pattern on top of the cookies are completely optional but I thought it made my cookies look prettier. You can also roll the cookies in granulated sugar after you roll them into a ball. I chose not to do this, instead, I sprinkled the tops with coarse white sugar like I did for my Lemon Meringue Sugar Cookie Sandwiches.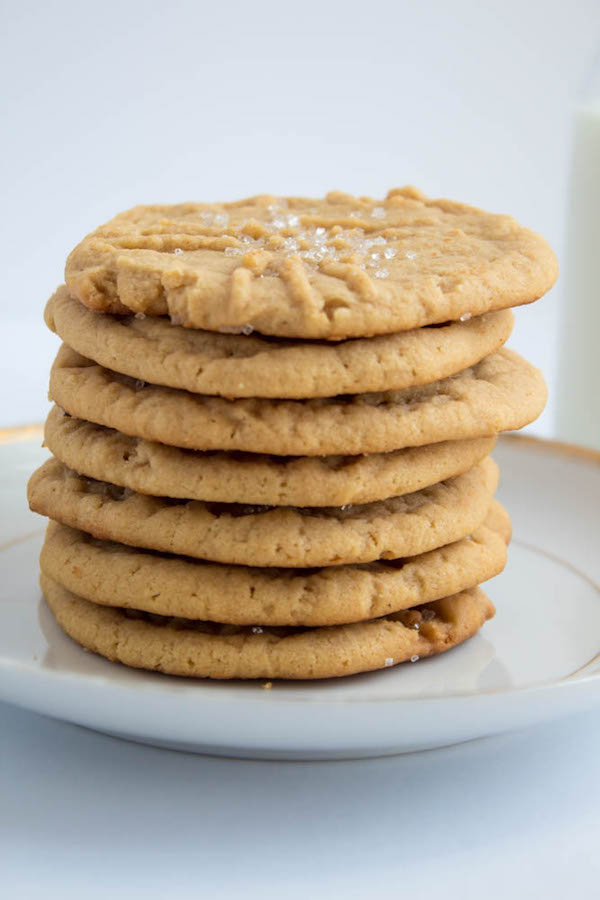 To fill these cookies, I made a fluffy, smooth and creamy peanut butter frosting. This frosting tastes like a sweeter and fluffier peanut butter, and it's incredibly easy to make. I then filled the centres with jam. I used strawberry jam, but you could use raspberry if you prefer.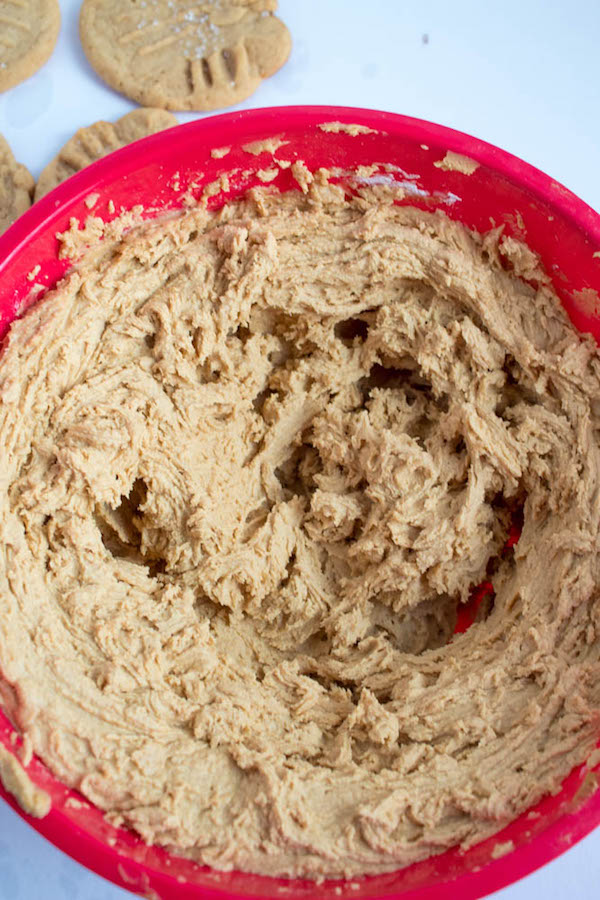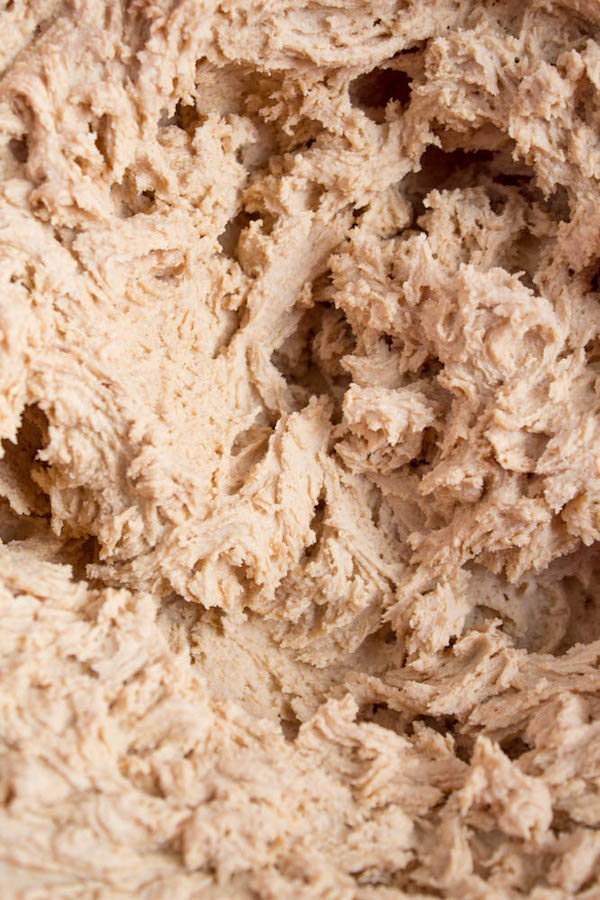 You could fill the cookies 1 of 3 ways--you can either pipe a ring of buttercream around the cookies and fill the centre with jam, or you could spread the peanut butter and jelly like you would on a classic PB&J sandwich. I just find the first method neater and prettier.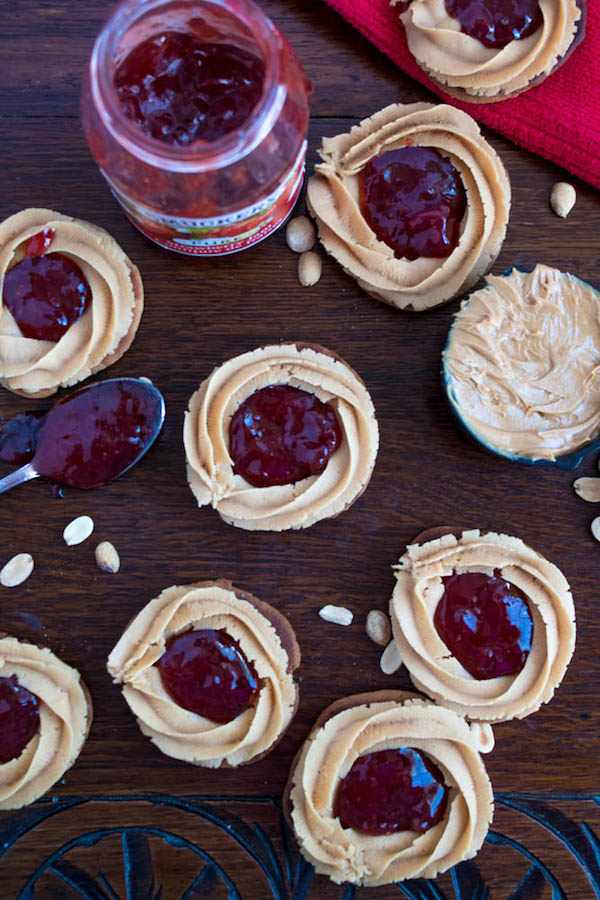 Enjoy!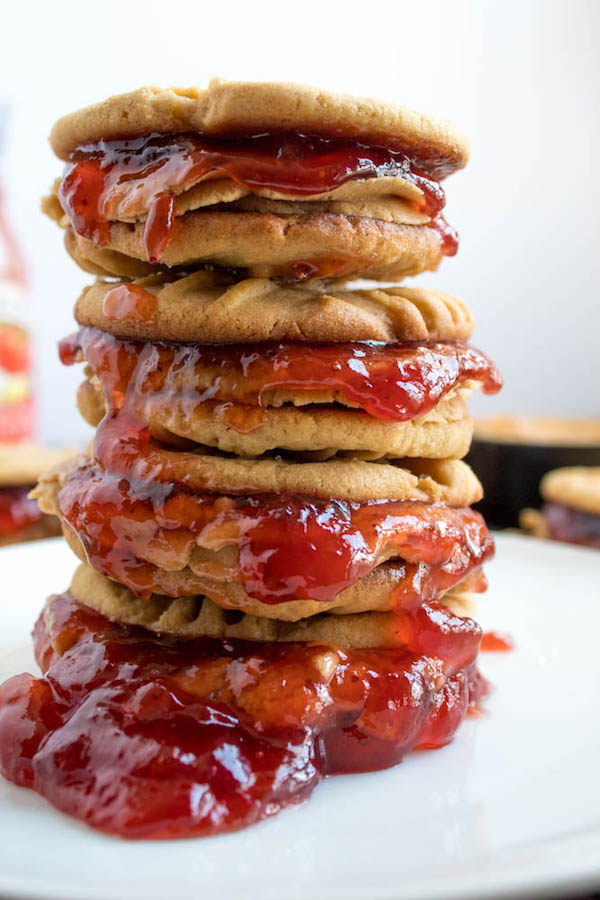 Did you make a recipe? I'd love to see how it turned out! Follow me on Instagram and use the hashtag #queensleeappetit so I can see all of the Queenslee Appétit recipes you've made!
Let's get baking!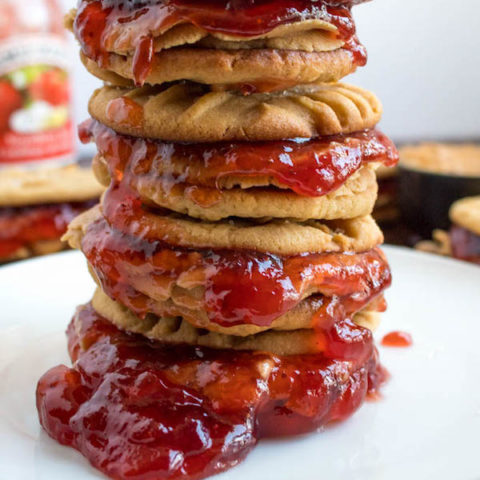 Peanut Butter and Jelly Cookie Sandwiches
Yield:
48 Peanut Butter Cookies, 24 cookie sandwiches
Inactive Time:
27 minutes
Soft and chewy peanut butter cookies filled with peanut butter frosting and strawberry jam. These Peanut Butter and Jelly Cookie Sandwiches are a sweet and amazing twist to the classic childhood favourite!
Ingredients
Peanut Butter Cookies:
1 cup (227g) unsalted butter, softened to room temperature
1 cup (250g) creamy peanut butter
1 and ½ cups (330g) light brown sugar, packed
½ cup (100g) granulated sugar
2 large eggs, room temperature
2 teaspoons pure vanilla extract
2 and ½ cups (320g) all purpose flour
1 and ½ teaspoons (9g) baking soda
½ teaspoon (3g) salt
Granulated or Coarse white sugar, for sprinkling (optional)
Peanut Butter Buttercream:
1 and ½ cups (375g) creamy peanut butter
½ cup (115g) unsalted butter, softened to room temperature
2 and ½ cups (400g) powdered sugar
1 and ½ teaspoon pure vanilla extract
2-3 tablespoon heavy cream or milk
2 jars seedless strawberry or raspberry jam
Instructions
For the Peanut Butter Cookies:
Line a baking sheet with parchment paper or a silpat mat. Set aside.
In the bowl of a stand mixer fitted with a paddle attachment, beat the butter, peanut butter and both sugars until light and fluffy, 3 minutes.
Add eggs one at a time and whisk until just combined. Add vanilla and mix until combined.
In a separate bowl, add flour, baking soda and salt. Whisk to combine.
Add dry ingredients to the stand mixer bowl and mix until incorporated.
Scoop out 2 tablespoons of dough and roll into a ball. Roll dough balls in granulated sugar, if desired.
Place on prepared baking sheet and use a fork to press a criss cross pattern into the cookies, if desired. Repeat with the rest of the dough. Make sure dough balls are a few inches apart so they have space to spread.
Cover the baking sheet with plastic wrap and chill in the refrigerator for 3 hours or overnight.
Preheat oven to 350F. Remove cookies from refrigerator and bake in preheated oven for 7-8 minutes, or until edges are set and the center of the cookies still look undercooked. Remove from oven and immediately sprinkle with coarse white sugar, if you wish.
Allow cookies to cool on baking sheet for 10 minutes, then transfer to a wire rack to cool completely.
For the Peanut Butter Buttercream:
In a large bowl using a hand mixer, beat the peanut butter and softened butter on medium speed until light and fluffy, 2-3 minutes.
Add powdered sugar and beat on low speed until combined. Add vanilla and 1 tablespoon of cream or milk and beat until combined. If the mixture is still too thick, add another tablespoon of cream and beat until you reach a smooth, spreadable consistency.
Assembly of the Peanut Butter and Jelly Cookie Sandwiches:
Transfer peanut butter frosting to a piping bag fitted with a large star tip.
Pair cookies together and pipe a ring of peanut butter frosting around edge of one cookie.
Fill the center with a dollop of jam and sandwich with another cookie. Enjoy!
Notes
Store cookies in an airtight container in the refrigerator for up to 3 days. Serve at room temperature.
Bon Appétit!
Love, Dedra ❤️

©All images & content are copyright protected. Please do not use my images without prior permission. If you want to republish this recipe, please re-write the recipe in your own words, or link back to this post for the recipe.