These Lemon Meringue S'mores Cupcakes are made with a graham crust, moist lemon cupcake, toasted marshmallow filling, lemon curd topping and a light and fluffy marshmallow meringue frosting!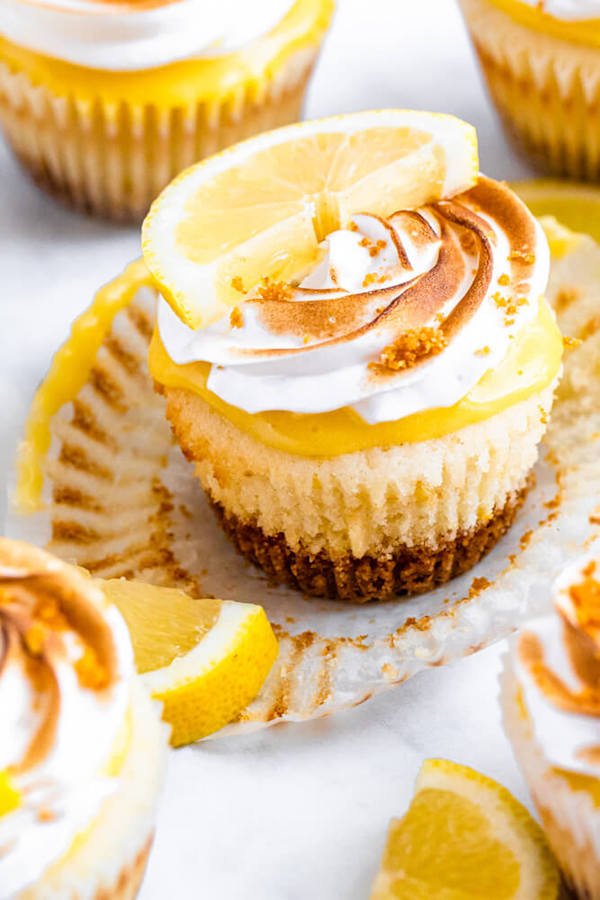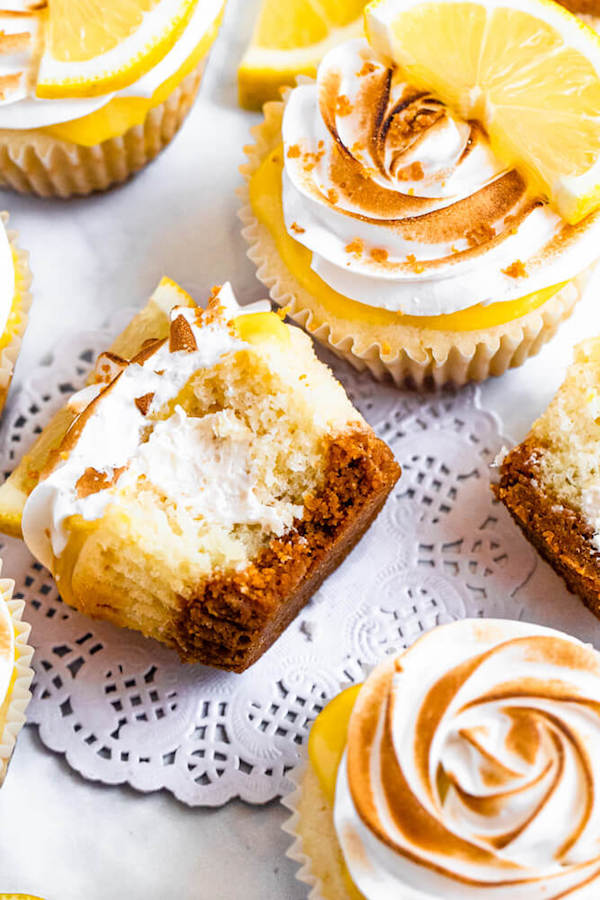 This post may contain affiliate links. Please see my full disclosure policy for details.
About a month ago, I made a huge batch of lemon curd because National Lemon Meringue Pie Day was coming up and I wanted to remake some of my lemon meringue flavoured desserts.
Once I finished making those cookies and that cheesecake, I noticed I still had a good amount of lemon curd left. So what do I do? Make ANOTHER lemon meringue dessert, but this time I switched it up a bit and made it S'mores flavoured too!!!
Lemon Meringue S'mores Cupcakes
These cupcakes were originally meant to just be lemon meringue cupcakes, but then the most random thought popped into my head. Since lemon meringue pies are made with a graham cracker crust and a marshmallow meringue topping, they're pretty much like s'mores without the chocolate, right?!
Then the gears started turning and after letting out a pretty loud audible gasp, earning me odd looks from the people around me, I came up with the idea to combine lemon meringue and s'mores into one delicious cupcake!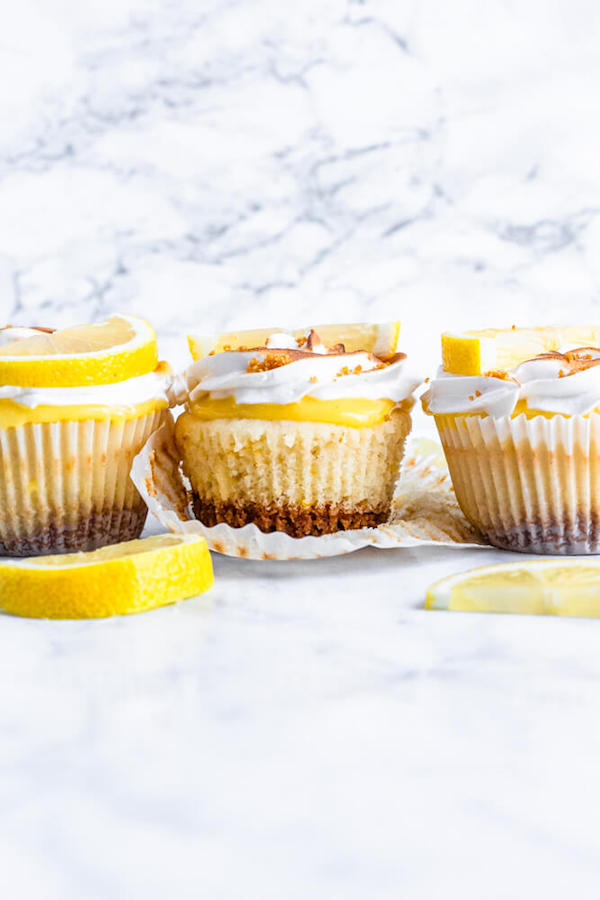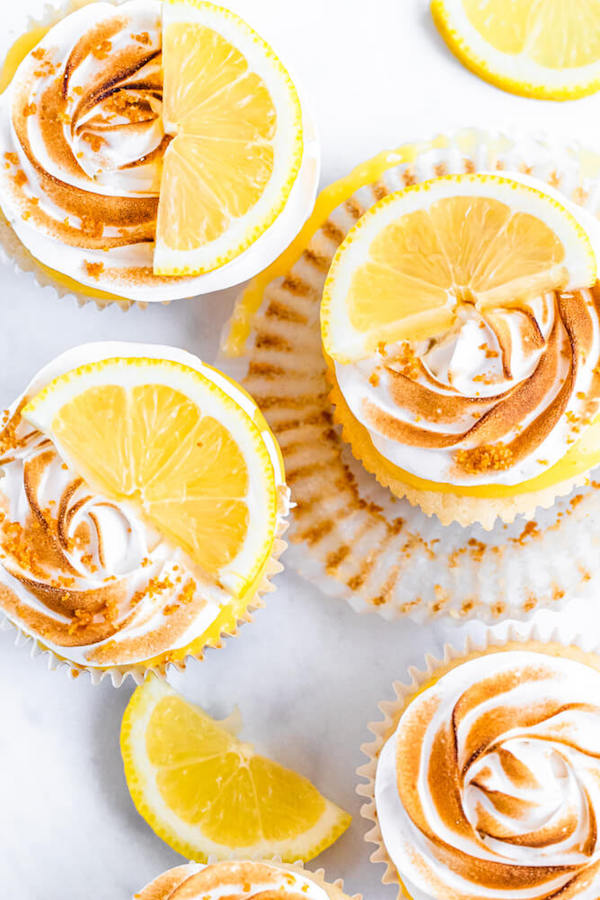 So what's in these lemon meringue s'mores cupcakes? Well, let's start with the base.
Graham Cracker Crust
One of the best parts of a lemon meringue pie, aside from the lemon and meringue, is the crust! It's also one of the best parts of these cupcakes. I used graham cracker crumbs because that's the go-to crust for the classic pie.
If you want to go for something different, you could use vanilla wafers (the round Nilla wafers, not those rectangular cream filled ones) which I normally would use because I adore those cookies.
Mix the cookie crumbs with some sugar and melted butter, then divide it between the cupcake liners and bake for a few minutes to set the crust. Now let's make the lemon cupcake batter!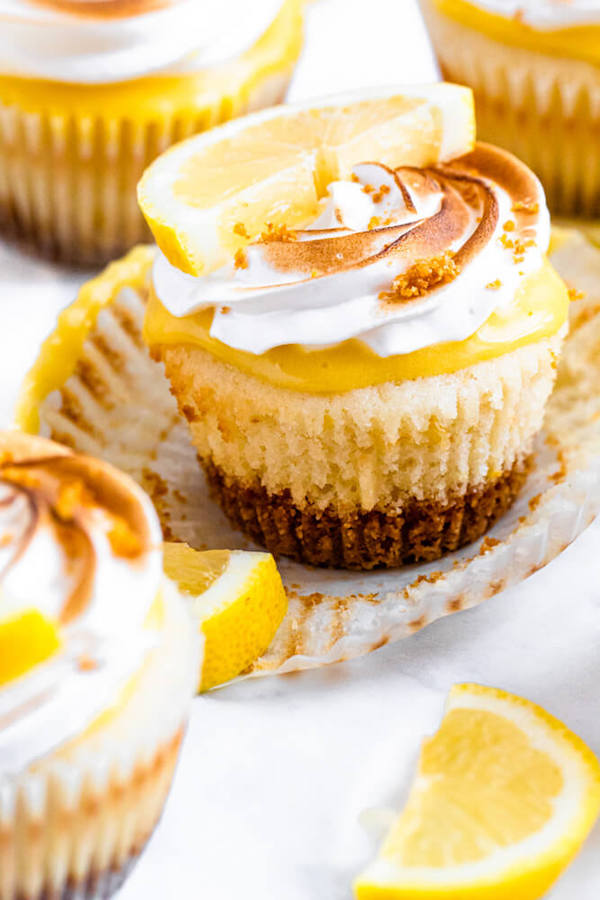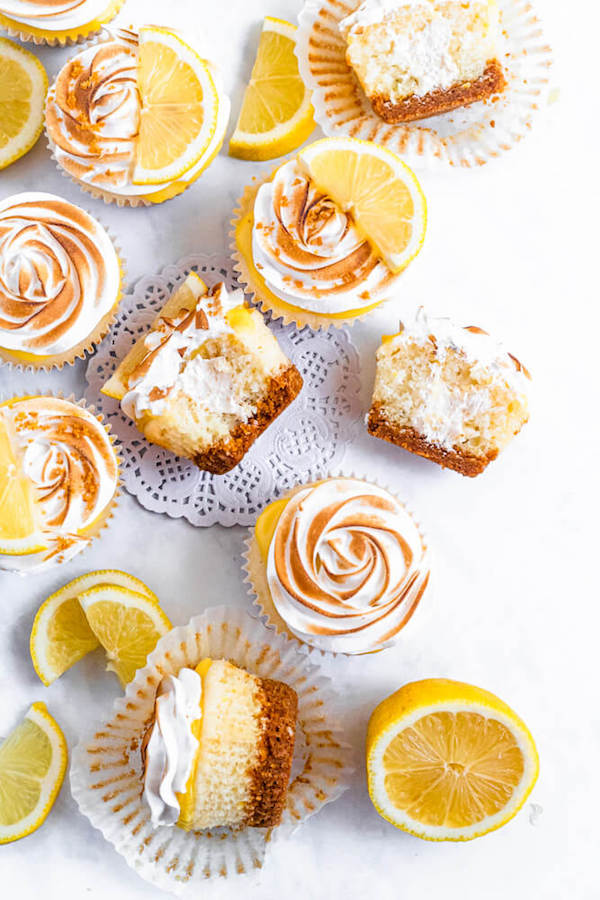 Fluffy Lemon Cupcakes
These cupcakes have the perfect amount of fresh lemon flavour! It's not too overpowering but at the same time, it's not barely there.
To make the cupcakes, start with the butter, sugar, sour cream, vegetable oil and lemon zest. The butter base provides a more stable structure for the cupcake, the sour cream adds flavour and softness, the oil helps keep everything moist and the zest, of course, adds some lemon flavour!
Beat all those ingredients together until they get pale in colour. Do not skimp this step, the mixture should be almost white before you move on to the next step, or else you won't end up with that fluffy texture.
Next, you'll add the egg whites. The egg whites add air and lightness to the final cupcake! Now we alternate between adding the dry ingredients and the buttermilk and fresh lemon juice for even more lemon flavour!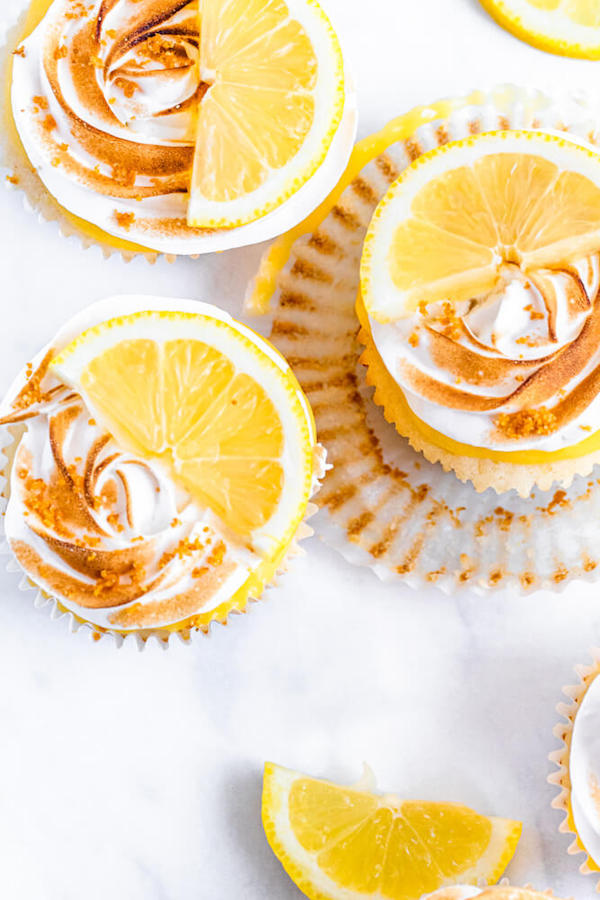 Toasted Marshmallow Filling
Since these are also s'mores cupcakes, I had to at least add something s'mores flavoured. I'm not really sure if lemon and chocolate make a good combo, so I decided to fill the cupcakes with my favourite toasted marshmallow filling!
This toasted marshmallow filling originally made its debut in my Malted Belgian Chocolate Cupcakes last year. It paired so well with the malted chocolate cupcakes and milk chocolate frosting, so I had to see how well it tasted when paired with lemon cupcakes.
Spoiler alert: it's beyond delicious!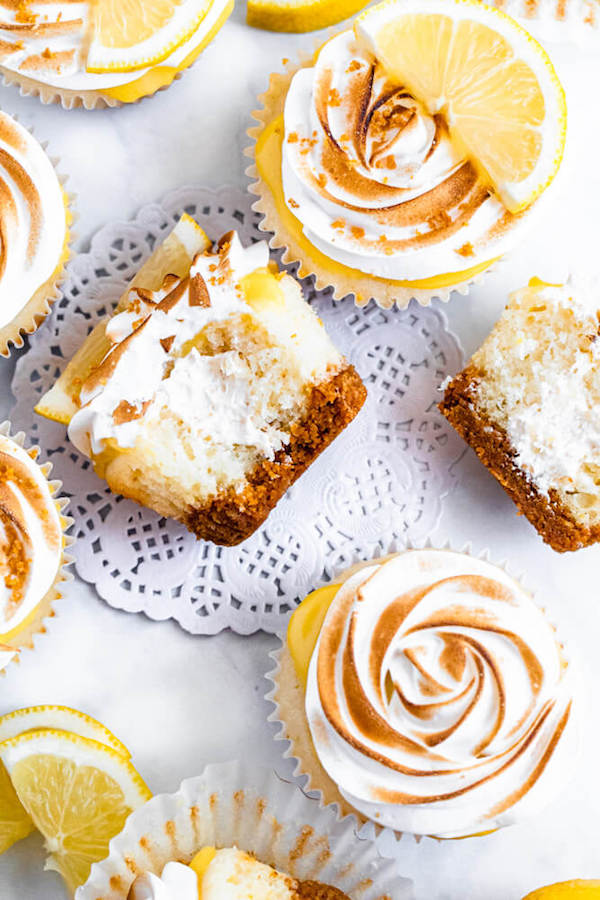 Tips for Making Toasted Marshmallow Filling
To make the toasted marshmallow filling, you've gotta toast the marshmallows! There are a few tips I wanna share. First of all, make sure to keep an eye on the marshmallows while they're broiling. Do NOT walk away. Seriously, I decided to wash 2 dishes while waiting for the marshmallows to toast and they ended up burning to a crisp.
So for my next attempt, I sat my butt infront of that oven and checked every 10 seconds. Once the tops were toasted and golden, I flipped the marshmallows around and broiled the other side.
It's important to toast BOTH sides, because when I didn't, the marshmallows didn't mix into the frosting properly and it ended up climbing up my mixer beaters. It's also very important to let the marshmallows sit and cool for at least 2-3 minutes. In one of my attempts, I added the marshmallows immediately after removing them from the oven and it turned the entire thing into soup.
This could probably be saved with a bit more powdered sugar, but it's best to avoid it all together and just wait for the marshmallows to cool. And add them one at a time so each marshmallow can blend properly.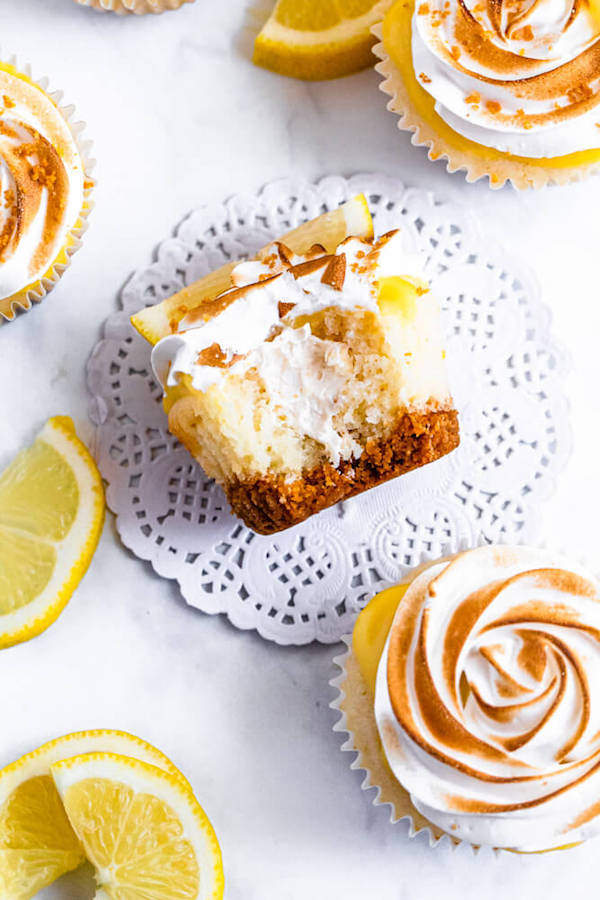 Lemon Curd Topping
Every lemon meringue recipe I've made featured my Perfect Lemon Curd, so it was only necessary that I added it to these cupcakes too. I cut my lemon curd recipe in half because I didn't think I would need that much because all I was doing was spreading it on top of the cupcakes.
I know this is an extra step, but it's so worth it! The sweet tart curd adds the most amazing burst of flavour to these cupcakes! Plus you could easily make the curd a day or 2 ahead of time, same with the cupcakes so when you're ready to assemble, all you need to do is make the filling and meringue.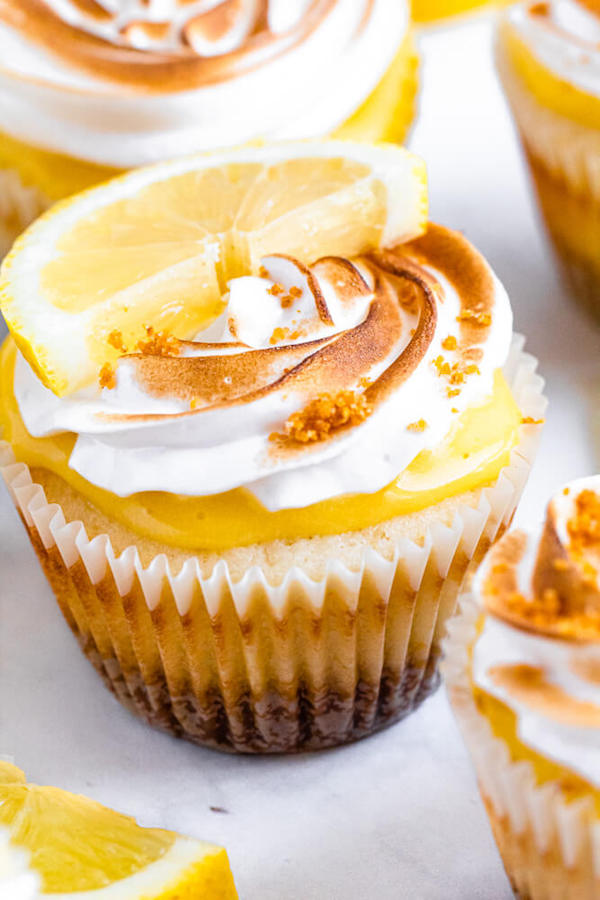 Meringue Topping
The meringue frosting is super light, fluffy, smooth and yummy! To make it, I just heated up some egg whites and sugar over a double boiler until the sugar was dissolved.
Then we need to whip it up until it doubles in volume and turns into a thick meringue. I recommend using a stand mixer for this step, because I've tried whipping meringue with a hand mixer and it would not hold its shape at all.
And since we're piping on these beautiful rosettes, we want the meringue to be able to hold its shape well so we could see the details in the design! Speaking of which, be very careful when toasting the meringue. My first test of these cupcakes ended with me blowing out multiple flames because the paper liners caught fire!
If you want to be safer, remove the liners before toasting the cupcakes.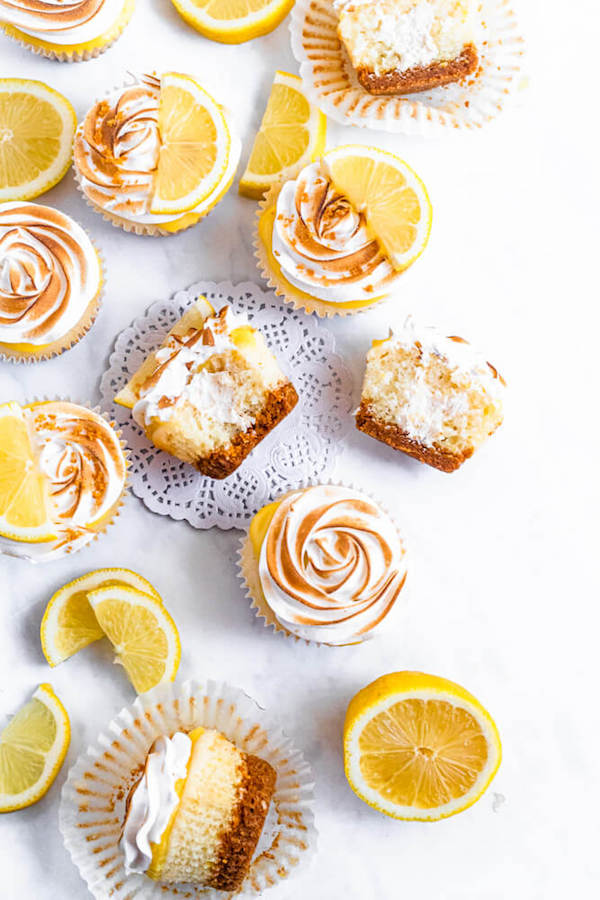 The cupcakes are then finished off with a slice of lemon and a sprinkle of the same graham cracker crumble we used for the crust!
These Lemon Meringue S'mores Cupcakes are the perfect treat to end the summer! With the crunchy graham cracker crust, fluffy lemon cupcake, gooey marshmallow filling, silky lemon curd and toasted meringue topping, these cupcakes are super addictive!
Did you make these Lemon Meringue S'mores Cupcakes? Let me know how they turned out in the comments below! And don't forget to leave a rating!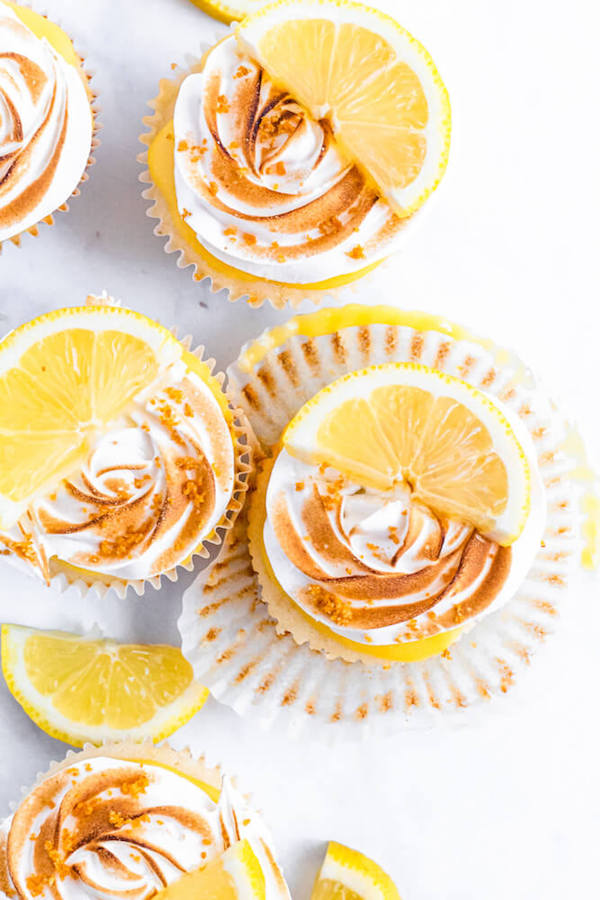 Craving More Lemon Meringue or S'mores Desserts? Check these out:
This Lemon Meringue Cheesecake is made with a rich and creamy lemon cheesecake base topped with a tart lemon curd and fluffy meringue. If you're looking for the ultimate lemon dessert, look no further!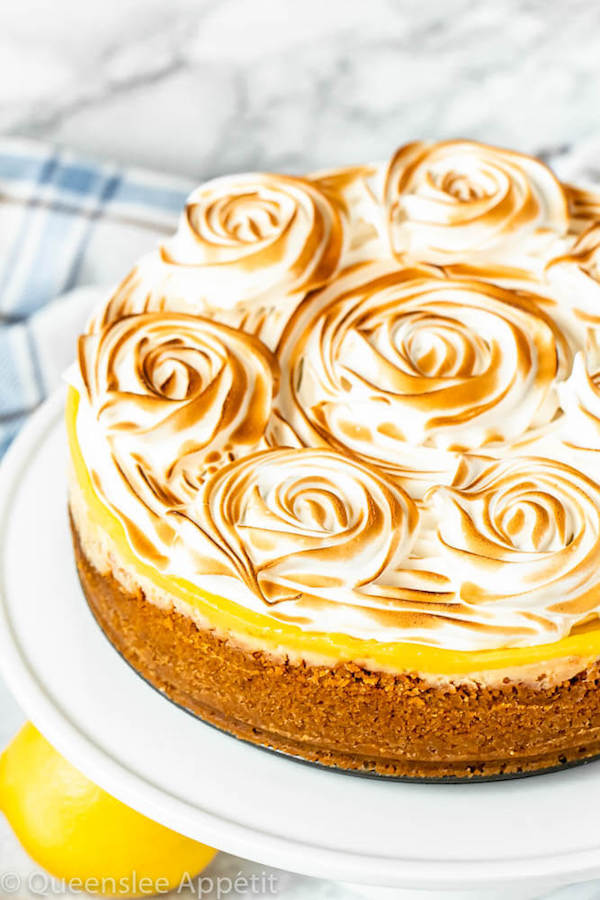 This decadent S'mores Mississippi Mud Pie combines the classic campfire treat with a traditional Mississippi Mud pie.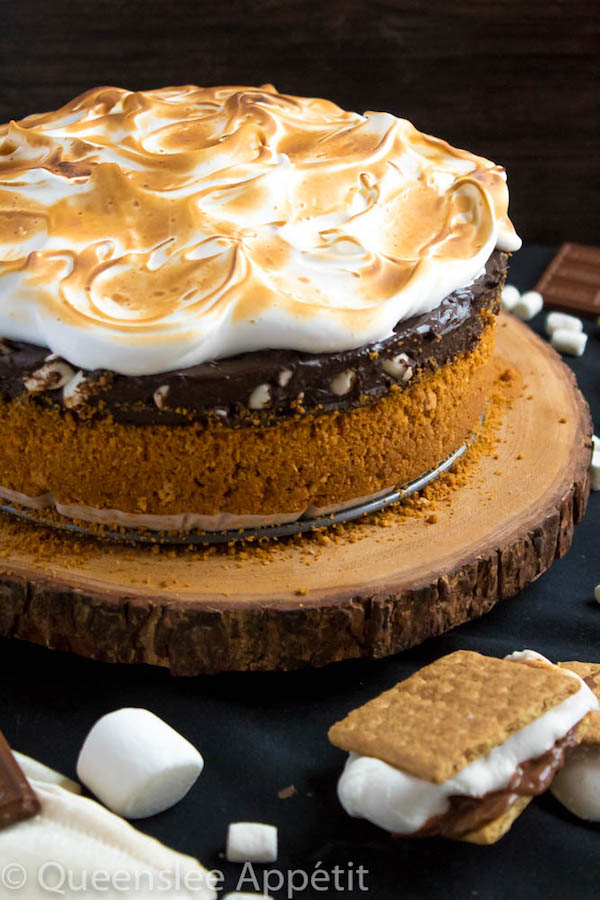 >>PIN THIS FOR LATER<<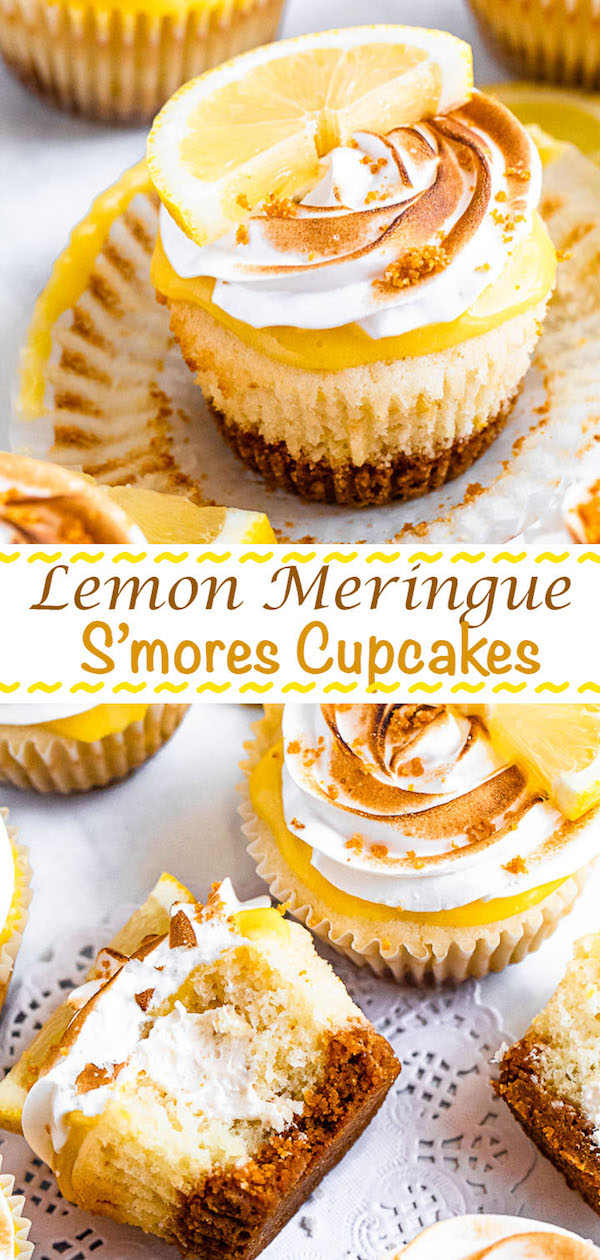 FOLLOW QUEENSLEE APPÉTIT
Like what you see? Make sure you're following Queenslee Appétit for more tasty recipes!
Pinterest | Instagram | Facebook | Twitter |
Have any questions about the recipe? Contact me here, and I'll be happy to help!
SHARE YOUR PICS!
Tag me on Instagram @queensleeappetit or use the hashtag #queensleeappetit so I could see your gorgeous creations!
Let's get baking!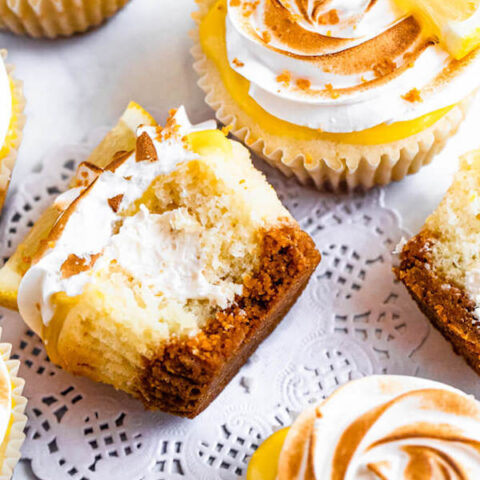 Lemon Meringue S'mores Cupcakes
Total Time:
1 hour
35 minutes
These Lemon Meringue S'mores Cupcakes are made with a graham crust, moist lemon cupcake, toasted marshmallow filling, lemon curd topping and a light and fluffy marshmallow meringue frosting!
Ingredients
Lemon Curd:
4 large Egg Yolks
1 cup cup Granulated sugar
1 tablespoon finely grated lemon zest
½ cup freshly squeezed lemon juice
¼ cup Unsalted butter, chilled and cubed
Graham Cracker Crust:
1 and ½ cup graham cracker crumbs
3 tablespoon granulated sugar
5 tablespoon salted butter, melted
Lemon Cupcakes:
1 and ½ cups all purpose flour
2 teaspoon baking powder
¼ teaspoon baking soda
¼ teaspoon salt
½ cup unsalted butter, softened to room temperature
1 cup granulated sugar
3 tablespoon sour cream, room temperature
2 tablespoon vegetable oil
1 tablespoon lemon zest
3 large egg whites, room temperature
½ cup buttermilk, room temperature
¼ cup freshly squeezed lemon juice
Toasted Marshmallow Filling:
10 regular marshmallows
½ cup unsalted butter, room temperature
¾ cup powdered sugar
1 teaspoon pure vanilla extract
½ cup marshmallow fluff
Meringue Frosting:
4 large egg whites
1 cup granulated sugar
1 teaspoon vanilla bean paste or pure vanilla extract
Garnish:
Graham cracker crumbs
Lemon slices
Instructions
For the Lemon Curd:
Bring an inch of water to a simmer in a large saucepan over medium heat. Once it begins to simmer, turn heat to low so the water doesn't begin to boil.
Add egg yolks and sugar to a separate large heat-proof bowl and whisk vigorously for about 1 minute, until smooth.
Add lemon zest and juice and whisk until smooth. Place bowl over the saucepan of simmering water and cook, whisking constantly (using whisk at first, then switching to a wooden spoon halfway through) until mixture thickens, about 15-20 minutes. You will know the curd is ready when it coats the back of a wooden spoon.
Once thickened, remove bowl from heat and stir in the butter one cube at a time until melted and combined.
Once all of the butter is combined, strain curd through a fine-mesh sieve and discard the lemon zest and any cooked eggs.
Transfer curd to another bowl and place plastic wrap right on top of the surface to prevent it from forming a skin while cooling. Refrigerate until well chilled, about 4 hours or overnight.
For the Crust:
Preheat the oven to 350°F (177°C), and line a standard 12-cup cupcake pans with paper liners. Line a second pan with 4 liners. This recipe makes about 16 cupcakes. Set aside.
Add graham cracker crumbs, sugar and melted butter to a mixing bowl and mix together using a fork. Place 1 heaping tablespoon of crumbs into each liner and flatten using the back of the tablespoon or a small glass. Save any extra crumbs for topping! Bake in preheated oven for 5 minutes. Allow to cool on a wire rack.
For the Lemon Cupcakes:
In a large bowl, sift the flour, baking powder, baking soda and salt and whisk to combine. Set aside.
In the bowl of a stand mixer fitted with the paddle attachment, or in a large bowl using a hand mixer, beat the butter, sugar, sour cream, vegetable oil and lemon zest on medium-high speed until light and fluffy, about 4 minutes.
Scrape down the sides and bottom of the bowl. Lower the speed to medium-low and mix in the egg whites, one at a time until just combined.
Add lemon juice to buttermilk. Set aside.
Add ⅓ of the dry ingredients to batter and beat just until combined, then add ½ of the buttermilk/lemon juice mixture and mix until just combined. Continue mixing in ½ of the remaining dry ingredients, remaining buttermilk mixture, then remaining dry ingredients. Remember to mix each addition until just combined before adding the next.
Scoop batter into cupcake liners, filling them ⅔ way full. Bake for 18-20 minutes or until a toothpick inserted into the centre comes out clean.
Remove cupcakes from oven and allow to cool in pans for about 5 minutes, then transfer to cooling racks to cool completely. Meanwhile, make the toasted marshmallow filling.
For the Toasted Marshmallow Filling:
Line a baking sheet with parchment paper and arrange marshmallows in an even layer. Broil for about 20-30 seconds. Pay close attention to them making sure they don't burn.
Remove from oven and turn marshmallows to the other side. Return to oven and continue to broil on high until marshmallows are a deep golden brown. Set aside to cool slightly.
In a medium mixing bowl, using a handheld mixer, beat butter until creamy. Add powdered sugar and vanilla and mix until smooth.
Add marshmallow fluff and mix until combined. Add toasted marshmallows one at a time, and beat after each addition until well combined and smooth. Keep covered until ready to use.
For the Meringue Frosting:
Bring an inch of water to a simmer in a large saucepan over medium heat. Once it begins to simmer, turn heat to low so the water doesn't begin to boil.
Add the egg whites, sugar and vanilla to the bowl of a stand mixer or a large stainless steel or glass bowl.
Place bowl over the saucepan of simmering water and whisk constantly until the sugar is dissolved and egg whites are warm. You can test this by rubbing the mixture between two fingers. If it doesn't feel grainy, the sugar has dissolved and can be removed from the heat. If you still feel grains, continue whisking and keep testing until the sugar is fully dissolved.
Move bowl to stand mixer, or using a handheld mixer, beat on low speed until the mixture is frothy, about 1 minute.
Gradually increase the speed to high and beat until the frosting is thick and glossy, 6-7 minutes.
Assembly:
Core the centre of each cupcake using an apple corer. Keep the cored piece intact and cut off the bottom. Keep the tops!
Transfer toasted marshmallow filling to a disposable piping bag or a medium ziplock bag and snip off a corner.
Fill the cupcakes with the marshmallow filling. Then take the reserved cupcake tops and place back into the cupcake to cover the filling.
Give lemon curd a stir to loosen, then spread over the top of each cupcake.
Transfer meringue frosting to a piping bag fitted with a large star tip (I used Wilton 1M) and pipe rosette swirls onto the cupcakes.
Carefully toast the meringue swirl, make sure the flame doesn't catch the paper liners. You can also remove the liners before doing this step.
Garnish the tops with half a lemon slice and the extra graham cracker crust crumbs! Enjoy!
Notes
Lemon Curd can be made a few days ahead of time and stored in an airtight container in the refrigerator.
Lemon cupcakes can be made a day ahead of time and stored in an airtight container at room temperature.
Finished cupcakes are best enjoyed on day 1, but can be stored in an airtight container in the refrigerator for 2-3 days.
Nutrition Information:
Yield:

16
Serving Size:

1
Amount Per Serving:
Calories:

447
Total Fat:

22g
Saturated Fat:

12g
Trans Fat:

0g
Unsaturated Fat:

9g
Cholesterol:

107mg
Sodium:

232mg
Carbohydrates:

59g
Fiber:

0g
Sugar:

51g
Protein:

5g
BON APPÉTIT!
Love, Dedra
©QUEENSLEE APPÉTIT. All images & content are copyright protected. Please do not use my images without prior permission. If you want to republish this recipe, please re-write the recipe in your own words, or link back to this post for the recipe.