Malted Belgian Chocolate Cupcakes featuring moist malt chocolate cupcakes with a malted milk chocolate Belgian buttercream frosting and a surprise toasted marshmallow filling. Top these cupcakes off with a rich chocolate ganache, chocolate sprinkles and a malteeser candy for a fun summer treat!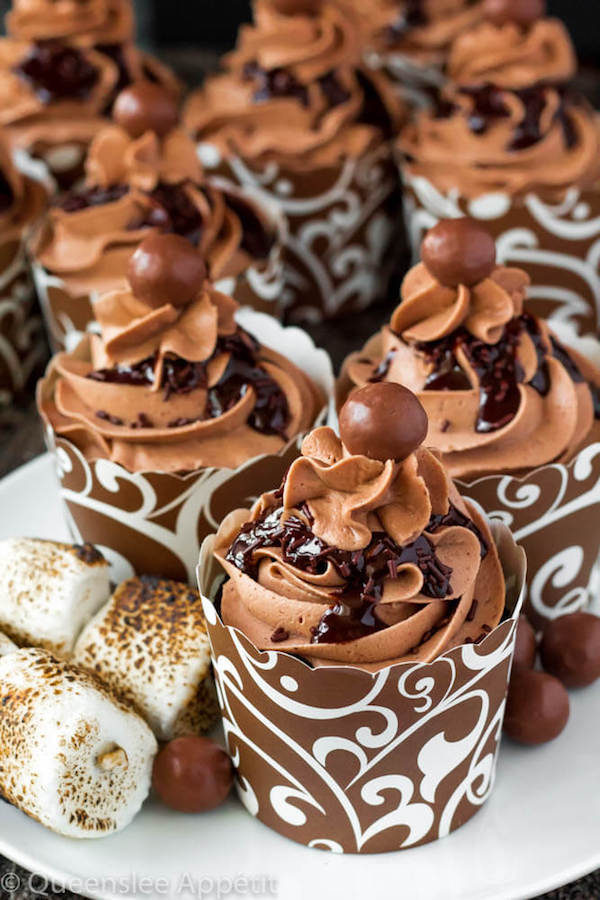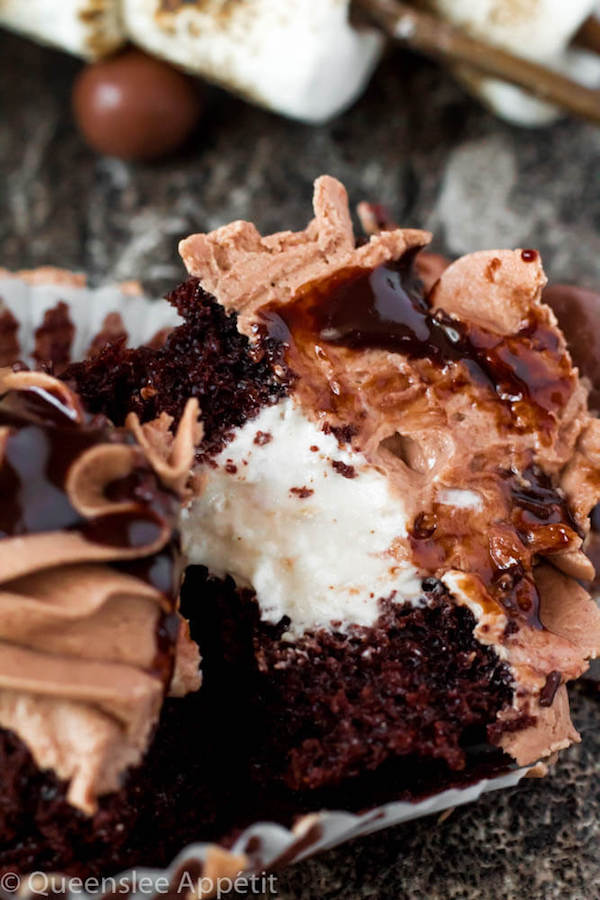 Malted Belgian Chocolate Cupcakes
These Malted Belgian Chocolate Cupcakes scream "addictive"! They're super moist, with a rich creamy and silky frosting, a fun pretty topping and a tasty surprise filling — all the things a perfect cupcake should have.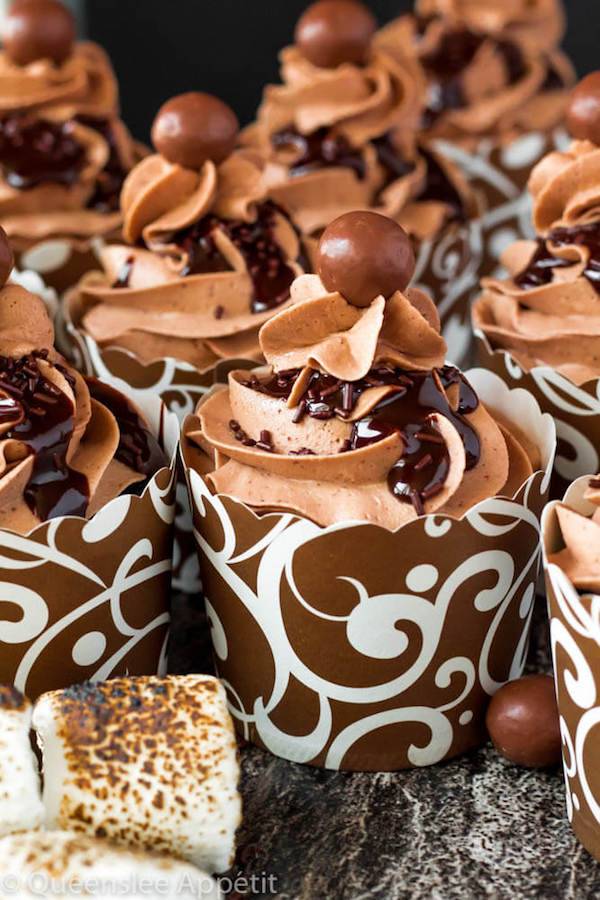 I've shared a ton of cupcake recipes (and have a ton more coming), but I can honestly say this is one of my favourite cupcake recipes ever! There's a lot going on, but all of those flavours and textures wrapped up into one is what makes these cupcakes special.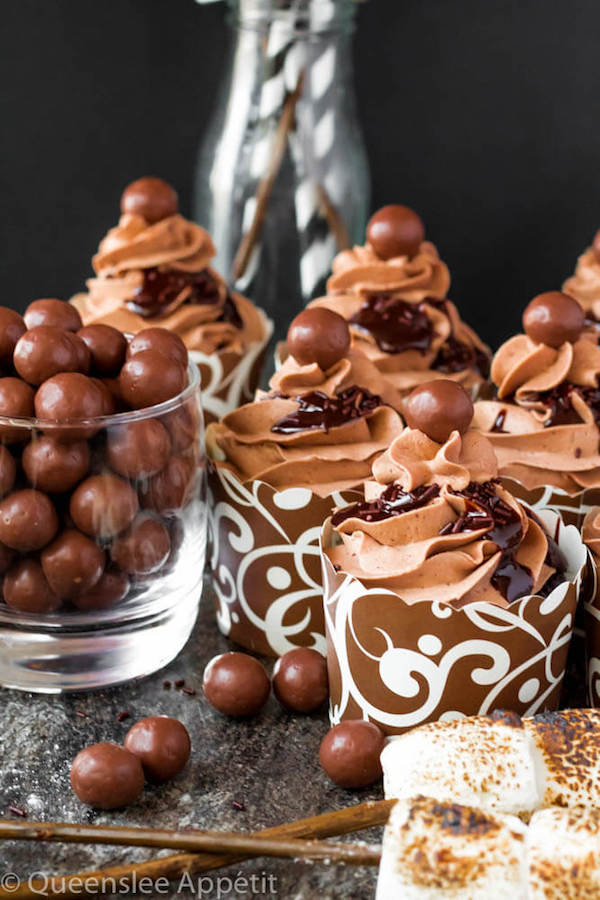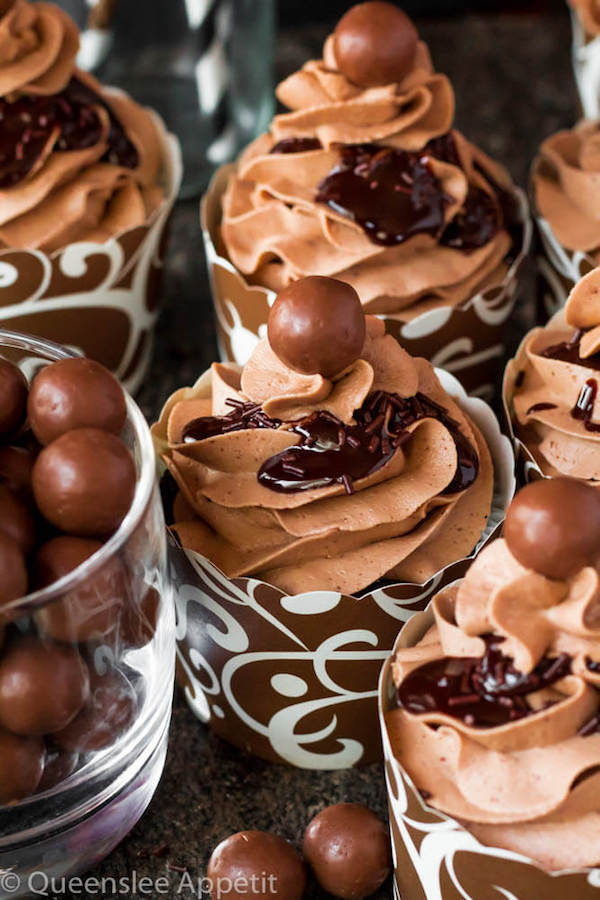 I've wanted to make a malted/milk chocolate flavoured dessert for so long now. However, I never got around to it until I went to the grocery store and laid my eyes on one of my favourite childhood drinks: Ovaltine! 
If you don't know what Ovaltine is, it's basically a malted drink powder that you add to milk. You can add it to cold milk or you can add it to hot milk to make a malt flavoured hot chocolate. I remember drinking this every morning before school, and it was one of my favourite ways to start the day.  
Unfortunately, I didn't see my beloved Ovaltine drink mix in any stores for a few years, until now! Obviously I snatched one up right away, but being a food blogger now, my first thought wasn't "I can't wait to start drinking this again", instead I thought "I can't wait to bake with this!" 
And so, these Malted Belgian Chocolate Cupcakes were born.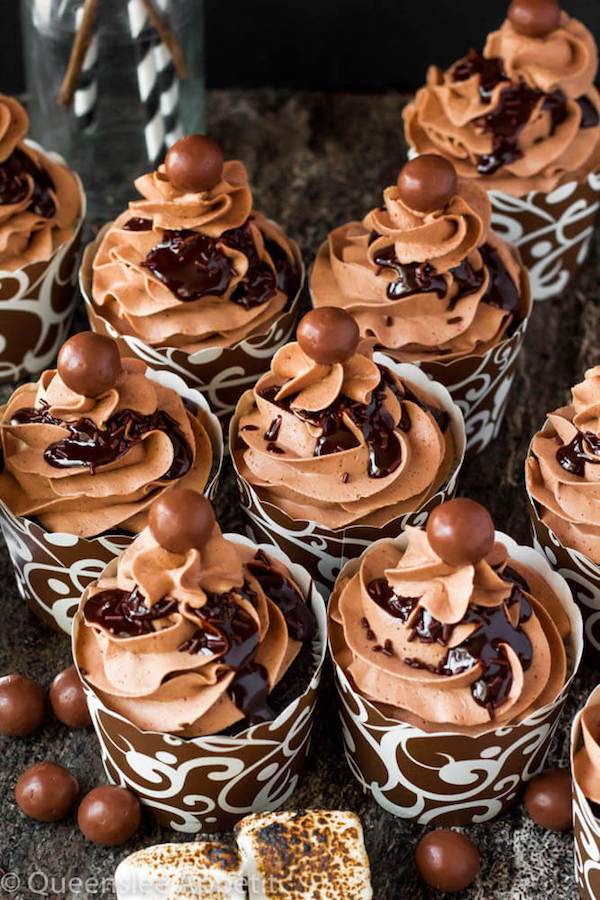 Malt Chocolate Cupcakes
The base of these cupcakes start with my Perfect Chocolate Cupcakes recipe with a bit of Ovaltine (malt powder) added. There's two flavours of Ovaltine: Classic (vanilla) and Chocolate, I went with chocolate malt powder because I wanted the flavour to remain strictly chocolate with a hint of malt flavour. 
I replaced 1/4 cup of the cocoa powder with the chocolate malt powder and it worked perfectly. Although, I had absolutely no doubt that it would work because my original chocolate cupcake recipe is super easy and only requires whisking dry ingredients and wet ingredients together, so it's easy to add or swap ingredients.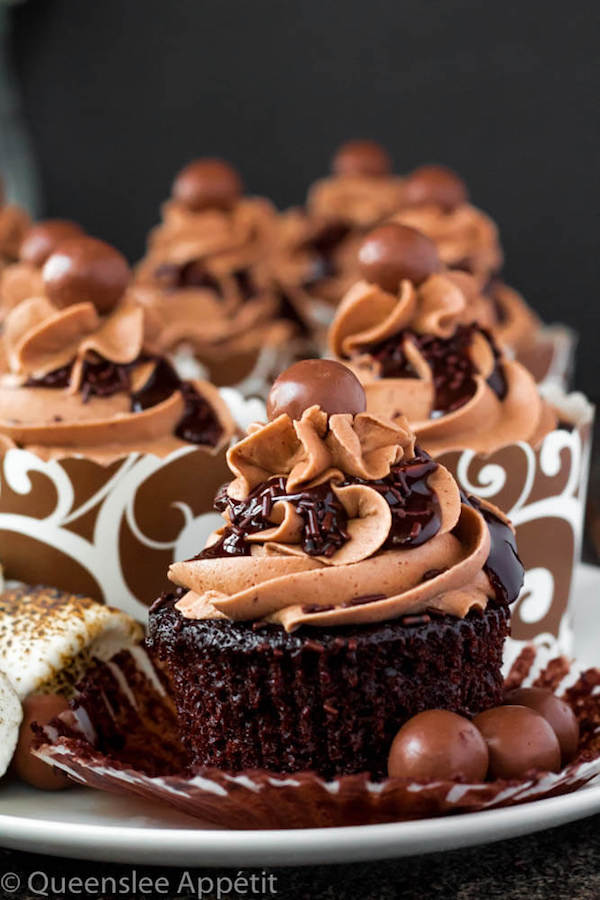 Toasted Marshmallow Filling
This is one of my favourite parts! I'm obsessed with filling the centre of my cupcakes with a yummy surprise, so I knew I just had to fill these with something incredible. 
This toasted marshmallow filling is so delicious and easy to make. We start by toasting some marshmallows in the oven, I used mini marshmallows but you can use large if you prefer. 
Next we're gonna mix together butter, icing sugar, vanilla and marshmallow fluff to create a creamy marshmallow vanilla frosting. When adding the toasted marshmallows, I used a hand mixer to mix it in, but the marshmallows ended up climbing up the mixer. I recommend folding in the toasted marshmallows as well as you can instead.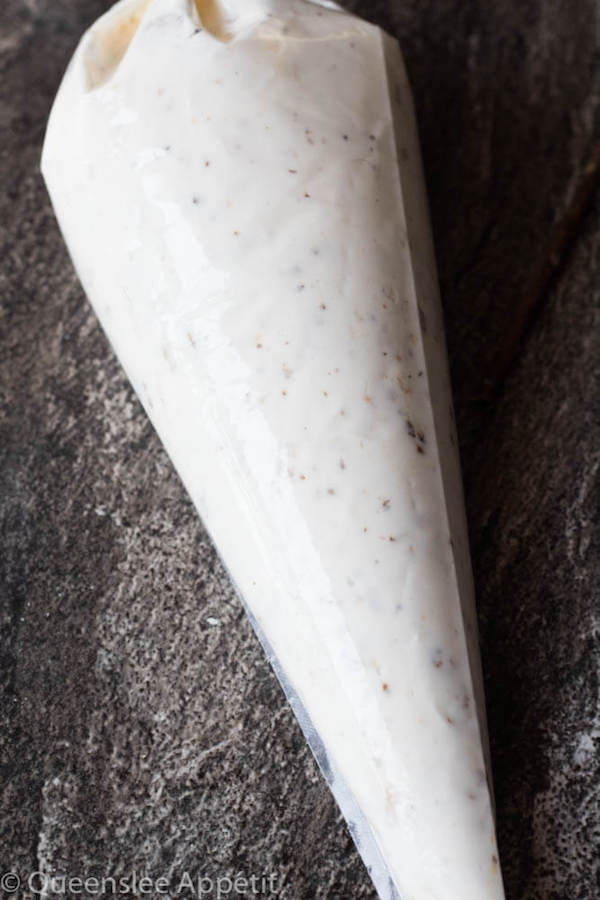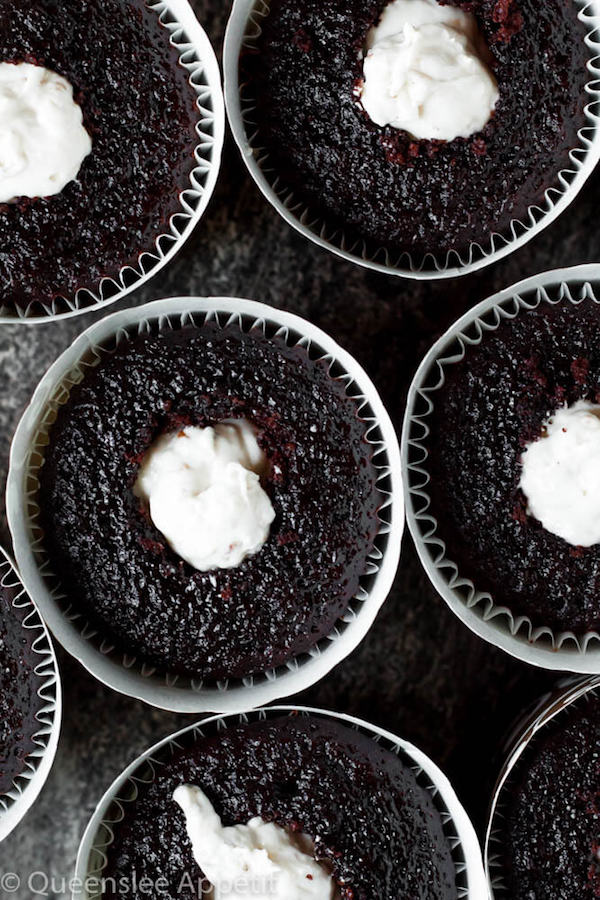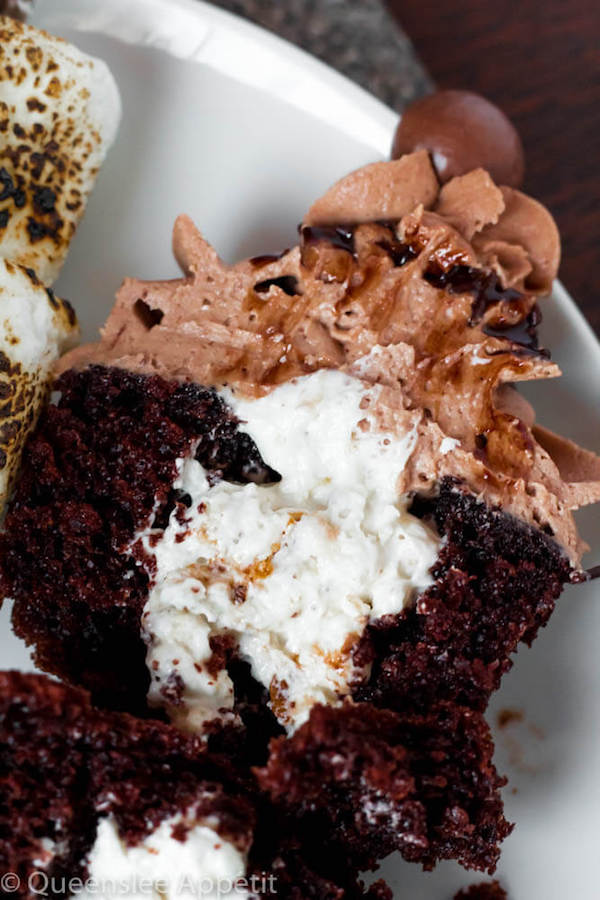 Malted Belgian Chocolate Buttercream
Ahh, the frosting. So creamy and silky and chocolatey, I love it! This frosting is literally beater-licking good. 
This recipe is a bit different than my other chocolate frosting recipes. I used all butter instead of a butter/shortening blend. I also used less icing sugar because I didn't want the frosting to be too stiff or sweet. 
Instead of cocoa powder, I used some of the chocolate malt powder. The chocolate flavour comes from the 5 ounces of melted Belgian chocolate! I decided to use milk chocolate, which is another reason why there isn't that much icing sugar, because a lot of the sweetness comes from the chocolate. 
Even with the lack of shortening and icing sugar, this frosting is still perfectly pipeable and holds its shape for hours. It's so good!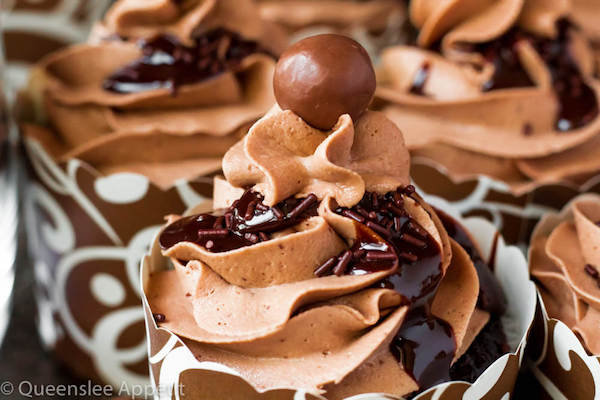 Belgian Chocolate Ganache
I wanted to add something extra to these cupcakes, and I had some chocolate leftover, so I decided to make a quick Belgian Chocolate Ganache to top these cupcakes. 
If you've never made ganache, I promise you it's extremely easy. Simply heat up some heavy cream until it begins to simmer, pour it over the chocolate, let it sit for 5 minutes so the chocolate can melt, then stir until smooth. Alternatively, to make things quicker, you can just combine the cream and chocolate in a bowl and microwave in 30 second intervals, stirring after each until it's completely melted.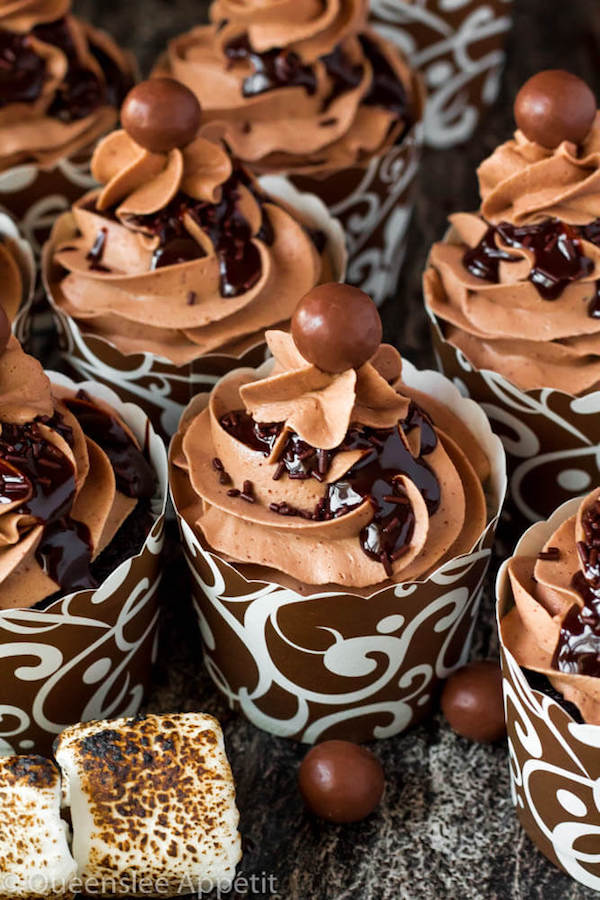 To decorate these cupcakes, I spooned some of the ganache over my frosting swirl. Then I garnished with some chocolate sprinkles and piped a smaller swirl of frosting on top so the malteeser ball had something to sit on. 
How adorable are these cupcakes?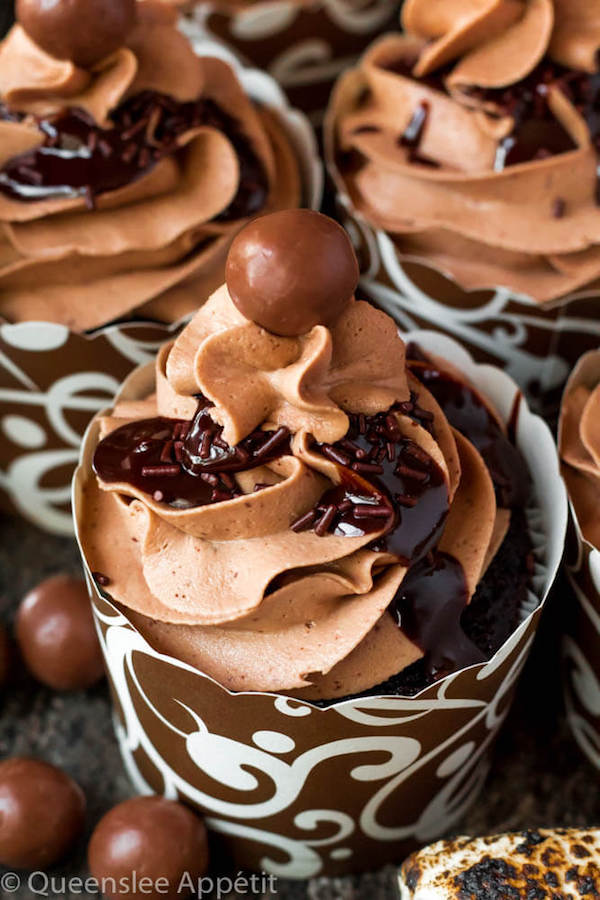 Fun to make, and even more fun to eat! These Malted Belgian Chocolate Cupcakes have so much unique flavours in each bite. From the moist malt chocolate cupcake, to the silky Belgian chocolate frosting and ganache, and the gooey toasted marshmallow filling — these cupcakes are a sweet tooth's dream come true!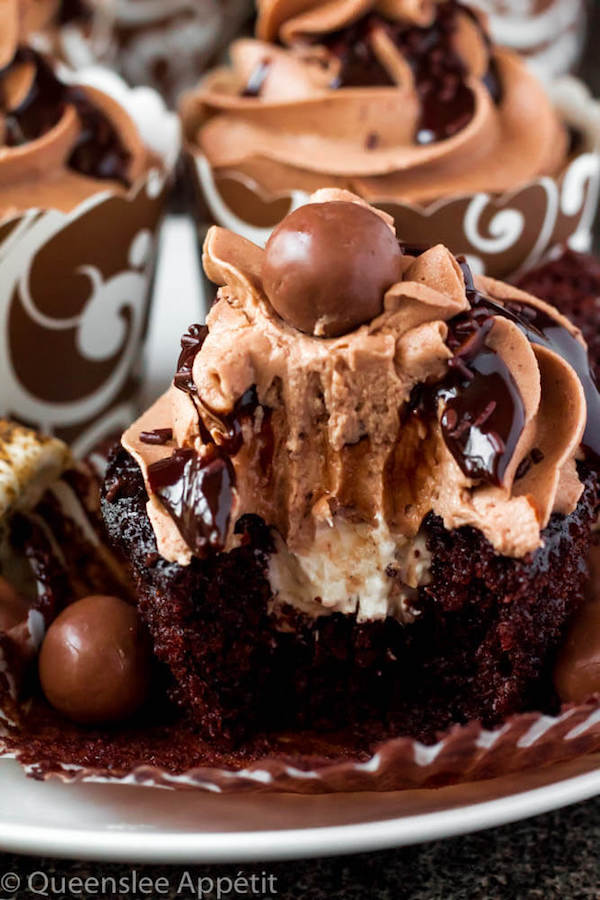 >>PIN ME FOR LATER<<

SHOP THE RECIPE
Here are some of the tools I used to create today's recipe: 
CUPCAKE LINERS | CUPCAKE PAN | BAKING SHEET | SILPAT MAT | HAND MIXER| STAND MIXER | PASTRY BAG | WILTON 1M TIP |
FOLLOW QUEENSLEE APPÉTIT
Like what you see? Make sure you're following Queenslee Appétit for more tasty recipes!
Pinterest | Instagram | Facebook | Twitter |
Never miss a recipe, SUBSCRIBE at the bottom of this post!
Have any questions about the recipe? Contact me here, and I'll be happy to help!
Let's get baking!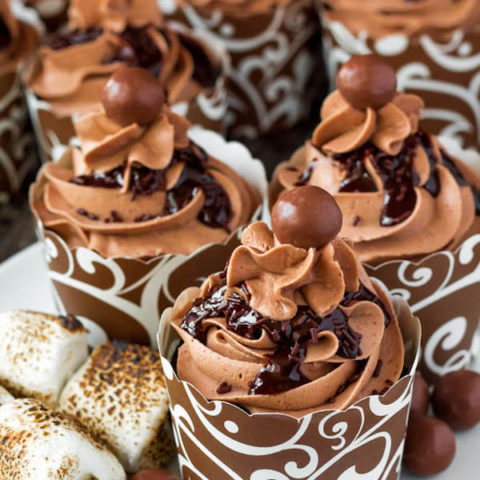 Malted Belgian Chocolate Cupcakes with Toasted Marshmallow Filling
Yield: 22 - 24 Cupcakes

Prep Time: 45 minutes

Cook Time: 16 minutes

Total Time: 11 minutes

Malted Belgian Chocolate Cupcakes featuring moist malt chocolate cupcakes with a malted milk chocolate Belgian buttercream frosting and a surprise toasted marshmallow filling.
Ingredients
Malt Chocolate Cupcakes:
1 and ½ cups All purpose flour
1 and ½ cups granulated Sugar
1/2 cup unsweetened cocoa powder
1/4 cup chocolate malt powder
1 and ½ teaspoons Baking powder
½ teaspoon Baking soda
½ tsp salt
2 large Eggs, room temperature
½ cup Vegetable oil
¾ cup buttermilk, room temperature
2 tsp Pure Vanilla Extract
½ cup hot coffee or boiling water
Toasted Marshmallow Filling:
1 and 1/4 cup mini marshmallows
1/2 cup unsalted butter, room temperature
3/4 cup powdered sugar
1 tsp pure vanilla extract
1/2 cup marshmallow fluff
Belgian Chocolate Ganache:
4 oz. Belgian chocolate, chopped
1/4 cup heavy cream
Malted Belgian Chocolate Buttercream:
1 cup unsalted butter, softened to room temperature
1/4 teaspoon salt
3 and 1/2 cups powdered sugar, sifted
1/3 cup chocolate malt powder
5 oz. Belgian milk chocolate, melted and cooled
2 teaspoons pure vanilla extract
4-6 Tablespoons heavy cream or milk
Topping:
Chocolate sprinkles
Malteesers
Instructions
For the Malt Chocolate Cupcakes:
Preheat the oven to 350°F (177°C), and line 2 standard cupcake pans with paper liners.
In a large mixing bowl, sift flour, sugar, cocoa powder, malt powder, baking powder, baking soda and salt. Whisk to combine.
In a measuring cup, whisk together the eggs, vegetable oil, buttermilk and vanilla. Pour the wet ingredients into the dry ingredients and whisk to combine. Add boiling water OR hot coffee and mix until combined and smooth. Batter will be runny.
Scoop batter into cupcake liners, filling them ⅔ way full. Bake for 14-16 minutes or until a toothpick inserted into the centre comes out clean.
Remove cupcakes from oven and allow to cool in pans for about 10 minutes, then transfer to cooling racks to cool completely.
For the Toasted Marshmallow Filling:
Line a baking sheet with parchment paper and arrange marshmallows in an even layer. Broil for about 20-30 seconds. Pay close attention to them making sure they don't burn.
In a medium mixing bowl, using a handheld mixer, beat butter until creamy. Add powdered sugar and vanilla and mix until smooth.
Add marshmallow fluff and toasted marshmallows and beat until well combined and smooth. Keep covered until ready to use.
For the Belgian Chocolate Ganache:
Add chopped chocolate and heavy cream to a small bowl and microwave in 30 second intervals, stirring after each until melted and smooth. Set aside to cool for about 15 minutes before using.
For the Malted Belgian Chocolate Buttercream:
In the bowl of a stand mixer fitted with the paddle attachment, or in a large bowl with a hand-held mixer, beat the butter and salt on medium speed until light and fluffy (about 5-6 minutes). Scrape down the sides and bottom of the bowl.
Turn the mixer to low, and gradually add the sugar and the chocolate malt powder and beat on low speed until just combined.
Pour in the cooled melted chocolate and vanilla and mix on medium-low speed until combined.
Add heavy cream or milk 1 tablespoon at a time until you reach a smooth and creamy consistency.
Increase mixer speed to medium-high and whip until light and fluffy, about 5-7 minutes.
Assembly:
Use the bottom of a piping tip or an apple corer to cut a hole out the top of the cupcakes. Using a disposable piping bag or a spoon, fill the cupcakes with the toasted marshmallow filling.
Transfer frosting to a piping bag fitted with a large star tip (I used Wilton 1M) and pipe a swirl on each cupcake. Drizzle with ganache and garnish with chocolate sprinkles.
Pipe a smaller swirl of frosting on top of the cupcake and place a malteeser on top. Enjoy!
Notes
- Leftover cupcakes can be stored in an airtight container in the refrigerator for 3-4 days. Bring to room temperature before serving. Un-frosted/un-filled cupcakes can be stored in an airtight container at room temperature for 1-2 days.

- Frosting can be made ahead of time and stored in an airtight container in the refrigerator for up to 2 weeks, or in the freezer for several months. Before using — allow frosting to come to room temperature, then re-whip in a stand mixer, adding additional cream or milk until the frosting is smooth and fluffy.
BON APPÉTIT!
Love, Dedra
Did you make a recipe? I'd love to see how it turned out! Follow me on Instagram and use the hashtag #queensleeappetit so I can see all of the Queenslee Appétit recipes you've made!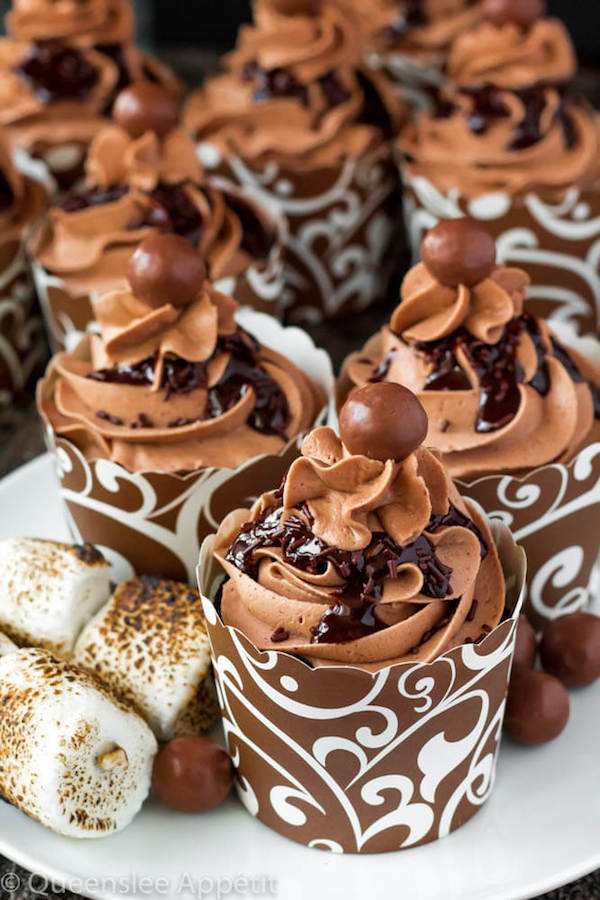 ©QUEENSLEE APPÉTIT. All images & content are copyright protected. Please do not use my images without prior permission. If you want to republish this recipe, please re-write the recipe in your own words, or link back to this post for the recipe.
This post may contain affiliate links. Please see my full disclosure policy for details.