This irresistible No-Churn Oreo Cheesecake Ice Cream starts with a cheesecake ice cream base and is swirled with a rich chocolate ganache and loaded with plenty of crushed Oreo cookies! Made with only 6-ingredients, this easy homemade ice cream will drive you crazy!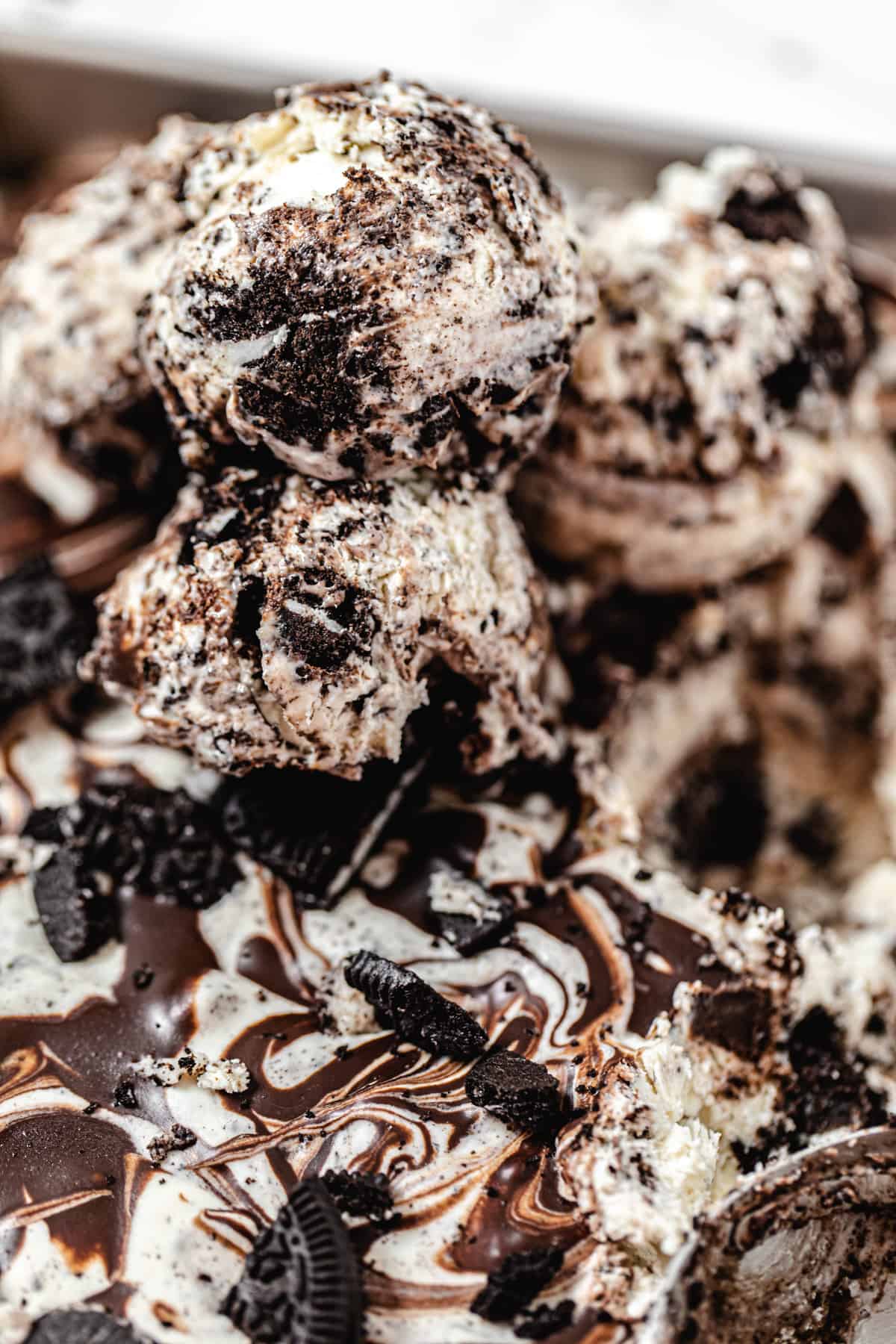 This post may contain affiliate links. As an Amazon Associate I earn from qualifying purchases. Please see my full disclosure policy for details.
Oreo Ice-Cream...but BETTER
It's that time of year again! Everyone love summer, but for me it's just 2-3 months of desperately trying to stay cool. And aside from an air conditioner, a spray bottle filled with cold water, and an ice cold drink, my favourite way to stay cool is with a bowl of ice cream!
I went through my no-churn ice cream collection with the intentions of remaking one of my old recipes. I had planned on remaking my strawberry cheesecake ice cream and oreo ice cream, but then I thought "why not bring them together?"
So I went through both recipes and grabbed something from each. The cheesecake ice cream base from the strawberry ice cream and the oreo cream base from my oreo ice cream (along with the 30 oreos inside). To give this ice cream a different look from my regular oreo ice cream, as to not confuse readers, I included a generous swirl of ganache throughout!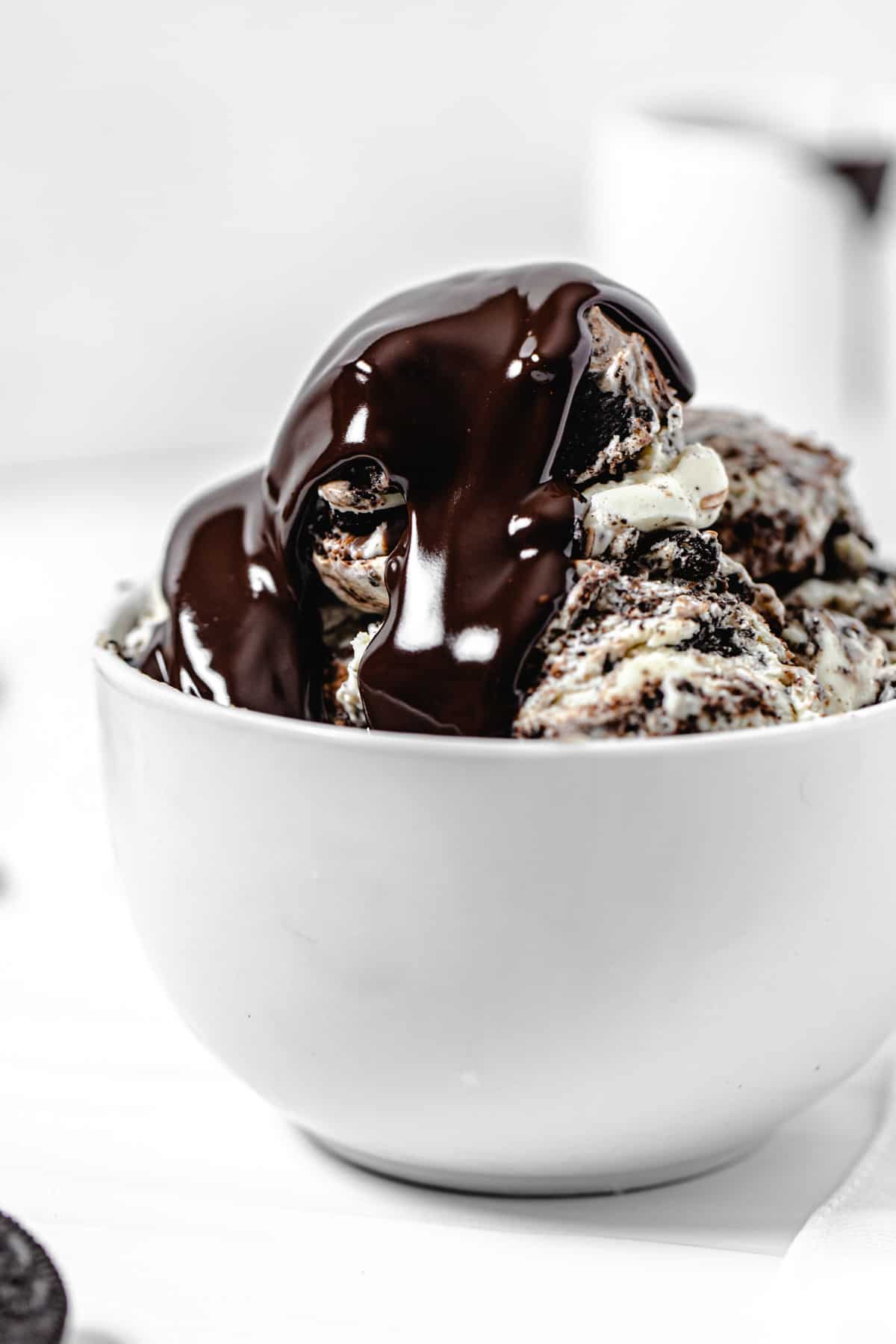 What You Need
Like I said earlier, this recipe only uses 6 easy to find ingredients!
Chocolate Chips: this is for the ganache swirl. You can use either semisweet or dark chocolate.

Heavy Cream: for both the ganache and the whipped cream. We need to heat the cream for the ganache, but when it's time to make the whipped cream, you want it to be nice and chilled. I'm not sure if this is called "heavy cream" in other parts of the world, so look for 35% cream if you can't find it.

Vanilla: flavour, baby!
Cream Cheese: don't use the spread, you'll need a brick of full-fat cream cheese for the best results.

Sweetened Condensed Milk: this adds sweetness to the ice cream base. You'll need a 14 ounce can, which here in Canada is sold as 300ml cans.

Oreos: 30 whole oreos! Now yes, you can cut this down if it's too much, but I love cookies and cream ice cream that has extra cookie! Some of the oreos will be roughly chopped, and the rest will be crushed into fine crumbs. Oreo goodness in every bite!
Can I actually add cheesecake to this ice cream?
For sure! This is what I did for the strawberry cheesecake ice cream, a cream cheese base with actual pieces of cheesecake folded in.
You can find a small plain cheesecake at your local grocery store, chop it up into small cubes, then throw it in with the oreos!
How to Make Cheesecake Ice Cream
Once you see how simple it is to make a cheesecake flavoured ice cream, you'll definitely wanna make it over and over again! And it's ice cream, so you can throw in any treats you want to make different flavours.
To make an oreo cheesecake flavoured ice cream, start by:
Prepping the oreos: chop 20 of the oreos. I usually just cut each oreo into quarters. Scrape the filling out of the other 10, then crush the wafers into crumbs. I like to use a food processor for this.

Make the whipped cream: use a hand mixer to whip the cream and vanilla together until stiff peaks form.

Make the cheesecake base: to create the cheesecake base, simple beat the cream cheese and sweetened condensed milk together in a separate bowl using the same hand mixer. To make it oreo flavoured, I also added the oreo cream filling we scraped out earlier!
Fold together: now add the whipped cream to the cream cheese batter and fold until it's all combined. Add some of the oreos and fold some more (save the rest for topping).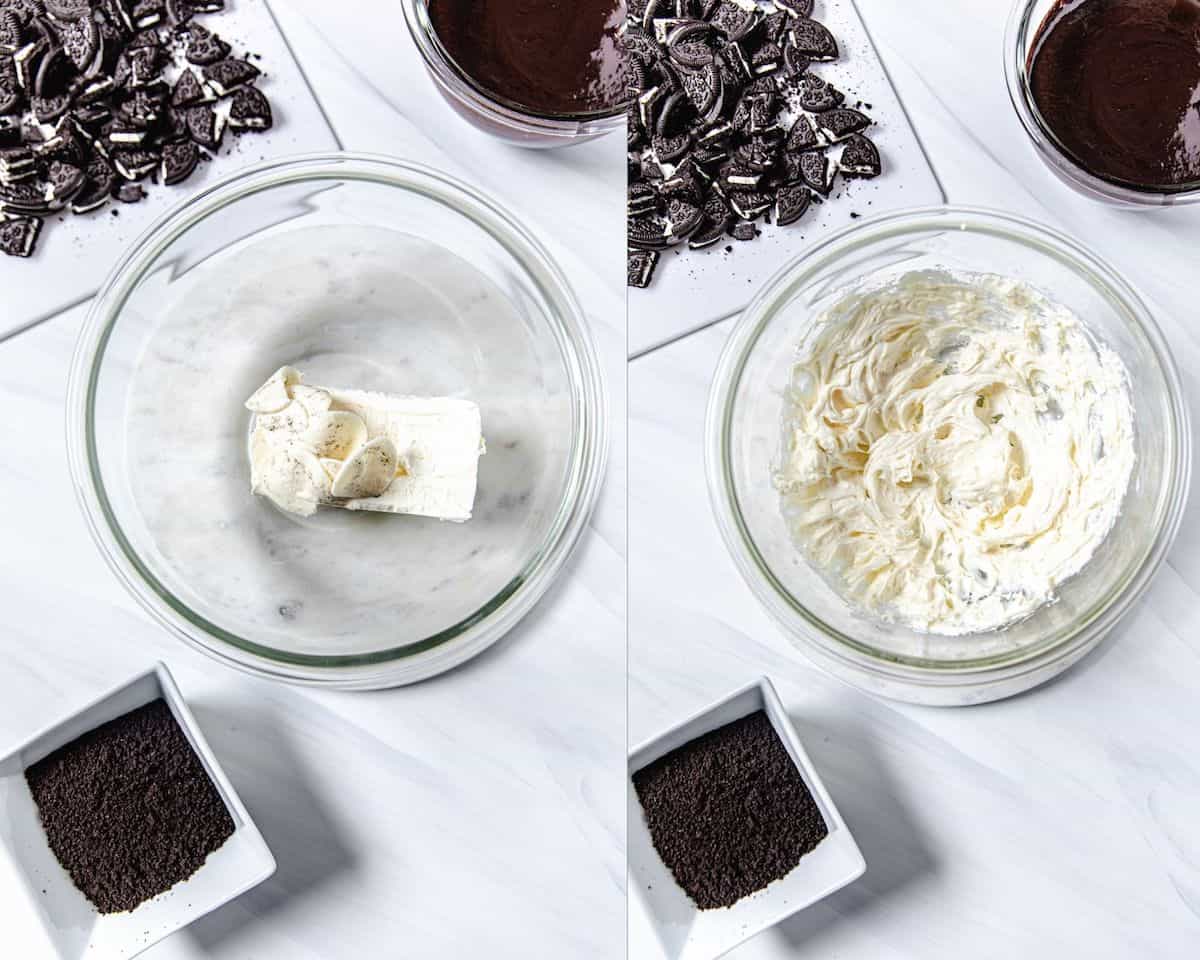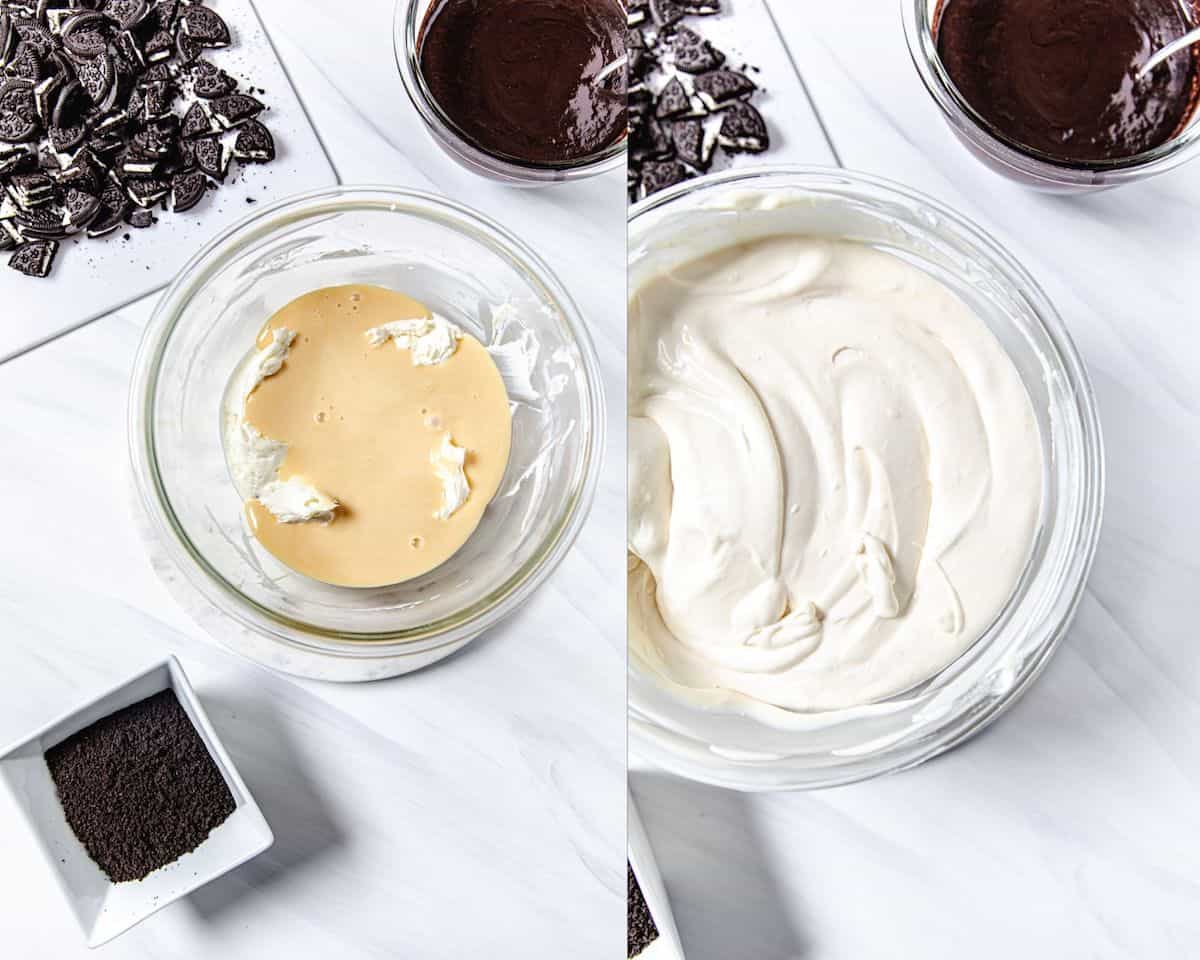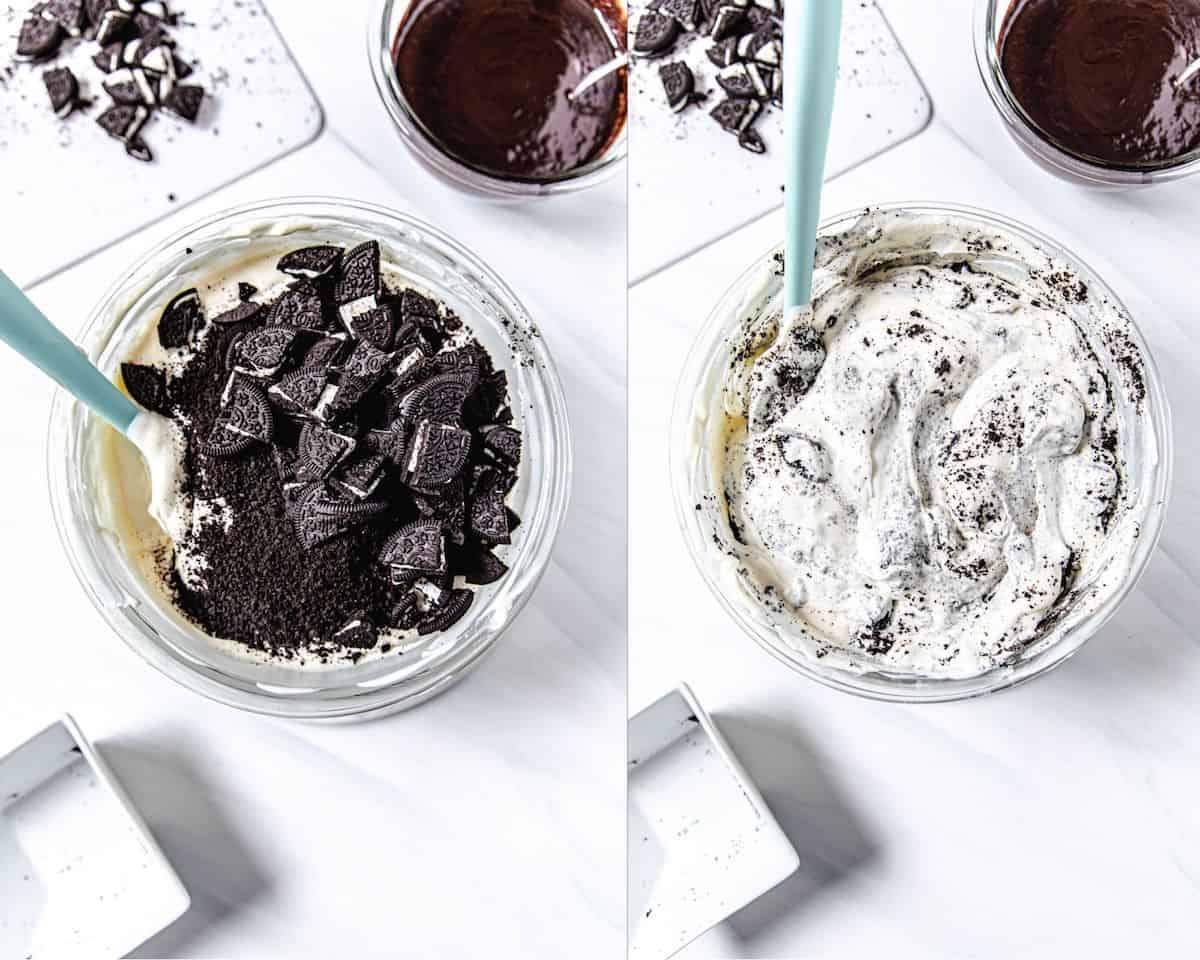 Baker's Tips
This ice cream is extremely easy to make, but I'd still like to provide some tips for the best results!
Use a stainless steel or glass bowl: heavy cream whips up better when using either a stainless steel or glass bowl.

Chill the bowl and beaters: heavy cream whips quicker when everything is cold: the cream, the bowl and the beaters. I like to place the beaters and bowl into the freezer for 20 minutes before starting.

Use softened cream cheese: the cream cheese needs to be softened so that it blends with the condensed milk easier, creating a smooth mixture instead of a chunky one. Let your cream cheese sit at room temperature for at least 1 hour.

Add whipped cream slowly: don't add all of the whipped cream at once because it may deflate with the excessive folding. Start by adding ⅓ of the whipped cream, gently fold until combined, then repeat by adding the rest a little at a time.

Swirling the ganache: I don't really need to explain how to make the ganache, since it's pretty foolproof. Instead, my advice for when you swirl it in is to start by adding ⅓ of the ice cream mixture to your pan, then drizzle over some ganache with a spoon. Use a butterknife to slightly swirl the ganache into the ice cream. Don't swirl too much or else it'll mix together. Repeat with another layer of ice cream, ganache swirl, ice cream, ganache swirl! There's fudginess from top to bottom!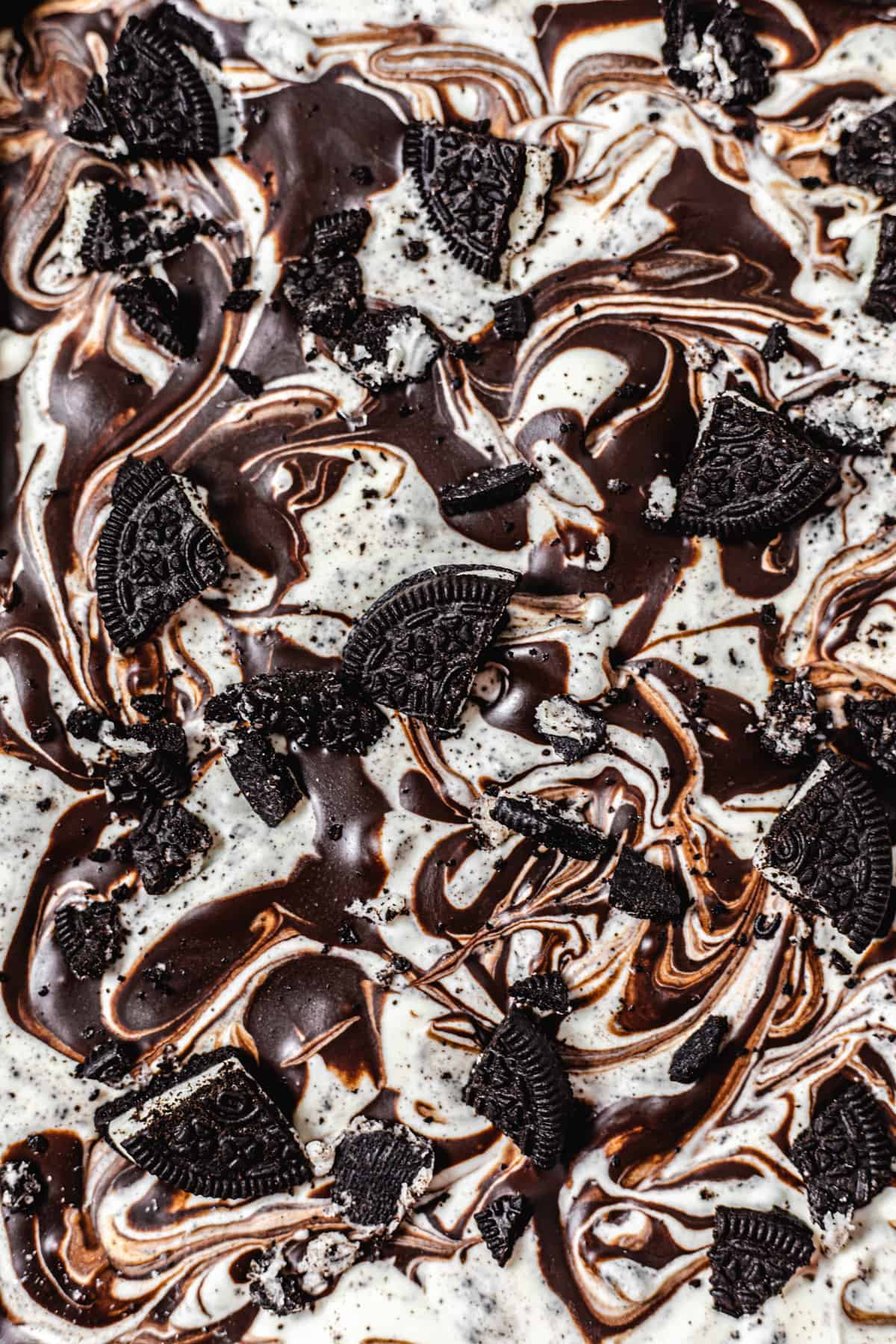 You May Also Like
SHARE YOUR PICS!
Follow me on Instagram and tag #queensleeappetit so I can see and share all of your Queenslee Appétit creations in my stories and the QA Newsletter!
>>PIN ME FOR LATER<<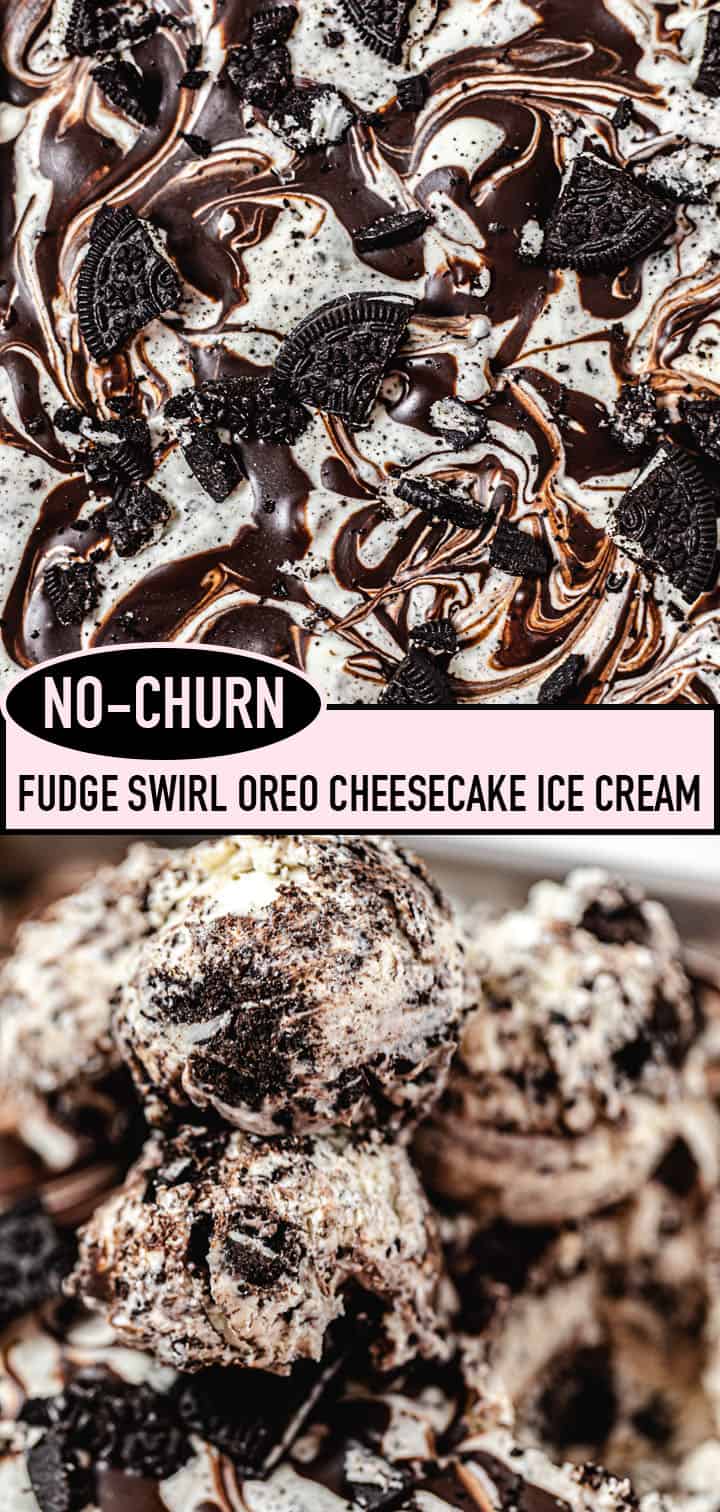 FOLLOW QUEENSLEE APPÉTIT
Like what you see? Make sure you're following Queenslee Appétit for more tasty recipes!
Pinterest | Instagram | Facebook |
Have any questions about the recipe? Contact me here, and I'll be happy to help!
SWEETEN UP YOUR INBOX!
SUBSCRIBE to the Queenslee Appétit Newsletter to recieve new recipe notifications, monthly baking tips, sneak peeks to upcoming recipes, exclusive recipes and more!
Let's get baking!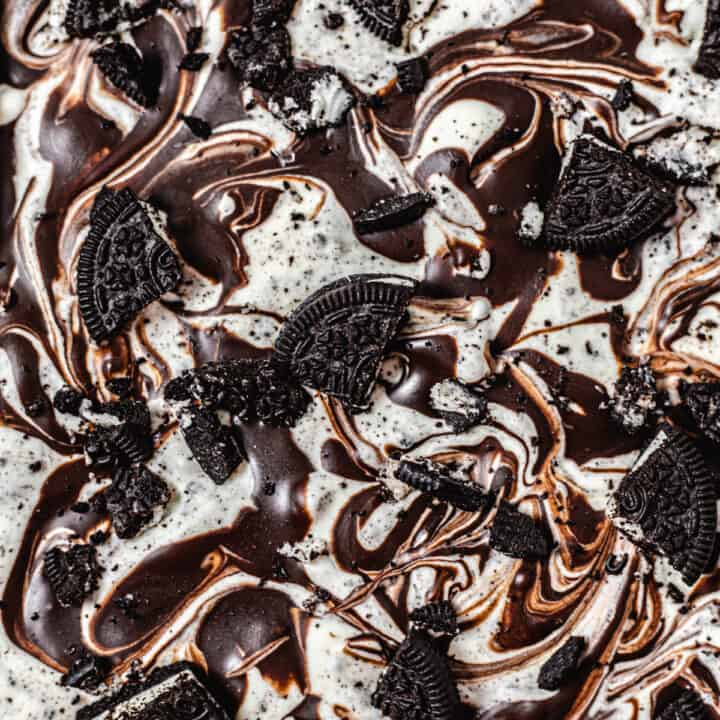 No-Churn Fudge Swirl Oreo Cheesecake Ice Cream
Total Time:
6 hours
20 minutes
This irresistible No-Churn Oreo Cheesecake Ice Cream starts with a cheesecake ice cream base and is swirled with a rich chocolate ganache and loaded with plenty of crushed Oreo cookies! Made with only 6-ingredients, this easy homemade ice cream will drive you crazy!
Ingredients
Ganache:
1 cup (170g) semisweet chocolate chips
½ cup (120ml) heavy cream
Oreo Cheesecake Ice Cream:
30 Whole Oreos, divided
2 cups (480ml) Heavy Whipping Cream
1 teaspoon pure vanilla extract
1 (8-ounce) package cream cheese, softened to room temperature
14 oz (1 and ¼ cup) sweetened condensed milk
Instructions
For the Ganache:
In a heat safe bowl, microwave the heavy whipping cream and chocolate together in 30 second intervals, until the cream is steaming hot. This takes me about 1 minute, but it may be longer for you, so stir after each interval to check if the chocolate is melted enough.
Stir until the mixture comes together to form a thick and silky ganache. Set aside to cool.
For the Oreo Cheesecake Ice Cream:
Roughly chop 20 Oreos, set aside.
Scrape the filling out of the remaining 10 Oreos, and place into a separate bowl. Set aside.
Place the leftover wafers into a food processor (or use a ziploc bag and a heavy object like a pot) pulse or beat into fine crumbs. Set aside.
In a large, chilled stainless steel bowl, whip the heavy cream and vanilla until soft peaks form, about 3-4 minutes.
In a separate bowl using the same handheld mixer, beat cream cheese and reserved oreo cream filling until smooth, about 2-3 minutes. Add sweetened condensed milk and mix on low speed until fully combined.
Add whipped cream to cream cheese mixture, ⅓ at a time and gently fold until smooth and combined.
Add SOME of the crushed Oreos and all of the Oreo crumbs and gently fold into the cream until combined. Pour ⅓ of the mixture into a 9x9-inch square pan or a 9x5-inch loaf pan and spread evenly.
Drizzle some of the ganache on top and use a butter knife to swirl. Pour ½ of the remaining cream mixture on top and drizzle more of the ganache on top and swirl.
Repeat with the remaining ice cream mixture, spread into an even layer, then drizzle and swirl some more ganache on top.
Garnish the top with the leftover crushed Oreos. Cover with plastic wrap and freeze for up to 6 hours or overnight. Enjoy!
Nutrition Information:
Yield:

8
Serving Size:

1
Amount Per Serving:
Calories:

486
Total Fat:

21g
Saturated Fat:

10g
Trans Fat:

0g
Unsaturated Fat:

4g
Cholesterol:

37mg
Sodium:

268mg
Carbohydrates:

71g
Fiber:

2g
Sugar:

57g
Protein:

7g
BON APPÉTIT!
Love, Dedra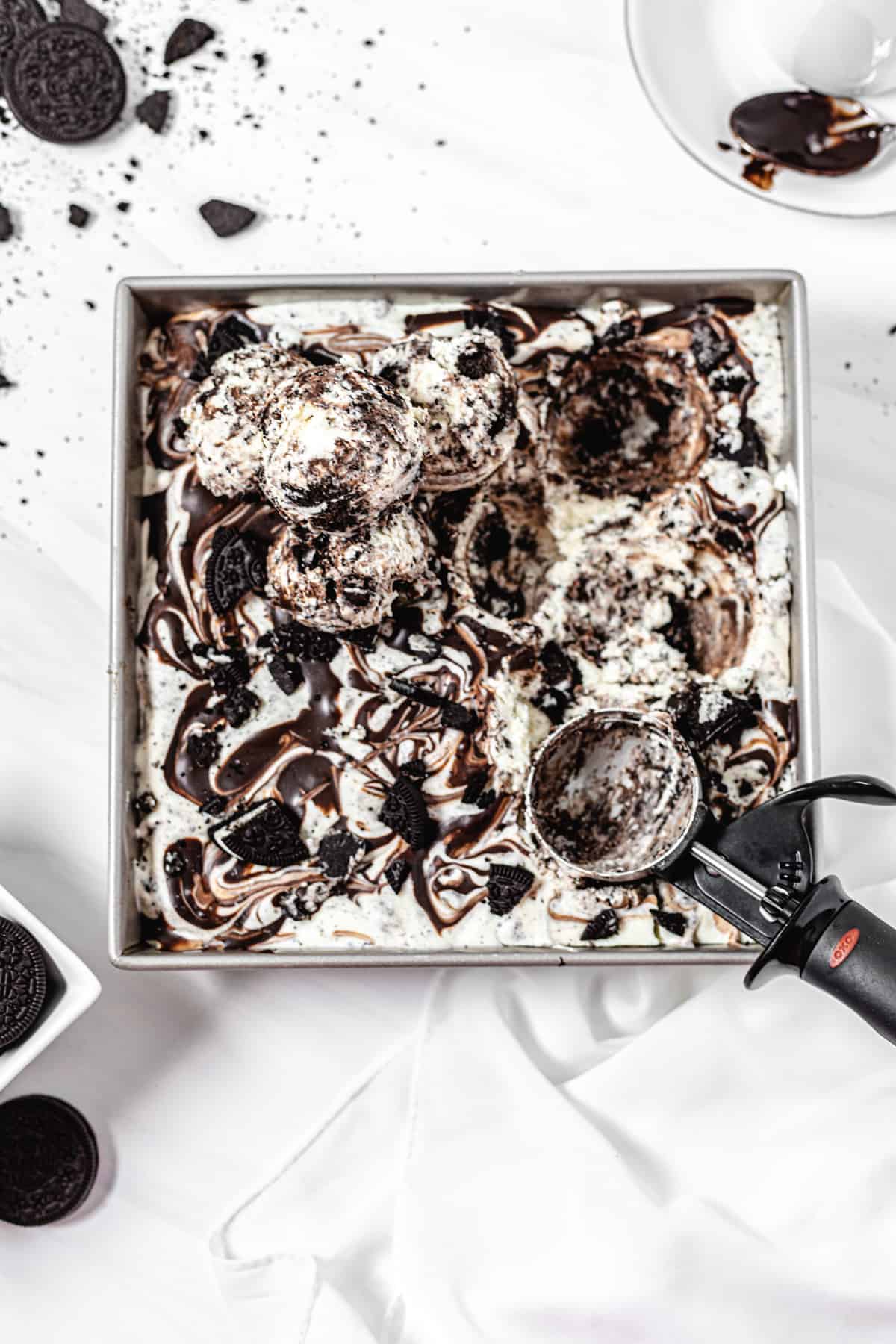 ©QUEENSLEE APPÉTIT. All images & content are copyright protected. Please do not use my images without prior permission. If you want to republish this recipe, please re-write the recipe in your own words, or link back to this post for the recipe.