This amazing recipe for Mini Oreo Cheesecakes features a whole whole Oreo cookie base, creamy cookies and cream cheesecake filling, and a ganache topping garnished with whipped cream, Oreo crumbs and another Oreo cookie!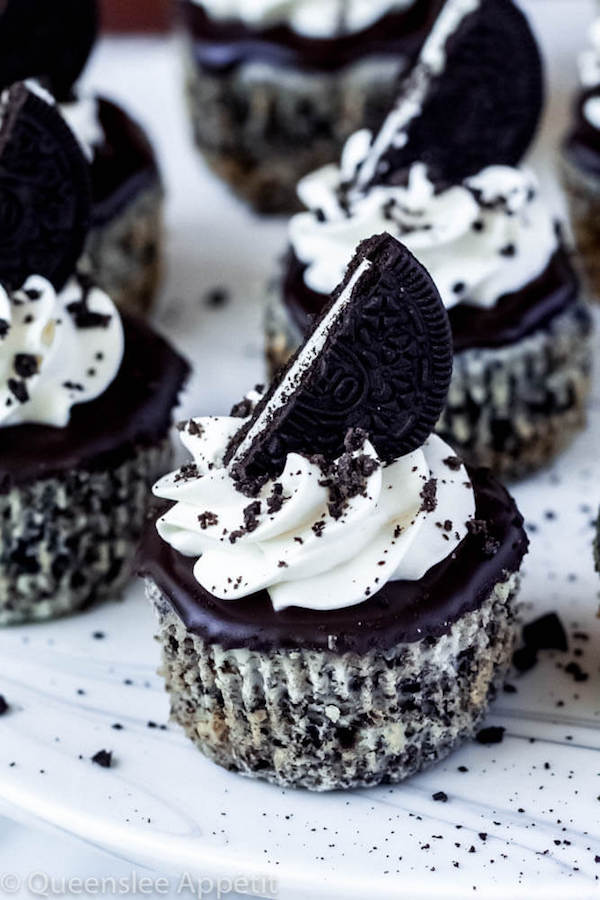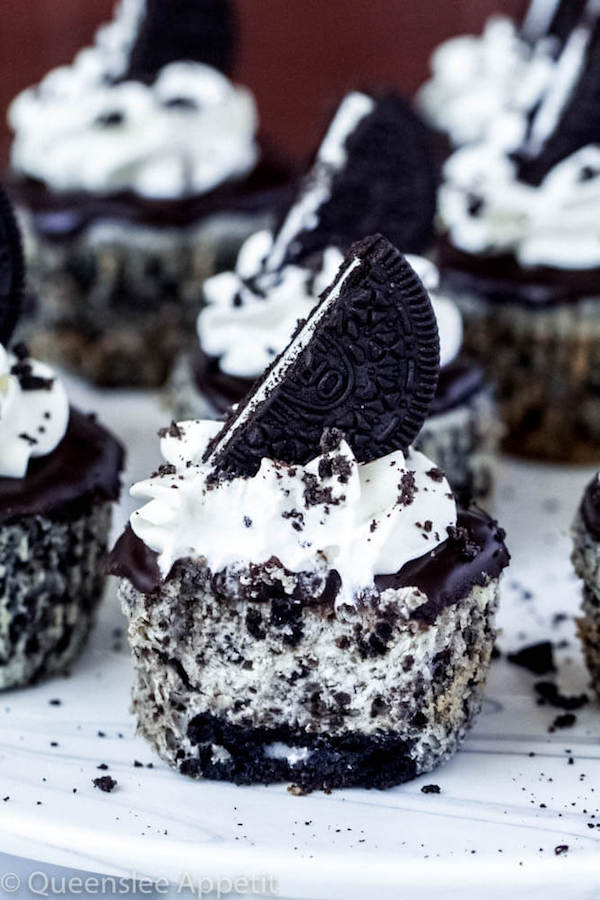 This post may contain affiliate links. Please see my full disclosure policy for details.
I think it's a known fact by now that I have a serious Oreo addiction. I don't mean that I can't stop eating Oreos, no the thing is I can't stop baking Oreos into something even more delicious!
And every Oreo dessert I make goes all out, I won't stand for that "add 2 teaspoons of Oreo crumbs and call it a day" mess. If I'm making an Oreo dessert, I want there to be bits of Oreo in every nook and cranny. For instance, this No-Churn Oreo Ice Cream has loads of Oreos inside of the actual ice cream, then the top is completely coated in Oreo crumbs and mini Oreos. Oh and don't get me started on these Oreo Fudge Brownies!
Cookies and cream has just always been one of my most favourite dessert flavours! One of the best cookies and cream desserts on this blog is my Red Velvet Oreo Cheesecake. That is without a doubt the greatest cheesecakes I have ever made! Every inch is incredible, but the part I loved most was the Oreo cheesecake filling. So I decided to cut that recipe in half, tweak it a bit, and create these Mini Oreo Cheesecakes!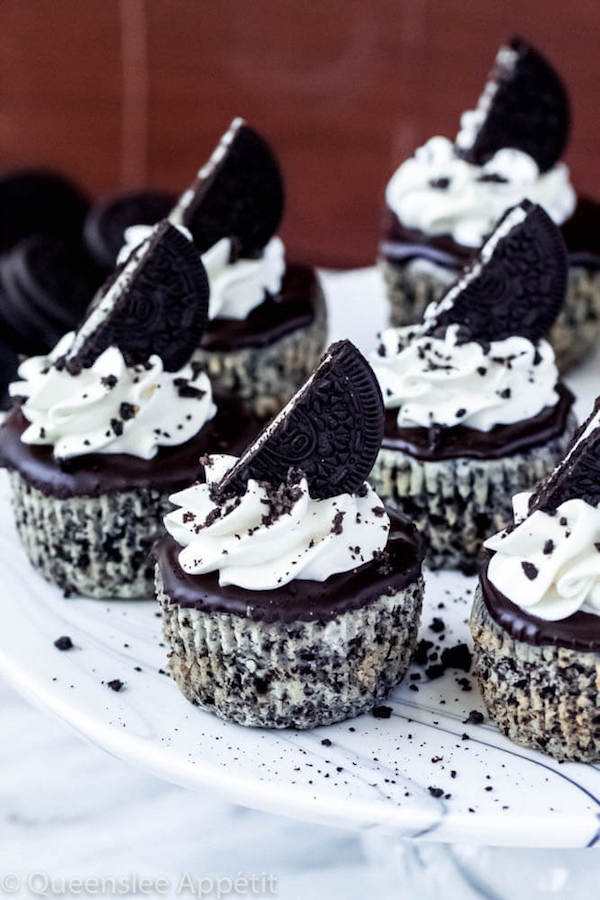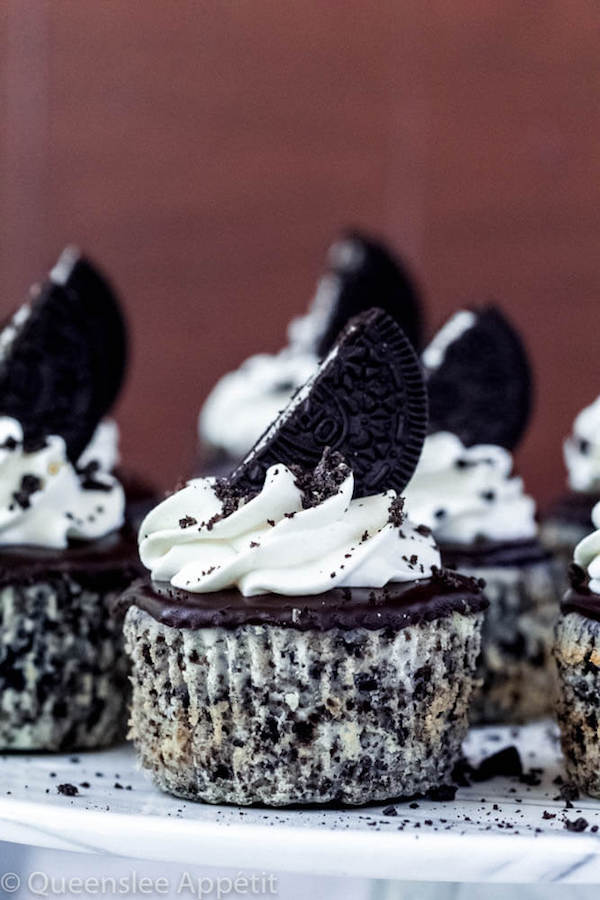 Mini Oreo Cheesecakes
One look at these babies and you can tell that they are PACKED with Oreos! I mean they are my all time favourite cookie, and cheesecake may be my all time favourite dessert (I haven't decided yet, but it's way up there) so I had to make sure these mini Oreo cheesecakes were the best of the best.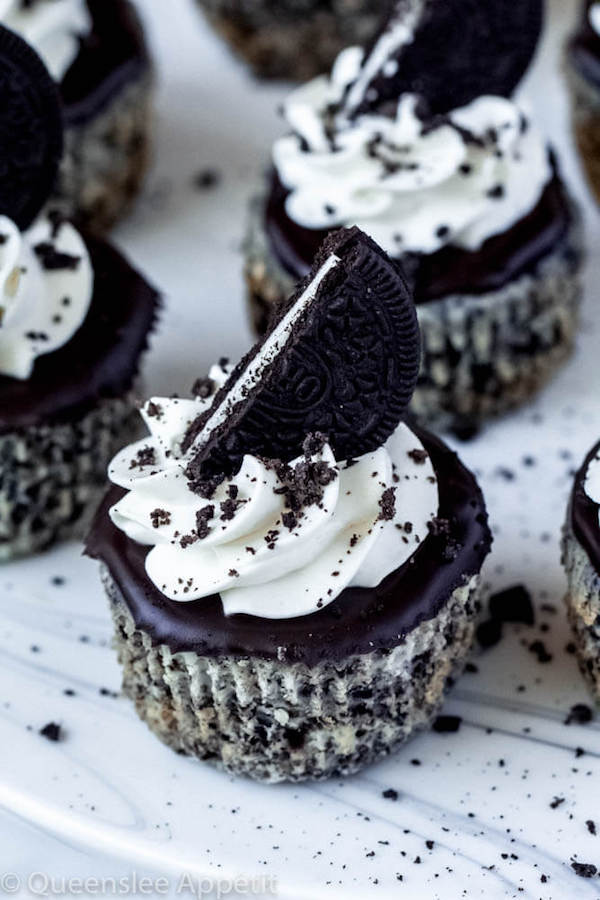 It may look like there's a lot going on in these mini cheesecakes, but they're actually really easy to make and each part of the recipe comes together in just a few simple steps.
The Oreo crust is simply a whole Oreo placed at the bottom of the cupcake liner. So once you get that difficult part out of the way (the hard part being trying to resist eating the Oreos instead of putting them in the liners), you could move on to making the cookies and cream cheesecake filling.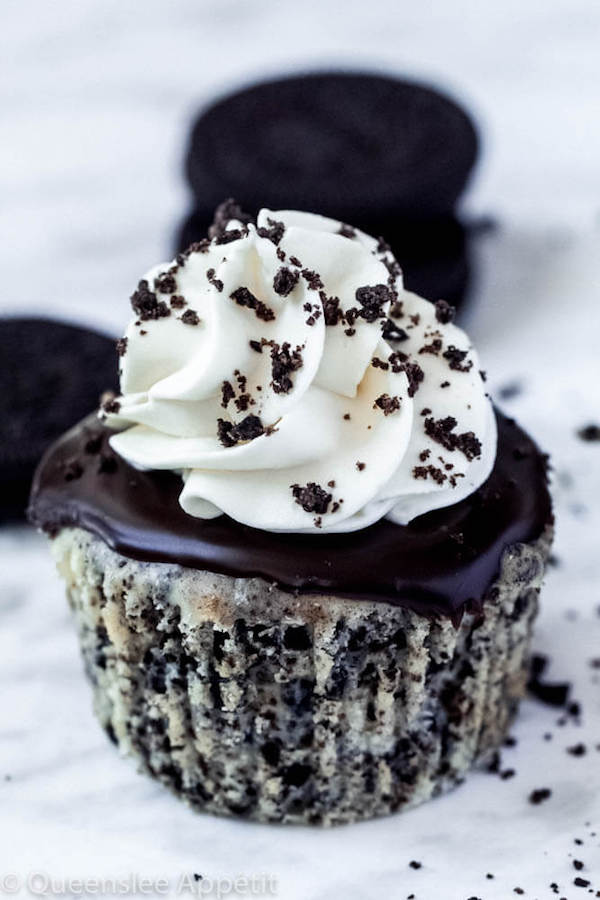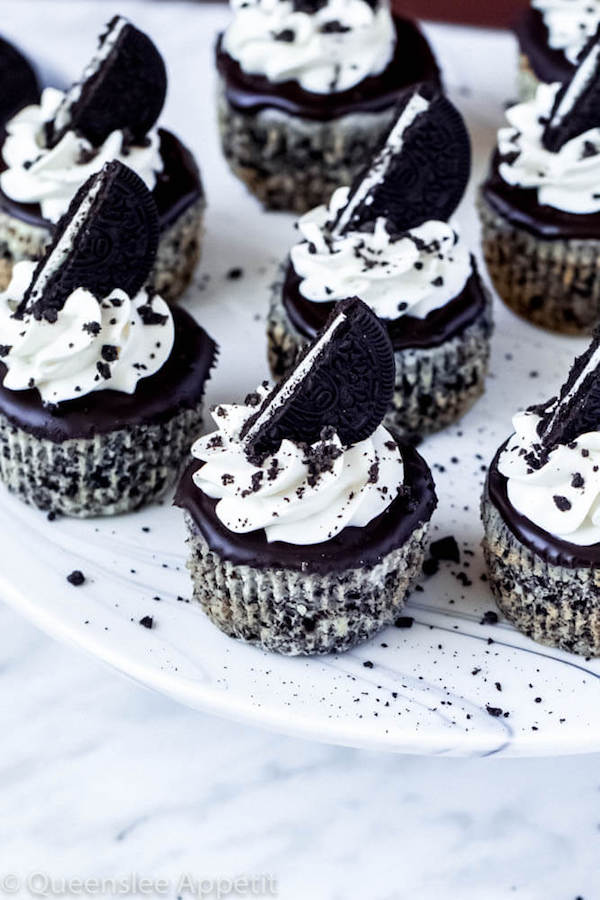 Oreo Cheesecake Filling
Mmmm, doesn't it look good? The Oreo cheesecake filling is just your basic vanilla cheesecake recipe with an entire cup of Oreo crumbs mixed in! Many mini oreo cheesecake recipes I've seen just roughly chop up about 3 Oreos and add it to the batter and there's barely any Oreo in each cheesecake.
Crushing up a dozen Oreos into crumbs made sure that no part of the cheesecake batter was lacking that yummy cookie crunch. Now you don't really have to crush the cookies into crumbs if you don't want to. If you want your cheesecakes to have chunks of Oreo in it instead, you can either chop them with a knife, or break them up in a ziplock bag with a rolling pin so you get a mixture of chunks and crumbs!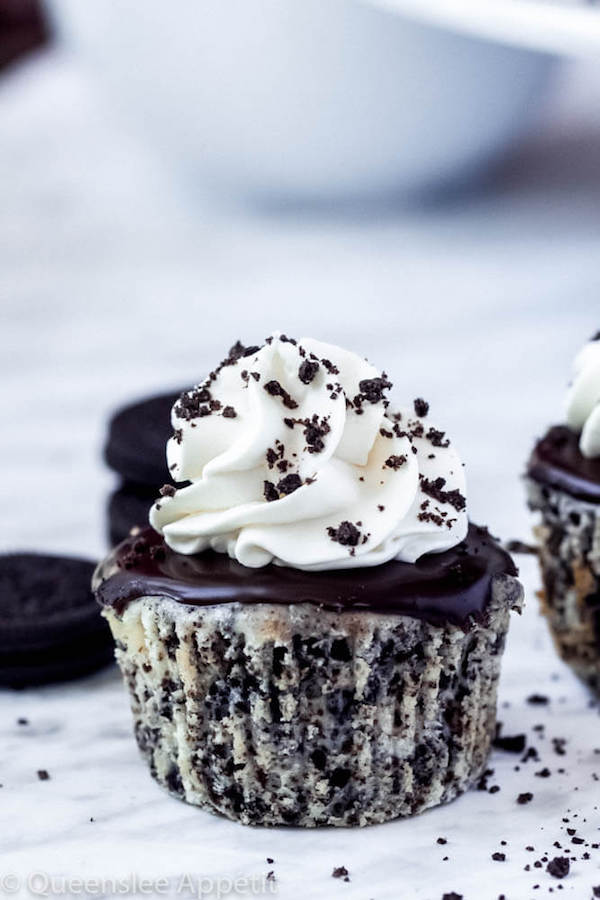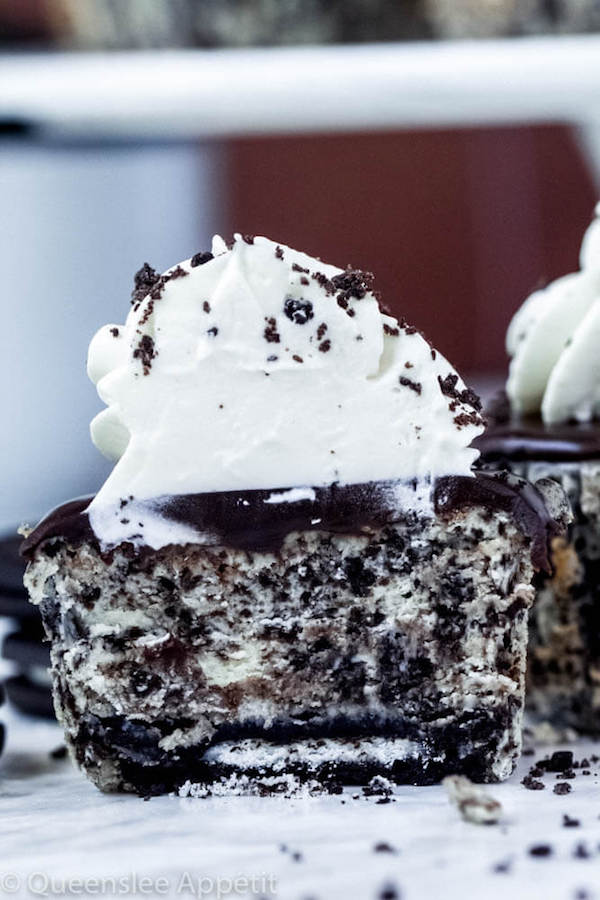 Chocolate Ganache
You can leave the cheesecakes plain if you want, but I highly recommend you at least top it with ganache. I believe every good Oreo cheesecake must be topped with a rich chocolate ganache. The two make such a fantastic combination, it would be a sin not to include it.
If you've never made ganache, it's incredibly easy. Combine chocolate chips and heavy cream in a heat proof bowl and microwave in 30 second intervals until the cream is very hot. Then stir the two together until they form a silky, thick ganache. Now spoon it on top of the cheesecakes and let it set up in the refrigerator.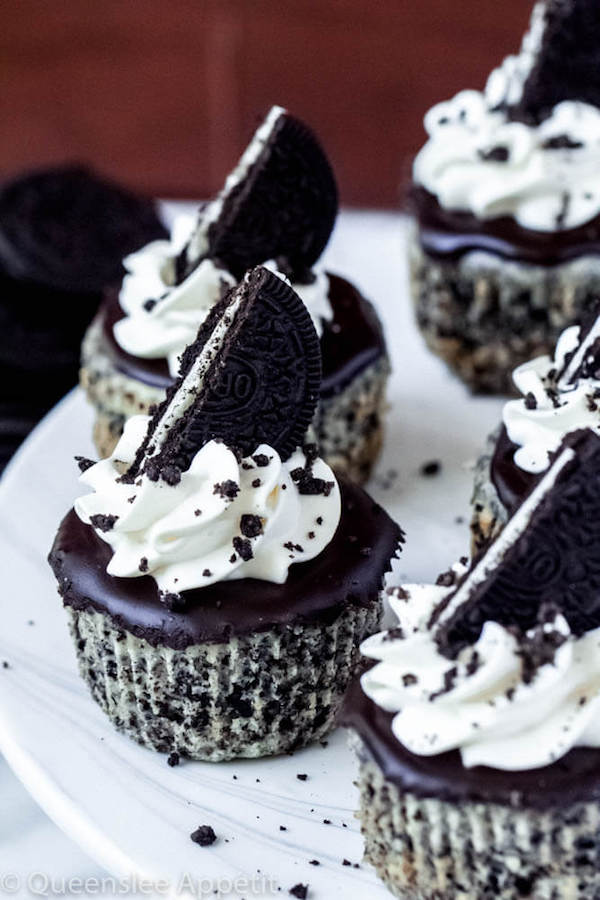 Again, you could leave it like that, or you could get real extra and add a swirl of whipped cream, sprinkle of Oreo crumbs and a halved Oreo on top!
These cheesecakes are a must-try dessert, perfect for anytime of the year. They'd be a huge crowd pleaser, if they ever make it to a crowd that is. It's only a matter of time before that first bite turns into your fourth cheesecake.
Not that I'd know anything about that.
I'd love to know how these turn out for you, so if you make this recipe or any other recipe of mine, come back and leave a comment down below to tell me how they turned out!
And don't forget to take photos and tag me on Instagram @queensleeappetit or use the hashtag #queensleeappetit so I could see your gorgeous creations!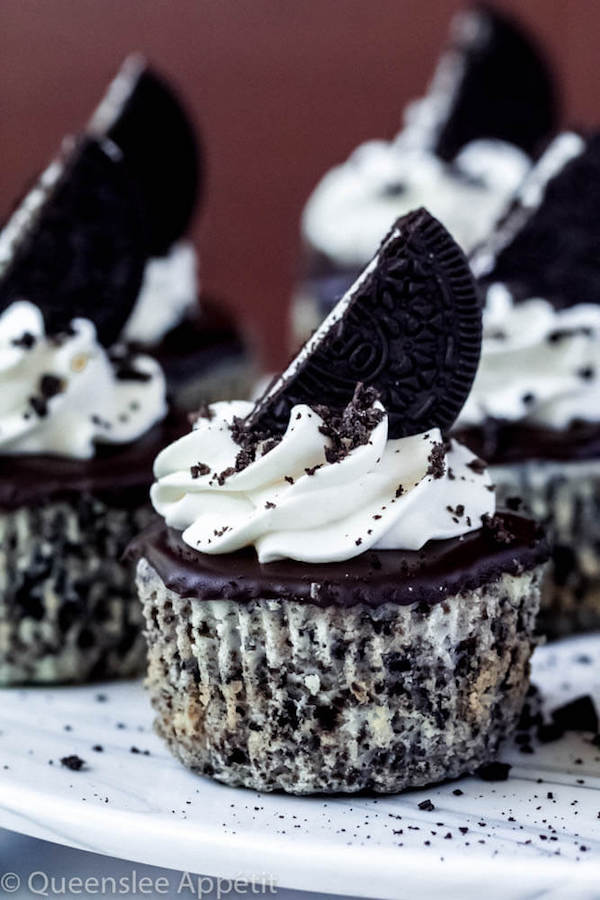 >>PIN THIS FOR LATER<<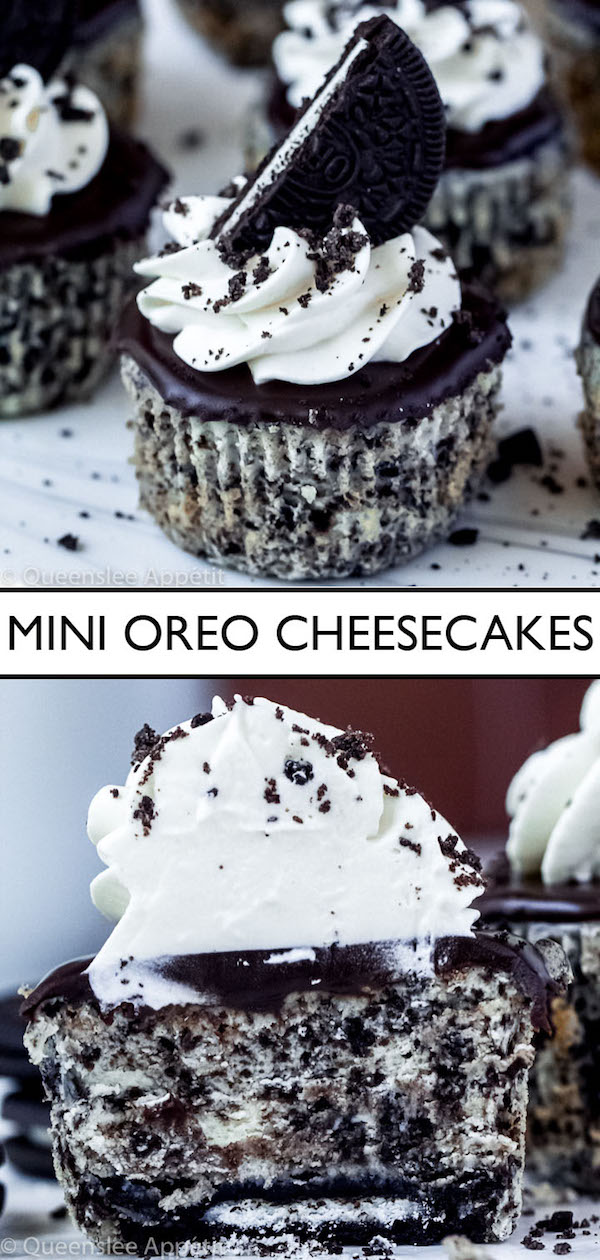 FOLLOW QUEENSLEE APPÉTIT
Like what you see? Make sure you're following Queenslee Appétit for more tasty recipes!
Pinterest | Instagram | Facebook | Twitter |
Have any questions about the recipe? Contact me here, and I'll be happy to help!
Let's get baking!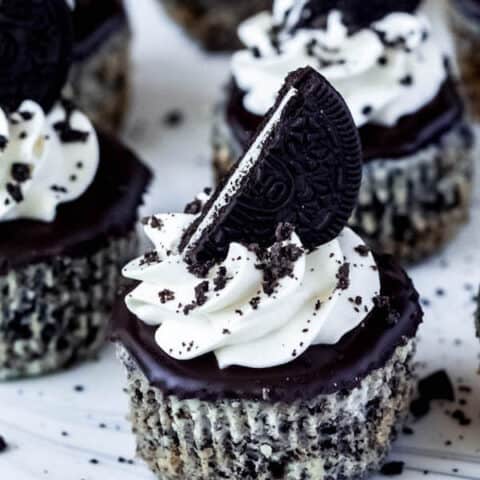 Mini Oreo Cheesecakes
Yield:
12 mini cheesecakes
This amazing recipe for Mini Oreo Cheesecakes features a whole whole Oreo cookie base, creamy cookies and cream cheesecake filling, and a ganache topping garnished with whipped cream, Oreo crumbs and another Oreo cookie!
Ingredients
Crust:
Oreo Cheesecake Filling:
12 Oreos, crushed into crumbs
1 and ½ (8-ounce) packages (12 oz) full-fat cream cheese, room temperature
½ cup granulated sugar
1 Tbsp. cornstarch
⅛ teaspoon salt
½ cup sour cream, room temperature
1 and ½ teaspoon pure vanilla extract
2 large eggs, room temperature
Chocolate Ganache:
1 cup dark chocolate chips
½ cup heavy cream
Sweetened Whipped Cream:
¾ cup heavy whipping cream, chilled
4 tablespoon powdered sugar
½ teaspoon pure vanilla extract
Topping:
2 Oreos, crushed into fine crumbs
6 Oreos, cut in half
Instructions
For the Crust:
Preheat oven to 325°F and Line a 12-cup muffin pan with liners. Place a whole Oreo onto the bottom of each liner. Set aside.
For the Oreo Cheesecake:
In a food processor, or in a large ziplock bag using a rolling pin, crush the Oreos into crumbs.
In a large bowl using a handheld mixer, beat the cream cheese, sugar and cornstarch on medium speed until creamy, about 1-2 minutes.
Scrape down the sides of the bowl and add sour cream and vanilla and continue beating until smooth.
Add eggs one at a time, beating slowly until just combined, do not overbeat. Scrape sides and bottom of the bowl with a rubber spatula to make sure everything is fully combined.
Fold in Oreo crumbs. Forcefully tap bowl on the counter a few times to release any air bubbles.
Fill each liner with ¼ cup of batter. You may have some batter left, so scoop an extra tablespoon of batter into each liner until it's finished. These cheesecakes can be filled to the top.
Bake in preheated oven for 20-22 minutes until the tops are puffed and look dry.
Remove from oven and allow to cool completely on a cooling rack.
Cover with plastic wrap and refrigerate until firm and chilled, about 1-2 hours or overnight. Meanwhile, prepare the ganache.
For the Ganache:
Put the chocolate chips into a medium bowl. Set aside.
Heat the heavy whipping cream in a small saucepan until it just begins to simmer.
Remove hot cream from heat and pour it over the chocolate. Cover the bowl and allow it to sit for 5 minutes.
Remove cover and stir ganache until smooth. Add a spoonful of ganache to the top of each cheesecake. Transfer back to the refrigerator to set for about 1 hour.
For the Sweetened Whipped Cream:
In a medium stainless steal bowl, using a handheld mixer, whip the chilled cream, powdered sugar and vanilla until cream holds peaks.
Transfer to a piping bag fitted with a large star tip, I used Wilton 1M.
Remove cheesecakes from the refrigerator and remove paper liners. Pipe a small swirl into the centre of each cheesecake, garnish with Oreo crumbs and half an Oreo, if desired. Enjoy!
Recommended Products
As an Amazon Associate and member of other affiliate programs, I earn from qualifying purchases.
Nutrition Information:
Yield:

12
Serving Size:

1
Amount Per Serving:
Calories:

388
Total Fat:

23g
Saturated Fat:

12g
Trans Fat:

0g
Unsaturated Fat:

5g
Cholesterol:

68mg
Sodium:

176mg
Carbohydrates:

44g
Fiber:

2g
Sugar:

31g
Protein:

4g
BON APPÉTIT!
Love, Dedra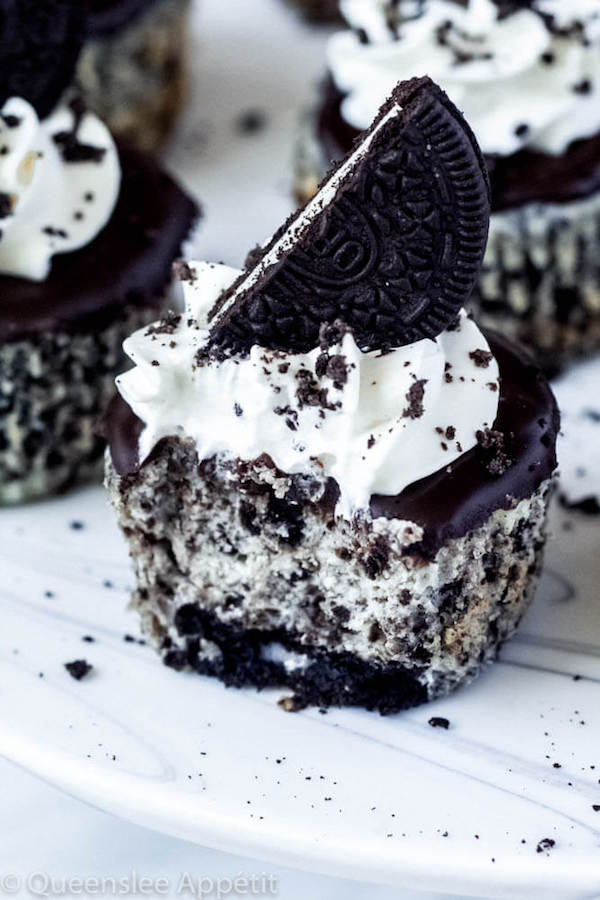 ©QUEENSLEE APPÉTIT. All images & content are copyright protected. Please do not use my images without prior permission. If you want to republish this recipe, please re-write the recipe in your own words, or link back to this post for the recipe.