This S'mores Ice Cream Cake features a buttery graham cracker crust, a chocolate ice cream filling loaded with marshmallows, crushed graham crackers and chocolate chips that's topped with a fluffy toasted marshmallow meringue! This frozen campfire dessert is seriously indulgent!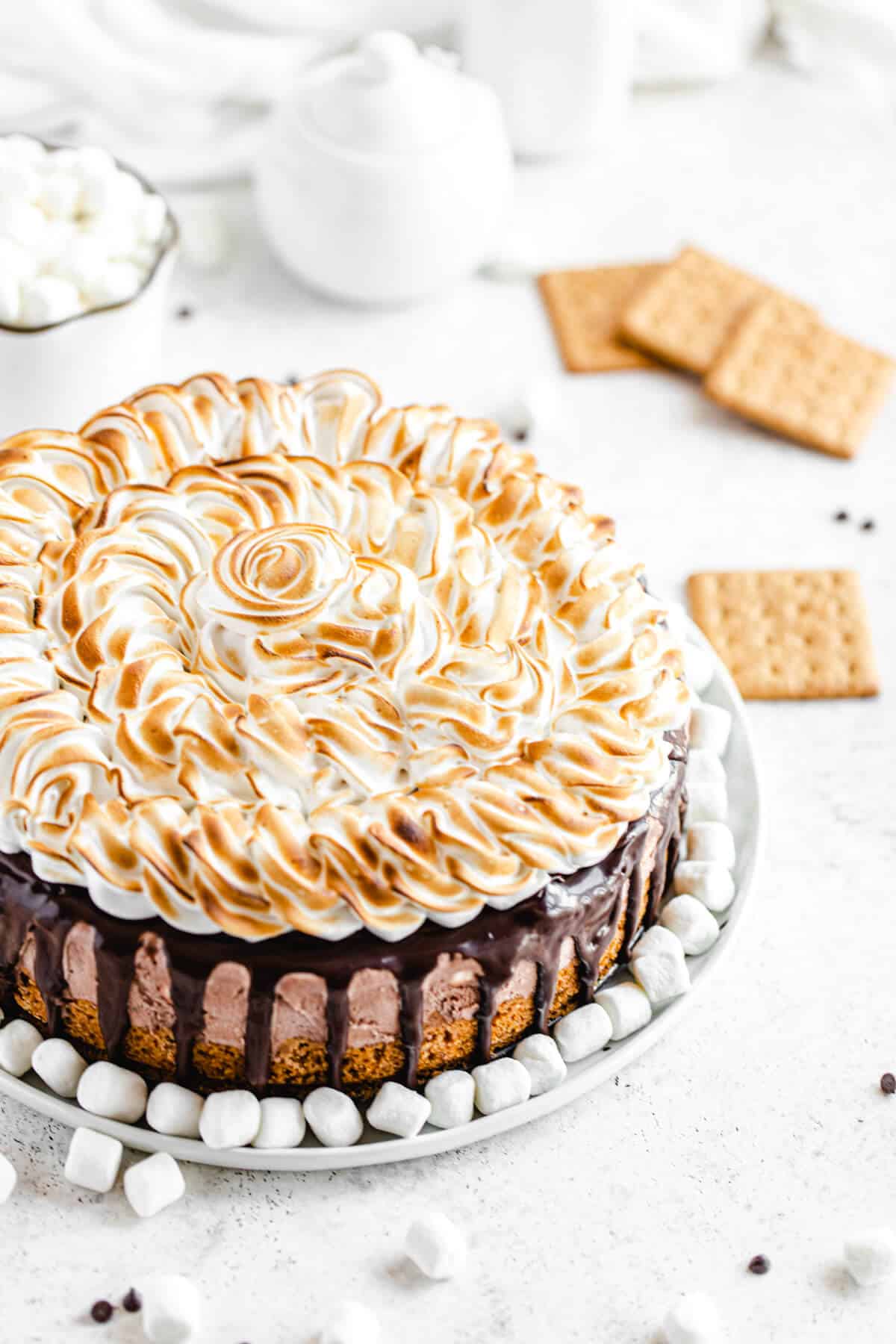 This post may contain affiliate links. As an Amazon Associate I earn from qualifying purchases. Please see my full disclosure policy for details.
Today is National S'mores Day! It's also unbearably HOT, so let's have some ice cream cake!
Not too long ago, I updated my Cookie Dough Ice Cream Cake recipe and since that recipe was so simple, I decided to give it another go! We'll be making a different crust, of course, but the concept of adding goodies to softened store-bought ice cream and freezing it in a springform pan is still the same.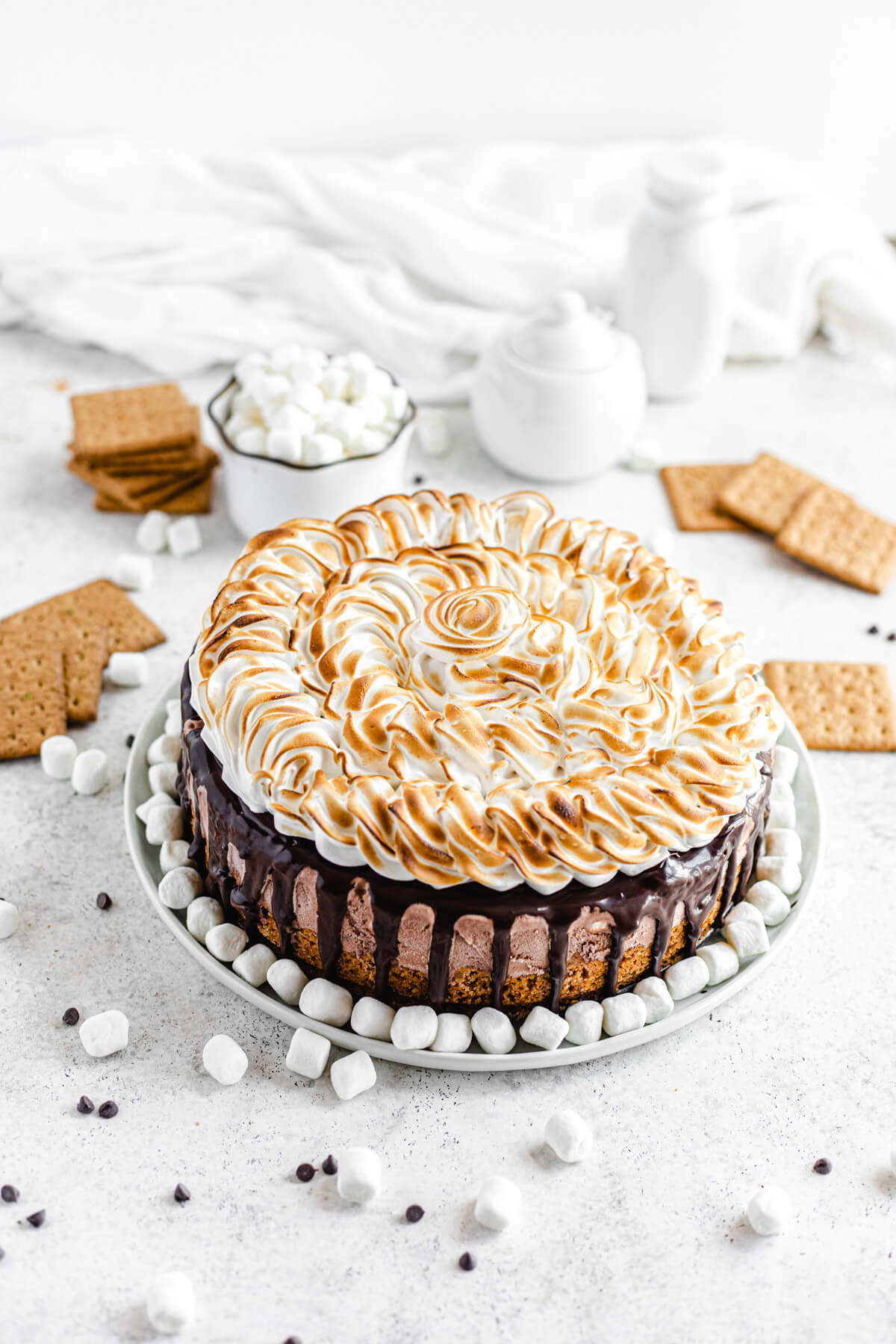 4 Parts to This Ice Cream Cake
Just like the cookie dough ice cream cake, we've got 4 components in this recipe:
Graham Cracker Crust: normally we pre-bake a graham cracker crust, but all you need to do is freeze it!
S'mores Ice Cream Filling: Use your favourite 1.5L tub of chocolate ice cream and stir in some mini marshmallows, crushed graham crackers and chocolate chips!
Ganache: Warm ganache can melt ice cream pretty quickly, no matter how frozen it is, so work quickly when spreading it on!
Meringue Topping: This is an optional decoration. I piped a meringue on top and toasted it, but you could decorate with toasted mini marshmallows, whipped cream, graham crackers and more!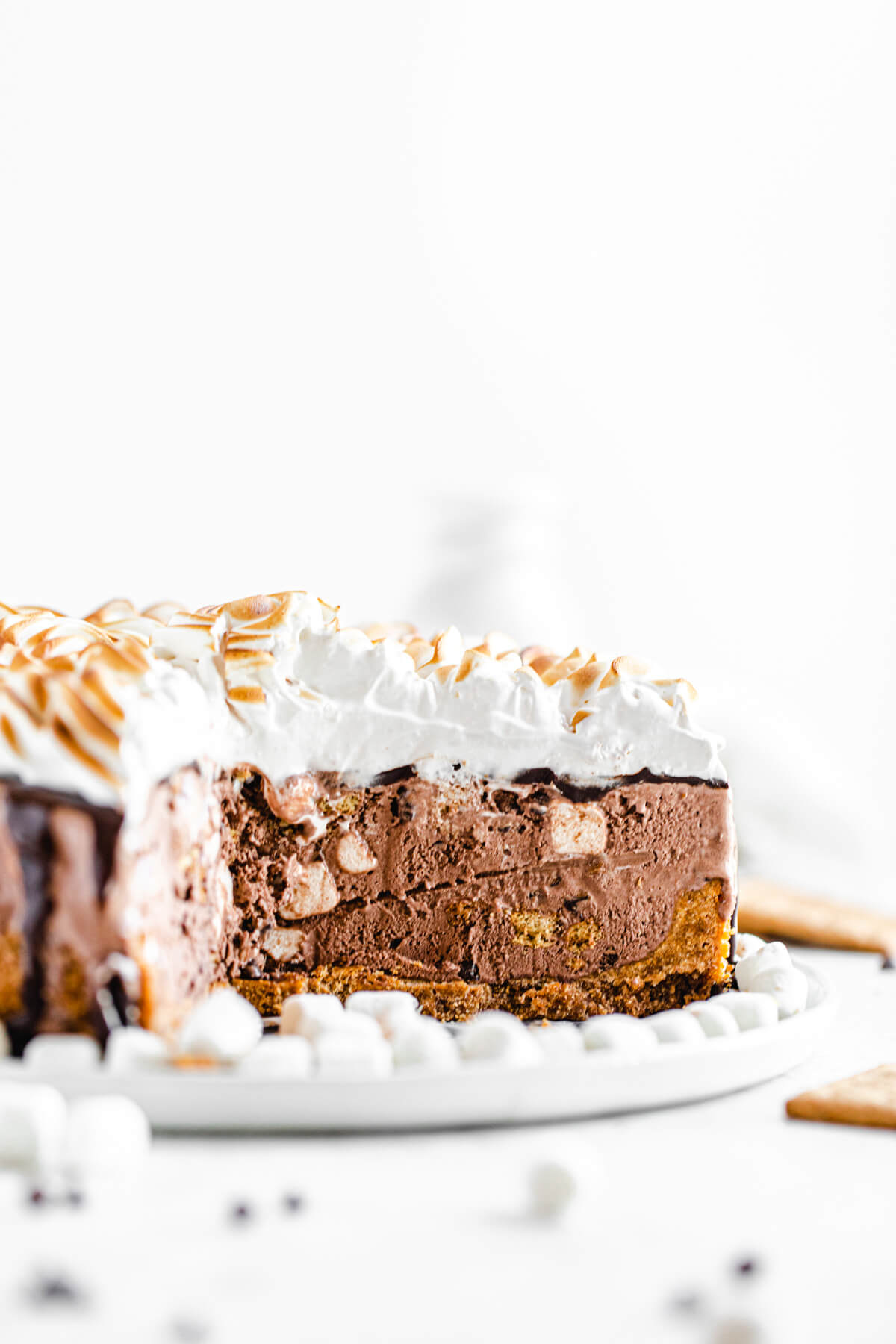 Graham Cracker Crust
For the no-bake crust, combine the graham cracker crumbs, sugar and melted butter in a medium bowl using a large fork. Pour it into a greased springform pan and use the bottom of a measuring cup to flatten it into the bottom and up the sides of the pan. You should even use your knuckles to push in the creases to straighten it out.
Pop the crust in the freezer for at least 10-15 minutes until it's solid. Meanwhile, prepare your yummy ice cream filling!
S'mores Ice Cream Filling
Before you begin the recipe, remove your ice cream from the freezer and let it sit at room temperature until it becomes a soft-serve consistency. This way it'll be easier for you to fold in the marshmallows, chocolate chips and graham crackers.
Make sure to use mini marshmallows to make the ice cream easier to eat. You could even throw them onto a baking sheet and broil them until their toasted before adding them to the ice cream!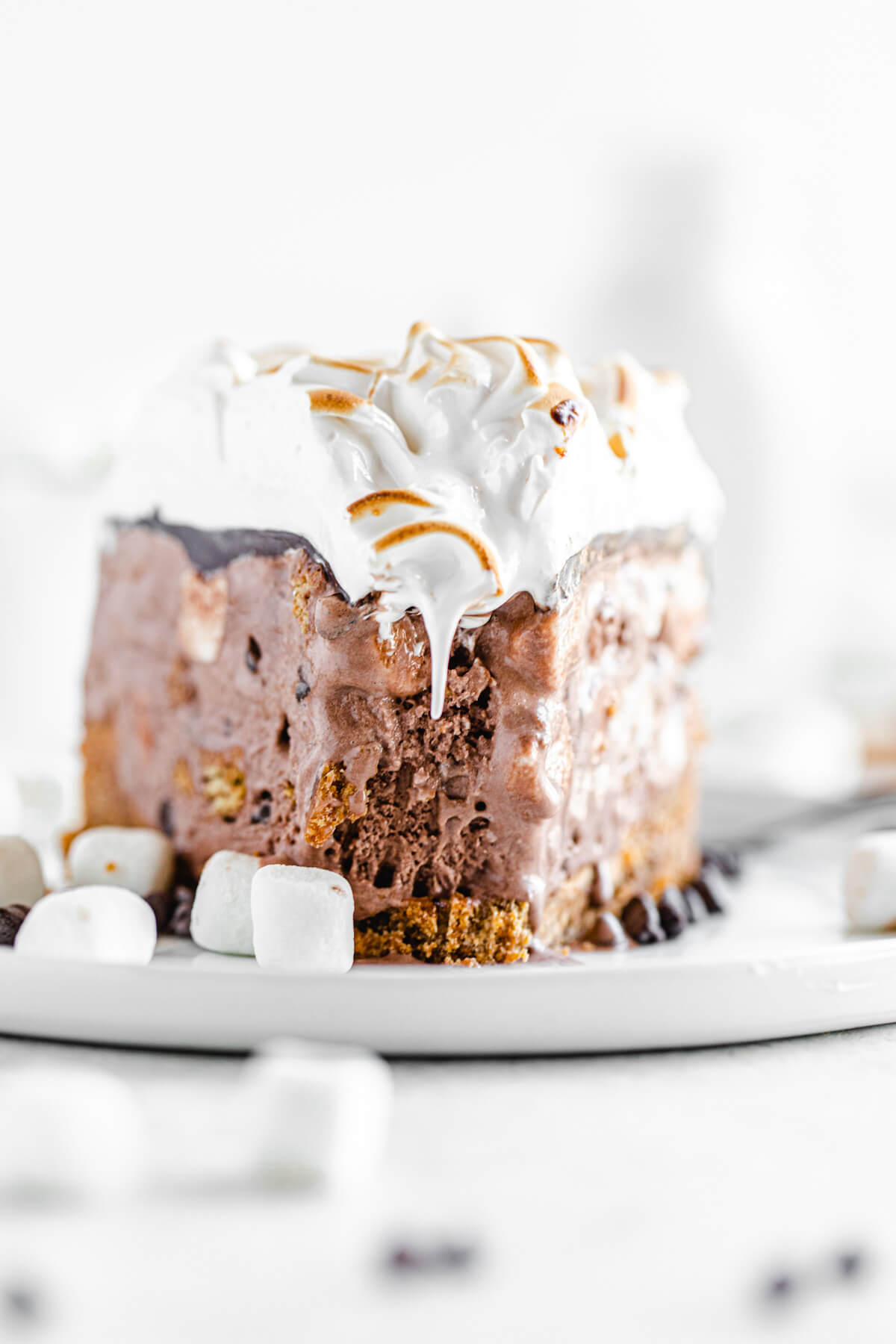 Ganache Topping
For this ice cream cake, I did something different with the ganache. I wanted it to look like a drip cake, however things didn't exactly go as planned.
I let my ganache cool for an hour and a half, stirring occasionally to keep it loose, but it was still a bit too warm. So when I dripped it around the edges, the ice cream started to melt, causing the ganache to slide down with it. Lord knows you don't wanna see the back of this cake.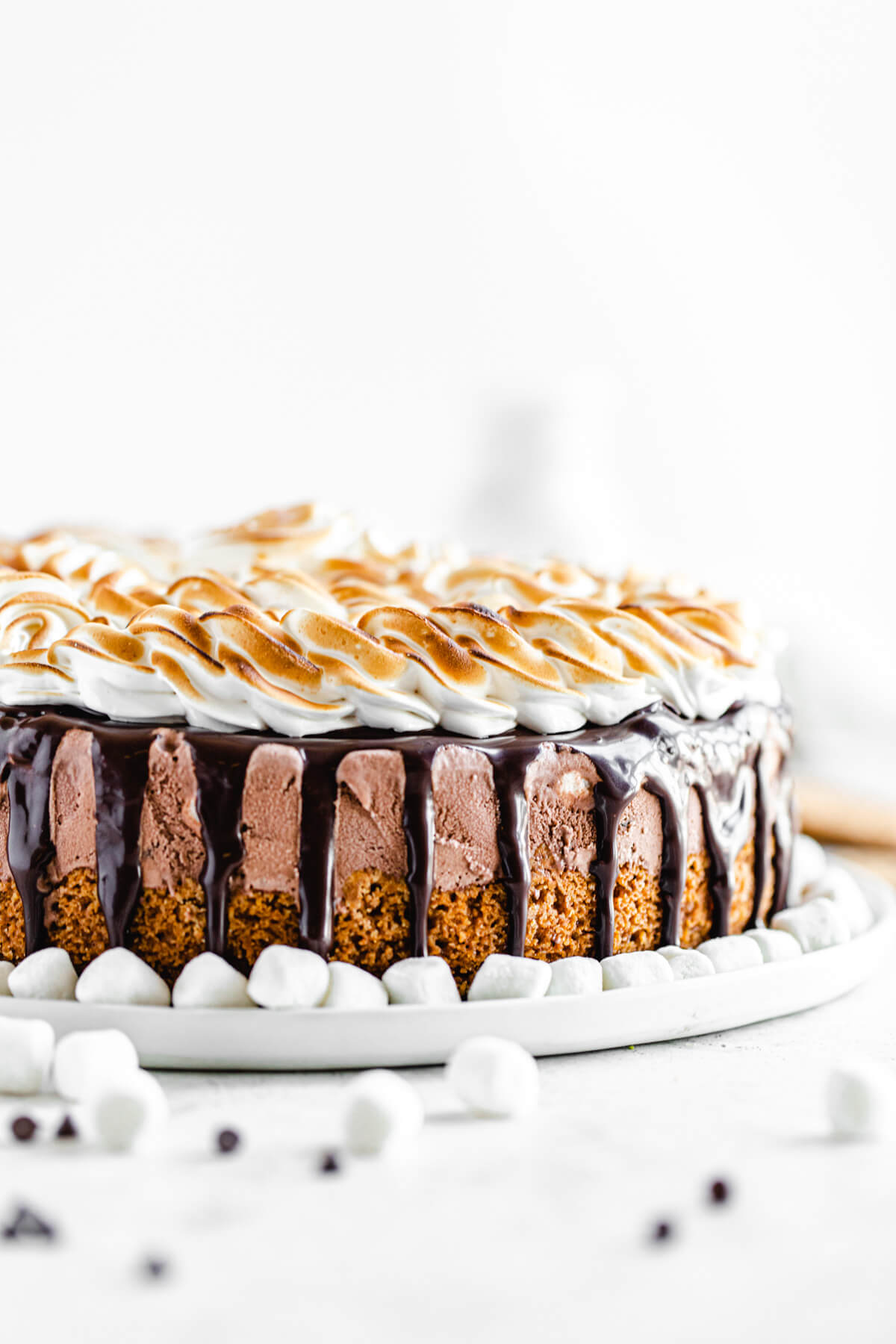 After dripping the ganache, immediately pop it in the freezer for about 30 minutes. Then pour the remaining ganache on top and spread it quickly before the ice cream starts melting again, then transfer it back to the freezer until everything solidifies again, or until you've finished the meringue.
Meringue Topping
The meringue is basically homemade marshmallow fluff! We'll be using 4 egg whites, which means you'll have 4 egg yolks leftover. Luckily for you, I've got a few pudding recipes that require that exact amount!
Tips for Making Homemade Marshmallow Meringue
Use a stainless steel or glass bowl: a plastic mixing bowl won't work if you want to whip up a nice and fluffy meringue. This is because plastic bowls can have a film of grease which prevents the egg whites from whipping up. A stainless steel bowl is definitely preferred, but if you don't have one, you can use a glass bowl instead.
Wipe bowl and beaters clean: as I mentioned above, grease can have a negative effect on your meringue, so to make sure they're as clean as possible, wipe your bowl and beaters with lemon juice or vinegar. Not a lot, just a tiny bit that'll dry off.
To make the meringue, whisk the egg whites, sugar and vanilla in your bowl, then place it over a saucepan filled with an inch of water. Continue to whisk over the simmering water until the sugar dissolves. This brings me to tip #3.
Test the egg whites with your fingers: the egg whites should be heated to 160°F, however, if you don't have a thermometer, you could use your fingers! The egg white mixture will look like a thick syrup after a few minutes of whisking. At this point, dip a clean finger inside the egg whites (careful, it's hot!) then rub your fingers together. If you feel 0 grain, the sugar has completely dissolved, so you can immediately remove the bowl from the stove and start whipping.
You can whip in the same bowl using a hand mixer, or you could pour it into a stand mixer bowl and use the large whisk attachment. A hand mixer will take about 10 minutes to fully whip the meringue until it holds peaks, but a stand mixer will take about 5 minutes and save you an arm ache.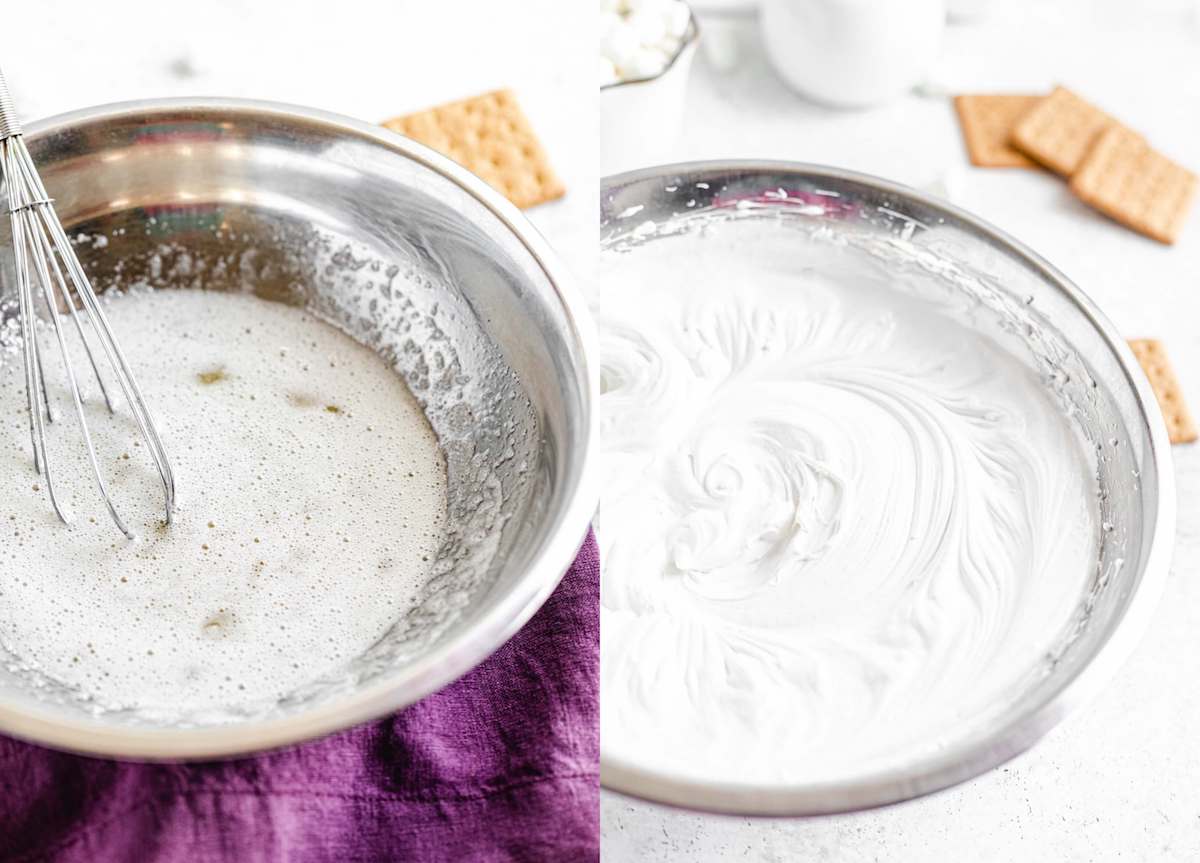 To decorate, I used a 1M tip to pipe a multiple rope borders on top of the cake. You don't have to decorate exactly like I did, you can use a petal tip and decorate it like my S'mores Cheesecake or my Lemon Meringue Cheesecake!
If you don't care about a fancy pantsy decoration, just dollop on the meringue and use the back of a spoon to create swoops to have a little texture before toasting. After toasting the meringue, place it back in the freezer until you're ready to serve. Thankfully meringue holds up very well in the freezer and doesn't really get solid. My ice cream cake has been in the freezer for about 3 days now and the meringue is still soft!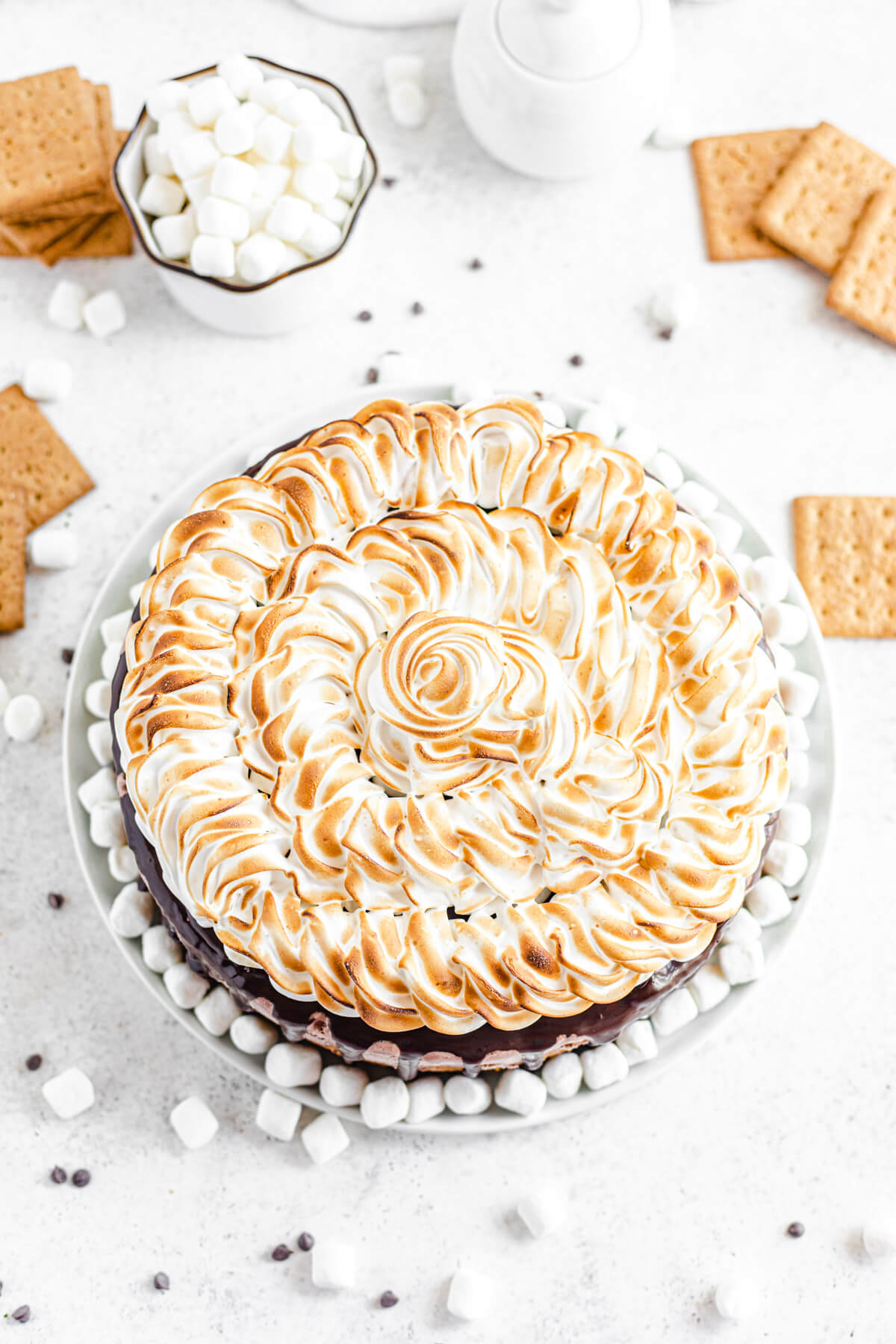 This ice cream cake was super fun to make, and even more fun to eat! From the buttery graham cracker crust, to the soft and pillowy marshmallow meringue with a toasted outer shell that melts down into the creamy chocolate ice cream loaded with the 3 classic s'mores flavours, this is definitely a memorable dessert your family will request over and over again!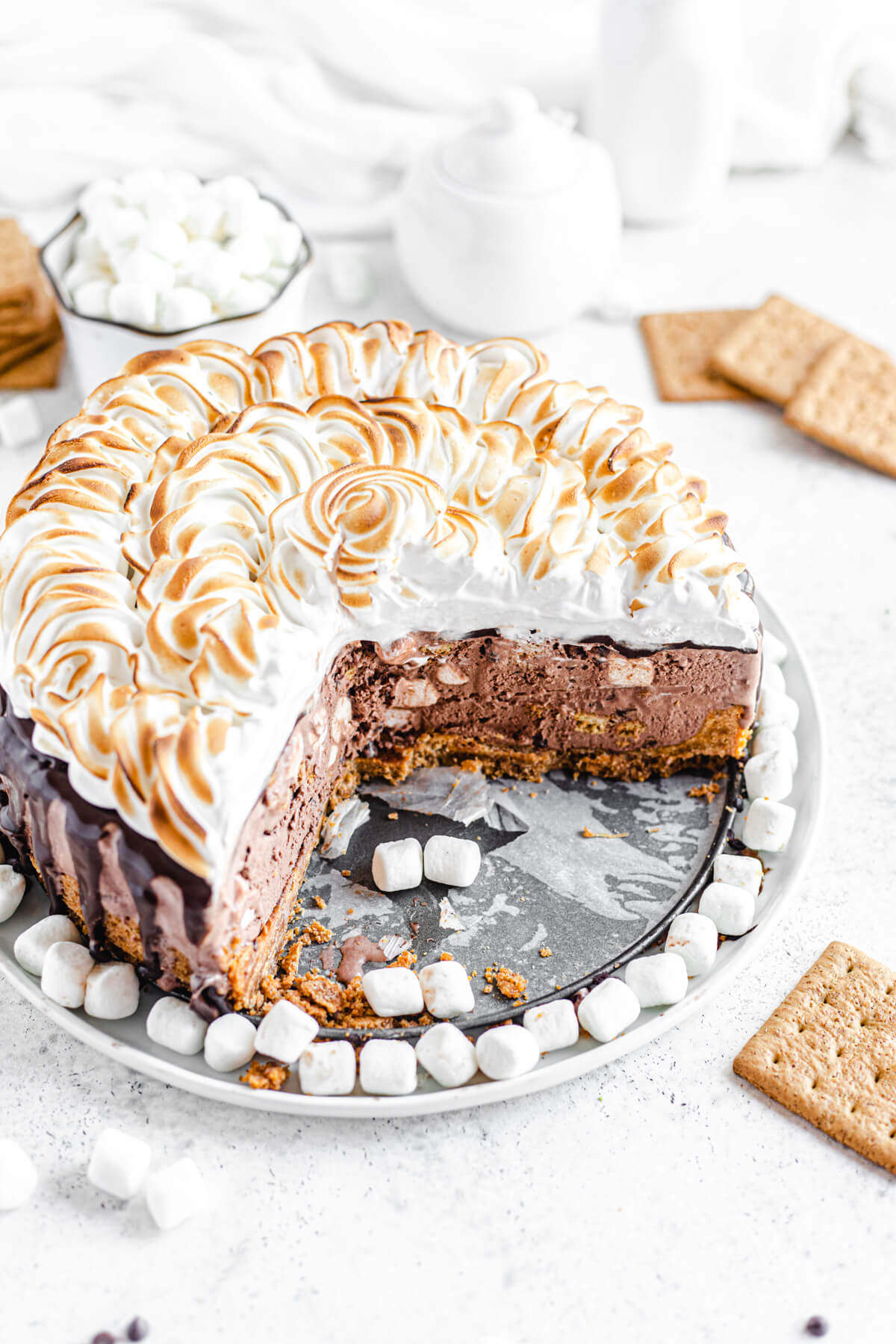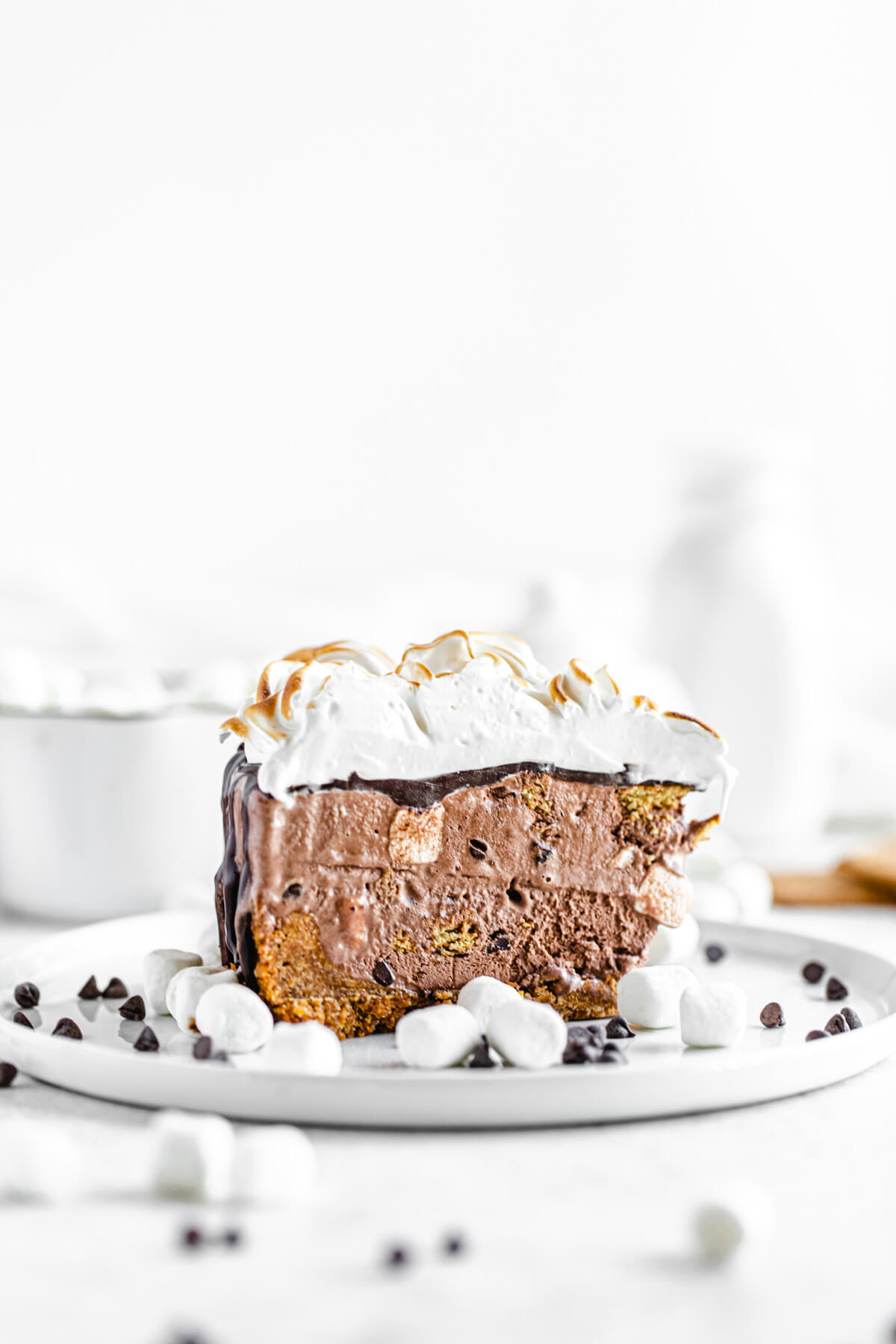 More S'mores Desserts
SHARE YOUR PICS!
Follow me on Instagram and tag #queensleeappetit so I can see and share all of your Queenslee Appétit creations in my stories and the QA Newsletter!
>>PIN ME FOR LATER<<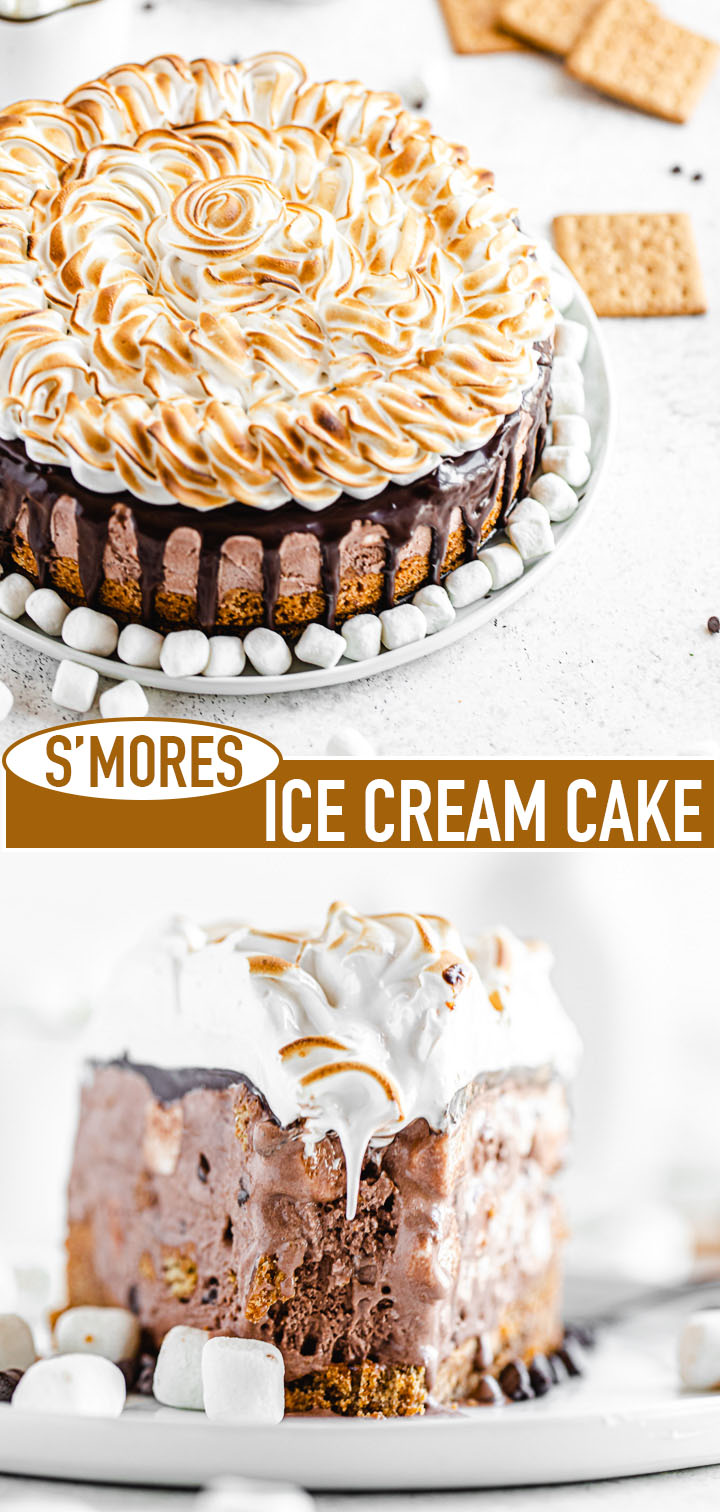 FOLLOW QUEENSLEE APPÉTIT
Like what you see? Make sure you're following Queenslee Appétit for more tasty recipes!
Pinterest | Instagram | Facebook |
Have any questions about the recipe? Contact me here, and I'll be happy to help!
SWEETEN UP YOUR INBOX!
SUBSCRIBE to the Queenslee Appétit Newsletter to recieve new recipe notifications, monthly baking tips, sneak peeks to upcoming recipes, exclusive recipes and more!
Let's get baking!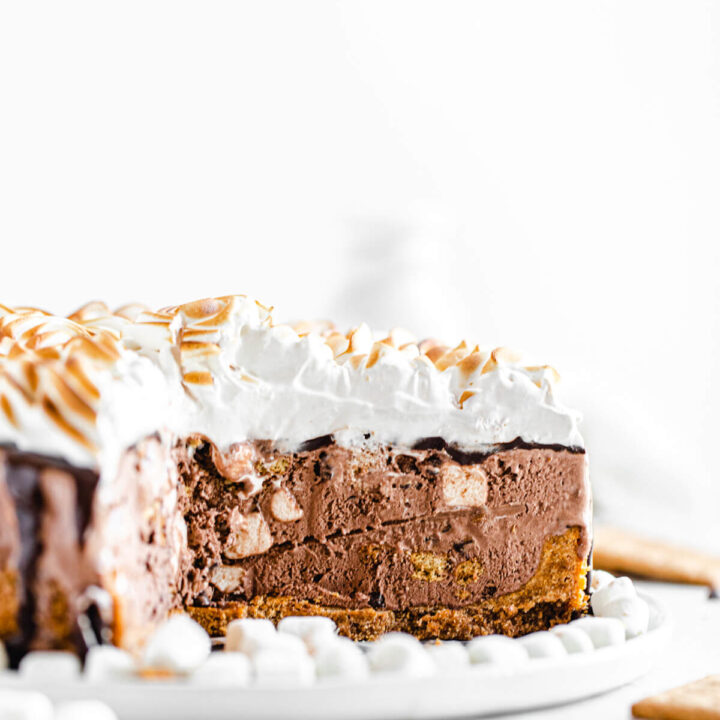 S'mores Ice Cream Cake
Total Time:
9 hours
45 minutes
This S'mores Ice Cream Cake features a buttery graham cracker crust, a chocolate ice cream filling loaded with marshmallows, crushed graham crackers and chocolate chips that's topped with a fluffy toasted marshmallow meringue! This frozen campfire dessert is seriously indulgent!
Ingredients
Graham Cracker Crust:
3 cups graham cracker crumbs
¼ cup Granulated Sugar
¾ cup unsalted butter, melted
S'mores Ice Cream Filling:
1.5 L carton chocolate ice cream, softened
1 and ½ cups mini marshmallows
¾ cup crushed graham crackers
½ cup mini semisweet chocolate chips
Ganache:
1 cup dark chocolate chips
½ cup heavy whipping cream
Marshmallow Meringue Topping:
4 large egg whites
1 cup granulated sugar
1 teaspoon pure vanilla extract
Instructions
For the Graham Cracker Crust:
Grease the sides and bottom of a 9-inch springform pan with cooking spray and line with parchment rounds.
Pour graham cracker crumbs into a medium bowl and mix in sugar and melted butter using a fork until all the crumbs are coated.
Transfer mixture to the greased 9-inch springform pan and, using the flat bottom of a glass or measuring cup, press into the bottom and up the sides of the pan.
Place in the freezer for about 10 minutes, while you prepare the ice cream.
For the S'mores Ice Cream Filling:
Add the softened chocolate ice cream to a large bowl. Add marshmallows, crushed graham crackers and chocolate chips and fold using a rubber spatula. Remove crust from the freezer and pour in the ice cream filling. Spread into an even layer.
Cover with plastic wrap, placing the plastic directly on top of the surface. Freeze for 6-8 hours or preferably overnight.
For the Dark Chocolate Ganache:
In a heat safe bowl, add the chocolate chips and heavy whipping cream and microwave in 30 second intervals, for about 1 minute. Stir slowly until mixture comes together to form a silky ganache.
Set aside to cool completely for at least 1-2 hours, stirring occasionally. If the ganache is warm, it'll melt the top layer of ice cream, making it too messy to spread.
Run a sharp knife around the edges of the pan to loosen the cake. Gently remove the springform pan ring.
Transfer some of the ganache to a medium ziplock bag and snip off a small corner.
Remove the ice cream cake from the freezer and quickly drip the ganache around the edges. Place back in the freezer for about 30 minutes.
Once the drip is solid, pour the remaining ganache into the centre of the ice cream cake and quickly spread into an even layer. Re-freeze until you've finished preparing the meringue topping.
For the Marshmallow Meringue Topping:
Bring an inch of water to a simmer in a large saucepan over medium heat. Once it begins to simmer, turn heat to low so the water doesn't begin to boil.
Add the egg whites, sugar and vanilla to the bowl of a stand mixer or a large stainless steel or glass bowl.
Place bowl over the saucepan of simmering water and whisk constantly until the sugar is dissolved and egg whites are warm. You can test this by rubbing the mixture between two fingers. If it doesn't feel grainy, the sugar has dissolved and can be removed from the heat. If you still feel grains, continue whisking and keep testing until the sugar is fully dissolved.
Move bowl to stand mixer, or using a handheld mixer, beat on low speed until the mixture is frothy, about 1 minute.
Gradually increase the speed to high and beat until the frosting is thick and glossy, 5-7 minutes.
Transfer to a piping bag fitted with a large star tip and pipe a rope border around the edge of the cake. Repeat this border over the rest of the cake until the top is completely covered. Toast with a kitchen torch.
Store finished cake in the freezer until ready to serve. Enjoy!
Notes
Make Ahead: The entire cake can be made a few days in advance and stored in the freezer. You can torch the meringue before or after freezing.
Toasting Meringue: This is an ice cream cake, so unfortunately you can't get away with broiling the top of the meringue instead of torching. I highly recommend using a kitchen torch, this one's my favourite (affiliate link)!
Recommended Products
As an Amazon Associate and member of other affiliate programs, I earn from qualifying purchases.
Nutrition Information:
Yield:

12
Serving Size:

1
Amount Per Serving:
Calories:

604
Total Fat:

32g
Saturated Fat:

18g
Trans Fat:

0g
Unsaturated Fat:

12g
Cholesterol:

67mg
Sodium:

202mg
Carbohydrates:

76g
Fiber:

3g
Sugar:

57g
Protein:

7g
BON APPÉTIT!
Love, Dedra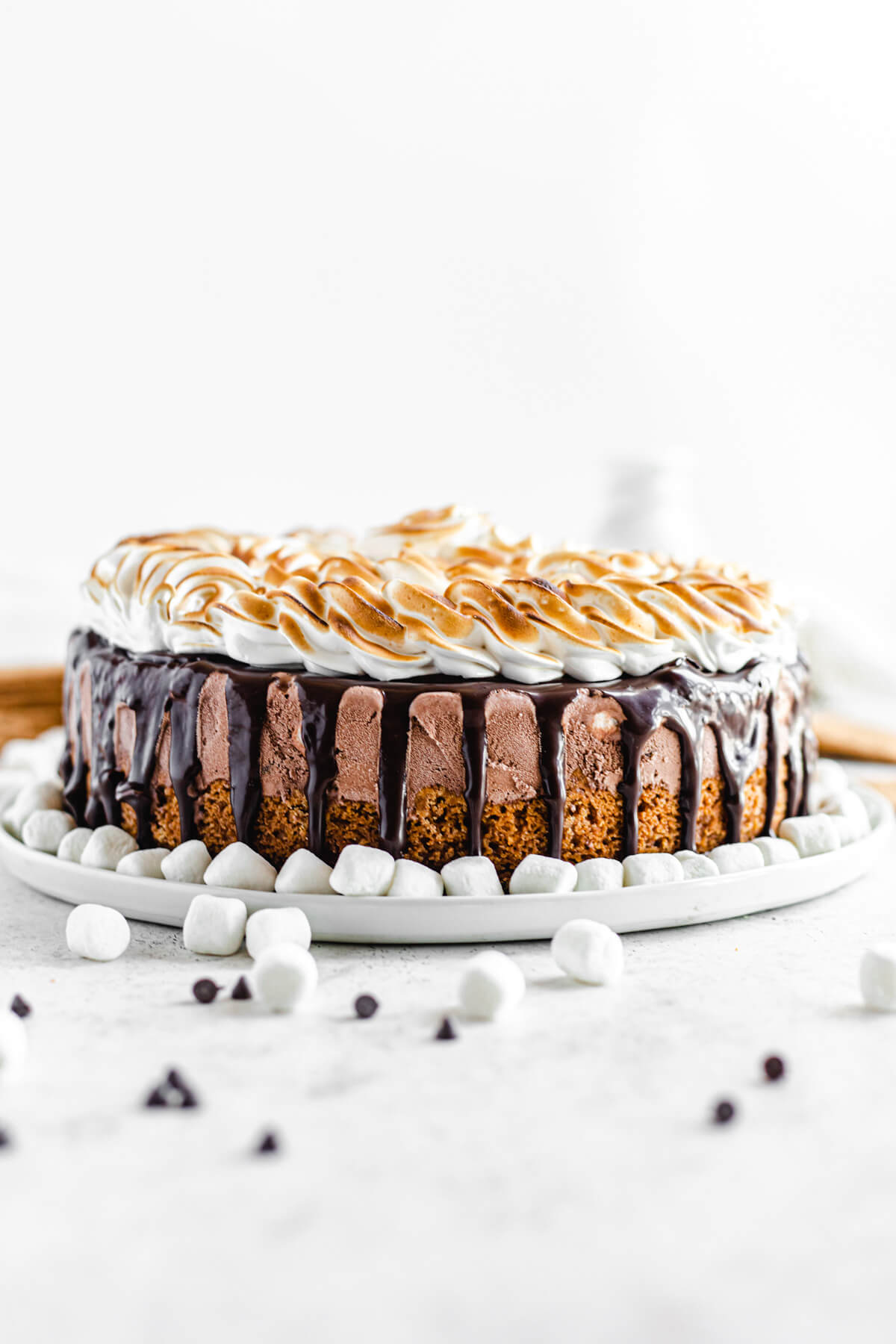 ©QUEENSLEE APPÉTIT. All images & content are copyright protected. Please do not use my images without prior permission. If you want to republish this recipe, please re-write the recipe in your own words, or link back to this post for the recipe.