This S'mores French Toast is the ultimate summer breakfast! Graham cracker french toast filled and topped with toasted marshmallows, rich chocolate bars and chocolate sauce. Totally diet-friendly (yeah right) and super easy to make!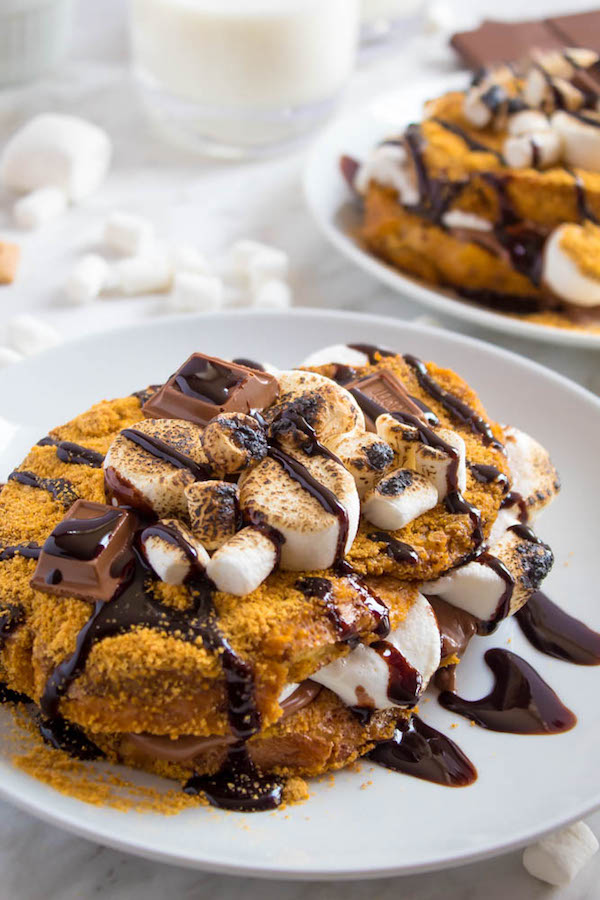 Ever since I made this incredible S'mores Mississippi Mud Pie, I've been trying to come up with many different ways to enjoy this classic campfire treat. This S'mores French Toast is just one of the many delicious recipes I've developed with the holy trinity of chocolate, graham crackers and marshmallows! 
Just one bite of this amazing french toast will have you imagining you're a kid again, sitting in-front of a campfire surrounded by friends and family, graham crackers and chocolate in one hand and a stick of roasting marshmallows in the other. But no campfire is needed to enjoy this irresistible breakfast treat! 
With the graham cracker crusted french toast, milk chocolate bar and toasted marshmallow filling and topping, and the chocolate syrup drizzle — I would consider this more of a dessert than breakfast. But you could totally enjoy it for breakfast too, I mean who said you can't have breakfast for dessert? Other than, you know, your parents or health freaks. Who cares what they say, though, I'M telling you to go for it! Aren't I such a good influence?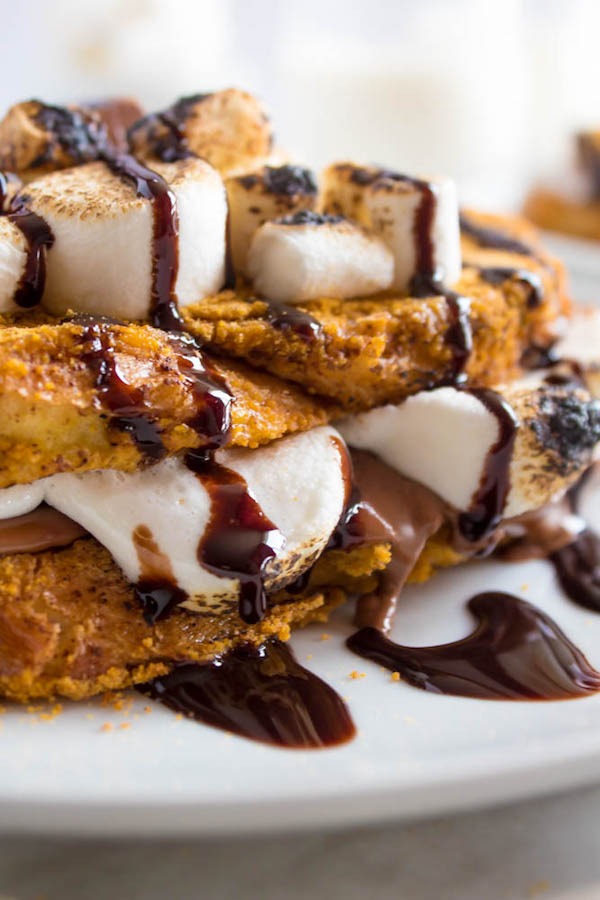 I usually use Texas Toast in my french toast recipes, but since this is a sandwiched french toast, I thought french bread would fit better. You can use any type of bread you like – challah, croissants, sandwich bread etc. You can even use whole wheat bread instead of white bread to make yourself believe this is a healthy breakfast. It's not.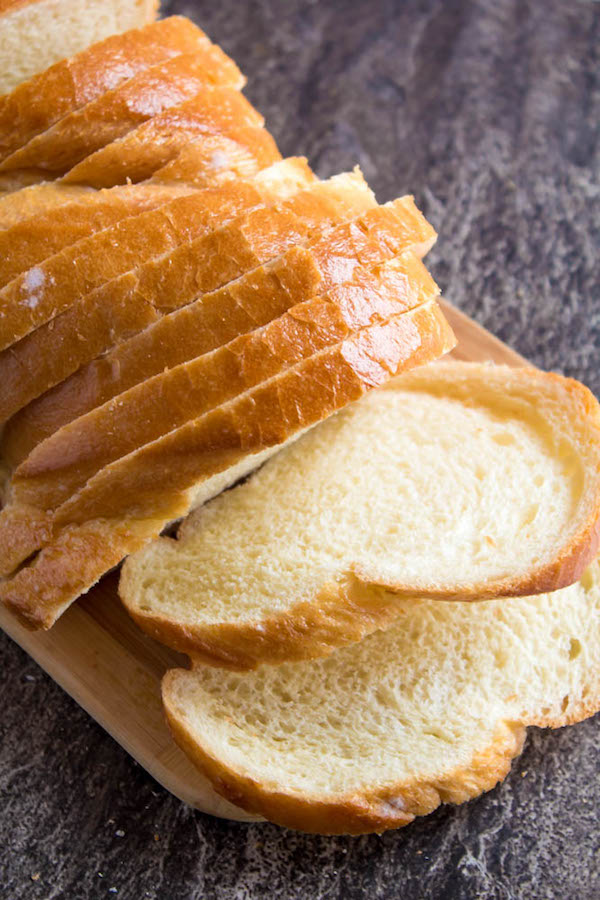 The process to make this french toast is just like any regular french toast recipe. Start by whisking together the eggs, milk, salt, sugar, vanilla and cinnamon in the same shallow baking dish you're dipping your bread in. Then place your slices of bread, one at a time in the mixture and immediately turn the slice over to coat the next side. Now since this is S'mores flavoured, we're gonna completely coat the dipped bread in some graham cracker crumbs. Not only does this add flavour to the french toast, but it adds an amazing crunchy texture.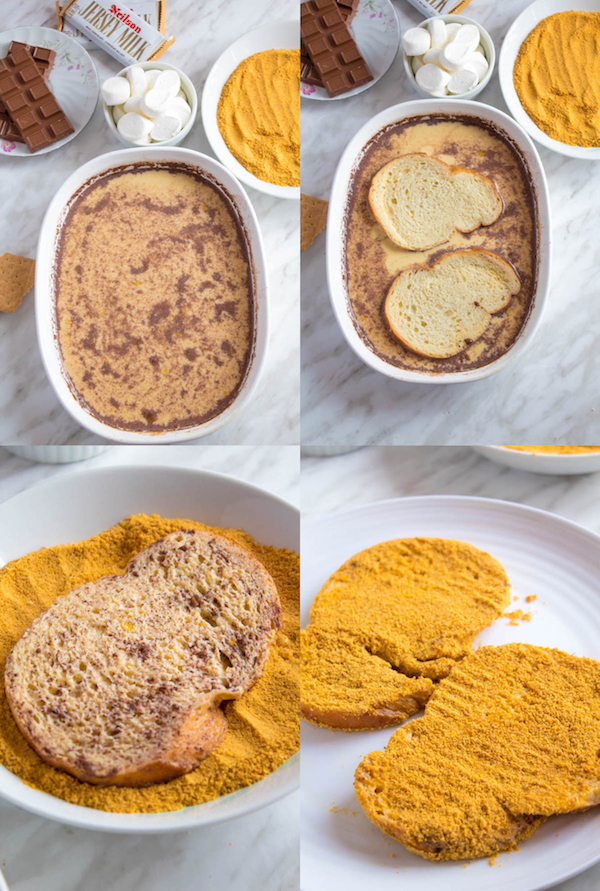 Once your bread is coated, place in a hot and buttered skillet and cook for 2-3 minutes on each side until crispy and golden. Cook 2 slices at a time, and when you flip them, layer some pieces of milk chocolate and halved marshmallows on top. I cut the marshmallows in half and placed them sticky side down, just so everything can stick together. While the other side of the french toast is cooking, the marshmallows and chocolate will begin to melt. Once the sides are done cooking, sandwich the plain half on top of the chocolate and marshmallows slice and press down so the filling can get even more melty and delicious!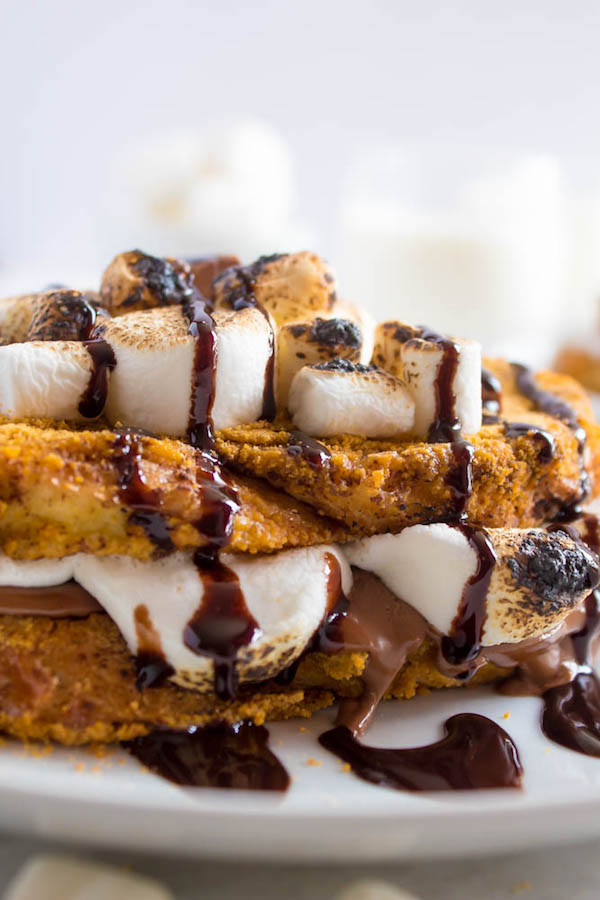 You can enjoy the french toast as it is and skip the topping, but for photography purposes, I had to top them with some extra deliciousness. When I cooked the french toast, the graham cracker coating wasn't exactly visible. It actually looked like regular french toast when cooked, so I decided to sprinkle more graham cracker crumbs on top to cover the bread. The flavour and texture of the graham cracker is still there without doing this, but I just wanted to pretty it up a bit more.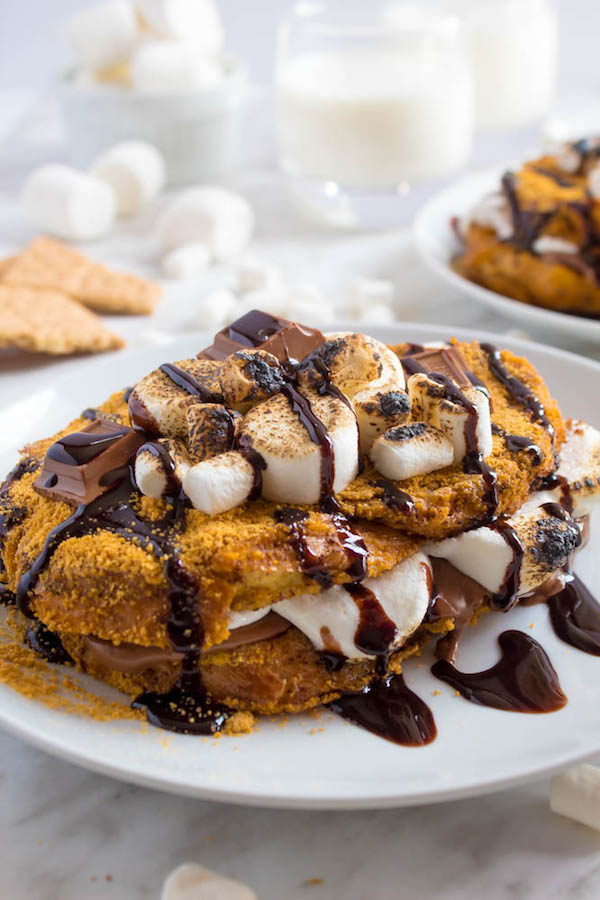 After that, I topped the french toast with both large and mini marshmallows. To give this breakfast dessert a more toasted campfire look, I used a kitchen torch to toast both the marshmallows on top, and the marshmallows peeking out of the filling. So we've got the graham cracker and marshmallows, now we need the chocolate! I placed pieces of a chocolate bar over the toasted marshmallows and drizzled on some chocolate sauce. Breakfast perfection.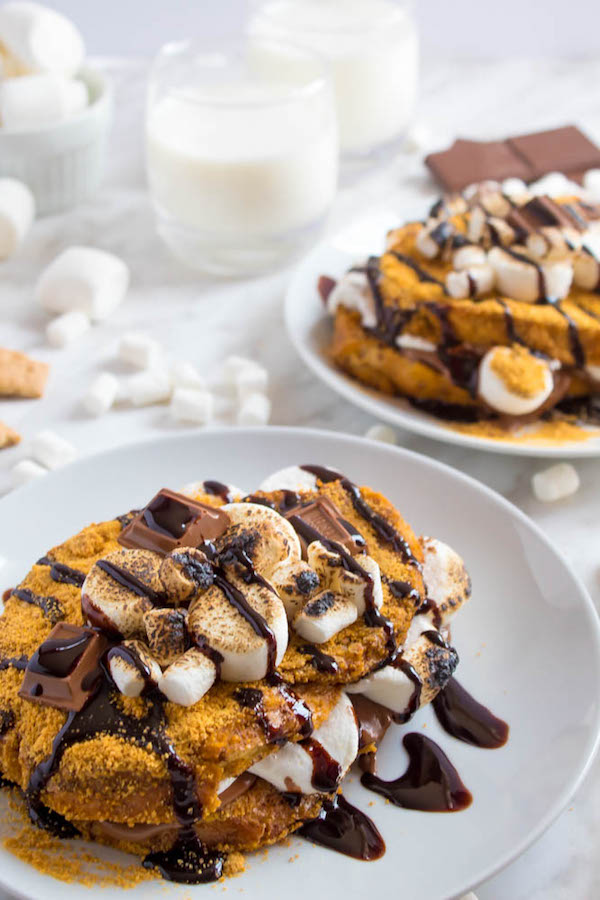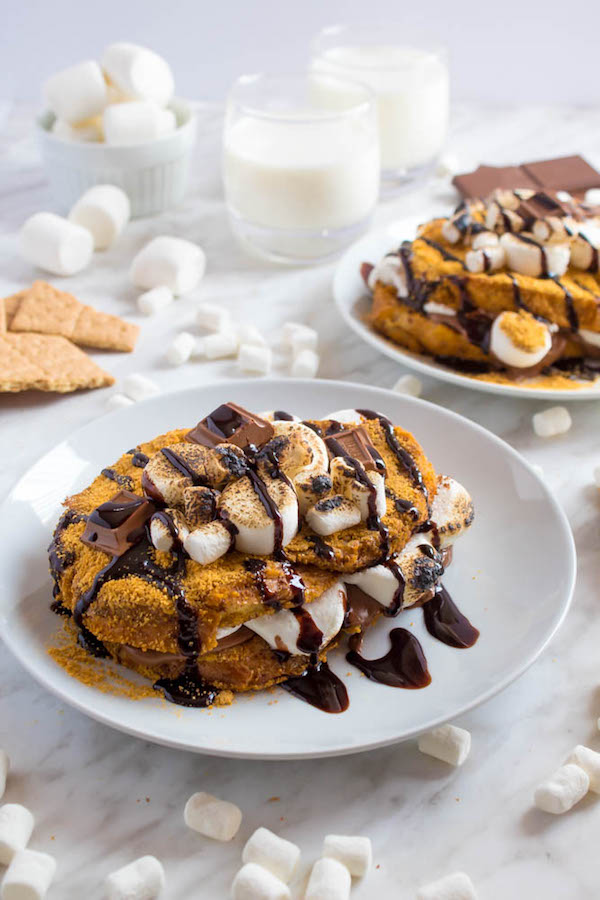 Coated in graham cracker crumbs and stuffed with gooey marshmallows and melted chocolate. Yep, forget what I said, this is definitely a dessert recipe. 
Enjoy!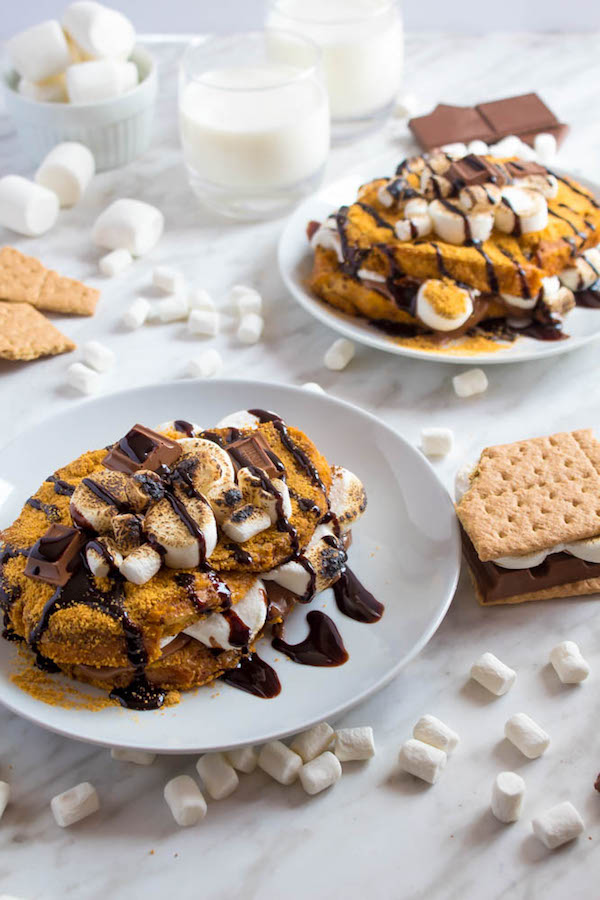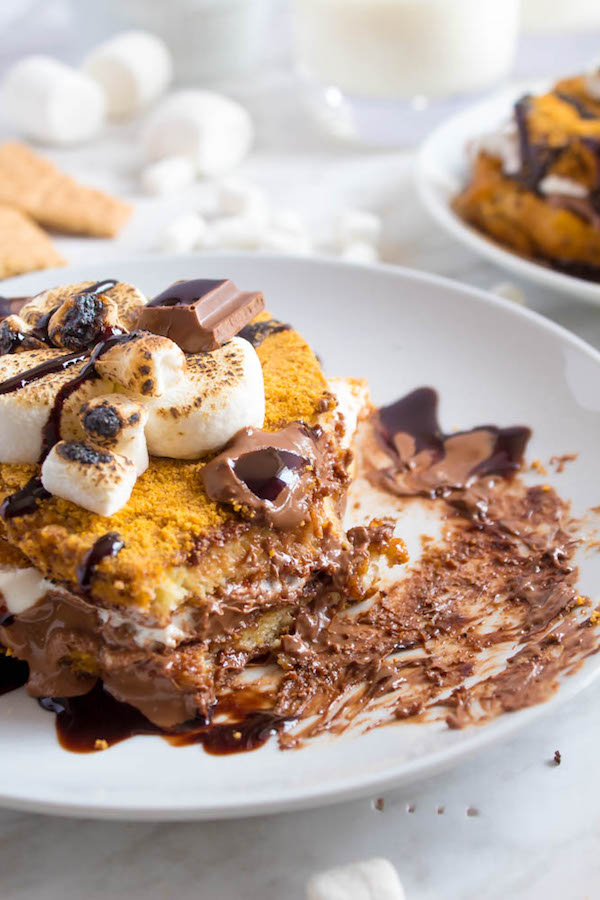 >>PIN ME FOR LATER<<

SHOP THE RECIPE

Large Non-Stick Skillet —  It's best to use a non-stick pan because the non-stick coating helps keep the toast and any marshmallows that leak out from sticking to the surface. It also makes for easy cleanup!
Never miss a recipe, SUBSCRIBE at the bottom of this post! 
FOLLOW QUEENSLEE APPÉTIT
Pinterest | Instagram | Facebook | Twitter |
Did you make a recipe? I'd love to see how it turned out! Follow me on Instagram and use the hashtag #queensleeappetit so I can see all of the Queenslee Appétit recipes you've made!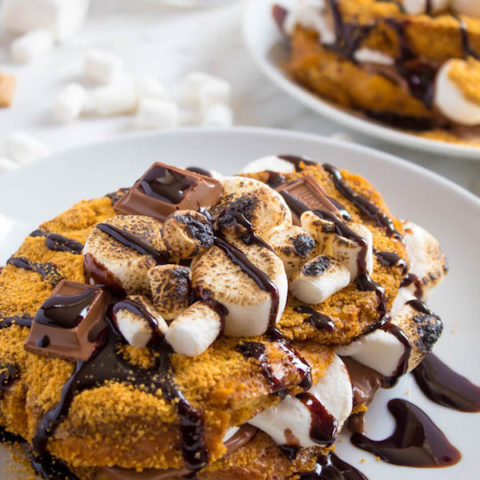 S'mores French Toast
Yield: 5-6 sandwiches

Prep Time: 5 minutes

Cook Time: 6 minutes

Total Time: 11 minutes

This S'mores French Toast is the ultimate summer breakfast! Graham cracker french toast filled and topped with toasted marshmallows, rich chocolate bars and chocolate sauce. Totally diet-friendly (yeah right) and super easy to make!
Ingredients
S'mores French Toast:
1 cup graham cracker crumbs
4 large eggs, beaten
1 and ½ cups whole milk
Pinch of salt
2 Tbsp granulated sugar
1 tsp pure vanilla extract
1 tsp ground cinnamon (optional)
8 - 10 slices sandwich bread (such as Texas toast, challah, French or any bread of your choice)
Butter, for greasing the pan
Hershey Bars, broken into individual rectangles
Large marshmallows, cut in half
Optional Toppings:
Chocolate sauce
Mini marshmallows
Hershey Bars, broken into individual rectangles
Instructions
Preheat a griddle or a skillet over medium-low heat.
Pour the graham cracker crumbs into a shallow dish. Set aside.
In a separate shallow dish, add eggs, milk, salt, sugar, vanilla extract and cinnamon (if using) and whisk until combined and smooth.
Use about a tablespoon of butter to grease the pan. Place 2 bread slices into the egg mixture, then flip it over to coat both sides. Repeat by pressing the dipped bread into the Graham cracker crumbs, flipping to coat both sides.
Transfer 2 slices to pan and cook until golden brown, about 2-3 minutes. Flip bread and cook on the other side for another 1 minute.
Place Hershey's chocolate onto one slice and place marshmallows cut side down. Allow french toast to cook for another 1-2 minutes, then flip the plain french toast onto the slice with the marshmallow and chocolate. Transfer to a serving plate. Repeat with remaining slices, re-greasing the pan as necessary.
Serve warm with a drizzle of chocolate sauce, toasted marshmallows and chocolate bar pieces. Enjoy!



©QUEENSLEE APPÉTIT. All images & content are copyright protected. Please do not use my images without prior permission. If you want to republish this recipe, please re-write the recipe in your own words, or link back to this post for the recipe.
BON APPÉTIT!
Love, Dedra ❤
This post may contain affiliate links. Please see my full disclosure policy for details.