This S'mores Cheesecake was made for the ultimate s'mores lover! The rich, decadent and thick chocolate cheesecake is baked in a buttery graham cracker crust and topped with chocolate ganache and ruffles of toasted meringue!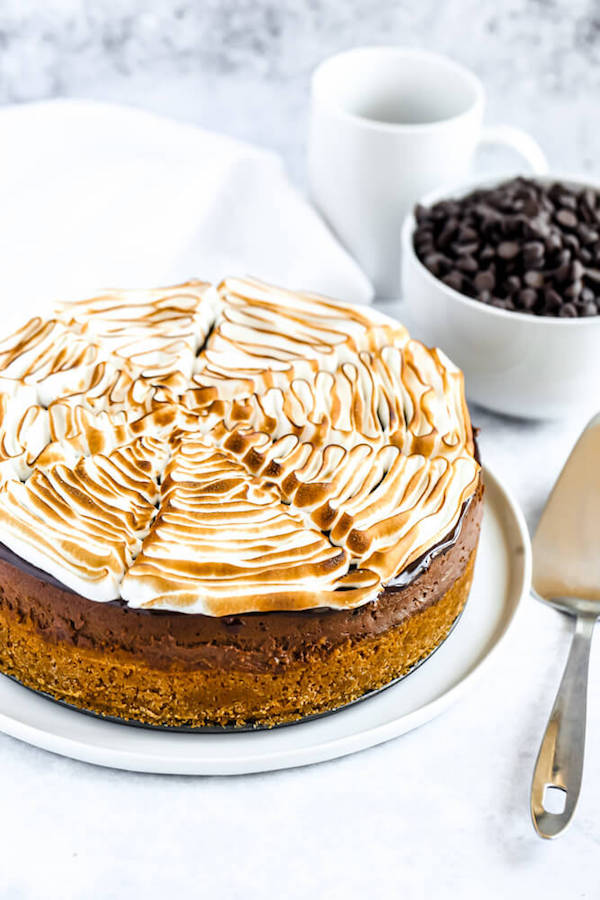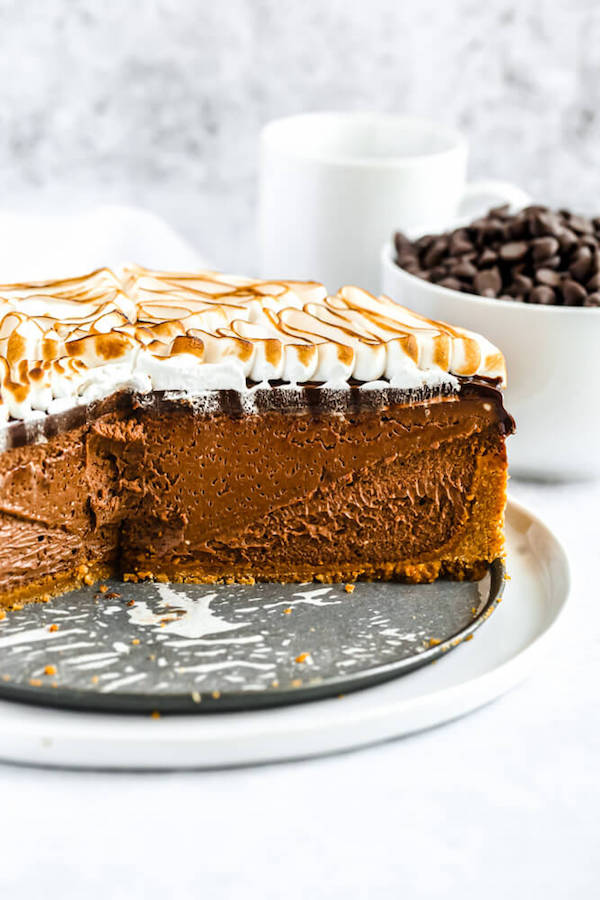 This post may contain affiliate links. Please see my full disclosure policy for details.
Summer may be coming to an end, but our love for s'mores will never go away! I've wanted to make this cheesecake for so long now. I'm talking like 5-6 years at least!
Ever since I started baking again, I've wanted to make a s'mores cheesecake, but I've never really found a recipe that appealed to me. Thankfully, now that I'm a far more advanced baker and recipe developer than I was back then, I can create my own!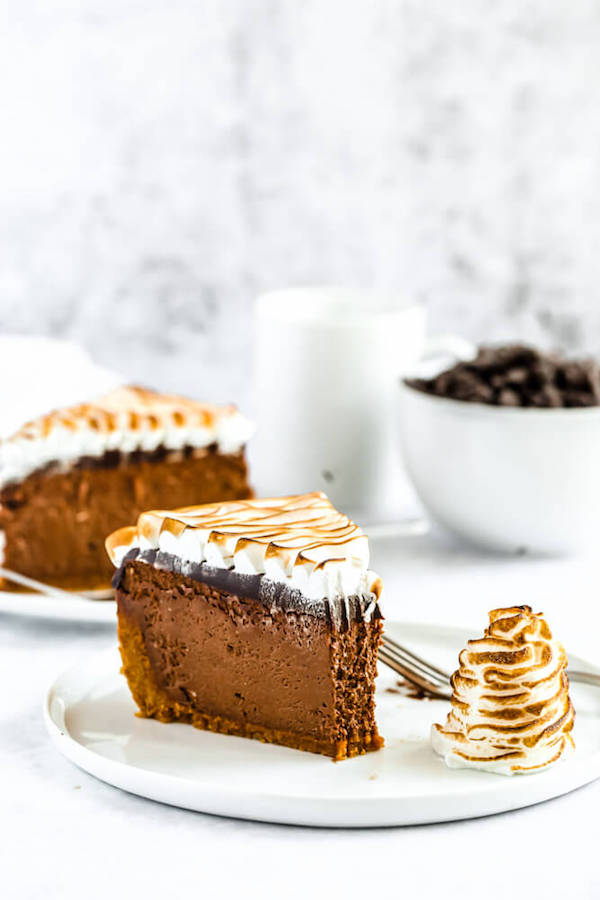 The BEST S'mores Cheesecake
You don't understand how badly I wish I could shove a forkful of this cheesecake through the screen so you could have a taste!
Let's just jump straight into things. There are 4 components in this cheesecake:
Graham Cracker Crust
Chocolate Cheesecake
Chocolate Ganache
Marshmallow Meringue
Each part is made completely from scratch, but I promise you the entire process is super simple! Let me break them down for you.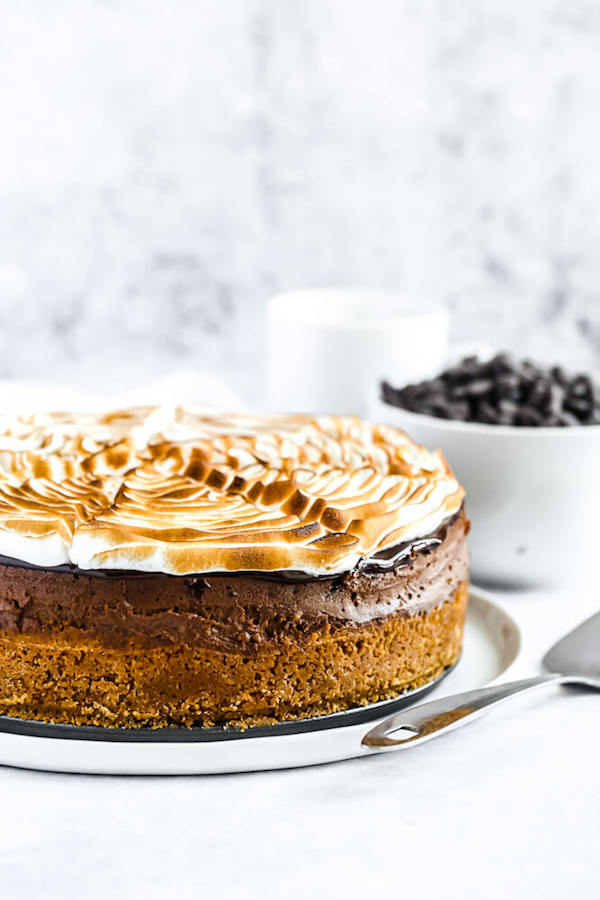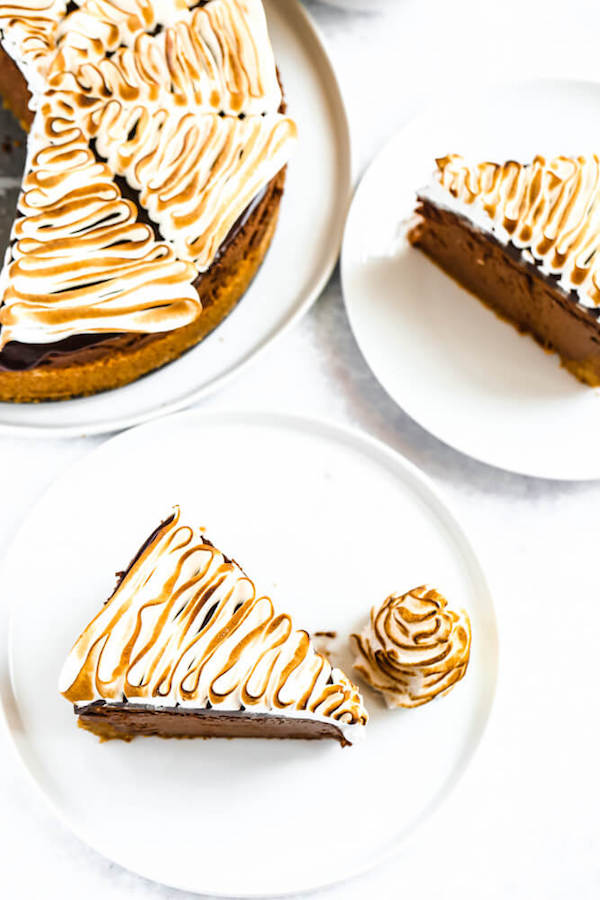 Graham Cracker Crust
Graham cracker crumbs + white sugar + melted butter, that's all you need for the graham cracker crust. Combine the three ingredients in a bowl, then pour into your greased springform pan.
This time we're using 3 whole cups of graham cracker crumbs, so we could have a nice thick crust on the bottom and up the sides. About that, when you pour the crust mixture into the pan, use the bottom of a measuring cup to press it into the bottom of the pan.
Then use the sides of the measuring cup to push the excess crumbs into the sides while using your fingers to lightly press down the edges so it doesn't crumble when removing the pan ring. Pre-bake the crust, then set it aside to cool while you prepare that thick chocolate cheesecake filling!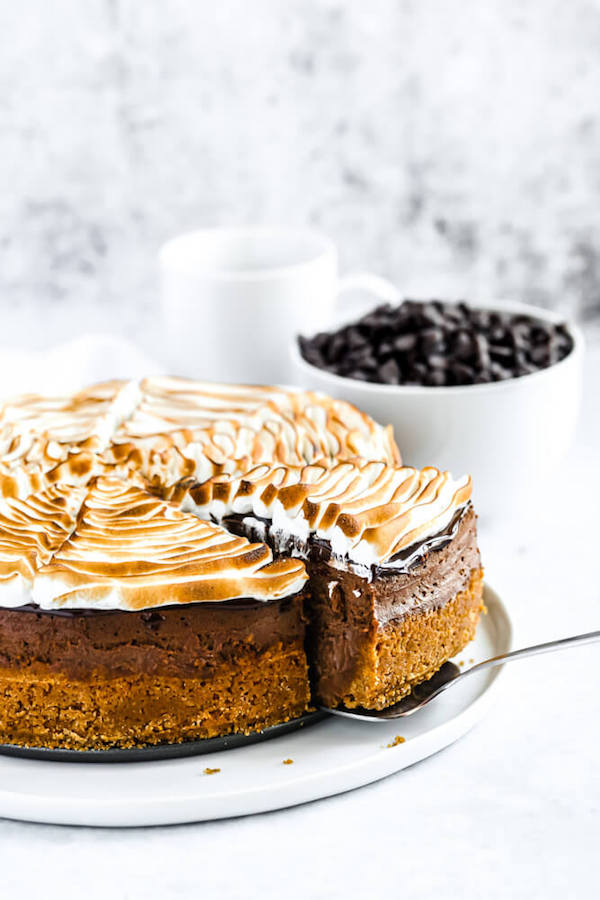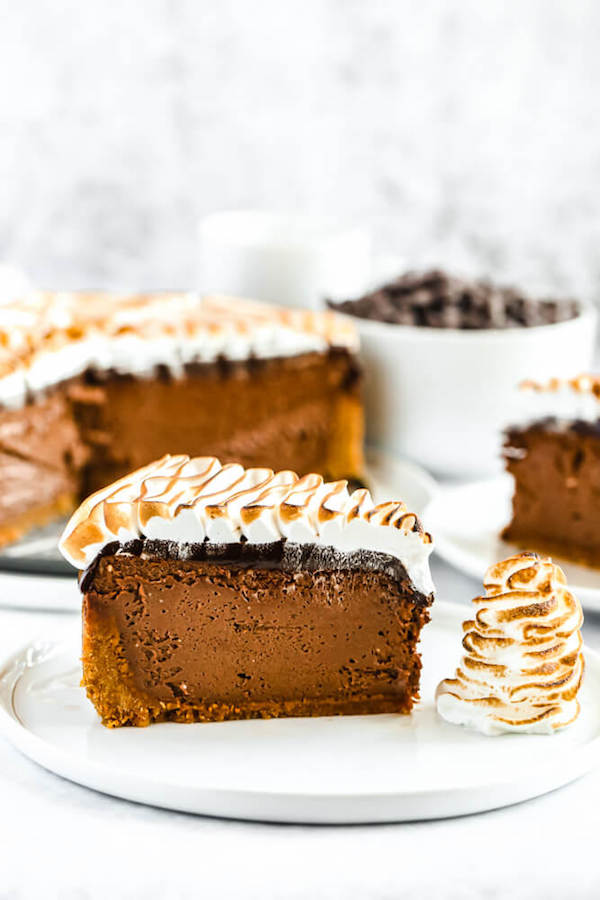 Perfect Chocolate Cheesecake
Oh man, the chocolate cheesecake filling is so, so good! Creamy and smooth with LOADS of chocolate! Make sure to use a nice, good-quality bar of chocolate. I used bittersweet chocolate, which is dark chocolate with usually 70% cocoa solids. Melt the chocolate and set aside to cool for at least 10 minutes before you add it to the batter.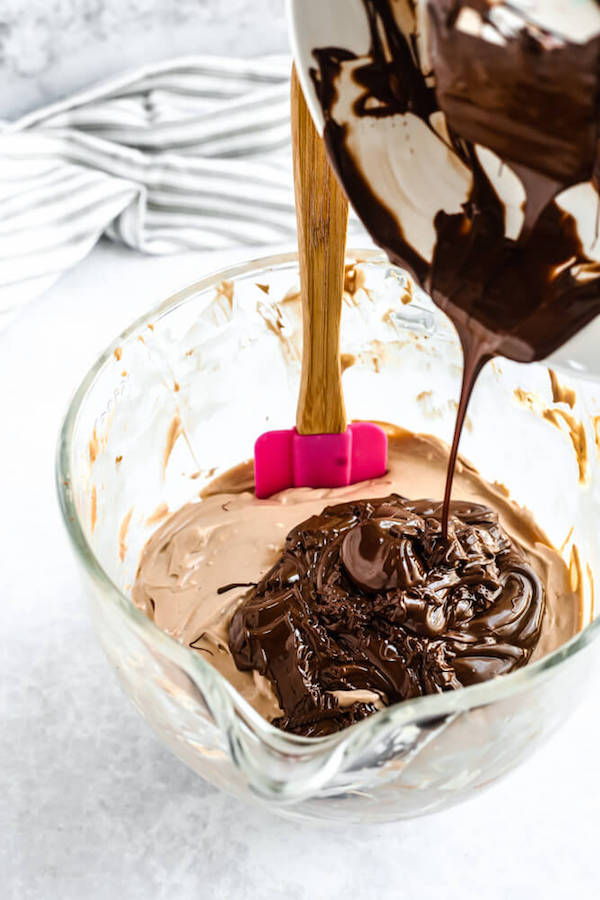 Room Temperature Ingredients = Easier to Blend
For the actual cheesecake batter, you want to make sure all of your ingredients are at room temperature. The sour cream, heavy cream and eggs can be taken out at least 30 minutes ahead of time, but I recommend you leave the cream cheese bricks out for at least an hour or two.
I used to only leave the cream cheese out for 30 minutes before starting, but I've found that the cream cheese still doesn't blend completely with the batter and I'm left with little specks of cream cheese inside.
This would be fine if it was a vanilla cheesecake, because the colours would blend, but this is a deep dark chocolate cheesecake so little white cream cheese bits would stick out like a sore thumb. So the softer your cream cheese, the easier it'll blend.
And don't even think about increasing the mixer speed to speed things along. Cheesecake batter needs to be mixed on a low speed, because we don't wanna whip any air bubbles into the batter and we also wanna prevent cracks.
Which brings me to the other thing that prevents cracks, everyone's favourite — the water bath. I know this is just an extra annoying step, but it's worth it! Even baking, no cracks, no falls, and creamier texture!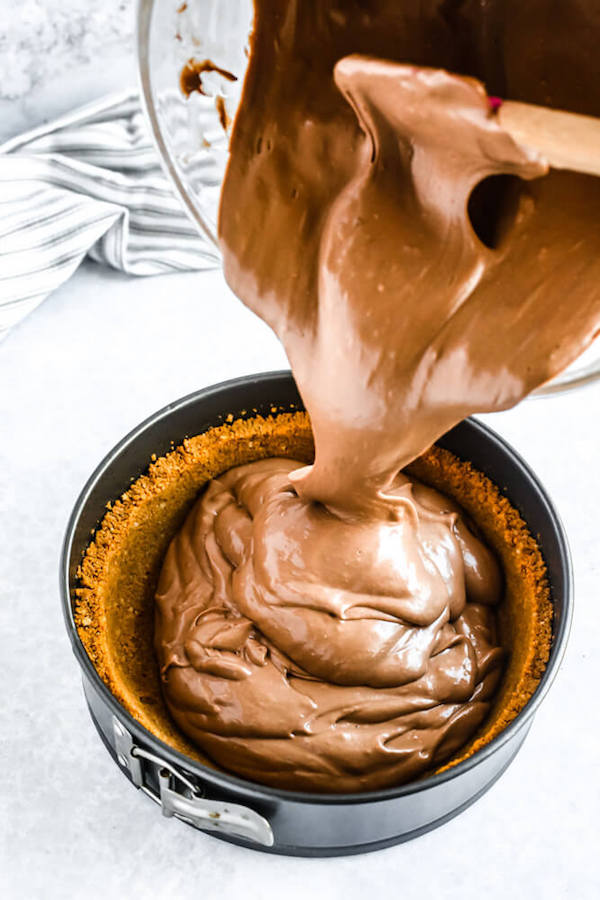 Chocolate Ganache Topping
My favourite part of a s'more is the chocolate, so I had to add a double dosage to this cheesecake. First the rich chocolate cheesecake, then the silky chocolate ganache topping!
Only 2 simple ingredients, chocolate and heavy cream. You can spread the ganache on top of the cheesecake before refrigerating, or you can add it the next day, after the cheesecake has chilled completely. If you decide to pipe on the meringue the way I did, though, I recommend letting the ganache set.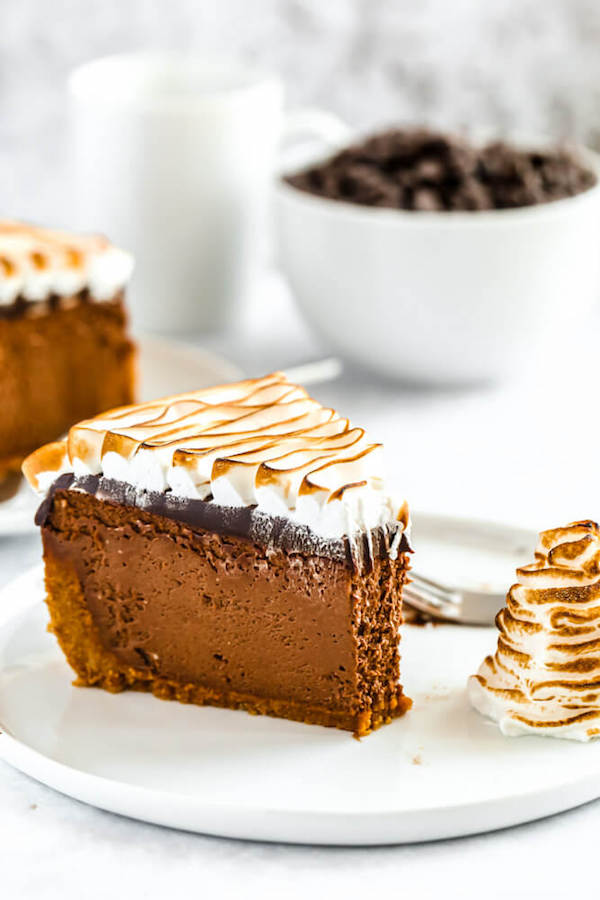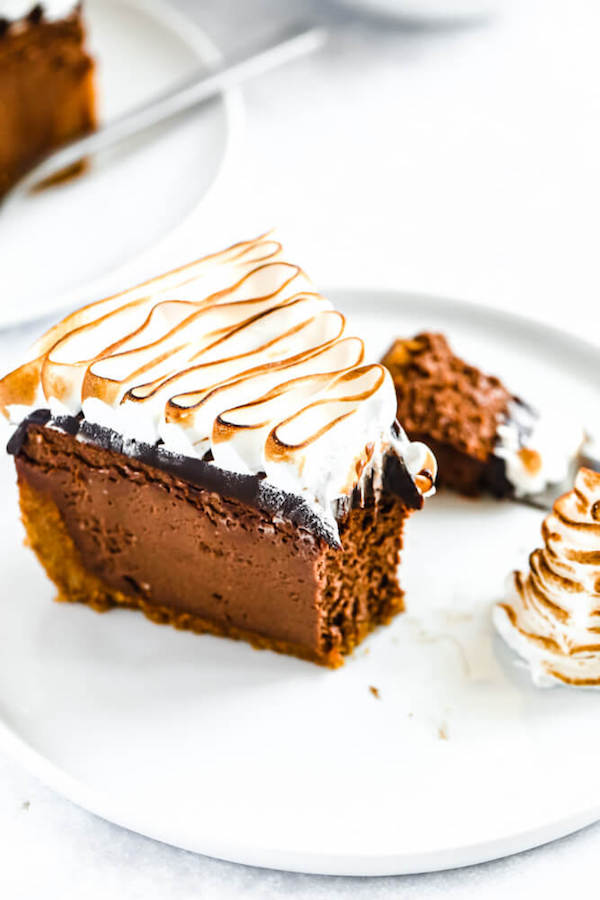 Marshmallow Meringue Topping
The marshmallow meringue topping is the same meringue I've used in past recipes like this Lemon Meringue Cheesecake and my Mississippi Mud Pie. I know some people, myself included, can get quite nervous when it comes to making meringue because one small misstep (like getting a bit of yolk in the egg whites, or over cooking the eggs) can ruin the entire thing.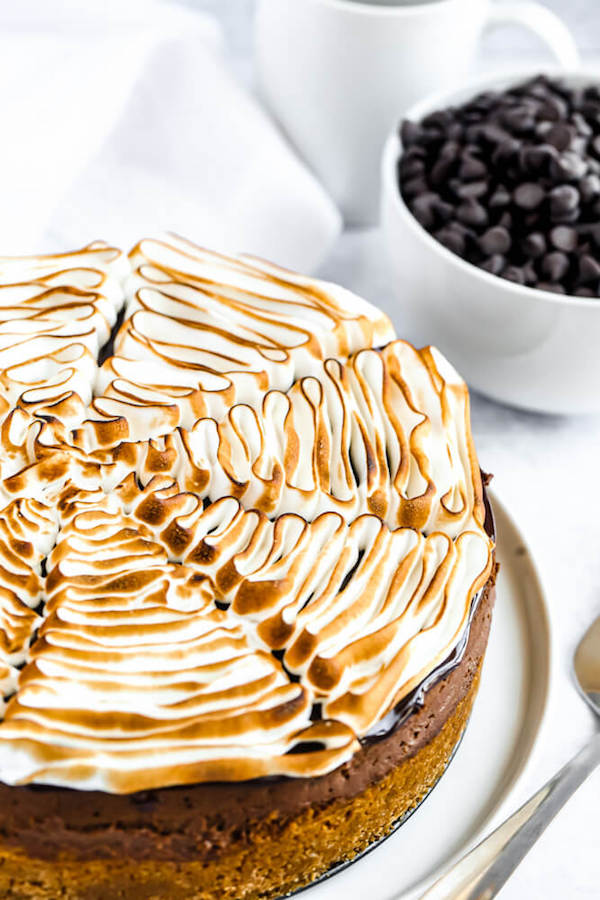 Don't worry, though, with only 3 ingredients and 2 easy steps, it can be super simple. Whisk the egg whites, sugar and vanilla together in a heat safe mixing bowl over a saucepan of simmering water. Beat continuously until the sugar dissolves. I usually stick a clean finger inside once it gets foamy, then rub them together and if I don't feel grains, it's ready.
Using a stand mixer with the whisk attachment, beat until the egg white microwave doubles in size and becomes a thick, glossy meringue.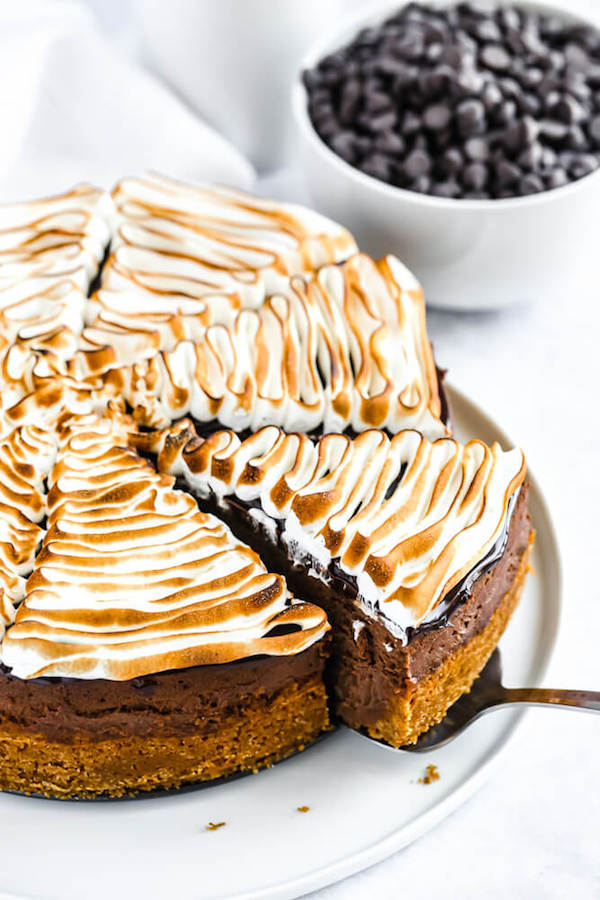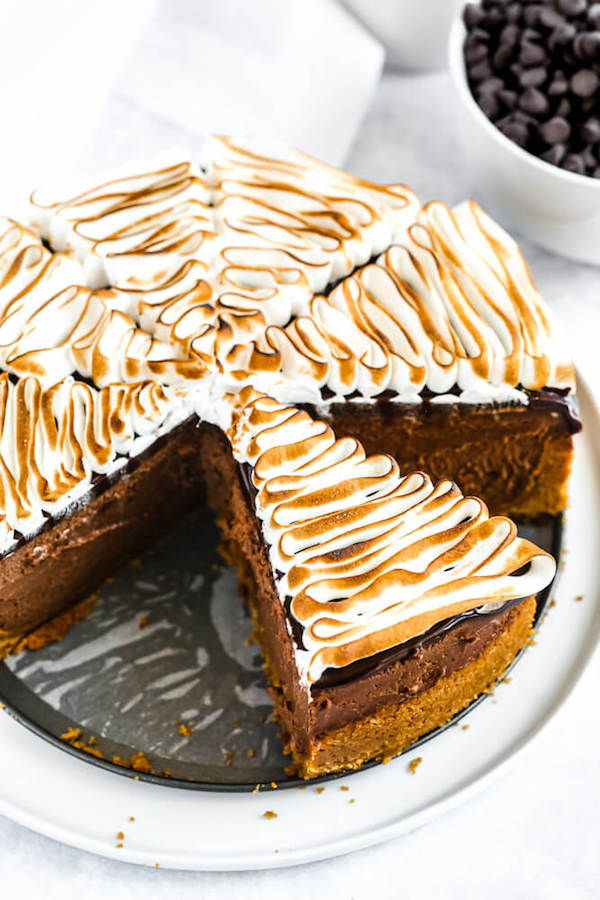 How to Pipe the Meringue Ruffles
You don't have to pipe the meringue on top if you don't want to, you can just dollop the meringue on top and it'll still look great!
But if you want to recreate the ruffle triangle topping I did, here's how you do it. Start by using a medium ruffle tip, I used Wilton 104. Make sure the wide end is on the bottom.
I used a wooden skewer to draw lines, dividing the top into 8 sections. Then, starting from the edge, pipe in a side to side motion. Use the lines as a reference for where the piping should begin and end within the triangle. For a visual tutorial, check my Instagram post.
Repeat with the remaining sections, then use a kitchen torch to toast the top and sides. I lightly toasted the topping to keep the details of the piping, but you can make it as burnt and toasty as you like your marshmallows!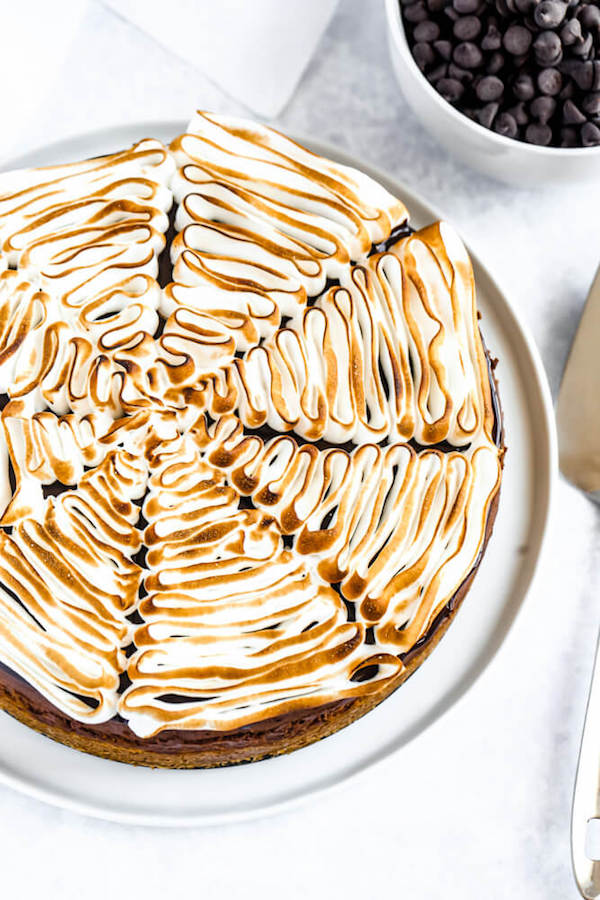 Even though there's 8 triangle sections on top, I don't suggest using them as a reference to cut out your slices. Since this cheesecake is pretty rich, a small serving goes a long way, so you can get about 12-16 slices out of this thing.
This cheesecake was a huge hit! Everyone that tried it fell in love and couldn't resist going back for more! The crunchy and smooth meringue topping, rich and silky ganache, thick creamy cheesecake and buttery graham cracker crust is the most amazing combination of flavours and textures!
I'd love to know how these turn out for you, so if you make this recipe or any other recipe of mine, come back and leave a comment down below to tell me how they turned out! And don't forget to leave a rating!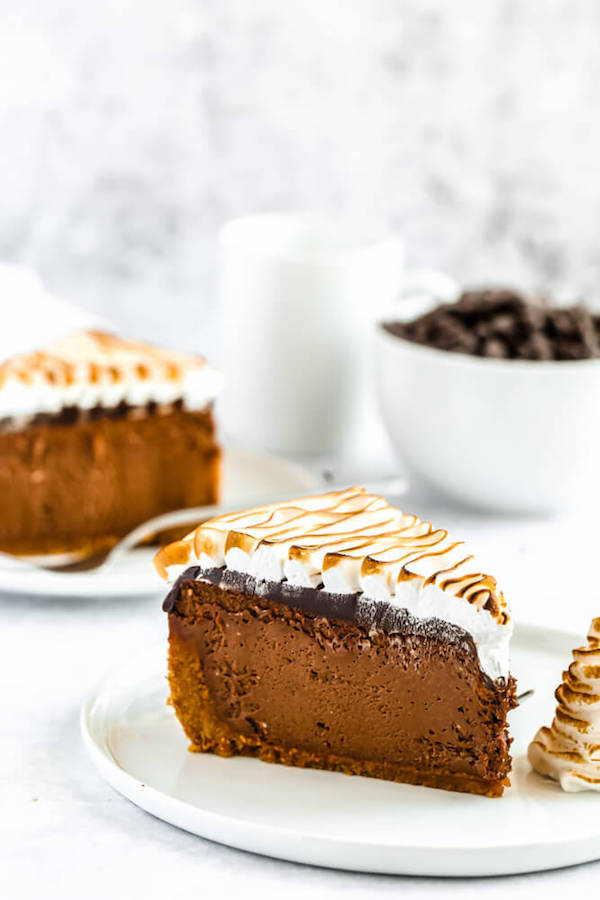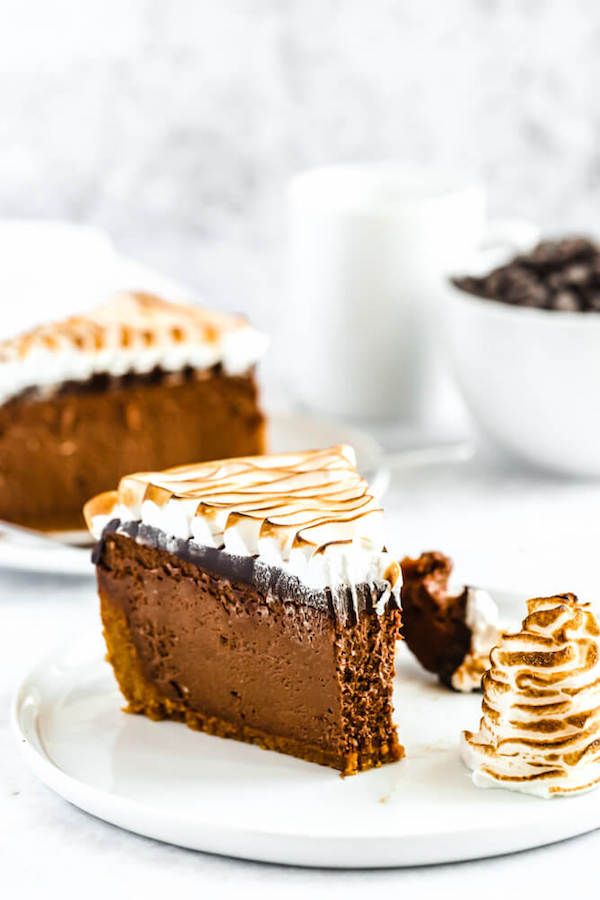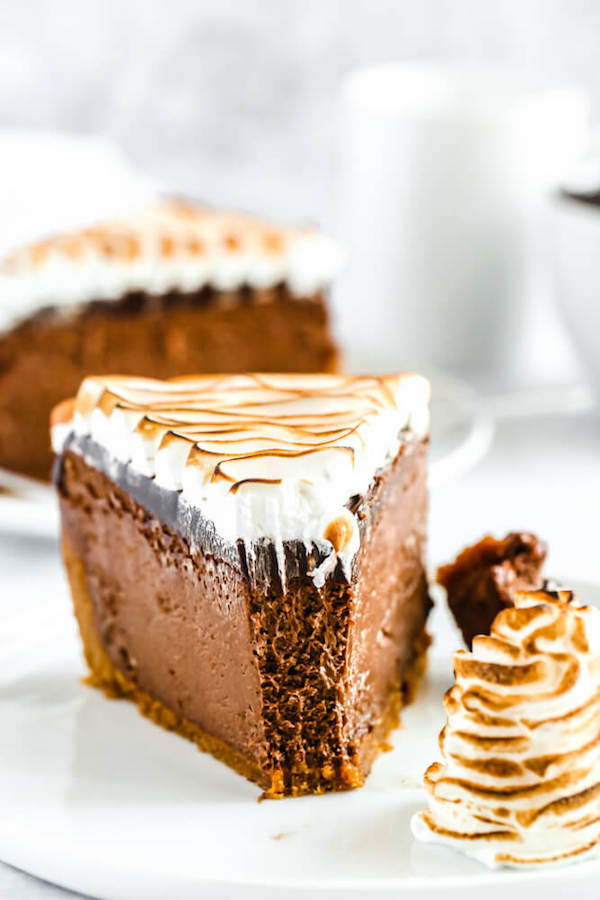 Craving More S'mores? Try these Recipes:
Lemon Meringue S'mores Cupcakes
>>PIN THIS FOR LATER<<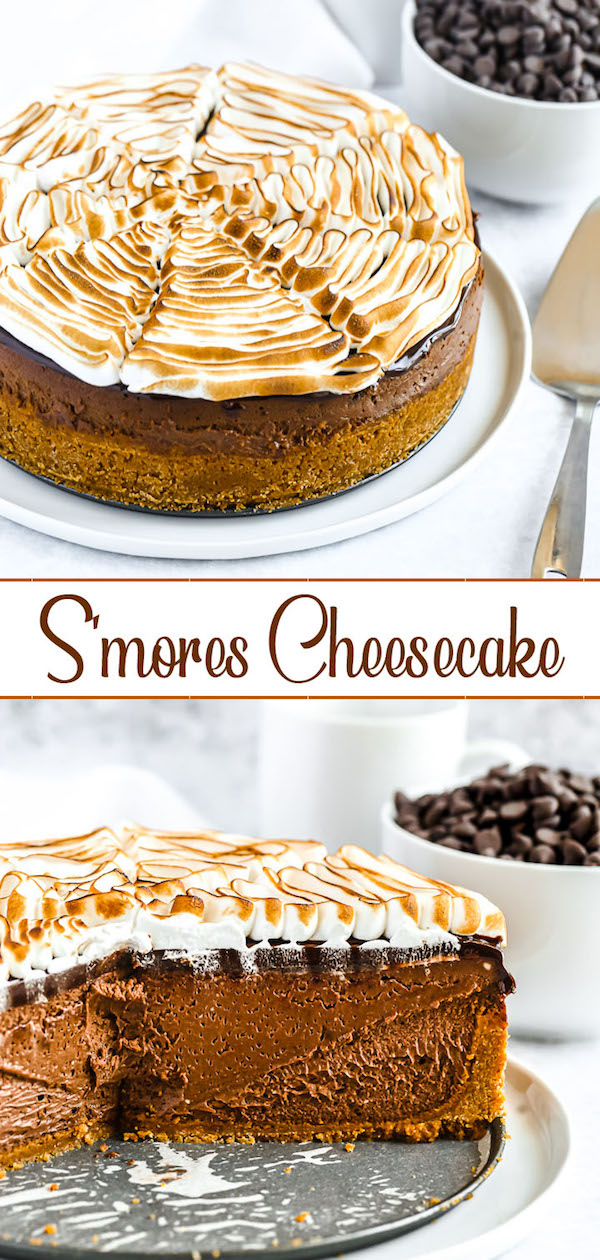 FOLLOW QUEENSLEE APPÉTIT
Like what you see? Make sure you're following Queenslee Appétit for more tasty recipes!
Pinterest | Instagram | Facebook | Twitter |
Have any questions about the recipe? Contact me here, and I'll be happy to help!
Let's get baking!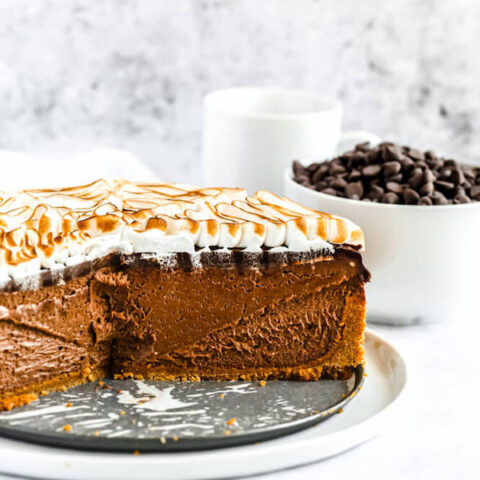 S'mores Cheesecake
Cook Time:
1 hour
40 minutes
Total Time:
10 hours
10 minutes
This S'mores Cheesecake was made for the ultimate s'mores lover! The rich, decadent and thick chocolate cheesecake is baked in a buttery graham cracker crust and topped with chocolate ganache and ruffles of toasted meringue! 
BON APPÉTIT!
Love, Dedra
©QUEENSLEE APPÉTIT. All images & content are copyright protected. Please do not use my images without prior permission. If you want to republish this recipe, please re-write the recipe in your own words, or link back to this post for the recipe.