These Mini Chocolate Chip Cookie Dough Cheesecakes combine a thick, edible cookie dough base, a brown sugar cheesecake filling loaded with mini edible cookie dough balls and mini chocolate chips, and a topping of rich chocolate ganache! Completely irresistible and perfect for a small gathering!
This post may contain affiliate links. As an Amazon Associate I earn from qualifying purchases. Please see my full disclosure policy for details.
These mini cookie dough cheesecakes are reserved for cookie dough lovers only! As you can see by this Cookie Dough Ice Cream Cake, when I do cookie dough desserts, I go all out!
These babies are decked out in pure cookie dough goodness, from base to topping! You start by eating the edible cookie dough ball on top. Then you enjoy the triple whammy consisting of ganache (with a chocolate chip crunch), creamy cookie dough stuffed cheesecake filling and a cookie dough crust in each bite!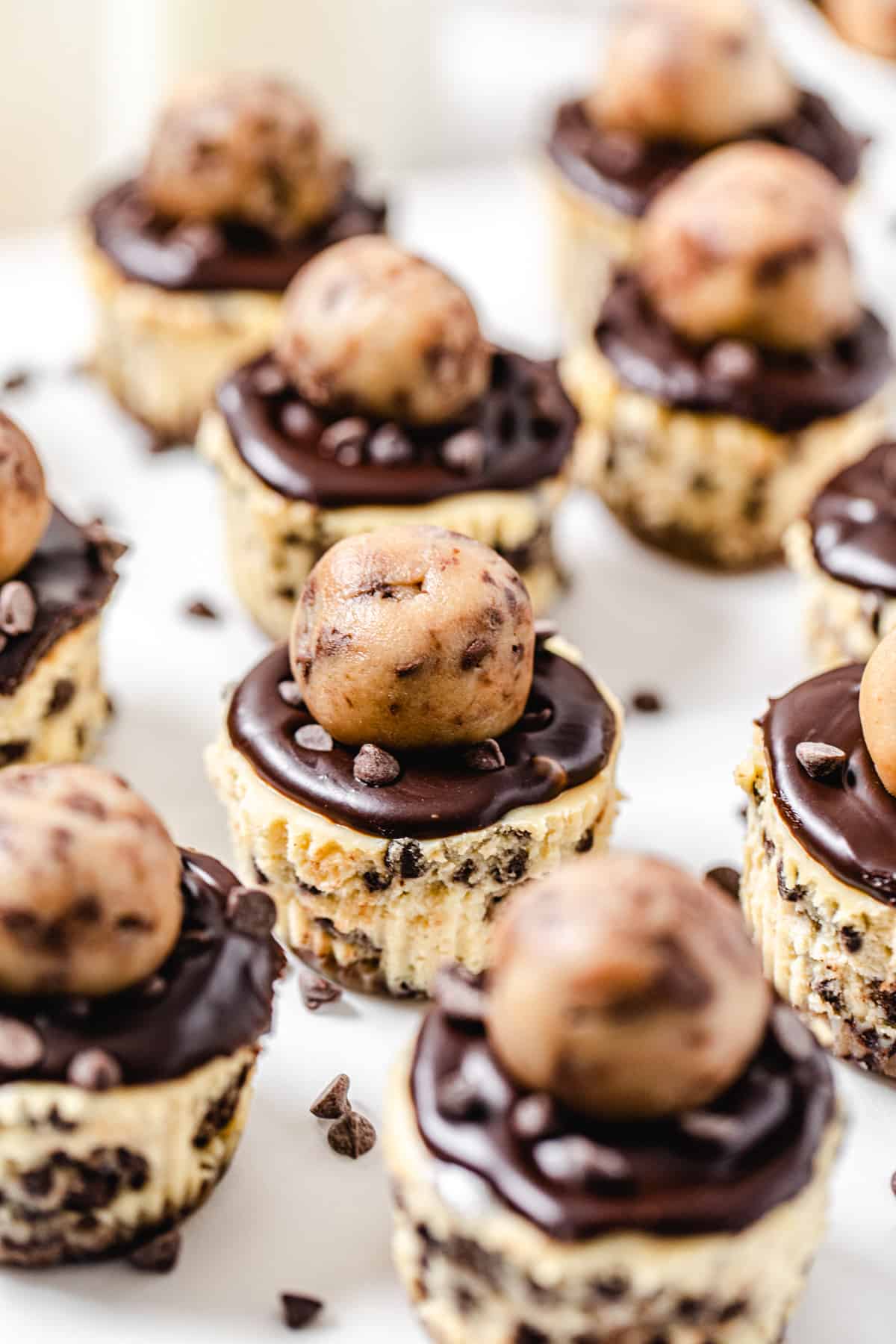 What to Love About These Cookie Dough Cheesecake Cupcakes
Ok I think I pretty much described everything to love about these cheesecakes above, but let's get into a bit more detail! These cheesecakes:
Are super easy to make
Take less than 25 minutes to bake (you don't even have to bake the crust!)
Have brown sugar in the cheesecake filling to emphasize the cookie dough flavour
Have no shortage of cookie dough (a big cookie dough ball on top, mini cookie dough balls in the filling and a cookie dough crust)
Require no waterbath (we bake them in a muffin pan!)
Are individual-sized

Can easily be doubled to serve a crowd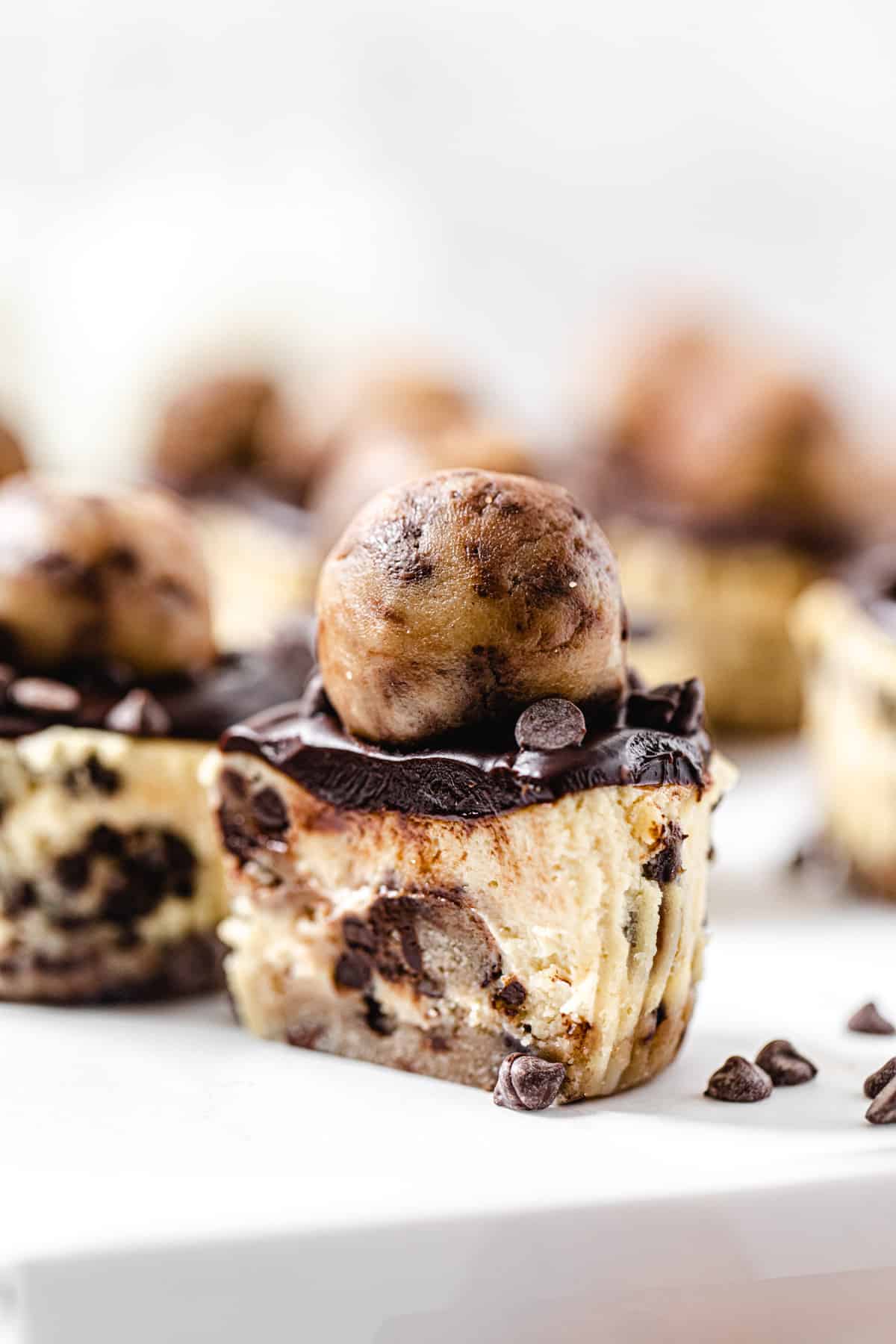 How to Make Edible Cookie Dough Safe
A lot of amateur home bakers (including myself a few years ago) believe that in order to make cookie dough edible, all you need to do is remove the eggs from a recipe.
Now I know that people love to eat raw cookie dough, with or without the eggs, the same way they love licking the batter off a rubber spatula. This is fine once in a while, but it's certainly not very safe! And guess what? Simply removing the eggs from a cookie recipe doesn't make the cookie dough safe to eat either.
BAKER'S TIP: Bake your flour!
That's right! Ditching the eggs (and baking powder) isn't enough to make cookie dough safe, you have to bake the flour! Raw flour has tons of bacteria in it, and since we won't be baking the cookie dough, we need a way to get rid of all that bacteria. To do this, we bake the flour on a baking sheet in a 350°F oven for at least 5 minutes to destroy the bacteria!
Once your flour is baked, you can go ahead and make the cookie dough like normal! I adjusted my best ever chocolate chip cookie recipe to make a "raw" edible version.
Half-melt the butter: this is one of the things that made my cookie recipe so popular — melting the butter halfway! This probably doesn't matter much for edible cookie dough since it won't be baked, but I adore this method so much I couldn't let it go! Start with cold butter and microwave in 10-20 second intervals until only half of it is melted and the other half is softened.

Beat in the brown and white sugar: mix the sugars with the butter until they're dissolved. You can use a whisk if you have a nice strong arm, but I like to use a hand mixer make things easier.

Add vanilla and salt: for flavour!
Add flour: once cooled, add the baked flour a little at a time until it's all mixed in and the dough is thick.

Add milk: since there's no eggs in this batter, it'll be a bit crumbly. To fix this and smooth things out, add some milk a tablespoon at a time until the batter is able to hold together. Don't add too much or else the batter will be sticky.

Mix in chocolate chips: we use mini chocolate chips since some of the cookie dough balls are miniature. I find 1 cup to be plenty!
Easy edible cookie dough, ready to eat by the spoonful! Well, you can sneak a few bites, but save some for the cheesecakes! I used a small cookie scoop to scoop out all of the dough and roll them into balls. I kept 24 of them small, then cut the rest into four and rolled each quarter into a smaller ball. We'll be adding these to the cheesecakes.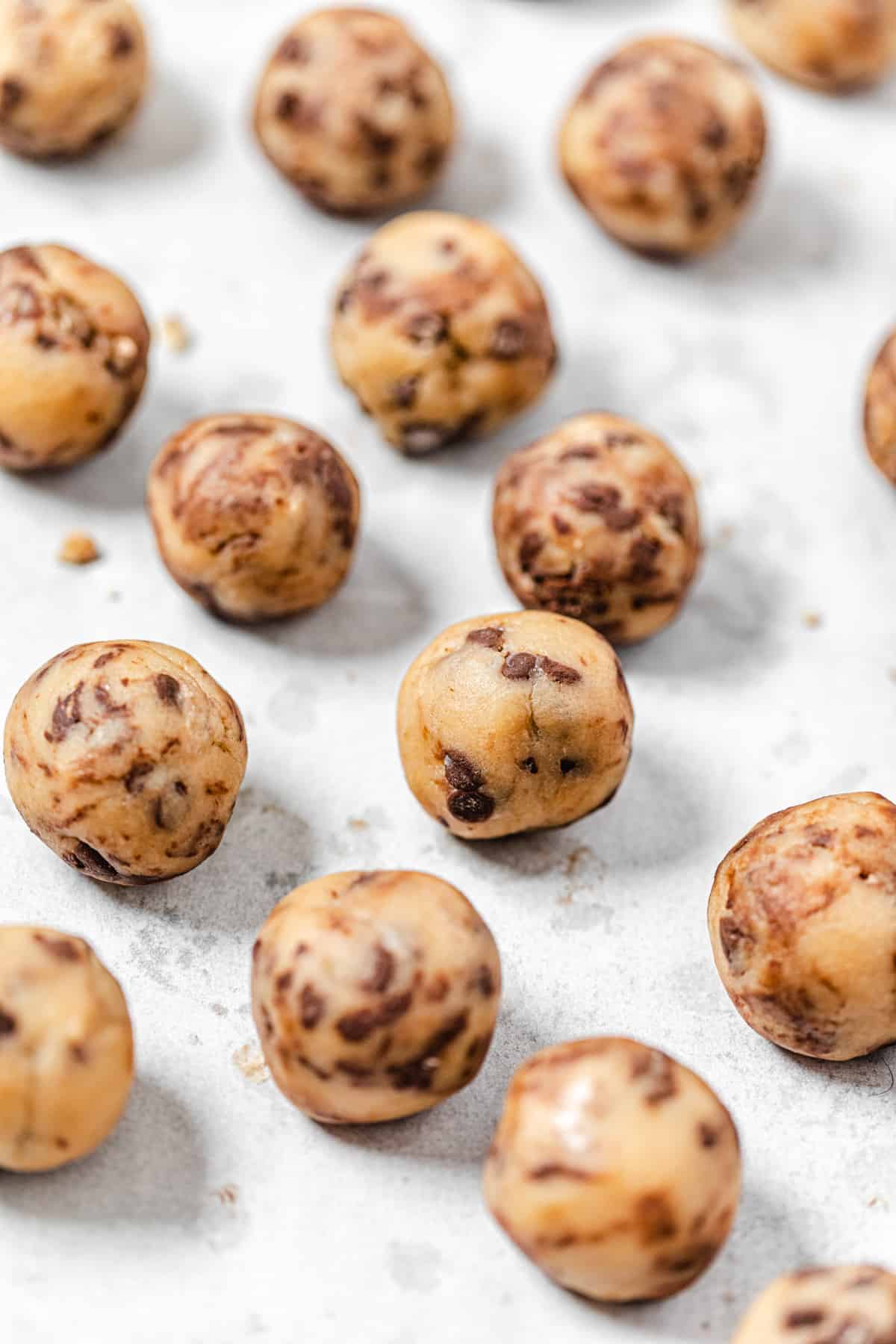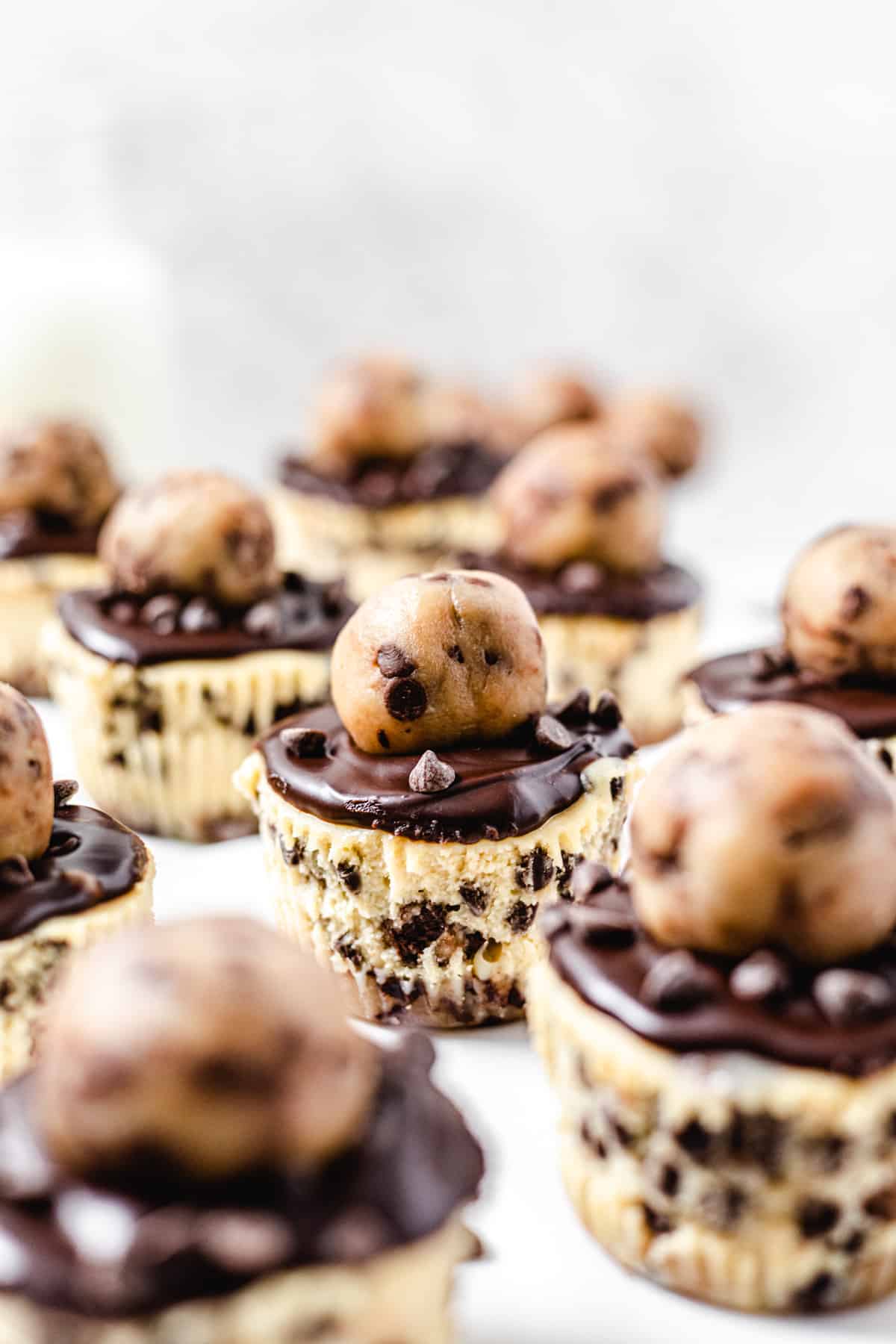 Cookie Dough Crust
For the cookie dough crust, take 12 of the 24 small cookie dough balls and place them into each paper liner in your muffin pan. Then, use your fingers to press them down into a flat even layer.
You'll be happy to learn that these crusts don't need to be pre-baked! Just pop them into the refrigerator while you prepare the cheesecake.
Chocolate Chip Cookie Dough Cheesecake Filling
Nothing difficult at all about the cheesecake filling. You only need 8 simple ingredients, including the cookie dough balls we made earlier!
I looked to my mini classic cheesecakes recipe for inspiration, but decided last minute that I didn't want the cheesecake base to be plain vanilla. So I ran to get my brown sugar and added it in place of the granulated sugar and it was the best decision ever! This simple sugar swap gave the cheesecake base a beautiful brown sugar/cookie-dough-like flavour!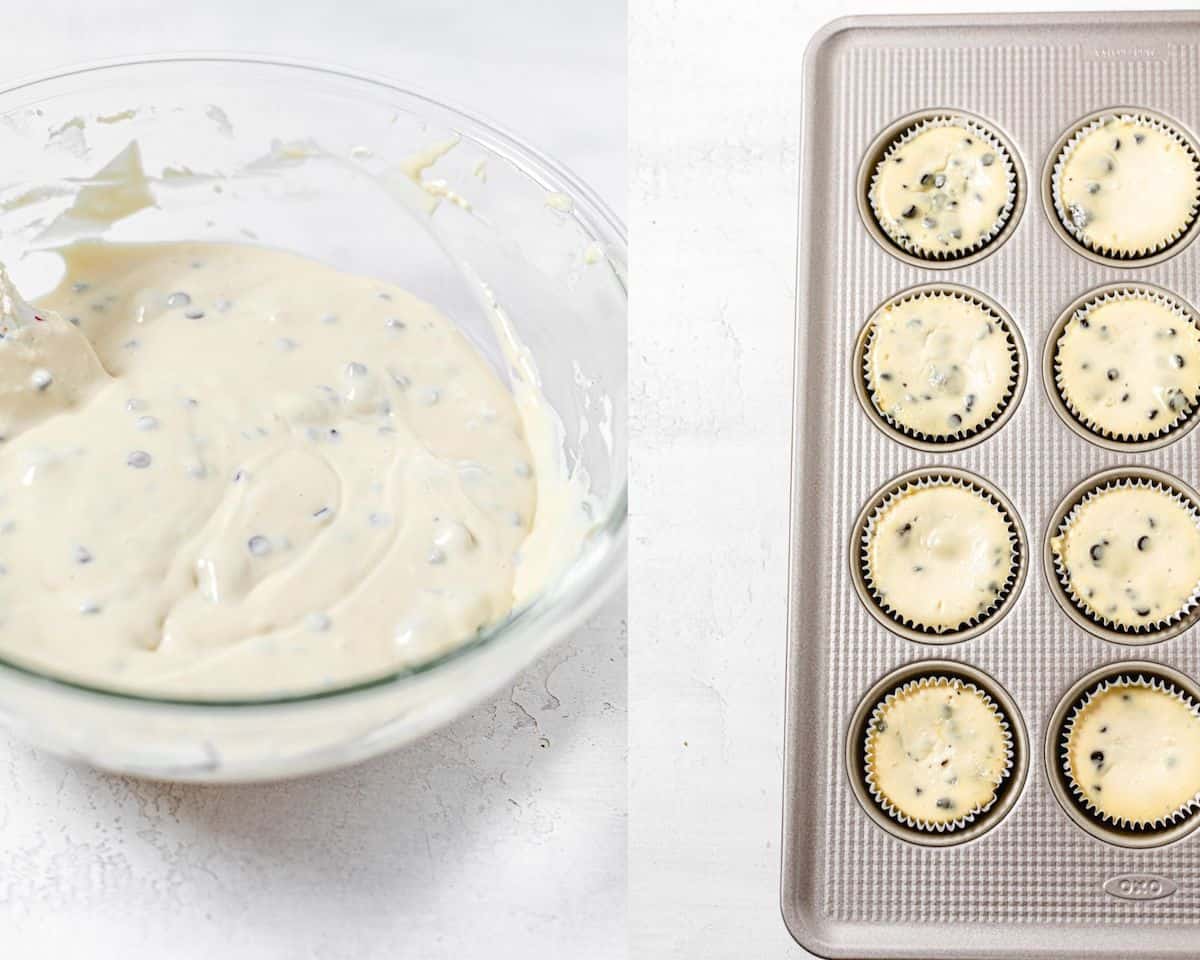 Easy Ganache Topping
I love, love, LOVE topping cheesecake with ganache. I mean you can't really go wrong with extra chocolate, can you? So to top these cheesecakes, simply heat some chocolate and heavy cream together in the microwave in 30 second intervals and stir until smooth.
Add a spoonful of ganache to each cheesecake, then sprinkle on some extra mini chocolate chips and a cookie dough ball. If you wanna spruce things up a bit, you can pipe on a swirl of whipped cream. Check out my other mini cheesecakes for both regular and chocolate whipped cream recipes!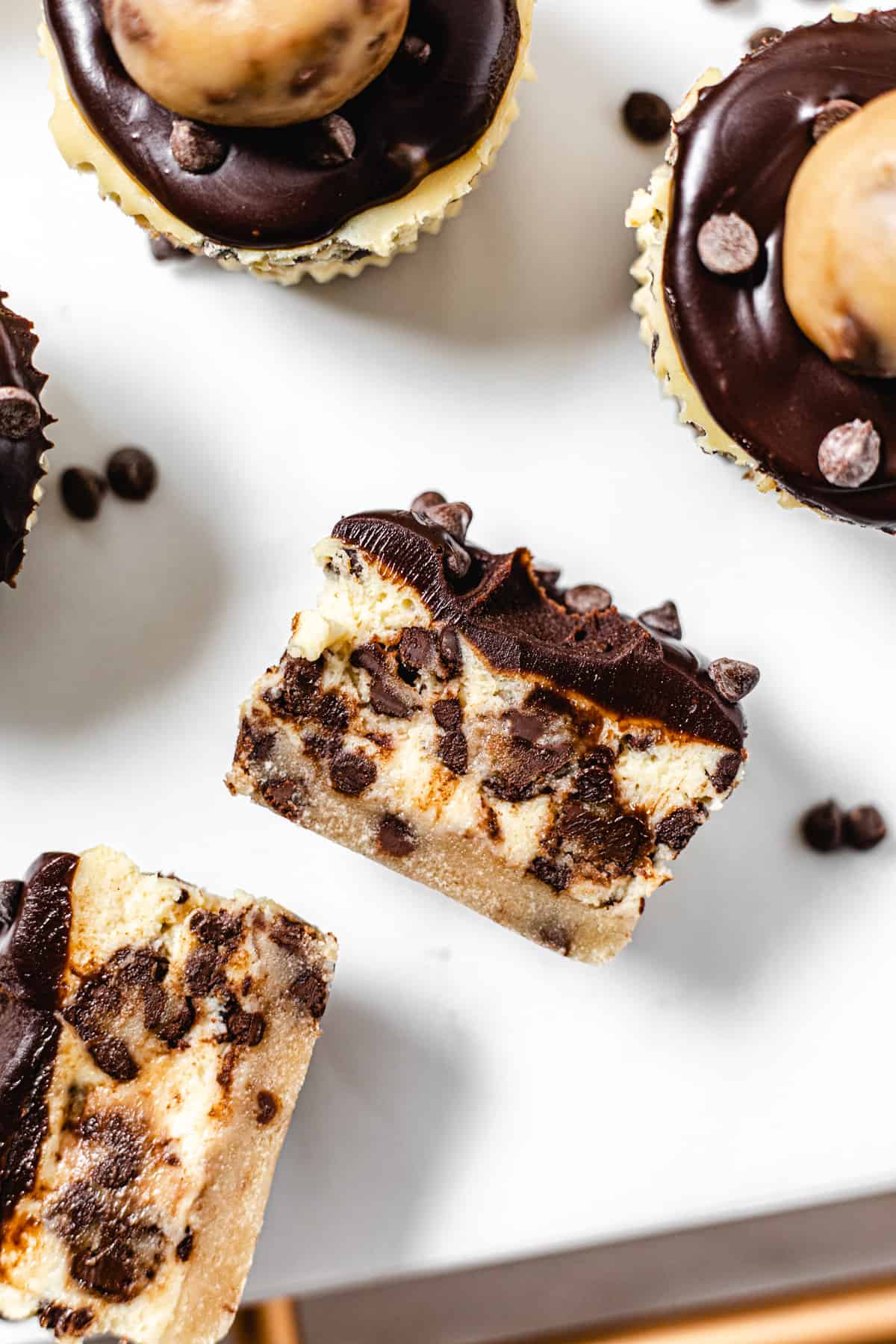 What They Taste Like
Pure cookie dough — honestly, between the base, brown sugar cheesecake and chocolate chips on top, it really feels like you're eating a jar of cookie dough that happens to have the same creamy texture as a cheesecake!
Four different textures — speaking of texture, you're getting a quadruple whammy in each bite! The ganache is thick and smooth, the ultra creamy cheesecake also hits you with the soft cookie dough balls and hard mini chocolate chips. Lastly, the chilled cookie dough crust just melts in your mouth and blends perfectly with the other components!
Each bite is worth every minute on the treadmill!
SHARE YOUR PICS!
Follow me on Instagram and tag #queensleeappetit so I can see and share all of your Queenslee Appétit creations in my stories and the QA Newsletter!
>>PIN ME FOR LATER<<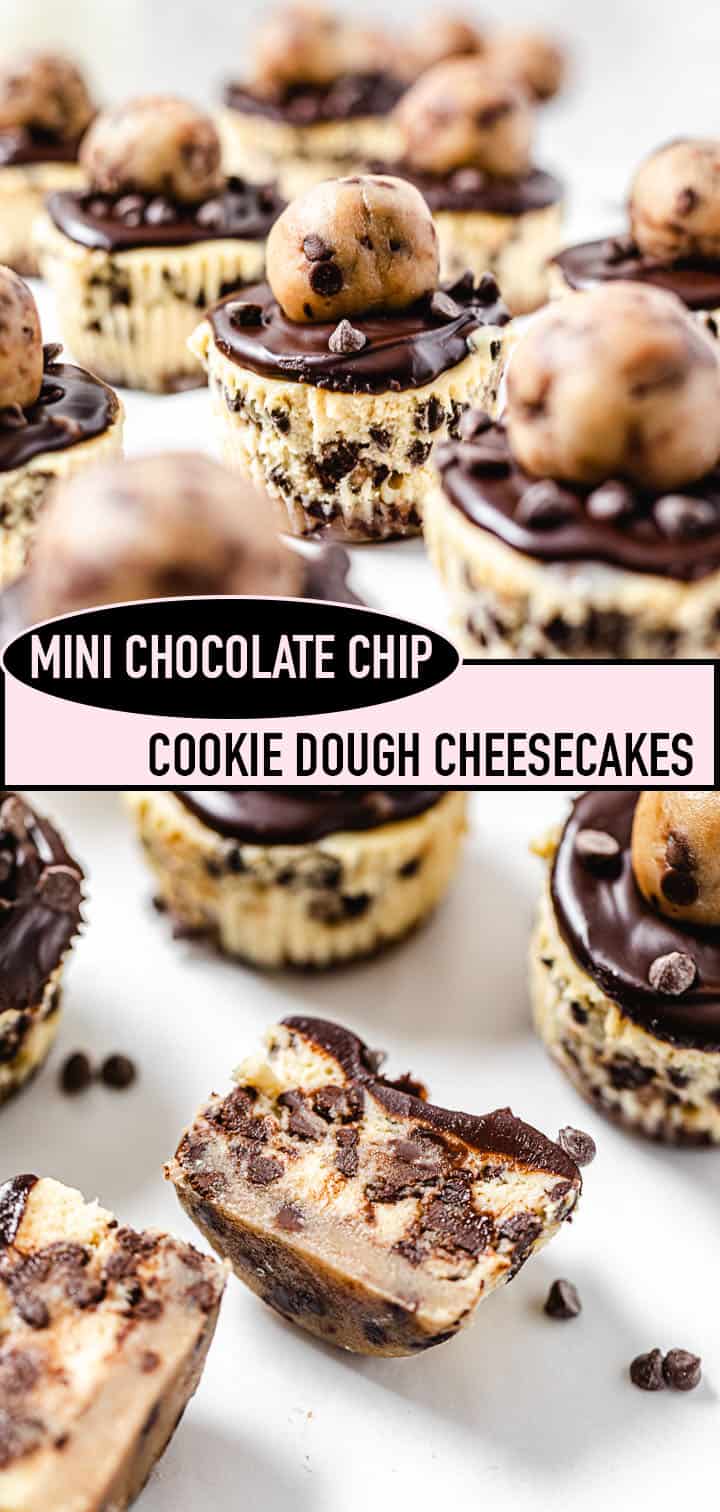 FOLLOW QUEENSLEE APPÉTIT
Like what you see? Make sure you're following Queenslee Appétit for more tasty recipes!
Pinterest | Instagram | Facebook |
Have any questions about the recipe? Contact me here, and I'll be happy to help!
SWEETEN UP YOUR INBOX!
SUBSCRIBE to the Queenslee Appétit Newsletter to recieve new recipe notifications, monthly baking tips, sneak peeks to upcoming recipes, exclusive recipes and more!
Let's get baking!
Mini Chocolate Chip Cookie Dough Cheesecakes
Total Time:
4 hours
25 minutes
These Mini Chocolate Chip Cookie Dough Cheesecakes combine a thick, edible cookie dough base, a brown sugar cheesecake filling loaded with mini edible cookie dough balls and mini chocolate chips, and a topping of rich chocolate ganache! Completely irresistible and perfect for a small gathering!
Ingredients
Edible Cookie Dough:
2 and ¼ cups all purpose flour
1 cup unsalted butter, cold
1 cup light brown sugar, packed
½ cup granulated sugar
2 teaspoon pure vanilla extract
½ teaspoon salt
3-5 tablespoon milk (optional)
1 cup mini chocolate chips
Chocolate Chip Cookie Dough Cheesecake:
1 and ½ (8-ounce) packages (12 oz) full-fat cream cheese, room temperature
½ cup light brown sugar, packed
1 Tbsp. cornstarch
½ cup sour cream, room temperature
1 teaspoon pure vanilla extract
2 large eggs, room temperature
Mini Edible Cookie Dough Balls (recipe above)
½ cup mini chocolate chips
Ganache Topping:
½ cup dark chocolate chips
¼ cup heavy cream
Garnish:
Mini chocolate chips
12 Edible Cookie Dough Balls
Instructions
Line a 12-cup muffin pan with liners. Set aside.
Baking the Flour:
Preheat oven to 350°F. Line a baking sheet with parchment paper or a Silpat mat. Pour flour onto the baking sheet and spread into an even layer. Bake flour in preheated oven for 5 minutes. Pour into a separate bowl and set aside to cool. Turn the oven down to 325°F.
For the Edible Cookie Dough:
Microwave the cold butter for 15-25 seconds, or until it's only half melted.
In the bowl of a stand mixer fitted with a paddle attachment, or in a large mixing bowl using a hand mixer, add the half-melted butter and both sugars. Beat on medium speed until light and fluffy, about 4-5 minutes. Mix in vanilla, flour and salt.
If the cookie dough is crumbly, add milk one tablespoon at a time and beat until dough comes together in large clumps. Mix in the mini chocolate chips on low speed.
For the Cookie Dough Crust:
Scoop out (12) 1 tablespoon sized portions of cookie dough and roll into a smooth ball.
Place each ball into each liner and press down into an even layer. Transfer to the refrigerator while you prepare the cheesecake filling.
For the Edible Cookie Dough Balls:
Scoop out another (12) 1 tablespoon sized portions of cookie dough and roll into a smooth ball. Place onto a baking sheet lined with parchment paper.
Scoop out ½ teaspoon sized portions of the remaining cookie dough and roll into a smooth ball. Place onto prepared baking sheet. You could also scoop out 1 tablespoon sized portions and cut them in quarters to add to the cheesecake batter. Chill in the refrigerator until ready to use.
For the Chocolate Chip Cookie Dough Cheesecake:
In a large bowl using a handheld mixer, beat the cream cheese on low speed until smooth and creamy, about 1-2 minutes.
Add the sugar and cornstarch and continue to beat until combined.
Scrape down the sides of the bowl and add sour cream and vanilla and continue beating until smooth.
Add eggs one at a time, beating slowly until just combined, do not overbeat. Batter will be thin.
Add the mini cookie dough balls and mini chocolate chips and fold until combined.
Remove muffin pan from the refrigerator and fill each liner with ¼ cup of batter. You may have some batter left, so scoop an extra tablespoon of batter into each liner until it's finished. These cheesecakes can be filled all the way to the top.
Bake in preheated oven for 18-20 minutes until the tops are puffed and look dry.
Remove from oven and allow to cool completely on a cooling rack.
Once cooled, cover with plastic wrap and refrigerate until firm and chilled, about 2-3 hours or overnight.
For the Ganache:
Put the chocolate chips and cream into a medium heat safe bowl. Microwave in 30 second intervals, stirring after each interval until combined and smooth.
Spoon ganache over cheesecakes and sprinkle on some mini chocolate chips.
Place a cookie dough ball on top of each cheesecake and return them to the refrigerator until ganache is set. Serve and enjoy!
Nutrition Information:
Yield:

12
Serving Size:

1
Amount Per Serving:
Calories:

718
Total Fat:

42g
Saturated Fat:

23g
Trans Fat:

1g
Unsaturated Fat:

16g
Cholesterol:

90mg
Sodium:

260mg
Carbohydrates:

86g
Fiber:

3g
Sugar:

68g
Protein:

6g
BON APPÉTIT!
Love, Dedra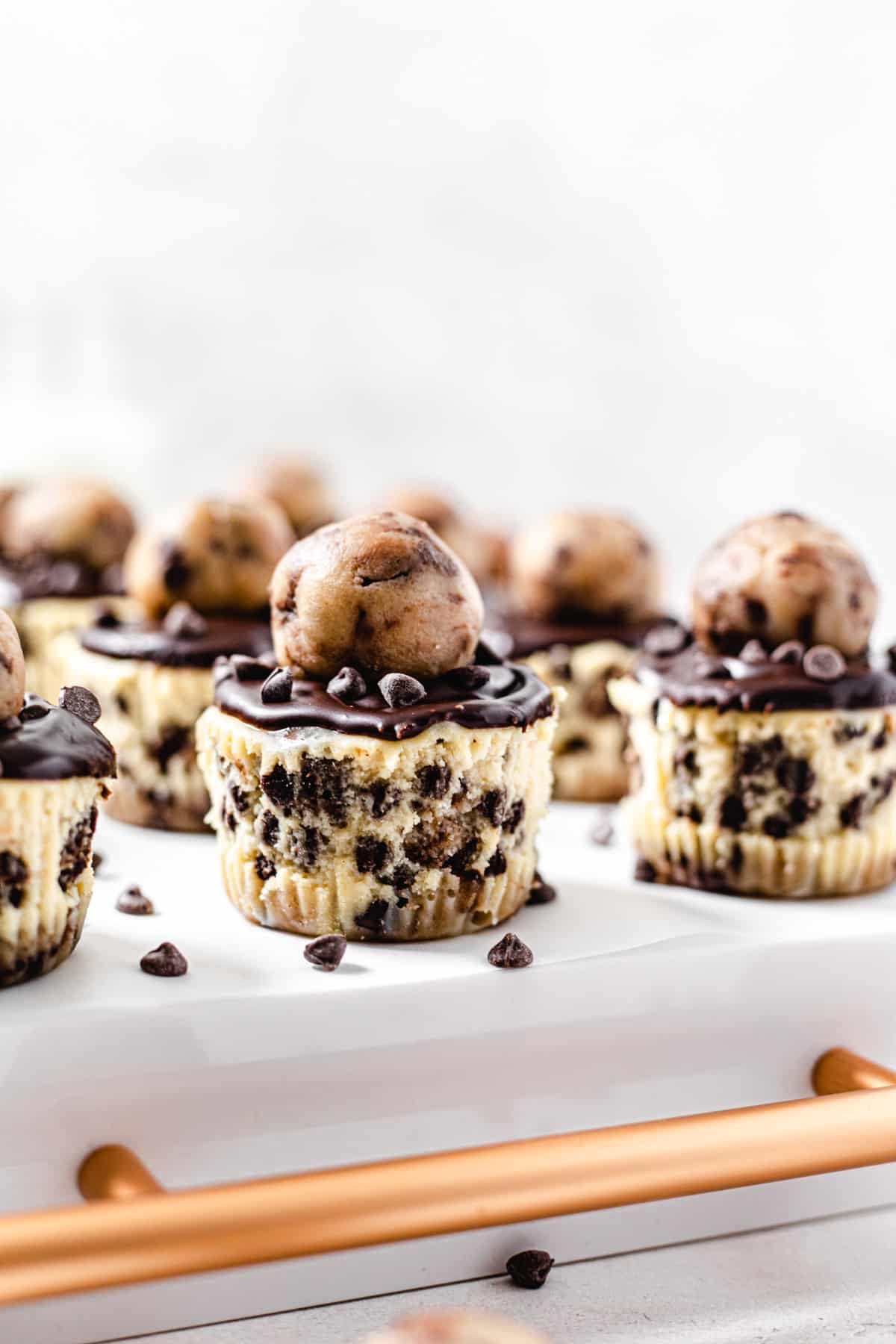 ©QUEENSLEE APPÉTIT. All images & content are copyright protected. Please do not use my images without prior permission. If you want to republish this recipe, please re-write the recipe in your own words, or link back to this post for the recipe.