Best Ever Chocolate Chip Cookies. I know calling them the best chocolate chip cookies EVER is a stretch, but out of every chocolate chip cookie I've ever tried in my life (which is a LOT), these cookies are the absolute best! They're incredibly soft, chewy and delicious — and best of all they're loaded, I mean LOADED with chocolate chips AND chocolate chunks! The perfect chocolate chip cookie.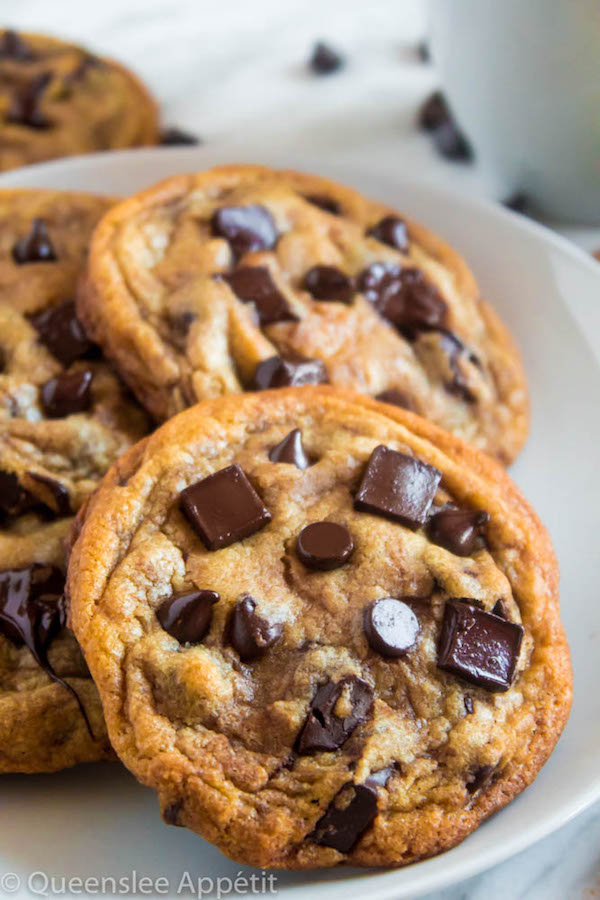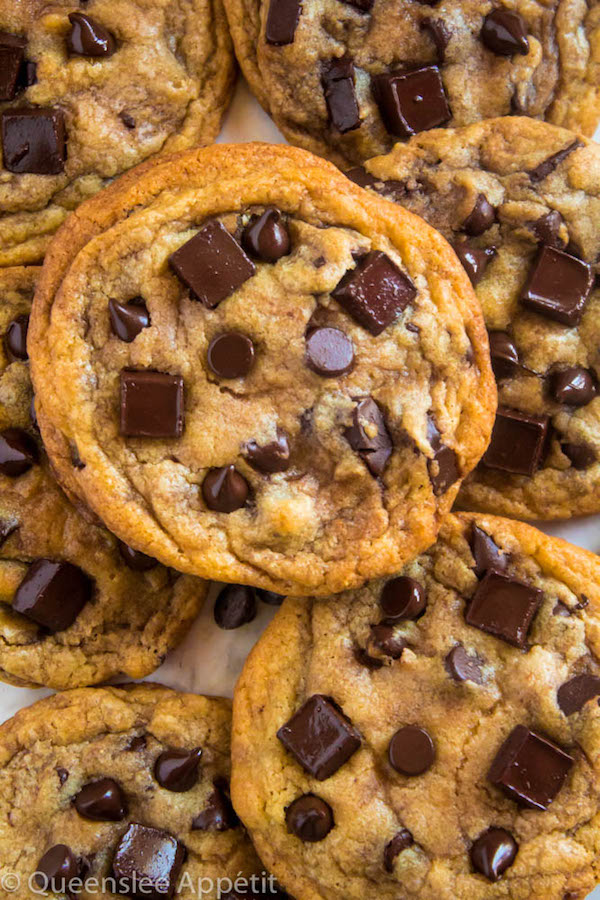 Do you have a favourite go-to chocolate chip cookie recipe? Like an old recipe that's been in your family for generations? Pretty much everyone has a go-to recipe for chocolate chip cookies, except me!
So since my family doesn't have a famous chocolate chip cookie recipe passed down from one grandmother to another, I decided to come up with my own.
Introducing my absolute FAVOURITE chocolate chip cookies!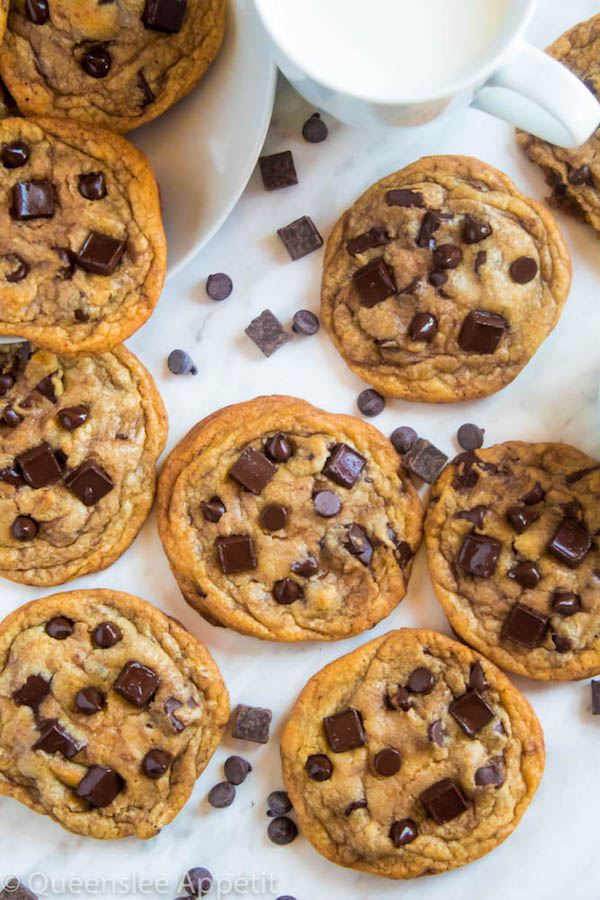 Best Ever Chocolate Chip Cookies
There's nothing better than a fresh batch of big, warm and soft chocolate chip cookies with a glass of cold milk at the side for dunking. The chewy and buttery dough stuffed with loads of chocolate chips is just unbeatable! Who doesn't love a chocolate chip cookie?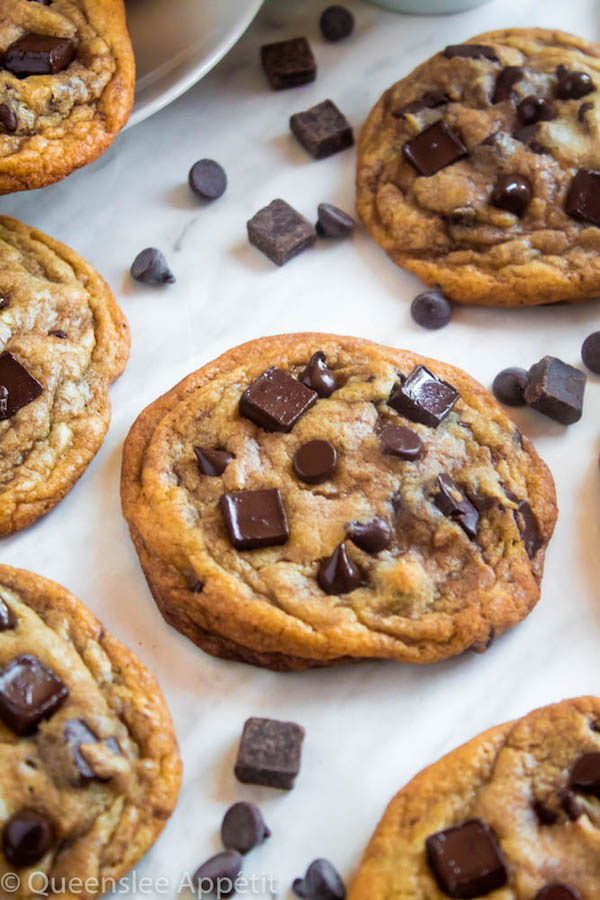 When my baking obsession began, the first thing I tried to bake from scratch were chocolate chip cookies. However, since my baking obsession began at the age of about 7, those cookies obviously failed BIG TIME! Ever since then I continued to try over and over again until I mastered my cookie baking skills, and by God I did!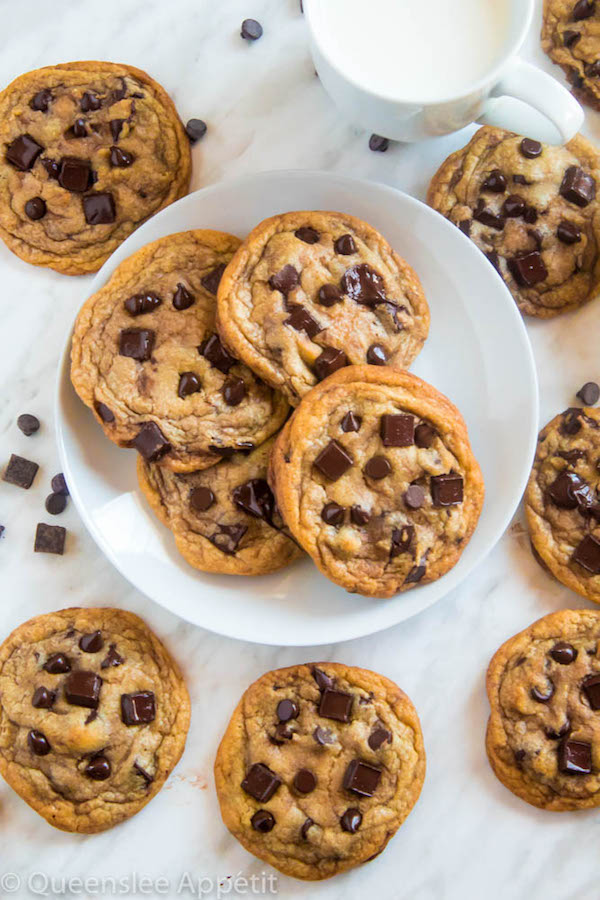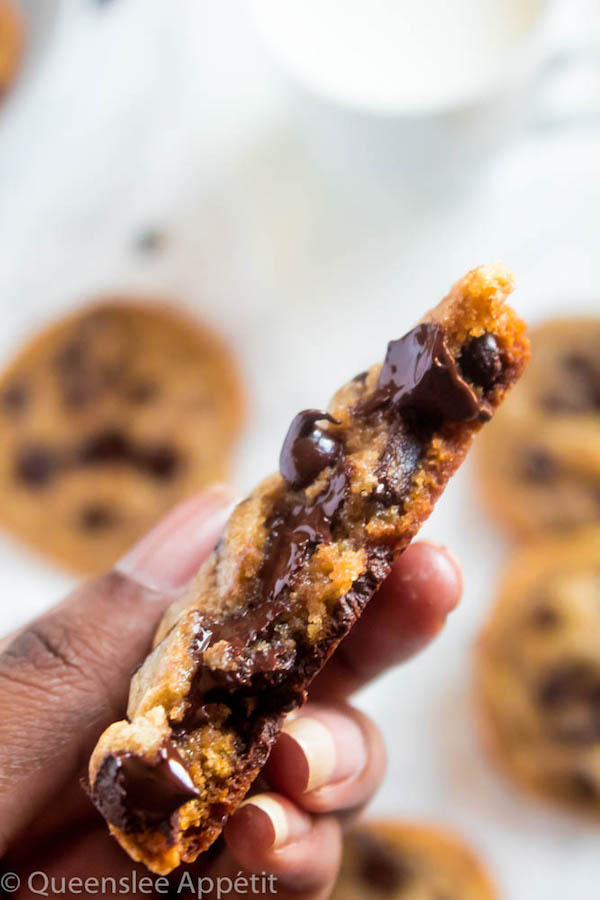 Now that I've learned all of the tricks to baking the PERFECT chocolate chip cookie (which I'll be sharing in a minute), it was time for me to develop my own perfect recipe.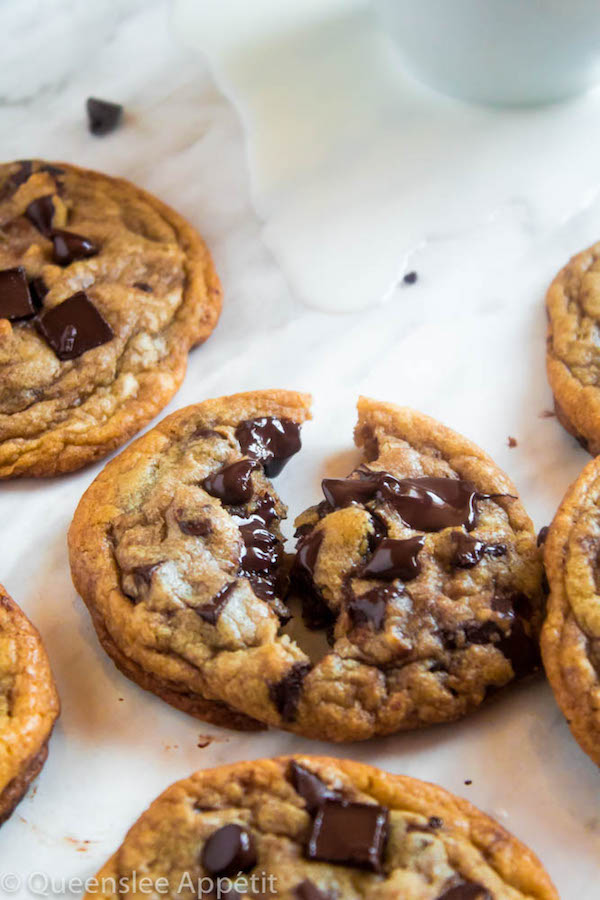 One thing you should know about me is that I'm nowhere near rich, so I NEVER waste ingredients. This means I don't spend days in the kitchen testing and re-testing the same recipe 100,000 times (I definitely don't have the time or money to do that).
Luckily for me, I seem to have a talent for developing the perfect recipe. Woah narcissistic much? What I mean is that I develop recipes by listing the ingredients needed, then I write the measurements I feel would work. And since I've been baking for so long now, I don't really need instructions to follow, I just do what I feel is right, then I write down my steps for you guys to follow.
And it works every time! Every recipe you see on this blog is the result of my "test once and hope for the best" technique. Pretty impressive right? These chocolate chip cookies are no different! Every chocolate chip cookie has the same basic ingredients: butter, sugar, eggs, flour, chocolate chips etc. So I knew those were the ingredients I needed, it was just about the right amounts and how to put them together to make the most incredible cookie.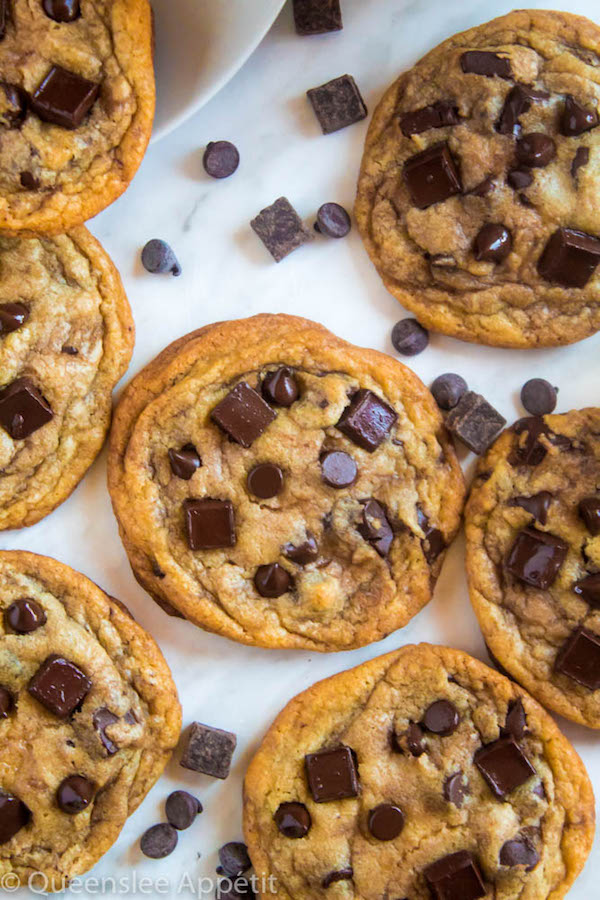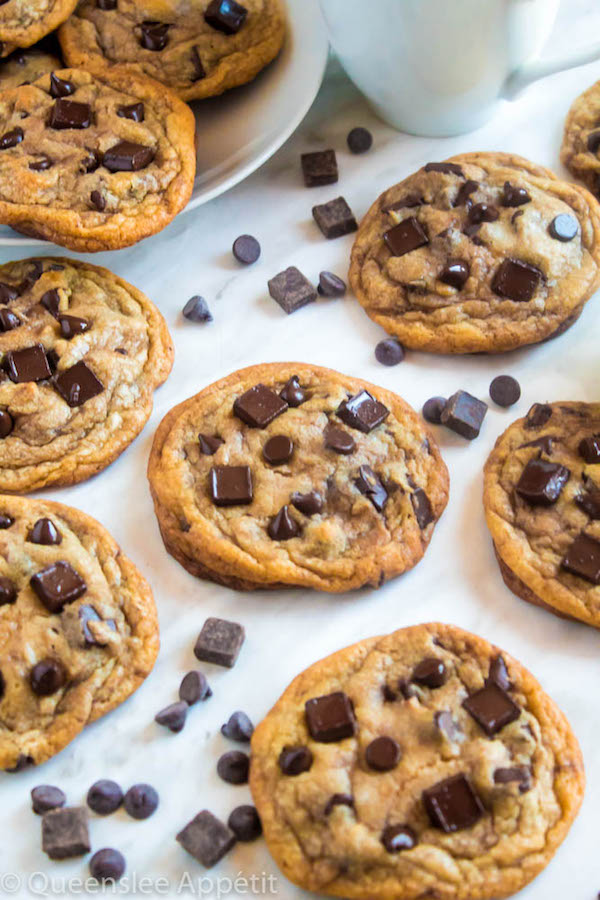 INGREDIENTS BREAKDOWN
I spent hours studying the science of a chocolate chip cookie and learning what makes a cookie soft and chewy vs what makes them thin and crispy. My idea of the perfect chocolate chip cookie is one that is thick (but not too thick), crispy on the edges, soft in the middle and a nice and chewy texture stuffed with the perfect amount of chocolate chips in every bite!
So let's break down the part each ingredient had to play to create this magnificent cookie.
Butter — Creaming the butter gives you a firmer and thicker cookie, while melted butter gives you a denser and chewier cookie. I wanted my cookies to be in-between, so I used half melted butter! This means I heated the butter in the microwave until half of it was melted. I figured with half melted and half softened butter I would be able to achieve the ultimate texture in these cookies.
Make sure your butter is still cold, then microwave in 20 second intervals until half of it is melted and the other half is softened.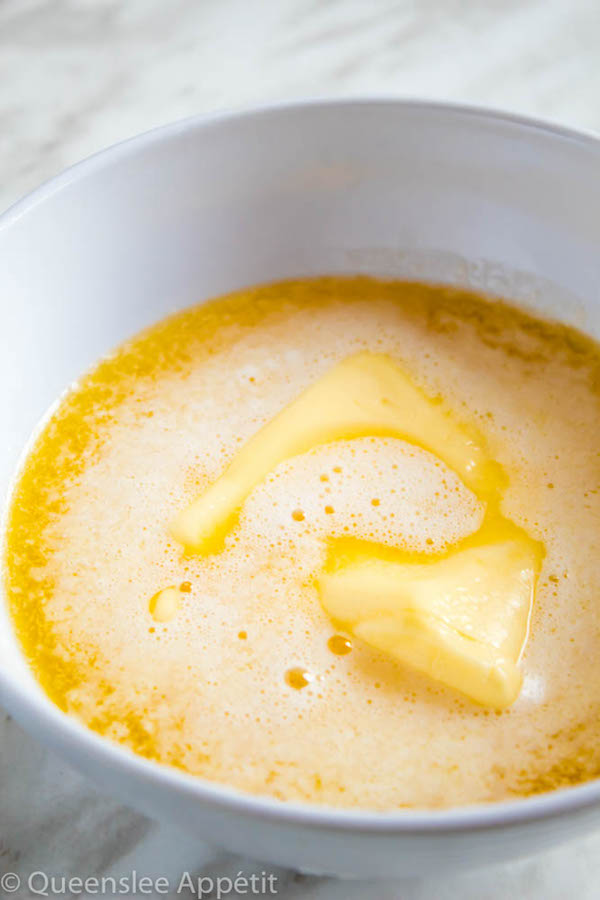 Brown Sugar — Brown sugar is the key to a soft, moist and chewy cookie. This is because it contains molasses which adds moisture.
Granulated Sugar — Granulated Sugar adds sweetness to the cookies and makes them browner and crispier due to the way it absorbs the moisture in the dough. And since it melts while baking, it'll cause the cookies to soften and spread.
In this chocolate chip cookie recipe, I used 1 cup of brown sugar and ½ cup of granulated sugar. This is because I creamed the softened butter and sugar, so I was afraid if I added too much it would be crumbly.
This time I used equal amounts of both brown and granulated sugar. Since half of the butter is melted, some of the sugar will dissolve, making the mixing smoother and easier.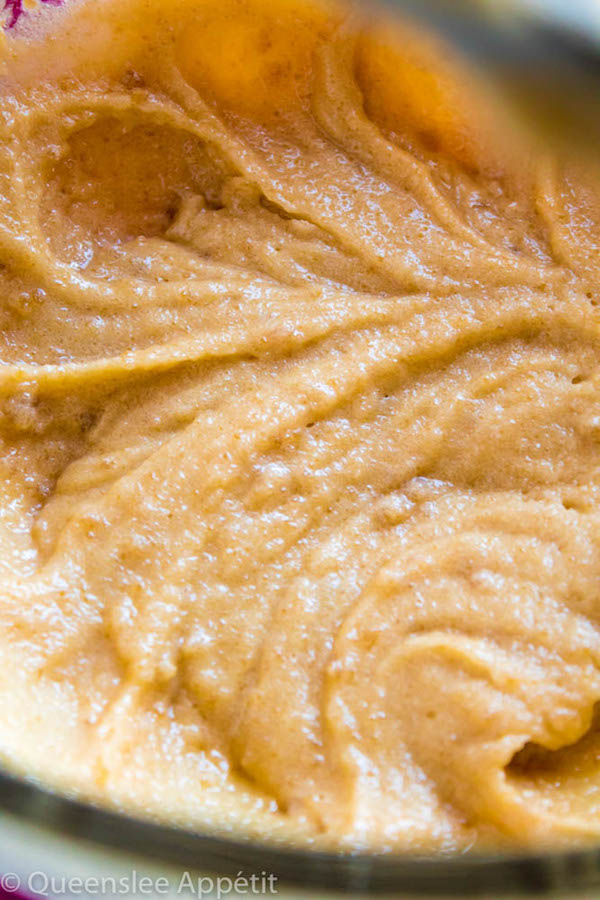 Eggs — Eggs give the cookies structure and moisture. The whites in the eggs make the cookies fluffier, while the yolks make them denser. The protein in eggs is also the key to giving the cookies their chewy texture. I found 2 eggs to be the perfect amount for this recipe.
Vanilla — Well the use for this is obvious: to add flavour!
Flour — I used regular unbleached all-purpose flour, although I read that cake flour makes softer cookies and bread flour creates a chewier cookie. I knew those 2 flours would be difficult for some people to find so I stuck with a flour that everyone could use.
Cornstarch — It isn't only good for thickening sauces! When combined with flour, the cornstarch will soften the flours proteins resulting in a more tender cookie. As I mentioned above, cake flour creates a softer cookie. This is because it has cornstarch! So since we're using all purpose flour, adding a bit of cornstarch will give the cookies it's soft texture.
Baking Soda — In my previous chocolate chip cookies recipe I used a mixture of baking soda and baking powder. This time I used all baking soda to encourage browning and make the cookie denser.
Salt — Salt will balance the sweetness of the cookies and enhance the flavour so they're not overly sweet.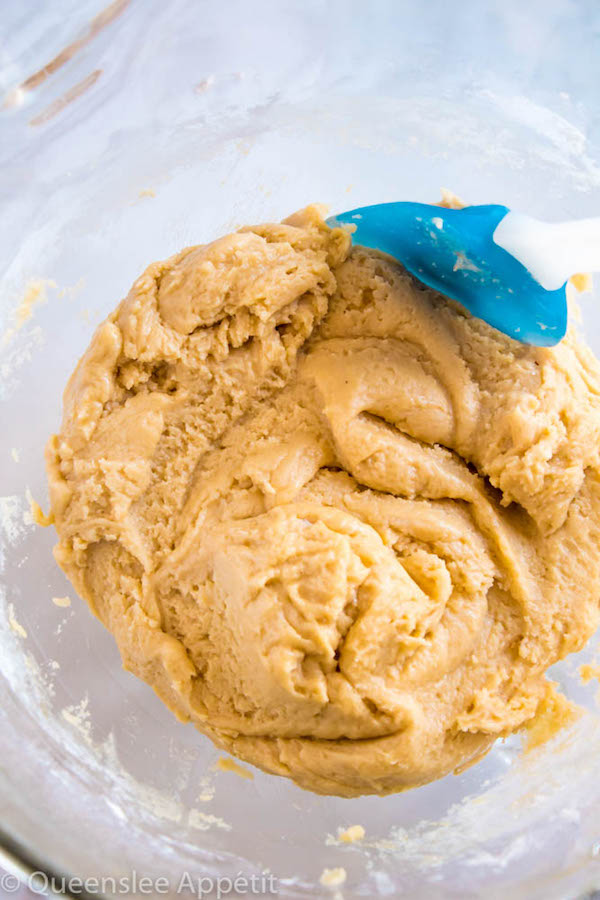 Chocolate Chips AND Chocolate Chunks — My favourite thing about chocolate chip cookies, the chocolate chips! However, for my recipe, I used a mixture of chocolate chips and chocolate CHUNKS! 1 cup of each so these cookies are just packed with gooey delicious chocolate in every bite.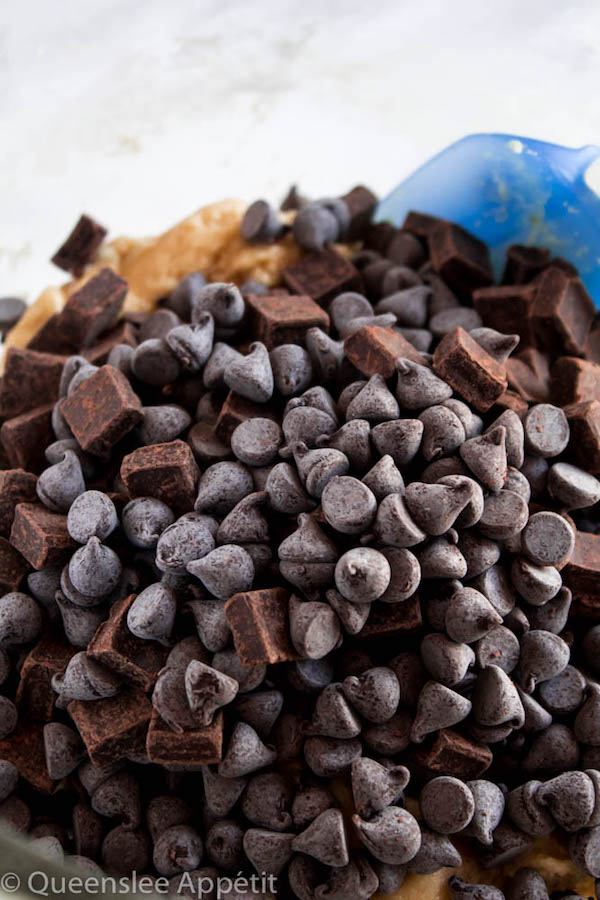 Chilling the Dough
You will need to let these cookies chill in the refrigerator for at least 1-2 hours or overnight. I know it's time consuming, but it's a MUST! If you bake the cookies right away, they will spread too quickly and flatten. Chilling the dough results in a cookie that spreads less, is chewier and all around tastes better!
Apparently the longer you chill your cookie dough, the better they will be so pleeeeaaaassee don't skip the chilling time, no matter how long and painful it may be.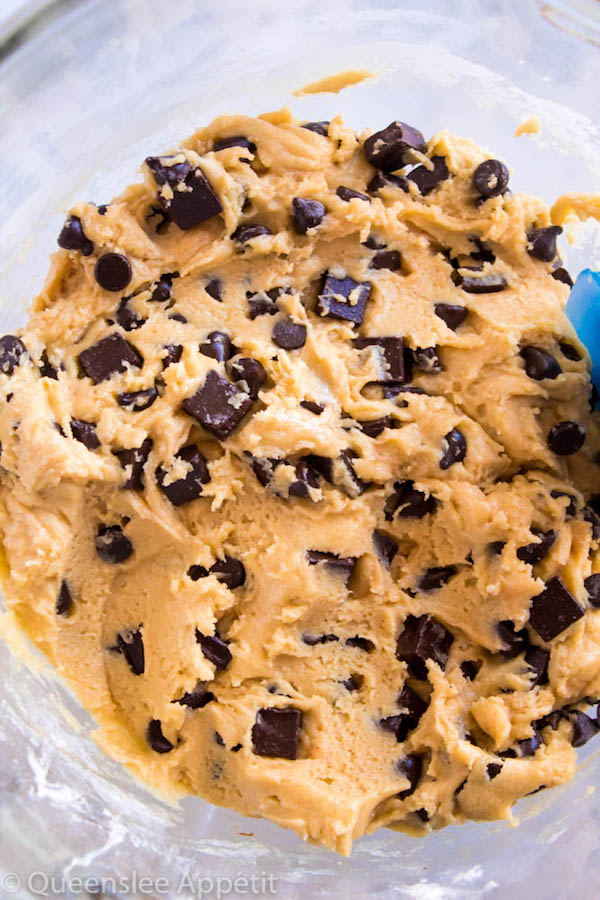 Shaping the Dough
To shape the dough, we're gonna do more than just scoop and roll. I remembered an old technique I learned a while ago where we roll the dough, then tear it in half. This is supposed to create a bumpy top on the cookies.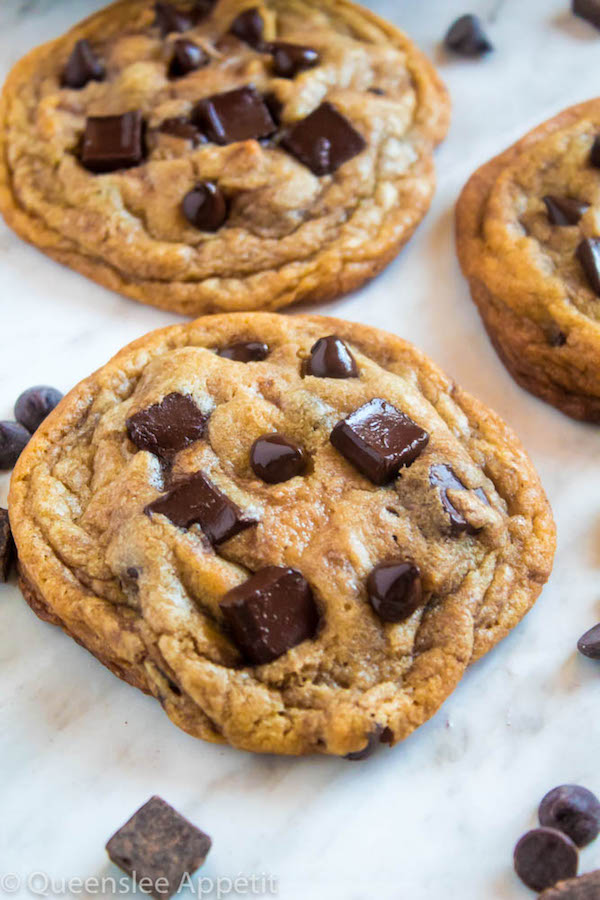 So, to shape the dough, I started by scooping out ¼ cup of dough. My cookie scoop holds about 4 teaspoons, so since 1 tablespoon = 3 teaspoons, I used 3 scoops.
Once the dough is scooped out, I rolled it into a ball, then tore the ball in half. To get the bumpy tops, we're gonna place one ball on top of the other, torn side up. Then shape the middle of the dough so they stick together.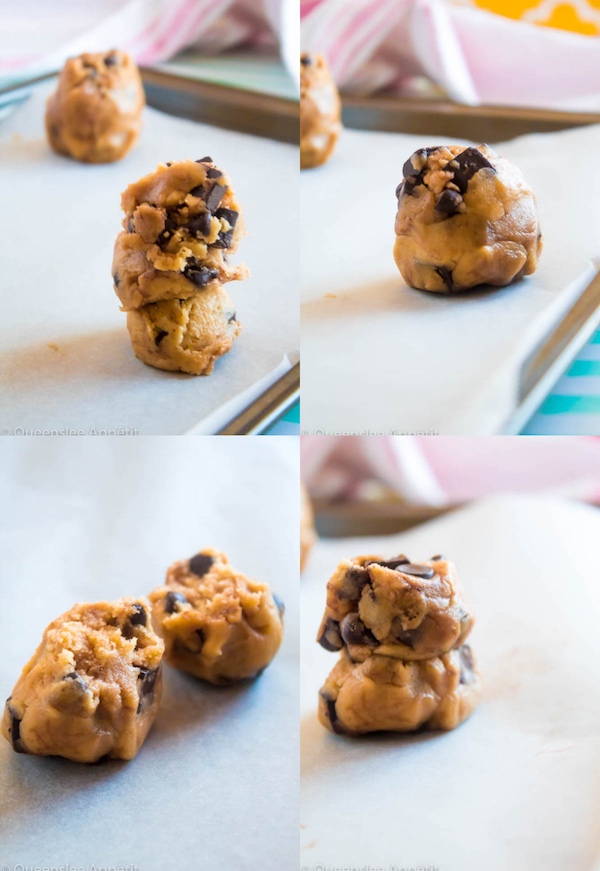 Baking Times and Temperatures
The oven temperature and baking time is another major key to how your cookies come out. A lower temperature will cause your cookies to bake longer, yielding in a thinner and crispier cookie.
For this recipe we want the cookies to be softer, thicker and chewier so we need to bake it at a higher temperature with a shorter baking time. Baking the cookies at 350°F for 10-12 minutes is the perfect time and temperature to make these cookies the perfect texture.
I always bake my cookies for 11 minutes because that's when they look slightly undercooked in the middle which is perfect. You want them to look a bit undercooked so they can continue to bake on the hot cookie sheet outside of the oven.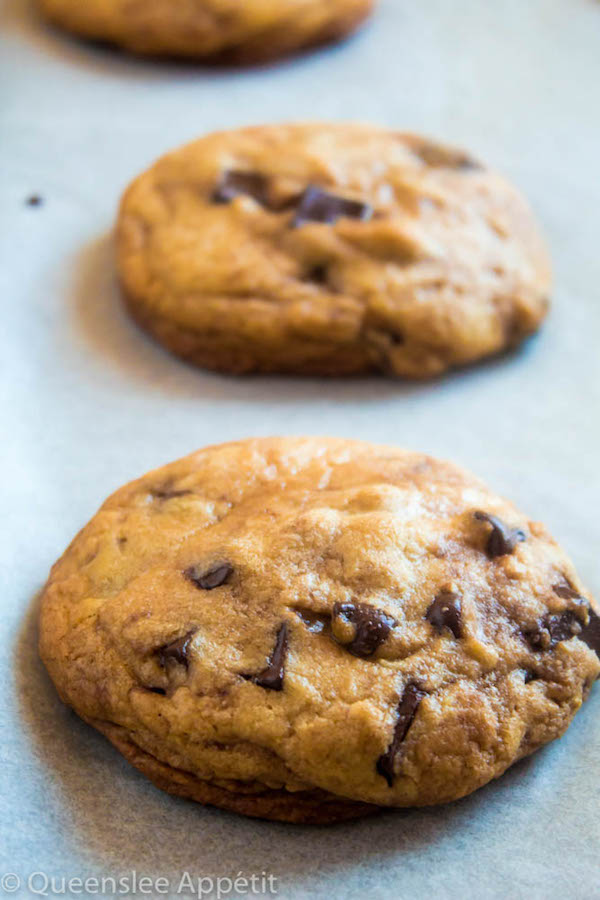 When baking chocolate chip cookies, I always added more chocolate chips on top before baking. I now know that that doesn't work because there's only chocolate chips in the middle while the edges are plain. This time I added extra chocolate chips and chunks on top immediately AFTER baking.
As the cookies cool, the chocolate chips will meld with the cookie. This is optional, of course, but it makes the cookies look prettier. Also, who can argue with extra chocolate chips?
Wow this post was longer than I expected. But hey, these cookies are so good I can't help but go on and on about them!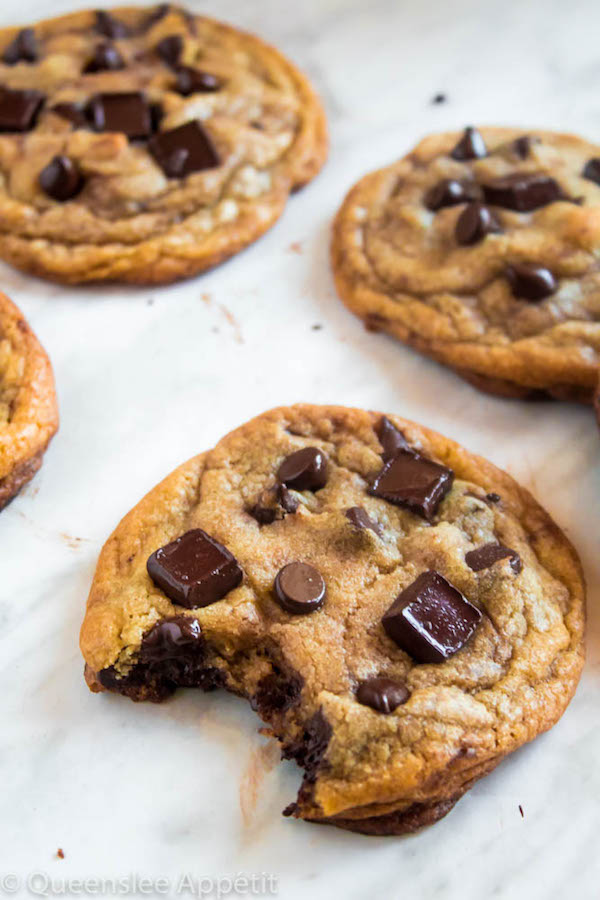 These are officially my #1 go-to chocolate chip cookie recipe now. I'll be passing the recipe on to my future children, and they'll share it with their children and their children's children. And once you try these cookies, you'll probably do the same!
>>PIN ME FOR LATER<<

Follow Queenslee Appétit
Like what you see? Make sure you're following Queenslee Appétit for more tasty recipes!
Pinterest | Instagram | Facebook | Twitter |
Did you make a recipe? I'd love to see how it turned out! Follow me on Instagram and use the hashtag #queensleeappetit so I can see all of the Queenslee Appétit recipes you've made!
Never miss a recipe, SUBSCRIBE at the bottom of this post!
Let's get baking!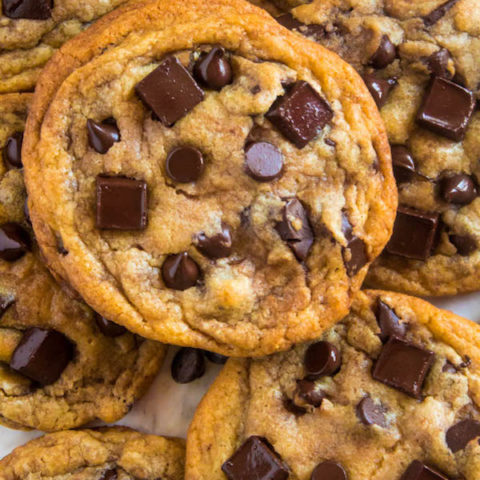 Best Ever Chocolate Chip Cookies
Total Time:
1 hour
16 minutes
These cookies are the absolute best! They're incredibly soft, chewy and delicious - and best of all they're loaded, I mean LOADED with chocolate chips AND chocolate chunks! The perfect chocolate chip cookie.
Ingredients
1 cup unsalted butter, cold
1 cup light brown sugar, packed
1 cup granulated sugar
2 large eggs, room temperature
1 and ½ teaspoon pure vanilla extract
2 and ½ cups all purpose flour
2 teaspoon cornstarch
1 teaspoon baking soda
1 teaspoon salt
1 cup semisweet chocolate chips + more for topping
1 cup chocolate chunks + more for topping
Instructions
Line a baking sheet with parchment paper or a silpat mat. Set aside.
Microwave the cold butter in 20 second intervals until the butter is halfway melted.
In the bowl of a stand mixer fitted with a paddle attachment, add the semi melted butter and both sugars. Beat on medium speed until fully combined, about 1-2 minutes.
Turn the mixer to medium-low speed and add eggs one at a time and mix until just combined. Add vanilla and mix until combined. Do not overmix.
In a separate bowl, add flour, cornstarch, baking soda and salt. Whisk to combine.
Add dry ingredients to the stand mixer bowl and mix until fully incorporated. Fold in chocolate chips and chocolate chunks.
Cover bowl with plastic wrap and chill in the refrigerator for at least 1-2 hours or overnight.
Preheat oven to 350°F. Remove cookie dough from refrigerator and scoop out ¼ cup of cookie dough. Roll dough into a ball, then rip it in half. Smush the dough balls back together, ripped side up.
Repeat with remaining dough, spacing them about 2 to 3-inches apart on the cookie sheet so they have space to spread.
Bake in preheated oven for 10-12 minutes, or until edges are set and the center of the cookies still look undercooked. Rotate the sheet at the 6 minute mark so the cookies can bake evenly.
Remove from oven and immediately press more chocolate chips and chunks on top. Allow to cool on baking sheet for 15 minutes, then transfer to a wire rack to cool completely. Repeat with remaining cookies.
These cookies are best served warm, but you can store the leftovers in an airtight container at room temperature.
Notes
If you bake the cookies right away, they will spread too quickly and flatten. Chilling the dough results in a cookie that spreads less, is chewier and all around tastes better!
I highly recommend using a mixture of chocolate chips and chocolate chunks, but if you can't find chocolate chunks feel free to use all chocolate chips.
Recommended Products
As an Amazon Associate and member of other affiliate programs, I earn from qualifying purchases.
©
QUEENSLEE APPÉTIT
. All
images & content are copyright protected. Please do not use my images without prior permission. If you want to republish this recipe, please re-write the recipe in your own words, or link back to this post for the recipe.
BON APPÉTIT!
Love, Dedra ❤
This post may contain affiliate links. Please see my full disclosure policy for details.