Nutella lovers gather around! This Nutella Hot Chocolate is thick, rich, creamy and decadent! Topped with Nutella Whipped Cream, melted Nutella, chopped hazelnuts and Ferrero Rochers — this is the ultimate drink for every Nutella fanatic!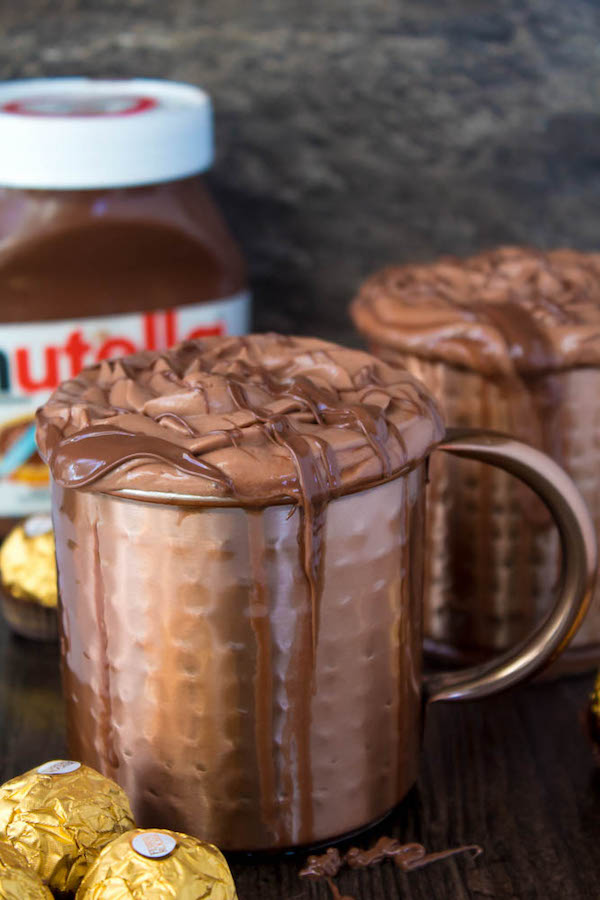 New year, new delicious recipes. What better way to start off the New Year than with some hot chocolate? And not just any plain 'ole hot chocolate with marshmallows — Nutella Hot Chocolate with Nutella Whipped Cream!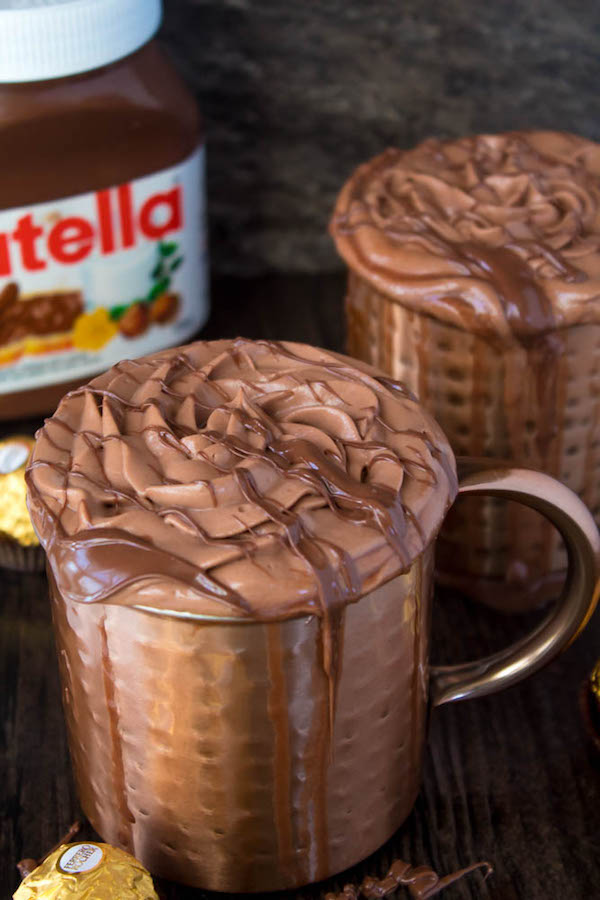 It's literally a Winter Wonderland outside, or as I like to call it — Winter HELL! Honestly, one minute the streets were clear and the worst we had to deal with was a little fall chill. Now the city is covered in so much slippery, deep snow you can barely see in front of you. Now all of this is normal when it comes to winter, except this year it's extra brutal, so much so that there is an "Extreme Cold Warning" in my city. This means the temperature is at a dangerous low and if you don't dress warm enough, your health will be at risk. In other words — IT'S FREAKING COLD!!!
Ok I could rant about this frozen nightmare I'm living in all day, but that's not the point. The point is that my main source of warmth in this freezing weather is a giant mug of the most delicious hot chocolate! Not only does it warm me up inside and out, it takes my mind off of the misery outside.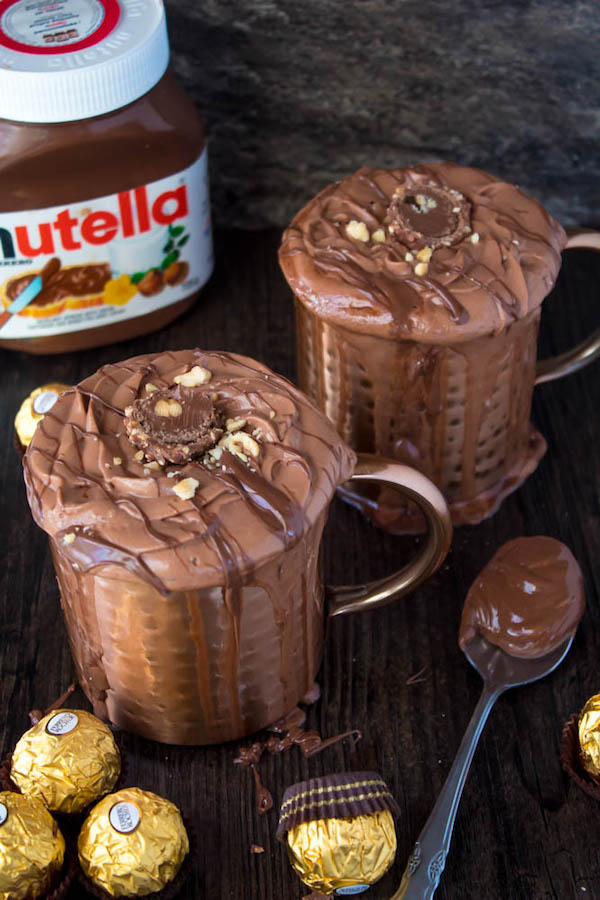 This Nutella hot chocolate is the hot chocolate of your dreams! If you're obsessed with the worlds greatest spread like myself, you're gonna fall in love with this decadent drink! It's the best way to drink Nutella without feeling like a fatty. Believe me, when I was younger I melted some Nutella and tried to drink it straight from the jar. This is pretty much the same thing, except it's classier and not as messy.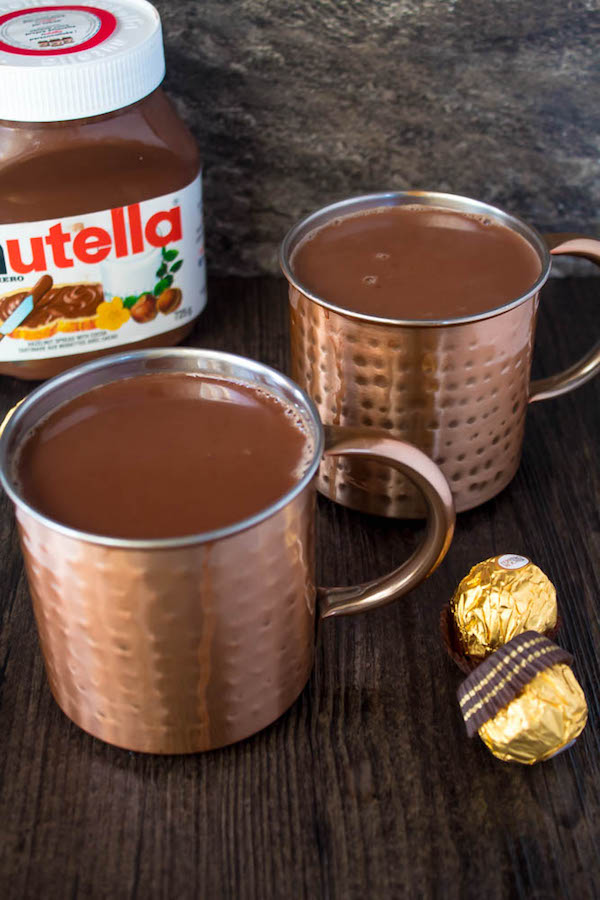 The hot chocolate (or Hot Nutella) itself is really easy to throw together. No, it's not a basic 2-ingredient "milk and Nutella" combined recipe like some of the others. You'll need 6 simple ingredients — milk, heavy cream, semisweet chocolate chips, Nutella, vanilla and salt.
I used a mixture of milk and heavy cream because the cream gives the hot chocolate its thick and creamy consistency! I then added a small amount of semisweet chocolate chips for added richness. You can use unsweetened chocolate if you prefer to balance out the sweetness of the Nutella.
Speaking of Nutella, this hot chocolate is FULL of its flavour! I've seen a few recipes that only use a few tablespoons of Nutella to make so called "Nutella hot chocolate". Oh no, none of that. We don't skimp on Nutella over here. I added an entire cup of Nutella to this hot chocolate! When you take that first sip, the Nutella flavour punches you right in the face (nicely) rather than barely tapping your tongue and having you wonder if it's Nutella or not.
Oh and the vanilla? Completely optional. It just adds a little flavour, but honestly this drink will be perfect with or without it.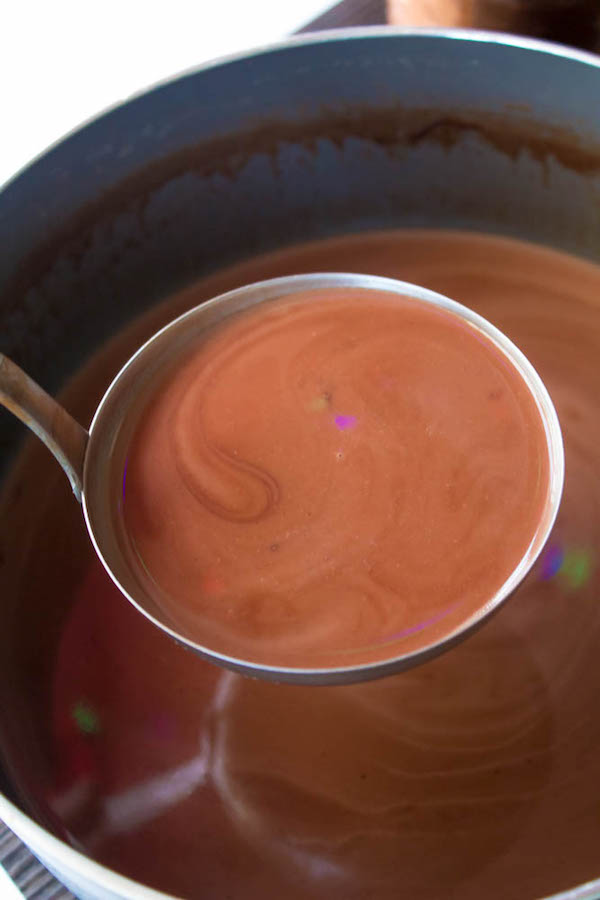 There's no difficult steps to making this hot chocolate. Simply throw all the ingredients in a saucepan, heat on the stove and stir. In no time it comes together to form a dreamy, creamy, chocolatey, hazelnut-y drink. By the time I finished licking every last trace of Nutella off my rubber spatula (and measuring cups), the hot chocolate was ready!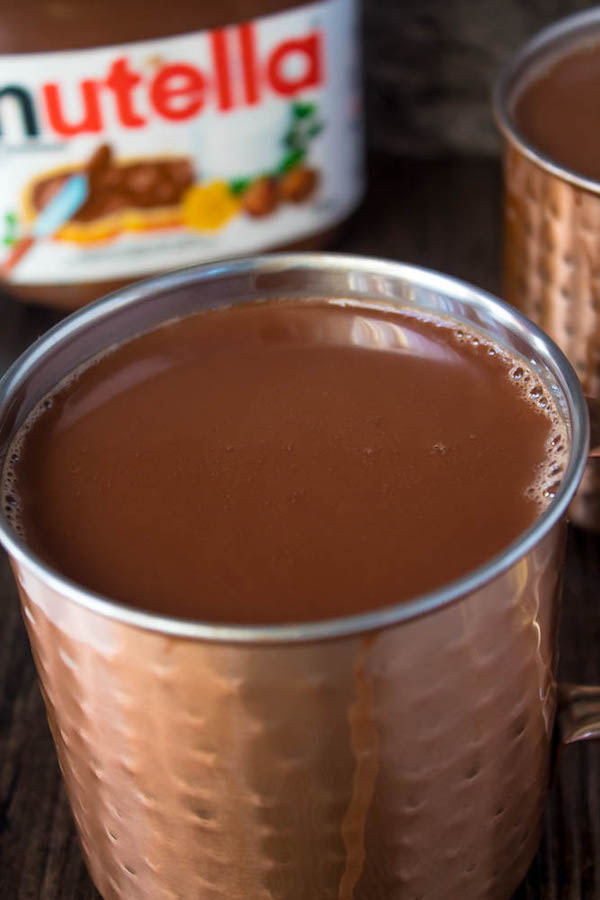 As great as the Nutella hot chocolate is, there's plenty of different recipes out there for it. If you know me, you know I like to be different and unique. You also know that when I make a Nutella dessert, I make sure the Nutella flavour is throughout every inch of the treat (here's proof).
So what makes this hot chocolate so special? Well, instead of topping it with marshmallows or regular degular whipped cream, I topped this Nutella Hot Chocolate with NUTELLA WHIPPED CREAM! Don't adjust your glasses, you read that right.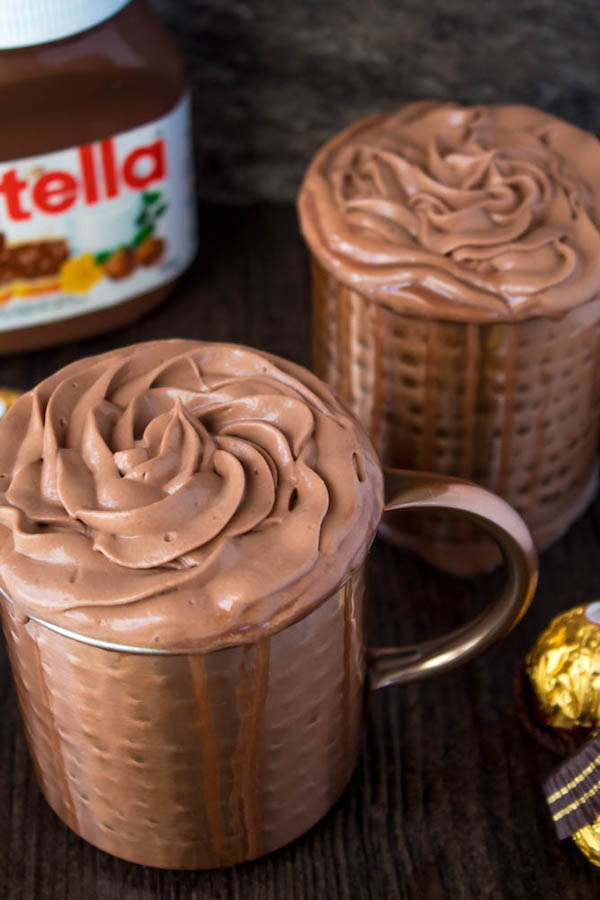 So how do you make Nutella whipped cream? It's easy! Just make some basic whipped cream (heavy cream + powdered sugar), then add Nutella! Once again we don't use a measly 1-2 tablespoons of Nutella. I went a bit crazy and added ½ cup! The whipped cream was pretty soft and melted into the hot chocolate, but I don't see any problem with that, do you? Didn't think so ?.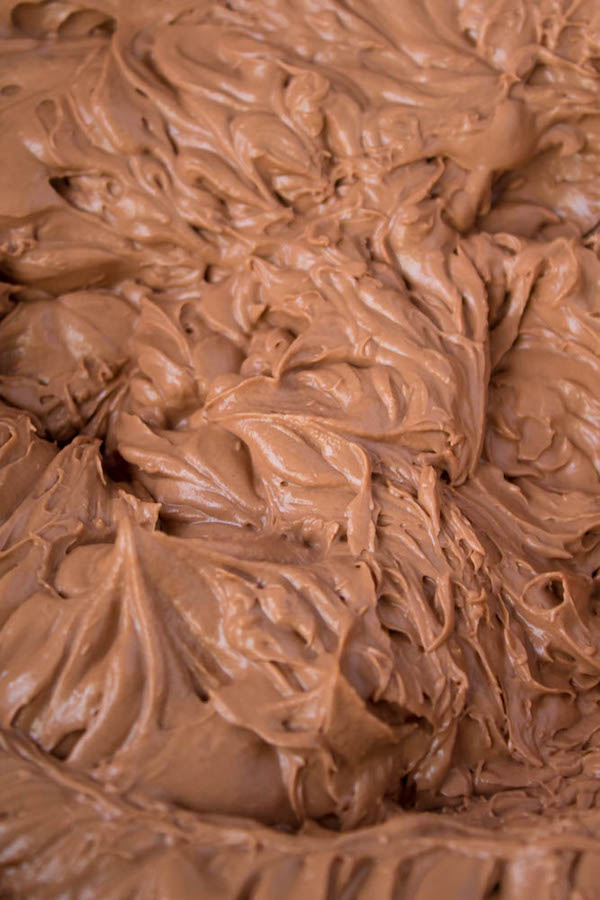 If that wasn't enough to put you in a Nutella coma, I also topped my hot chocolate with melted Nutella, chopped hazelnuts and Ferrero Rochers. Again, if you're not a Nutella maniac feel free to leave all of that out.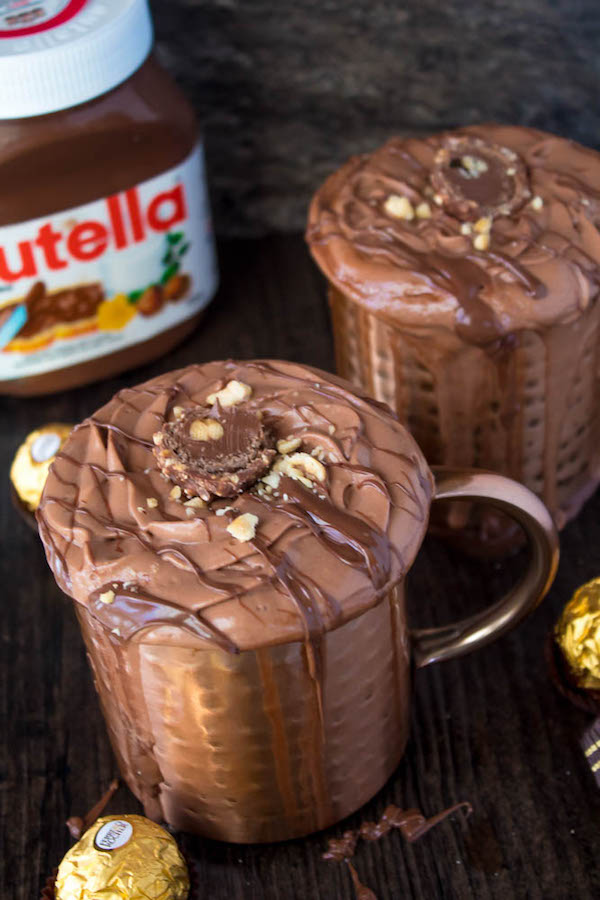 This isn't your everyday hot chocolate. This is for when you want to indulge after a long and freezing day. This recipe makes a lot of hot chocolate, but it can easily be cut in half. It also yields 4 mugs, but just like my Salted Caramel Hot Chocolate, this is VERY rich, and is better enjoyed in small cups rather than giant mugs. Especially with the Nutella whipped cream topping, I doubt a single person could finish off a large mug of this stuff on their own.
Was that a challenge? Maybe.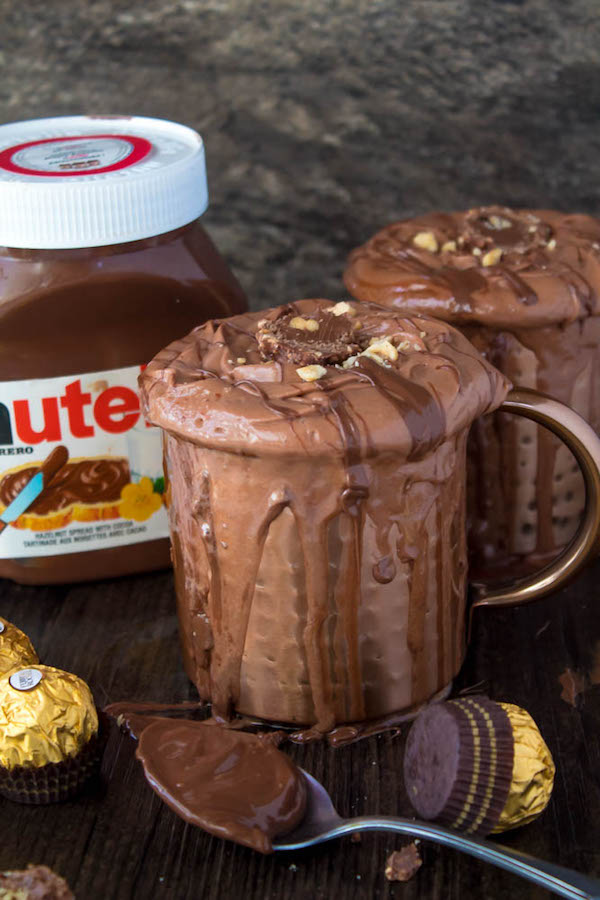 >>PIN ME FOR LATER<<

More Hot Chocolate Recipes to enjoy this Winter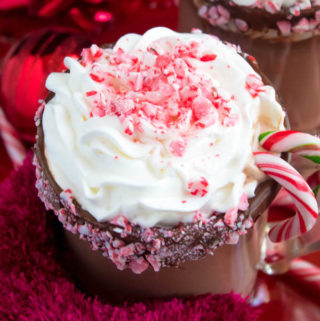 Winter Wonderland White Hot Chocolate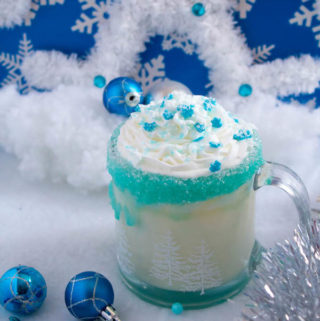 Salted Caramel Hot Chocolate with Salted Caramel Sugar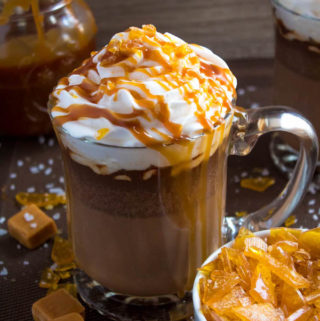 Peanut Butter Hot Chocolate with Peanut Butter Whipped Cream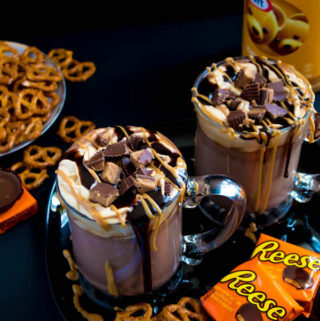 Follow Queenslee Appétit
Pinterest | Instagram | Facebook | Twitter |
Did you make a recipe? I'd love to see how it turned out! Follow me on Instagram and use the hashtag #queensleeappetit so I can see all of the Queenslee Appétit recipes you've made!
Let's get baking!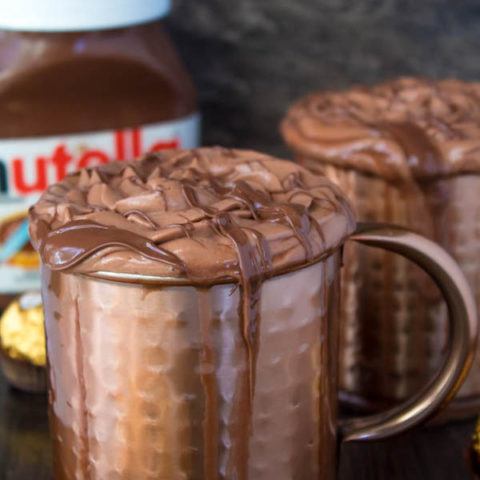 Nutella Hot Chocolate with Nutella Whipped Cream
Nutella lovers gather around! This Nutella Hot Chocolate is thick, rich, creamy and decadent! Topped with Nutella Whipped Cream, melted Nutella, chopped hazelnuts and Ferrero Rochers — this is the ultimate drink for every Nutella fanatic!
Ingredients
Nutella Whipped Cream:
1 cup heavy whipping cream, chilled
2 Tbsp. powdered sugar
½ cup Nutella
Nutella Hot Chocolate:
3 cups whole milk
1 cup heavy cream
¼ cup semisweet chocolate chips
1 cup Nutella
1 teaspoon pure vanilla extract (optional)
¼ teaspoon salt
Optional Toppings:
Chopped hazelnuts
Melted Nutella
Ferrero Rocher candies
Instructions
Nutella Whipped Cream:
In a medium stainless steal bowl, using a handheld mixer, whip the chilled cream until it reaches soft peaks.
Add the powdered sugar and beat until cream holds peaks. Add Nutella and beat until combined and fluffy. Cover the bowl and refrigerate until ready to serve.
Nutella Hot Chocolate:
Add the milk, cream, chocolate chips, Nutella, vanilla and salt to a medium saucepan and heat over medium heat, whisking constantly, until the Nutella and chocolate are melted and the mixture is simmering. Do not boil.
Pour hot chocolate into mugs. Top with Nutella whipped cream, chopped hazelnuts, melted Nutella and a Ferrero Rocher candy. Serve and enjoy!
Notes
- I used large mugs for the photographs, but I highly recommend serving this hot chocolate in small portions since it's so rich.
©QUEENSLEE APPÉTIT. All images & content are copyright protected. Please do not use my images without prior permission. If you want to republish this recipe, please re-write the recipe in your own words, or link back to this post for the recipe.
Bon Appétit!
Love, Dedra ❤️