Delectable chocolate hazelnut truffles with an irresistibly smooth Nutella center. These melt-in-your-mouth Nutella Truffles are an upgrade from eating spoonfuls of Nutella straight from the jar!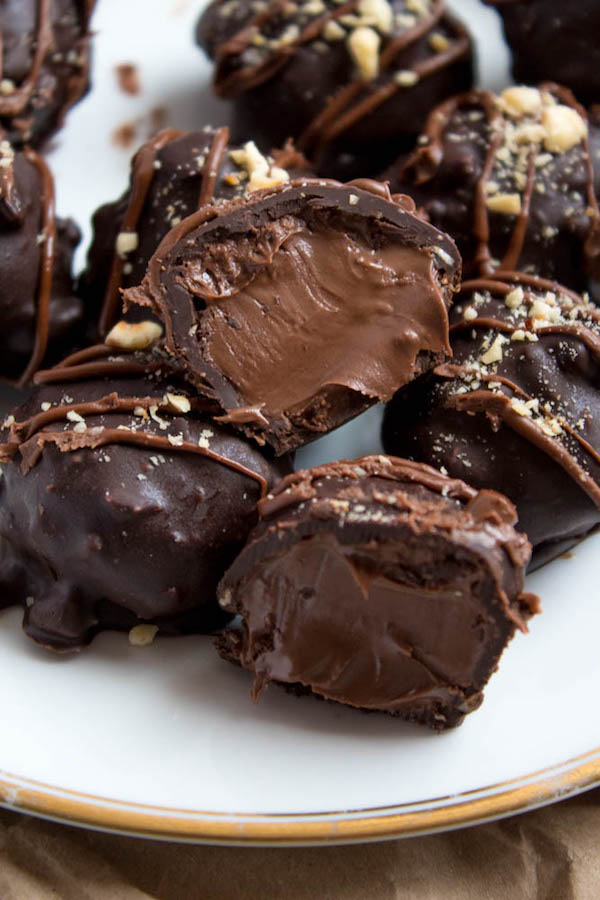 Guys, I think I might've just done something. Nutella......in truffle form *brain explodes* No, really! It's literally just Nutella...dipped in chocolate. And it's my greatest creation yet!
There's many ways to enjoy Nutella, as I've demonstrated in the past, but I think I speak for everyone when I say the absolute best way to enjoy Nutella is with a spoon. Which is exactly how I came up with the idea for these delicious truffles!
As I was enjoying spoonful after spoonful of Nutella, a lightbulb went off in my head. Holy crap, I bet you if I freeze this thing I could turn it into truffles! And that's exactly what I did.
Nutella and I are pretty much an official couple right now. We've been through a lot together these past 2 months. I've put her in cupcakes, ganache, donuts and cheesecake. And as great as those were, she was always added to something to make something else. I've never really allowed her to shine on her own, and allowed something greater to overshadow her. So as a good girlfriend, I've decided to put her needs above mine and made her the #1 star in this recipe.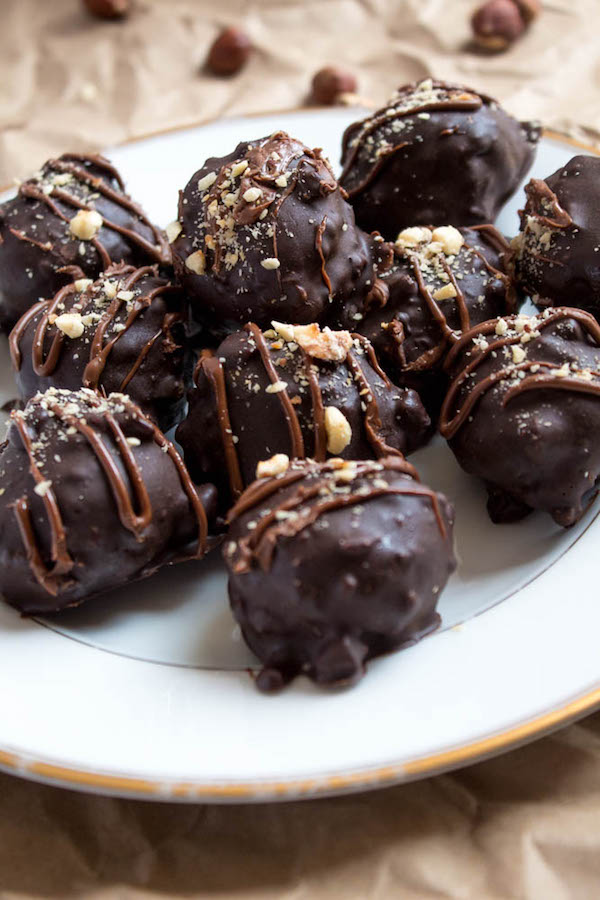 Not only are these truffles SUPER simple to make, but they only require 3 INGREDIENTS! Pretty basic ingredients which you probably already have on hand: Nutella + Chocolate (Dark, Semisweet or Milk, your choice!) + Chopped Hazelnuts. Heck, you can even leave out the hazelnuts if you want, so you'll only need 2 ingredients! I mixed them into the chocolate coating because I love how the crunch of the chocolate and hazelnut blend with the creamy and smooth Nutella centre.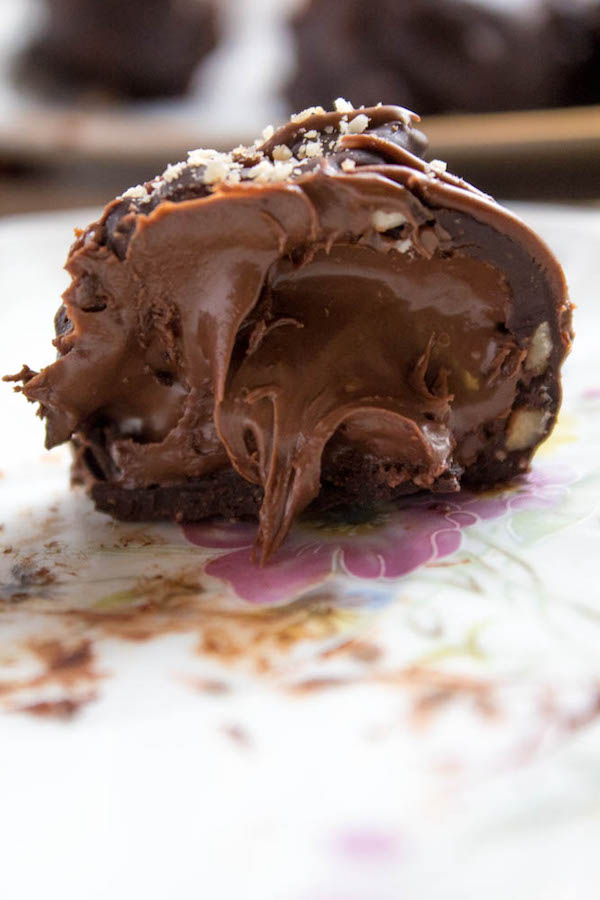 To make these truffles, all you need to do is chill a jar of Nutella in the refrigerator until it's firm enough to scoop. Then you're gonna scoop out little truffle sized balls and freeze them. You can use a small or large cookie scoop, or even just a spoon it doesn't really matter. These truffles don't need to look perfect (mine sure don't) they'll still taste delicious no matter what. Believe me, there's absolutely no way you can fail this recipe.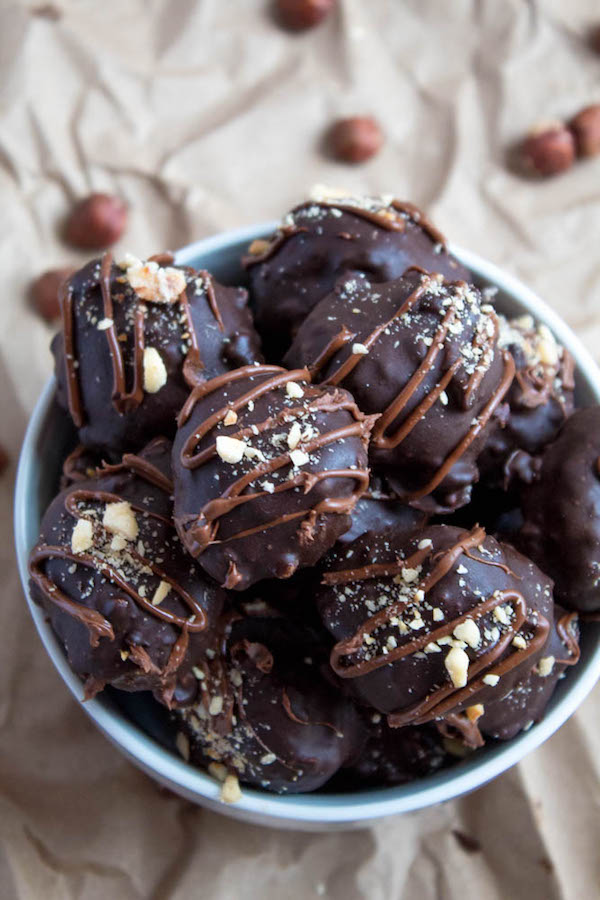 Once the truffles are firm, you can roll them into round balls. Your hands will be covered in Nutella, but you can just lick it off when you're done. No harm, no foul.
You will need to freeze the Nutella again, since it softens pretty quickly. After that, melt some chocolate and mix in some chopped hazelnuts, if you want. Dip each ball of Nutella in the chocolate hazelnut coating and pop it in the refrigerator. If you want to dress the truffles up a bit, you could melt some more Nutella in the microwave and drizzle it on top, then sprinkle on some more chopped hazelnuts.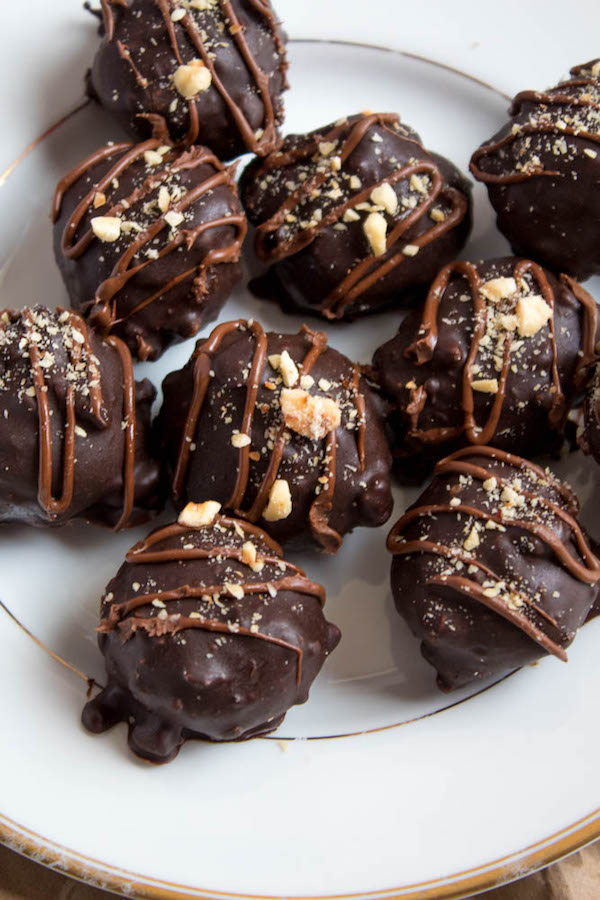 The best part about these truffles is the gooey Nutella centre. You can eat the truffles as soon as you take them out of the fridge, but the Nutella will be hard, which is fine. What I like to do is let the truffles sit at room temperature for a few minutes, then when you bite into the truffle, the smooth Nutella just melts into your mouth! God, yes ?.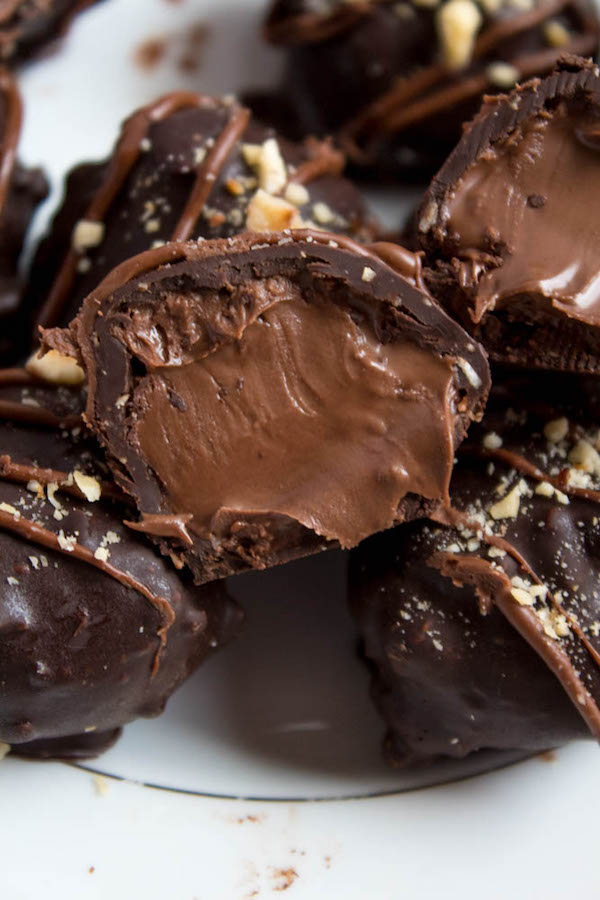 Simple, easy, delicious.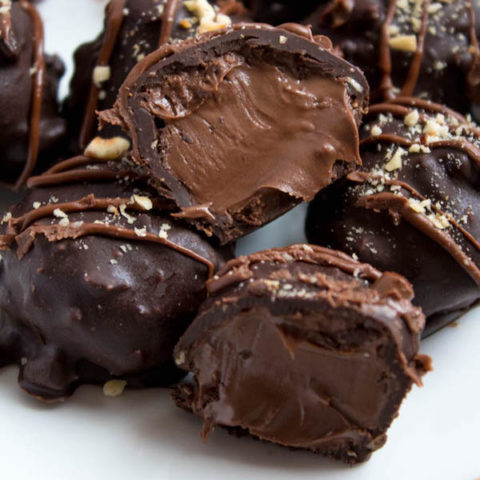 3-ingredient Nutella Truffles
Delectable chocolate hazelnut truffles with an irresistibly smooth Nutella center. These melt-in-your-mouth Nutella Truffles are an upgrade from eating spoonfuls of Nutella straight from the jar!
Ingredients
1 jar of Nutella
8 oz dark, semisweet or milk chocolate, finely chopped
¾ cup skinned and roasted hazelnuts, finely chopped
Melted Nutella and finely crushed hazelnuts for decorating
Instructions
Line a large baking sheet with wax paper or a silpat mat. Set aside.
Chill a jar of Nutella in the refrigerator for about 1-2 hours or until firm.
Once Nutella is firm, use a small or medium (depending on the size you want your truffles) cookie scoop to scoop out balls. You don't need to use the entire jar. Place truffles in freezer for about 30 minutes.
After 30 minutes, remove truffles from the freezer and roll between your palms to get a smooth ball shape. This will get messy as they begin to soften, so work quickly. Place back onto baking sheet and return to freezer for about 2 hours, or until solid.
Microwave the chopped chocolate in a heat-proof bowl in 30 second intervals until melted and smooth. Add chopped hazelnuts and stir until combined. Let it cool for 5 minutes before proceeding.
Once Nutella balls are completely solid, remove a few from the freezer and working quickly, dip each ball into melted chocolate using a fork or dipping tool. If the Nutella balls start to soften, return to freezer for a few minutes to harden before proceeding.
Once all the truffles have been dipped, refrigerate for 30 minutes to 1 hour to set.
Remove truffles from refrigerator and drizzle with melted Nutella and sprinkle on crushed hazelnuts. Return to refrigerator for about 15 minutes to set. Enjoy!
Store truffles in an airtight container in the refrigerator.
Notes
* You can serve these truffles straight from the refrigerator, but if you want to have the molten centre, allow truffles to come to room temperature before eating.
Bon Appétit!
Love, Dedra ❤
Did you make a recipe? I'd love to see how it turned out! Post a picture on Instagram and tag me @queensleeappetit and use the hashtag #queensleeappetit.