Thick and creamy, bite-sized Nutella Cheesecakes STUFFED with Ferrero Rocher truffles and topped with Nutella Ganache! This is a must try dessert for every Nutella lover!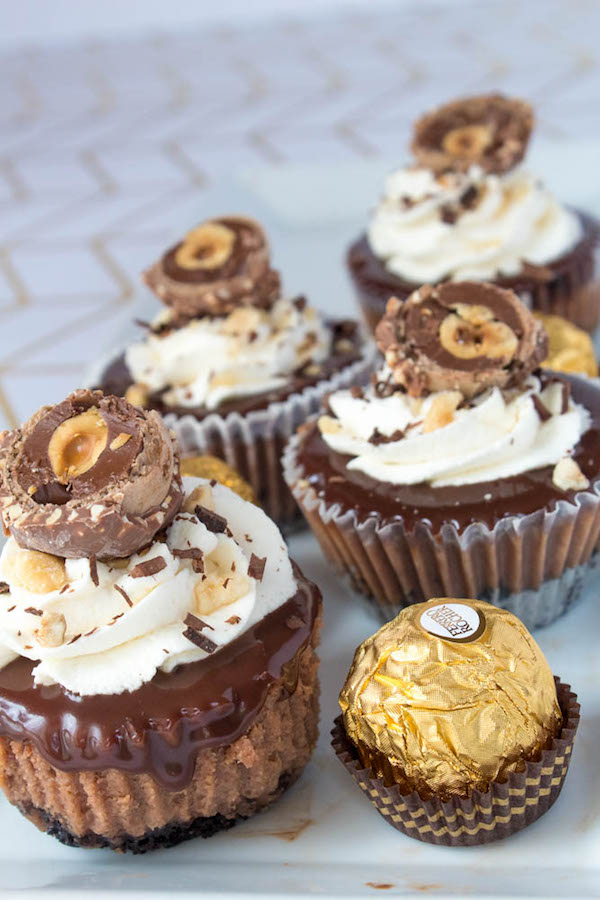 I guess you could say this is "mini desserts" week. Earlier this week, I shared my simple and incredible recipe for Mini Salted Caramel Snickers Tarts, and today I bring you Mini Ferrero Rocher Stuffed Nutella Cheesecakes!
As I've mentioned in my previous Nutella desserts, I bought this GIANT tub of Nutella, and what's the best thing to do with 3kg of Nutella? Make as many Nutella desserts as you can until you run out, of course! I started with my Ferrero Rocher Cupcakes, then I made 4 different types of Nutella Ganache, then I made Ferrero Rocher Nutella Donuts, and now we're making Nutella Cheesecakes!
I just love the chocolate and hazelnut flavour Nutella adds to desserts, and I like to add Ferrero Rochers to these desserts too, because what's a Nutella dessert without one?
Well, it's bloody amazing, but hey! The truffle is a nice finishing touch!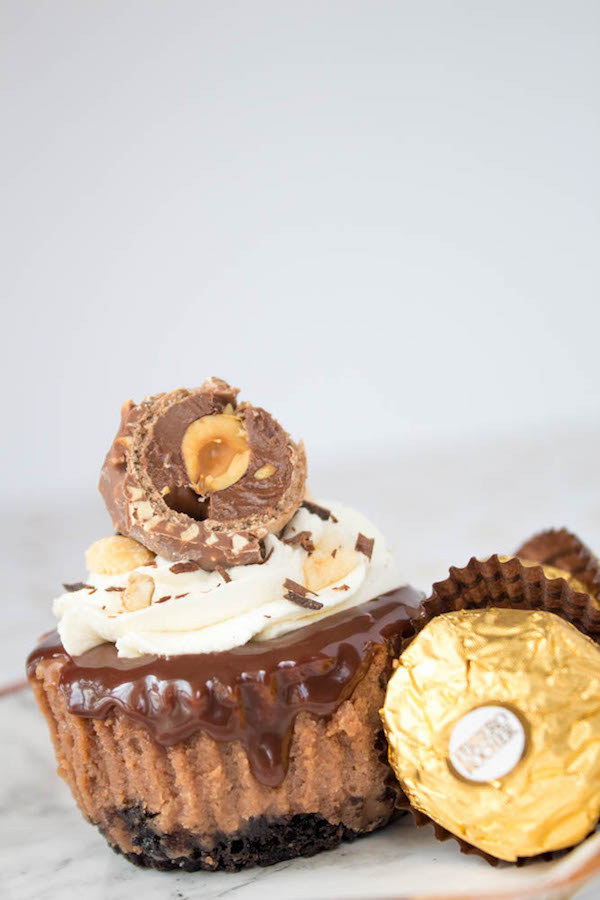 My new favourite way to make/eat cheesecake is in mini form. It is so much easier to make than a full-sized cheesecake and there's no need for a water bath. And the best part is…they're SNACK SIZED! There's not many people in my household, so when I make a whole cheesecake, there's usually a lot left. These are perfect individual portions, and they're mini so you can have more than one! (P.S. I'm on my 4th, don't judge.)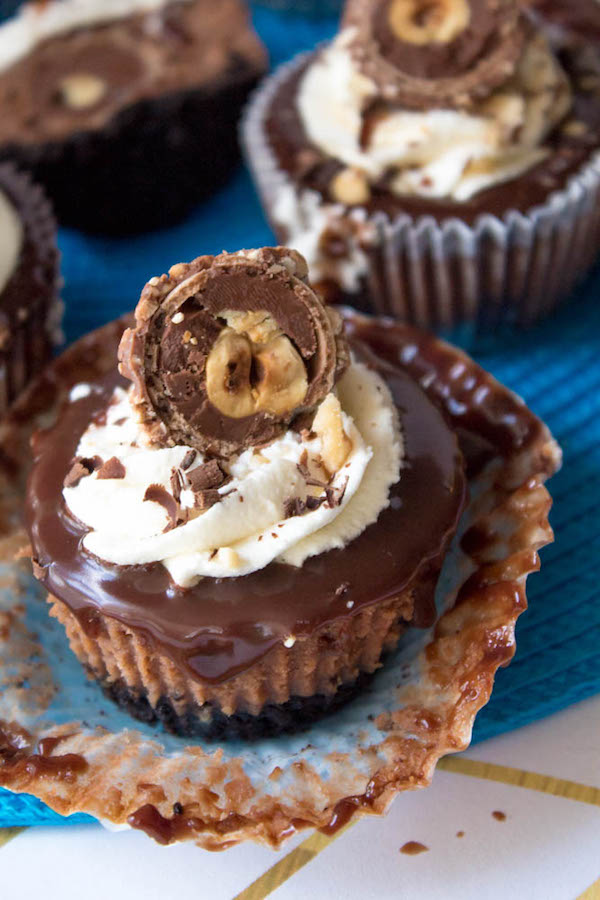 As if these cheesecakes weren't good enough on their own, I stuffed them with FERRERO ROCHERS! How do we do that? Just place a frozen Ferrero Rocher into each cupcake liner and pour the cheesecake batter on top. The crunchiness of the chocolate hazelnut truffle blended with the creaminess of the cheesecake is absolutely delightful. And your guests will be blown away when they see the lovely surprise!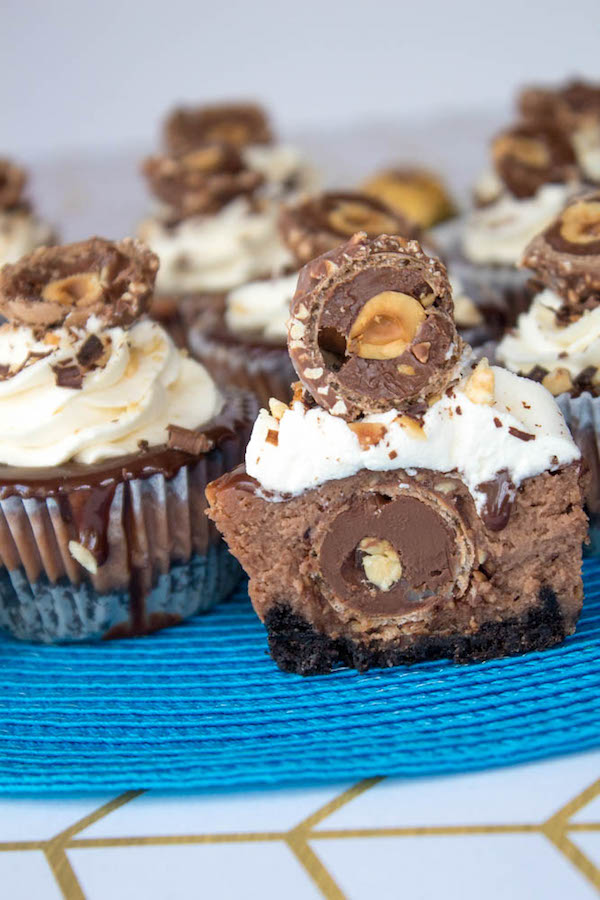 These Nutella cheesecakes are great plain, but there's absolutely no way I'm leaving them like that. I just had to top them with my silky Nutella Ganache! This ganache really is the perfect addition to every Nutella dessert.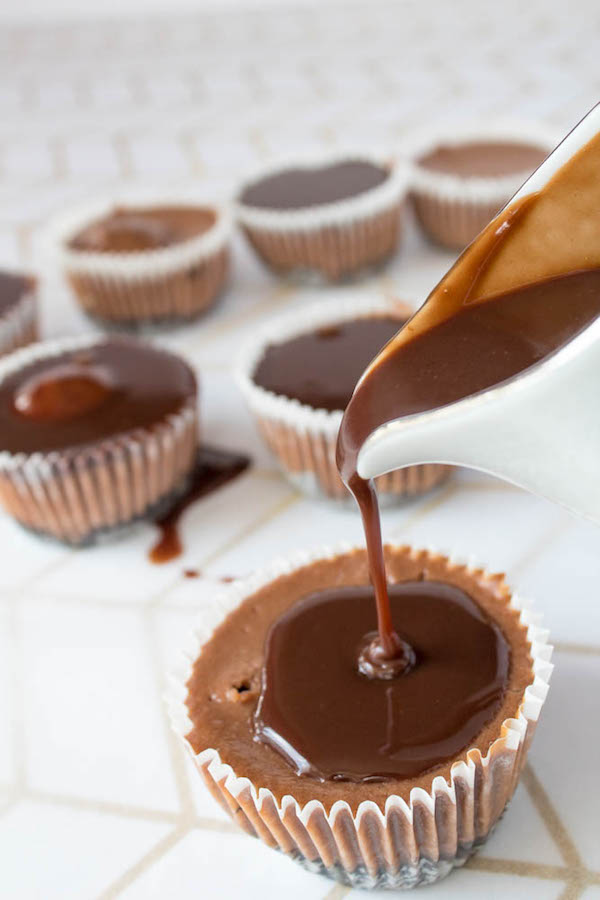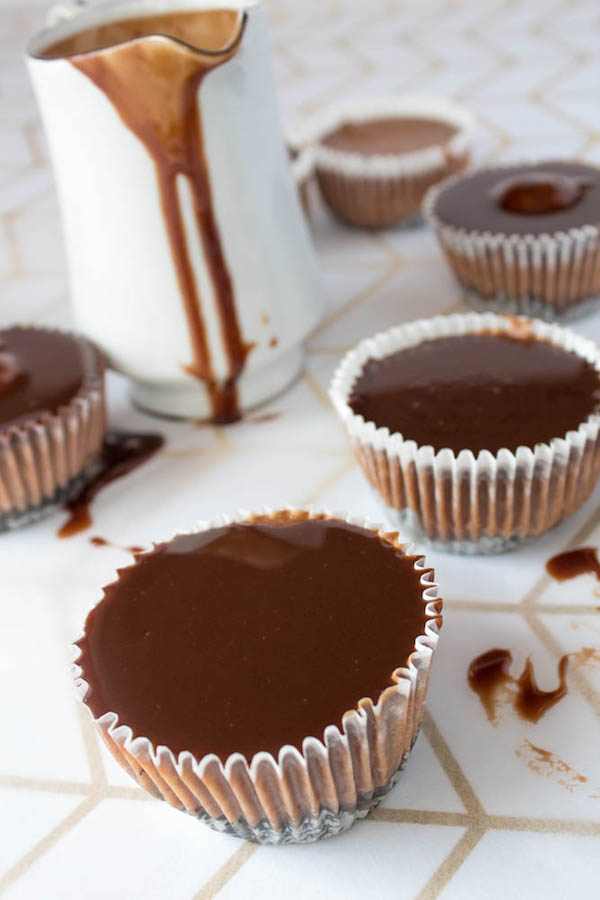 This dessert is definitely at the top of my favourites list. Rich and creamy Nutella cheesecake sits on top of a yummy Oreo crust, and is filled with a Ferrero Rocher candy. Top it off with a generous amount of Nutella ganache, whipped cream, crunchy chopped hazelnuts, chocolate curls and another Ferrero Rocher! Delicious, simple, stress-free dessert, what more could you ask for?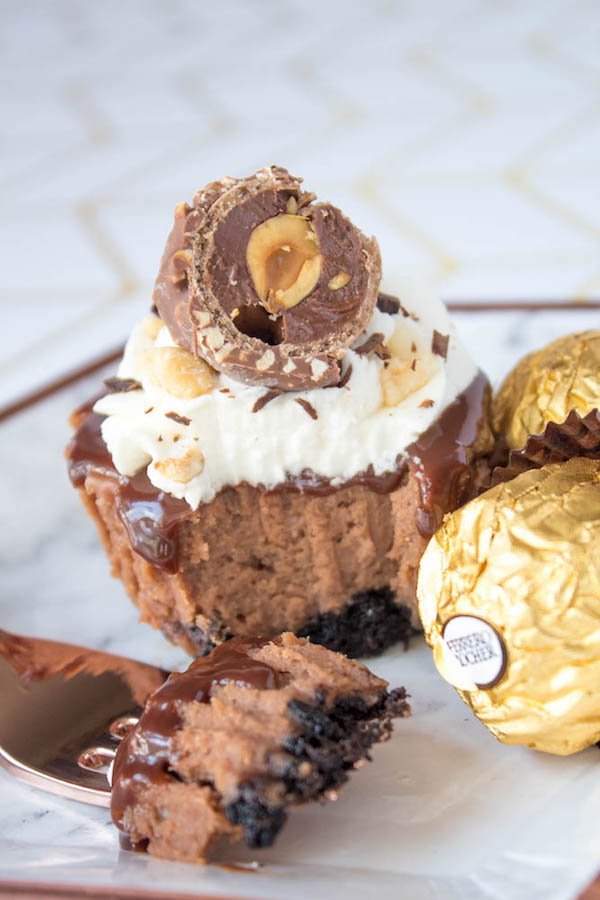 Shop The Recipe
Here are some tools I used for today's recipe:

Let's get baking!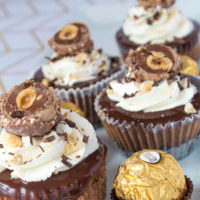 Mini Ferrero Rocher Stuffed Nutella Cheesecakes
Yield: 12-16 mini cheesecakes

Prep Time: 23 minutes

Cook Time: 32 minutes

Total Time: 55 minutes

Thick and creamy, bite-sized Nutella Cheesecakes STUFFED with Ferrero Rocher truffles and topped with Nutella ganache! This is a must try dessert for every Nutella lover!
Ingredients
Crust:
1 and 1/3 cups Oreo crumbs (about 18 Oreos)
3 Tbsp salted butter, melted
Nutella Cheesecake:
1 and 1/2 packages (12 oz) cream cheese, room temperature
1/2 cup granulated sugar
1 Tbsp cornstarch
1/8 tsp salt
1/2 cup sour cream, room temperature
1/2 cup Nutella
1 tsp pure vanilla extract
2 large eggs, room temperature
16 Ferrero Rochers, Frozen
Nutella Ganache:
1/2 cup Nutella
2 Tbsp unsalted butter, cubed (optional)
1/2 cup heavy whipping cream
1 Tbsp light corn syrup
Whipped Cream:
3/4 cup heavy cream, chilled
2 Tbsp powdered sugar
1/2 teaspoon pure vanilla extract
Garnish:
Chocolate Shavings
Chopped Hazelnuts
6-8 Ferrero Rochers, halved (optional)
Instructions
For the Crust:
Preheat oven to 350℉ (177℃) and Line a 12-cup muffin pan with liners. Set aside.
Add Oreo crumbs and melted butter to a mixing bowl and mix together using a fork. Place 1 tablespoon of crumbs into each liner and flatten using the back of the tablespoon or a small glass. Bake in preheated oven for 4-6 minutes. Allow to cool on a wire rack. Lower oven temperature to 325℉.
For the Nutella Cheesecake:
In a large bowl using a handheld mixer, beat the cream cheese, sugar, cornstarch and salt on medium-low speed until creamy, about 30 seconds to 1 minute, depending on the softness of your cream cheese.
Scrape down the sides of the bowl and add sour cream, Nutella and vanilla and continue beating until smooth.
Add eggs one at a time, beating slowly until just combined, do not overbeat. Scrape sides and bottom of the bowl with a rubber spatula to make sure everything is combined. Forcefully tap bowl on the counter a few times to release any air bubbles.
Place a frozen Ferrero Rocher in the center of each cupcake liner. Fill each liner with 1/4 cup of batter. Jiggle the pan to allow the batter to settle. Bake in preheated oven for 20-25 minutes until centers are slightly jiggly, like Jello.
Remove from oven and allow to cool completely on a cooling rack.
Cover with plastic wrap and refrigerate until firm and chilled, about 4 hours or overnight.
For the Nutella Ganache:
Place Nutella and butter pieces in a medium bowl. Set aside.
Heat the heavy whipping cream and light corn syrup in a medium saucepan over medium heat until it begins to simmer.
As soon as mixture begins to simmer, remove from heat and pour over the Nutella and butter.
Cover the bowl and allow to sit for 5 minutes. After 5 minutes, slowly whisk until smooth and silky. Allow to cool at room temperature for about 15 minutes before using.
Spoon into the center of the cheesecake cupcakes. Chill until firm.
For the Whipped Cream:
Whip the chilled cream until it reaches soft peaks, about 2 minutes.
Add the powdered sugar and vanilla; beat until cream holds peaks, about 1 minute.
In a piping bag fitted with a large star tip (I used Wilton 2D), pipe swirl of whipped cream on top of chilled cheesecakes. Garnish with chocolate shavings, chopped hazelnuts and half of a Ferrero Rocher. Serve!
Notes
1. Crush Oreos in a food processor or in a large ziploc bag using a rolling pin.
2. I recommend waiting until you're ready to serve before topping the cheesecakes.
3. Store cheesecakes in an airtight container in the refrigerator for up to 3 days.


Bon Appétit!
Love, Dedra ❤️
Did you make a recipe? I'd love to see how it turned out! Post a picture on Instagram and tag me @queensleeappetit and use the hashtag #queensleeappetit.

This post may contain affiliate links. Please see my full disclosure policy for details.