This is the perfect Carrot Cake recipe! Super soft and moist spiced cake made with loads of fresh carrots, all covered in a silky smooth cream cheese frosting and decorated with chopped pecans and adorable cream cheese carrots!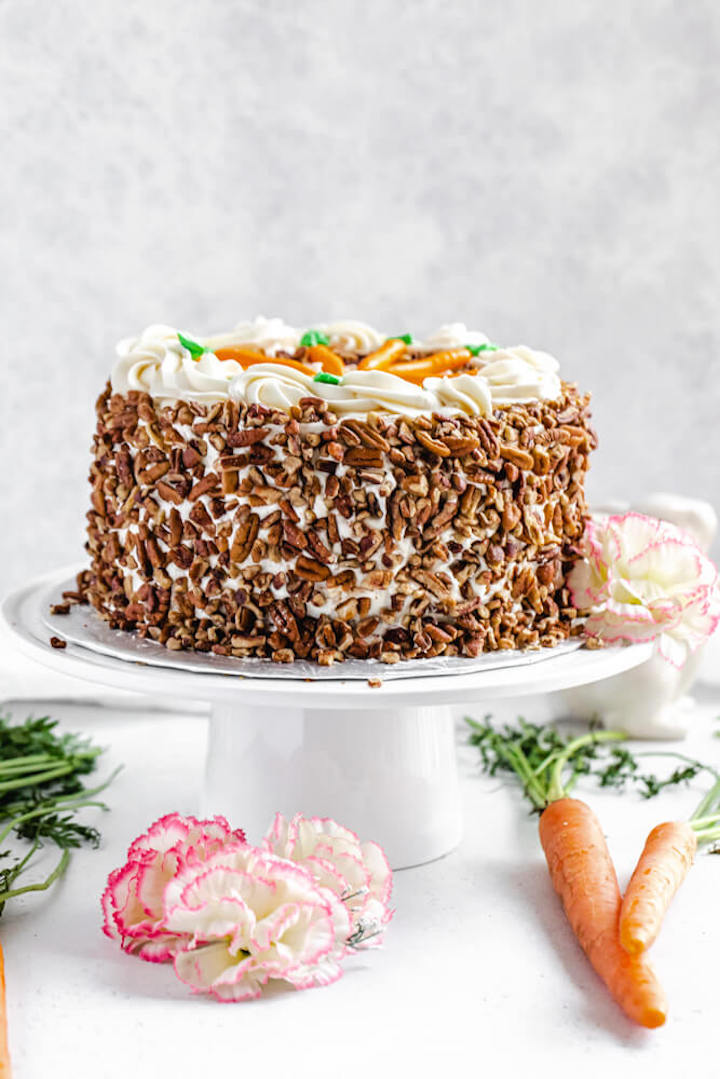 This post may contain affiliate links. As an Amazon Associate I earn from qualifying purchases. Please see my full disclosure policy for details.
*Photos updated 03/05/2020*
Perfect Carrot Cake
I have about 10+ completed recipes that I've been dying to share, including this one. I was actually gonna wait until we got closer to the Easter holiday to share this recipe because when I think of carrot cake, I automatically think of Easter. But it's been about 2 months since I've made this cake and I just can't wait any longer!
I've never really been a fan of carrot cake or carrot muffins or anything of the carrot flavour. Maybe because my childish mind forced me to believe any dessert with a vegetable in it is no dessert at all, or maybe because the very few times I tried carrot cake I was not pleased.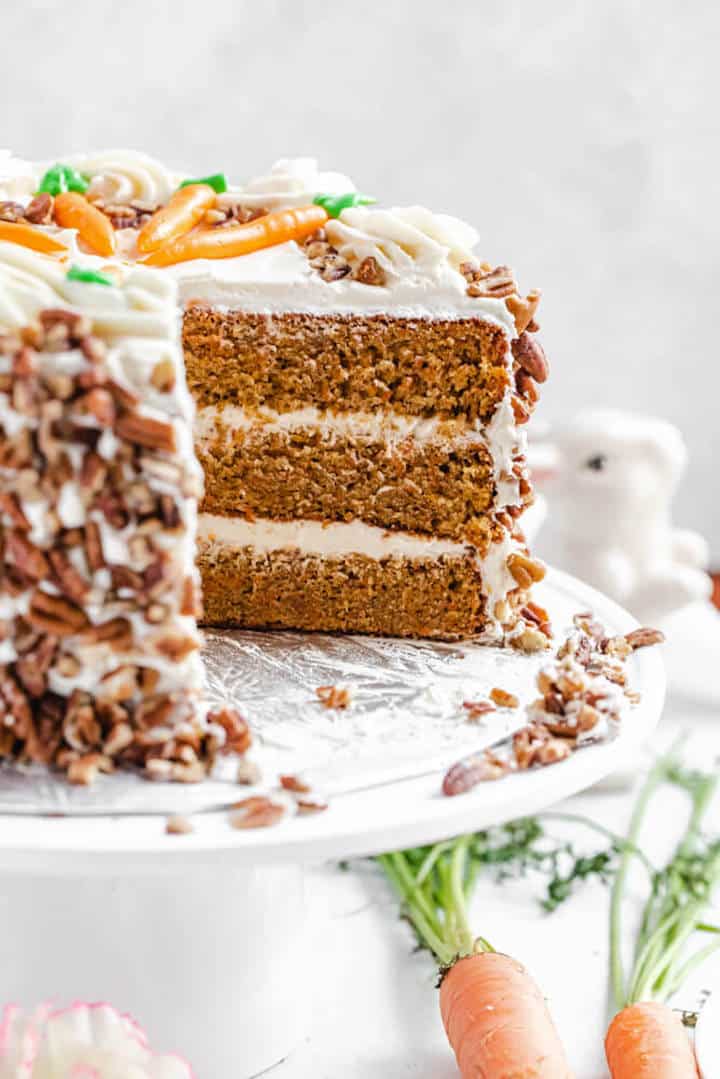 Even while I was making this cake, I was just gonna make it for the blog then give it to my neighbours. I really had no intention of eating it, but I had to take a bite to taste test and God almighty I think I fell in love!
One bite turned into two, two bites turned into 20. Next thing you know, I finished about 3 slices and my poor neighbours barely got any for themselves! For the first time I actually planned on just testing the cake recipe at least once or twice, then if it worked I would make it again, frost it, do the do and share it with you! But once the cakes came out of the oven and I got a whiff of that dreamy bakery smell and a look at that beautiful fluffy cake with speckles of carrot, I just said "screw it" and immediately made the frosting and put it together.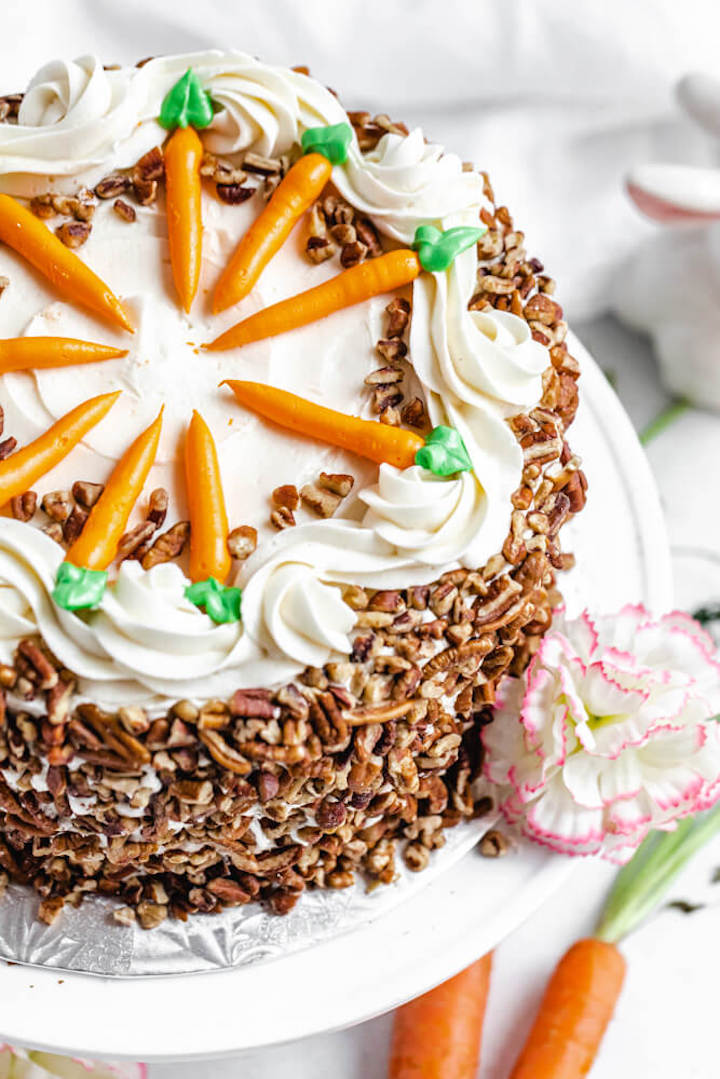 During the entire assembly, I was super nervous because I had no idea if it would taste good and if it didn't I would've wasted a ton of ingredients and food which I hate! But holy moly, that first bite nearly knocked me off my feet! I couldn't even remember why I hated carrot cake in the first place.
After trying my masterpiece, I just had to confirm its perfection, so I allowed both of my grandmothers to have a piece. Then I gave some to my neighbours, friends and other close relatives. Every last one of them, those who loved carrot cake and those who didn't, all agreed that this was the BEST Carrot Cake they've ever tasted!
And believe me, I have some tough friends and family. They'll let me know if something I've made tastes bad, which they've done maybe once or twice in the past. So for them to confirm that this carrot cake was absolutely perfect, so much so that they called all their friends to tell them about it (thanks, grandma!) means everything to me!
Since originally posting this recipe, I've re-made this carrot cake 5 more times and it's never failed!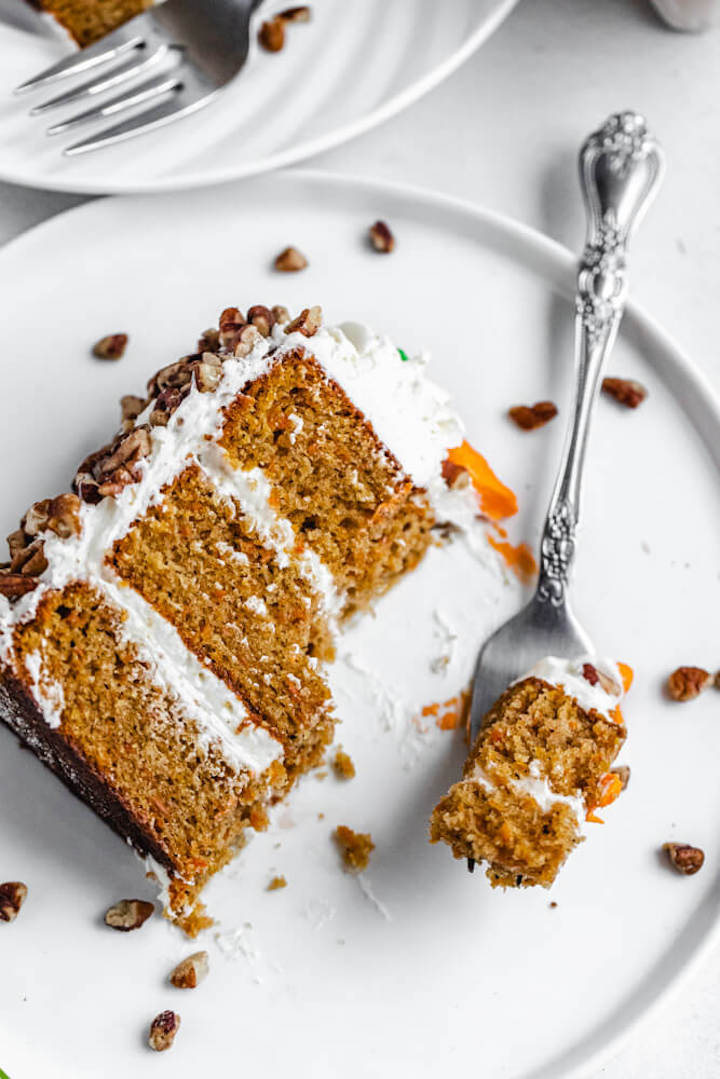 Putting the Carrot in Carrot Cake
To make the most perfect homemade carrot cake, we start by shredding the carrots. One thing I was really worried about was ending up with crunchy chunks of carrot in every bite, but as long as you shred them very fine, they will blend into the cake perfectly!
To shred the carrots, I used my trusty food processor. My food processor comes with a shredding blade (I had no idea until now :'D), so I put that on and shredded enough carrots to make 4 cups, which is a little over 1lb.
If you don't have a food processor, you can shred the carrots by hand. Although, you should definitely consider investing in one because it'll make this process a million times easier! Look how many carrots I shredded in under 5 minutes: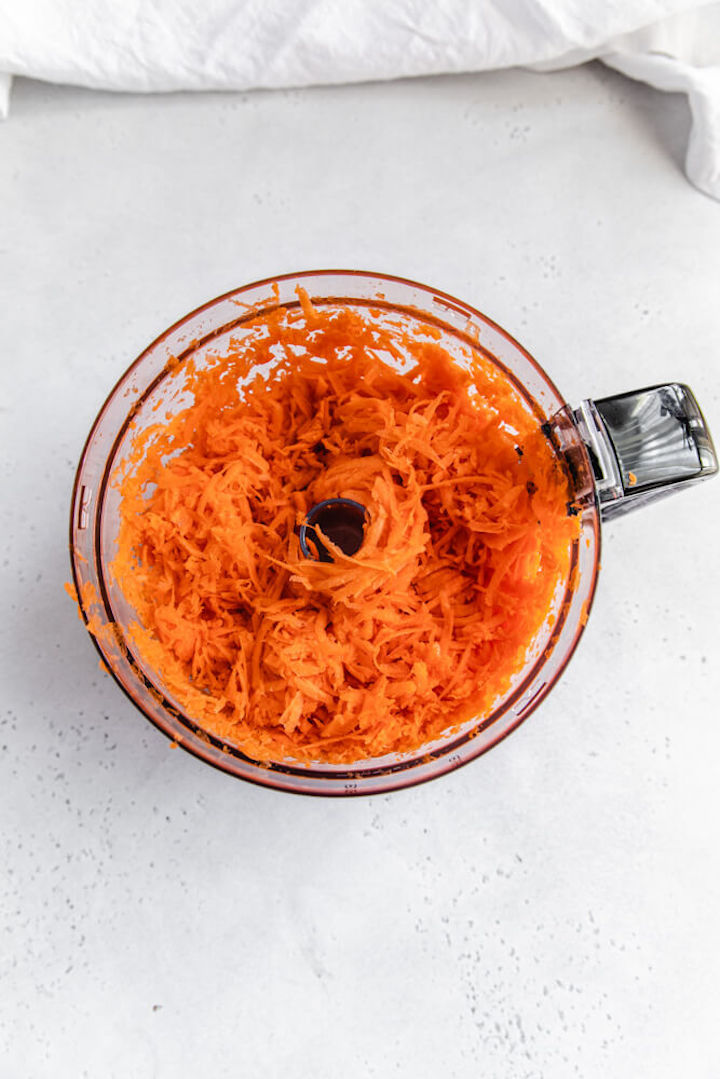 I should also mention that the carrots need to be washed and peeled and the top parts need to be cut off before shredding. I actually ended up shredding a whole pack of carrots (I mean the food processor made it so easy, how could I not?) so I had a lot more than I needed.
What did I do with the extra shredded carrots, you ask? Why I made CUPCAKES of course! Those ended up being just as delicious as this cake and I highly recommend you give them a try!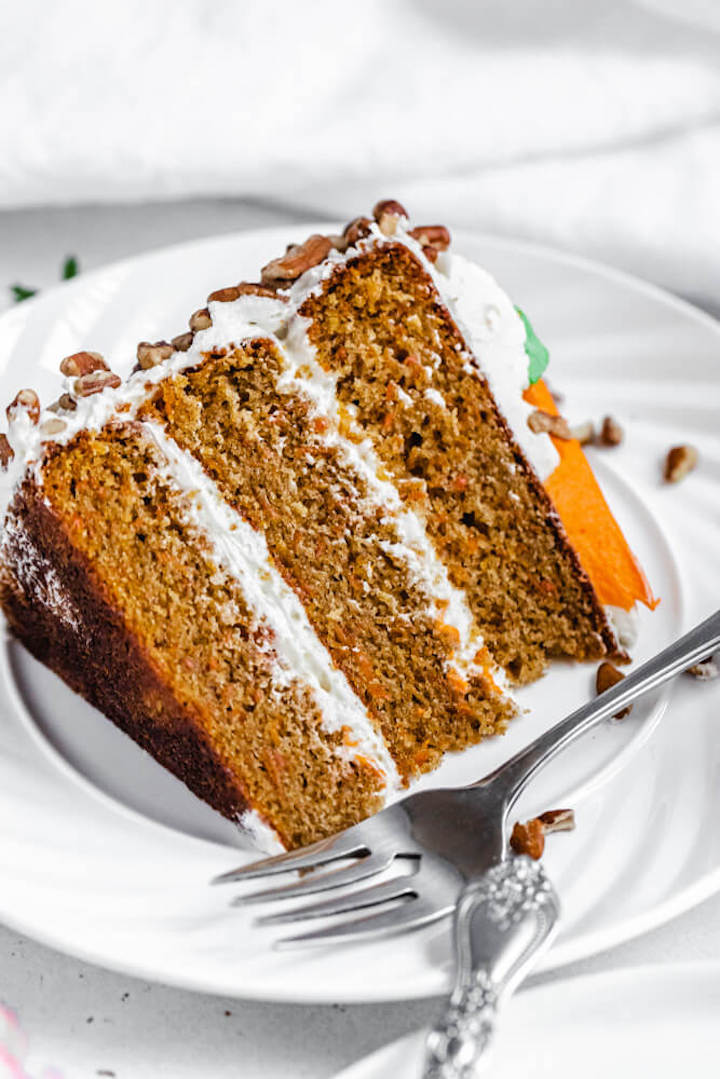 How to Make the Best Carrot Cake
Ok now let's talk about the actual batter preparation. Making carrot cake from scratch is actually super easy! We start by mixing the dry ingredients together. The basic flour, baking powder, baking soda and salt are used, but we're also gonna add some cinnamon, nutmeg, ground ginger and cloves for extra flavour!
For the next ingredients, I used vegetable oil, dark brown sugar and granulated sugar. Carrot cake is oil based instead of butter-based, so don't be shocked by the amount of oil that's used. The oil also keeps the cake extremely moist! You don't really need to use vegetable oil, that's all I had on hand so I had to. There are other oils that I heard are better, like canola oil, extra-virgin olive oil, sunflower oil etc.
I used my stand mixer to mix everything together, but since we aren't creaming any butter and sugar, you could definitely get away with mixing everything together by hand!
To the oil/sugar mixture, we're gonna add some applesauce to enhance the warm flavours of the brown sugar and spices, and some sour cream to soften the cakes texture. Then we're gonna add, not 2, not 4, but 6 whole eggs! Why? Moisture, moisture, moisture! And since there's no butter to act as the cakes structure, the extra eggs should help with that.
After adding the eggs and vanilla, you'll want to add the flour in 3 parts. This is just so the batter remains smooth while mixing. If you added the dry ingredients all at once, it'll be harder to mix and you may end up over mixing.
Lastly, fold in those beautiful shredded carrots! A lot of people like to add extra stuff to their carrot cakes like raisins, toasted walnuts or pecans and more. I am not one of those people. I need my carrot cake to be strictly CARROT! However, if you want to add anything extra to your carrot cake, feel absolutely free. Just don't add too much because you don't want to ruin the texture and structure of this soft and tender cake.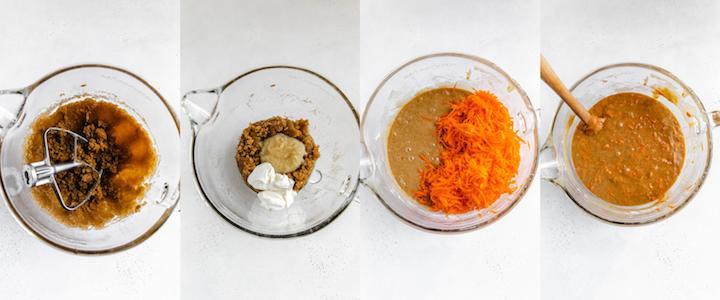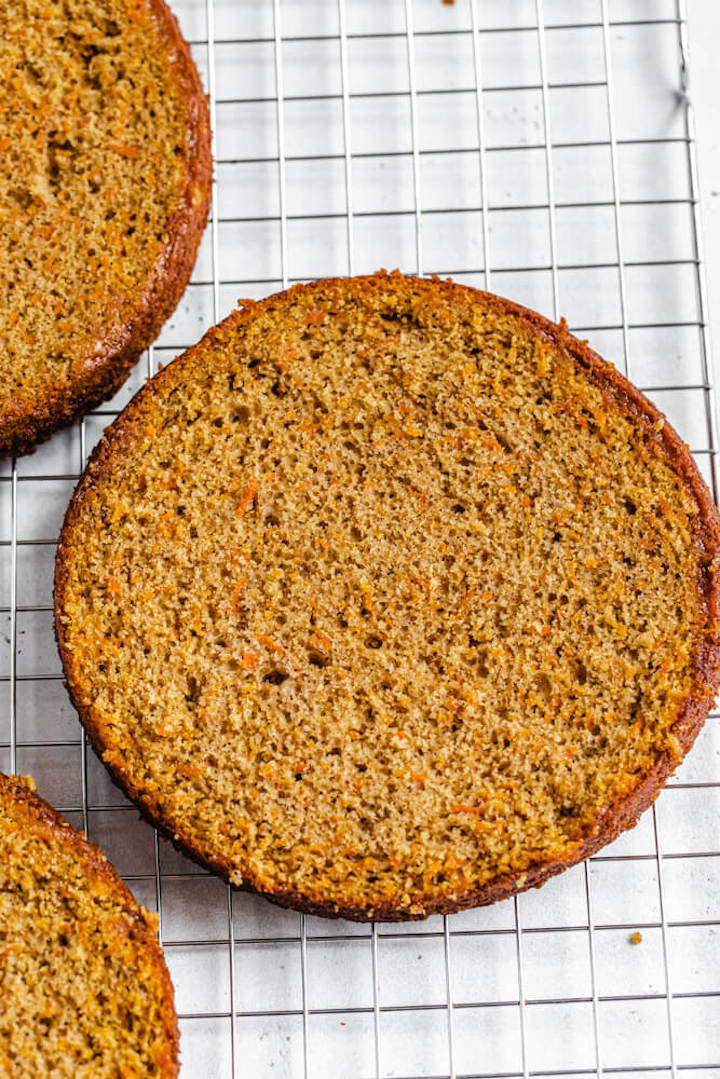 Silky Smooth Cream Cheese Frosting
Every perfect carrot cake needs the best cream cheese frosting ever, which is exactly how I'd describe my frosting recipe!
To make the frosting, we start by creaming the butter and cream cheese. I recommend using a stand mixer for this since we'll be preparing a large batch of frosting! And yes, we'll be using ¾ cup of butter plus ¼ cup of shortening and 2 packages of cream cheese. We want the cream cheese flavour to be nice and bold, not barely noticeable.
Next, add the icing sugar. Don't be shocked at the amount we use. Cream cheese frosting isn't the sturdiest frosting so we need to add a good amount of icing sugar to make it pipe-able. Although, if you don't want to decorate the cake with a border and the carrots, then you can go ahead and reduce the sugar amount and just spread it onto the cake.
To finish off the frosting, vanilla is added for flavour and a bit of salt to cut some of the sweetness, whip it up a little longer to make it nice and fluffy and voila! The perfect cream cheese frosting!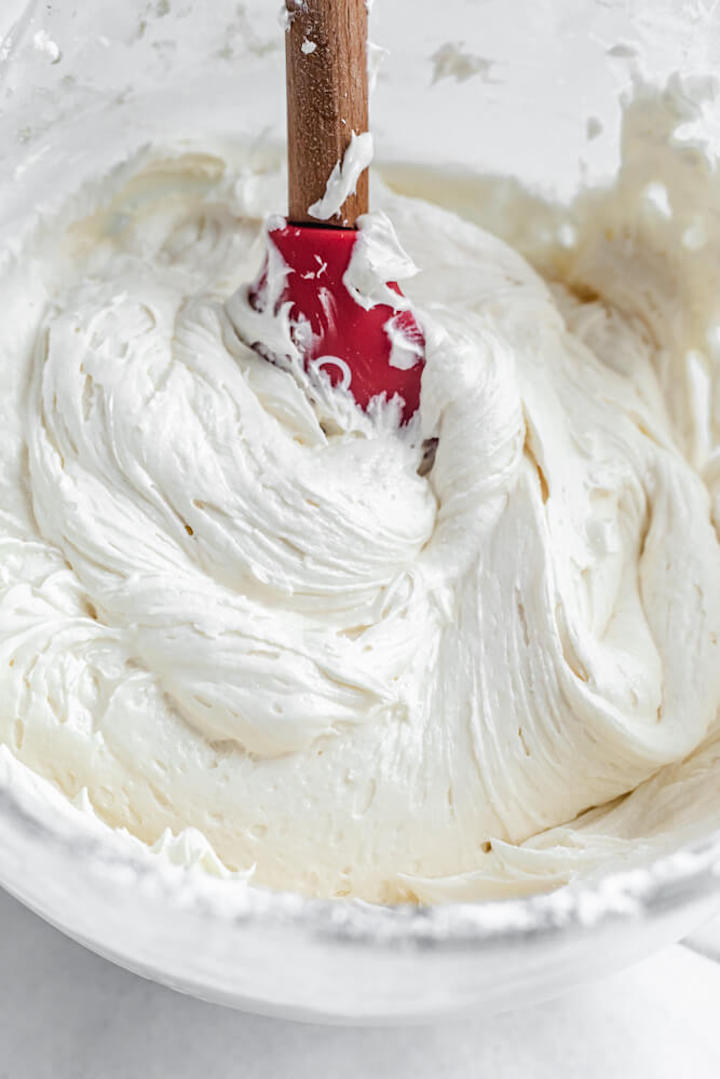 Assembling the Carrot Cake
My favourite tools for assembling a cake are a good-quality turntable, cake board, small offset spatula, straight spatula, icing smoother and an ice-cream scoop! I used to measure out a cup of frosting before scooping it out onto my cakes, which was pretty darn tedious. Now I just use a large ice-cream scoop to scoop out even amounts and it works like a dream!
Once you've finished filling in the layers, frost the entire cake in a thin coat of cream cheese frosting. Then, here's the best part, immediately frost with a thicker coat of frosting. That's right, no need to chill the cake in the refrigerator for 30 minutes like we usually do! I was planning on covering the sides of the cake with chopped toasted pecans, so getting loose crumbs in my final coat of frosting was the least of my worries.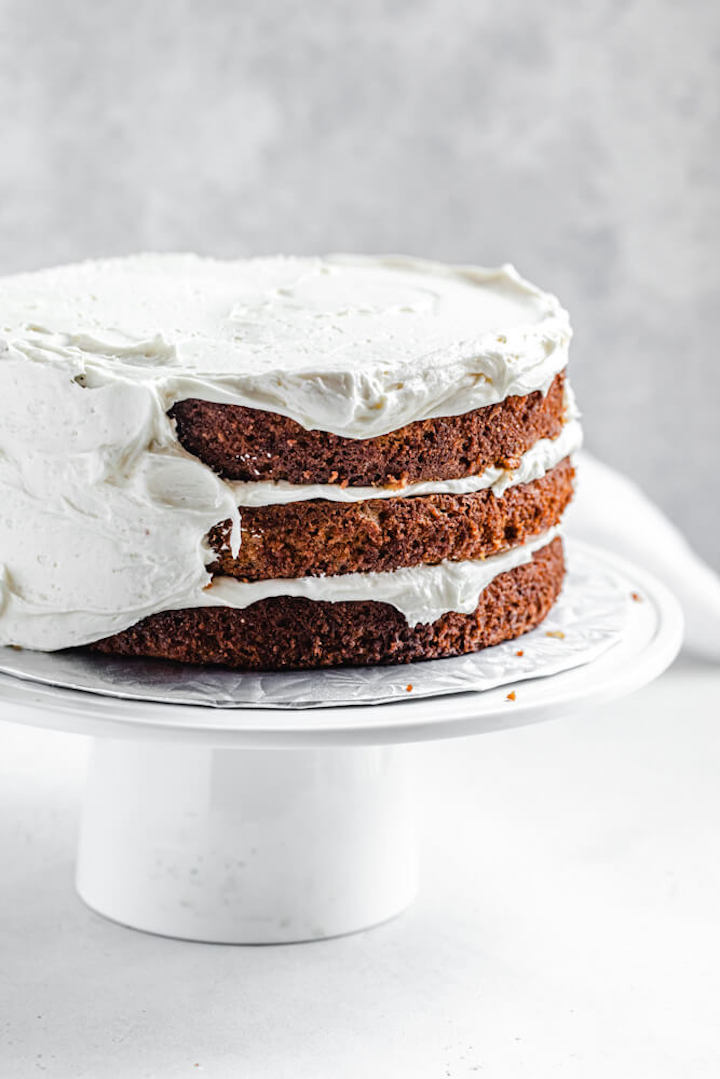 Speaking of which, you're gonna need a lot of pecans! I'm talking like 3-4 cups! I always get more than I need so that I can just scoop up a handful and press it up the sides of the cake and let the excess fall off into a large cake pan underneath.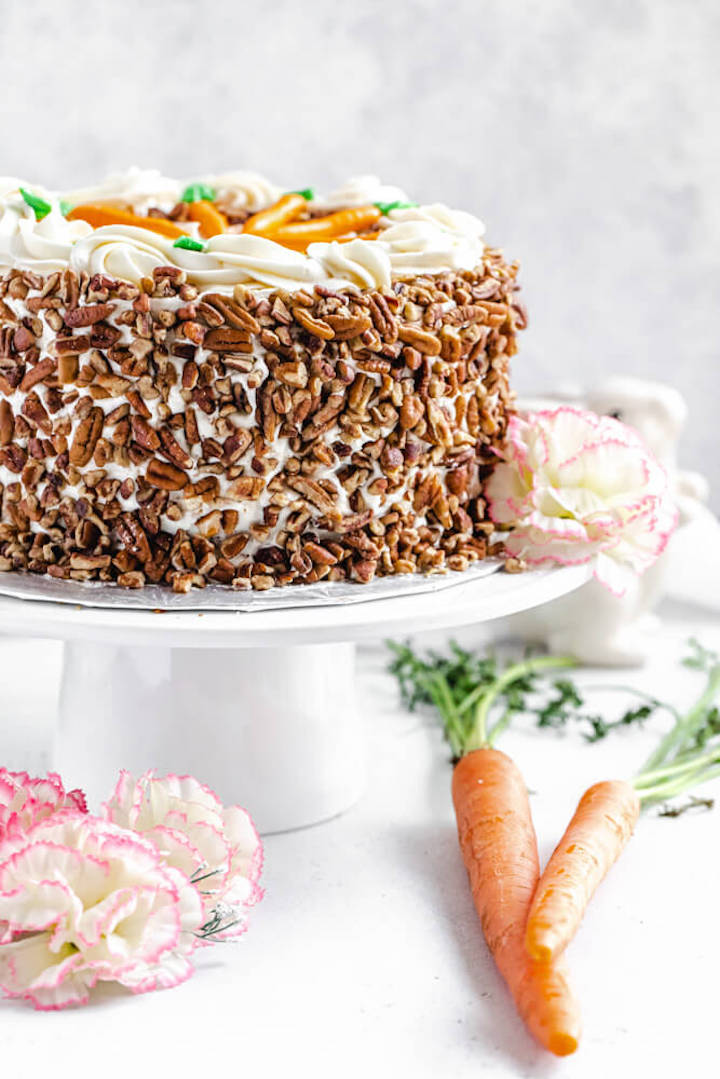 Frosting Carrot Decorations
I really wanted this cake to look like it came out of a bakery, and most bakery carrot cakes have adorable little carrots on top. When I tell you I spent days stressing over how I was gonna make the carrots! I didn't want to use fondant, or chocolate molds or anything else too complicated.
Thankfully a lightbulb went off in my head, just use the cream cheese frosting! I mean it was stable enough for piping so why not? I added about ½ cup of frosting to 2 separate bowls, tinted one green and the other orange. Then I spooned them into separate disposable piping bags, one fitted with a small round tip and the other fitted with a leaf tip.
Making the carrots was way way WAY easier than I thought it would be. I wasn't confident enough to pipe them onto the cake itself, just incase I made a mistake or some didn't come out right. So I lined a baking sheet with wax paper and started with the round tip.
What you wanna do is gently pipe out a straight line, then release the pressure on the piping bag and drag the bag away from the line. This will create a carrot shape with the pointed end. The beauty of doing this on a lined baking sheet is that you can practice and pipe as many as you want, so you'll have extra!
Once you've piped out the carrots body, all you need to do is pipe on the leaves. In case you're like me and didn't know, the leaf tip is supposed to be positioned with the pointy parts on the top and bottom. Simply squeeze out some of the green frosting on the head of the carrot and you have your stem! You can even pipe with a slight front and back movement to create a longer, ruffled leaf.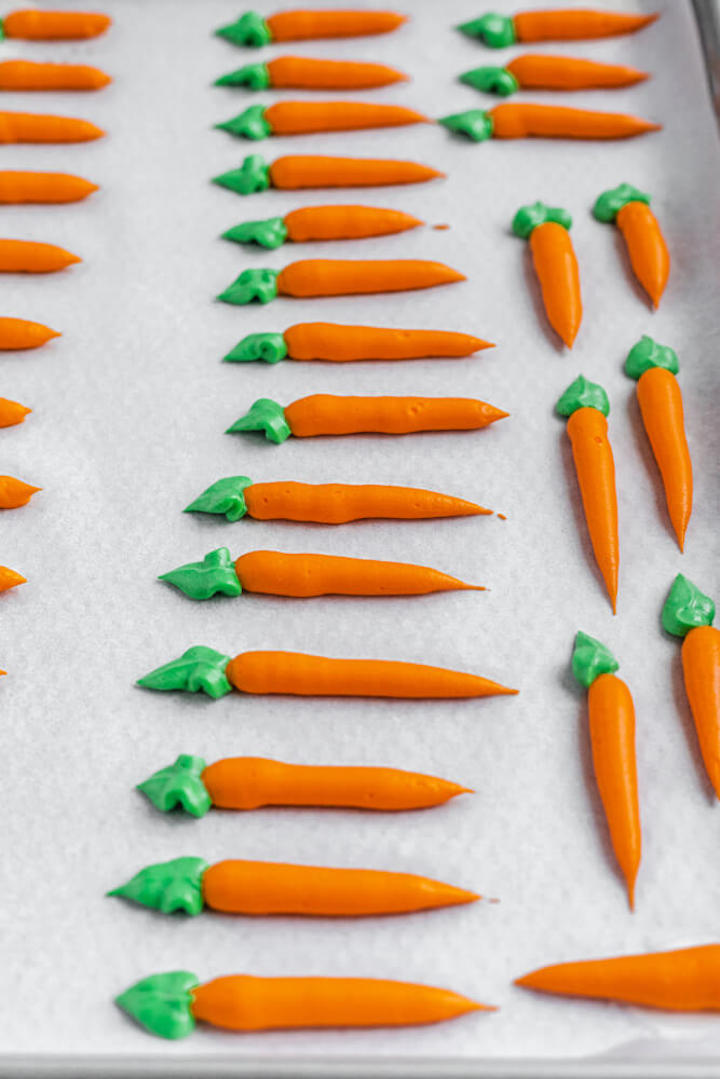 Pop the carrots into the freezer for a few minutes while you finish decorating the cake. I piped a beautiful reverse shell border on top, which I teach you how to do in my How to Pipe Cake Borders tutorial. I then sprinkled a few more chopped pecans on top around the edges.
To transfer the carrots onto the cake, I took my small offset spatula and gently ran it under the carrot to loosen it. From there on, since it was frozen, I could just pick them up with my fingers and place them onto the cake in the position I wanted! Also, the carrots will thaw out super quickly so this method is perfect!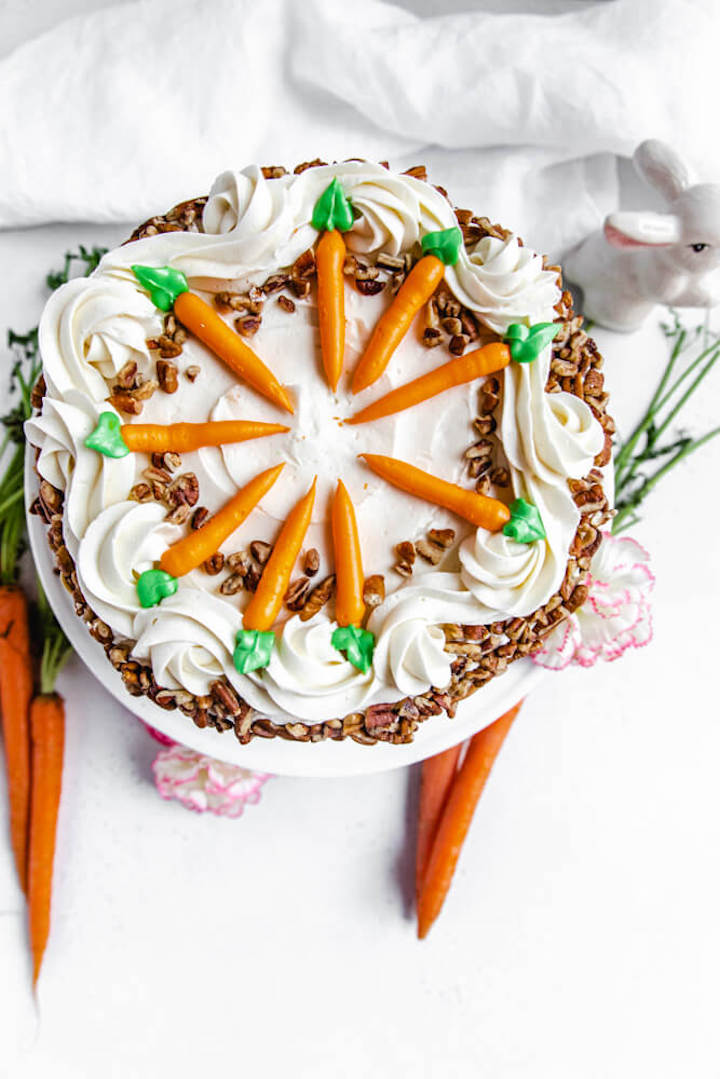 Just like that you've created the most perfect carrot cake with the most perfect cream cheese frosting!!! I'm so excited to finally share this recipe and I really hope you all love it as much as I do. Enjoy!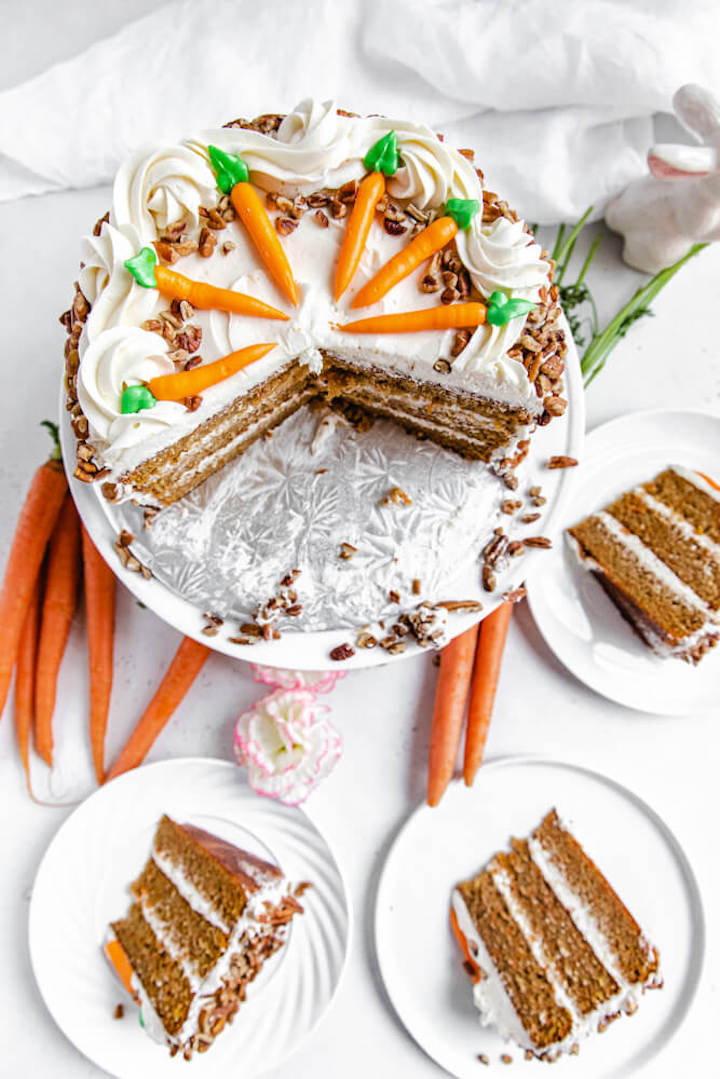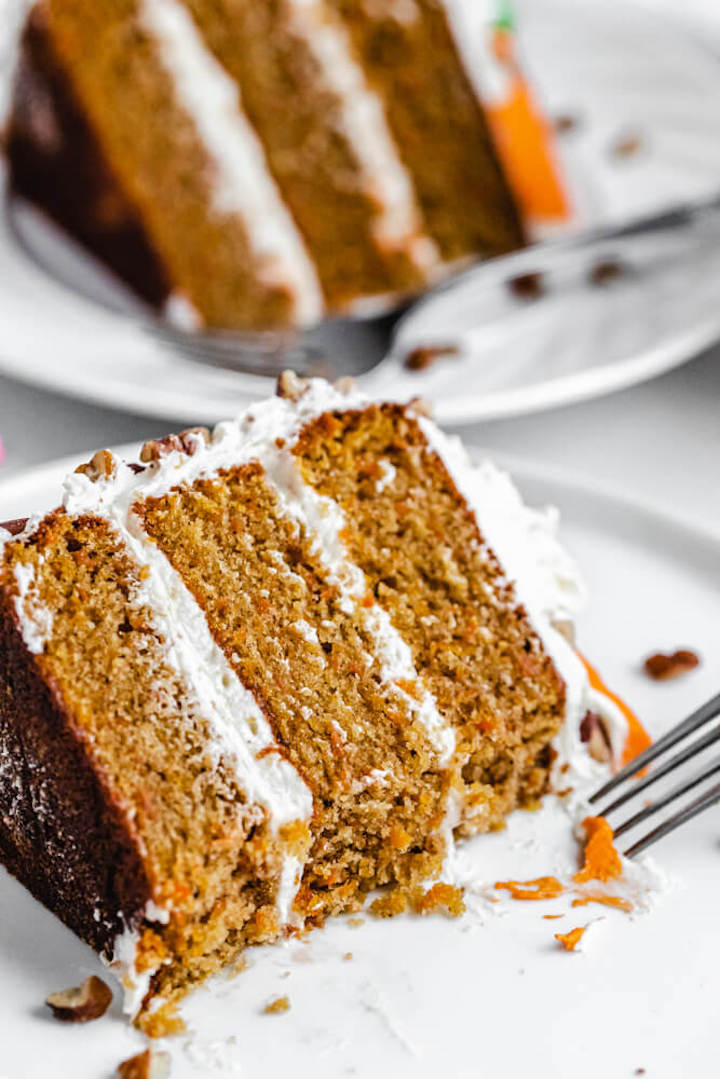 YOU MAY ALSO LIKE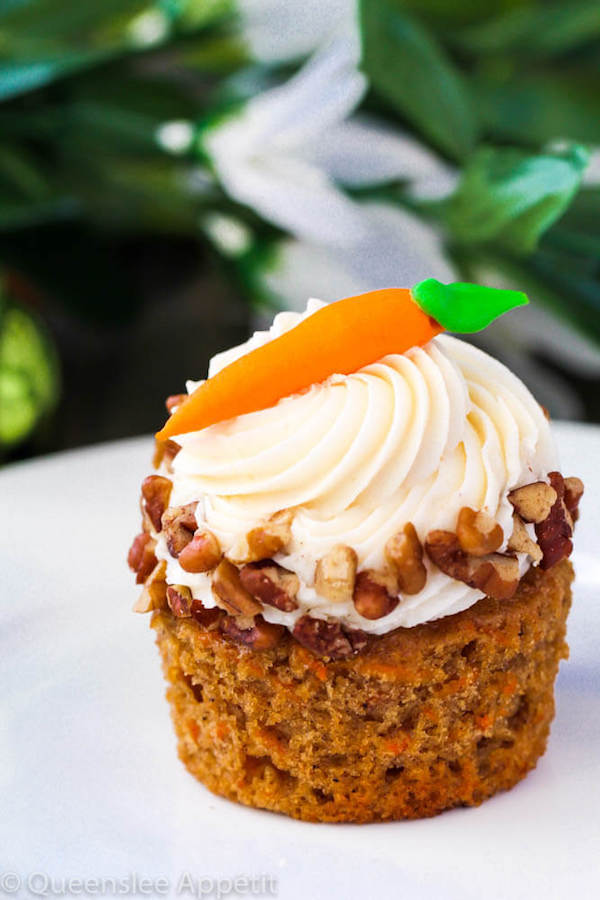 >>PIN FOR LATER<<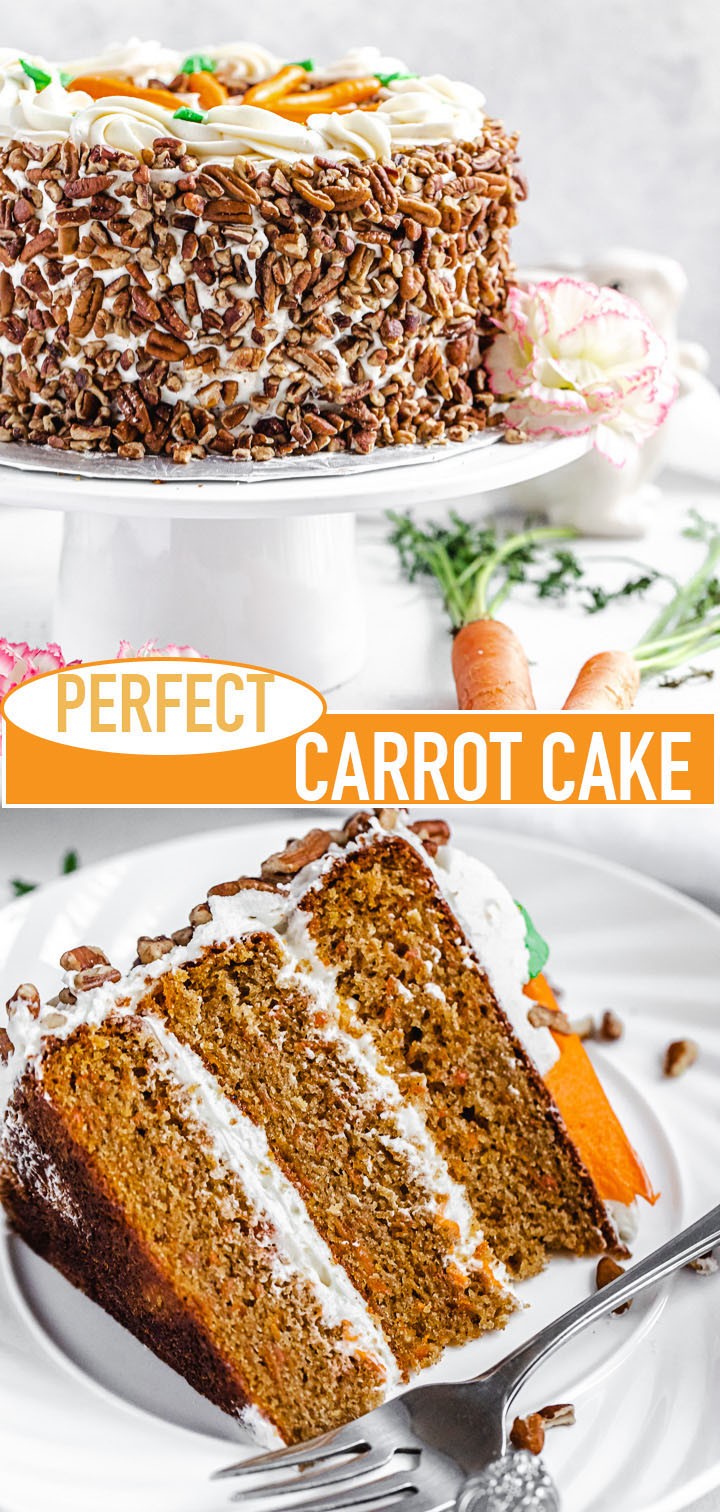 FOLLOW QUEENSLEE APPÉTIT
Like what you see? Make sure you're following Queenslee Appétit for more tasty recipes!
Pinterest | Instagram | Facebook | Twitter |
Have any questions about the recipe? Contact me here, and I'll be happy to help!
SHARE YOUR PICS!
Tag me on Instagram @queensleeappetit or use the hashtag #queensleeappetit so I could see your gorgeous creations!
SWEETEN UP YOUR INBOX!
SUBSCRIBE to the Queenslee Appétit Newsletter to recieve new recipe notifications, monthly baking tips, sneak peeks to upcoming recipes, exclusive recipes and more!
Tip: always read through the entire recipe before beginning.
Let's get baking!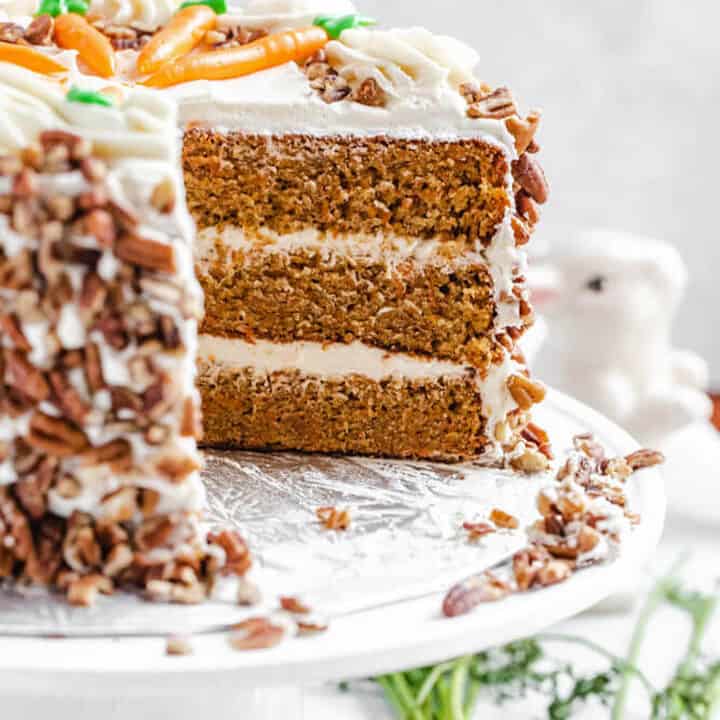 Perfect Carrot Cake with Cream Cheese Frosting
Total Time:
1 hour
30 minutes
This is the perfect Carrot Cake recipe! Super soft and moist spiced cake made with loads of fresh carrots, all covered in a silky smooth cream cheese frosting and decorated with chopped pecans and adorable cream cheese carrots!
Ingredients
Carrot Cake:
3 cups All purpose flour
1 tablespoon Baking powder
½ teaspoon Baking soda
1 teaspoon salt
1 tablespoon ground cinnamon
¾ teaspoon ground nutmeg
¾ teaspoon ground ginger
⅛ teaspoon ground cloves
1 and ¼ cup Vegetable oil (can substitute with canola oil, avocado oil, extra virgin olive oil or sunflower oil)
1 and ½ cups dark brown sugar, packed
1 and ½ cups granulated Sugar
⅓ cup unsweetened applesauce, room temperature
⅓ cup sour cream, room temperature
6 large Eggs, room temperature
1 tablespoon Pure Vanilla Extract
4 cups shredded carrots (6-7 large carrots) [see notes]
Cream Cheese Frosting:
¾ cup unsalted butter, room temperature
¼ cup vegetable shortening (preferably high-ratio)
2 (8 ounce) packages (16 oz.) cream cheese, softened to room temperature
10 cups powdered sugar, sifted
1 tablespoon Pure Vanilla Extract
¼ teaspoon salt
Carrot Topping:
1 cup cream cheese frosting (recipe above)
Orange gel food colouring
Green gel food colouring
Decoration:
3 cups chopped toasted pecans
Instructions
For the Carrot Cake:
Position oven rack to the middle. Preheat oven to 350° F (177°C). Prepare three 8-inch round cake pans with parchment rounds, and grease the sides. Set aside.
In a large bowl, add the flour, baking powder, baking soda, salt, cinnamon, nutmeg, ginger and cloves. Whisk to combine. Set aside.
In the bowl of a stand mixer fitted with the paddle attachment (or in a large bowl using a whisk or hand mixer), add the oil and both sugars. Mix on medium-high speed until combined.
Add the applesauce and sour cream and continue to mix until completely combined.
Scrape down the sides and bottom of the bowl. Lower the speed to medium-low and mix in the eggs, one at a time until just combined. Mix in the vanilla.
Add the dry ingredients in three additions, mixing on low speed after each addition until completely combined.
Using a rubber spatula, fold in shredded carrots and up to 1 or 2 cups of any add-ins, if you desire (see notes).
Divide batter equally between the three cake pans, a little over 2 and ½ cups per pan. Bake for 25-30 minutes or until a toothpick inserted into the center comes out with a few moist crumbs.
Remove cakes from oven and allow to cool in pans for about 10 minutes, then turn onto cooling racks to cool completely.
For the Cream Cheese Frosting:
In the bowl of a stand mixer, beat the softened butter, shortening and cream cheese until super pale and fluffy, about 5-6 minutes.
Scrape down the sides and bottom of the bowl. Add the powdered sugar, one cup at a time and beat on low speed after each cup until combined.
Once combined add vanilla and salt and continue to beat until combined and smooth.
Increase speed to medium-high and beat for about 5-7 minutes, or until frosting is light and fluffy.
For the Carrot Topping:
Line a baking sheet with wax paper. Set aside.
Add ½ cup of the cream cheese frosting to 2 separate bowls. Tint one half orange and the other green.
Spoon the orange frosting into a disposable piping bag fitted with a small round tip. Put the green frosting into a piping bag fitted with a small leaf tip. Set aside.
With the orange frosting, pipe a short line onto the baking sheet, release pressure on the piping bag, then drag the piping bag out without squeezing so you get a pointy tip. Repeat a few more times, piping out as many as you can. It's good to have extra in case you mess up. Make sure you leave enough room at the top of the carrot for the leaf.
Use the green frosting with the leaf tip to pipe small leaves onto the top of each carrot. Transfer baking sheet to the freezer. Meanwhile, assemble the cake.
Assembly:
Place one cake layer on a serving plate or cake board on a turntable. Spread about 1 cup of frosting on top using an offset spatula.
Repeat with remaining layers and place final layer top side down.
Frost entire cake in a thin layer of the cream cheese frosting to seal the crumbs.
Frost with another thick layer of frosting. Use a bench scraper or a long straight spatula to smooth out the sides and top.
Pour chopped pecans into a large bowl and place turntable into a large rectangular cake pan to catch excess pecans.
Take a handful of pecans and press up the sides of the cake. Repeat until entire cake is covered. You can go back and fill in any bald spaces.
Transfer remaining frosting to a piping bag fitted with a large star tip, I used Wilton 1M. Pipe a reverse shell border on top of the cake. Sprinkle extra chopped pecans around the edges.
Remove frosting carrots from the freezer and use an offset spatula or butter knife to gently slide underneath the carrots to loosen. Pick up the carrots and place on top of the cake in the position you prefer. Slice, serve and enjoy!
Notes
Add-In's: Although I like my carrot cakes to be strictly carrot, you can add 1 or 2 cups of add-ins like chopped toasted walnuts, pecans, raisins etc.
Carrots: Make sure the carrots are finely shredded so they can blend into cake well enough for you not to have crunchy chunks of carrot. I used the shredding blade on my food processor which created nice thin strips. If you don't have one, use the smallest holes on your grater.
Storage: Store cake in an airtight container in the refrigerator for up to 1 week. Serve at room temperature.
Recommended Products
As an Amazon Associate and member of other affiliate programs, I earn from qualifying purchases.
Nutrition Information:
Yield:

14
Serving Size:

1
Amount Per Serving:
Calories:

897
Total Fat:

40g
Saturated Fat:

12g
Trans Fat:

0g
Unsaturated Fat:

26g
Cholesterol:

113mg
Sodium:

424mg
Carbohydrates:

130g
Fiber:

3g
Sugar:

104g
Protein:

8g
BON APPÉTIT!
Love, Dedra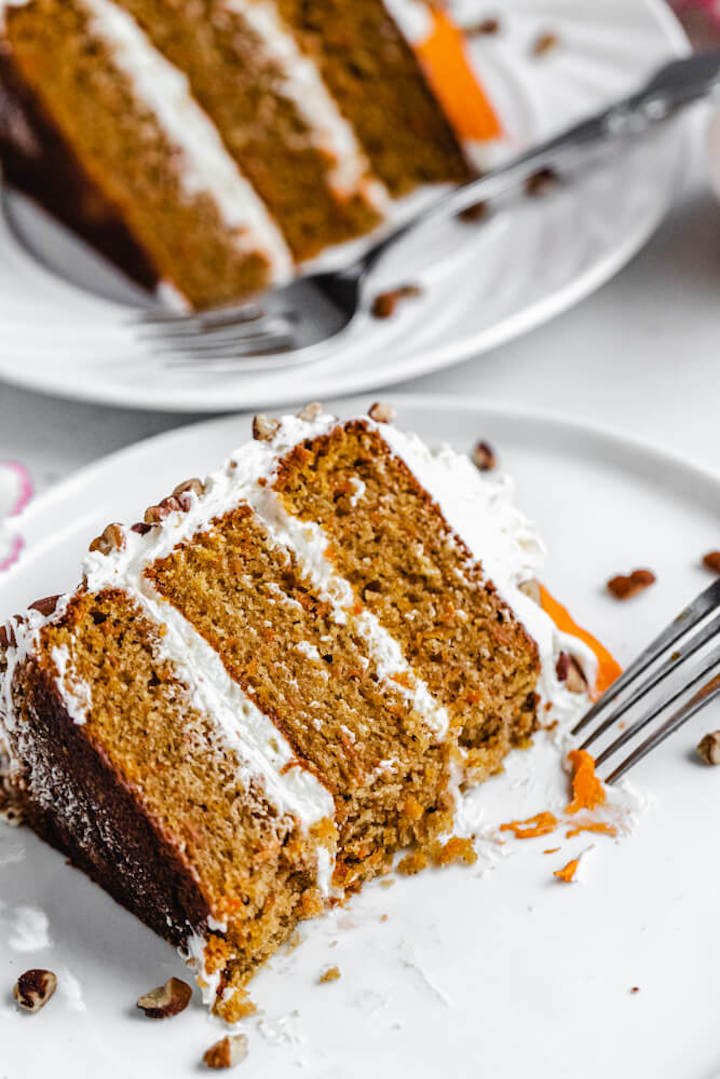 ©QUEENSLEE APPÉTIT. All images & content are copyright protected. Please do not use my images without prior permission. If you want to republish this recipe, please re-write the recipe in your own words, or link back to this post for the recipe.