Wake up and smell the rose buns! Soft and fluffy rose-shaped buns filled with sweet raspberry jam. These Raspberry Rose Buns are an easy and gorgeous gift for Mothers Day!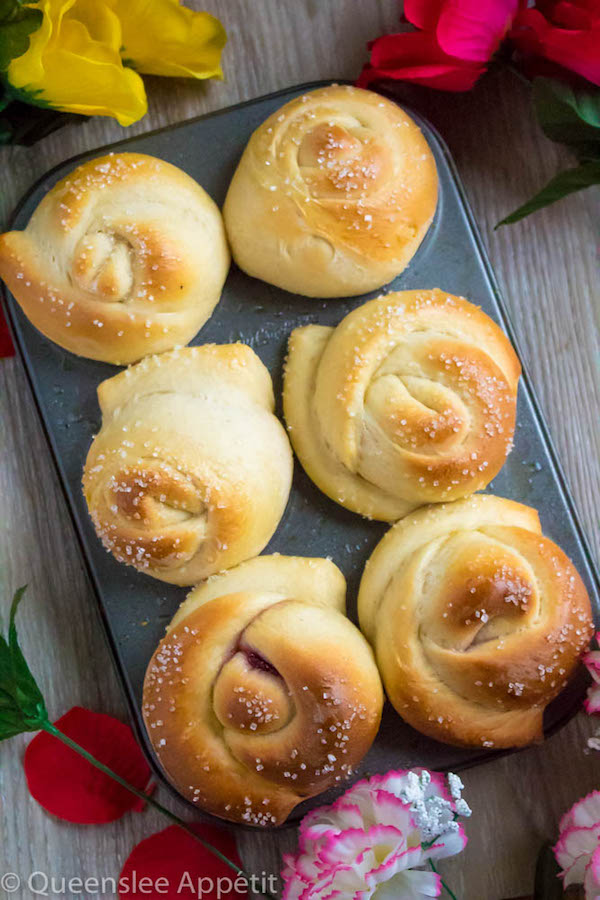 Today, I'm bringing you a simple yet adorable recipe that is just the perfect gift for Mother's Day. These Raspberry Rose Buns are just heavenly! The buns are super soft and fluffy. The best part is biting into them and discovering the surprise raspberry filling inside (even if it looks like a stab wound)!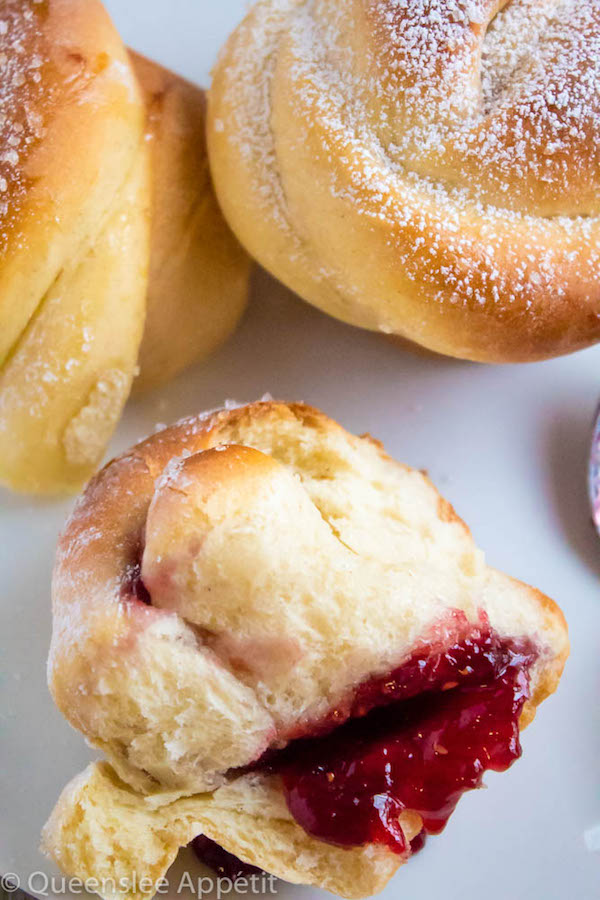 Raspberry Rose Buns
This recipe was inspired by these rose buns I made a few years ago. I decided to remake those gorgeous buns, this time with my own recipe. The dough I used for these buns came from my Perfect Cinnamon Rolls recipe. This sweet dough is flavoured with vanilla and a bit of nutmeg and takes no time to make in a stand mixer.
Once risen, we divide the dough into about 10-12 portions, roll them out, add some raspberry jam, then shape into roses. As fancy and complicated as it looks, shaping these buns into roses is way easier than you think. Here's how it's done.
How to make Raspberry Rose Buns
Once the dough has risen, and you've divided it into 11–12 individual balls, let it rest for 10 minutes. After the dough has rest, take one and roll it out into a flat 6" circle.
Once rolled out, cut 4 slits, 2 at the top and 2 at the bottom. The slits need to be diagonal from each other so we can create that rose shape. You don't want to cut all the way through the dough. You want there to be some space left in the centre. This is where we'll be adding our raspberry filling!
Add a dollop of raspberry jam to the centre, you can even switch things up and add any filling of your choice! Try adding strawberry jam, peanut butter, blueberry jam or this perfect lemon curd. However, you're gonna want to use a nice and thick jam or spread for the filling to prevent it from leaking out of the dough and making the mess. Because of that, I don't recommend using a homemade sauce like this one.
Now it's time to shape these babies into beautiful edible roses! Start by picking up one side and wrapping it around the jam filling, pinching the corners so it holds. Repeat with the section next to it, folding that side around the dough you previously wrapped. Some of them may not be able to wrap all the way around the dough, but that's totally fine. You'll have a bloomed rose bun instead of a closed one!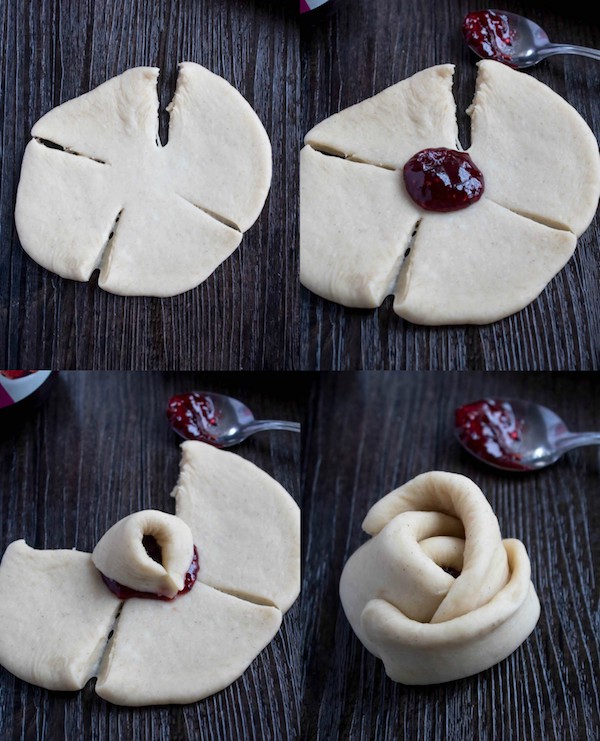 After you've completed each section, carefully transfer the rose into a muffin tin. Since this is a yeast dough, it has 2 rises. Allow the buns to rise a second time in a warm place. Once risen, brush the tops with an egg wash and sprinkle with some coarse white sugar. The sugar adds a gorgeous sparkle to the buns, making them look even more lovely!
One thing I wanna mention about these buns is that when baking, they puff up A LOT! As you can see, before baking they look like lovely little roses. Once baked, though, they rise and puff out and sort of lose their shape. Although they didn't come out looking the way I wanted, they're still visually stunning!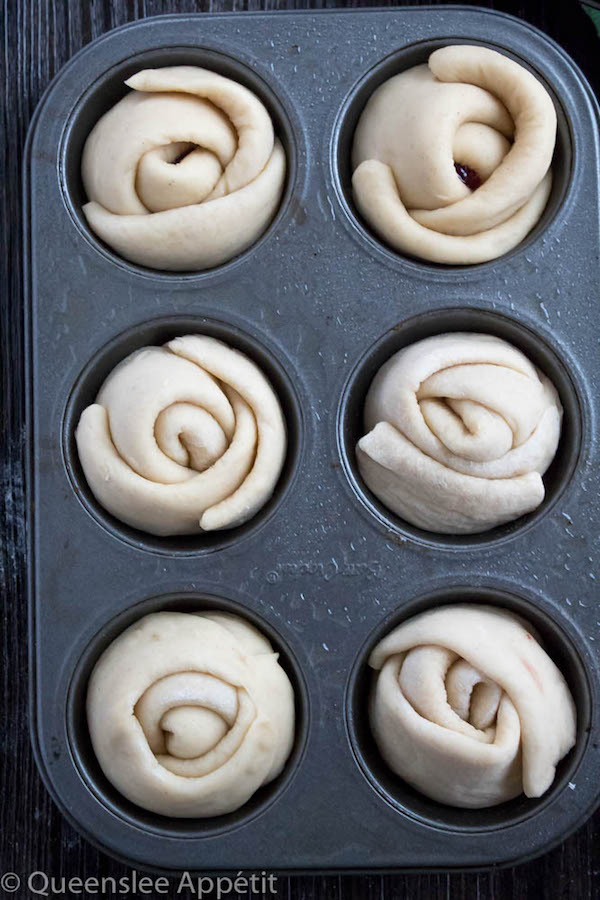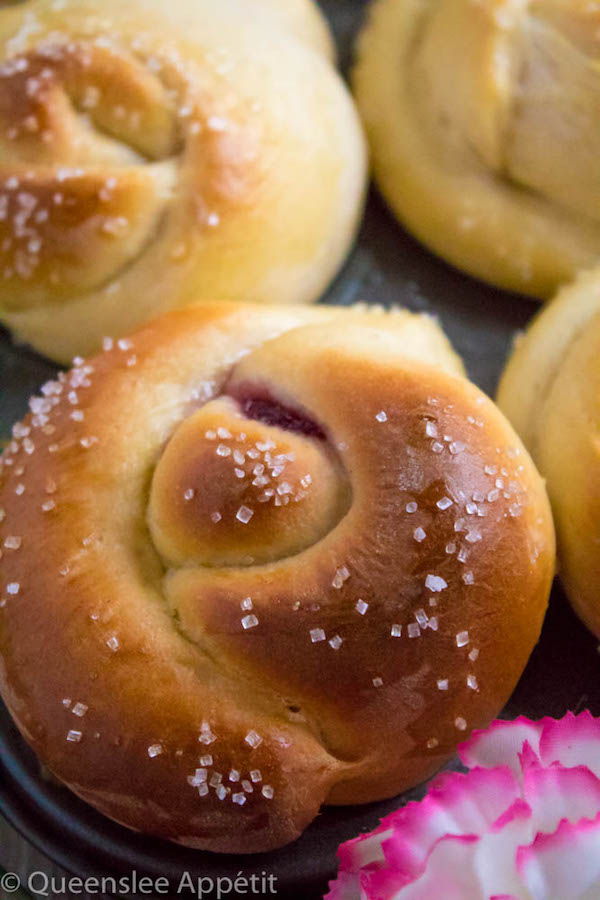 Before serving, dust the tops with a generous amount of powdered sugar! I recommend doing this right before serving as the sugar will disintegrate on the buns after a few hours.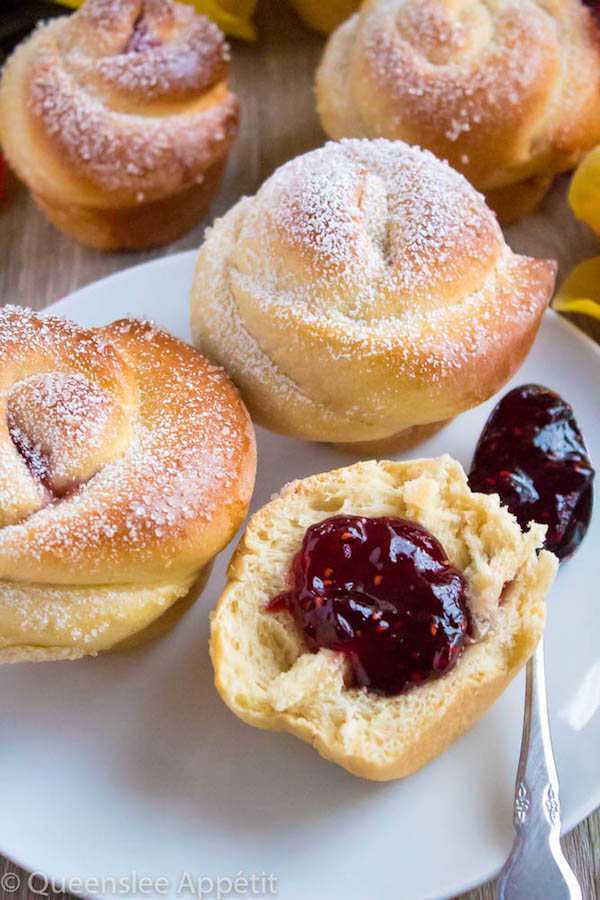 These buns are best on day 1, but leftovers can be stored in an airtight container at room temperature and they'll remain soft for a few days. You can also microwave them for about 10-15 seconds, and they'll be just as soft and incredible as they were when they came out of the oven!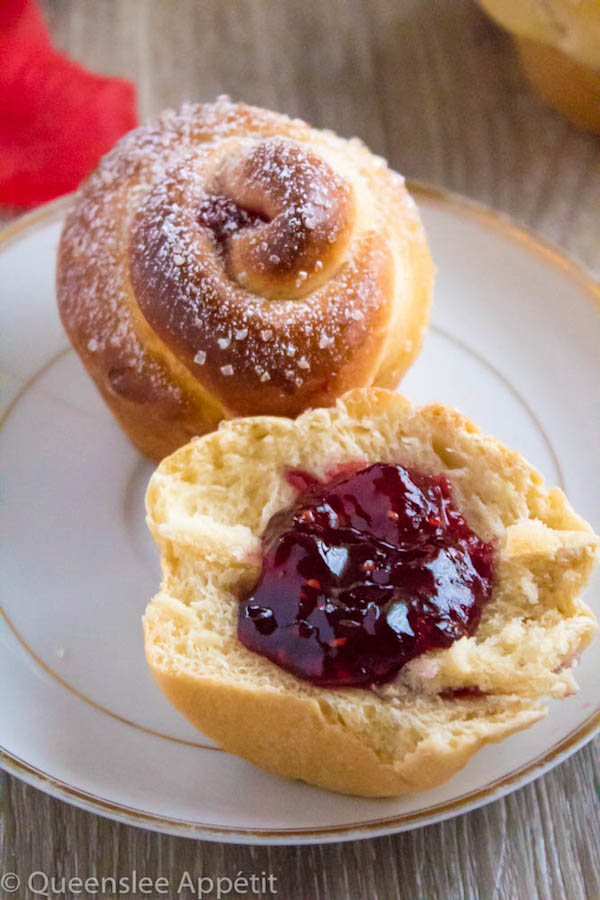 Gift your mother a bouquet of these Raspberry Rose Buns this Mother's Day! These make for a gorgeous breakfast bun, and your mother will be delighted when she wakes up to these freshly baked roses. Enjoy!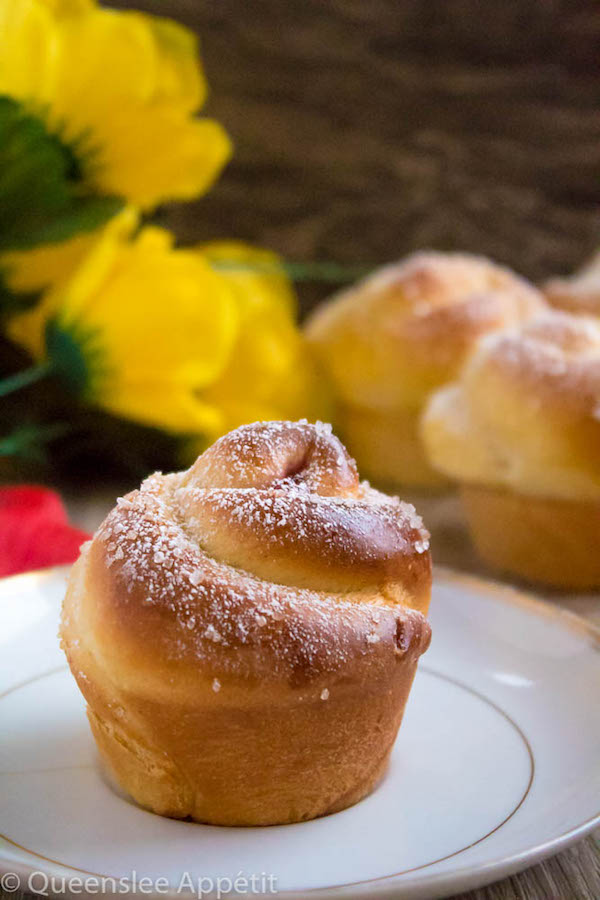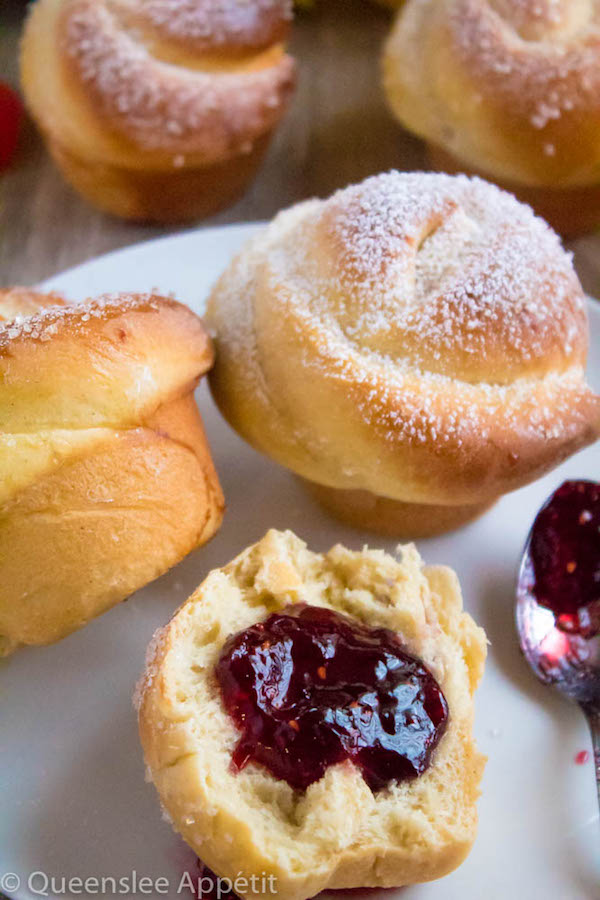 >>PIN ME FOR LATER<<

SHOP THE RECIPE
Muffin Tin | Kitchenaid Stand Mixer | Rolling Pin |
Follow Queenslee Appétit
Pinterest | Instagram | Facebook | Twitter |
Did you make a recipe? I'd love to see how it turned out! Follow me on Instagram and use the hashtag #queensleeappetit so I can see all of the Queenslee Appétit recipes you've made!
Let's get baking!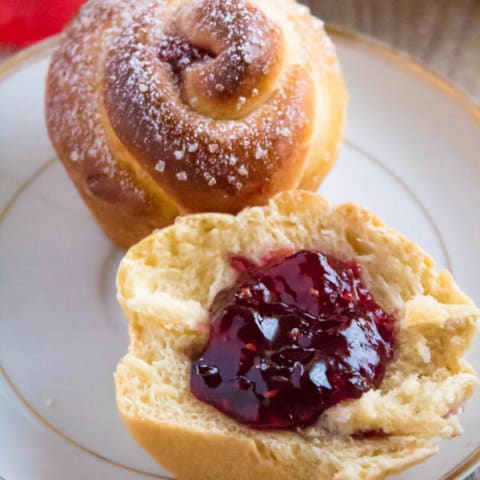 Raspberry Rose Buns
Wake up and smell the rose buns! Soft and fluffy rose-shaped buns filled with sweet raspberry jam. These Raspberry Rose Buns are an easy and gorgeous gift for Mothers Day!
Ingredients
1 cup warm milk (110-115˚F)
1 package (2 and ¼ tsp) active dry yeast
½ cup + ½ teaspoon granulated sugar, divided
⅓ cup unsalted butter or margarine, melted
1 teaspoon pure vanilla extract
2 large eggs, lightly beaten
4 - 4 and ½ cups All purpose flour
1 teaspoon salt
¼ teaspoon ground nutmeg (optional)
⅔ cup Raspberry Jam
1 egg yolk + 1 tablespoon water, for brushing
Coarse sugar, for sprinkling (optional)
Powdered sugar, for dusting (optional)
Instructions
For the Dough:
In a medium heat-proof bowl, heat the milk in the microwave until warm, about 50-60 seconds. It should be around 110-115˚F. If you don't have a thermometer, test it out by sticking your finger inside. The milk should be warm enough for you to hold your finger inside comfortably. It should not be too hot, if it is, let it sit for 5 minutes to cool.
Sprinkle the yeast and ½ teaspoon of sugar into the warmed milk, do not stir. Allow to sit for about 5-10 minutes or until frothy. If yeast doesn't foam up, your yeast is either dead or the milk is too hot, which means you have to start over.
Add melted butter, vanilla and eggs to the milk and yeast mixture and whisk to combine.
In a stand mixer bowl fitted with the dough hook attachment, add 4 cups of flour, remaining ½ cup sugar, salt and nutmeg. Mix on low to combine. Alternatively: add the dry ingredients to a large mixing bowl and whisk to combine.
Pour in liquid mixture and mix on low until just combined, about 30 seconds. Increase speed to medium-low "2 on a kitchenaid mixer" and knead dough until it's smooth, elastic and pulls away from the sides of the bowl, about 7-10 minutes. Or you can mix the dough with a wooden spoon, then transfer it to a lightly floured surface and knead by hand for about 7 to 10 minutes until dough is smooth. If the dough is too sticky after 5 minutes, add more flour 1 tablespoon at a time until dough is smooth.
Lightly oil a separate large bowl with olive oil or cooking spray, place dough inside and turn to cover both sides. Loosely cover with plastic wrap and let it rest in a warm place for 1 to 1 and ½ hours, or until dough has doubled in size.
Assembly:
Lightly spray a 12-cup muffin tin. Set aside. Once dough has risen, transfer to a floured work surface and divide into 12 equal portions (about 96g each). Form each portion into a ball. Cover each ball with a dish towel and allow to rest for 10 minutes.
Using a rolling pin, roll each ball into a 6"-inch circle. Use a knife to cut 4 slits into the top and bottom of the circle. Place 1 tablespoon of jam into the centre of the circle.
Take 1 of the 4 sections of the circle and wrap it around the raspberry middle, pinching the ends together. Repeat with the section next to it and wrap that one around the centre, pinching the ends. It's best to look at the step-by-step photos above to better understand how to create the rose.
Once you're done creating the rose, carefully place it into the muffin tin and repeat with the rest. Once they're all in the muffin tin, loosely cover with plastic wrap and allow to rise in a warm place for another 30 minutes to 1 hour.
Preheat oven to 350°F. Beat an egg yolk with 1 tablespoon of water until no streaks from the egg yolk is visible. Use a pastry brush to lightly brush the egg wash over the buns. Sprinkle with coarse sugar, if desired. (Half Fill empty muffin cups wifh hot water)
Bake buns in preheated oven for 20-25 minutes, or until golden brown. Remove from oven and allow to cool on a wire rack for 15-20 minutes, then remove from tins and allow buns to cool on the rack completely.
Serve with a dust of powdered sugar, if desired. Enjoy!
Notes
Buns are best served fresh, but can be stored in an airtight container in the refrigerator for up to 3 days. Reheat in the microwave for about 20-30 seconds before serving with a dust of powdered sugar.
Recommended Products
As an Amazon Associate and member of other affiliate programs, I earn from qualifying purchases.
©
QUEENSLEE APPÉTIT
. All
images & content are copyright protected. Please do not use my images without prior permission. If you want to republish this recipe, please re-write the recipe in your own words, or link back to this post for the recipe.
BON APPÉTIT!
Love, Dedra
This post may contain affiliate links. Please see my full disclosure policy for details.