These Mini Lemon Meringue Cheesecakes are incredibly delicious and full of fresh lemon flavour! They're made with a buttery graham cracker crust, creamy lemon cheesecake filling, and are topped with a ring of toasted meringue with tart lemon curd in the centre. A fun bite-sized treat for summer!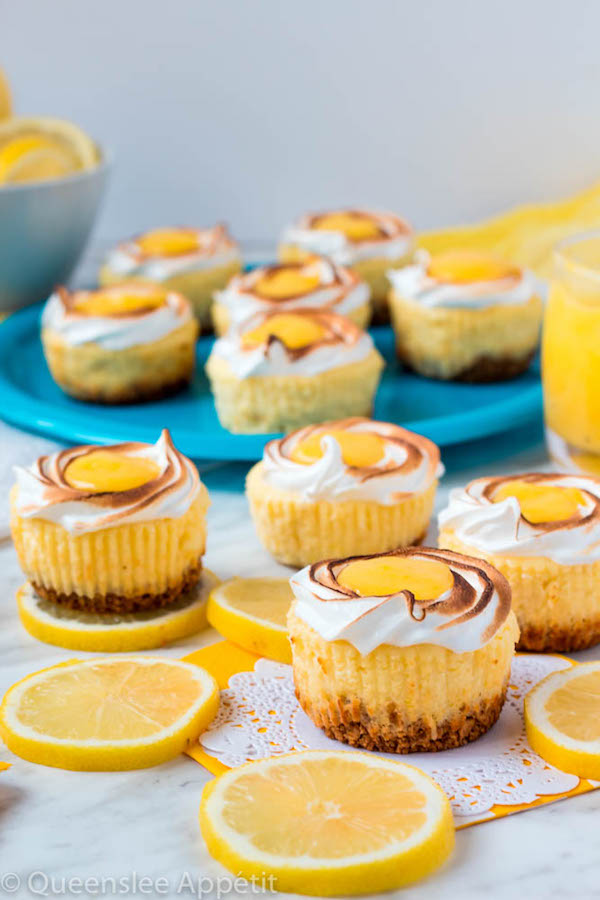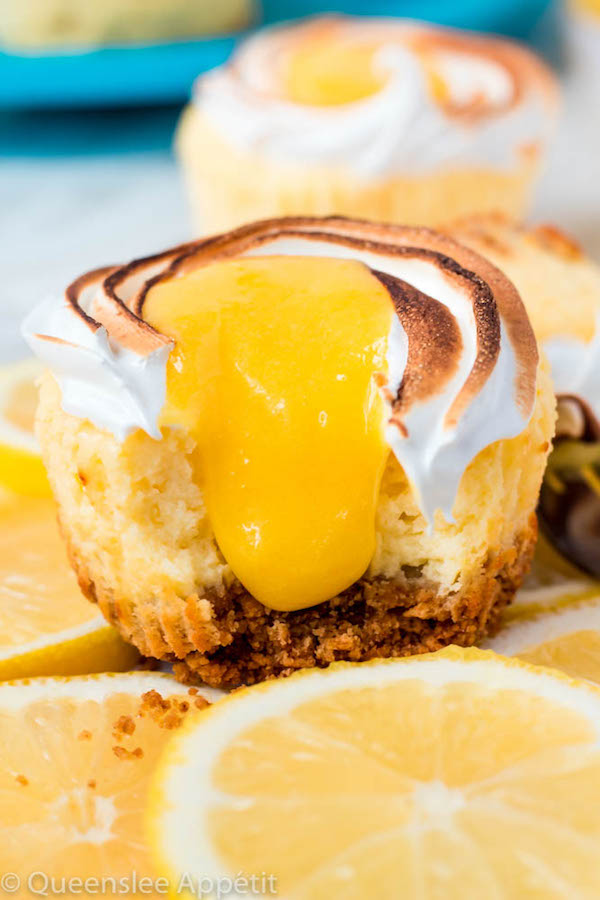 It's that time of year again — National Lemon Meringue Day! This time last year, I posted my first ever cheesecake recipe on this blog and it was lemon meringue flavoured. This full-sized Lemon Meringue Cheesecake was super rich and creamy and every bite was a burst of delicious lemon flavour, and these mini versions are no different!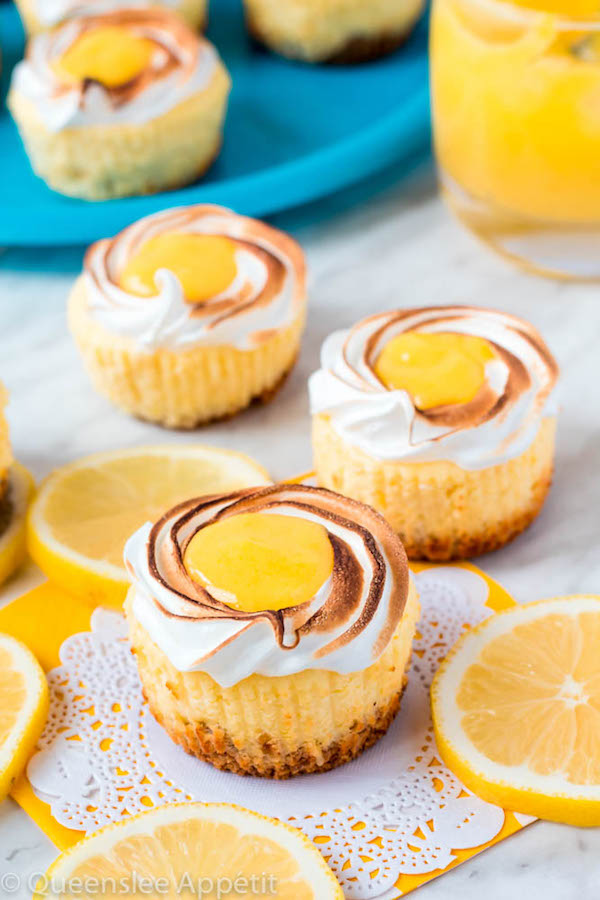 For my original lemon meringue cheesecake, I made a vanilla wafer crust. This time I went with graham crackers because I wanted every part of these mini cheesecakes to represent an authentic lemon meringue pie.
The crust has a bit of sugar in it for sweetness and some butter to hold it all together. Even with the added sugar this crust still isn't as sweet as a vanilla wafer crust so feel free to use those instead.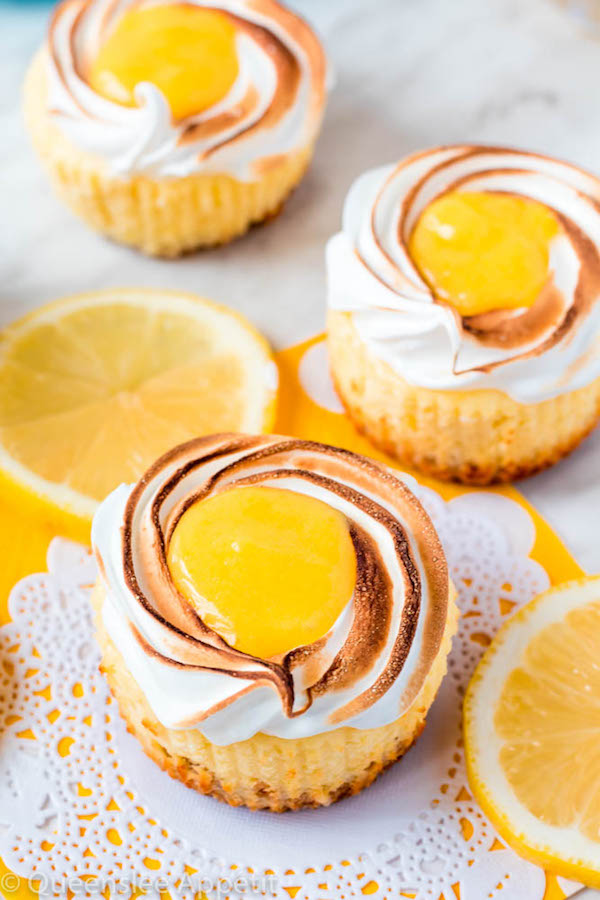 The filling is a thick, creamy and "basic" cheesecake recipe that gets its bold lemon flavour from both lemon juice and lemon zest.
I filled my liners with ¼ cup of batter to get about 11-12 mini cheesecakes, though they don't reach all the way to the top. You can fill each liner up to the top since these don't rise that much, although you may end up with less cheesecakes. I didn't have a problem with the amount of batter per liner because we're going to remove the cheesecakes from the liners anyways, so you'll barely notice that they're not full.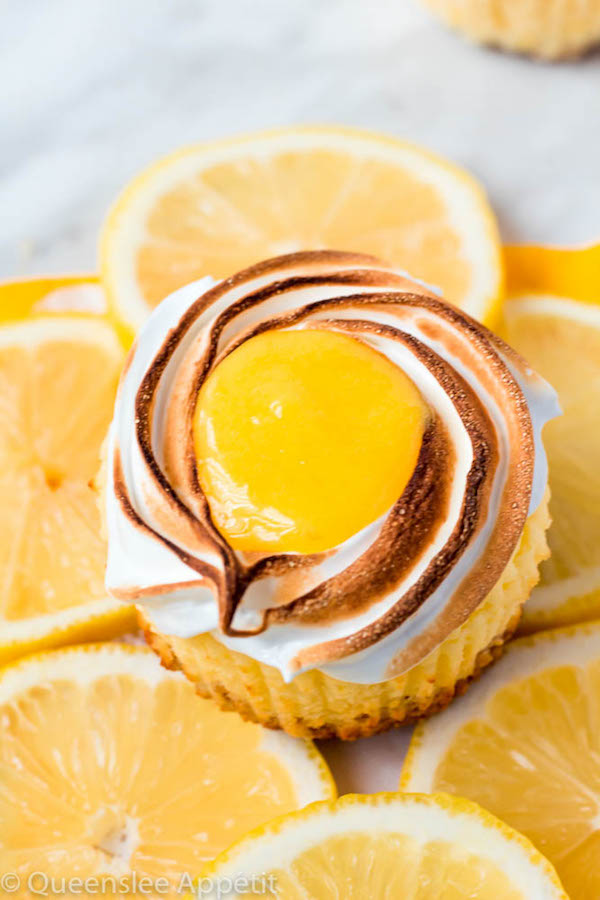 These cheesecakes taste pretty amazing on their own, but we're making lemon meringue cheesecakes so we gotta add the lemon and meringue!
Once the cheesecakes were done baking, I went ahead and made some of my Perfect Lemon Curd. Since we don't need to use a lot, I cut the recipe in half, though there was still a bit leftover. That extra lemon curd can be spread onto fluffy biscuits, stirred into fruit parfaits or be dolloped between these Lemon Meringue Sugar Cookie Sandwiches!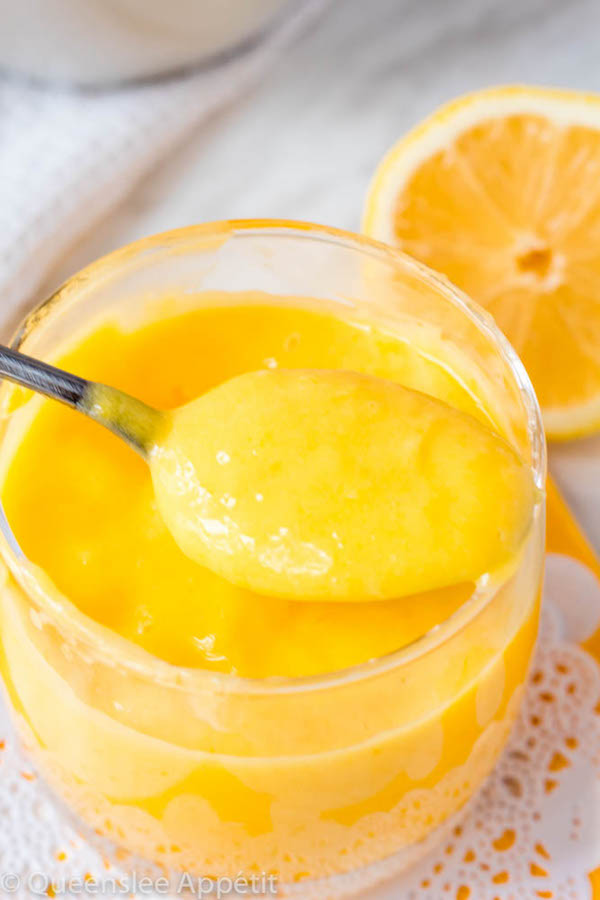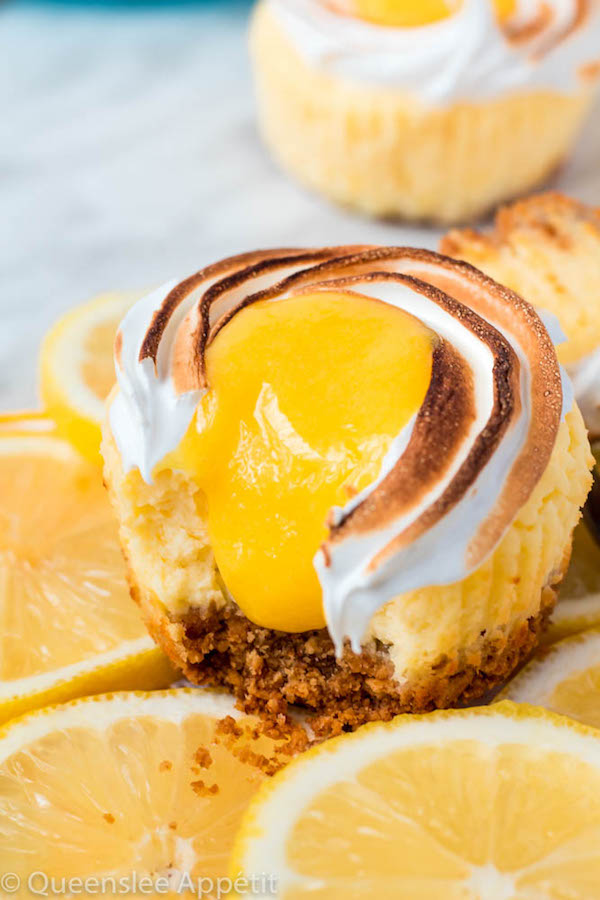 If you're intimidated by homemade lemon curd, don't be. It's incredibly easy to make! Simply combine the ingredients in a heat-proof bowl over an inch of simmering water and whisk until the mixture is thickened. No kitchen thermometer is needed, just whisk until the curd coats the back of a spoon. This process usually takes me about 15-20 minutes, but since this is a smaller batch, it may take less time.
Once the curd thickens, remove it from the heat, whisk in some butter, strain it, then cover it with plastic wrap and refrigerate until completely chilled.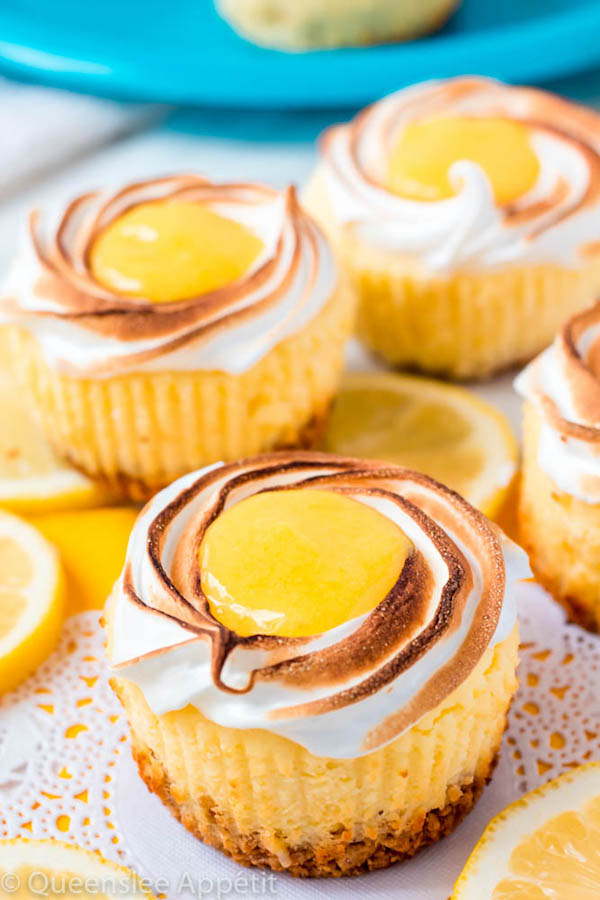 Next up is the light and fluffy meringue! The meringue process is quite similar to the lemon curd, mainly because we cook it over a saucepan of simmering water. We whisk some sugar and egg whites together until the sugar is dissolved, then whip it on high speed until a fluffy meringue forms.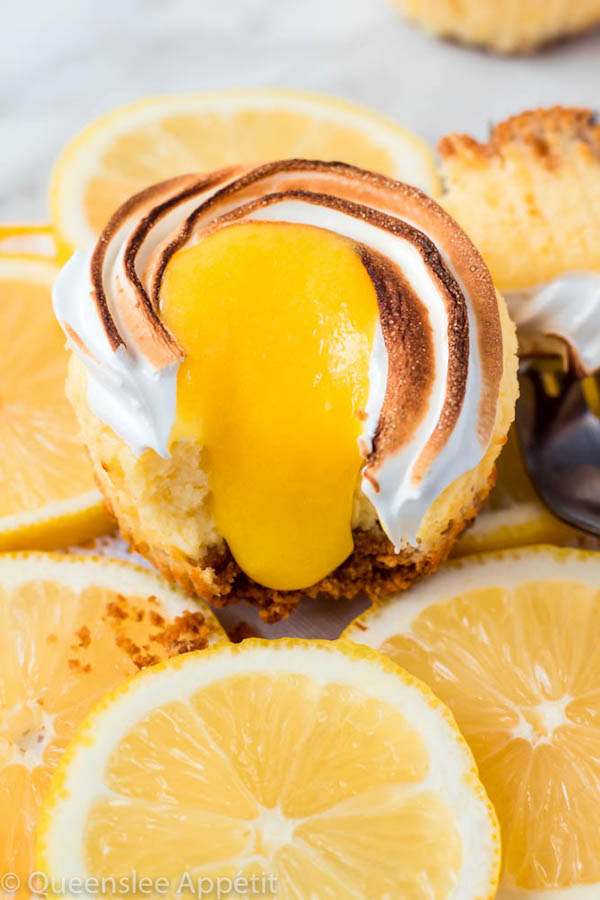 Tips for making meringue
Although I've made meringue a ton of times before, I still had to make 2 batches for this recipe because I messed up the first one. I was in a rush and didn't really pay close attention to what I was doing so my meringue ended up being very soupy.
Here are some of my tips to ensure you end up with a perfect meringue each time!
Clean off all of your utensils (stainless steel bowl and beaters) with lemon juice. Just squeeze some lemon juice onto a piece of paper towel and wipe off your bowl and beaters, then wipe it dry. This ensures there is no grease on your utensils which prevent the egg whites from whipping to full volume.
You can use a kitchen thermometer to check the temperature of the egg whites, or you can test it by rubbing the egg white mixture between your fingers. You will know it's ready when the sugar is completely dissolved.
Whip the egg whites using a hand mixer or in a stand mixer on high speed. The meringue is ready when it's doubled in volume and has reached STIFF peaks. If you were just dolloping the meringue onto the cheesecakes, the meringue won't have to be super stiff. For this recipe, I wanted to pipe the meringue on top using a star tip, so we need this meringue to be stiff so it can hold its shape and keep the detail the tip provides.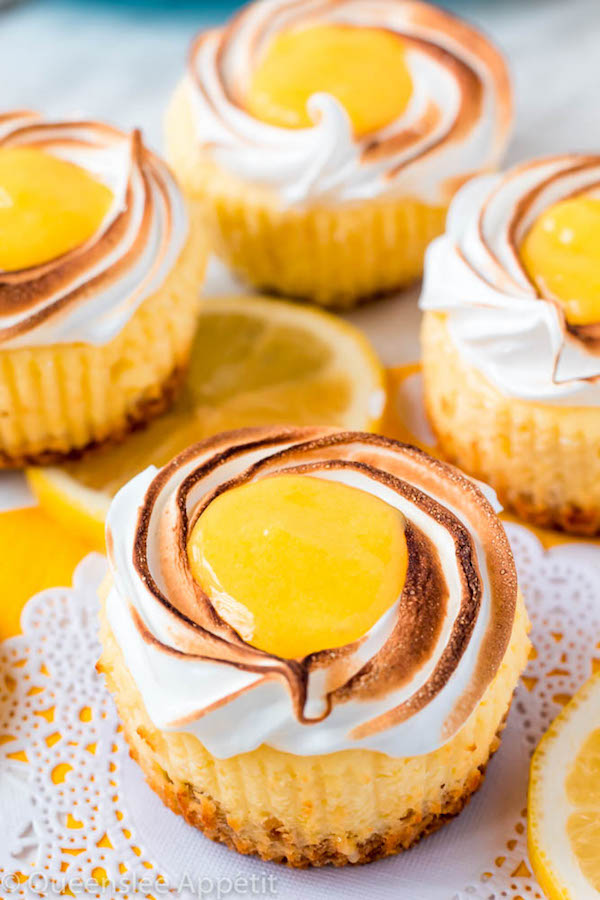 The decoration of these cheesecakes was inspired by my Mini Triple Chocolate Cheesecakes and Cadbury Creme Egg Cupcakes. I started by removing the paper liners, which is very important because you don't want them to burn while you toast the meringue.
Speaking of which, pipe a ring of meringue around the edges of the cheesecake and use a kitchen torch to toast the meringue. You could probably get away with broiling in the top rack of the oven, though it might not look as pretty.
Now remove the lemon curd from the refrigerator and stir it up to loosen, then fill the centres.
I just love this decoration of having a filling encased in a fluffy border, because once you take a bite the filling just oozes out.
Just look: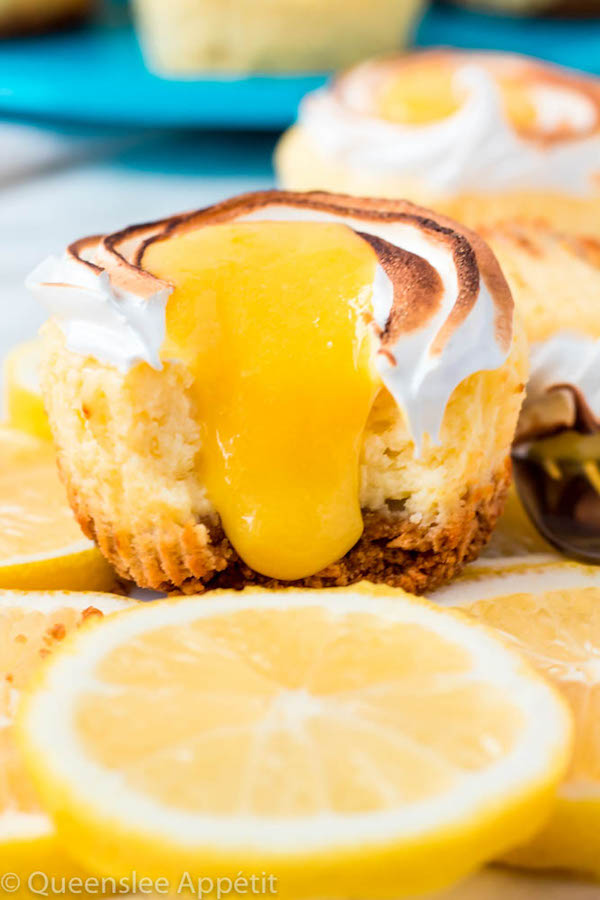 Celebrate National Lemon Meringue Pie Day with these citrusy bite-sized cheesecakes that feature the best parts of a lemon meringue pie! The perfect balance between sweet and tart that will make your tastebuds explode!
>>PIN ME FOR LATER<<

SHOP THE RECIPE
Here are some of the tools I used to create today's recipe:
Cupcake Pan | Cupcake Liners | Hand Mixer | Stainless Steel Bowls | Pastry Bag | Wilton 1M Tip | Kitchen Torch |
FOLLOW QUEENSLEE APPÉTIT
Like what you see? Make sure you're following Queenslee Appétit for more tasty recipes!
Pinterest | Instagram | Facebook | Twitter |
Did you make a recipe? I'd love to see how it turned out! Follow me on Instagram and use the hashtag #queensleeappetit so I can see all of the Queenslee Appétit recipes you've made!
Never miss a recipe, SUBSCRIBE at the bottom of this post!
Have any questions about the recipe? Contact me here, and I'll be happy to help!
Let's get baking!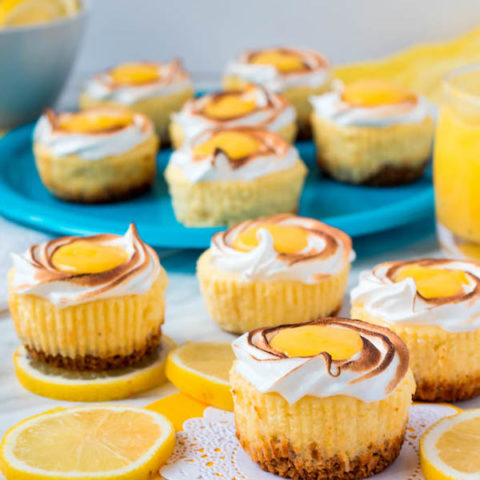 Mini Lemon Meringue Cheesecakes
Yield:
11 - 12 mini cheesecakes
These Mini Lemon Meringue Cheesecakes are incredibly delicious and full of fresh lemon flavour!
Ingredients
Crust:
1 cup graham cracker crumbs
1 and ½ Tbsp. Granulated Sugar
4 tablespoon Unsalted Butter, melted + extra to grease the pan
Lemon Cheesecake:
1 and ½ packages (12 oz) full-fat cream cheese, room temperature
½ cup granulated sugar
1 tablespoon cornstarch
⅛ teaspoon salt
½ cup sour cream, room temperature
1 teaspoon finely grated Lemon zest
Juice from 1 Lemon
2 large eggs, room temperature
Lemon Curd:
4 large Egg Yolks
½ cup Granulated sugar
2 teaspoon finely grated lemon zest (zest of 2 lemons)
½ cup Lemon juice (3-4 Lemons)
¼ cup Unsalted butter, chilled and cubed
Meringue Topping:
2 egg whites
½ cup granulated sugar
½ teaspoon pure vanilla extract
Instructions
For the Crust:
Preheat oven to 350°F and Line a 12-cup muffin pan with liners. Set aside.
Add graham cracker crumbs, sugar and melted butter to a mixing bowl and mix together using a fork. Place 1 tablespoon of crumbs into each liner and flatten using the back of the tablespoon or a small glass. Bake in preheated oven for 5 minutes. Allow to cool on a wire rack. Lower oven temperature to 325°F.
For the Lemon Cheesecake:
In a large bowl using a handheld mixer, beat the cream cheese, sugar, cornstarch and salt on medium-low speed until creamy, 2-3 minutes.
Scrape down the sides of the bowl and add sour cream, lemon zest and lemon juice and continue beating until smooth.
Add eggs one at a time, beating slowly until just combined, do not overbeat. Scrape sides and bottom of the bowl with a rubber spatula to make sure everything is combined. Forcefully tap bowl on the counter a few times to release any air bubbles.
Fill each liner with ¼ cup of batter. Bake in preheated oven for 20-25 minutes until centers are slightly jiggly, like Jello.
Remove from oven and allow to cool completely on a cooling rack.
Cover with plastic wrap and refrigerate until firm and chilled, about 4 hours or overnight. Meanwhile, make the lemon curd.
For the Lemon Curd:
Bring an inch of water to a simmer in a medium saucepan over medium heat. Once it begins to simmer, turn heat to low so the water doesn't begin to boil.
Add egg yolks and sugar to a separate medium heat-proof bowl and whisk vigorously for about 1 minute, until smooth.
Add lemon zest and juice and whisk until smooth. Place bowl over the saucepan of simmering water and cook, whisking constantly (using whisk at first, then switching to a wooden spoon halfway through) until mixture thickens, about 10-15 minutes. You will know the curd is ready when it coats the back of a wooden spoon.
Once thickened, remove bowl from heat and stir in the butter once cube at a time until melted and combined.
Once all of the butter is combined, strain curd through a fine-mesh sieve and discard any curdled eggs.
Transfer curd to another bowl and place plastic wrap right on top of the surface to prevent it from forming a skin while cooling. Refrigerate until well chilled, about 4 hours or overnight.
For the Meringue Topping:
Bring an inch of water to a simmer in a medium saucepan over medium heat. Once it begins to simmer, turn heat to low so the water doesn't begin to boil.
Add the egg whites and sugar to a medium stainless steel or glass bowl.
Place bowl over the saucepan of simmering water and whisk constantly until the sugar is dissolved and egg whites are warm. You can test this by rubbing the mixture between two fingers. If it doesn't feel grainy, the sugar has dissolved and can be removed from the heat. If you still feel grains, continue whisking and keep testing until the sugar is fully dissolved.
Remove bowl from heat and, using a handheld mixer, beat on low speed until the mixture is frothy, about 1 minute.
Gradually increase the speed to high and beat until the frosting is thick and glossy, 5-6 minutes.
Add vanilla and mix until combined.
Assembly:
Transfer meringue to a piping bag fitted with a large star tip (I used Wilton 1M). Remove chilled cheesecakes from the refrigerator and unwrap from the paper liners.
Pipe a rim of meringue around the edge of each cheesecake. Use a kitchen torch to toast the meringue, then fill the centre with lemon curd. Serve and enjoy!
MORE LEMON MERINGUE RECIPES YOU WILL LOVE
Lemon Meringue Sugar Cookie Sandwiches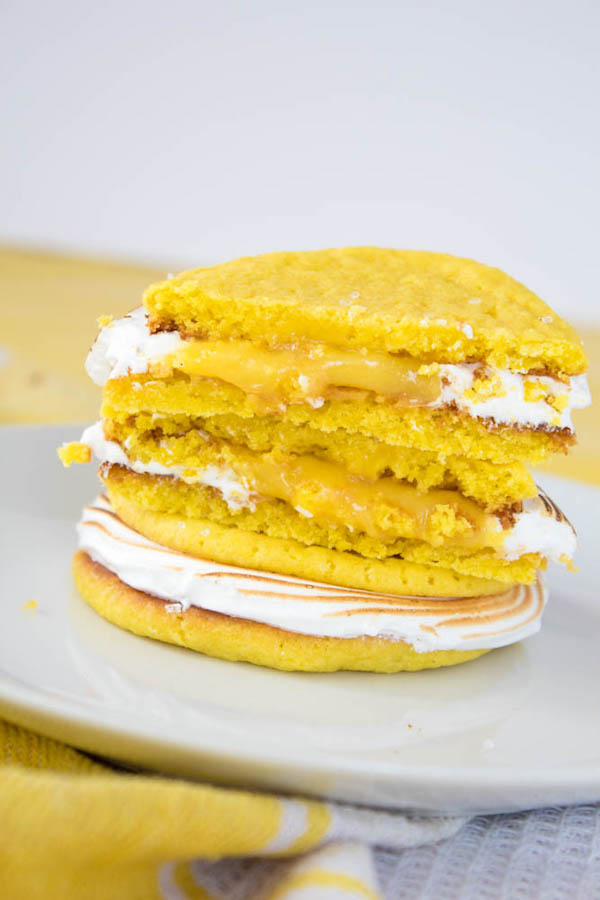 ©QUEENSLEE APPÉTIT. All images & content are copyright protected. Please do not use my images without prior permission. If you want to republish this recipe, please re-write the recipe in your own words, or link back to this post for the recipe.
BON APPÉTIT!
Love, Dedra
This post may contain affiliate links. Please see my full disclosure policy for details.