Perfectly Crispy Chicken Parmesan topped with a rich homemade marinara sauce, melted mozzarella and parmesan and garnished with fresh herbs!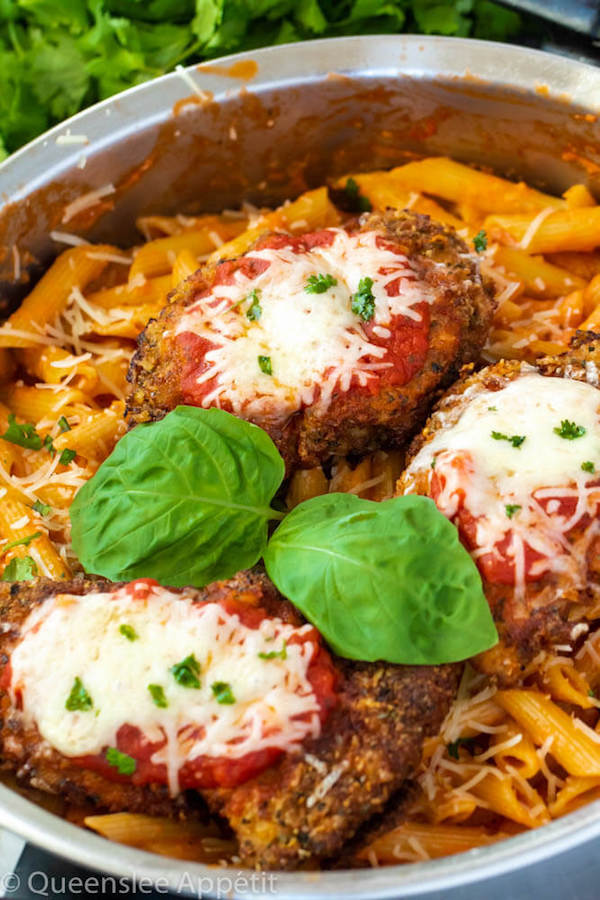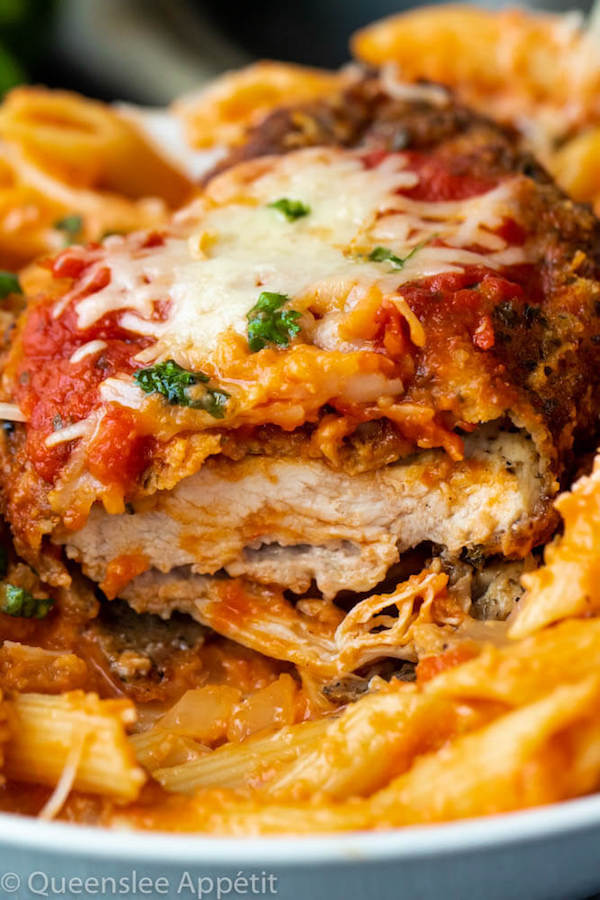 This post may contain affiliate links. Please see my full disclosure policy for details.
A few days ago I shared a recipe for Penne Alla Vodka, now I bring you the other half of the recipe: Chicken Parmesan!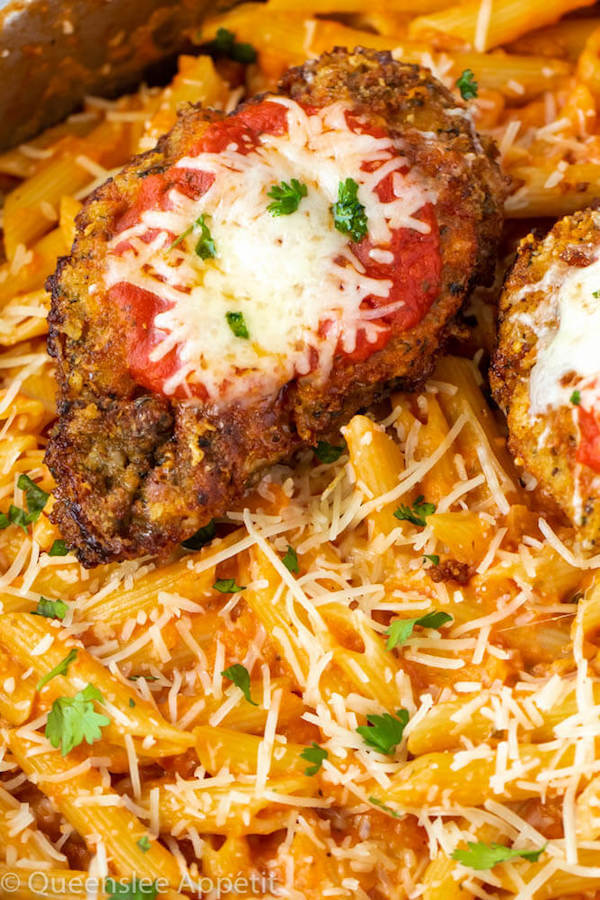 I'm obsessed with classic Italian dishes, but since I'm apart of a Jamaican family who refuses to cook any non-Jamaican foods, the only way I could enjoy a good Italian meal is if I go to a restaurant or cook it myself.
Obviously I can't afford to go to a restaurant every time I have an Italian dish craving, fortunately I'm a pretty great cook so I always go for the "cook it myself" option!
I've shared a few delicious Italian recipes on here already — Shrimp Fettuccini Alfredo (with some Cajun flavouring to kick it up a notch), the Perfect Lasagna, and the Penne Alla Vodka I mentioned above!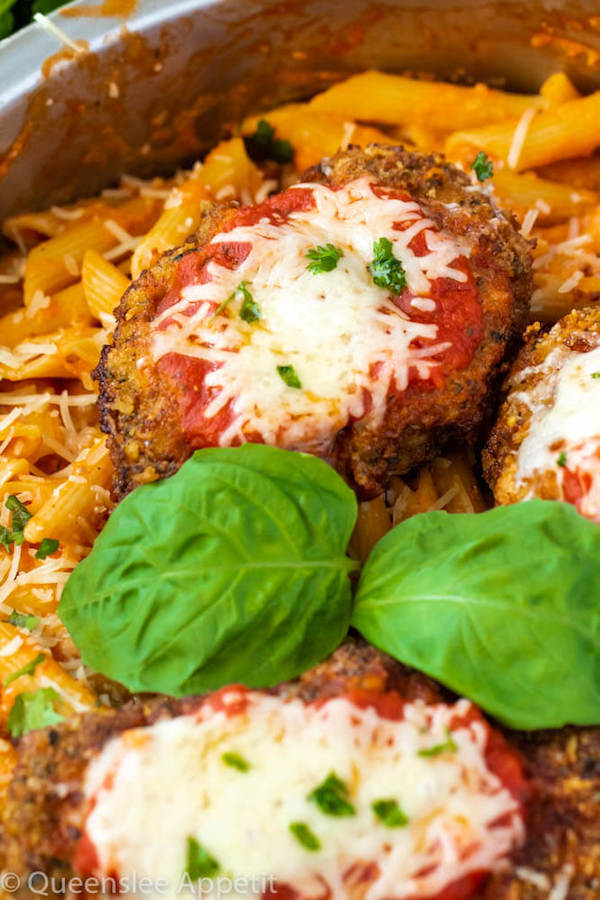 Perfectly Crispy Chicken Parmesan
Chicken Parmesan, or as the Italians say "Chicken Parmigiana", is one of my all time favourite ways to enjoy the perfection that is chicken. That juicy tender chicken coated in crispy and flavoured breadcrumbs, rich marinara sauce and gooey cheese will always win my heart!
I've tried many different kinds of Chicken Parmesan, and I've taken note of my favourite part of each restaurants version to construct my own recipe. And although I want to keep the recipe as authentic as possible, I still had to make a few changes to better suit my and my family's taste.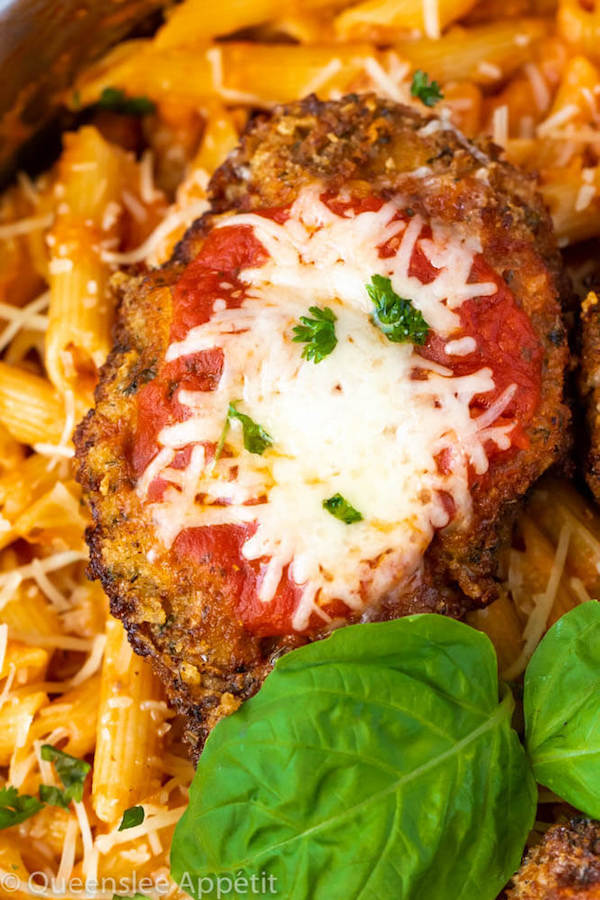 Just like Penne Alla Vodka, Chicken Parmesan is another "fancy" dish that's actually pretty easy to make. However, I won't lie and say that it's cheap because between the chicken breasts and the parmesan alone, this could be a pretty pricey dish. But if you love a good Chicken Parmesan, then it's definitely worth every penny!
How to Make Chicken Parmesan
To make Chicken Parmesan, we begin with the skinless boneless chicken breasts. For the chicken breasts you could either pound it with a meat mallet or rolling pin to make it ½ inch thick, or you could just cut the chicken breasts in half. I went with the second option for three reasons, 1) it's easier, 2) twice as much chicken parmesan, 3) I'd get slapped upside the head if I made all that noise.
Next we gotta season the chicken. I know salt and pepper are usually the only seasonings used for Chicken Parmesan but that doesn't fly with me. So I created a small seasoning blend using salt, pepper, garlic powder and onion powder. I sprinkles half of it on the front and back of the chicken breasts, then I added the rest to the flour.
Before you continue, you wanna make sure every station is prepared. Mix the seasoning blend with the flour in a shallow dish, beat the eggs and water and put it in a shallow dish, and repeat with the breadcrumbs mixture.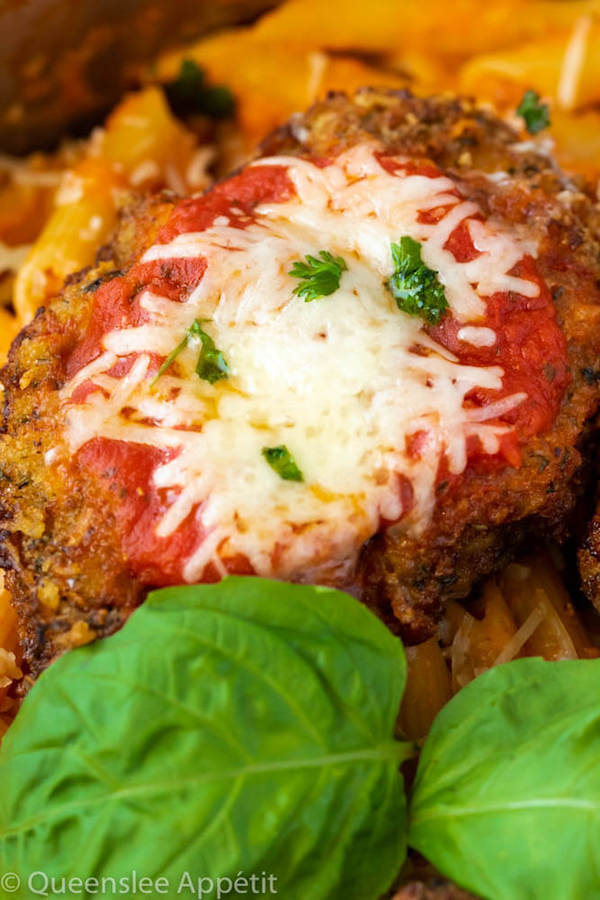 Dip the chicken breasts into the seasoned flour mixture, then dip it into the egg mixture and finally coat it in the breadcrumb/parmesan mixture. Place the coated chicken onto a baking sheet or plate while you heat up the oil.
Fry the chicken for about 4 minutes on each side then remove from the oil. The chicken won't be cooked all the way through, but we'll be baking it in the oven so don't worry.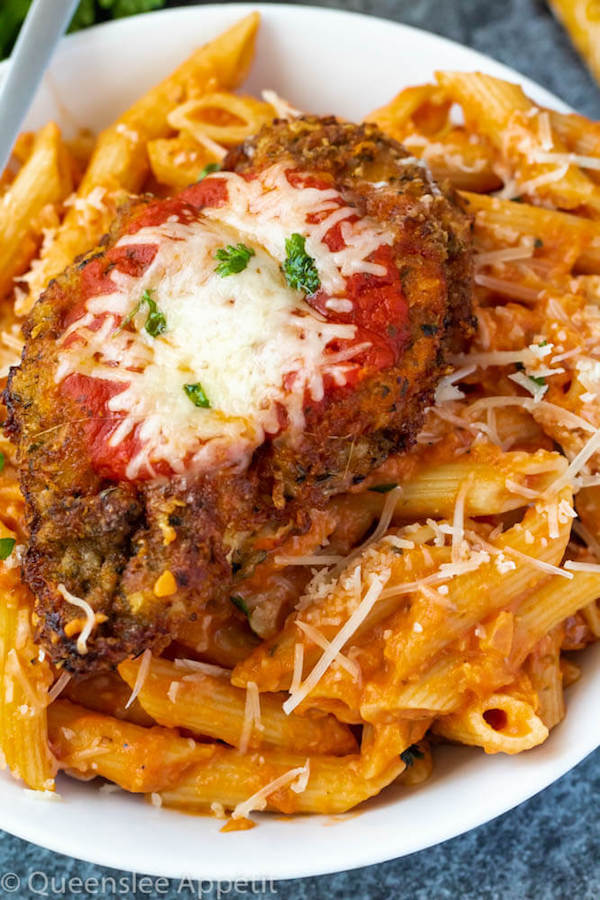 Homemade Marinara Sauce
Ok so I'll be totally honest with you, the marinara sauce I used was store bought. This is only because my Penne Alla Vodka recipe and this Chicken Parmesan recipe were part of one meal and was originally supposed to be one post.
If you plan to serve this Chicken Parmesan with regular plain pasta, then I highly recommend cooking your own marinara sauce from scratch. I haven't made marinara sauce before, but I do have an incredible Meat Sauce recipe!
So I modified my meat sauce recipe by removing the meat (of course), and changing the amounts of certain ingredients so you don't end up with too much sauce. I also cut the simmering time from 2 hours to 30 minutes! Make this recipe before you start the chicken so when the chicken has finished frying, you'll be ready to assemble.
Assembling the Chicken Parmesan
There's many different ways you could assemble Chicken Parmesan.
Place chicken onto a baking sheet and top with a spoonful of sauce, cheese and a sprinkle of herbs.

Do the above step but switch it up by topping with the cheese first and then the sauce.

Spread some of the sauce in a baking dish, place the chicken on in an even layer, top with remaining sauce, cheese and herbs.
The last option is common if you are serving it with pasta, but it will make the bottom of the chicken a bit soggy. I personally never had a problem with this when I ate it with pasta, but if you want to keep things crispy all throughout, don't do option 3.
Parmesan or Mozzarella?
Well this is called Chicken PARMESAN so obviously you would want to top it with parmesan cheese. But like I mentioned above, parmesan is pretty expensive so you could switch it out and use mozzarella instead. The photo below shows me using sliced mozzarella cheese, but it ended up covering the entire chicken and looked way to unattractive to photograph. So for my second attempt I used pre-shredded parmesan instead.
I should also mention that I baked the chicken BEFORE topping with the sauce and cheese. I know this probably isn't the traditional way, but my cheese ended up burning when I added it the first time. This time I added it in the end and broiled it just until the cheese was melted.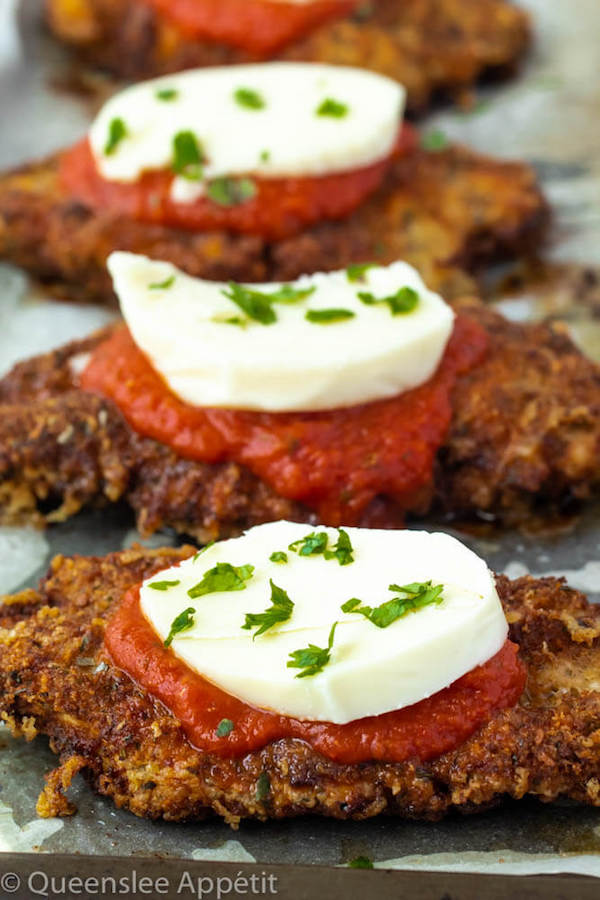 What to Serve with Chicken Parmesan?
I served my Chicken Parmesan with my Penne Alla Vodka Pasta recipe, but you could serve it with plain penne pasta, spaghetti, linguine, zucchini noodles and more!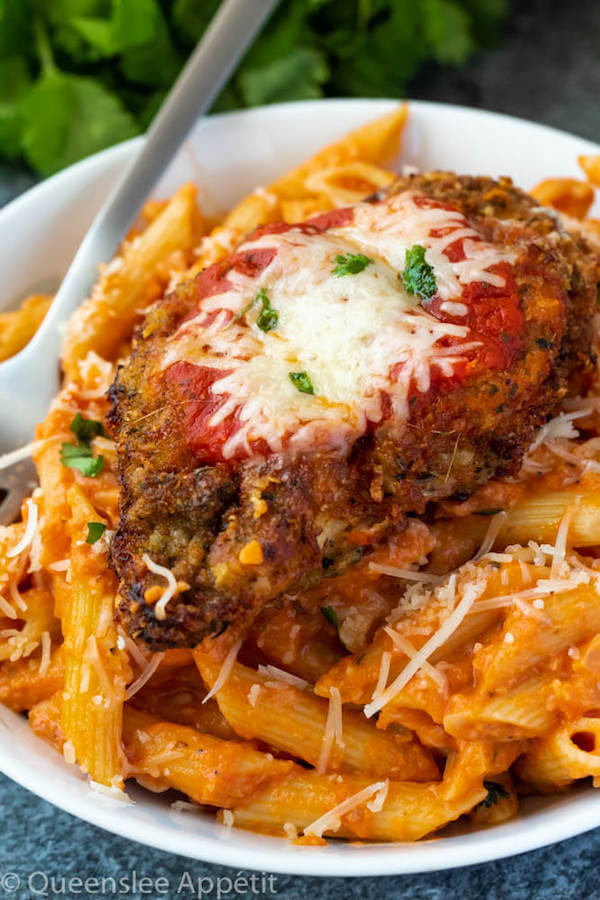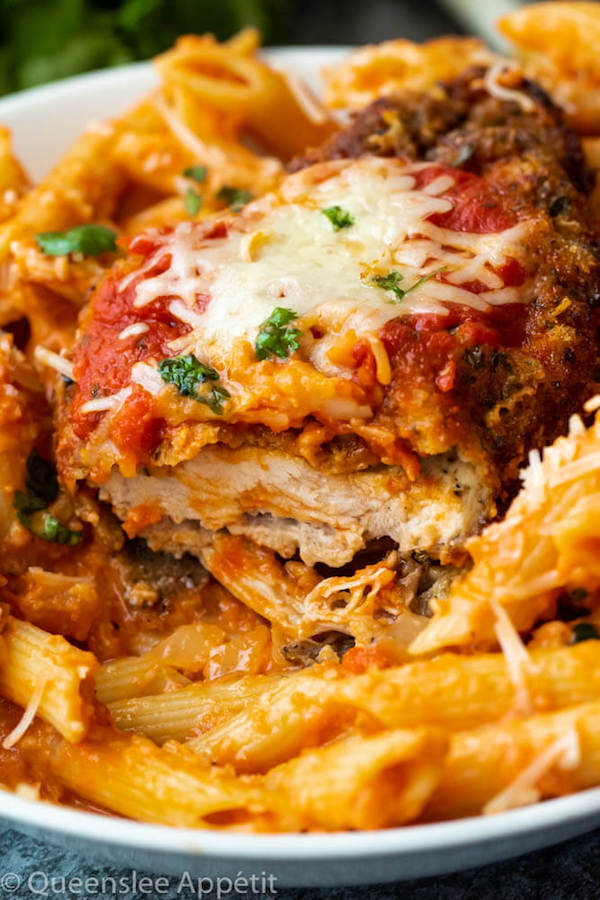 >>PIN THIS FOR LATER<<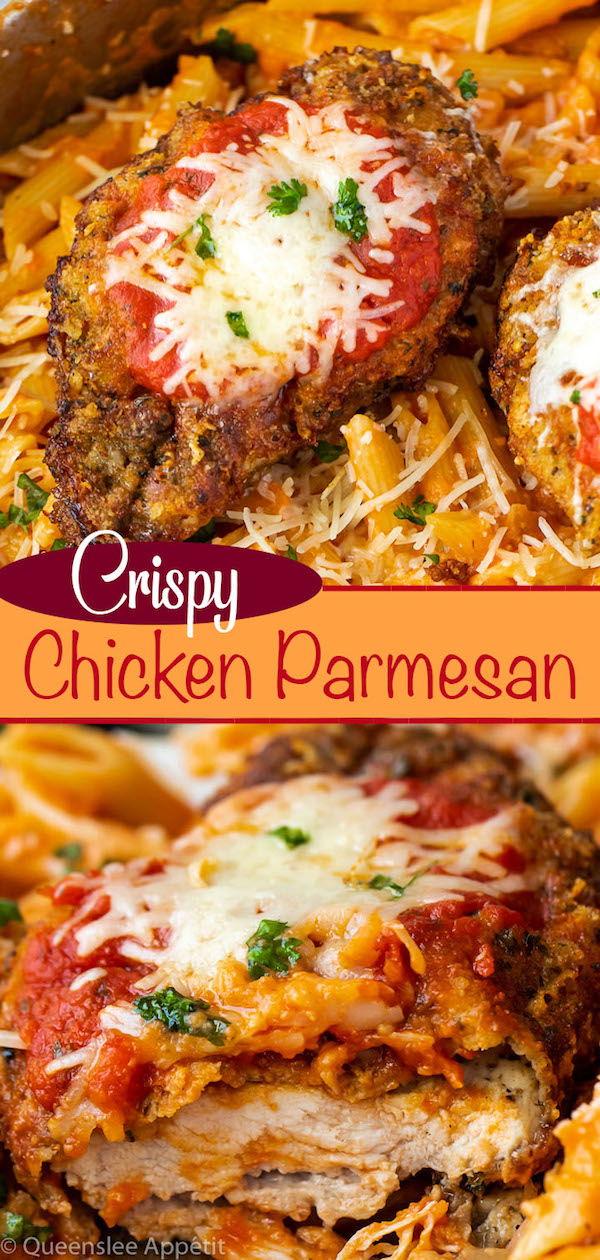 FOLLOW QUEENSLEE APPÉTIT
Like what you see? Make sure you're following Queenslee Appétit for more tasty recipes!
Pinterest | Instagram | Facebook | Twitter |
And don't forget to take photos and tag me on Instagram @queensleeappetit or use the hashtag #queensleeappetit so I could see your gorgeous creations!
Have any questions about the recipe? Contact me here, and I'll be happy to help!
Let's get cooking!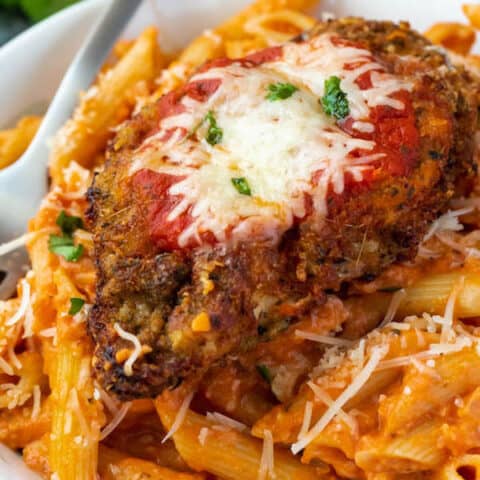 Perfectly Crispy Chicken Parmesan
Total Time:
1 hour
5 minutes
Perfectly Crispy Chicken Parmesan topped with a rich homemade marinara sauce, melted mozzarella and parmesan and garnished with fresh herbs!
Ingredients
Marinara Sauce:
1 tablespoon olive oil
1 yellow onion, finely diced
2 garlic cloves, finely minced
1 and ½ cups crushed tomatoes
½ cup tomato sauce
1 (6 ounce) can tomato paste
1 teaspoon salt, to taste
¼ teaspoon ground black pepper
1 teaspoon dried basil
1 teaspoon Italian Seasoning
¼ teaspoon crushed red peppers flakes (optional)
Chicken Parmesan:
3 large skinless and boneless chicken breasts, halved lengthwise to make 6 thinner cutlets
2 teaspoon Kosher salt
2 teaspoon black pepper
2 teaspoon garlic powder
2 teaspoon onion powder
Flour Mixture:
½ cup all purpose flour
½ of seasoning blend (above)
Egg Mixture:
2 large eggs
2 tablespoon milk or water
Breadcrumb Mixture:
1 and ½ cups Italian seasoned bread crumbs
½ cup Parmesan cheese
For Frying/Baking:
1 cup (vegetable oil, olive oil or canola oil), for frying
2 cups marinara sauce (recipe above)
8 oz. fresh mozzarella, sliced
¾ cup parmesan cheese
Fresh parsley, to garnish
Instructions
For the Marinara Sauce:
In a medium saucepan, heat the olive oil over medium heat. Once it's hot, add the diced onion and minced garlic. Toss around with a wooden spoon and cook until onions are softened and slightly browned, about 3-5 minutes. Be careful as the garlic can easily burn.
Once the onions are cooked, pour in the crushed tomatoes and tomato sauce.
Add tomato paste, salt, pepper, dried basil, Italian Seasoning and red pepper flakes. Stir to make sure everything is combined. Turn the heat to low and simmer for at least 15-30 minutes, until sauce has thickened. Meanwhile, prepare the chicken.
For the Chicken Parmesan:
Preheat oven to 425°F. Lightly grease a baking dish with non-stick cooking spray. Set aside.
Slice 3 chicken breasts in half lengthwise to make 6 cutlets.
In a small bowl, combine the salt, pepper, garlic powder and onion powder. Season both sides of the chicken breasts with half of the seasoning blend. Set aside.
Add flour and other half of seasoning blend to one shallow dish and stir to combine. In a separate shallow dish, add eggs and 2 tablespoons of milk or water. Beat together until completely pale yellow.
In a third shallow dish, add seasoned breadcrumbs and ½ cup of parmesan. Stir to combine.
Dip chicken into flour mixture and turn to coat both sides. Transfer to egg/milk mixture and do the same. Finally coat the chicken in the bread crumbs/parmesan mixture, then place onto a plate or baking tray until ready to fry. Repeat with remaining chicken.
Pour your oil into a large skillet over medium heat. Let it heat up for a few minutes, then test a piece of the flour and if it begins to fry gently, the oil is ready.
Fry chicken in batches (2 or 3 at a time) until golden brown, about 3-4 minutes per side.
Transfer chicken to prepared baking dish and bake in preheated oven for 15-20 minutes, or until chicken is cooked all the way through. The internal temperature should read 165°F.
Remove from oven and spoon on ⅓ cup of marinara sauce onto each chicken. Top the chicken with 2-3 slices of fresh mozzarella, then sprinkle on 2 tablespoons of parmesan and garnish with parsley, if desired.
Set the oven to broil on high and place the chicken in the top row. Broil for about 1-2 minutes, or until cheese is melted and bubbling.
Remove from oven. Serve with pasta, spaghetti, rice or any side of your choice! Enjoy!
Notes
If you do want to add sauce to the bottom of a baking dish and bake the chicken on top to serve with pasta, double the marinara sauce recipe so you have enough.
Recommended Products
As an Amazon Associate and member of other affiliate programs, I earn from qualifying purchases.
Nutrition Information:
Yield:

6
Serving Size:

1
Amount Per Serving:
Calories:

687
Total Fat:

28g
Saturated Fat:

11g
Trans Fat:

0g
Unsaturated Fat:

14g
Cholesterol:

271mg
Sodium:

2617mg
Carbohydrates:

50g
Fiber:

5g
Sugar:

10g
Protein:

57g
BON APPÉTIT!
Love, Dedra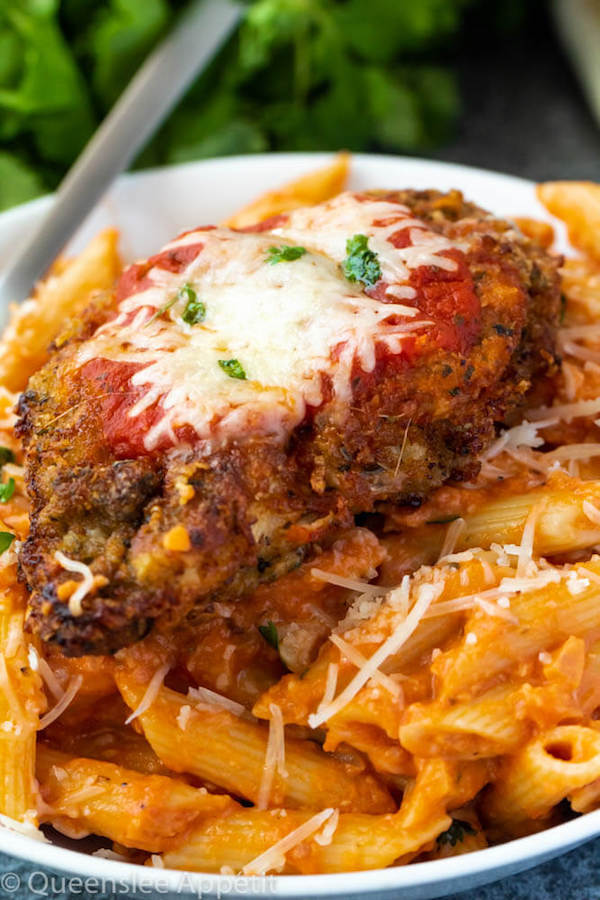 ©QUEENSLEE APPÉTIT. All images & content are copyright protected. Please do not use my images without prior permission. If you want to republish this recipe, please re-write the recipe in your own words, or link back to this post for the recipe.