An easy Penne Alla Vodka Pasta recipe made with a few simple ingredients for an exquisitely divine weeknight meal!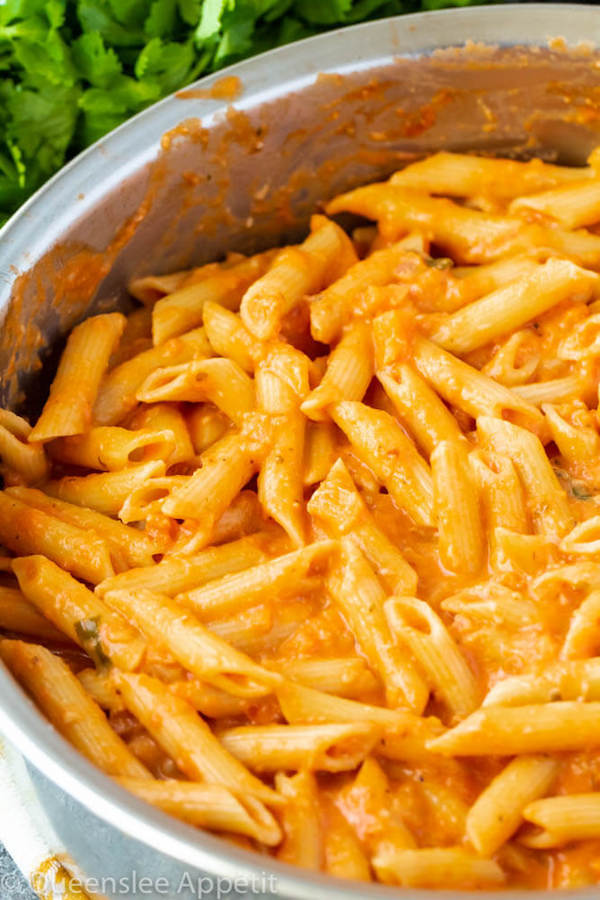 This post may contain affiliate links. Please see my full disclosure policy for details.
Can I start by saying I'm so sorry about the slow posts. I've been going through a lot of stressful things in my life lately which caused me to lose a lot of motivation in my work.
Even as I type this things still aren't going well, but I've decided not to let it affect my passion anymore. So for the past two weeks I've been constantly testing, writing and photographing new recipes to share in the near future.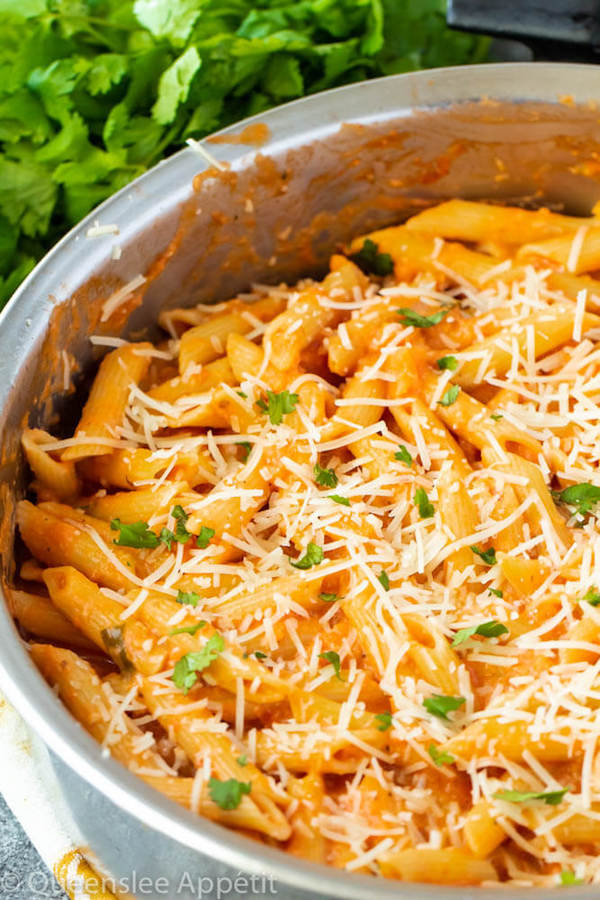 I've also created a brand new NEWSLETTER!!! This is huge for me because I've been putting it off for 2 years now because a lot of work and money goes into it.
I'm happy to say I've finally completed it! So if you are interested in getting new recipes delivered straight to your inbox along with monthly newsletters featuring previews of upcoming recipes, baking tips, reader creations and more — scroll to the bottom of this post to subscribe!!
Alright that's enough about me, let's talk pasta!
What is Penne Alla Vodka?
It's freaking delicious is what it is. Ok seriously though, when I was younger I thought penne alla vodka was some fancy super expensive dish only the 1% could afford to eat. Oh how wrong was I.
Don't get me wrong, it is pretty fancy, but it's not as pricey as I thought. After falling in love with the $12 penne alla vodka meal I bought from my local Italian restaurant, I knew I had to make it myself. But first I had to do research to learn what the heck it was!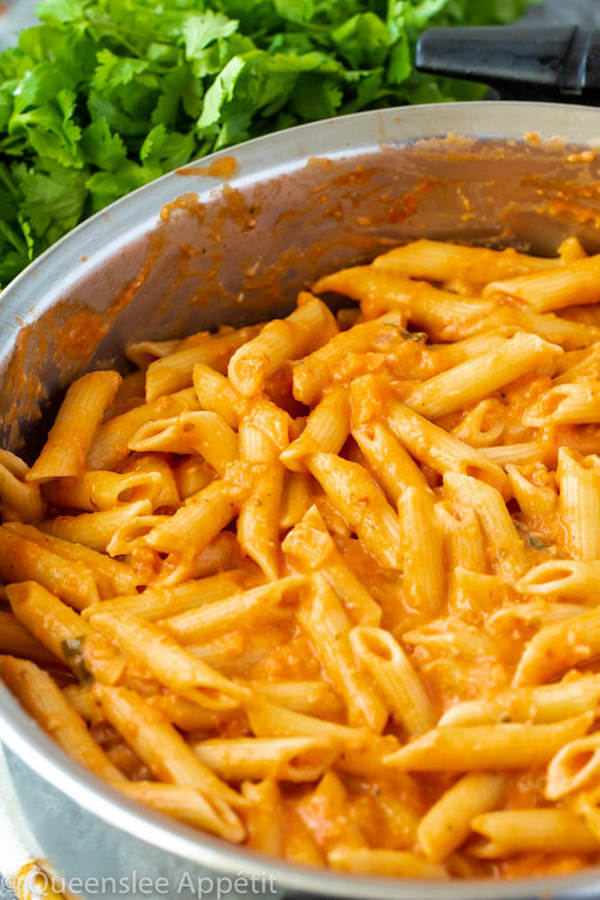 What I learned was that Penne Alla Vodka was simply penne pasta tossed in a sauce made with vodka, tomato sauce, herbs, heavy cream and a bit of parmesan cheese.
Of course my recipe requires a few more ingredients than that, but even with the extra ingredients this is still a very easy dish to make. I'd even say that if you need a quick weeknight dinner recipe that you could whip up in 30 minutes or less, this would be a great choice!
Penne Alla Vodka Pasta Recipe
To make the penne alla vodka, we start by making the rich vodka sauce. First you'll need to sauté the onion and minced garlic along with some dried oregano. I also threw in some red pepper flakes to add a bit of heat. It doesn't make it too spicy, but you could go ahead and leave it out if you want to.
What Type of Tomatoes Should I Use?
When making vodka sauce, you'll want to use canned whole tomatoes. Some canned whole tomatoes have the skin still on while others are peeled. I tried this recipe with both the peeled tomatoes and the unpeeled and didn't really notice a difference.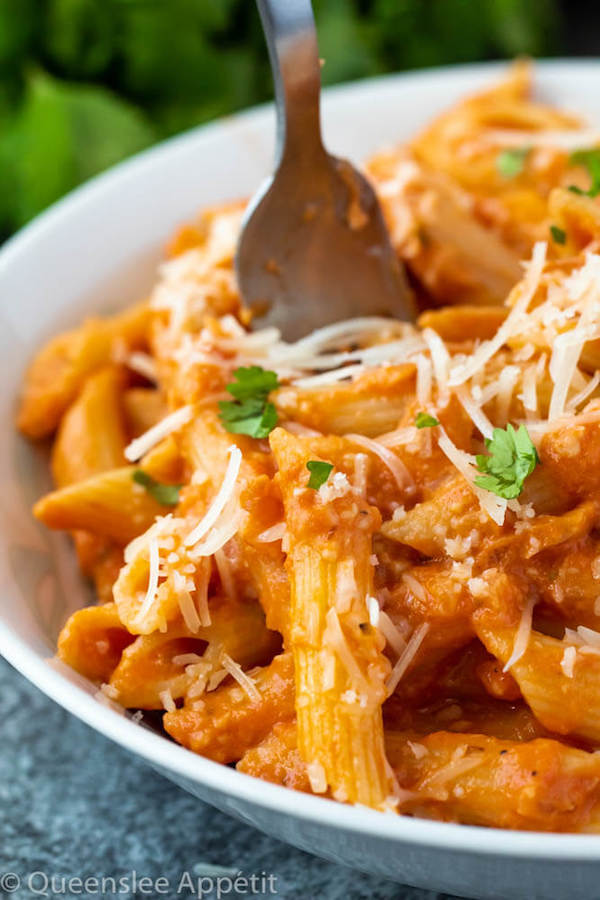 To Roast or Not to Roast Tomatoes
This depends on how much time you're willing to spend making this dish. Roasting the tomatoes will definitely enhance the flavour of the vodka sauce, but it will add on an extra hour of cooking time.
If that's alright with you, I've included instructions on how to roast the tomatoes in the notes below the recipe. As you'll see, it's a bit more difficult than the normal recipe since certain ingredients have to be added in a different order and the tomatoes need to be chopped and seeded etc.
Don't have time for all of that? Neither did I, which is why my main recipe simply requires you to purée the canned tomatoes and cooking it on the stove.
So once you've figured out what to do with your tomatoes, add them to the pan along with the vodka. This is the one ingredient that made me hesitant to make this recipe in the first place because vodka is not cheap, at all. Thankfully my neighbour had some, and she loves me enough to give me a cup which is worth like $20.
And don't worry about tasting the vodka in the finished dish, you won't! Most of the vodka evaporates when cooked, but it helps wake up the other flavours in the sauce.
Next we'll add the tomato paste and the chopped fresh basil (I FORGOT TO!!) and allow the tomato sauce to simmer for a few minutes until it's reduced a bit. Then stir in the heavy cream and a bit of parmesan if you'd like. The cream is what gives the sauce it's classic orange colour!
Now throw in the penne pasta and you've got Penne Alla Vodka!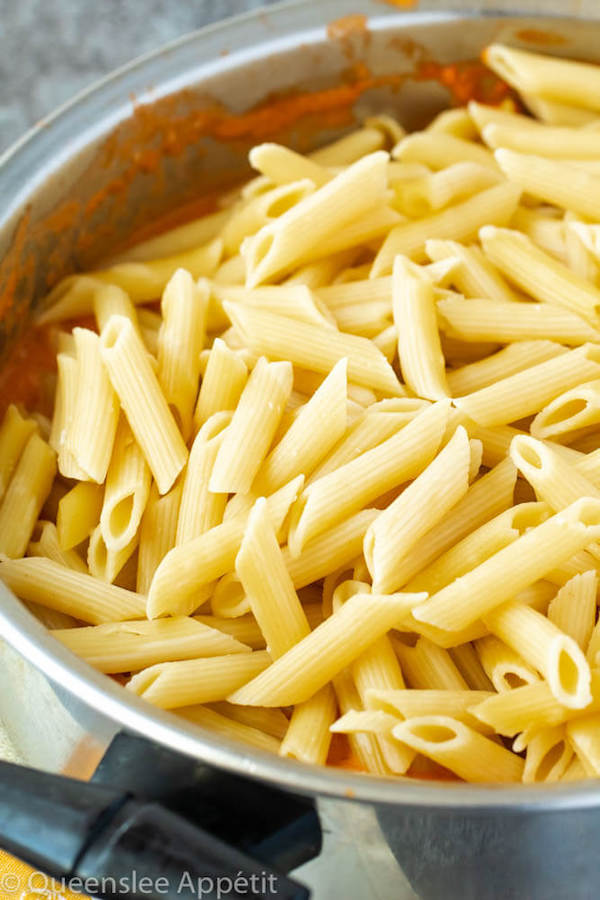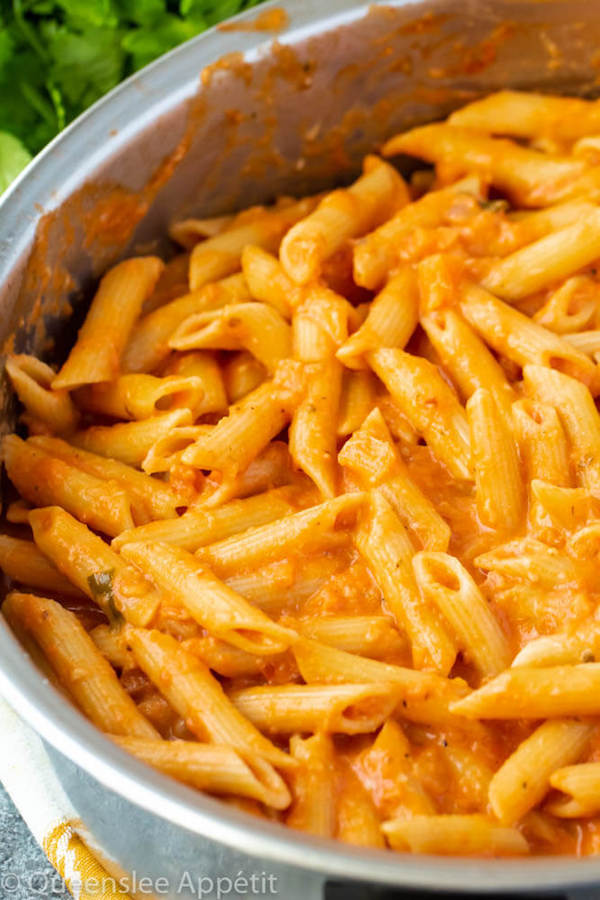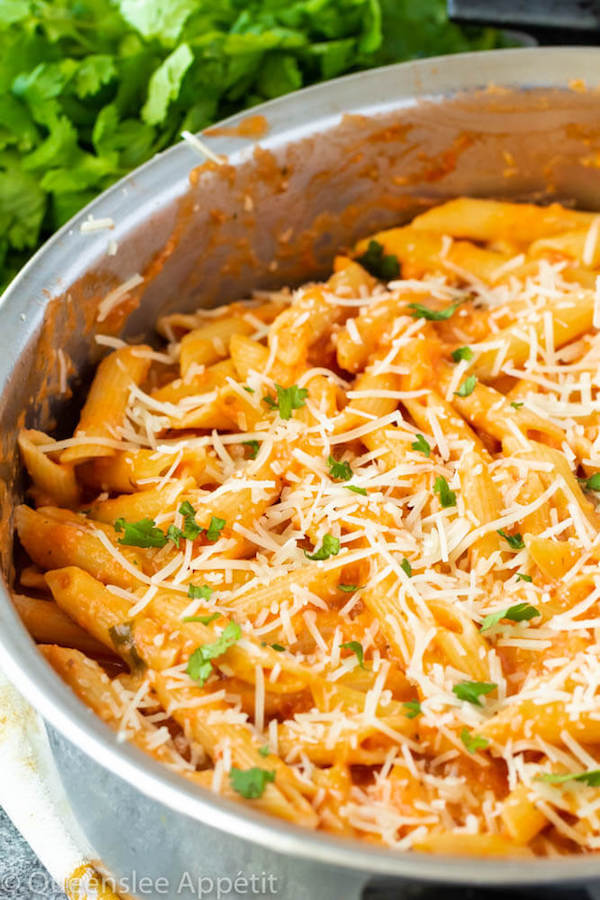 You could add chicken, sausage, beef or any other kind of meat you want. This is a meatless recipe because it was one half of another recipe I made to go with it, which I'll be sharing next!
Enjoy!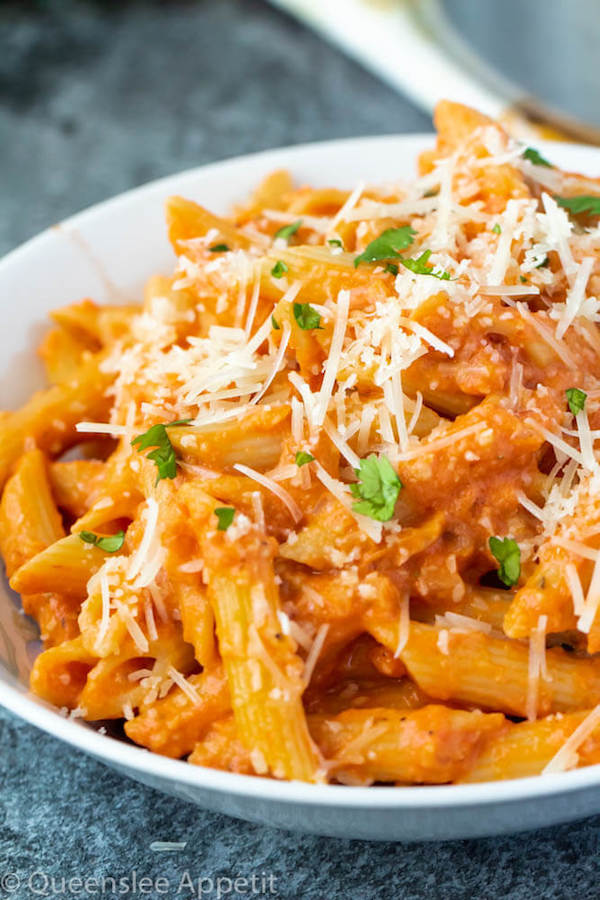 >>PIN THIS FOR LATER<<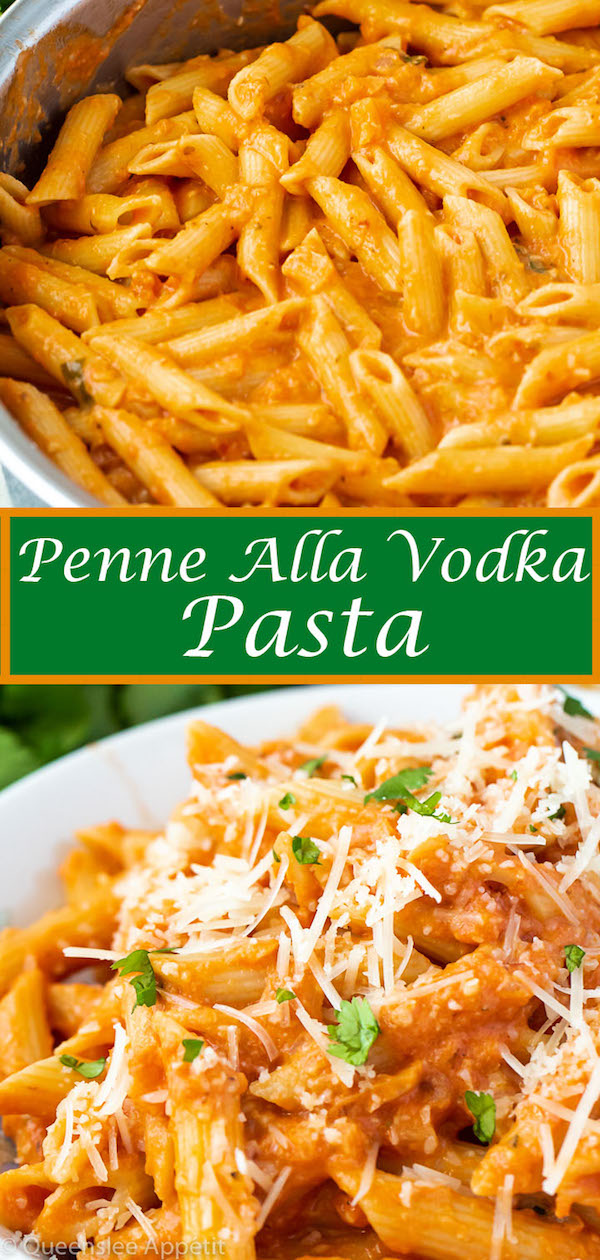 FOLLOW QUEENSLEE APPÉTIT
Like what you see? Make sure you're following Queenslee Appétit for more tasty recipes!
Pinterest | Instagram | Facebook | Twitter |
And don't forget to take photos and tag me on Instagram @queensleeappetit or use the hashtag #queensleeappetit so I could see your gorgeous creations!
Have any questions about the recipe? Contact me here, and I'll be happy to help!
BON APPÉTIT!
Love, Dedra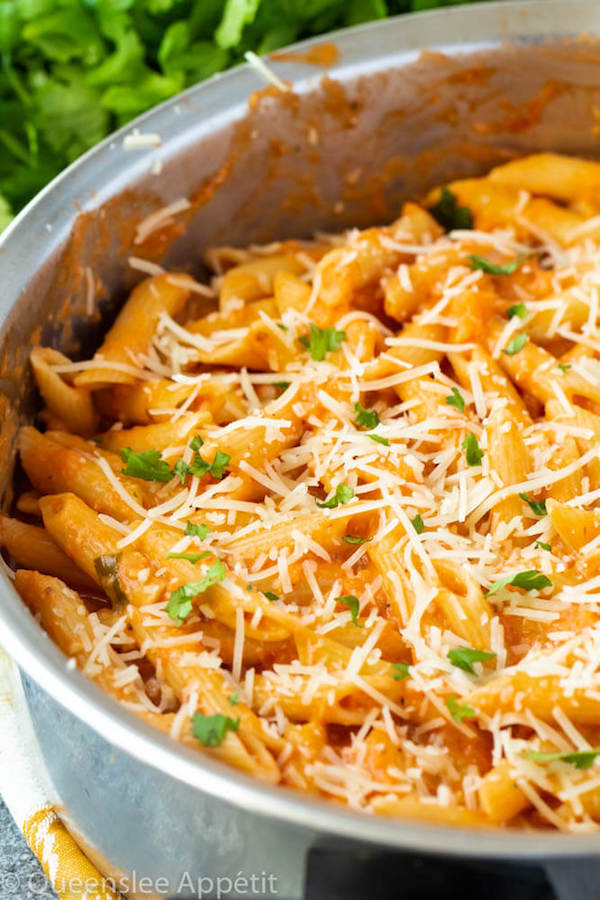 ©QUEENSLEE APPÉTIT. All images & content are copyright protected. Please do not use my images without prior permission. If you want to republish this recipe, please re-write the recipe in your own words, or link back to this post for the recipe.