If you're a fan of Cadbury Creme Eggs, you're gonna fall in love with these Cadbury Creme Egg Cupcakes! These cupcakes are decadent, sweet, ooey and gooey. This is the perfect dessert for Easter!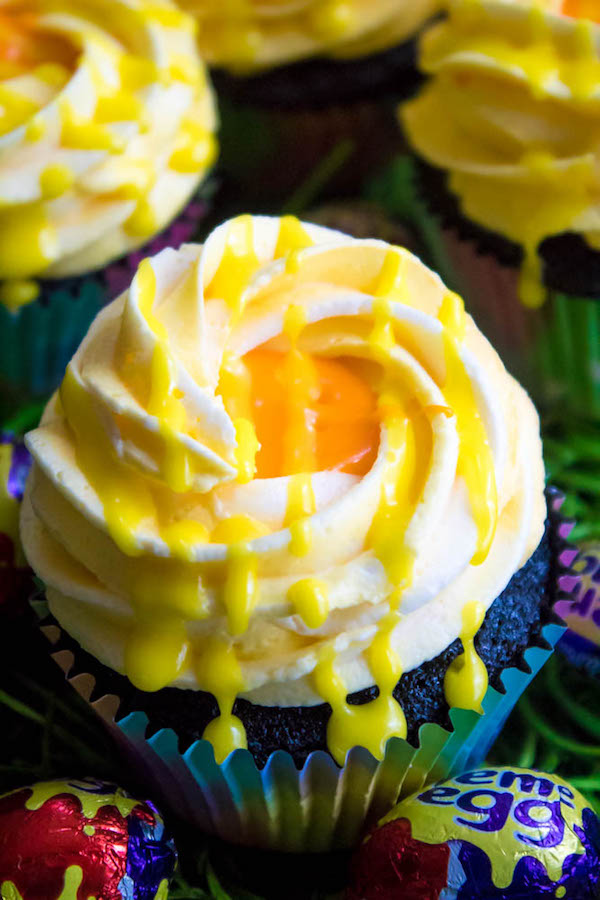 This post may contain affiliate links. Please see my full disclosure policy for details.
It may not be spring, if the snow on the ground is any indication, but Easter is not too far away. The arrival of Easter means the arrival of Cadbury Creme Eggs — one of the best Easter treats ever! Now some may not agree with that, mainly because of the sweetness and consistency of the filling but honestly, that's my favourite part!
If you don't know what a Cadbury Creme Egg is, it's basically a chocolate egg with a sweet, gooey fondant filling that mimics an egg white and egg yolk. Sort of like a sweet candy hard boiled egg. Ok, that sounds a bit gross, but I promise it's amazing!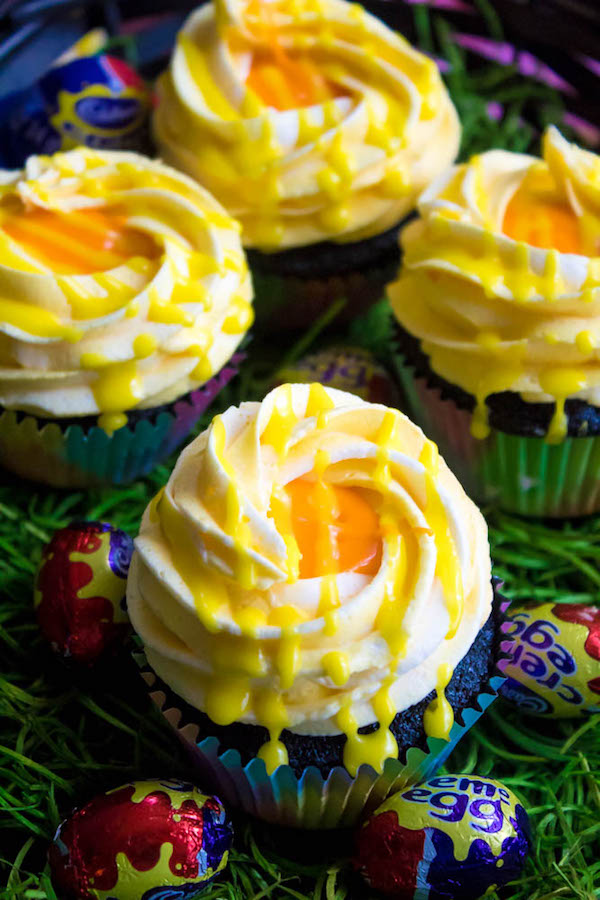 Cadbury Creme Egg Cupcakes
These Cadbury Creme Egg Cupcakes are addictive, to say the least. Moist and fluffy chocolate cupcakes, stuffed with a delicious creme egg candy, topped with a multi-tone buttercream that's filled with a homemade creme egg filling! Whether you're a fan of creme eggs or not, I'm sure you'll enjoy them in these cupcakes!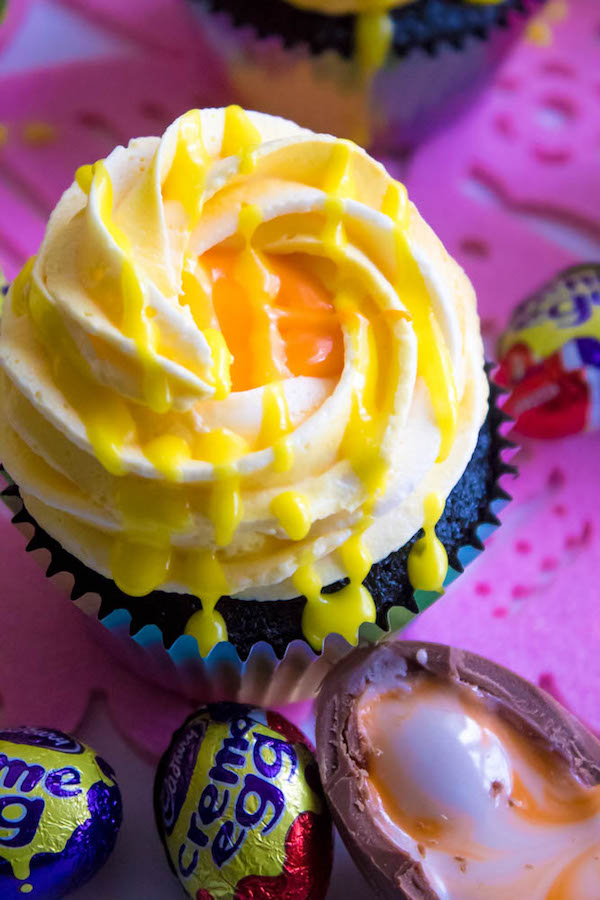 Dark Chocolate Cupcakes
There are four parts to this cupcake: the dark chocolate cadbury creme egg stuffed cupcake, the vanilla buttercream frosting, the creme egg filling and the yellow glaze.
For the dark chocolate cupcakes, I used my favourite go-to chocolate cupcake recipe and replaced the unsweetened cocoa powder with dark cocoa powder for a deeper colour and flavour. You can use regular unsweetened cocoa powder, but I like the contrast between the black cupcake and the colourful frosting, filling and glaze.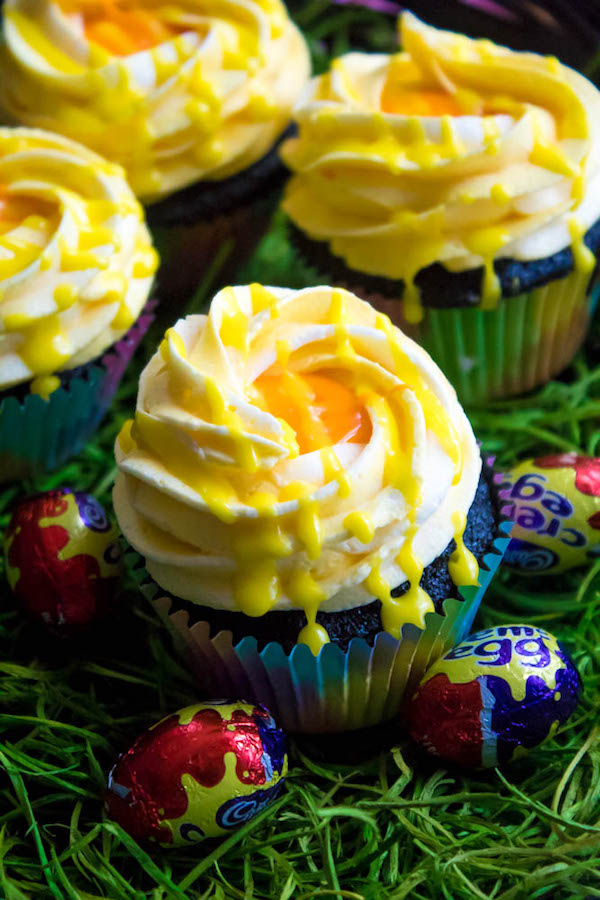 The batter for my cupcakes is pretty thin. A lot of Cadbury egg cupcake recipes suggest using a thick cupcake batter to hold the eggs in place, but I didn't really have a problem with that since laid the eggs on their sides. The one thing I found was that 2 of them slightly sank in the middle, but I think that's because I accidentally overfilled them since the eggs held their shape when cut.
It's also important to freeze the creme eggs at least a few hours, or preferably overnight. This will prevent them from melting in the oven while baking, so when the cupcakes are baked, the eggs will hole their shape. You'll also need to cover the eggs with more batter which will protect the eggs from melting.
I filled the cupcakes with both regular sized and mini Cadbury eggs, but found that the larger eggs took up a lot of space, making the cupcakes overflow and create a flat muffin top. I didn't mind this, though, because every bite of these cupcakes include the deliciously gooey candy.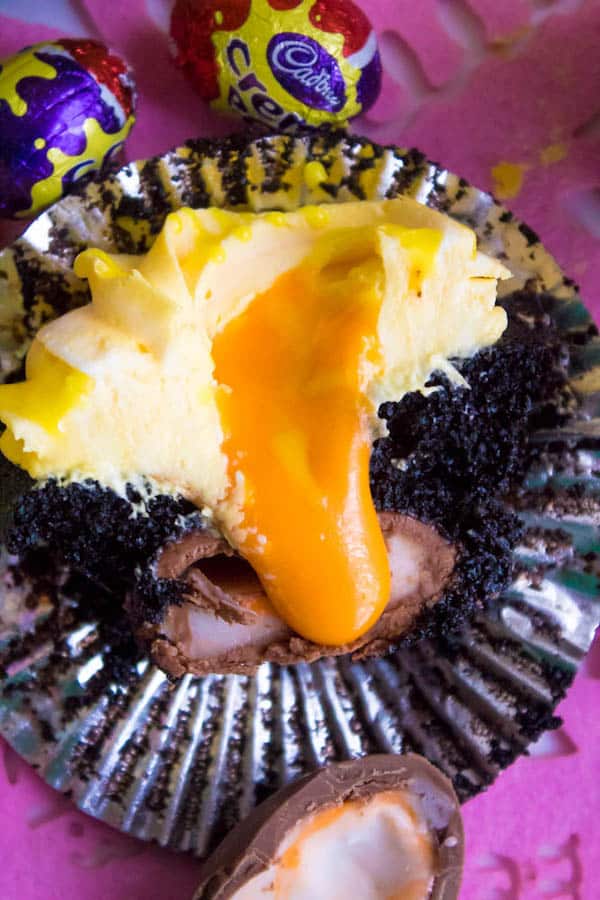 Creme Egg Filling
Next we need to make the creme egg filling! Most creme egg dessert recipes include a homemade creme egg filling, so I just had to include some of that sweet filling into these cupcakes. It is so easy to make homemade Cadbury creme egg filling!
Start by mixing together some butter and corn syrup, then add powdered sugar and vanilla. That's it! To achieve the colour of the "yolk" in a creme egg, I tinted the filling with yellow and orange food colouring.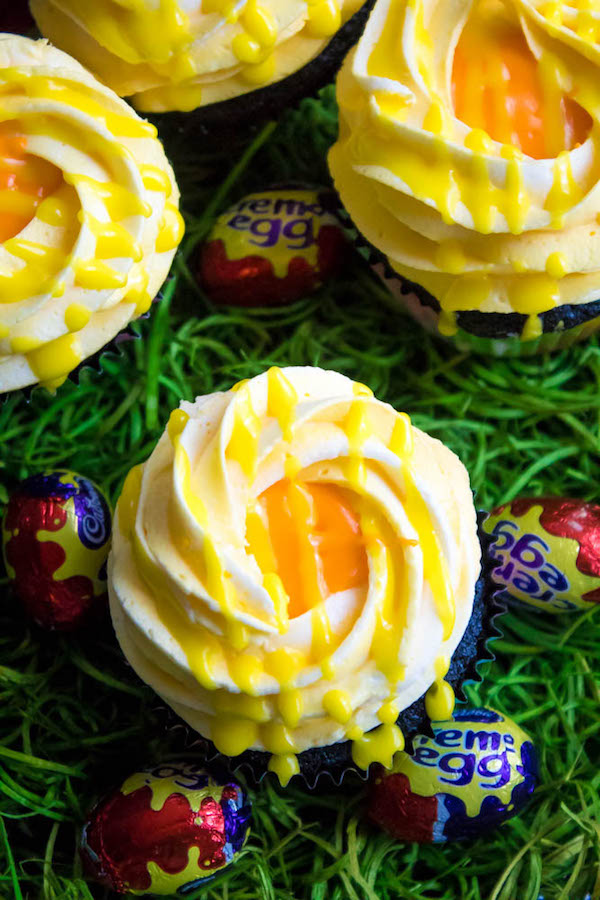 For the frosting, I whipped up a recipe of my Dreamy Vanilla Buttercream. This is and will always be my #1 go-to vanilla frosting recipe. It's the lightest and fluffiest buttercream you will ever make! I decided to do a multi-tone frosting swirl of white and yellow/orange, but the colours mixed together in the piping bag so it's pretty hard to see.
For the design, I decided to pipe a nest-like swirl with a hole in the centre which I filled with the creme egg filling. I then made a simple powdered sugar glaze that I tinted yellow and drizzled it over the cupcakes to add more colour.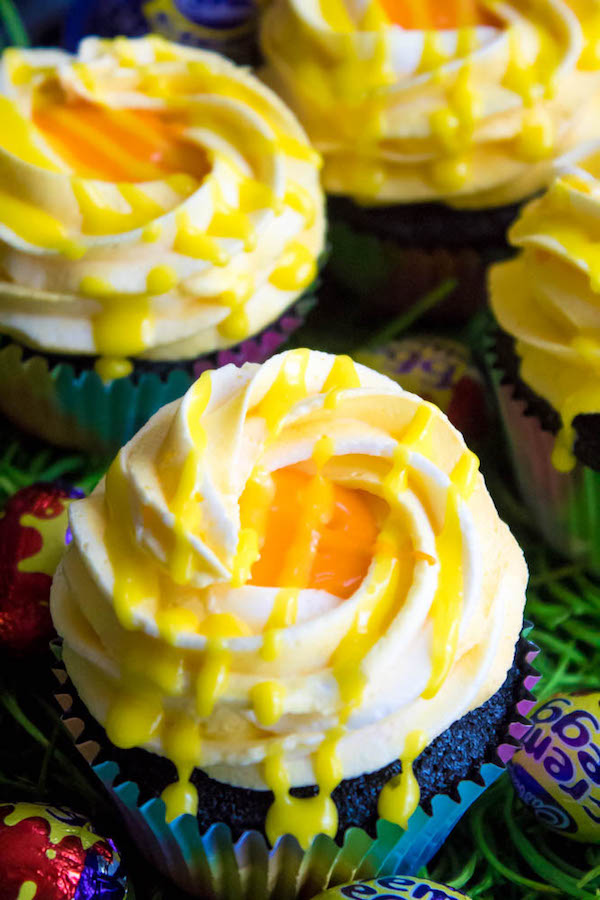 And when you cut into these beauties, it'll reveal a yummy Cadbury Creme Egg hidden in the bottom and a pocket of gooey homemade creme egg filling dripping down the middle!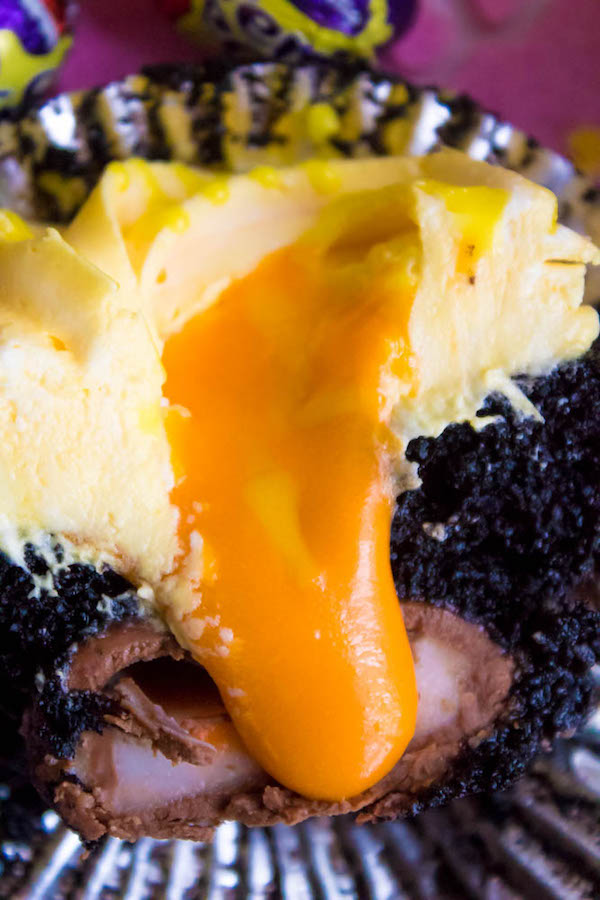 One of the best Easter candies in cupcake form! These cupcakes can easily be customized to your liking. You can fill them with any flavours of Cadbury eggs, make them vanilla cupcakes, change the colours etc. This is the ultimate Easter cupcake that the kids will adore!
>>PIN ME FOR LATER<<

You May Also Like:
FOLLOW QUEENSLEE APPÉTIT
Like what you see? Make sure you're following Queenslee Appétit for more tasty recipes!
Pinterest | Instagram | Facebook | Twitter |
Have any questions about the recipe? Contact me here, and I'll be happy to help!
Let's get baking!
SHOP THE RECIPE
Dark Cocoa Powder | Hand Mixer | Yellow Gel Food Colouring | Orange Gel Food Colouring | Wilton 1M Tip | Disposable Piping Bags |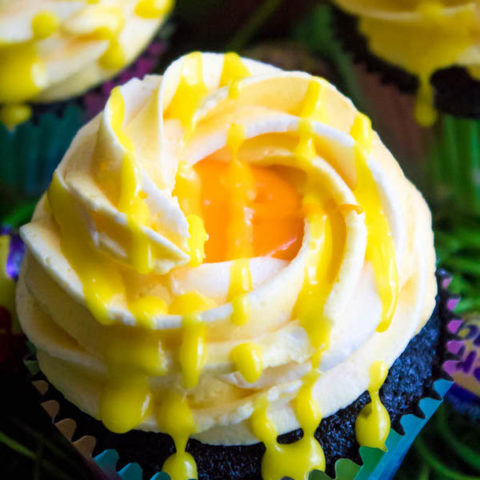 Cadbury Creme Egg Cupcakes
If you're a fan of Cadbury Creme Eggs, you're gonna fall in love with these Cadbury Creme Egg Cupcakes! These cupcakes are decadent, sweet, ooey and gooey. This is the perfect dessert for Easter!
Ingredients
Dark Chocolate Cupcakes:
1 and ½ cups All purpose flour
1 and ½ cups granulated Sugar
¾ cup "black" or dark unsweetened cocoa powder
1 and ½ teaspoons Baking powder
½ teaspoon Baking soda
½ teaspoon salt
2 large Eggs, room temperature
½ cup Vegetable oil
¾ cup buttermilk, room temperature
2 teaspoon Pure Vanilla Extract
½ cup hot coffee or boiling water
18-20 Cadbury Creme Eggs (mini or regular), Frozen
Yellow gel food colouring
Orange gel food colouring
Creme Egg Filling:
¼ cup light corn syrup
2 tablespoon unsalted butter, softened
1 and ½ cups powdered sugar
½ teaspoon pure vanilla extract
Yellow gel food colouring
Orange gel food colouring
Drizzle:
¾ cup powdered sugar
1 and ¼ teaspoon milk
¼ teaspoon vanilla extract
Few drops yellow food colouring
Instructions
For the Dark Chocolate Cupcakes:
Preheat the oven to 350° F (177°C), and line 2 standard cupcake pans with paper liners.
In a large mixing bowl, sift flour, sugar, Cocoa Powder, Baking powder, Baking soda and salt. Whisk to combine.
In a measuring cup, whisk together the eggs, vegetable oil, buttermilk and vanilla. Pour the wet ingredients into the dry ingredients and whisk to combine. Add boiling water OR hot coffee and mix until combined and smooth. Batter will be runny.
Place 2 tablespoon of batter in the bottom of each cupcake liner. Place a frozen Cadbury Creme Egg into the center of each cup placing it on its side and add more batter until liners are ⅔ way full.
Bake in preheated oven for 16-18 minutes or until a toothpick inserted into the cupcake comes out with a few moist crumbs. Allow cupcakes to cool in pan for 5 minutes.
Remove the cupcakes and transfer to a wire rack to cool completely before decorating. While the cupcakes are cooling, prepare one recipe of my vanilla buttercream.
For the Creme Egg Filling:
Beat the corn syrup and butter together in a medium mixing bowl using a handheld mixer.
Mix in the powdered sugar about ¼ cup at a time, until it's all combined. Mix in vanilla extract. Tint with a few drops of yellow and orange food colouring. Set aside.
For the Drizzle:
Add powdered sugar, milk and vanilla to a small bowl and stir until combined and smooth. Tint with yellow food colouring. Set aside.
Assembly:
Transfer half of the buttercream to a separate bowl and tint with the orange and yellow food colouring. Spoon white frosting on one side of a large piping bag. Then spoon the orange/yellow frosting on the other side and pipe a nest onto cupcakes with a hole in the centre.
Transfer creme egg filling to a disposable piping bag and snip off the tip. Fill the hole in the middle of the frosting "nest" with the filling until it reaches the top.
Transfer the yellow glaze to a small ziploc bag and cut off a tiny corner. Drizzle the glaze onto each cupcake. Enjoy!
©QUEENSLEE APPÉTIT. All images & content are copyright protected. Please do not use my images without prior permission. If you want to republish this recipe, please re-write the recipe in your own words, or link back to this post for the recipe.
BON APPÉTIT!
Love, Dedra ❤
DID YOU MAKE A RECIPE?
Tag @queensleeappetit and use the hashtag #queensleeappetit so I can see all of the Queenslee Appétit recipes you've made!