This No-Bake Canada Day Cheesecake is an unbelievably easy dessert that takes absolutely no time or effort to make! The red and white layers, cool whip topping and red and white sprinkles makes this the perfect dessert for Canada Day!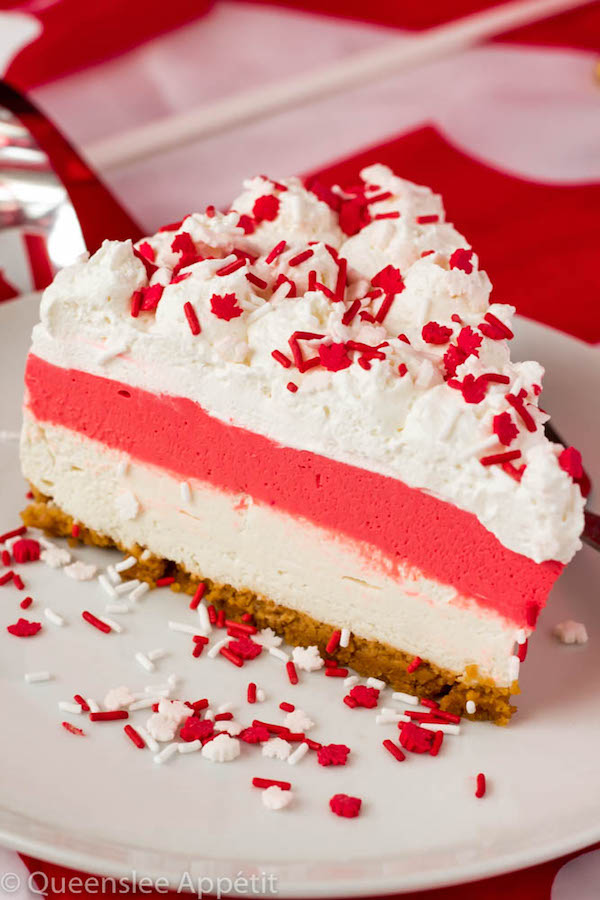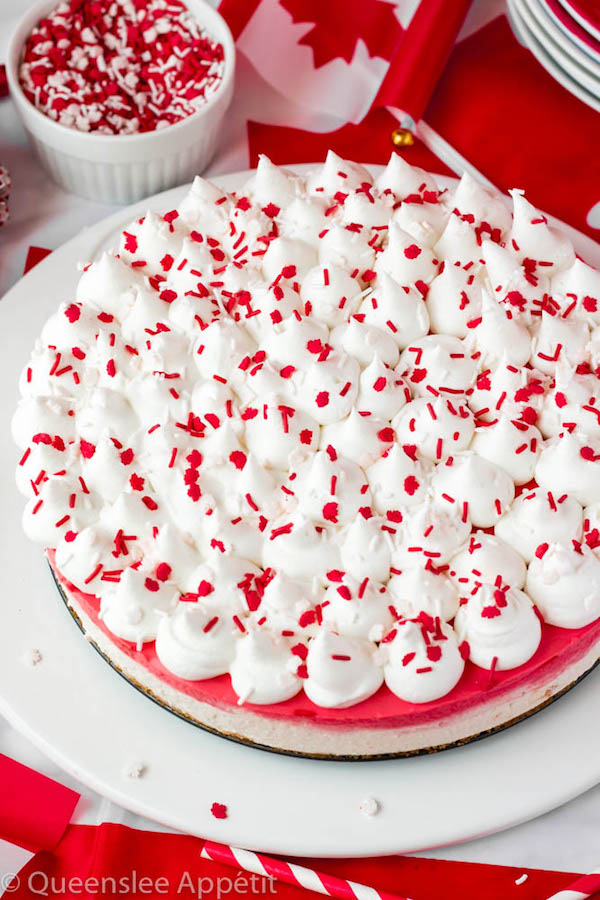 Now that I've gotten my Fourth of July desserts out of the way, my dear Canadian readers, it's your turn. Today, I bring you a super simple recipe that is just perfect for celebrating Canada Day!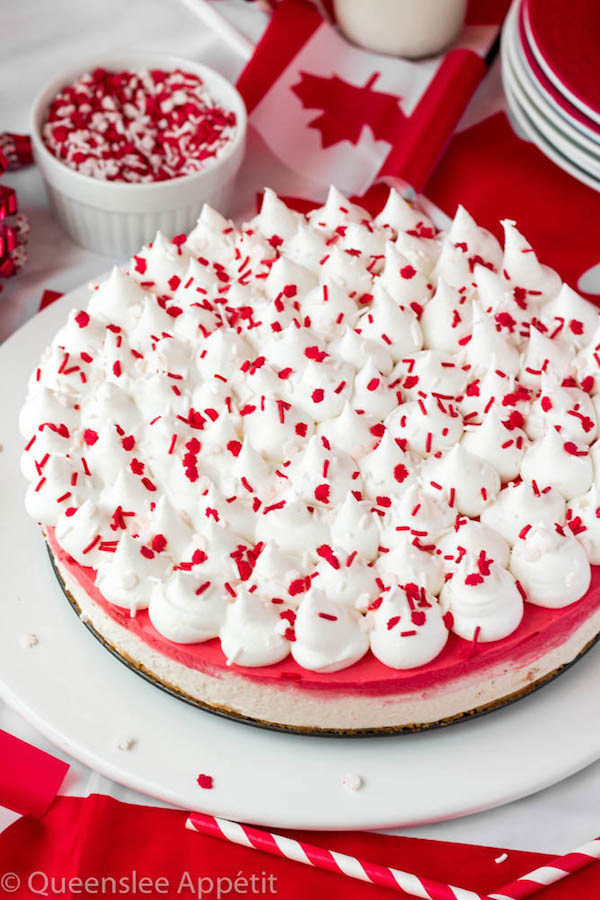 This red and white Canadian cheesecake doesn't only taste great, it looks great too! This cheesecake just screams Canada! It starts with a buttery graham cracker crust that's frozen instead of baked. Then we got two layers of creamy, silky cheesecake to represent the colours of the Canadian flag. I then decorated the top with cute little whipped cream poofs and Canada Day sprinkles!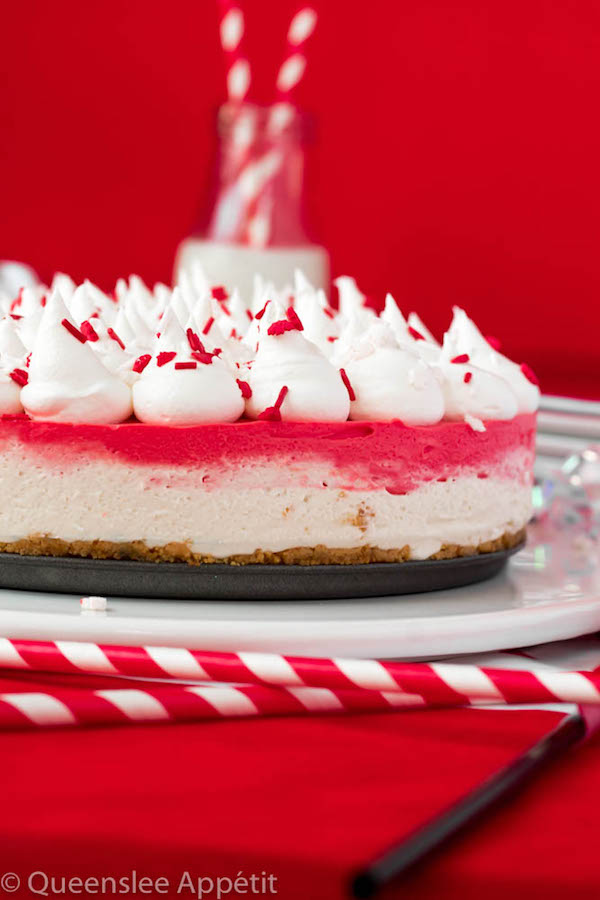 I've wanted to make a no-bake cheesecake for a long time now. It's such an easy alternative to a baked cheesecake! Although baked cheesecakes are pretty easy to make once you get the hang of it, there's still so many steps to make sure it comes out perfect:
Prepare and bake the crust
Wrap pan in layers of foil
Prepare a waterbath
Bake for hours
Cool in oven
Cool at room temperature

Chill in refrigerator
Well the last one is necessary for both bake and no-bake cheesecakes. But to show how much easier no-bake cheesecakes are, these are the preparation steps:
Prepare crust and freeze.

Prepare filling.

Pour filling on top of crust.

Refrigerate.

Devour.
Fool-proof.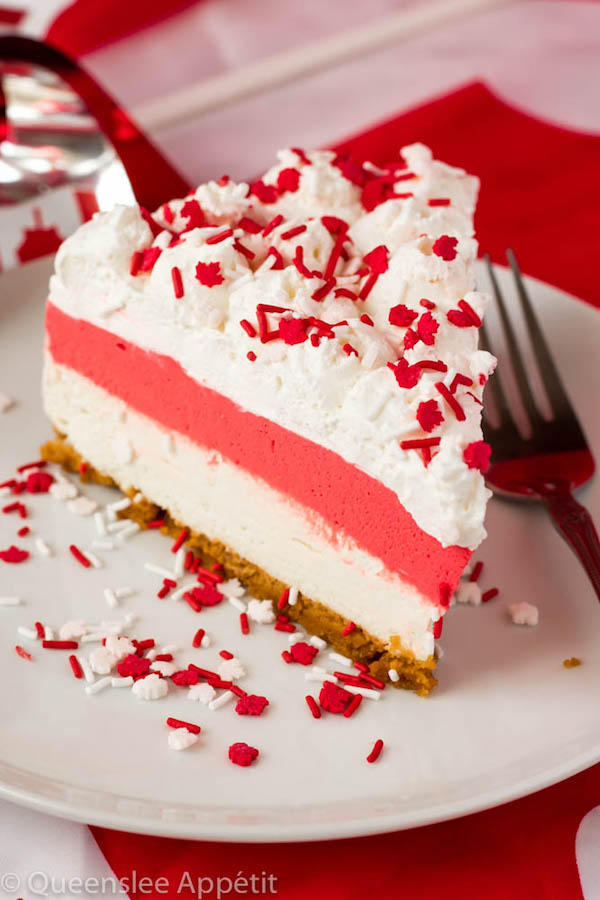 For the crust, I used the classic graham crackers. I used pre-made graham cracker crumbs, but if you're using whole sheets, you will need to crush them into fine crumbs. I prefer to use a food processor since it makes the job a whole lot easier.
Then I sweetened the graham crumbs with a bit of sugar and added some melted butter to hold it all together. You want your crust to resemble wet sand and stick together when you press it into your palms, this is to make sure your cheesecake still has a crust attached to it and doesn't fall apart when you slice it (like mine did). This is especially important since we're freezing the crust instead of baking it.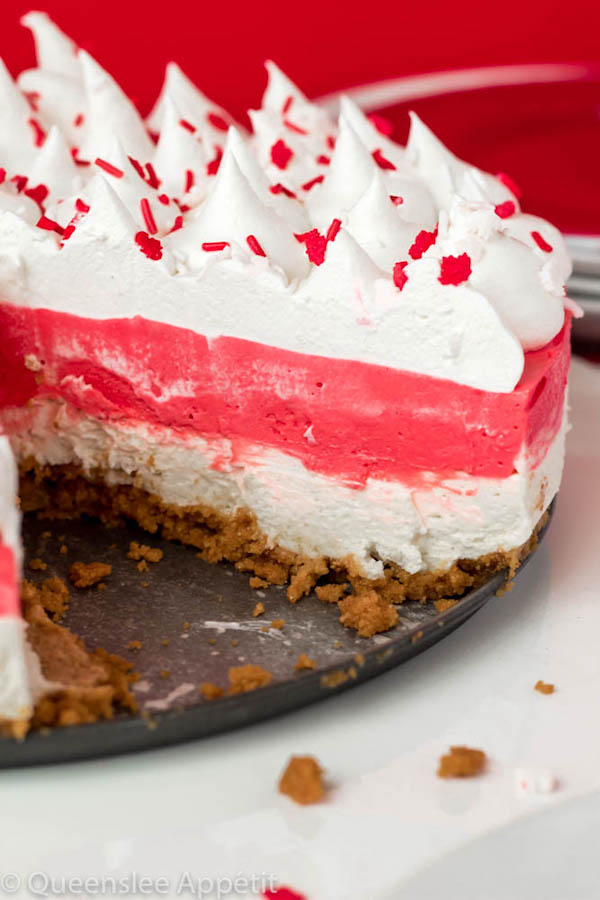 Now it's time to prepare the best part — the no-bake cheesecake filling! It's rich, sweet, slightly tangy, and just as creamy as a baked cheesecake.
To make the filling, we start by whipping 1 cup of heavy cream to make 2 cups of whipped cream. You can also use 2 cups of thawed whipped topping (like Cool Whip) instead to skip a step.
Next we need to bloom the gelatin in some cold water. I had to do this twice because I always have problems blooming my gelatin for some reason. This is only the second time I've worked with gelatin (I gave up the first time), and I read that the gelatin is supposed to absorb all the water and become sponge-like. For my second attempt, my gelatin appeared to be bloomed, but it was still liquidy. I was real close to throwing it out again, but decided to just dissolve the gelatin and see how it works.
As you can see with these firm, beautiful slices, it worked perfectly!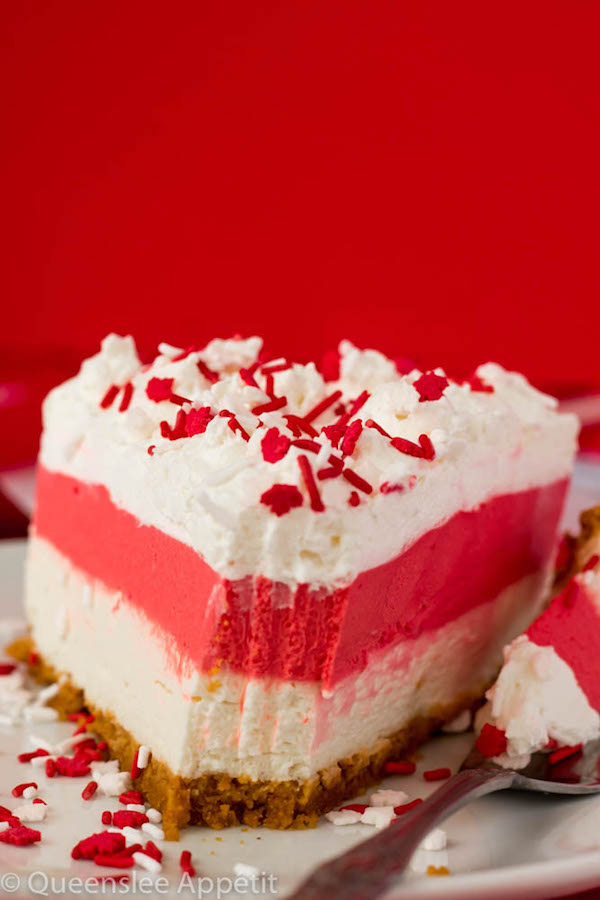 After the gelatin dissolves, beat the cream cheese, powdered sugar, vanilla and lemon juice together. I used a hand mixer to make my life easier, but it's really not necessary. You could totally get away with using a whisk and a strong arm. Mix in the dissolved gelatin water, then fold in the whipped cream. That's it! You can't get easier than that.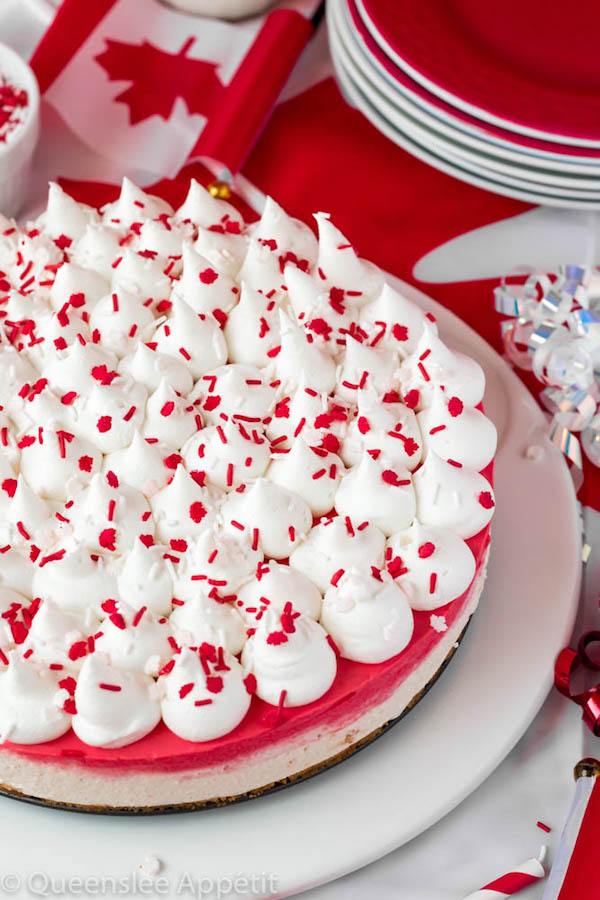 Just look at how gorgeous and neat those layers are! I was a little worried that the layers would just mush together instead of staying separate, but it actually turned out perfect! To make the layers, pour half of the cheesecake filling into your crust and use a small offset spatula to spread it into a flat even layer.
Transfer the cheesecake to the freezer for about 10 minutes while you tint the other half of batter. Freezing the first layer will ensure that the red layer stays on top of the white layer rather than sinking inside.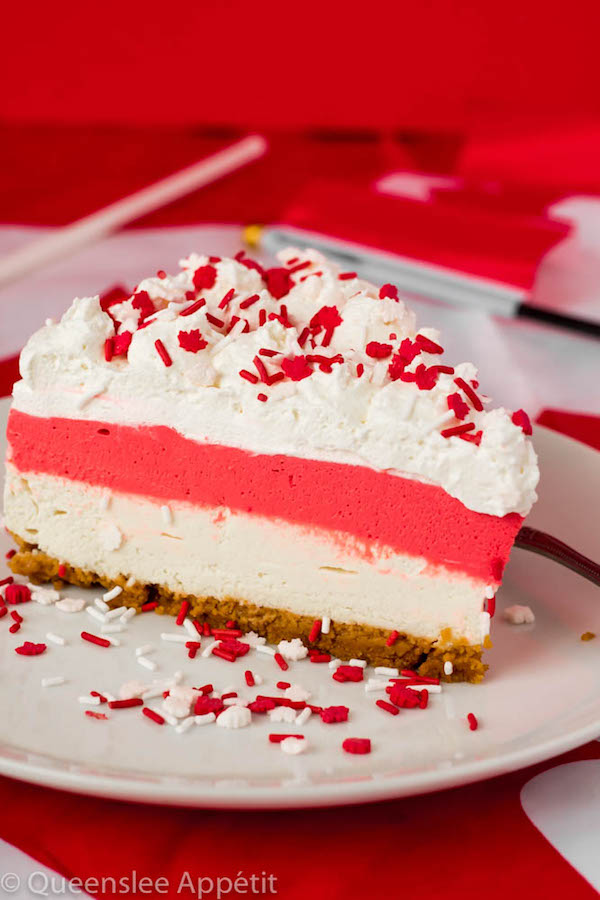 As far as the food colouring is concerned, I usually recommend using gel food colouring so it doesn't effect the texture. However, I ran out of gel food colouring halfway through but the colour wasn't red enough for me so I used about 1 tablespoon of liquid food colouring and it didn't change the texture of my cheesecake at all. You may need to use quite a bit of food colouring to get a nice shade of red, so I'd probably recommend using liquid.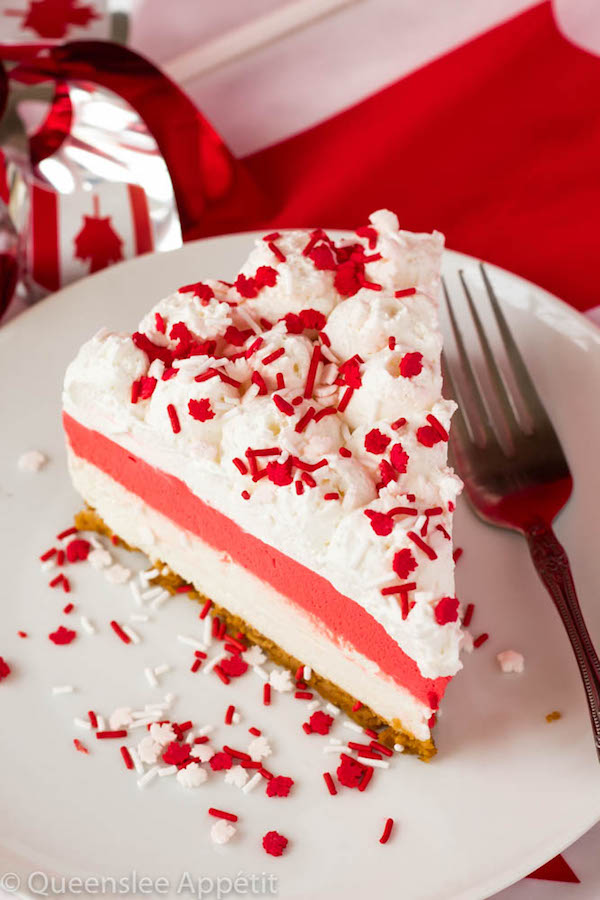 Now comes the hardest part, letting the cheesecake chill in the refrigerator overnight. I was stressing all night waiting for the cheesecake to set up, especially because this is my first no-bake cheesecake and I wasn't sure how well it would turn out. Luckily for all of you, if you plan on making this for a party, picnic or BBQ, you can easily make it the night before so it'll be ready on serving day!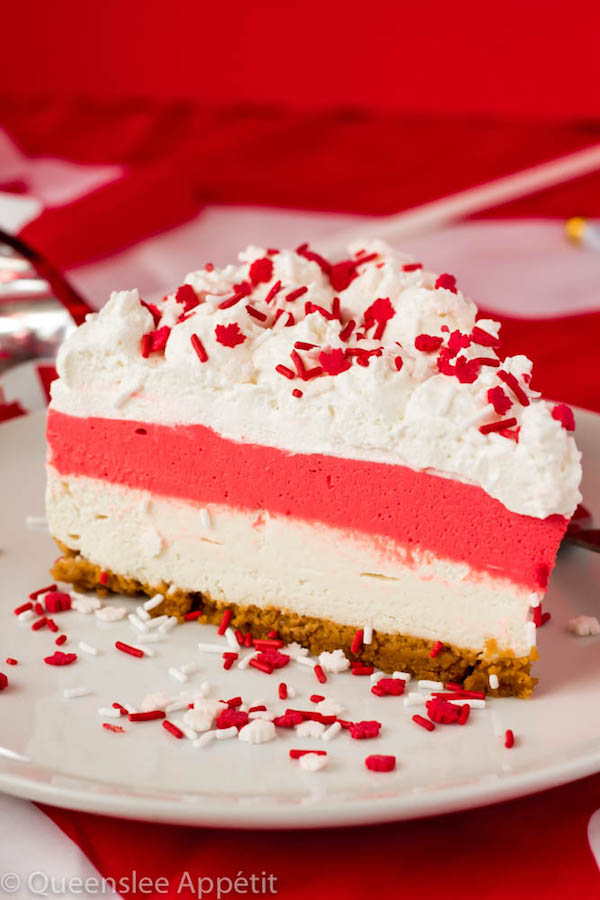 My original plan for the cheesecake decoration was a simple whipped cream border with sprinkles on top. However, the top of my cheesecake was a bit lumpy and messy because I didn't smooth it out that well. So to cover the imperfect surface, I topped the entire cheesecake with poofs of cool whip. I have a tutorial on how to pipe perfect cake borders, and this recipe used the "poof border".
To finish it off and add a little Canadian flair, I garnished the top with red and white Canada Day sprinkles. I actually bought red and white maple leaf quins from Bulk Barn and mixed them with some red and white jimmies.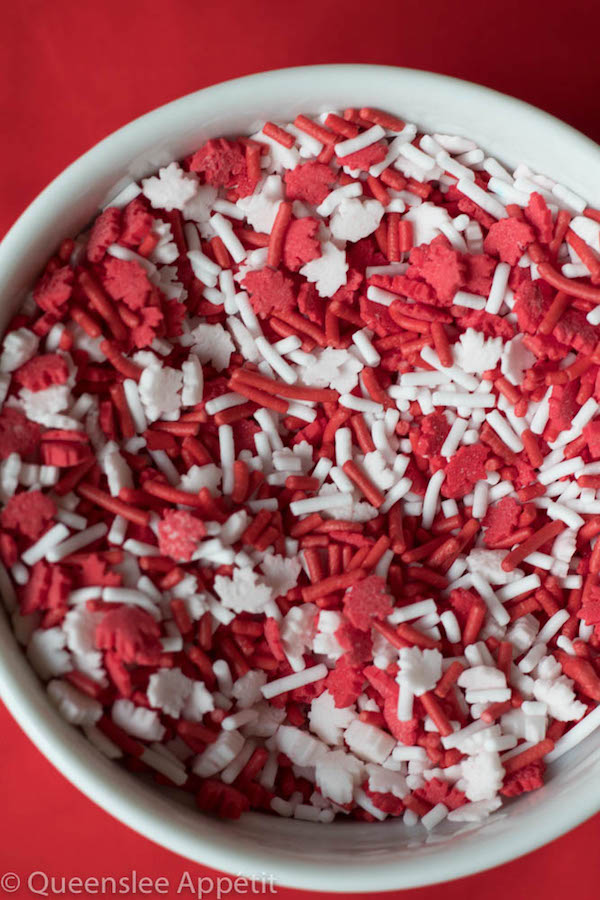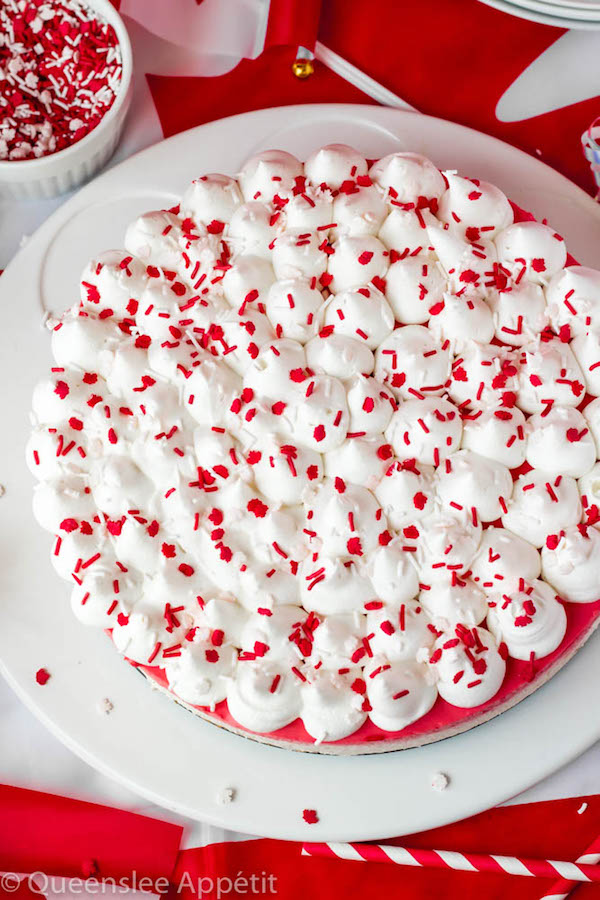 This easy, fun and festive No Bake Canada Day Cheesecake is sure to be a crowd pleaser. It's the perfect last minute dessert to whip up a day before your Canada Day celebration. Enjoy!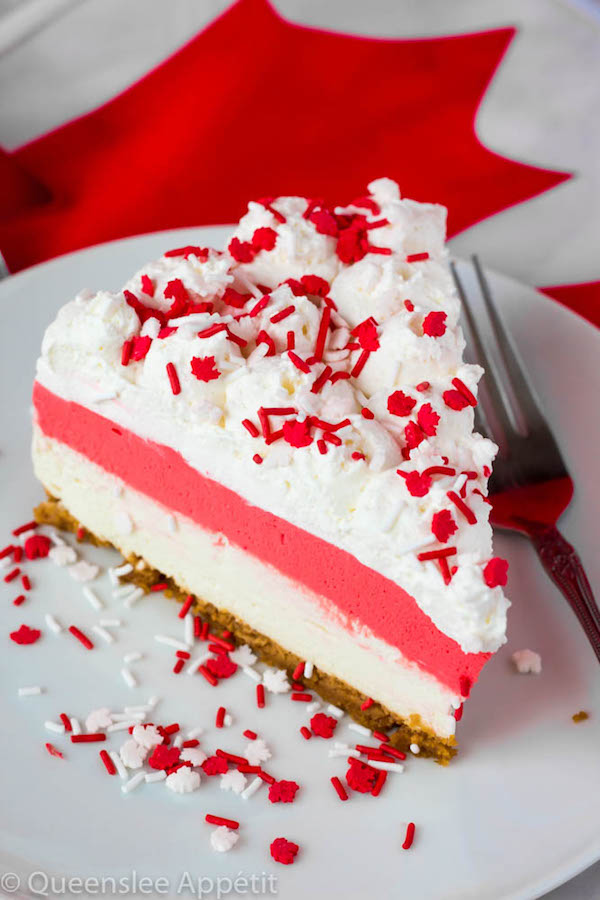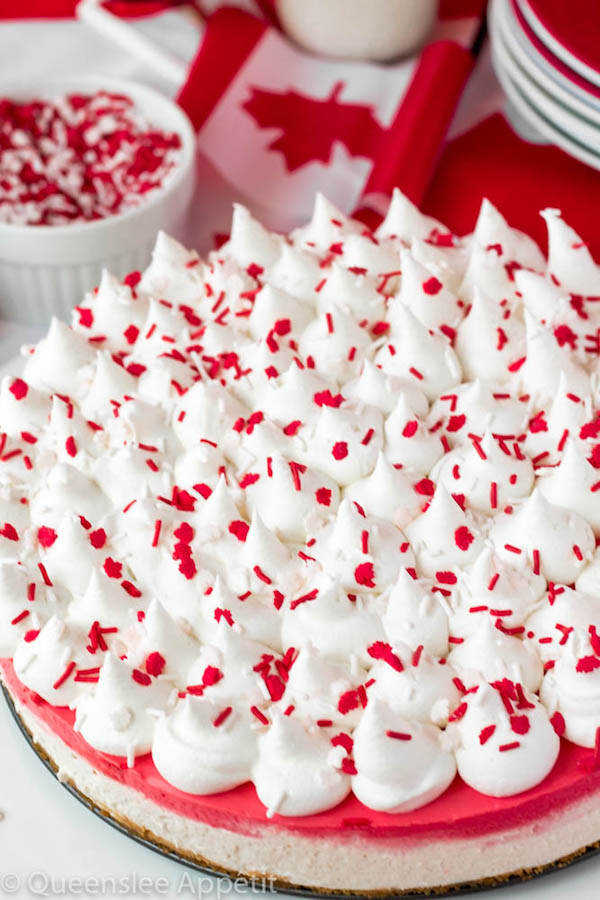 >>PIN ME FOR LATER<<

SHOP THE RECIPE
Here are some of the tools I used to create today's recipe:
9-inch Springform Pan | Food Processor | Hand Mixer | Mixing Bowls | Small Offset Spatula | Red Gel Food Colouring | Red Liquid Food Colouring | Pastry Bag | Wilton 2A Tip |
FOLLOW QUEENSLEE APPÉTIT
Like what you see? Make sure you're following Queenslee Appétit for more tasty recipes!
Pinterest | Instagram | Facebook | Twitter |
Did you make a recipe? I'd love to see how it turned out! Follow me on Instagram and use the hashtag #queensleeappetit so I can see all of the Queenslee Appétit recipes you've made!
Never miss a recipe, SUBSCRIBE at the bottom of this post!
Let's get baking!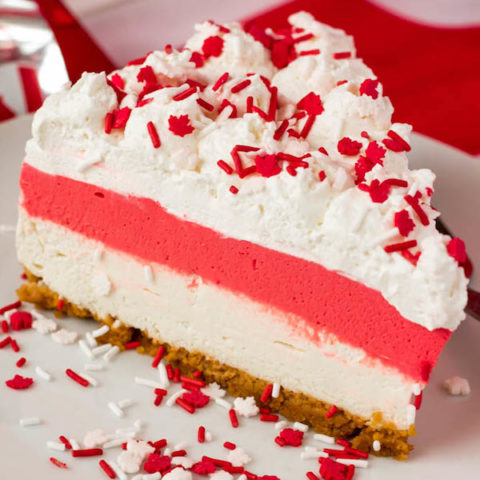 No-Bake Canada Day Cheesecake
Yield:
one 9-inch cheesecake
This No-Bake Canada Day Cheesecake is an unbelievably easy dessert that takes absolutely no time or effort to make! The red and white layers, cool whip topping and red and white sprinkles makes this the perfect dessert for Canada Day!
Ingredients
Crust:
1 and ½ cups graham cracker crumbs (18 - 21 square graham crackers)
2 tablespoon granulated sugar
⅓ cup unsalted butter, melted
Red and White Cheesecake Filling:
1 cup heavy cream, chilled (see notes)
1 tablespoon unflavored gelatin (1 packet)
½ cups cold water
3 (8 ounce) packages (24 oz) cream cheese, softened to room temperature
¾ cup powdered sugar
1 tablespoon pure vanilla extract
¾ teaspoon lemon juice
1-2 tablespoon Red gel food colouring
Topping:
Cool Whip
Red and White Canada Day Sprinkles
Instructions
For the Crust:
Line the bottom of a 9-inch springform pan with parchment rounds and grease the sides with non stick cooking spray. Set aside.
In a food processor, or in a large ziploc bag using a rolling pin, crush the graham crackers into fine crumbs. Transfer crumbs to a medium bowl and mix in 2 tablespoons of sugar.
Add the melted butter and use a fork to coat the crumbs completely until it begins to resemble wet sand. The mixture should be able to clump together when you squeeze it in your hands.
Transfer mixture to the prepared springform pan and use the flat bottom of a glass or measuring cup to press the crumbs into the bottom of the pan. Transfer to the freezer while you prepare the filling.
For the Red and White Cheesecake Filling:
Whip the chilled cream in a stainless steel bowl using a handheld mixer until it reaches stiff peaks, about 3-4 minutes. Transfer to the refrigerator until ready to use (See notes).
Sprinkle 1 tablespoon of gelatin on top of ½ cup of cold water and let it sit for 5-10 minutes, or until gelatin has bloomed.
Microwave bloomed gelatin for about 30 seconds or until completely dissolved. Set aside to cool slightly.
Meanwhile, In a large bowl using a handheld mixer, beat the softened cream cheese, powdered sugar, vanilla and lemon juice on medium-low speed until creamy, about 2-3 minutes.
Scrape down the sides of the bowl and add dissolved gelatin water and continue beating until smooth.
Add the whipped cream and fold until completely combined.
Remove crust from the freezer and pour half of the cheesecake filling on top. Use a small offset spatula to smooth the batter out into an even layer. Transfer back to the freezer for 10 minutes.
Meanwhile, tint the remaining batter red. You may need to add quite a bit of food colouring before you achieve a nice red colour.
After 10 minutes, remove cheesecake from freezer and pour the red batter on top. Spread into an even layer. Cover with plastic wrap and place in the refrigerator to chill for 6 hours or preferably overnight.
For the Topping:
Transfer cool whip to a piping bag fitted with a large round tip (I used Wilton 2a).
Pipe poofs of whipped cream over the entire surface of the cheesecake. Garnish with red and white sprinkles. Enjoy!
Notes
- You can substitute the heavy cream for 2 cups of thawed cool whip.

- I recommend waiting until it's time to serve before you top the whipped cream with the sprinkles because the colours will "bleed" onto the topping.

- Don't leave the cheesecake out for too long or it will begin to soften.
©
QUEENSLEE APPÉTIT
. All
images & content are copyright protected. Please do not use my images without prior permission. If you want to republish this recipe, please re-write the recipe in your own words, or link back to this post for the recipe.
BON APPÉTIT!
Love, Dedra ❤
This post may contain affiliate links. Please see my full disclosure policy for details.