Winter mornings just got better — These Hot Chocolate Pancakes are soft and fluffy and they're made with real hot chocolate! Finish these decadent pancakes off with some chocolate syrup and mini marshmallows and you have the perfect breakfast for hot chocolate lovers!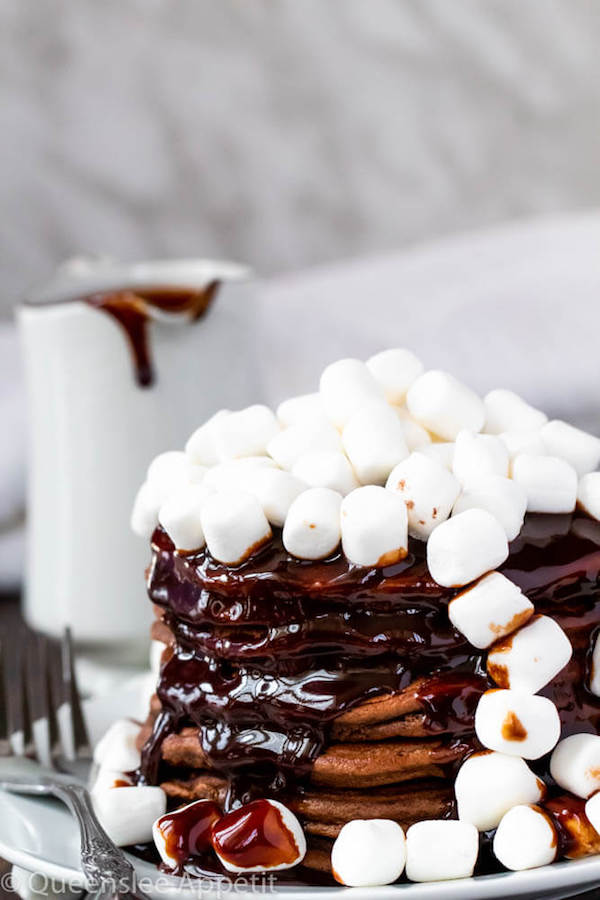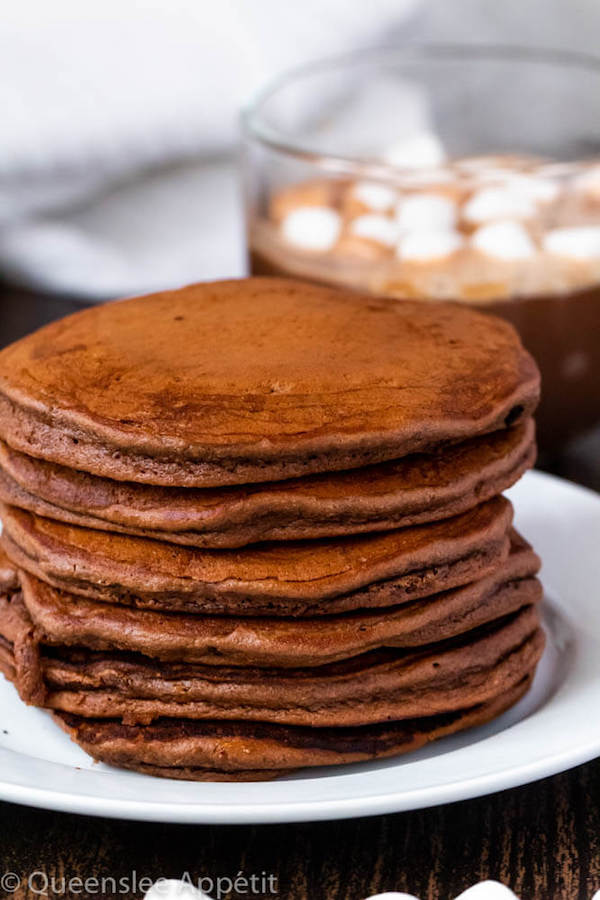 Do you enjoy large warm mugs of the chocolatiest hot chocolate? Do you also enjoy tall stacks of fluffy pancakes? What if I told you it was possible to enjoy both of those delicious morning treats at the same time?
Well I've done it, my friends. These Hot Chocolate Pancakes are the perfect way to drink your hot chocolate and eat it too!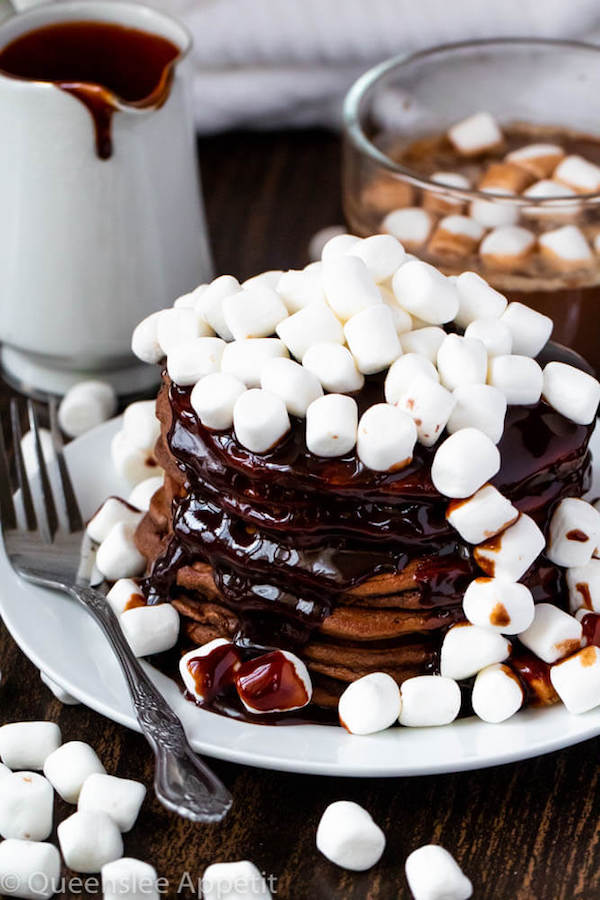 Hot Chocolate Pancakes
Mmmm...Hot Chocolate and Pancakes, a match made in winter breakfast heaven. I know at first glance these look like basic chocolate pancakes with marshmallows on top to give the illusion that these are hot chocolate flavoured, but trust me that's not the case. These pancakes are made with 100% real hot chocolate!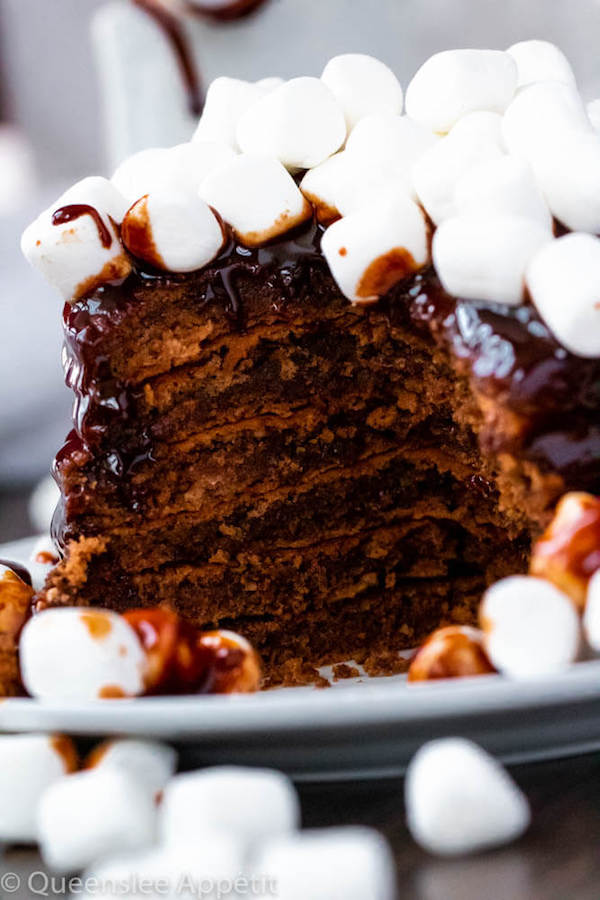 Earlier in the week, I shared my recipe for the BEST hot chocolate ever! I drank about 2 mugs of that sweet chocolatey perfection, then I came up with the genius idea to use the rest to whip up these pancakes!
Absolutely no regrets.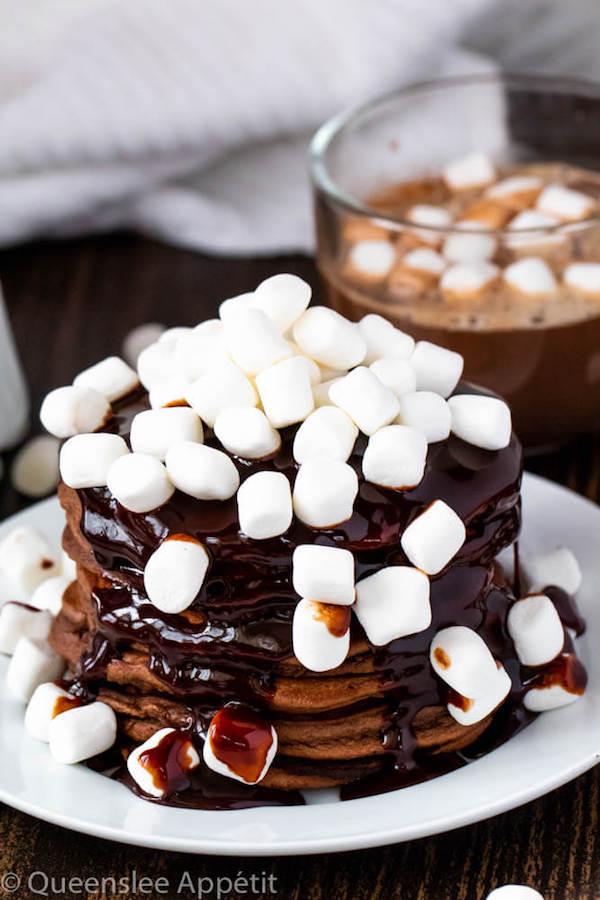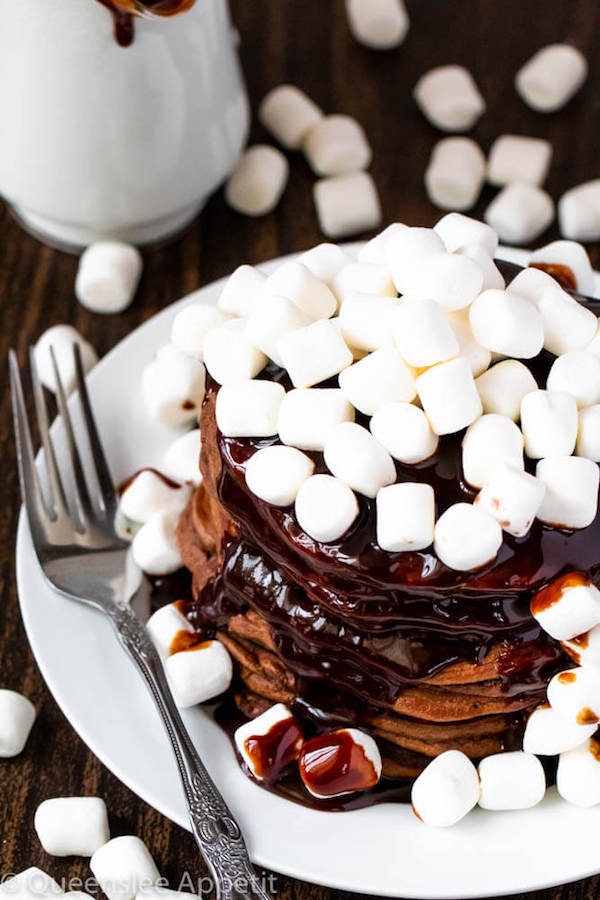 How to make Hot Chocolate Pancakes
So how exactly do we make these hot chocolate pancakes? As I mentioned above, we're not using any measly hot chocolate packets in these pancakes, we're using real hot chocolate. So to start, you'll need to make a batch of my Best Ever Hot Chocolate.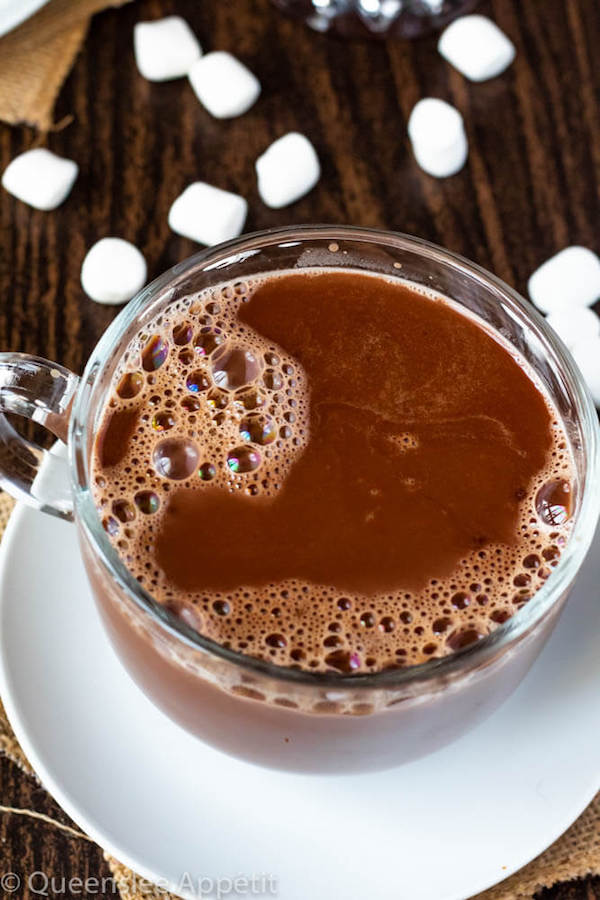 Don't fret, the hot chocolate is extremely easy to make. Simply add all of the ingredients to a saucepan and heat on the stove until the chocolate is melted and everything is smooth. I recommend doing this the night before at least because you want the hot chocolate to be completely cool before using.
From then on its as easy as mixing the dry ingredients together in a bowl, then measure out 1 and ½ cups of hot chocolate and mix in the egg and butter. Then make a well in the centre of the dry ingredients and add the hot chocolate mixture and whisk until just combined. It's totally fine if the batter is still lumpy.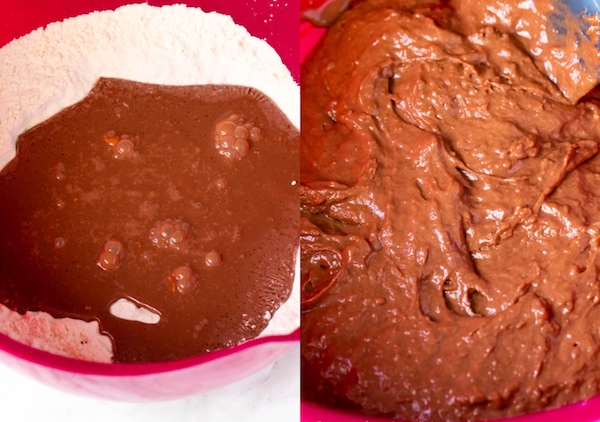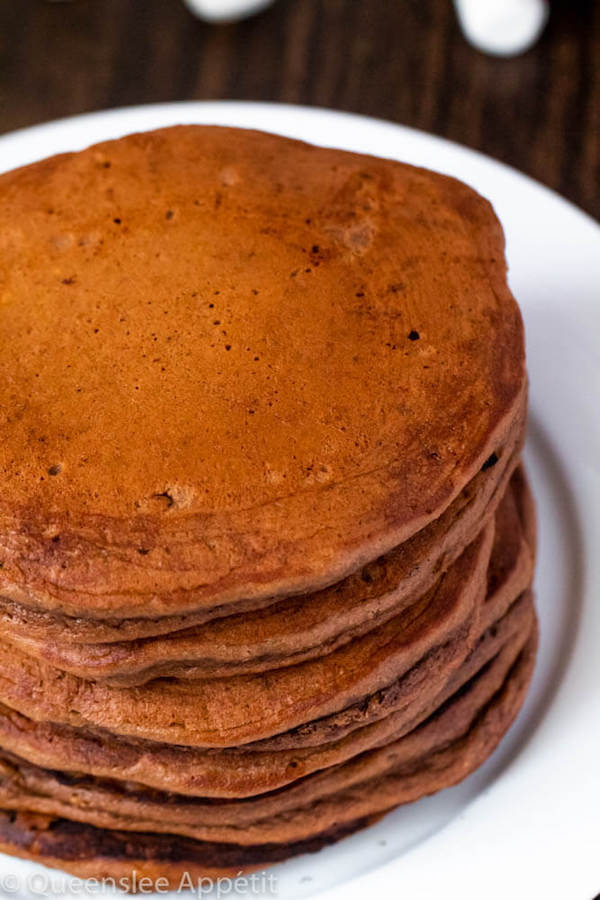 There will be extra hot chocolate leftover, but you could add extra hot chocolate if the batter is too thick. You can also re-heat the hot chocolate and enjoy it with the pancakes!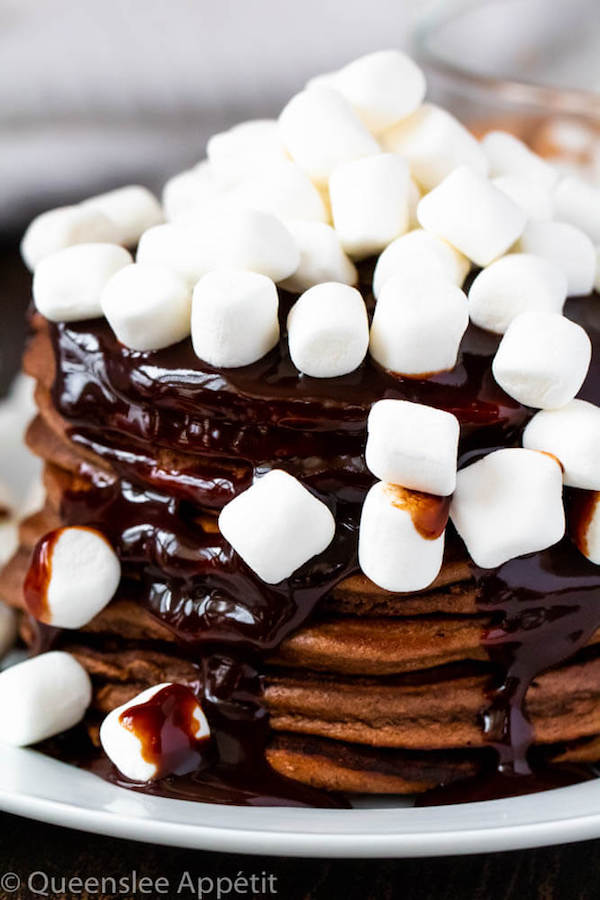 The Toppings
Just like hot chocolate, you can't have pancakes without the topping, whether that be plain old maple syrup or in this case — chocolate syrup and marshmallows!
I love topping my hot chocolate with MINI marshmallows and chocolate syrup, so it's only fitting that I do the same with these pancakes. But feel absolutely free to customize to your liking.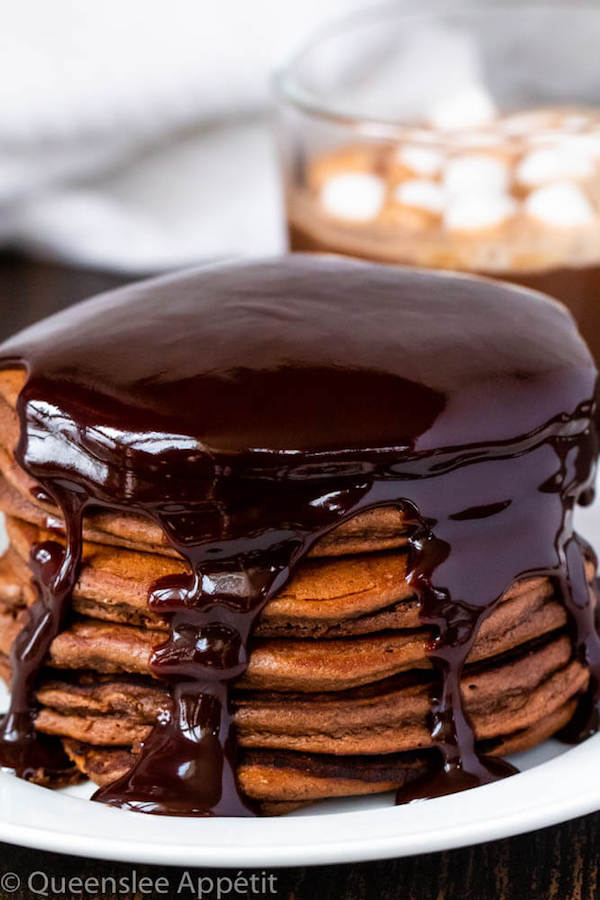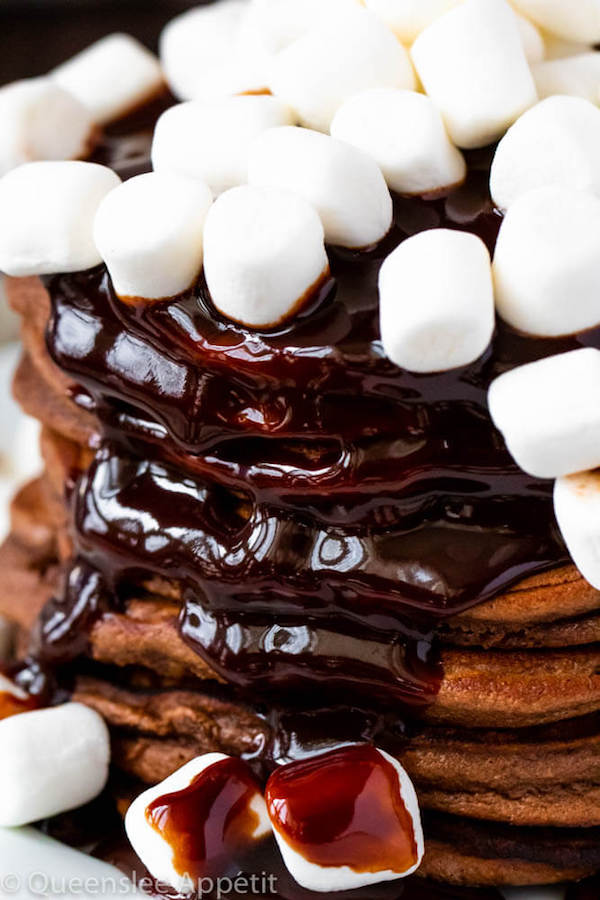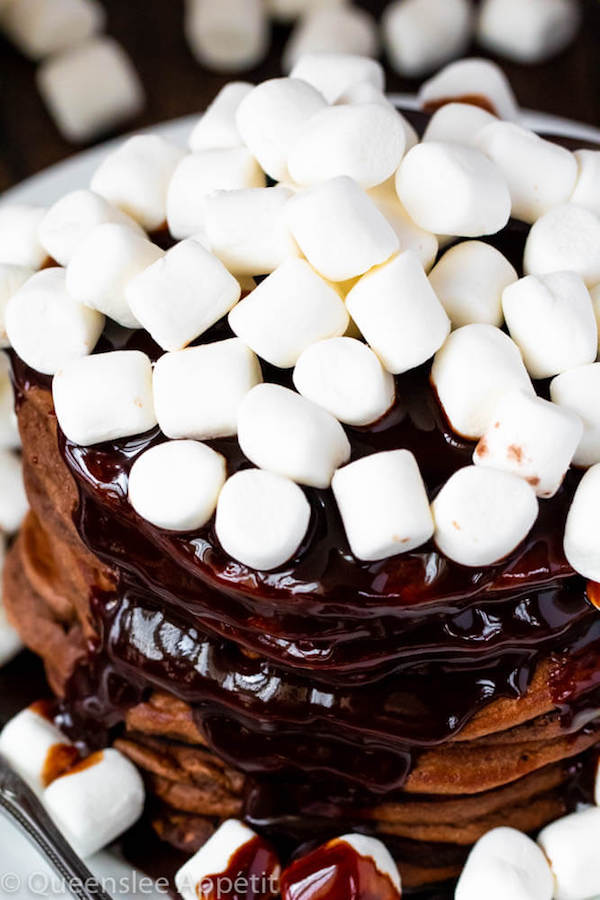 Have a favourite hot chocolate topping? Pile it onto these pancakes! May I suggest ganache instead of chocolate syrup? Or even salted caramel sauce or marshmallow fluff! I even experimented dipping pieces of the pancake into my glass of hot chocolate before taking a bite which can only be described as pure chocolate-gasm greatness.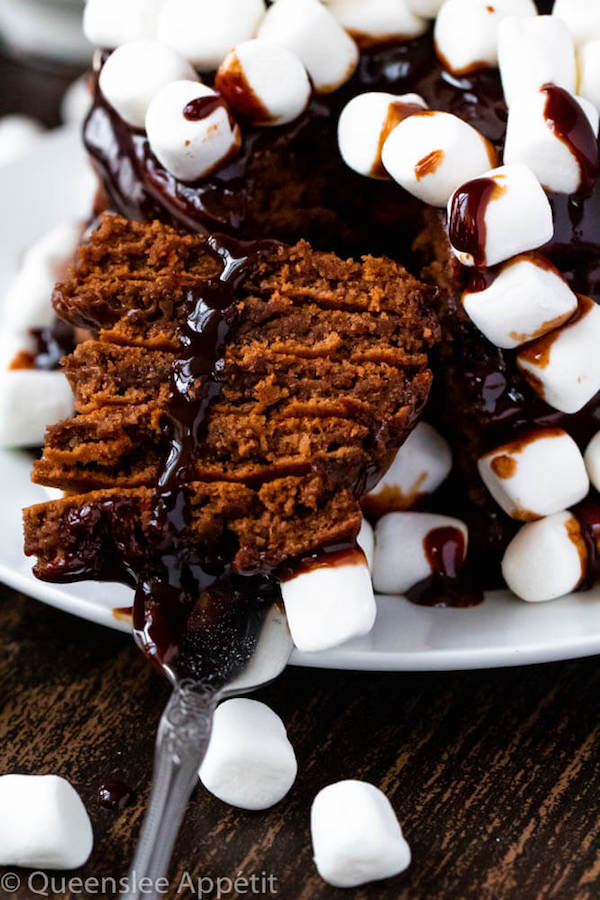 These hot chocolate pancakes are perfect for the winter months. Super fluffy and chocolatey, stacked to the sky and drowned in chocolate syrup and gooey marshmallows. They're guaranteed to bring a smile to anyone's face!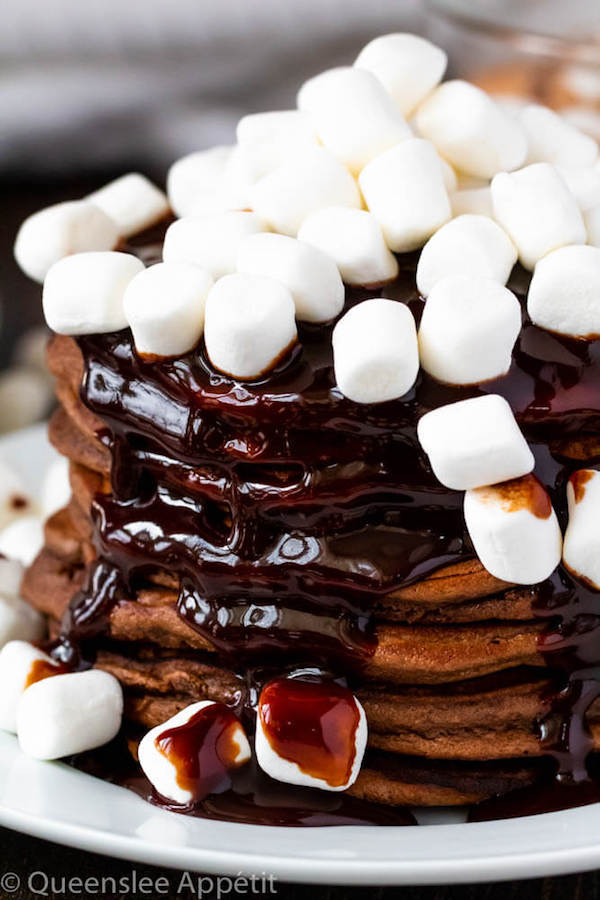 >>PIN ME FOR LATER<<

FOLLOW QUEENSLEE APPÉTIT
Like what you see? Make sure you're following Queenslee Appétit for more tasty recipes!
Pinterest | Instagram | Facebook | Twitter |
Have any questions about the recipe? Contact me here, and I'll be happy to help!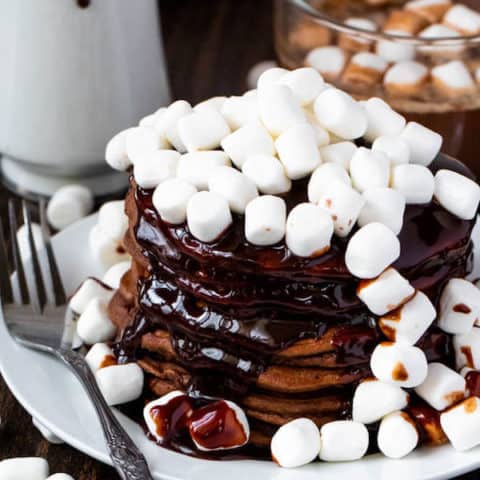 Hot Chocolate Pancakes
Winter mornings just got better — These Hot Chocolate Pancakes are soft and fluffy and they're made with real hot chocolate! Finish these decadent pancakes off with some chocolate syrup and mini marshmallows and you have the perfect breakfast for hot chocolate lovers!
Ingredients
Hot Chocolate Pancakes:
2 cups all purpose flour
3 tablespoon granulated sugar
½ teaspoon salt
1 tablespoon + 1 teaspoon baking powder
¼ teaspoon baking soda
1 and ½ cups hot chocolate, cooled completely (recipe above) + more if needed
1 large egg, lightly beaten
¼ cup unsalted butter, melted
Toppings:
Chocolate Sauce
Mini Marshmallows
Instructions
Prepare one batch of my Best Ever Hot Chocolate, and allow it to cool completely before continuing.
For the Hot Chocolate Pancakes:
In a large bowl, add flour, sugar, salt, baking powder and baking soda. Whisk to combine.
Measure out 1 and ½ cups of cooled hot chocolate in a liquid measuring cup. Add egg and melted butter and whisk until combined.
Make a well into the centre of the dry ingredients and pour in the hot chocolate mixture. Whisk until just combined. The batter will be thick, but if it's too thick to pour, add more hot chocolate, a few tablespoons at a time until you reach a thick but pourable consistency. Let batter sit for 2-3 minutes to thicken.
Meanwhile, preheat a griddle or a skillet over medium-low heat.
Use a tablespoon of butter to grease the pan or spray with cooking spray. Use a paper towel to wipe off the excess butter.
Pour ⅓ cup of batter into skillet and gently spread into a circle shape using the measuring cup.
Cook until bubbles form on the top and the edges look dry, about 2 minutes. Flip and cook for another 1-2 minutes. Repeat with remaining batter.
Top with chocolate sauce and mini marshmallows, if desired. Serve and enjoy!
Recommended Products
As an Amazon Associate and member of other affiliate programs, I earn from qualifying purchases.
BON APPÉTIT!
Love, Dedra ❤
DID YOU MAKE A RECIPE?
Follow me on Instagram and use the hashtag #queensleeappetit so I can see all of the Queenslee Appétit recipes you've made!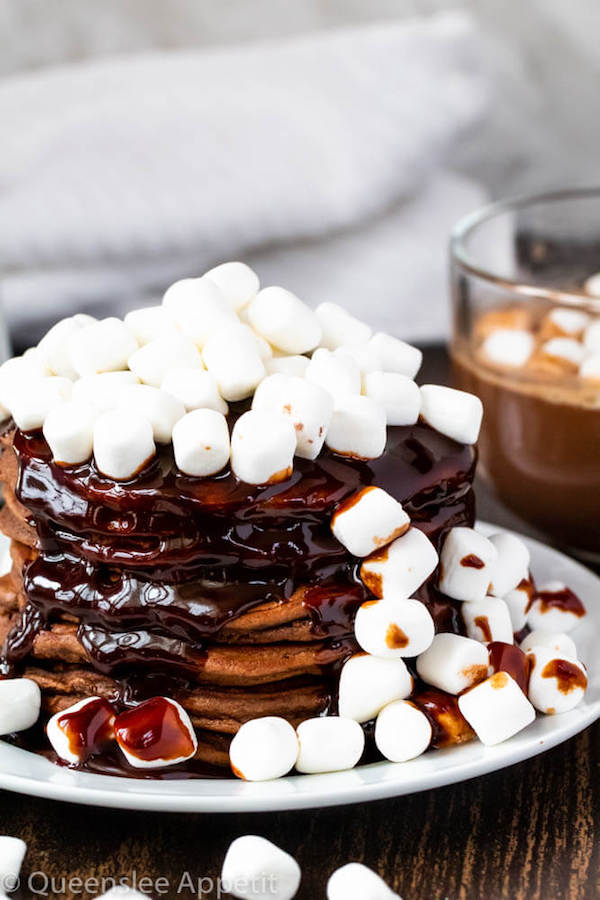 ©QUEENSLEE APPÉTIT. All images & content are copyright protected. Please do not use my images without prior permission. If you want to republish this recipe, please re-write the recipe in your own words, or link back to this post for the recipe.
This post may contain affiliate links. Please see my full disclosure policy for details.