If you love bananas, you'll immediately fall in love with these Mini Bananas Foster Cheesecakes! A vanilla wafer crust, creamy banana cheesecake and a warm bananas foster topping make these cheesecakes an absolutely unforgettable dessert!
This post may contain affiliate links. As an Amazon Associate I earn from qualifying purchases. This in no way affects my opinion of those products and services. All opinions expressed on this site are my own. Please see my full disclosure policy for details.
What Is Bananas Foster?
Bananas Foster is a simple, yet delicious dessert that originated in New Orleans back in 1951. It features sliced bananas that have been caramelized in a rum sauce made with brown sugar, butter, cinnamon and more simple ingredients. This banana dessert is usually served with scoops of vanilla ice cream or a dollop of whipped cream! Yum, am I right?
Mini Bananas Foster Cheesecakes
Now that you know what bananas foster is, meet my twist on the magical dessert: mini bananas foster cheesecakes!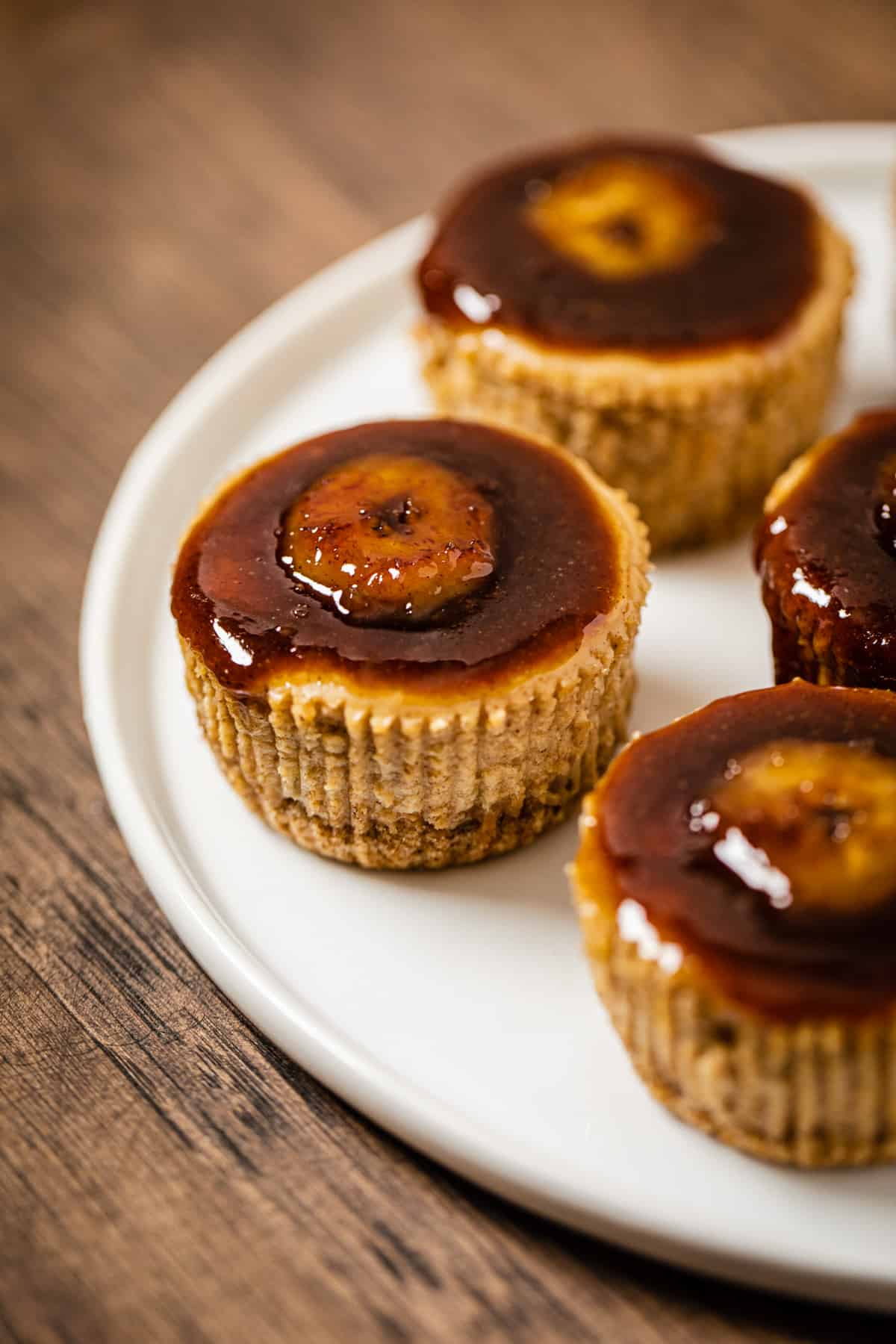 Ok so this isn't the first time I've posted a bananas foster cheesecake recipe on the blog. I actually first posted this recipe back in 2019, but that was a full-sized version made in a springform pan and a water bath.
We'll be using neither of those in today's recipe, because these mini cheesecakes are made in muffin tins for perfect individual portions!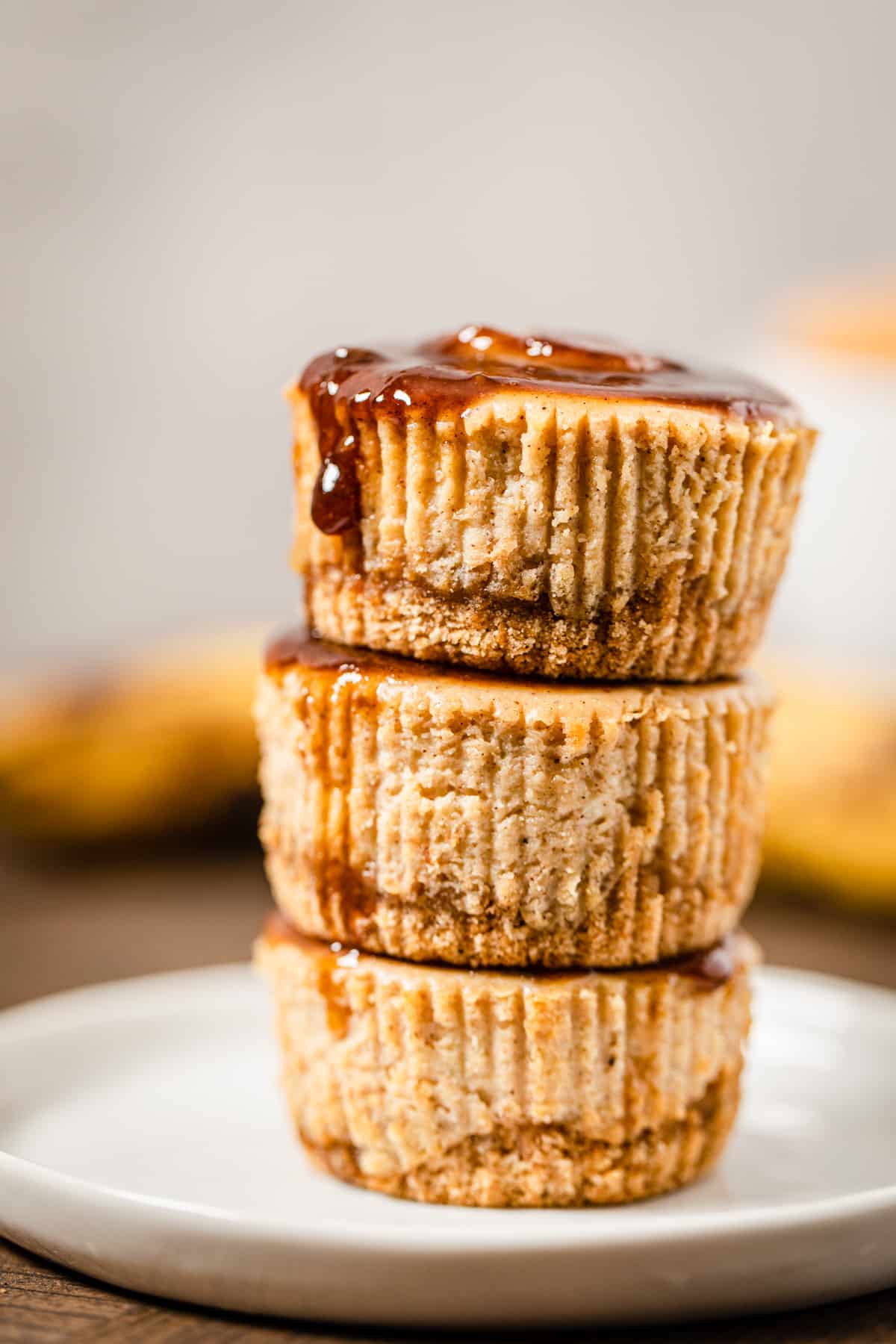 Vanilla Wafer Crust
Alright let's break down each section of this cheesecake, starting with the crust. For my crust, I used vanilla wafer cookies, but if you can't find Nilla Wafers, feel free to substitute with a graham cracker crust.
For a vanilla wafer crust, you'll need to crush 15-18 cookies in a food processor to get 1 cup of crumbs. For a graham cracker crust, you'll need to crush about 7 rectangle graham crackers or 14 squares.
I didn't wanna just add melted butter to the crust and call it a day, but I wanted the bananas foster flavours to be all throughout the whole dessert! So add the crumbs to a small bowl along with some brown sugar, rum extract and cinnamon for loads of flavour!
Line your muffin tin with cupcake liners, then use a small tablespoon sized cookie scoop to add a hefty spoonful of crumbs to each cup. Use the back of the scoop to press mixture flat. Now bake the crust for 5 minutes and prepare for 1 out of 3 mouth watering smells this dessert will provide.
Creamy Banana Cheesecake
My favourite part! Before you start, make sure all of your ingredients are room temperature so they blend together smoothly. I like to take out the refrigerator ingredients 30 minutes ahead of time and let them warm up on the counter.
In a large bowl, use a hand mixer (or a stand mixer) to beat cream cheese until fluffy. You're gonna want to beat everything on low speed to make sure you don't overmix the batter, which would cause the cheesecake to crack and sink.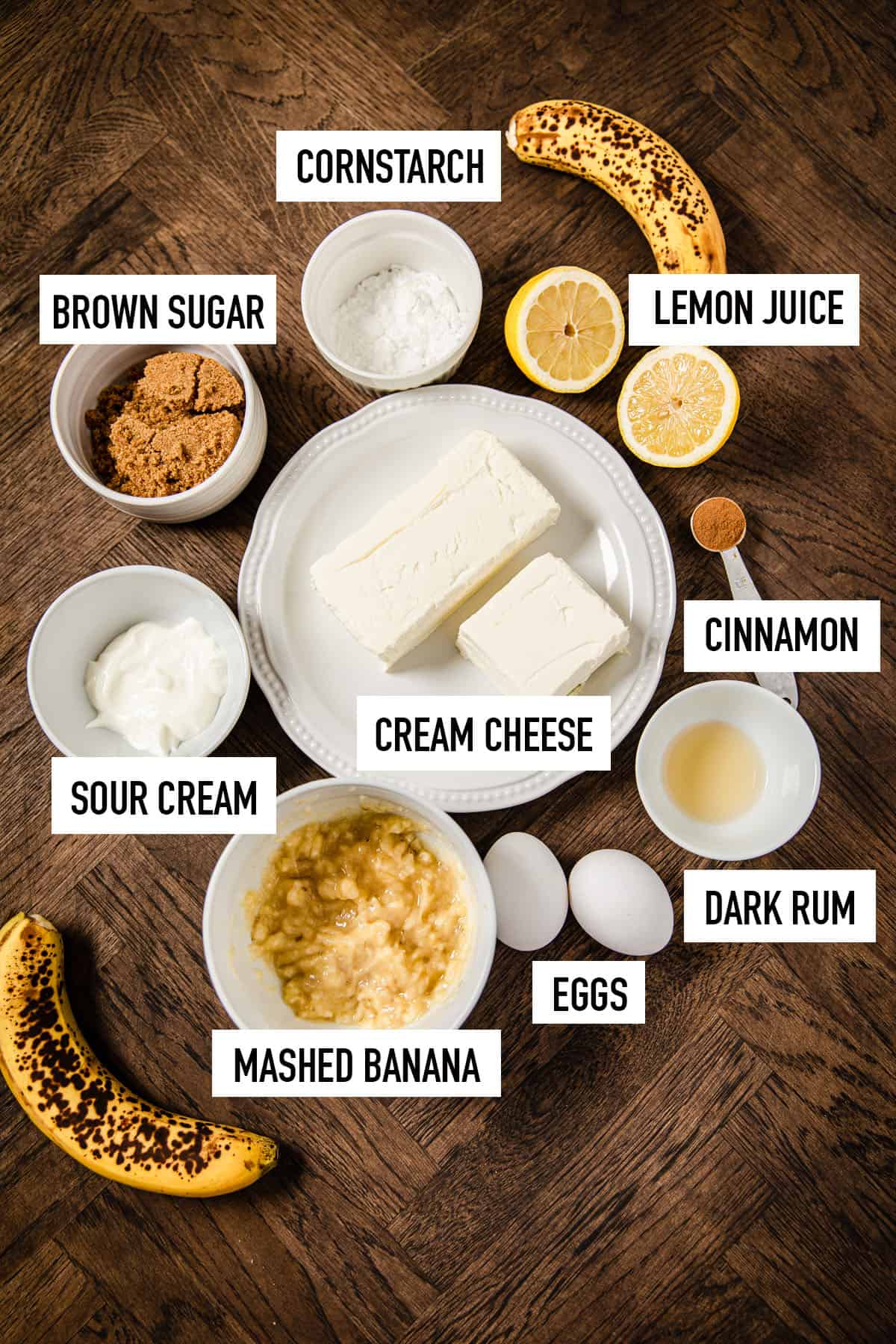 To deepen the banana flavour, I used brown sugar instead of granulated sugar, along with a bit of cornstarch to help prevent cracking.
Ripe bananas: for the best results, use very ripe bananas. The skin should be covered in brown spots! Use a fork to mash them, or purée them in a food processor to remove any chunks.
Add your mashed bananas to the cream cheese mixture and mix until the banana is incorporated throughout. To boost the flavour even more, add sour cream (to lighten things up), fresh lemon juice, cinnamon and for a touch of bananas foster flavour, throw in some dark rum!
Finish it all off by slowly beating in 2 large eggs, then scoop the creamy cheesecake batter into each liner. You'll get 12 cheesecakes out of this recipe. Just add a scoop of batter to each liner, and if you have anymore leftover, continue to add extra spoonfuls.
These aren't cupcakes, so you don't have to worry about them rising too high and spilling over.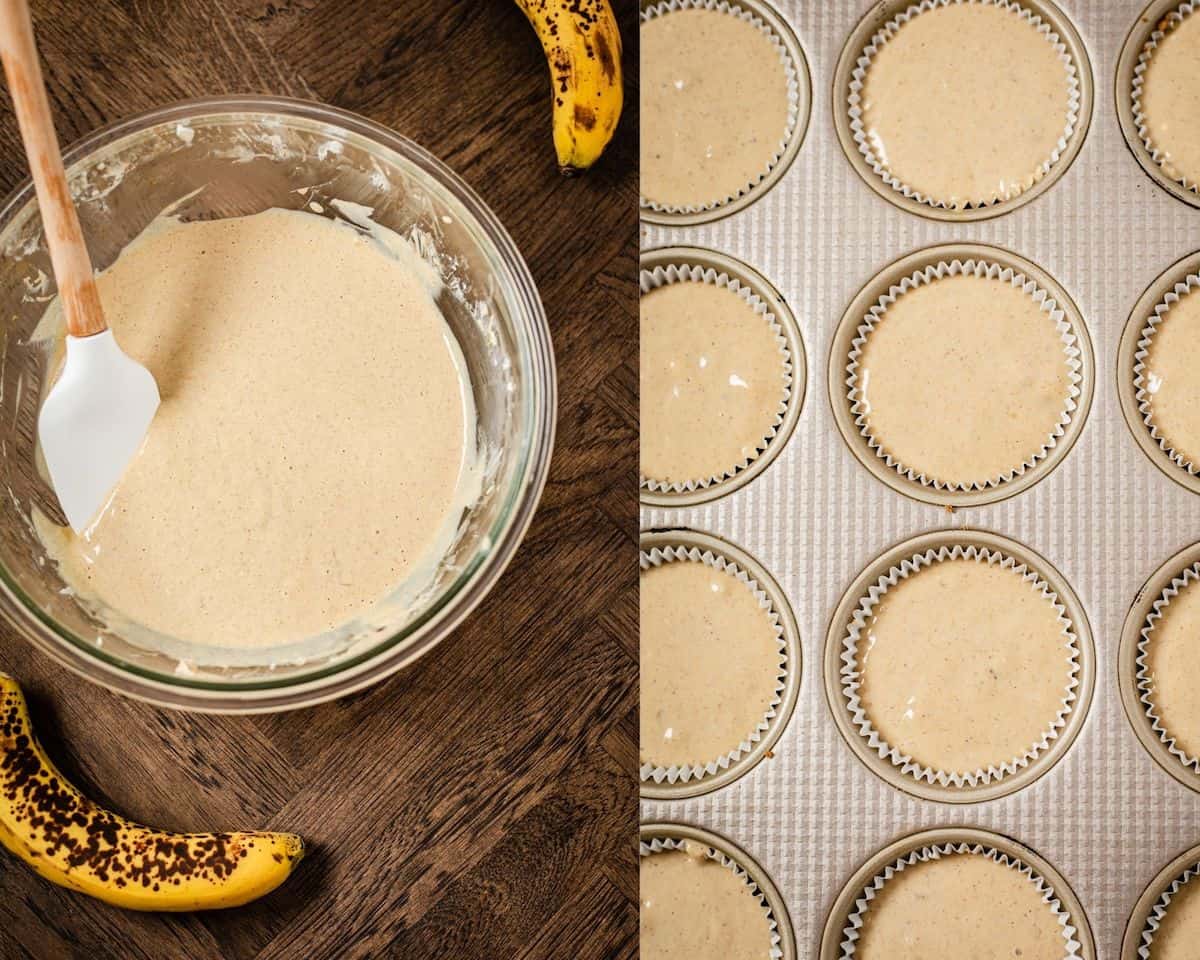 Bananas Foster Topping
Finally, the moment we've all been waiting for! Let's add the bananas foster to this bananas foster dessert! You only need 8 simple ingredients: butter, brown sugar, heavy cream, vanilla extract, cinnamon, salt, bananas and rum (preferably dark). I know rum can be pretty pricey, so this is a recipe you should probably only make if you already have some on hand.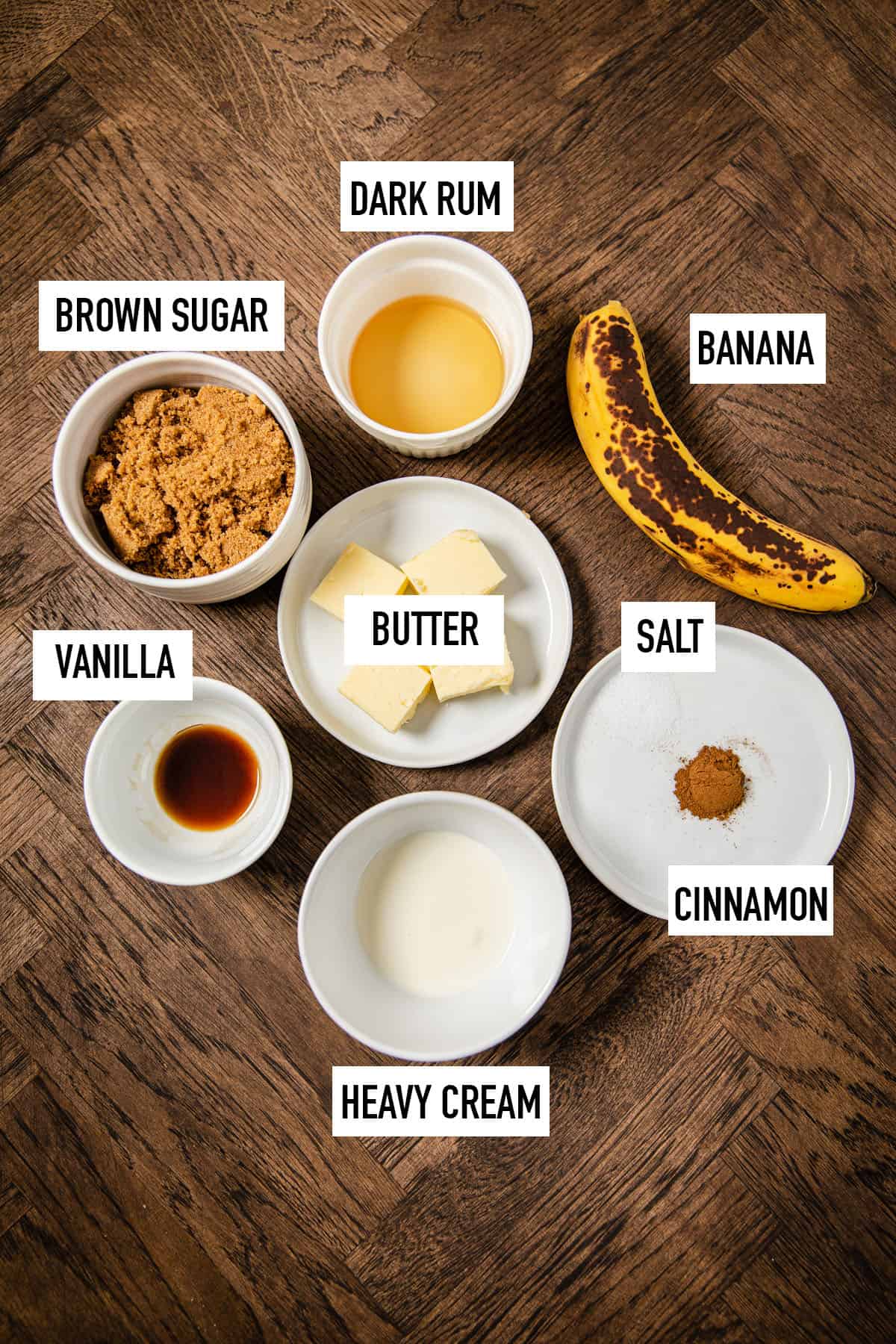 To start, melt butter in a nonstick pan over medium heat, then add the brown sugar and stir them together until the sugar has melted. To this mixture, I add a bit of heavy whipping cream to keep the sauce smooth.
Stir in the vanilla, cinnamon and salt, then place in the banana slices. You want to get about 12 thick slices of banana to top each cheesecake. Let the bottom of the bananas brown for a few minutes, then use a fork to flip them over to cook a little more.
Once the bananas are cooked, remove the pan from the heat and stir in the rum. I skipped the flambé part to avoid a disaster, but it's really not needed.
Let the bananas cool for a max of 3 minutes. Any longer and the sauce will harden up. I should also mention that if you plan on serving these at an event (like a mardi gras party? Wink, wink), don't make the foster or top the cheesecakes until the day of.
You want the cheesecakes to still be chilled, but the topping should be nice and warm for the best eating experience!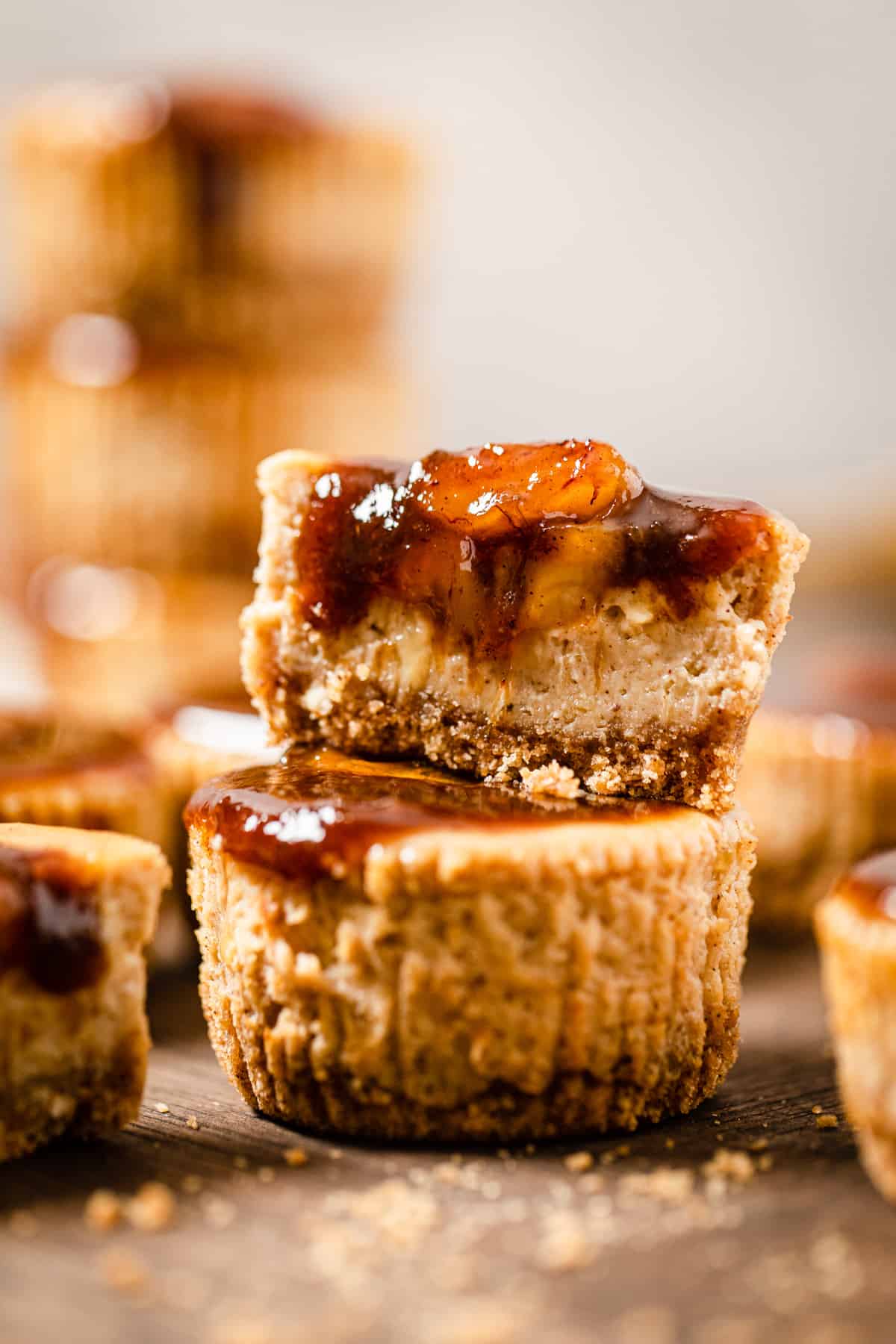 Craving more Mini Cheesecake Recipes? Check These Out:
SHARE YOUR PICS!
Follow me on Instagram and tag #queensleeappetit so I can see and share all of your Queenslee Appétit creations in my stories and the QA Newsletter!
FOLLOW QUEENSLEE APPÉTIT
Like what you see? Make sure you're following Queenslee Appétit for more tasty recipes!
Pinterest | Instagram | Facebook |
Have any questions about the recipe? Contact me here, and I'll be happy to help!
SWEETEN UP YOUR INBOX!
SUBSCRIBE to the Queenslee Appétit Newsletter to recieve new recipe notifications, monthly baking tips, sneak peeks to upcoming recipes, exclusive recipes and more!
Let's get baking!
Mini Bananas Foster Cheesecakes
Total Time:
3 hours
55 minutes
If you love bananas, you'll immediately fall in love with these Mini Bananas Foster Cheesecakes! A vanilla wafer crust, creamy banana cheesecake and a warm bananas foster topping make these cheesecakes an absolutely unforgettable dessert!
Ingredients
Crust:
1 cup vanilla wafer cookie crumbs
2 Tablespoons brown sugar, packed
½ teaspoons rum extract
¾ teaspoon ground cinnamon
2 Tablespoons unsalted butter, melted
Banana Cheesecake:
1 and ½ (8 ounce) packages (12 oz.) cream cheese, room temperature
½ cup brown sugar, packed
1 Tablespoon cornstarch
1 ripe medium banana, puréed or mashed
2 Tablespoons sour cream, room temperature
1 teaspoon fresh lemon juice
1 teaspoon ground cinnamon
½ Tablespoon dark rum (or 1 teaspoon rum extract)
2 large eggs, room temperature
Bananas Foster Topping:
¼ cup unsalted butter
½ cup brown sugar, packed
1 Tablespoon heavy cream
½ teaspoon pure vanilla extract
½ teaspoon ground cinnamon
⅛ teaspoon salt
1 ripe medium banana, sliced
2 Tablespoons dark rum
Instructions
For the Crust:
Preheat oven to 350°F and Line a 12-cup muffin pan with liners. Set aside.
Add vanilla wafer cookie crumbs, sugar, rum and cinnamon to a mixing bowl and mix together using a fork.
Mix in melted butter until crumbs are completely coated. Scoop a heaping tablespoon of crumbs into each liner and flatten using the back of the tablespoon or a small glass.
Bake in preheated oven for 5 minutes. Allow to cool on a wire rack. Lower oven temperature to 325°F.
For the Banana Cheesecake:
In the bowl of an electric mixer fitted with the paddle attachment, or in a large bowl using a handheld mixer, beat the cream cheese on low speed until creamy, about 1-2 minutes.
Scrape down the sides of the bowl and add brown sugar and cornstarch. Beat on low until smooth and combined.
Add the mashed bananas, sour cream, lemon juice, cinnamon and dark rum. Continue beating until smooth. Scrape down the sides and bottom of the bowl and continue to beat until everything is combined.
Add eggs one at a time, beating slowly until just combined, do not overbeat. Scrape sides and bottom of the bowl with a rubber spatula to make sure everything is combined.
Fill each liner with ¼ cup of batter. You may have some batter left, so scoop an extra tablespoon of batter into each liner until it's finished. These cheesecakes can be filled all the way to the top.
Bake in preheated oven for 18-20 minutes until the tops are puffed and look dry.
Remove from oven and allow to cool completely on a cooling rack.
Once cooled, cover with plastic wrap and refrigerate until firm and chilled, about 2-3 hours or overnight.
For the Bananas Foster Topping:
Melt the butter in a skillet over medium heat. Add the brown sugar and stir until melted.
Once brown sugar has melted, add the heavy cream, vanilla, cinnamon and salt. Stir to combine.
Add the banana slices and arrange into an even layer. Cook for 1-2 minutes until bananas have softened. Using a fork, flip banana slices over.
Remove pan from heat and pour in the dark rum, then return pan to medium heat and bring to a simmer. Continue to cook for another 1-2 minutes, or until sauce has thickened.
Scoop a spoonful of the bananas foster onto the cheesecakes. Serve and enjoy!
Notes
Tools I Used: muffin tin | cupcake liners | ice cream scoop | hand mixer | mixing bowl | nonstick pan
Make Ahead: The cheesecake can be baked a day or two ahead of time and stored in the refrigerator. I don't recommend making the bananas foster ahead of time because it's not going to have the same results after being chilled and reheated.
Crust: As I mentioned in the post, the vanilla wafers can be replaced with graham cracker crumbs, if preferred.
Bananas: make sure the bananas are overripe for the best flavour. You can either mash them with a fork or purée out the chunks completely in a food processor.
Storage: store cheesecakes in an airtight container in the refrigerator for 3 days. I don't recommend topping them with the bananas foster until you plan to serve because it solidifies in the fridge, meaning you'd need to let the cheesecakes warm up to room temperature to enjoy the topping.
Nutrition Information:
Yield:

12
Serving Size:

1
Amount Per Serving:
Calories:

204
Total Fat:

9g
Saturated Fat:

5g
Trans Fat:

0g
Unsaturated Fat:

4g
Cholesterol:

51mg
Sodium:

82mg
Carbohydrates:

27g
Fiber:

1g
Sugar:

21g
Protein:

2g
BON APPÉTIT!
Love, Dedra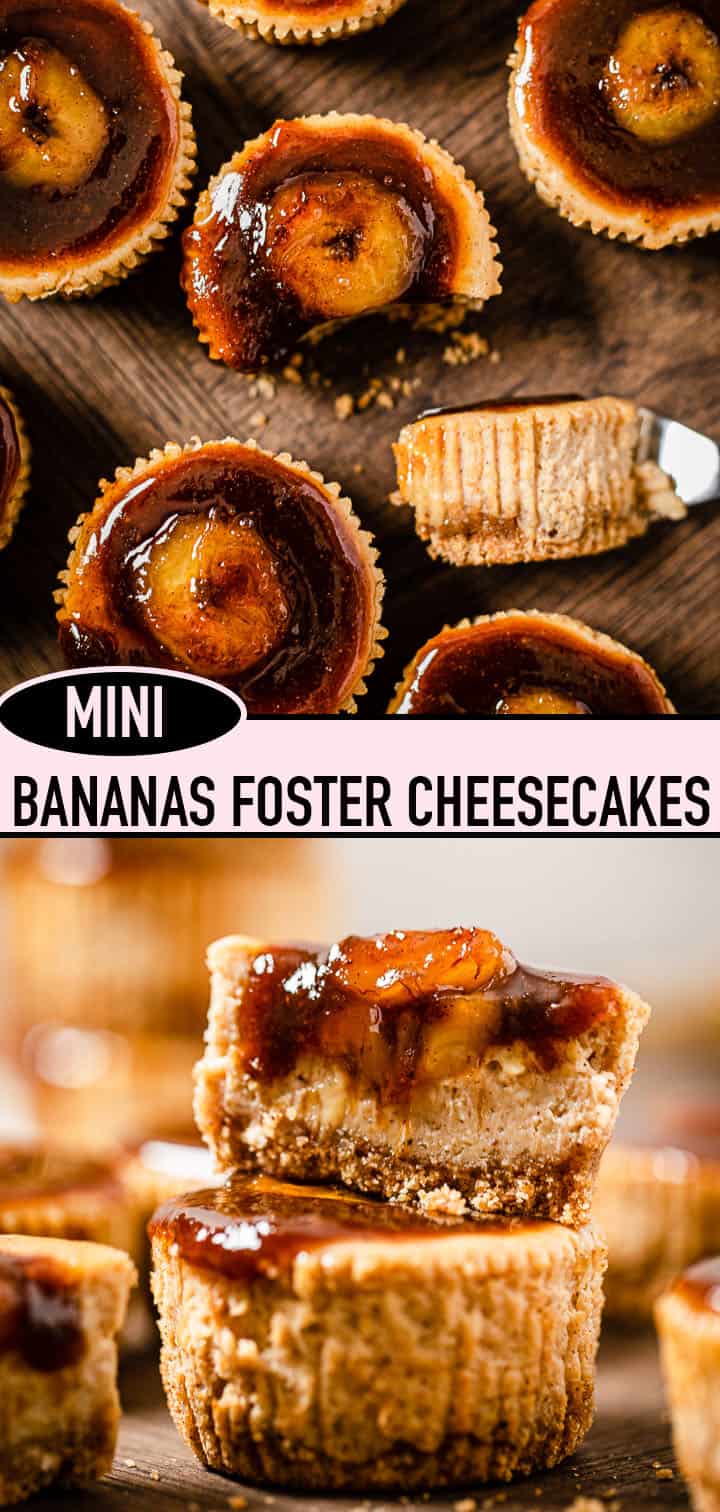 ©QUEENSLEE APPÉTIT. All images & content are copyright protected. Please do not use my images without prior permission. If you want to republish this recipe, please re-write the recipe in your own words, or link back to this post for the recipe.