An easy recipe for Mini Pumpkin Cheesecakes, featuring a spiced gingersnap pecan crust and a smooth and creamy pumpkin cheesecake filling. Top these bite sized treats off with salted caramel sauce, cream cheese whipped cream and chopped pecans and you have the perfect Thanksgiving dessert!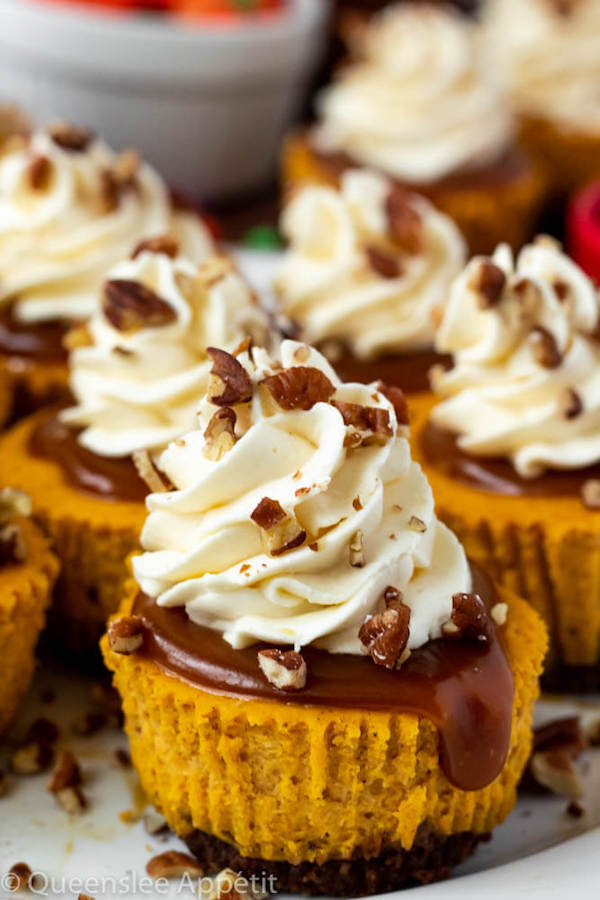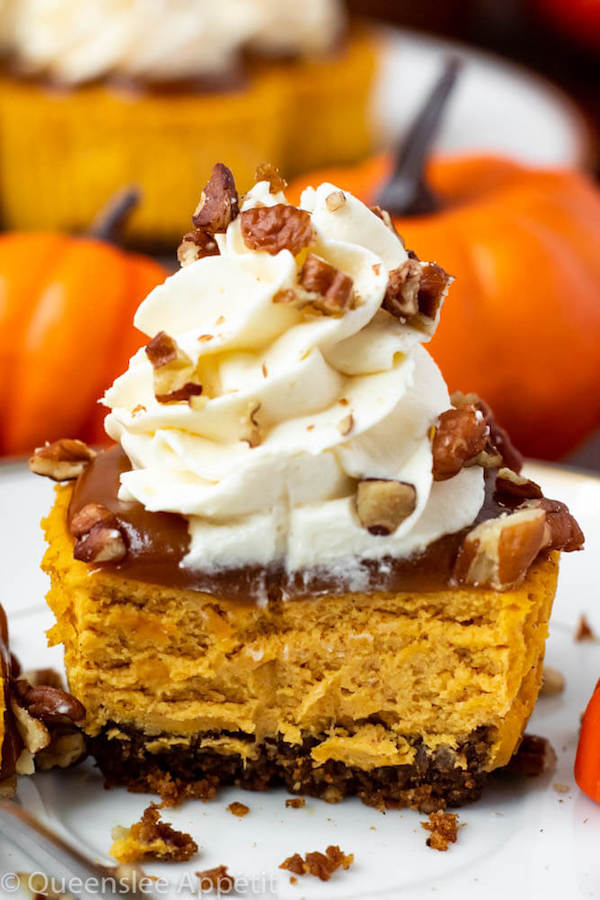 Long Live the Pumpkin!
It's with a heavy heart that I inform you that this will be the final pumpkin recipe I'll be sharing this year. It's been a long and delicious pumpkin flavoured journey, but it's time to say goodbye.
But before we say goodbye to the pumpkin, allow me to introduce you to one of my favourite pumpkin recipes ever: Mini Pumpkin Cheesecakes!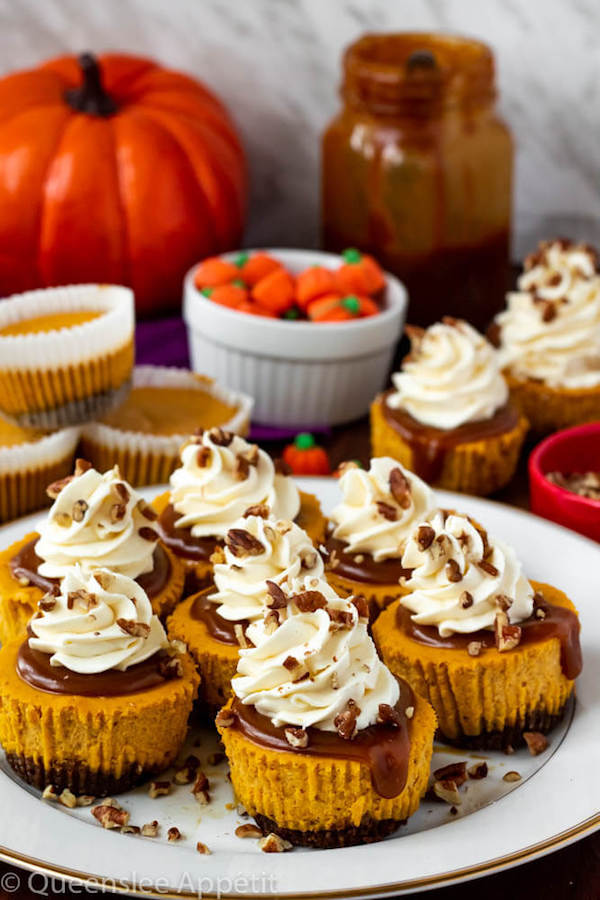 Mini Pumpkin Cheesecakes
Almost all of my mini cheesecake recipes have been pretty popular, and with Thanksgiving coming up, I thought it'd be a great time to share a pumpkin version!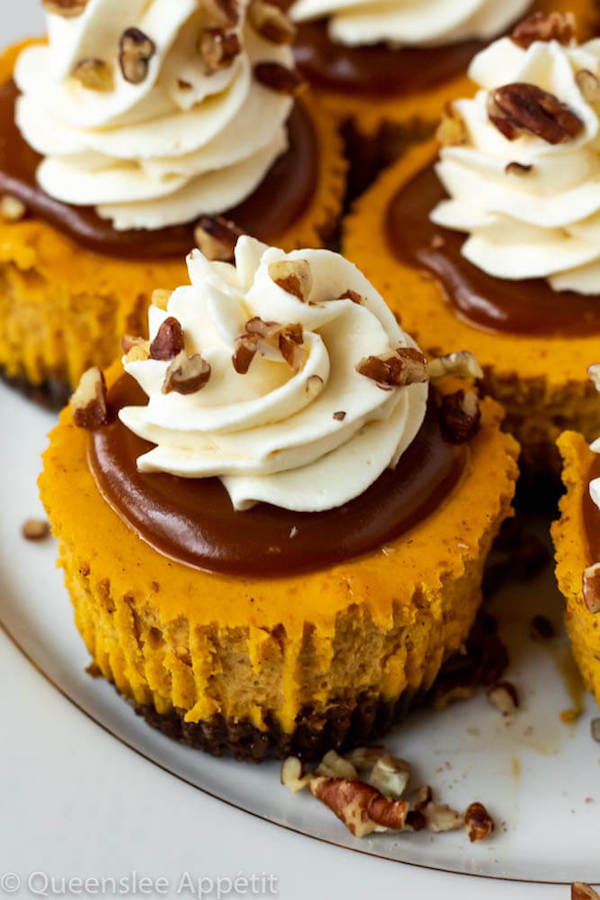 These Mini Pumpkin Cheesecakes may be small, but they pack a TON of flavour! One thing I love the most about mini cheesecakes is that they're baked in individual portions, so you can easily hand them out to your guests this Thanksgiving.
Speaking of which, if you do plan on serving these at Thanksgiving, I highly recommend doubling the recipe because your guests will definitely be going back for seconds!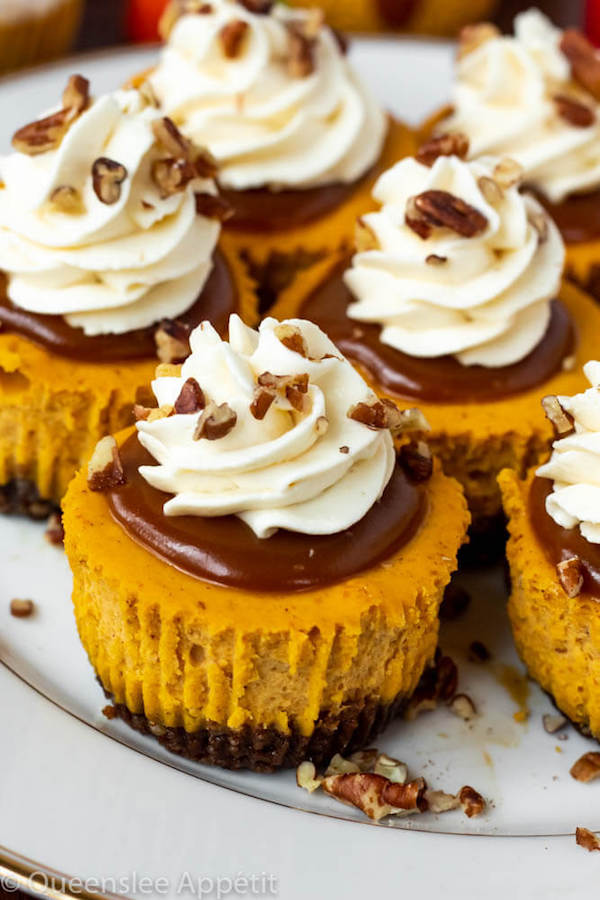 Gingersnap Pecan Crust
This recipe starts off with a gingersnap crust, with a twist — chopped pecans for an added crunch! There's also some brown sugar and cinnamon added for extra flavour. I swear the crust on its own is already pure perfection!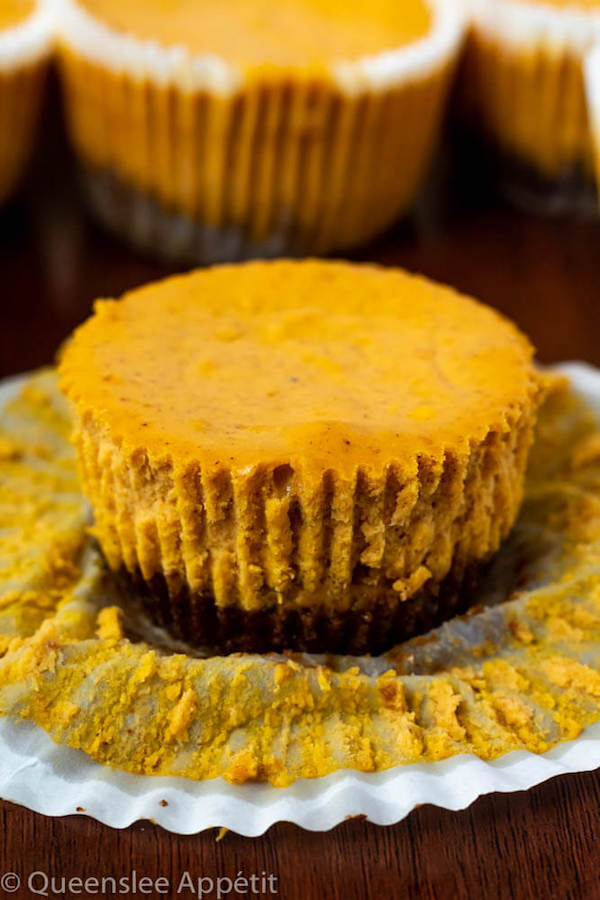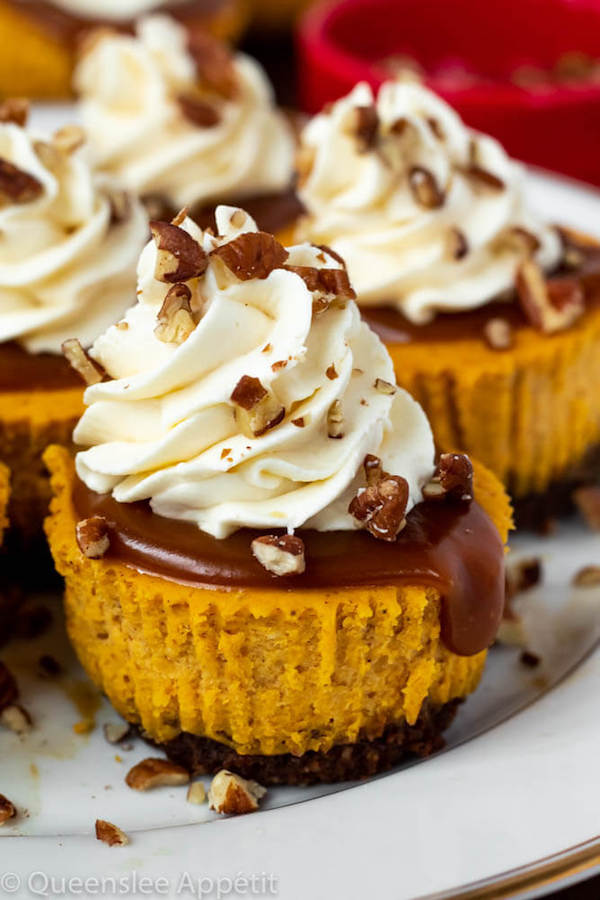 Pumpkin Cheesecake Filling
The pumpkin cheesecake filling is super smooth, creamy, thick and rich! It's even better than pumpkin pie, believe it or not. It's also super easy to make. We start by mixing together the cream cheese, brown sugar, white sugar and cornstarch.
Next we'll add a full cup of pumpkin purée, sour cream, vanilla, pumpkin spice and some eggs. Once everything is mixed together, fill up your cupcake liners.
I should also mention that we bake these cheesecakes in a standard cupcake/muffin pan using standard cupcake liners. I had a reader mess up one of my mini cheesecake recipes because they thought they were the size of mini cupcakes. These are only called Mini Cheesecakes because they're a mini version of a standard sized cheesecake.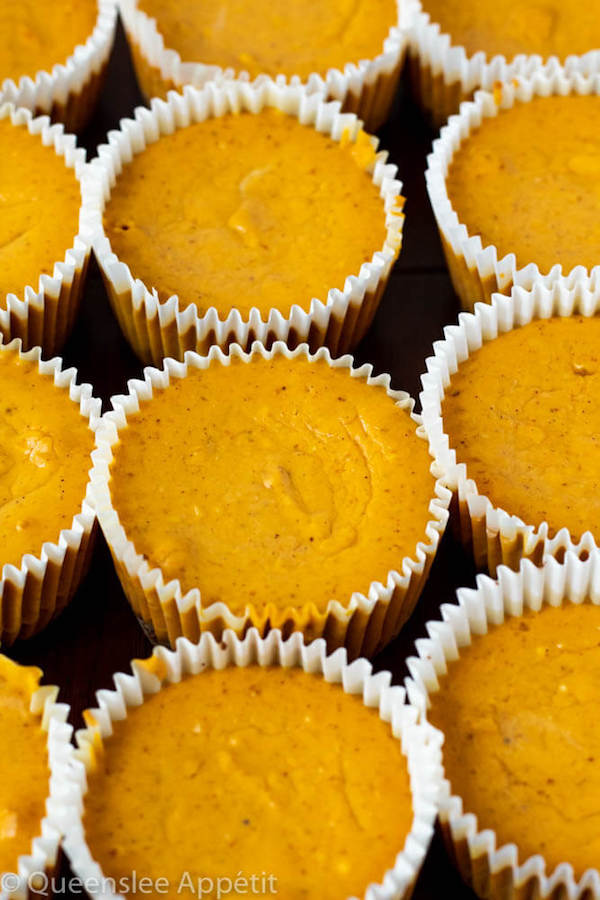 I love that there's no need for a waterbath in this recipe. Simply pop the cheesecakes in the oven and bake. These also don't take very long to bake either. While a standard cheesecake takes about 1 hour to bake, these cheesecakes take about 25 minutes!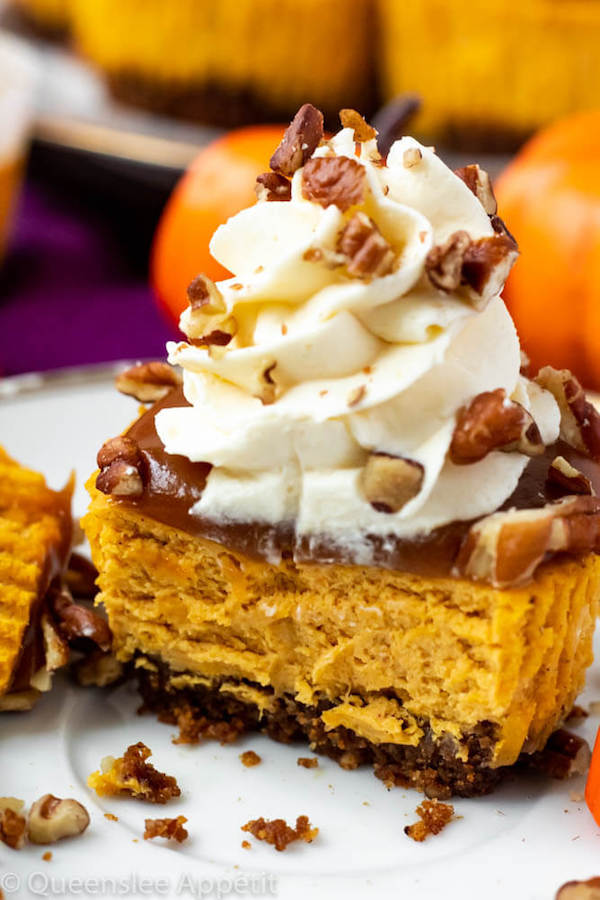 Cream Cheese Whipped Cream
You read that right. Cream cheese flavoured whipped cream! This whipped cream is the textbook definition of "beater licking good". Heck, it's even spatula licking good, and bowl licking good, and pipe-directly-into-your-mouth good. I may or may not have done that, you'll never know.
Ok I did.
But it was so tempting! The cream cheese whipped cream just melts in your mouth and it's so light and fluffy and creamy. I can't get enough.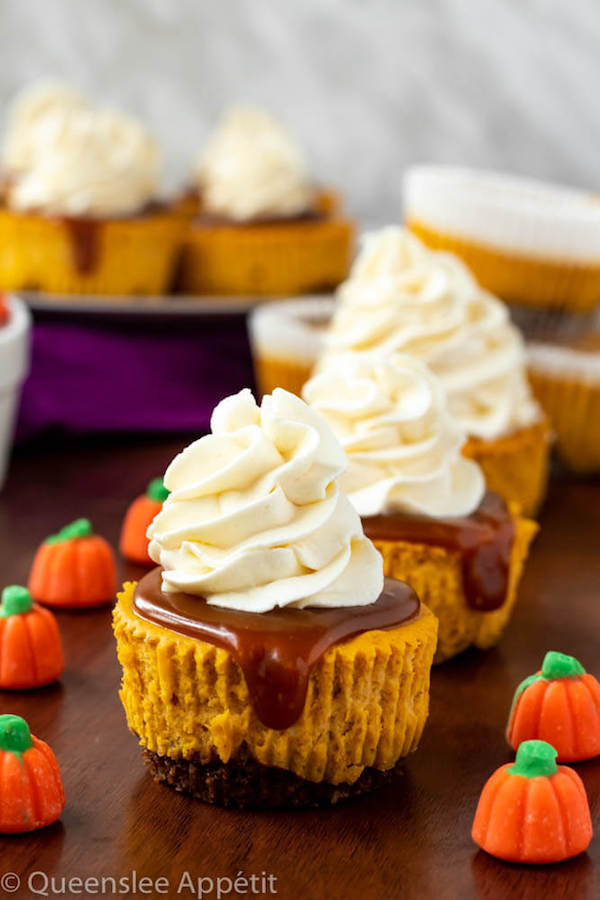 This cream cheese whipped cream is genius, because the cheesecake uses 1 and 1/2 packages of cream cheese, and the other half gets put into the whipped cream!
Start by whipping the cream cheese, then add the cream, powdered sugar and vanilla and whip until stiff peaks form. Perfectly simple.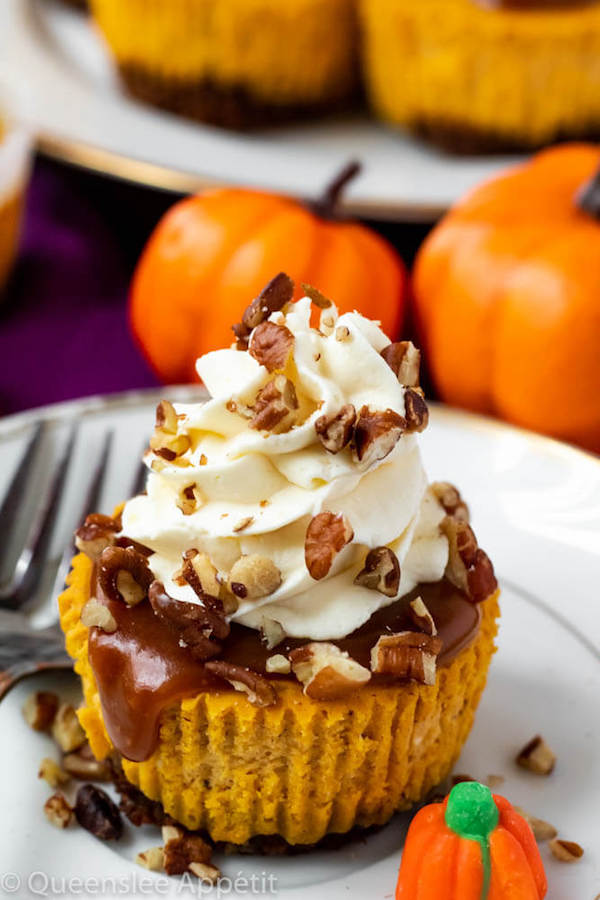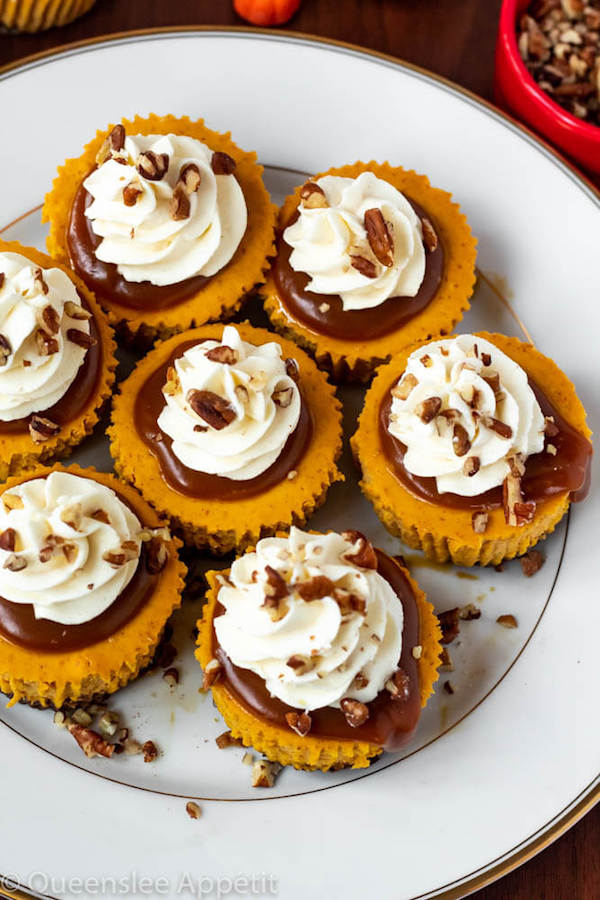 Tips & Tricks
This recipe uses pure pumpkin purée, not pumpkin pie filling. Trust me, I and many others have mixed these two things up many times. Pumpkin purée is exactly what it says, puréed pumpkins. Pumpkin pie filling has the ingredients to make pumpkin pie mixed in.
I also recommend using canned pumpkin purée instead of fresh pumpkin since canned pumpkin will provide a better flavour and texture.
For the crust, I added all of the ingredients to a food processor and pulsed until I got fine crumbs. If you don't have a food processor, you can crush the cookies in a ziplock bag using a rolling pin, then chop the pecans until they're very fine. Then add the cookie crumbs, pecans and the rest of the ingredients to a separate bowl and mix with a fork.
When adding the crust to your cupcake liners, use the bottom of a small glass or the bottom of a measuring tablespoon to press it down flat. This ensures your crust sets up nicely and stays together when you remove the liners.
For the cheesecake filling, you can use either sour cream or heavy cream. Both will provide you with a soft and creamy texture.
I topped the cheesecakes with salted caramel sauce for a sweet and salty flavour, but that is 100% optional. If you do decide to top these with my homemade salted caramel, make it right after you the cheesecakes finish baking so it can chill overnight. You can also use store-bought if you prefer.
Because I topped the cheesecakes with the salted caramel sauce, I piped a small swirl of whipped cream in the centre of the cheesecakes so you could see the caramel around the edges. This was for photography purposes, but I highly recommend piping on a giant mountain of cream cheese whipped cream on each cheesecake. Like so: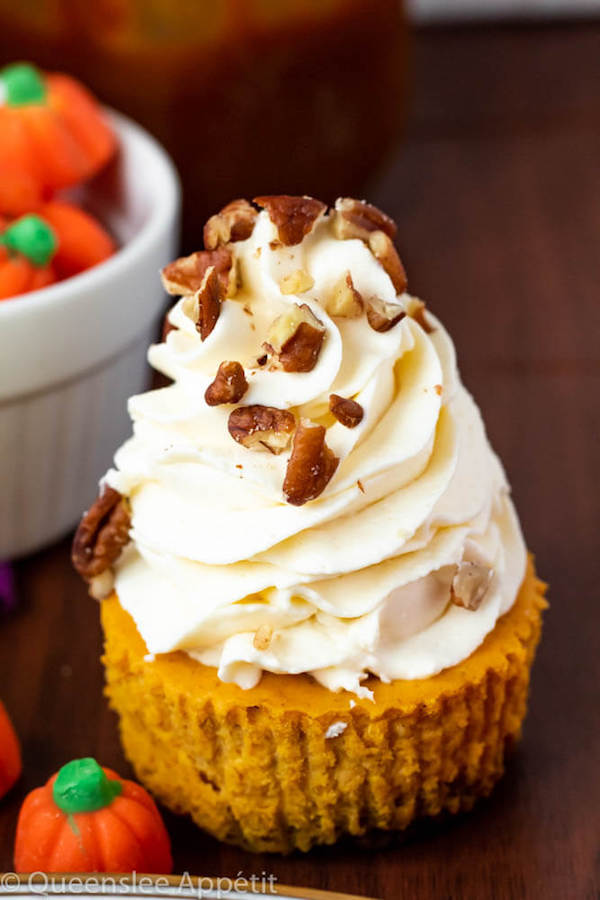 Both serious pumpkin lovers and non-pumpkin lovers will adore these cheesecakes. Believe me, my grandma hates pumpkin with a passion, but she ended up eating four of these! That's how incredible they are!
So ditch the traditional pumpkin pie this Thanksgiving, and serve these mini pumpkin cheesecakes instead. They'll surely be a crowd pleaser!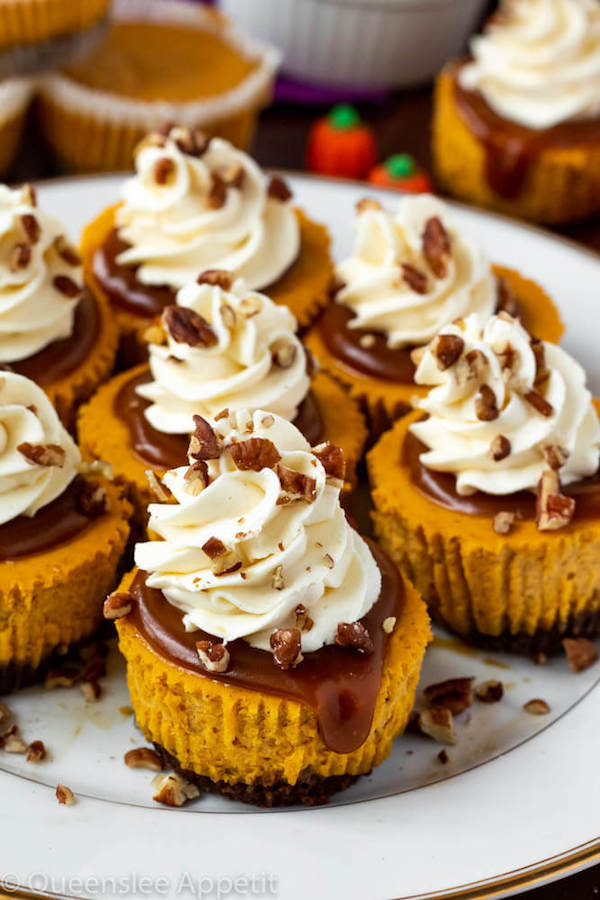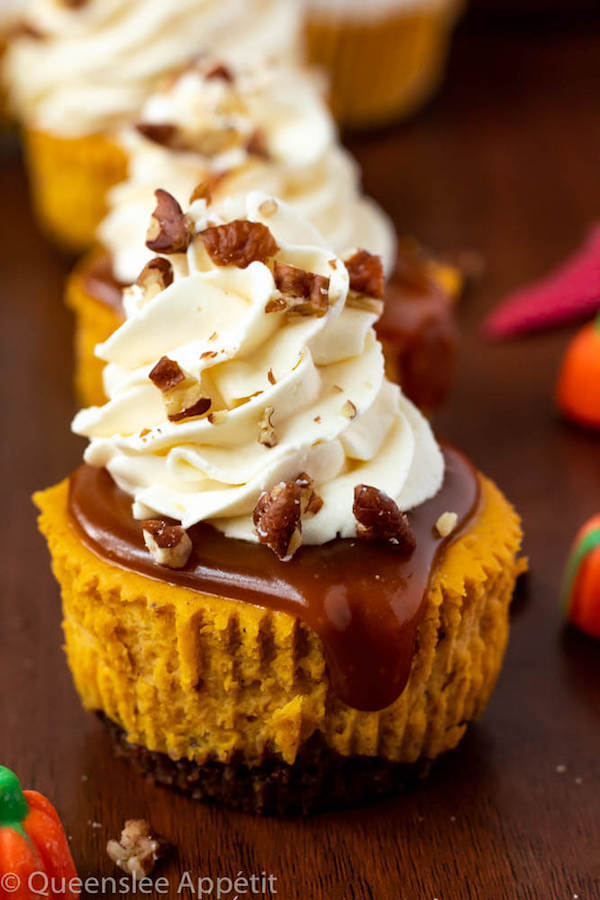 More Pumpkin Desserts
Pumpkin Pie Bars with Maple Pecan Praline Sauce
Pumpkin Donuts with Salted Caramel Cream Cheese Frosting
Pumpkin Cupcakes with Salted Caramel Cream Cheese Frosting
White Chocolate Chip Pumpkin Cookies
>>PIN ME FOR LATER<<

FOLLOW QUEENSLEE APPÉTIT
Like what you see? Make sure you're following Queenslee Appétit for more tasty recipes!
Pinterest | Instagram | Facebook | Twitter |
Have any questions about the recipe? Contact me here, and I'll be happy to help!
Let's get baking!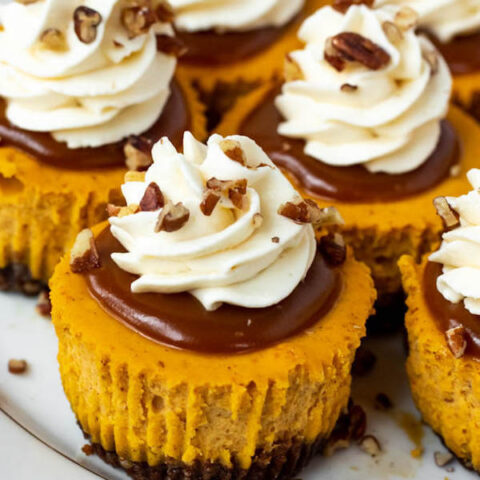 Mini Pumpkin Cheesecakes with Cream Cheese Whipped Cream
Yield:
12 mini cheesecakes
Total Time:
1 hour
5 minutes
An easy recipe for Mini Pumpkin Cheesecakes, featuring a spiced gingersnap pecan crust and a smooth and creamy pumpkin cheesecake filling.
Ingredients
Gingersnap Pecan Crust:
1 cup gingersnap cookie crumbs (about 15 cookies)
1/2 cup pecan halves
1 and 1/2 Tbsp brown sugar
1/2 tsp ground cinnamon
3 Tbsp Unsalted Butter, melted
Pumpkin Cheesecake:
1 and 1/2 (8-ounce) packages (12 oz) full-fat cream cheese, room temperature
1/4 cup light brown sugar, packed
1/4 cup granulated sugar
1 Tbsp. cornstarch (or 2 Tbsp. all purpose flour)
1 cup canned pumpkin purée
2 Tbsp sour cream or heavy cream, room temperature
1 tsp pure vanilla extract
1 tsp Pumpkin Pie Spice
2 large eggs, room temperature 
Cream Cheese Whipped Cream:
4 oz. cream cheese, softened to room temperature
3/4 cup heavy whipping cream, chilled
5 Tbsp. powdered sugar
1 tsp vanilla extract
Optional Toppings:
Instructions
For the Gingersnap Pecan Crust:
Preheat oven to 350°F and Line a 12-cup muffin pan with liners. Set aside.
Add gingersnap cookies and pecans to a food processor and pulse until you get fine crumbs. Add brown sugar, cinnamon and melted butter and pulse until combined.
If you don't have a food processor, add the gingersnap cookies to a ziplock bag and beat with a rolling pin or the bottom of a heavy pan until you get fine crumbs. Chop the pecans into fine pieces and add them to a separate bowl along with the cookie crumbs, brown sugar, and cinnamon. Stir to combine, then mix in the melted butter with a fork.
Place 1 heaping tablespoon of crumbs into each liner and flatten using the back of the tablespoon or a small glass. Bake in preheated oven for 5 minutes. Allow to cool on a wire rack. Lower oven temperature to 325°F.
For the Pumpkin Cheesecake:
In a large bowl using a handheld mixer, beat the cream cheese, brown sugar, granulated sugar and cornstarch on medium speed until creamy, about 1-2 minutes.
Scrape down the sides of the bowl and add pumpkin purée, sour cream, vanilla and pumpkin spice and continue beating until smooth.
Add eggs one at a time, beating slowly until just combined, do not overbeat. Scrape sides and bottom of the bowl with a rubber spatula to make sure everything is fully combined. Forcefully tap bowl on the counter a few times to release any air bubbles.
Fill each liner with 1/4 cup of batter. You may have some batter left, so scoop an extra tablespoon of batter into each liner until it's finished. These cheesecakes can be filled to the top.
Bake in preheated oven for 18-20 minutes until the tops are puffed and look dry.
Remove from oven and allow to cool completely on a cooling rack.
Once cooled, cover with plastic wrap and refrigerate until firm and chilled, about 2-3 hours or overnight.
If you plan on topping the cheesecakes with my Homemade Salted Caramel Sauce, prepare a batch now and allow it to cool completely to room temperature, then spoon into the cheesecakes. Or chill it in the refrigerator overnight.
For the Cream Cheese Whipped Cream:
In a medium stainless steal bowl, using a handheld mixer, whip the softened cream cheese on medium speed until light and fluffy.
Add the chilled cream, powdered sugar and vanilla and continue to whip on medium-high speed until cream holds peaks.
Once cheesecakes are chilled, remove from the refrigerator and remove the paper liners.
Transfer cream cheese whipped cream to a piping bag fitted with a large star tip and pipe a tall swirl onto each cheesecake. Garnish with chopped pecans, if desired. Enjoy!
Notes
Store leftovers in an airtight container in the refrigerator for up to 5 days.
Recommended Products
As an Amazon Associate and member of other affiliate programs, I earn from qualifying purchases.
BON APPÉTIT!
Love, Dedra ❤
DID YOU MAKE A RECIPE?
Follow me on Instagram and use the hashtag #queensleeappetit so I can see all of the Queenslee Appétit recipes you've made!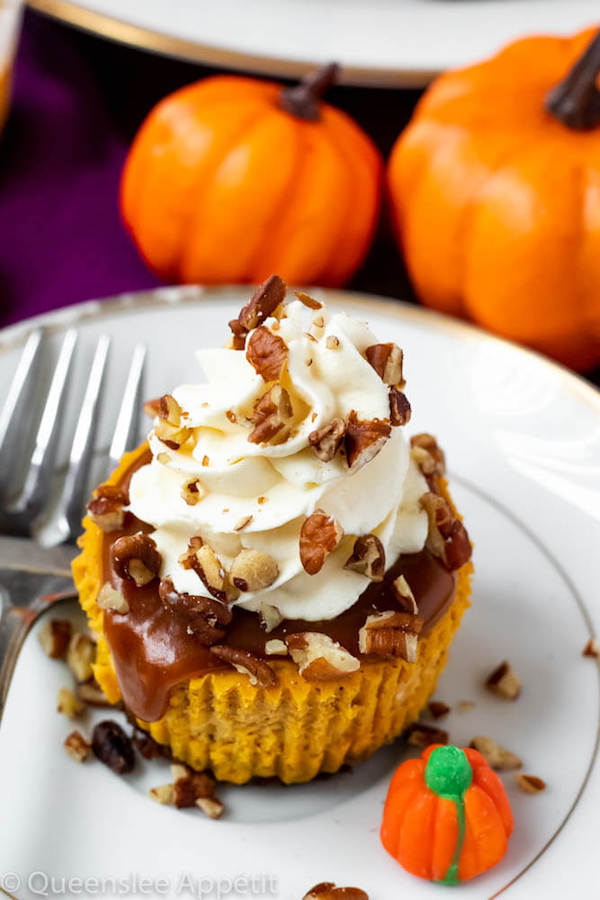 ©QUEENSLEE APPÉTIT. All images & content are copyright protected. Please do not use my images without prior permission. If you want to republish this recipe, please re-write the recipe in your own words, or link back to this post for the recipe.
This post may contain affiliate links. Please see my full disclosure policy for details.