These Pumpkin Pie Bars have a spiced gingersnap crust and are topped with an irresistible Maple Pecan Praline Sauce! These bars are simple, delicious and a perfect dessert for Thanksgiving!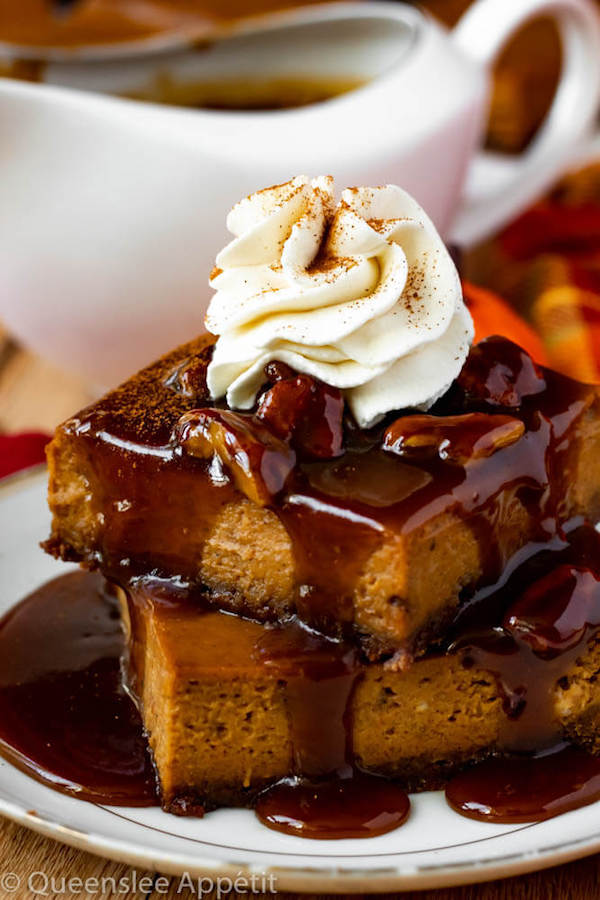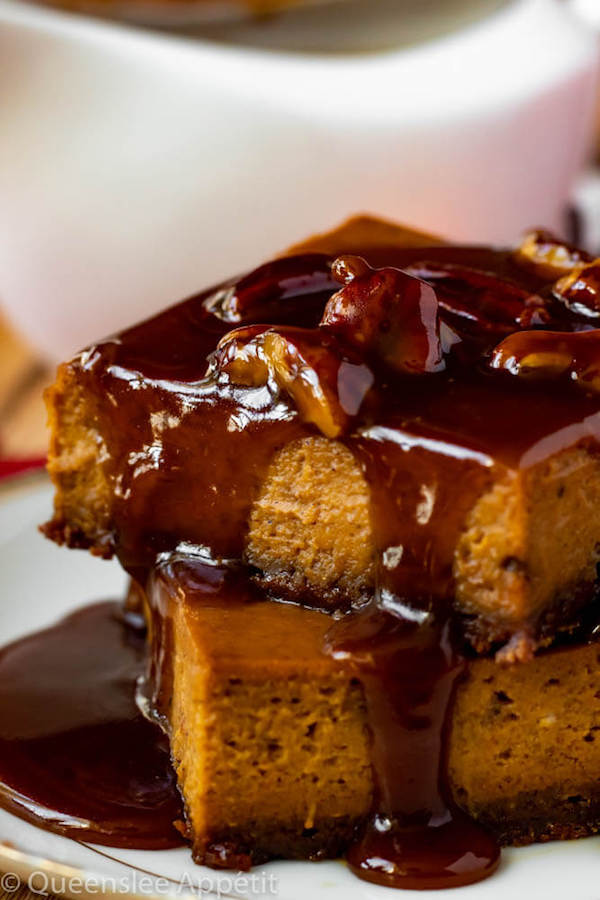 How do you feel about pumpkin pie? How do you feel about pumpkin pie paired with a flavourful gingersnap crust? Better yet, how do you feel about pumpkin pie with a gingersnap crust and a gooey maple pecan praline sauce? Are you drooling yet?
I know you are, because not only does that sound like the most incredible thing ever, but it LOOKS even better! Doesn't this just scream food porn?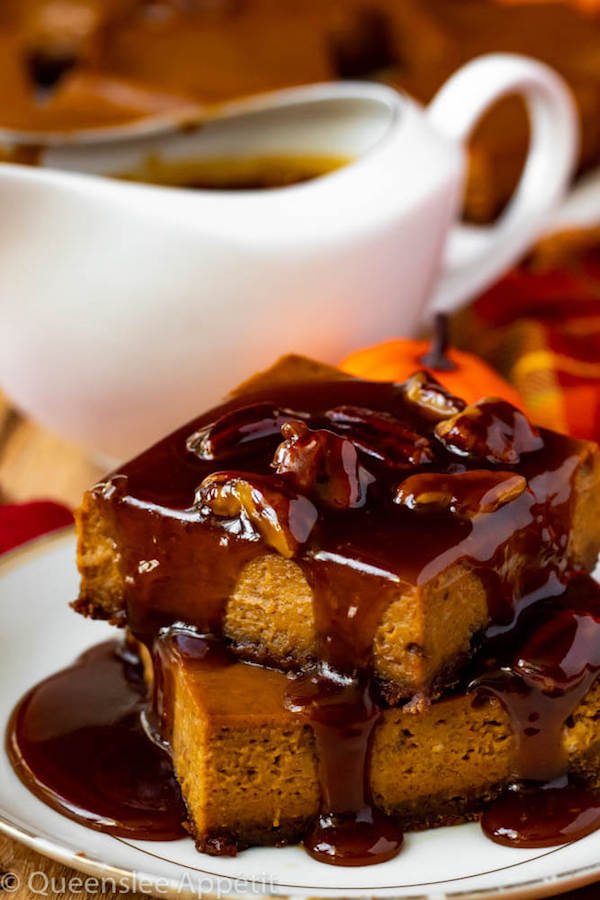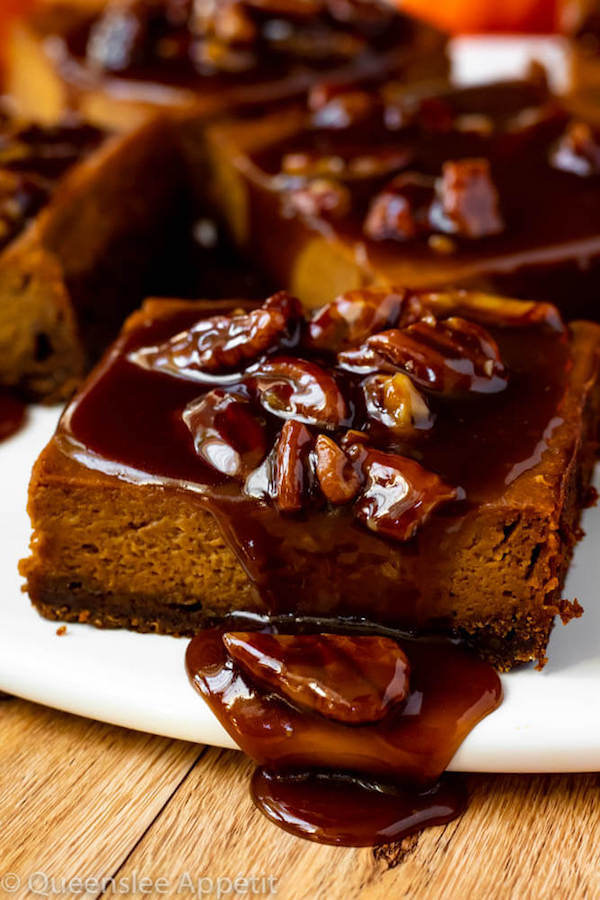 I don't think I'll ever grow tired of pumpkin recipes. They're so many delicious ways to enjoy the pumpkin flavour, and not only do I have a lot more ways to share with you this month, but I have a billion more pumpkin flavoured ideas in my head!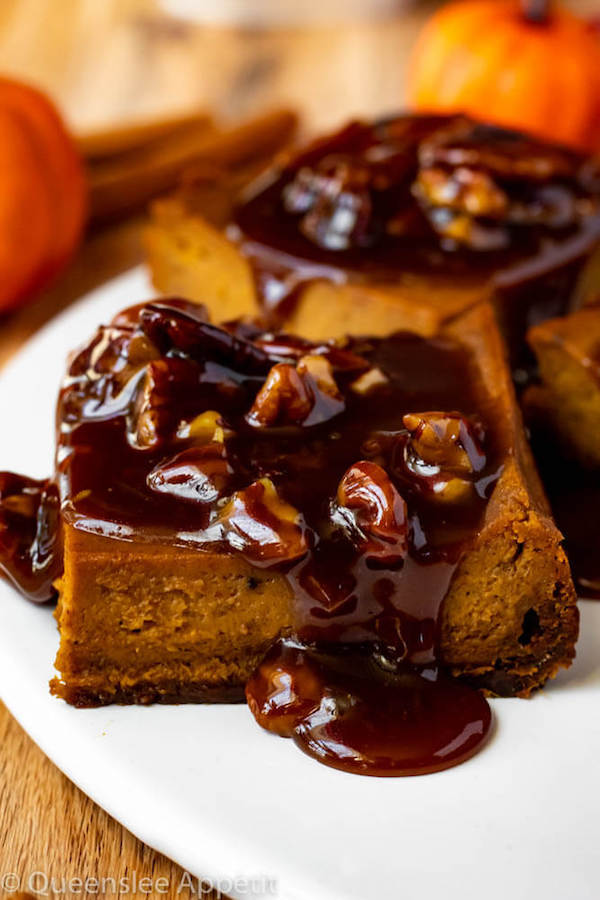 Oh and this is definitely not the last pumpkin PIE recipe I'll be sharing on this blog. I've already created 3 different versions of this recipe so far, and I plan on creating more simply to have an excuse to eat more pumpkin pie.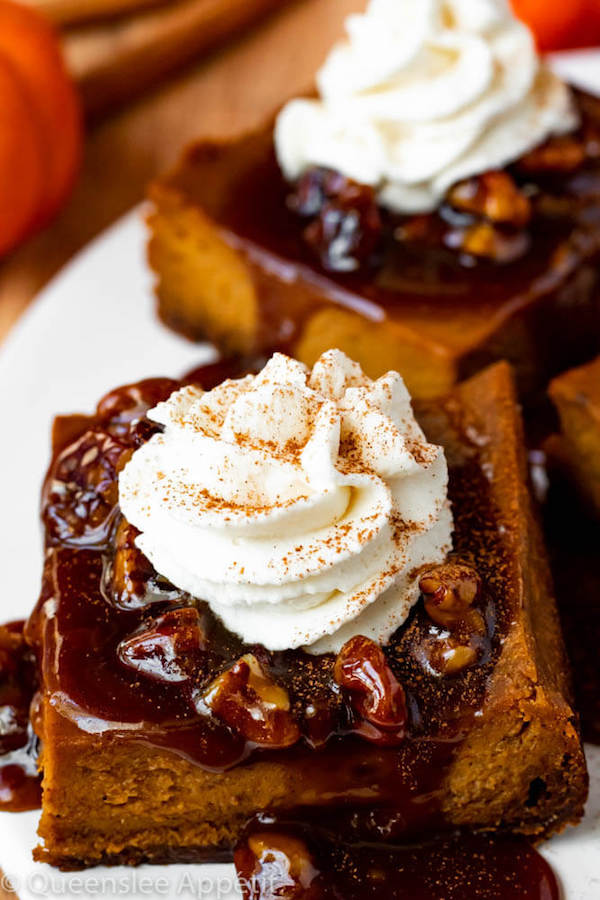 Pumpkin Pie Bars with Maple Pecan Praline Sauce
These pumpkin pie bars, oh my Lord. I feel like shouting on a rooftop just to tell my entire neighbourhood how amazing this recipe is! Although, I'm pretty sure they already know since everyone saw me dancing and squealing through the window while I took photos of these beauties.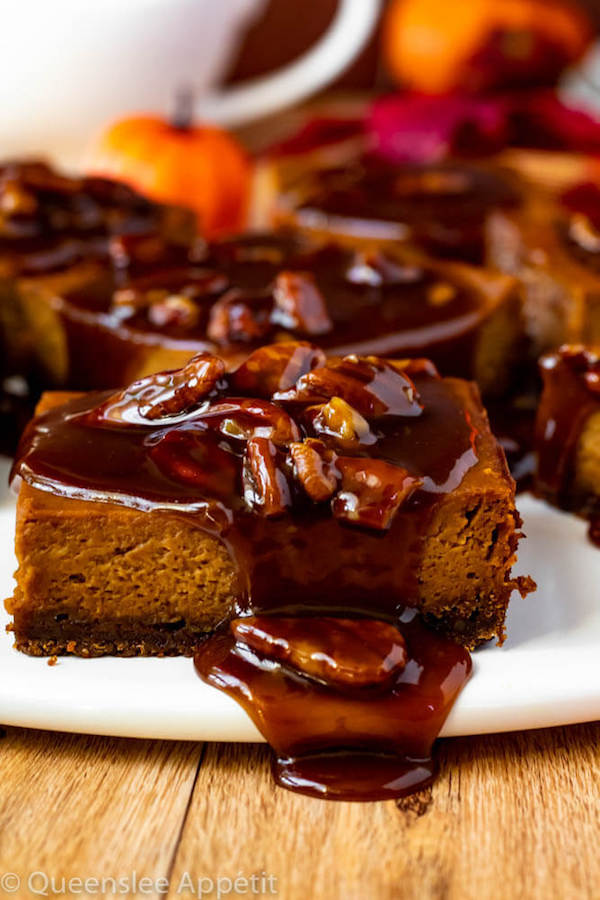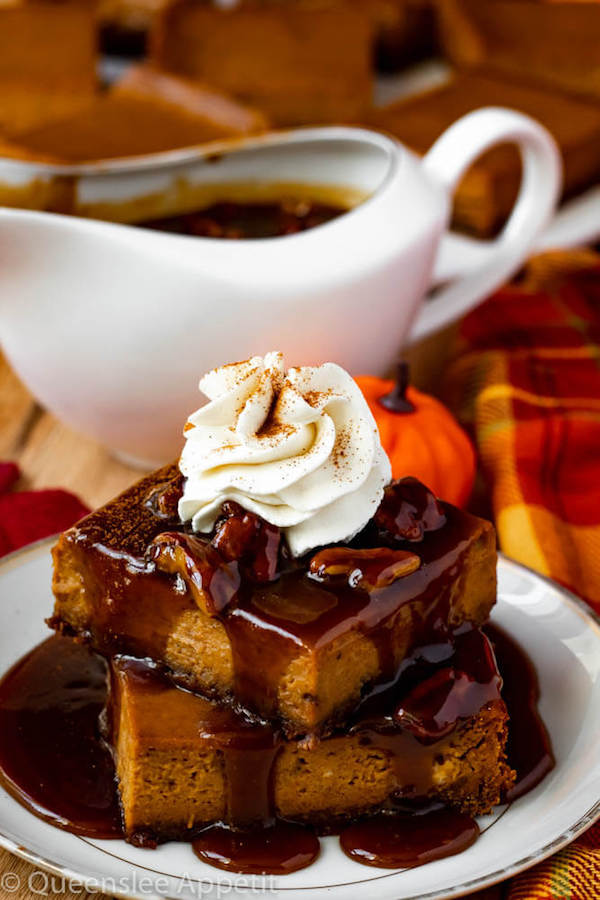 This inspiration for this recipe comes from these heavenly Pumpkin Pancakes I made last year. I created the most delicious maple pecan praline sauce that I drenched those pancakes in.
Ever since then, I came up with the genius idea to put that sauce on top of pumpkin pie. Instead of a traditional pumpkin pie, though, I decided to try something new and make pumpkin bars!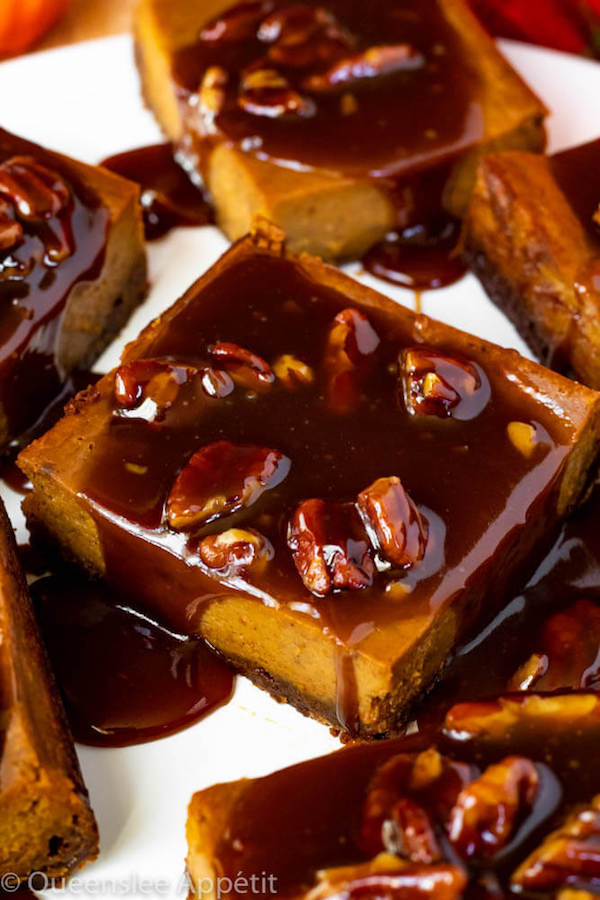 Pumpkin Pie vs Pumpkin Pie Bars
Although the taste is the same, there are a few differences between a traditional pumpkin pie and pumpkin pie bars.
No complicated pie crust: Don't get me wrong, pie crust is pretty easy to make. But all of those extra steps you take just to make it, chill it, roll it out, shape it, chill again, pre-bake etc. Can be too much work. All you need to do for this recipe is crush the cookies, add some butter, and bake for a few minutes. That's it!
Larger servings: this recipe is made in a 9x9-inch pan so I got 9 even bars, but you can cut them in half to have 18 smaller bars that can be served at a party. But this recipe can also be doubled and made in a 9x13-inch pan so then you'll end up with 25-30 bars which is more than enough for a large crowd!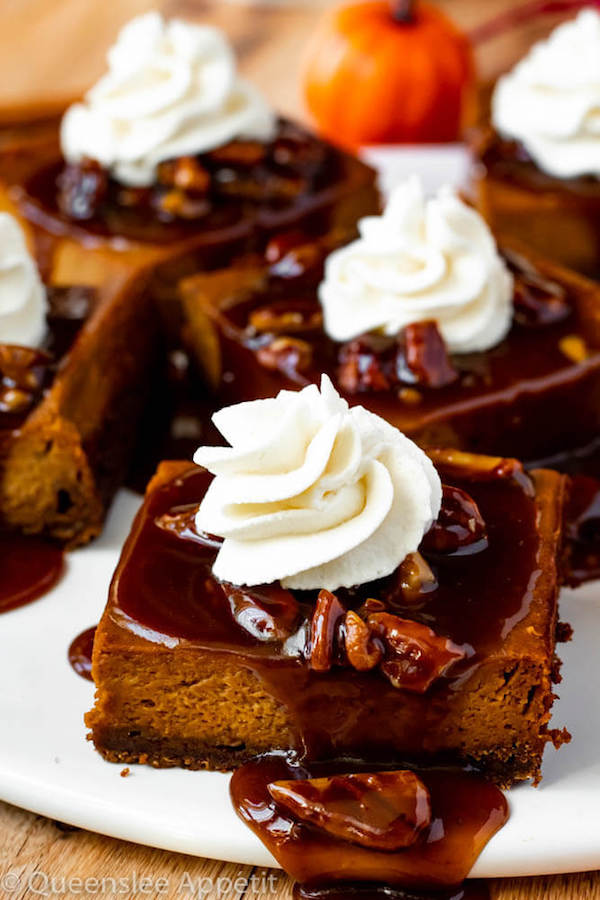 Gingersnap Crust
This recipe begins with a delicious gingersnap crust. These spiced cookies pair perfectly with the sweet pumpkin filling! I don't recommend substituting with graham cracker crumbs because the gingersnaps play a big part in the deep fall flavours in these bars.
First, you will need to crush the cookies into fine crumbs. I prefer to use a food processor since it makes the job a whole lot easier, but you could crush them in a ziploc bag instead. Then I sweetened the cookie crumbs with a bit of brown sugar and some melted butter to hold it all together. Be sure to pack the crust down flat with the bottom of a glass so you get a nice even crust.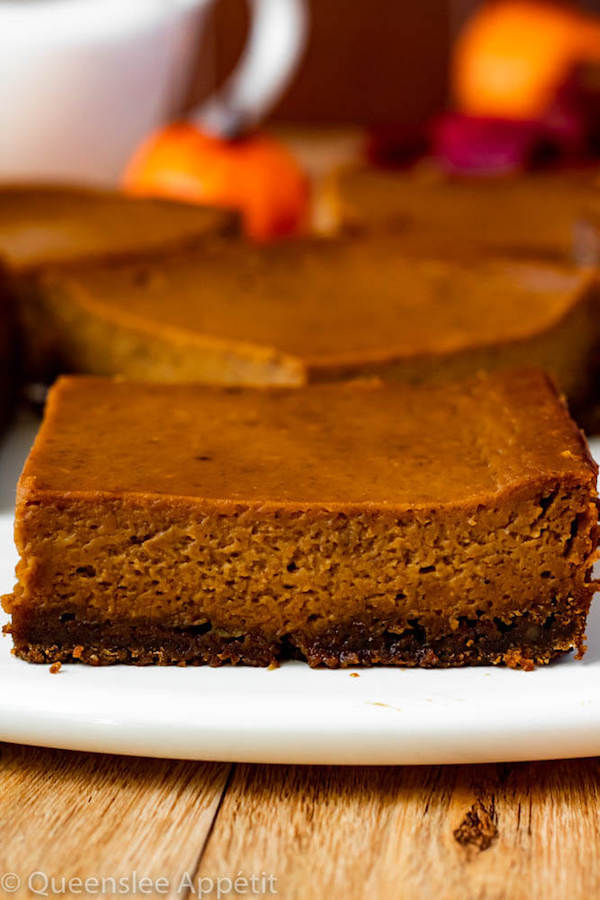 Pumpkin Pie Filling
The filling is so incredibly smooth, creamy and full of pumpkin flavour thanks to the 2 cups of pumpkin purée I added to it. Then it's packed with dark brown sugar and fall spices for the most delightful flavour, cornstarch and eggs to act as a thickener, and some heavy cream and evaporated milk to make it ultra creamy!
Only 2 bowls are required to prepare the filling, one for the dry ingredients and one for the wet ingredients. Once those are mixed separately, mix them together, then add the cream and milk. Don't worry about using a mixer, a whisk will work just fine.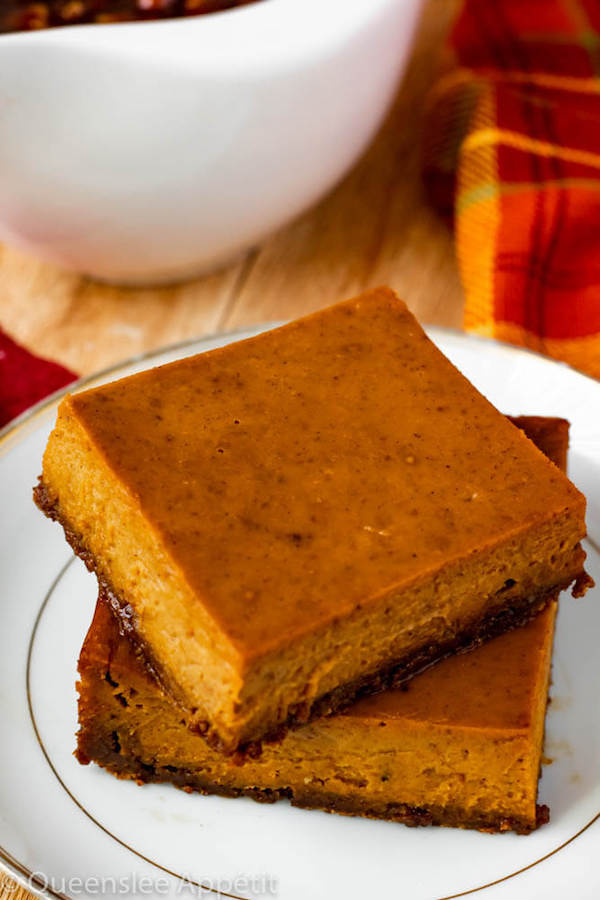 Pour the batter onto the crust and bake for about 45-55 minutes. The pie is baked when the centre wobbles slightly and a toothpick or butter knife inserted into the centre comes out clean.
Allow the pie to cool completely at room temperature. You can slice into it once it's cooled, or you could transfer it to the refrigerator to chill completely. I recommend doing this because it'll make the bars easier to lift out of the pan and cut into clean slices.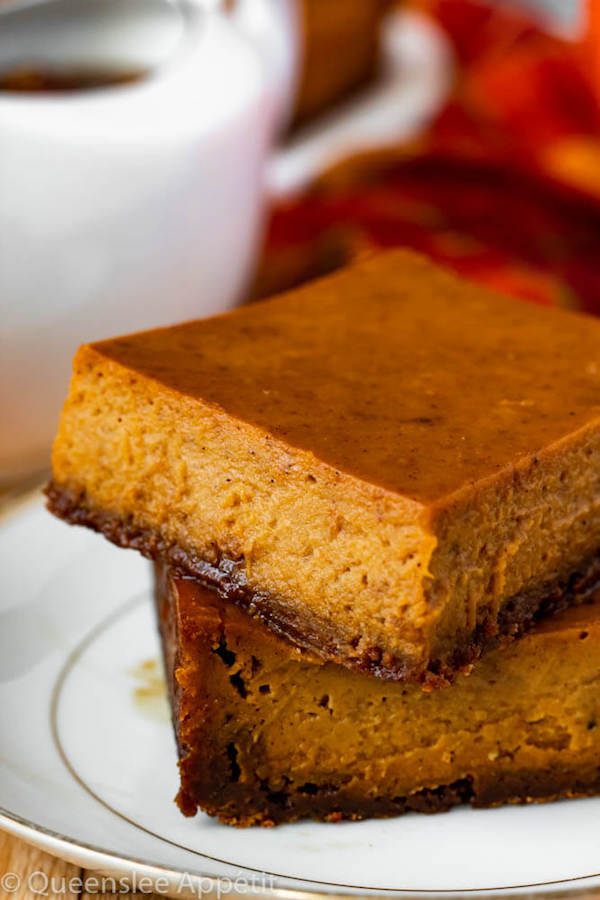 Maple Pecan Praline Sauce
Alright, this maple pecan praline sauce is hands down the best thing I've ever created. It's warm, buttery, gooey and just all around perfection! It's like a brown sugar caramel flavoured maple syrup that's loaded with crunchy toasted pecans.
Sounds amazing right? It is!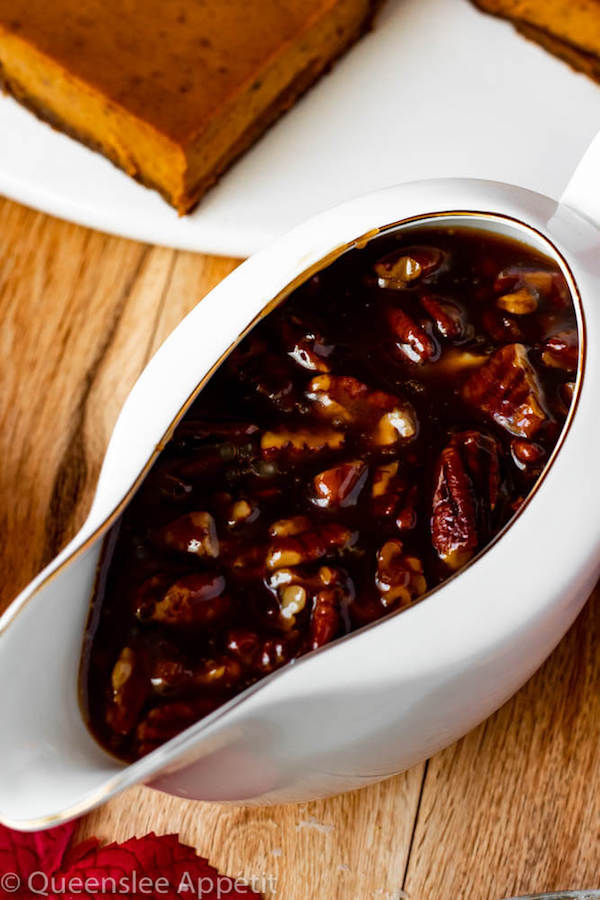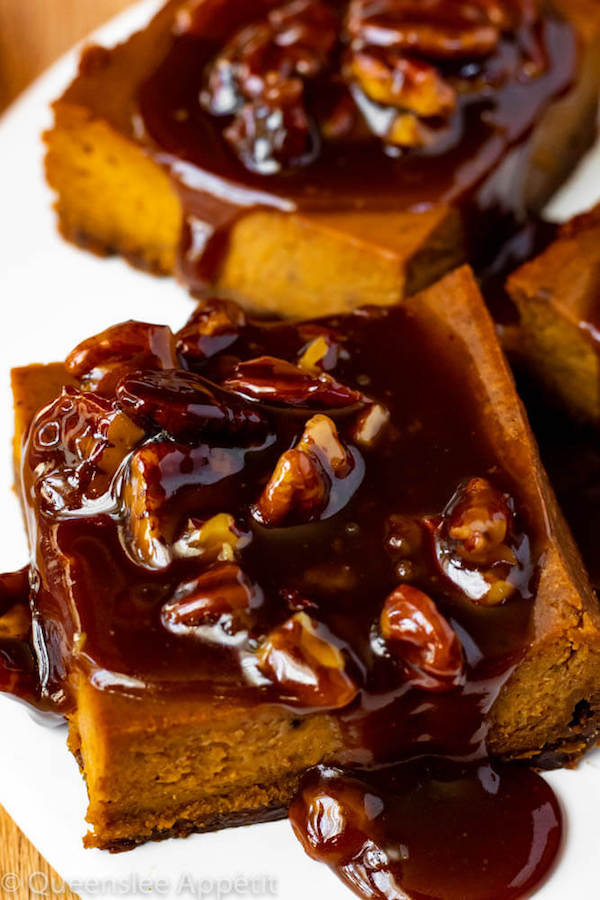 To make the greatest sauce in the world, we start by toasting the pecans. Simply toss the pecans with some melted butter and bake in the preheated oven for a few minutes, chop then set aside.
For the sauce itself, we're gonna melt the butter, flour and brown sugar together on the stove. The brown sugar doesn't really melt completely the way white sugar does when I do this, so it'll still be a bit grainy but don't worry, it'll all be smooth and silky in the end.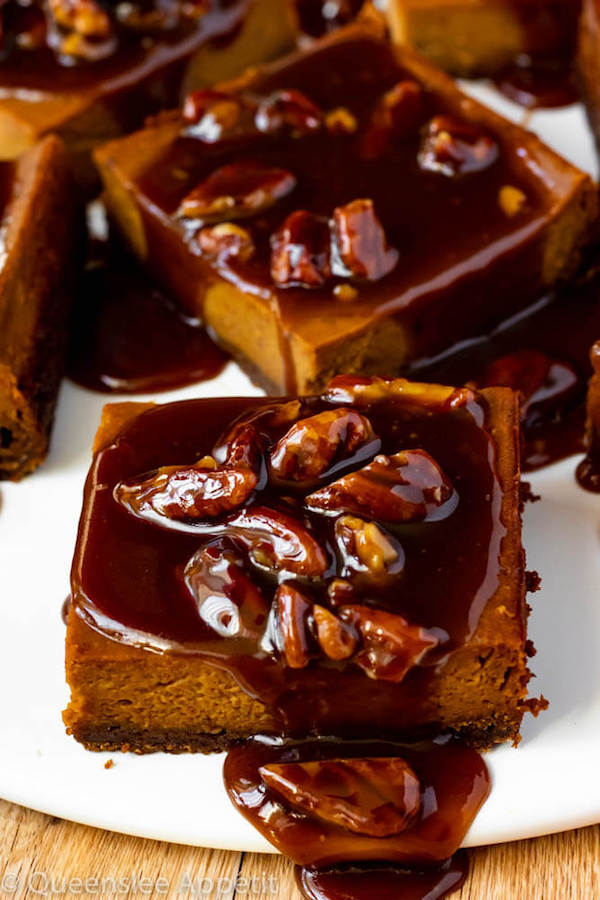 Next we add heavy cream and allow the sauce to boil for about a minute. Then we add the maple syrup. If your maple syrup is cold like mine, it'll cause the sauce to seize up, but just continue to stir over the heat until everything is smooth.
Then we stir in the pecans and the sauce is ready to drench all of your creamy pumpkin pie bars!
Tell me you don't want to take a bite out of this: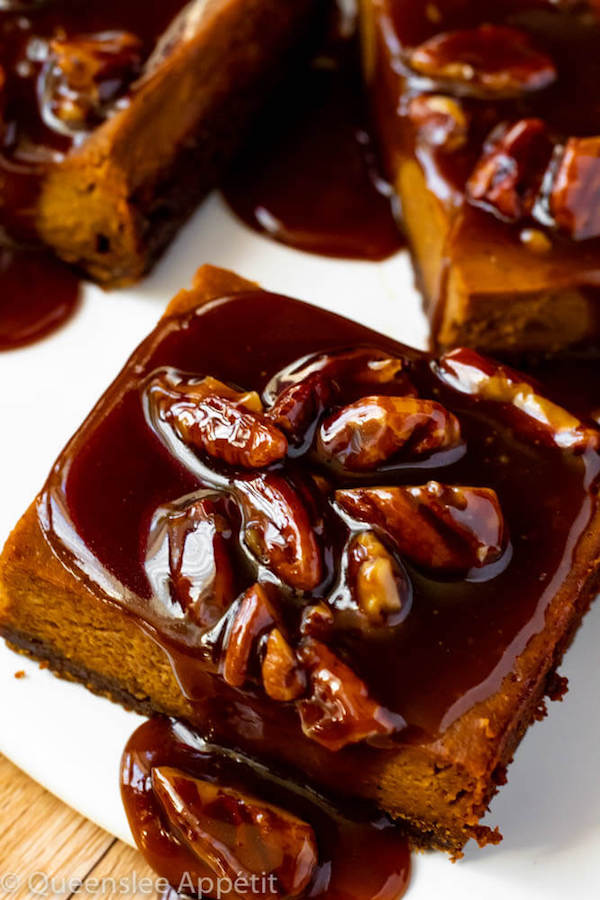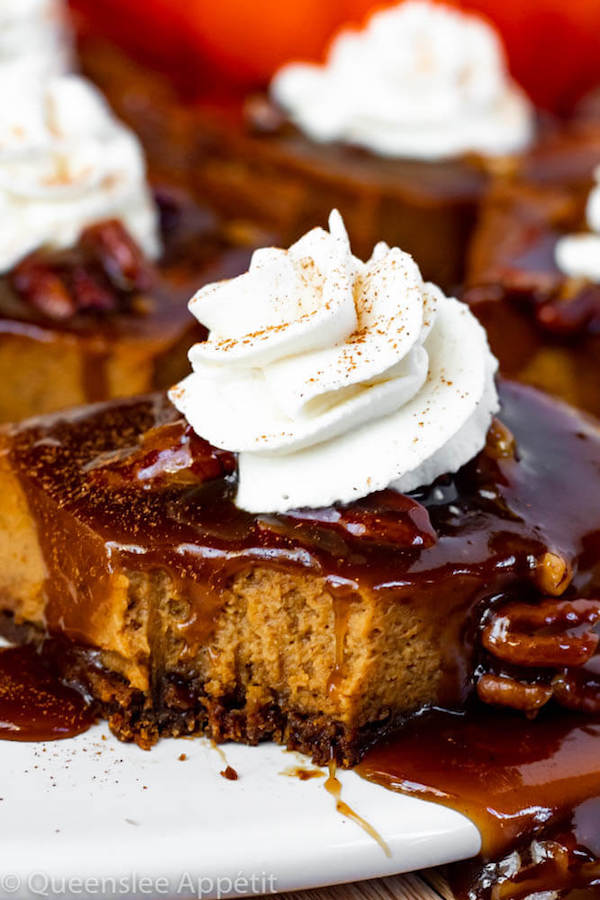 So let's see, we've got a spiced gingersnap crust, a rich pumpkin pie filling and a gooey maple pecan topping. I finished the bars off with a dollop of whipped cream and a dust of cinnamon, but that's totally optional. The crust, filling and topping provide so much incredible flavours on their own!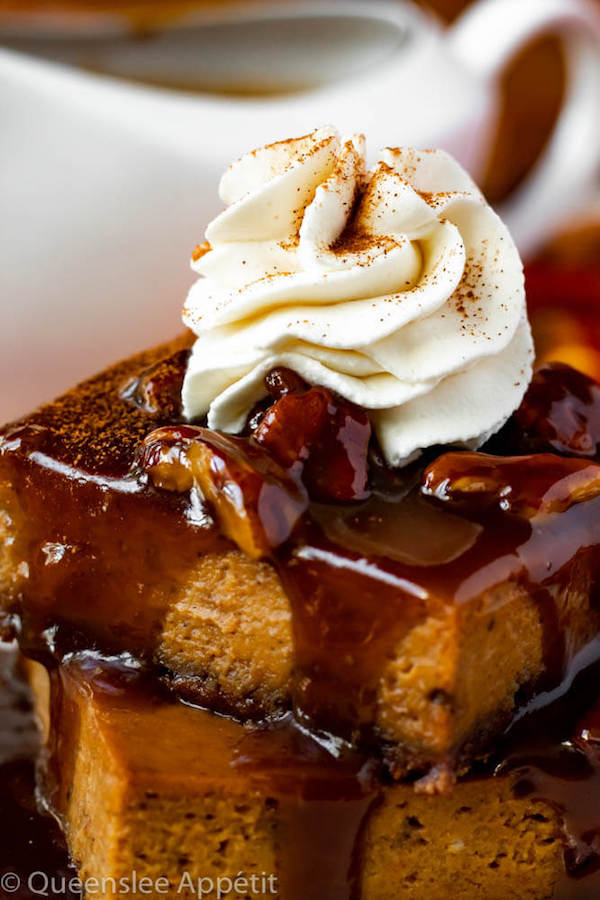 Add this decadent dessert to your holiday baking plans! I promise both pumpkin and non-pumpkin lovers will fall in love with these spectacular bars and go back for seconds!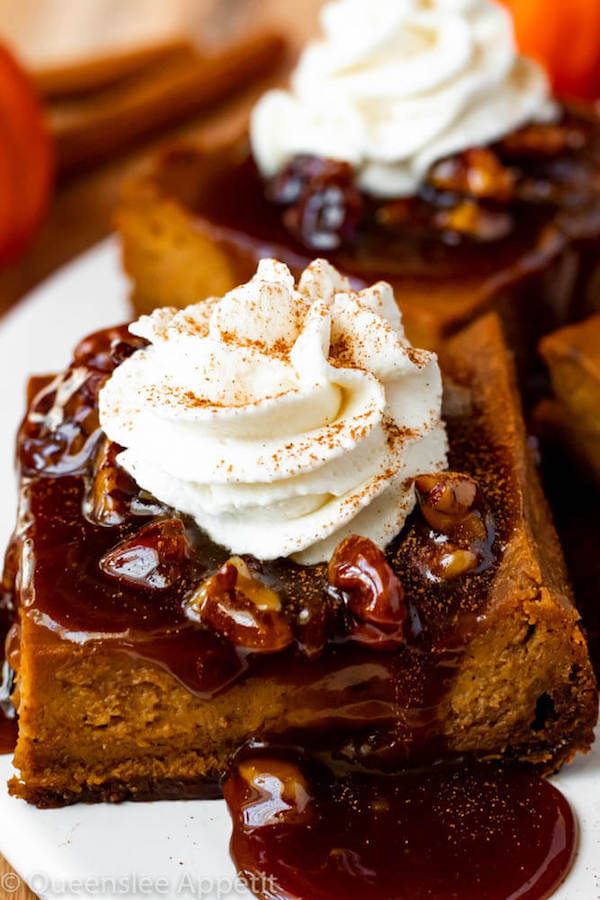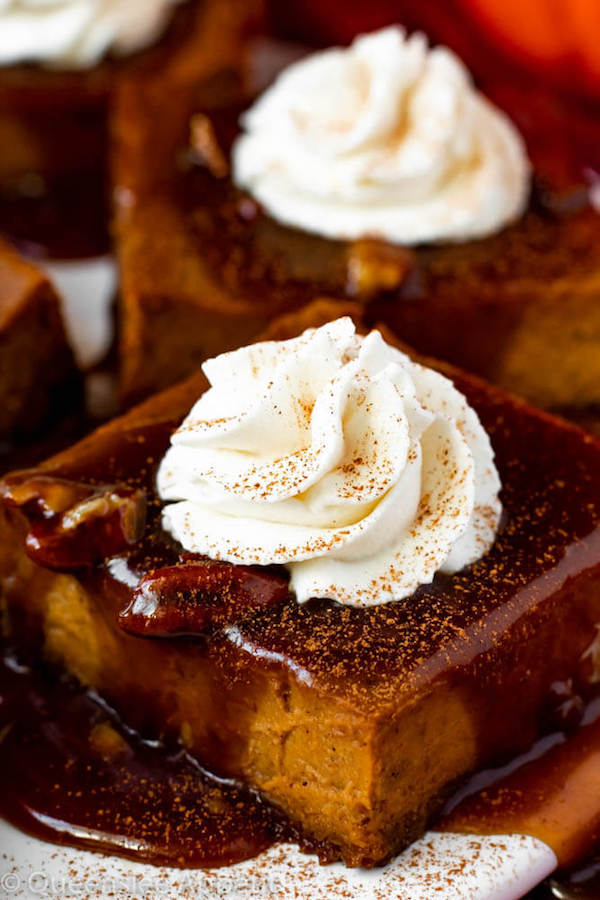 More Pumpkin Recipes You'll Enjoy:
>>PIN ME FOR LATER<<

FOLLOW QUEENSLEE APPÉTIT
Like what you see? Make sure you're following Queenslee Appétit for more tasty recipes!
Pinterest | Instagram | Facebook | Twitter |
Never miss a recipe, SUBSCRIBE at the bottom of this post!
Have any questions about the recipe? Contact me here, and I'll be happy to help!
Let's get baking!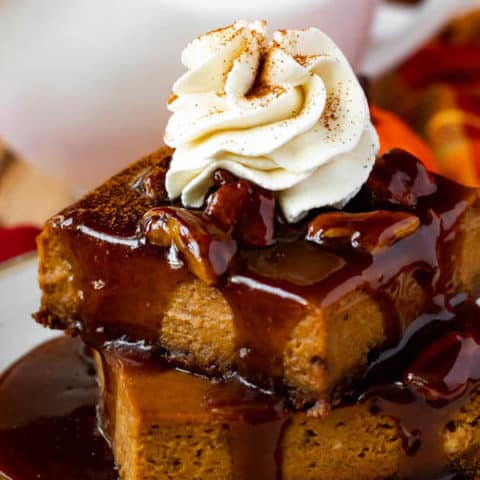 Pumpkin Pie Bars with Maple Pecan Praline Sauce
These Pumpkin Pie Bars have a spiced gingersnap crust and are topped with an irresistible Maple Pecan Praline Sauce! These bars are simple, delicious and a perfect dessert for Thanksgiving!
Ingredients
Gingersnap Crust:
1 and ½ cups gingersnap cookie crumbs
2 tablespoon brown sugar, packed
¼ cup Unsalted Butter, melted + extra to grease the pan
Pumpkin Pie Filling:
1 cup dark brown sugar, packed
1 tablespoon cornstarch
1 teaspoon ground cinnamon
½ teaspoon ground ginger
¼ teaspoon ground nutmeg
¼ teaspoon ground cloves
¼ teaspoon ground allspice
½ teaspoon salt
3 large eggs, room temperature
2 cups (16 oz.) pumpkin purée
½ cup heavy whipping cream
⅔ cup evaporated milk
Maple Pecan Praline Sauce:
¼ cup unsalted butter, divided
½ cup pecan halves
¾ cup light brown sugar, packed
2 tablespoon all purpose flour
⅓ cup heavy cream
¾ cup maple syrup
Whipped cream, for topping (recipe below) (optional)
Sweetened Whipped Cream:
½ cup heavy whipping cream, chilled
4 tablespoon powdered sugar
½ teaspoon pure vanilla extract
Cinnamon or pumpkin spice, for dusting
Instructions
For the Gingersnap Crust:
Preheat oven to 350°F (180°C). Line a 9x9-inch square baking pan with aluminum foil or parchment paper, leaving about 2-inches hanging over the sides and spray with non-stick spray. Set aside.
In a food processor or using a rolling pin and a large Ziploc bag, crush gingersnap cookies into fine crumbs. In a medium bowl, mix together the cookie crumbs and 2 tablespoon of sugar. Add melted butter and using a fork, combine the ingredients.
Pour crumbs into pan and, using the flat bottom of a glass or measuring cup, press into the bottom of the pan. Bake the crust until its slightly darkened, 5-6 minutes. Remove from oven and set aside.
For the Pumpkin Pie Filling:
In a large mixing bowl, add the brown sugar, cornstarch, cinnamon, nutmeg, ginger, cloves, allspice and salt. Whisk to combine.
In a separate bowl, beat the eggs, then add the pumpkin purée and sugar and spice mixture. Whisk until combined and smooth. Add heavy cream and evaporated milk and mix until well combined.
Pour filling into the pan and bake in preheated oven for 50-55 minutes, or until a knife inserted into the center comes out clean.
Allow pie to cool to room temperature on a wire rack, then cover and refrigerate for up to 3 hours or overnight.
For the Maple Pecan Praline Sauce:
Preheat oven to 350°F and line a baking sheet with parchment paper or a silpat mat.
In a small bowl, melt 1 tablespoon of butter in the microwave for about 30 seconds. Drizzle the melted butter onto the pecans and toss together to coat pecans.
Spread pecans onto prepared baking sheet and bake in oven for 5-7 minutes until toasted and fragrant.
Remove the pecans from the oven and roughly chop. Set aside.
Add remaining 3 tablespoon of butter to a medium saucepan over medium heat and heat until butter is melted.
Add brown sugar and flour and cook, stirring with a wooden spoon until sugar has dissolved.
Add heavy cream and continue to cook for an additional 1 minute.
Add maple syrup and stir until combined. Continue to cook, stirring constantly until mixture is fully combined and smooth, about 3-4 minutes.Remove from heat and stir in chopped pecans.
Once pumpkin pie bars are completely chilled, use the overhang to gently lift the pie out of the pan. Slice into even bars. Top with the maple pecan praline sauce and serve. Enjoy!
For the Sweetened Whipped Cream:
In a medium stainless steal bowl, using a handheld mixer, whip the chilled cream, powdered sugar and vanilla until cream holds peaks. Place a dollop on bars and dust on some cinnamon or pumpkin pie spice, if desired.
Notes
The filling can be made a day ahead and kept covered in the refrigerator.
You can substitute the spices with 2 teaspoons of pumpkin spice.
Recommended Products
As an Amazon Associate and member of other affiliate programs, I earn from qualifying purchases.
BON APPÉTIT!
Love, Dedra
DID YOU MAKE A RECIPE?
I'd love to see how it turned out! Follow me on Instagram and use the hashtag #queensleeappetit so I can see all of the Queenslee Appétit recipes you've made!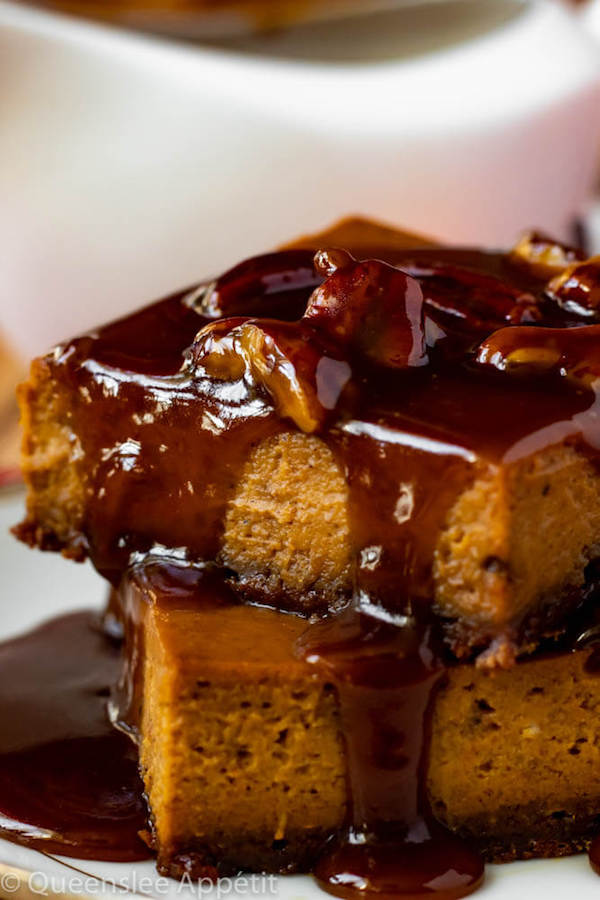 ©QUEENSLEE APPÉTIT. All images & content are copyright protected. Please do not use my images without prior permission. If you want to republish this recipe, please re-write the recipe in your own words, or link back to this post for the recipe.