These Pumpkin Pancakes are light, fluffy and has the perfect amount of pumpkin and spice flavour! Topped with a rich and delicious Maple Pecan Praline Syrup, these irresistible pancakes are the perfect fall breakfast!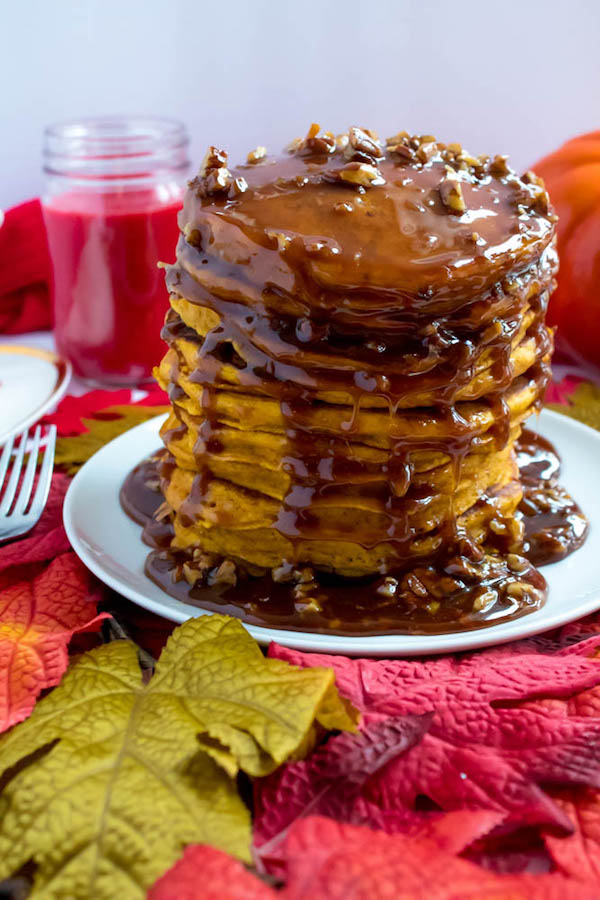 This post may contain affiliate links. As an Amazon Associate I earn from qualifying purchases. Please see my full disclosure policy for details.
Surprise! I bet you thought you'd seen the last of my pumpkin recipes, huh? Nope! I still got a few more Autumn spice and pumpkin flavoured recipes up my sleeve. These pumpkin pancakes have officially been added to my list of favourites because, by God, LOOK AT THEM!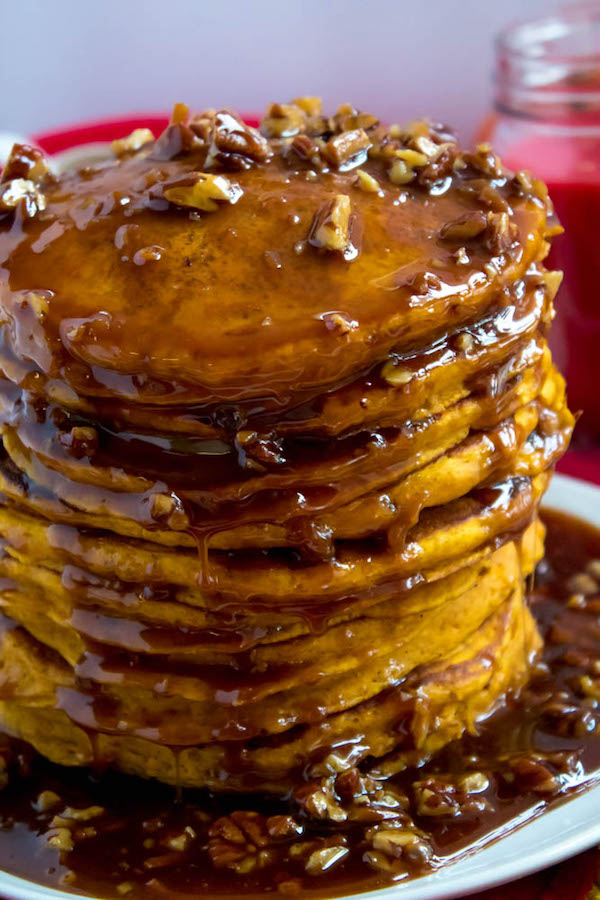 Pumpkin Pancakes with Maple Pecan Praline Syrup
You guys...these pancakes....I just--oh my God. They're like pumpkin pie in fluffy form. And the Maple Pecan Praline topping? Absolutely mouth-watering! I honestly can't stop drooling over them. If there was one food that could perfectly represent the Fall season, it would be these pancakes!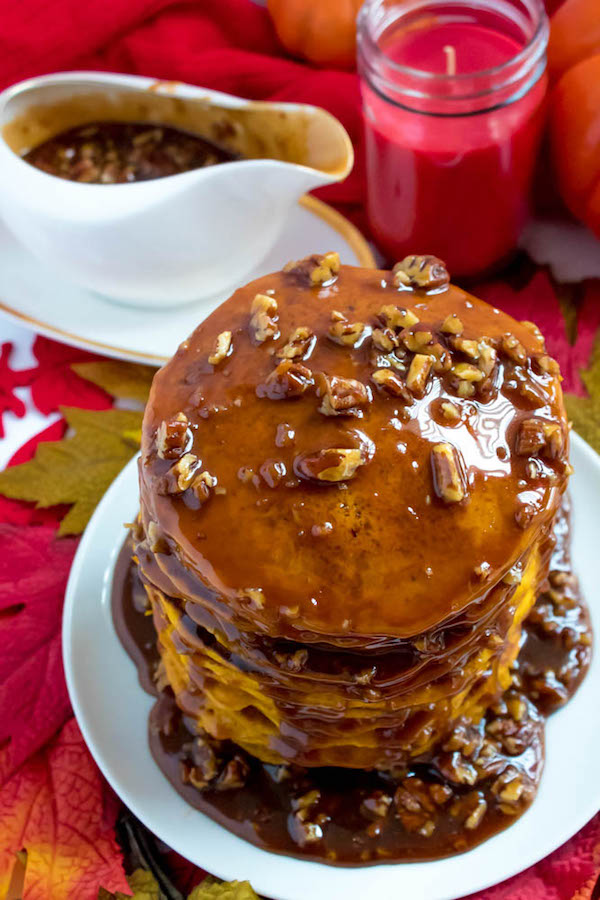 The first time I made these pancakes, I failed...miserably. I pretty much adapted this pancake recipe, replaced the cinnamon with pumpkin spice, then added some pumpkin purée. The pancakes tasted bland, and they were way too thick for my liking. On top of that, they looked way to horrible to photograph and share.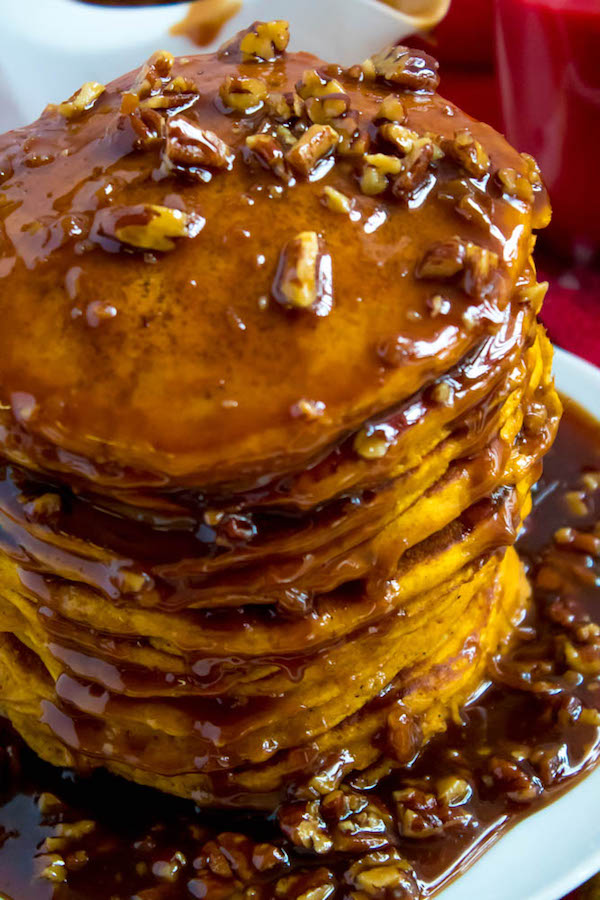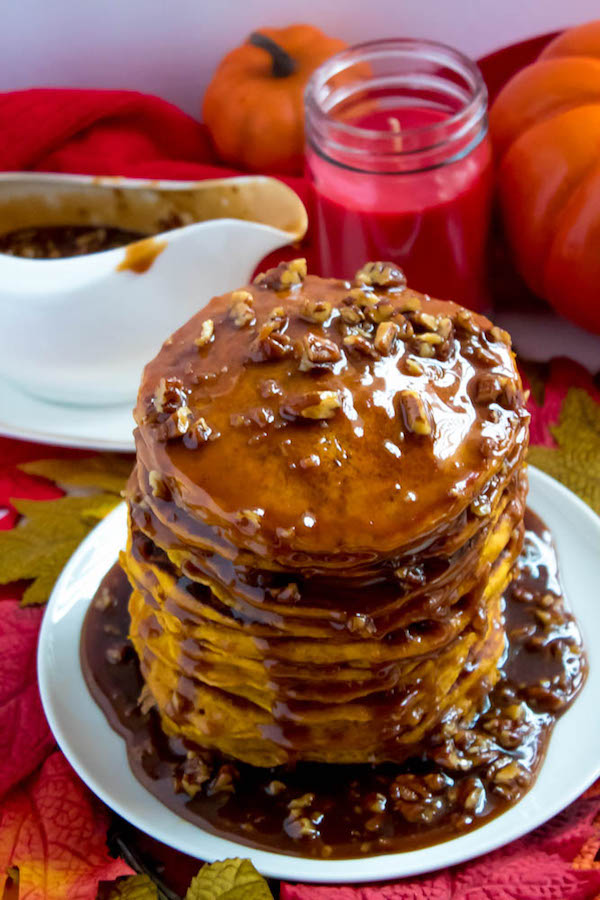 These pancakes, however, are a HUGE improvement! They're are perfectly fluffy, have a slightly crisp edge and aren't too thick. Just the way I like 'em.
I added an extra teaspoon of pumpkin pie spice to enhance the pumpkin flavour. Another thing that boosted the flavour of these pancakes was swapping the white sugar for a bit more brown sugar.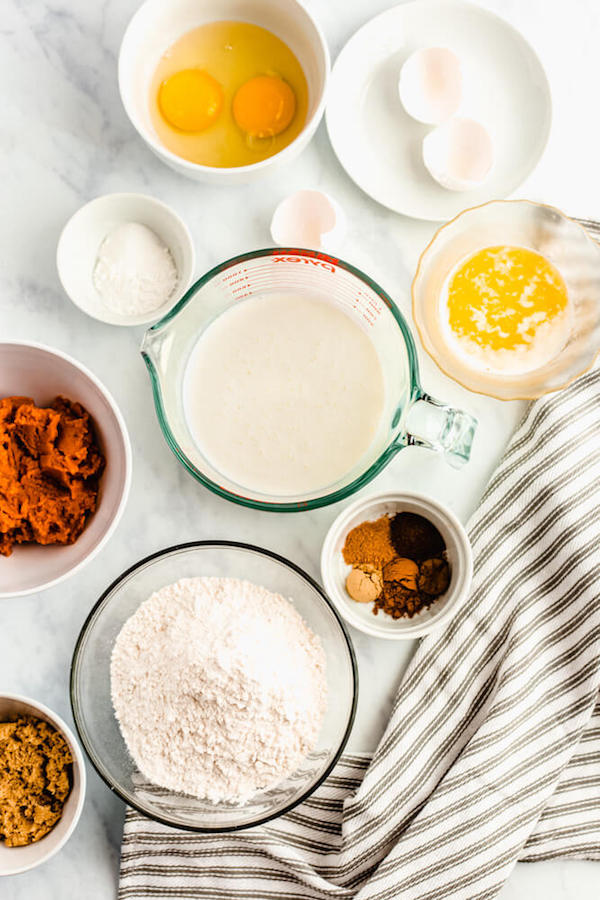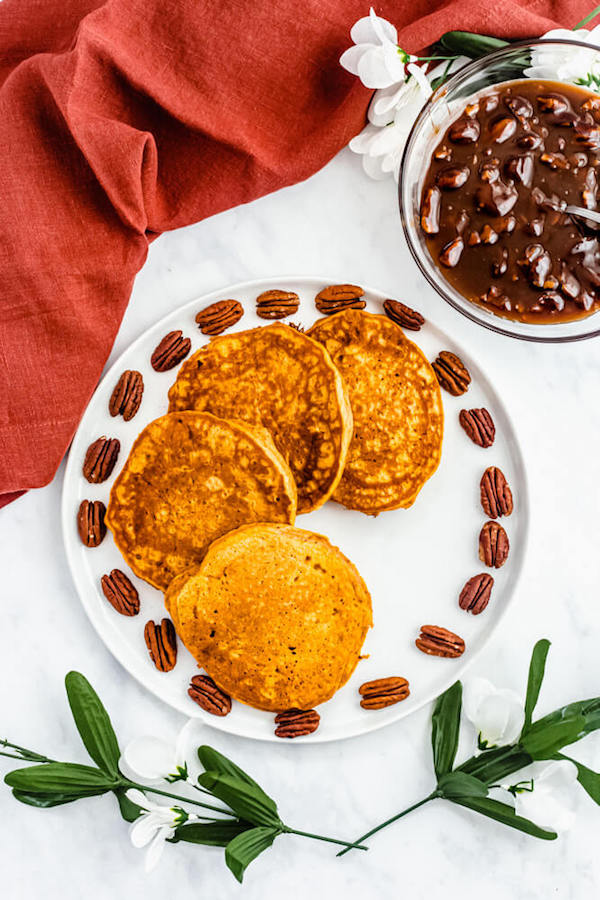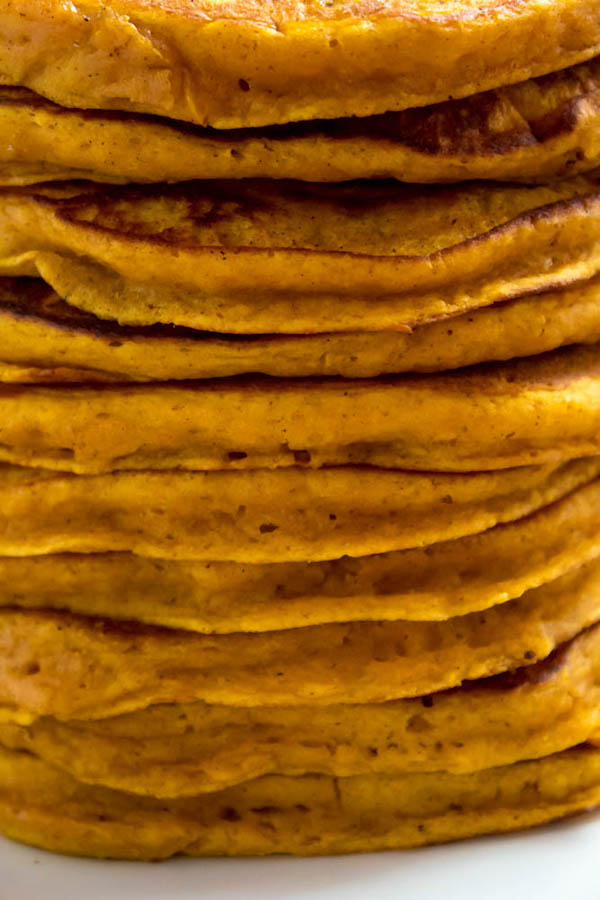 Buttermilk > Whole Milk
Another change I made from my cinnamon pancake recipe was using buttermilk instead of whole milk. Not only does the buttermilk add more flavour, it makes the pancakes incredibly soft, tender and fluffy. All of the greatest characteristics of a perfect pancake!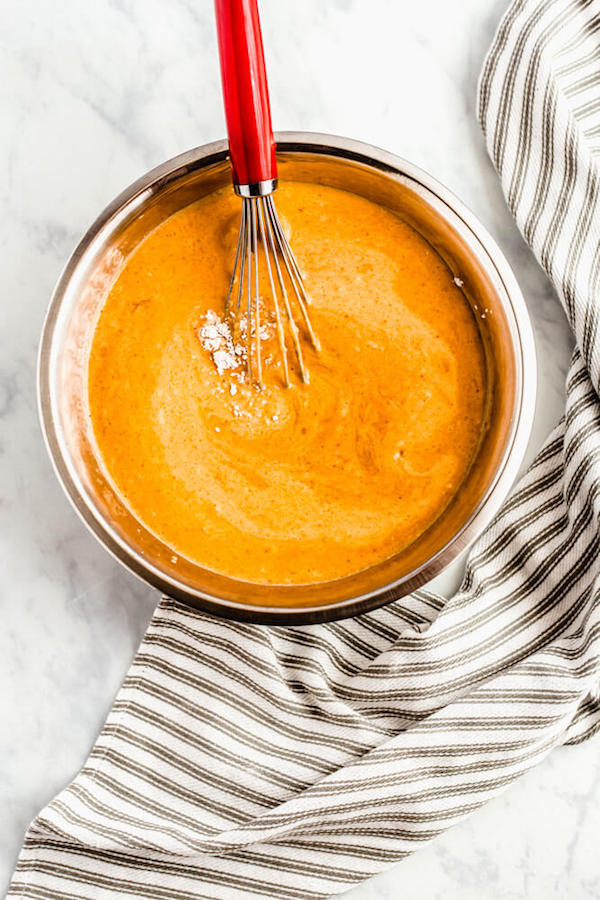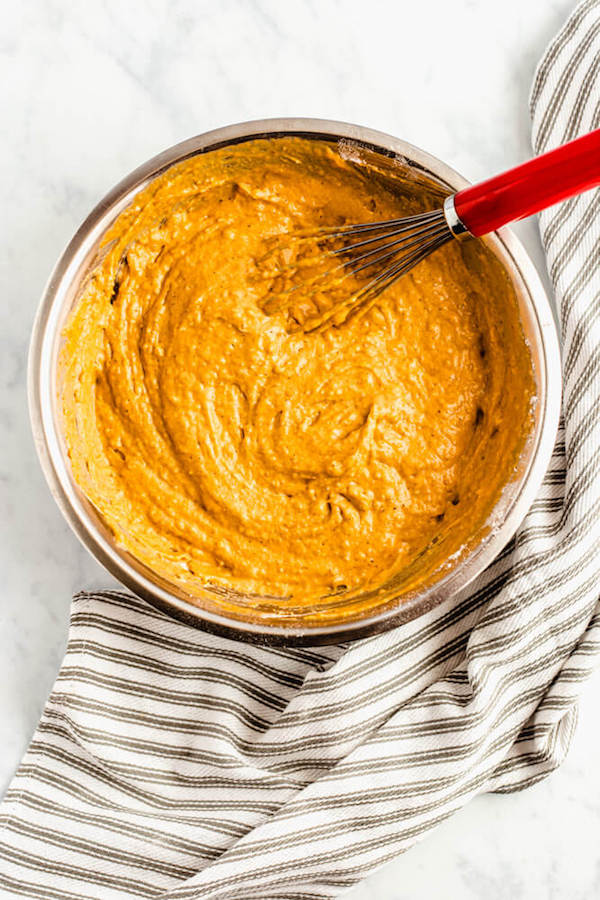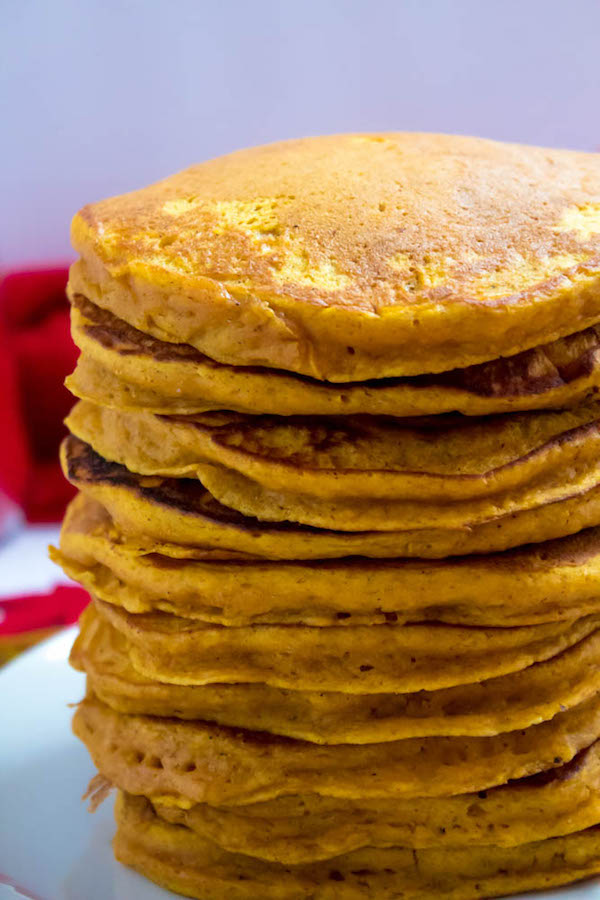 On top of being disappointed in my first attempt at these pancakes, I was also extremely disappointed in the Maple Pecan Praline Sauce. My first test was a grainy disaster! There was many things I did wrong, like letting the mixture boil for about 20 minutes (what was I thinking?!)
For my second attempt at this topping, I swapped a few ingredients for others. Then I changed the order in which certain ingredients were added and IT WORKED! Just look at the difference:
Before and After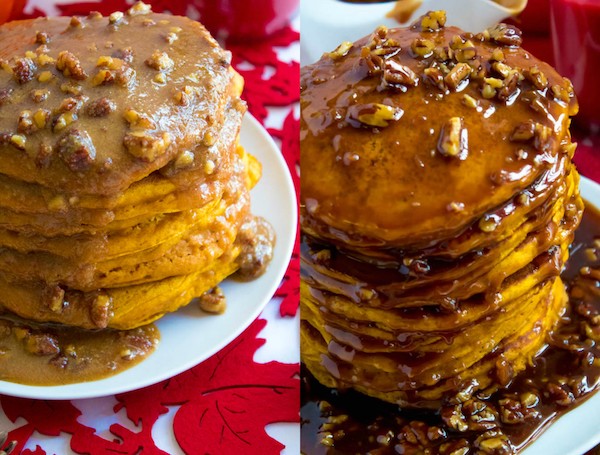 Now that's what I call a Glo' Up.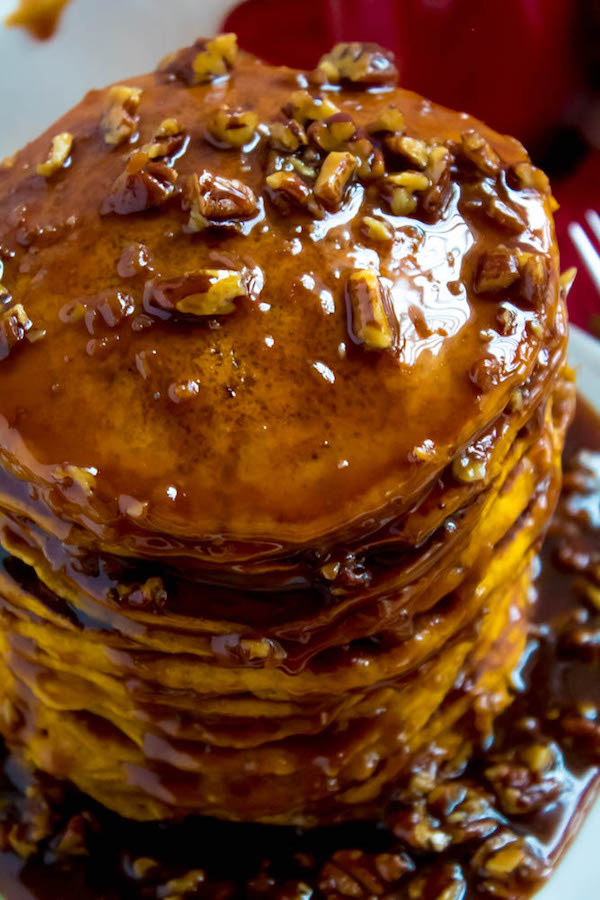 Maple Pecan Praline Syrup
The Maple Pecan Praline Syrup is warm, buttery and gooey. It's a million times better than plain old maple syrup and takes these pancakes to a whole 'nother level! This syrup is honestly good enough to eat with a spoon - and I have 0 shame in admitting that I have.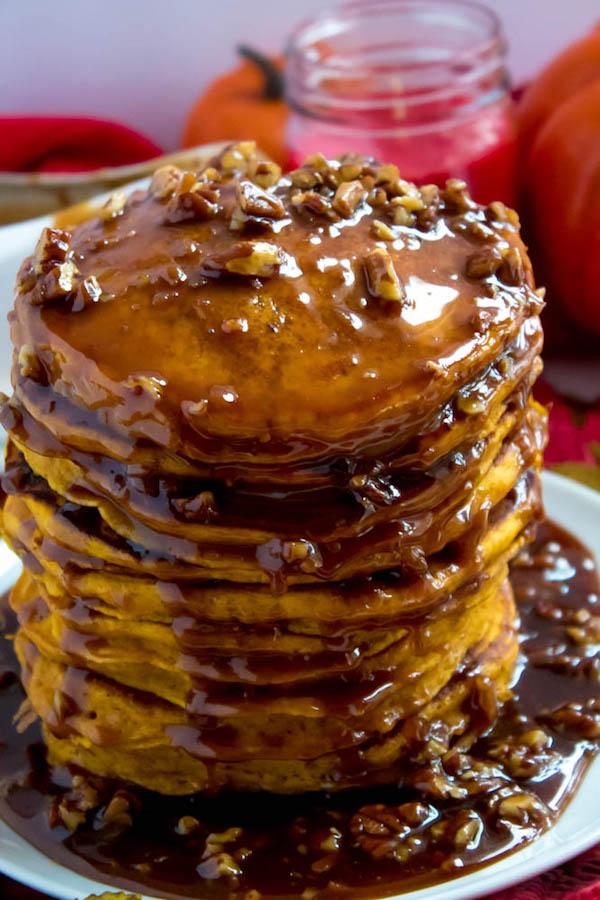 The warm maple topping pairs perfectly with the pumpkin spiced pancakes! The blend of fluffy pumpkin pancakes, warm maple praline syrup, and crunchy pecans in every bite will make your taste buds happy.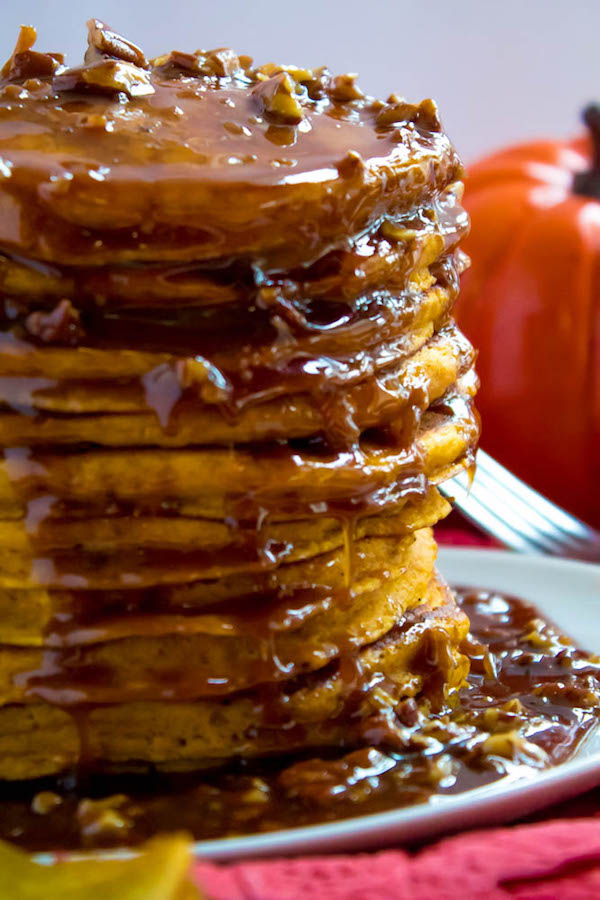 To make the syrup, I simply melted butter, brown sugar and flour together. Then I added some heavy cream (originally evaporated milk). After that I added some maple syrup. I originally planned on removing the sauce from the heat, then adding the syrup but found that the sugar seizes up when the cold syrup is added. To solve this I put the pot back on the stove and continued to cook the syrup, while stirring until the sugar melted back down and everything was smooth.
I then added some chopped and toasted pecans, which made this the greatest pancake topping ever! Yes, even better than my warm and gooey apple topping, believe it or not.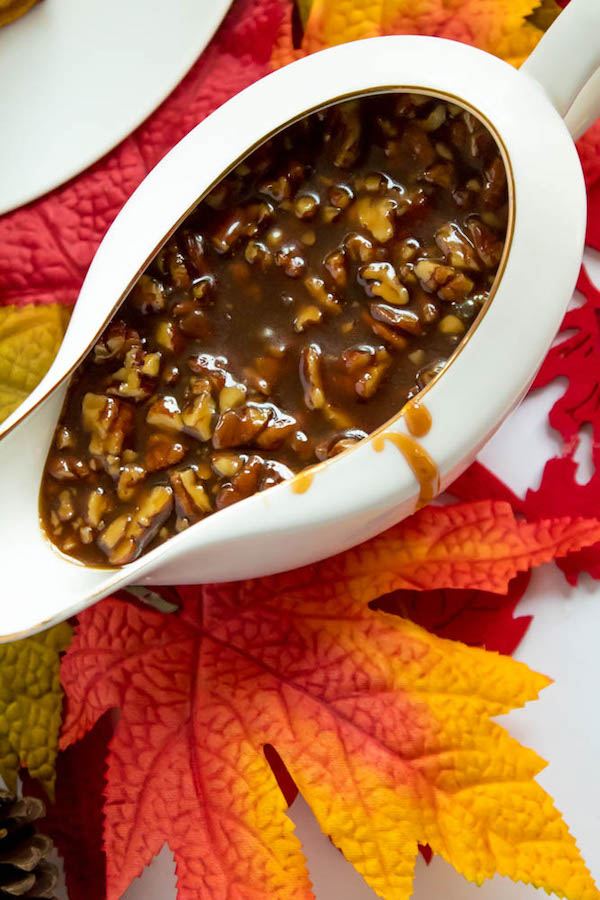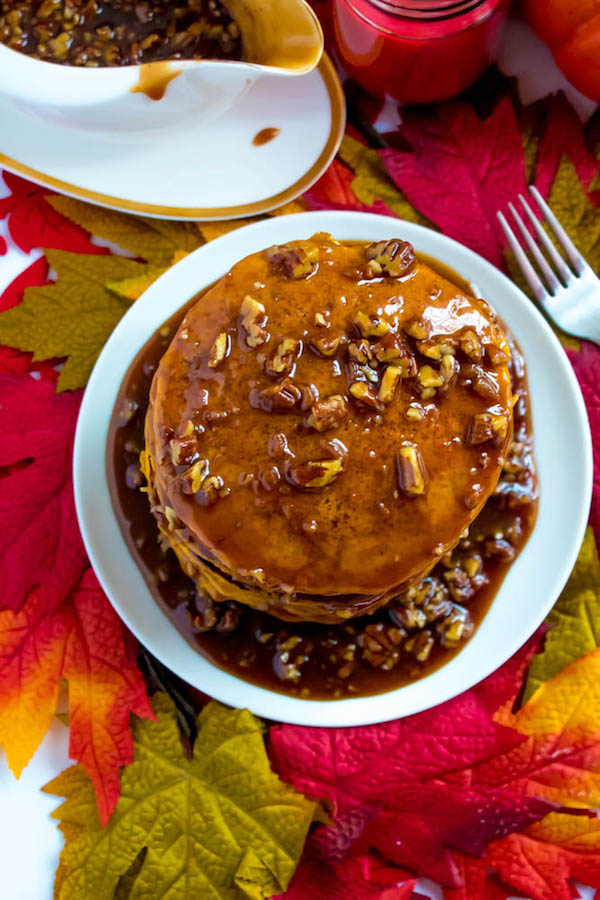 The syrup will begin to thicken as it cools, making it difficult to pour. I recommend either making the sauce right before you plan on topping the pancakes, or making it the night before and storing it in the refrigerator. Store the syrup in a glass jar, until you're ready to use it. To reheat, just place the jar in the microwave and heat in 30 second intervals until the syrup is pourable.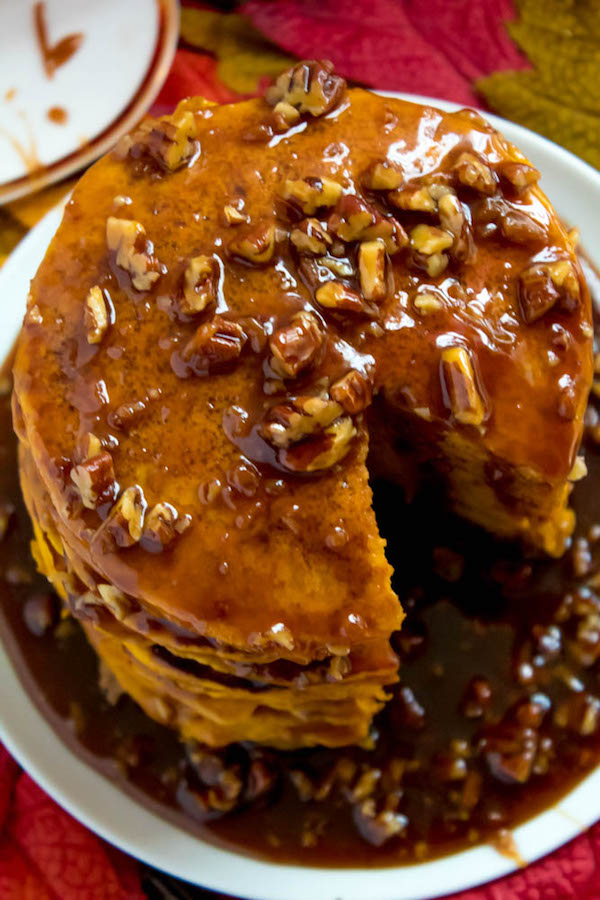 This recipe makes quite a bit of syrup, but I don't recommend cutting it in half since I bust my butt testing this recipe so I have no idea what would happen if it was changed. You can use the extra syrup to top ice cream, and it would pair perfectly with pumpkin cheesecake or pumpkin pie!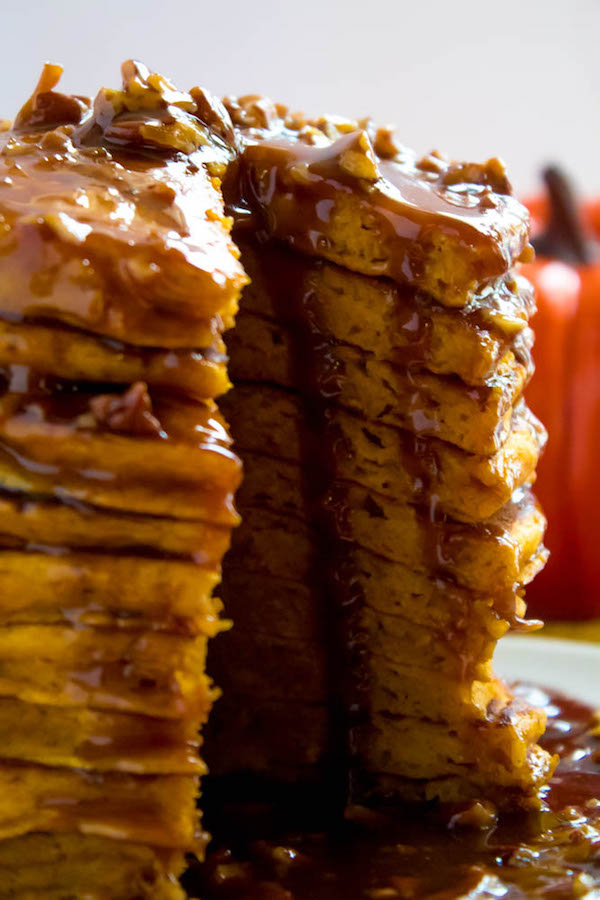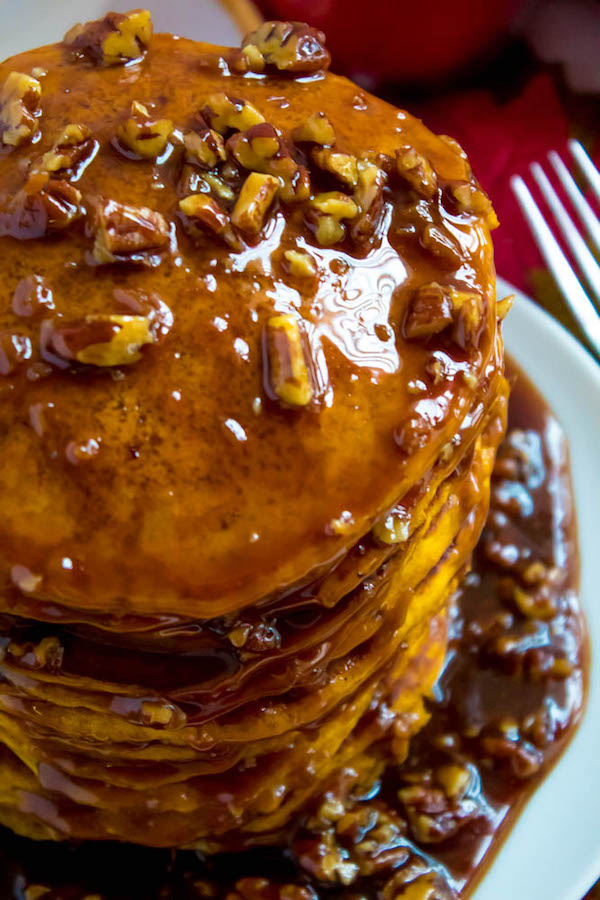 Serve this stack of pumpkin pecan praline perfection for breakfast Thanksgiving morning or every morning! I enjoyed them with a mug of my Caramel Pumpkin Spice Latte for the ultimate fall breakfast!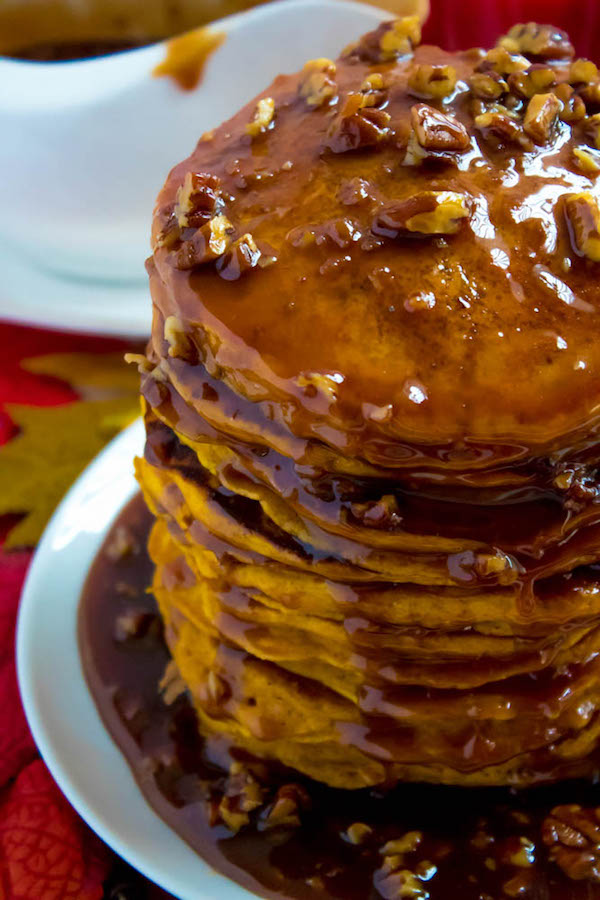 More delicious Pancake Recipes:
>>PIN ME FOR LATER!<<

Let's get baking!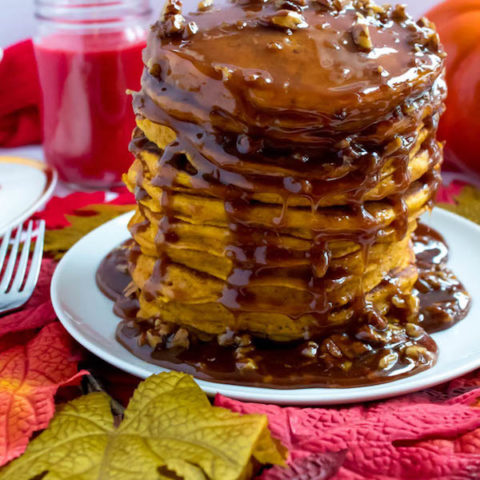 Pumpkin Pancakes with Maple Pecan Praline Syrup
These Pumpkin Pancakes are light, fluffy and has the perfect amount of pumpkin and spice flavour! Topped with a rich and delicious Maple Pecan Praline Syrup, these irresistible pancakes are the perfect fall breakfast!
Ingredients
Pumpkin Pancakes:
2 cups all purpose flour
2 teaspoon pumpkin spice
1 tablespoon baking powder
½ teaspoon salt
1 and ½ cups buttermilk
2 large eggs
¼ cup light brown sugar, packed
1 cup pumpkin purée
¼ cup unsalted butter, melted and cooled + more for greasing pan
1 teaspoon pure vanilla extract
Maple Pecan Praline Syrup:
¼ cup unsalted butter, divided
½ cup pecan halves
¾ cup light brown sugar, packed
2 tablespoon all purpose flour
⅓ cup heavy cream
¾ cup maple syrup
Instructions
For the Pumpkin Pancakes:
Preheat a griddle or a skillet over medium heat.
In a large bowl, add flour, pumpkin spice, baking powder and salt. Whisk to combine.
In a separate bowl, add the brown sugar, pumpkin purée, buttermilk, eggs, melted butter and vanilla and whisk until combined.
Add wet ingredients to dry ingredients and whisk until just combined. Do not overmix. Let batter sit for 2-3 minutes to thicken.
Use a tablespoon of butter to grease the pan or spray with cooking spray. Pour ⅓ cup of batter into skillet and gently spread into a circle shape using the measuring cup.
Cook until bubbles form on the top and the edges look dry, about 2 minutes. Flip and cook for another 1-2 minutes. Repeat with remaining batter.
For the Maple Pecan Praline Syrup:
Preheat oven to 350F and line a baking sheet with parchment paper or a silpat mat.
In a small bowl, melt 1 tablespoon of butter for about 30 seconds. Drizzle the melted butter onto the pecans and toss together to coat pecans.
Spread pecans onto prepared baking sheet and bake in oven for 5-7 minutes until toasted and fragrant.
Remove the pecans from the oven and roughly chop. Set aside.
Add remaining 3 tablespoon of butter to a medium saucepan over medium heat and heat until butter is melted.
Add brown sugar and flour and cook, stirring with a wooden spoon until sugar has completely dissolved, 8-10 minutes. Add heavy cream and continue to cook for an additional 1 minute.
Add maple syrup and stir until combined. Continue to cook, stirring constantly until mixture is fully combined and smooth, about 3-4 minutes.
Remove from heat and stir in chopped pecans. Top pancakes with the maple pecan praline sauce and serve. Enjoy!
Notes
Top the pancakes immediately after making the sauce, as it will begin to thicken as it cools, making it difficult to pour.
Maple Pecan Praline Sauce can be made a day ahead and stored in an airtight jar in the refrigerator. Reheat in the microwave for about 30 seconds before topping pancakes.
Nutrition Information:
Yield:

12
Serving Size:

1
Amount Per Serving:
Calories:

336
Total Fat:

14g
Saturated Fat:

7g
Trans Fat:

0g
Unsaturated Fat:

7g
Cholesterol:

59mg
Sodium:

261mg
Carbohydrates:

49g
Fiber:

2g
Sugar:

29g
Protein:

5g
BON APPÉTIT!
Love, Dedra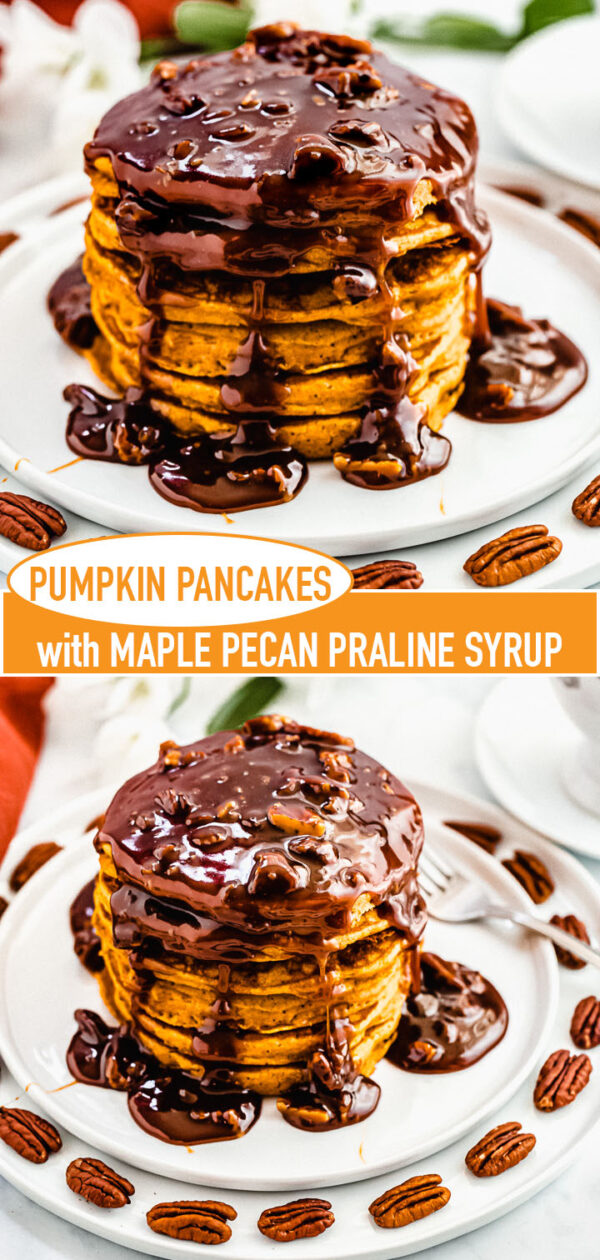 ©QUEENSLEE APPÉTIT. All images & content are copyright protected. Please do not use my images without prior permission. If you want to republish this recipe, please re-write the recipe in your own words, or link back to this post for the recipe.