Fluffy cinnamon pancakes with a sweet and gooey apple cinnamon syrup topping. These Apple Cinnamon Pancakes are the perfect breakfast for the fall season!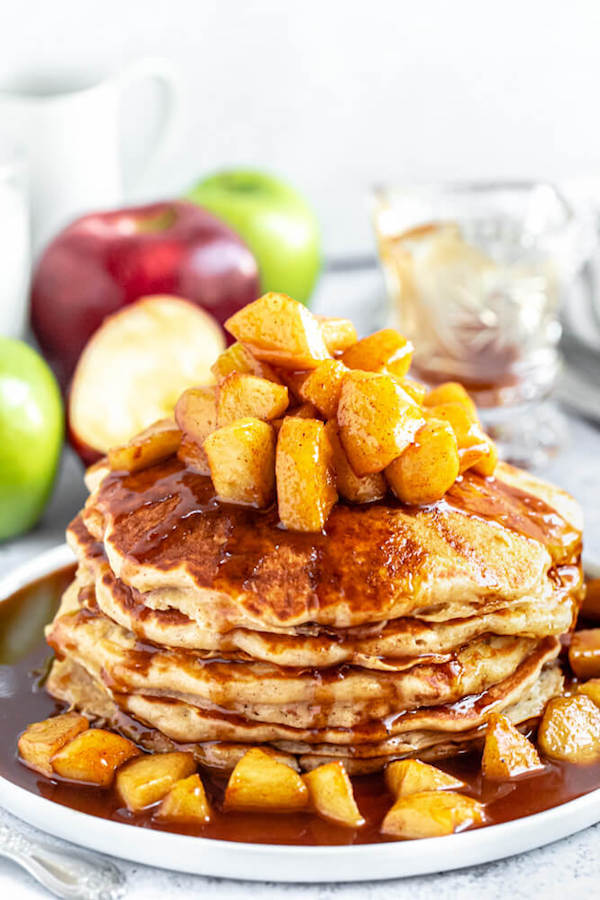 This post may contain affiliate links. Please see my full disclosure policy for details.
Post Updated: 09/16/19
It's the first day of Fall, and these pancakes are the perfect way to begin the season. Pumpkin season is also coming up, so be prepared for all of my pumpkin-licious recipes coming up! But for now, let's talk about these gorgeous apple pancakes!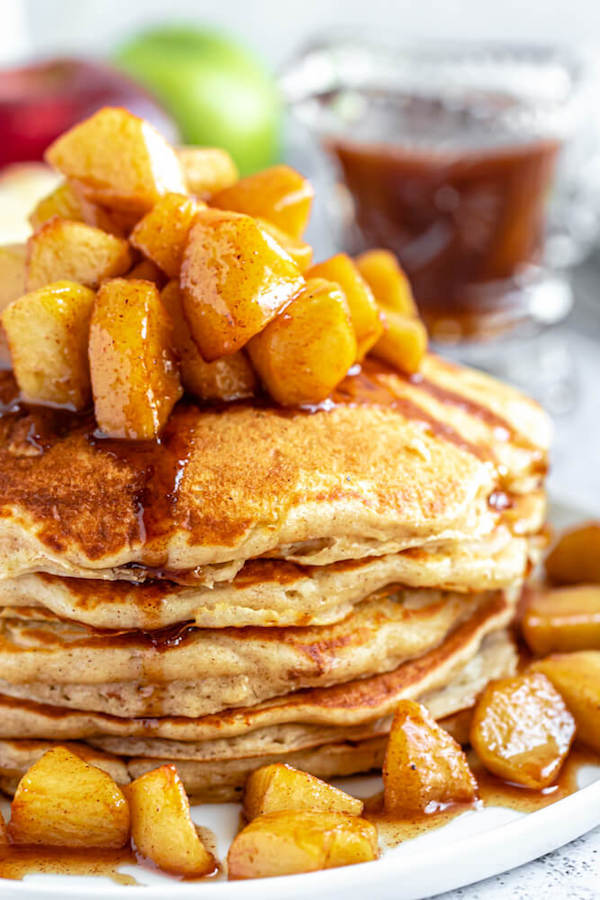 Apple Cinnamon Pancakes
These are, without a doubt, the BEST pancakes I've ever made! They're light, fluffy, perfectly golden, and filled with the perfect amount of apple and cinnamon. If you could enjoy the entire season of autumn in breakfast form, this would the way to do it.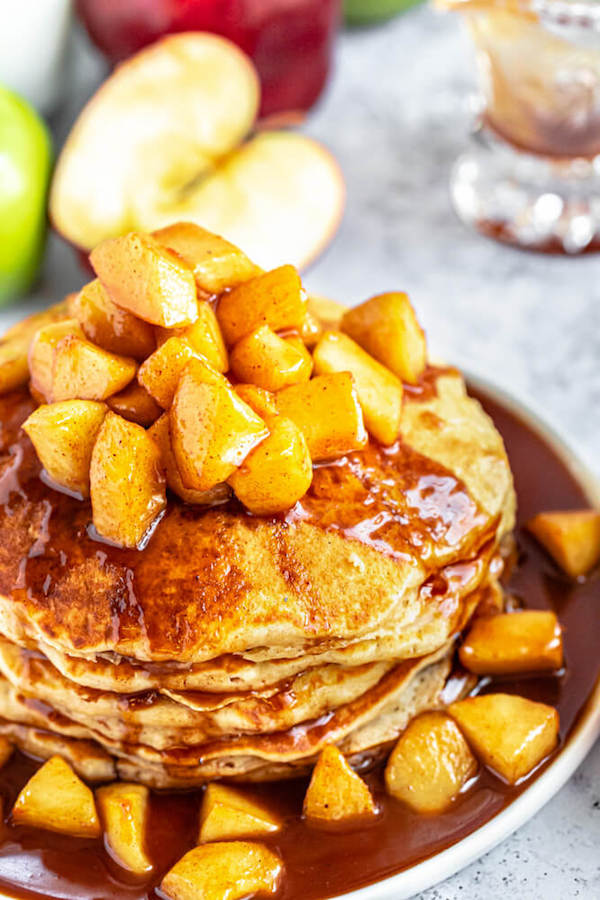 What You Need For These Apple Cinnamon Pancakes
A while ago, I made these fluffy Blueberry Pancakes, so I decided to come back and update this recipe by using my blueberry pancake recipe as a base.
So this recipe starts out just like every other pancake recipe, flour, sugar, baking powder, baking soda and salt. Since these are cinnamon pancakes, I added some cinnamon and a dash of nutmeg to enhance the flavour.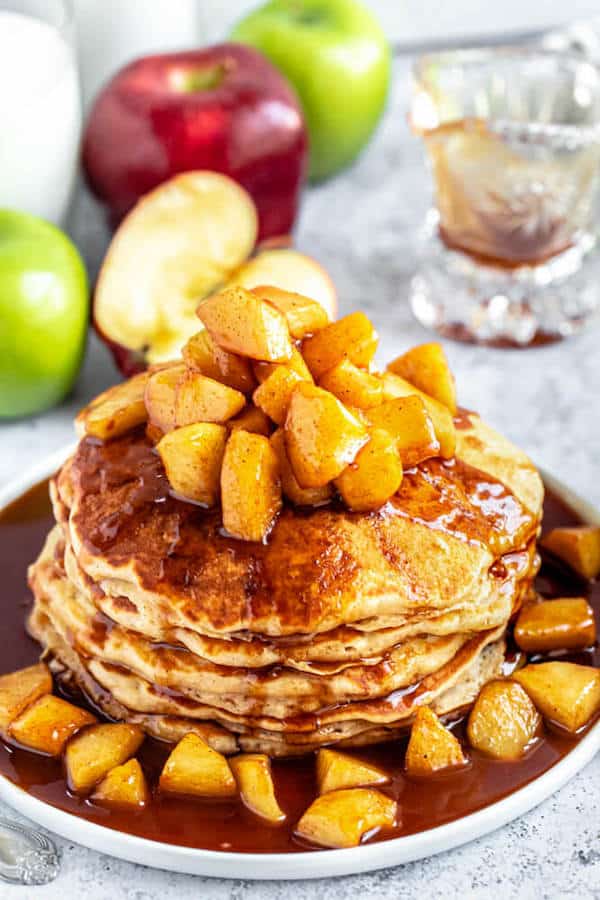 As for the wet ingredients, we're gonna start by adding buttermilk. I like to use buttermilk instead of milk because the acidity of the buttermilk activates the baking soda. This will help boost the rise of the pancakes, along with the 4 teaspoons of baking powder! So, just like yeast dough, the pancakes rise twice — first during the rest after preparing the batter and again when they're being cooked.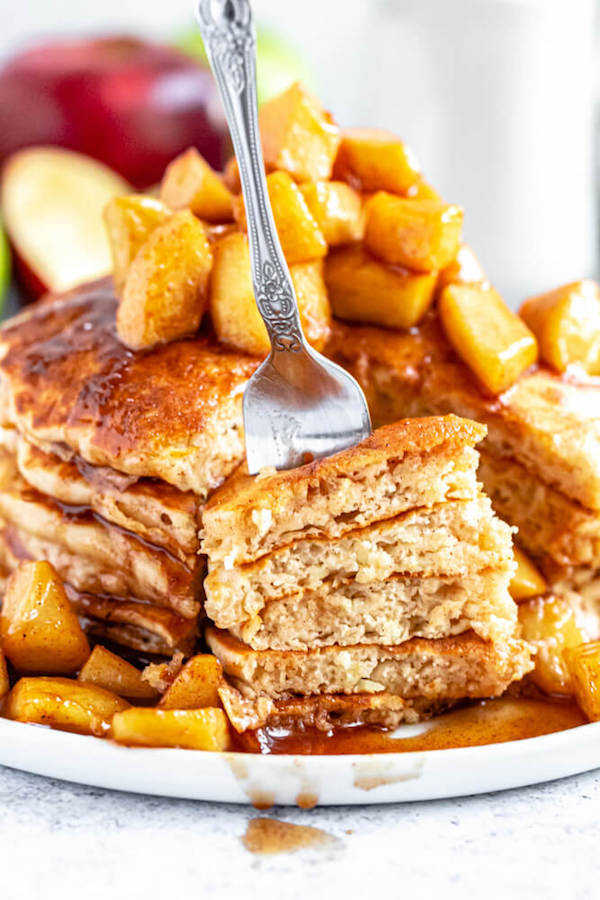 Then we add eggs, vanilla, melted butter, the usual. Although, in this updated version of these apple cinnamon pancakes, I decided to add some apple to the actual batter! To do this, I shredded 2 medium apples in my food processor. You can use a grater, but I found the shredding blade to be a whole lot easier and time-saving.
To shred or grate the apples, make sure to peel and core the apples first. In the case of shredding, I recommend cutting up the apples into smaller slices so they could fit into the processor chute. Fold the shredded apples into the cinnamon pancake batter, preheat your pan or griddle, then start cooking!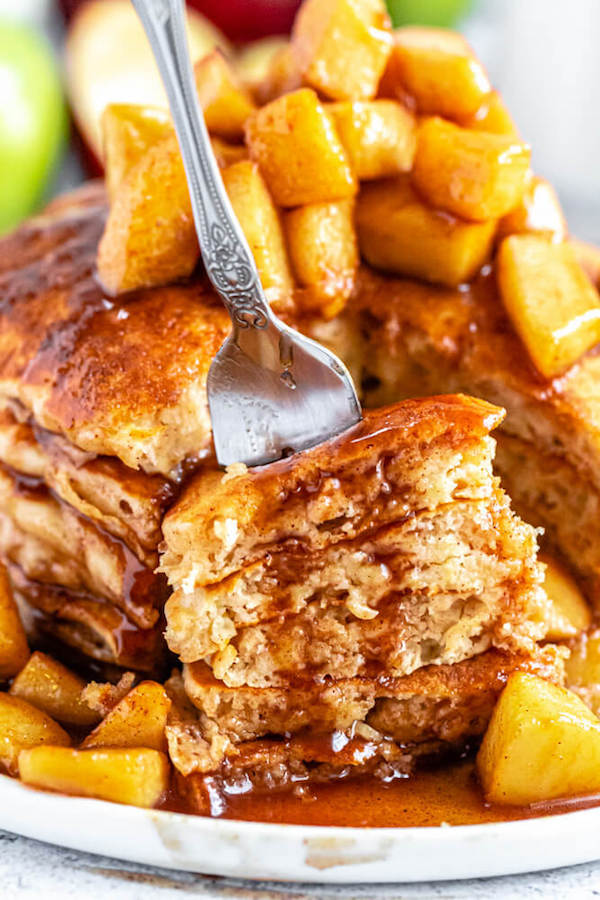 Tips for making these Apple Cinnamon Pancakes
First thing is to NOT overmix your batter. Don't worry about any lumps in the batter, they're actually a good thing. Overmixing pancake batter results in a chewy pancake rather than a fluffy one. So only mix until the streaks of flour have disappeared.
The second thing is the pan. You'll want to use a griddle or a cast iron pan, which is what I used. It doesn't need to be big enough to fit multiple pancakes, mine was only big enough to fry one at a time. But it must be big enough to at least fit and flip one pancake without making a mess.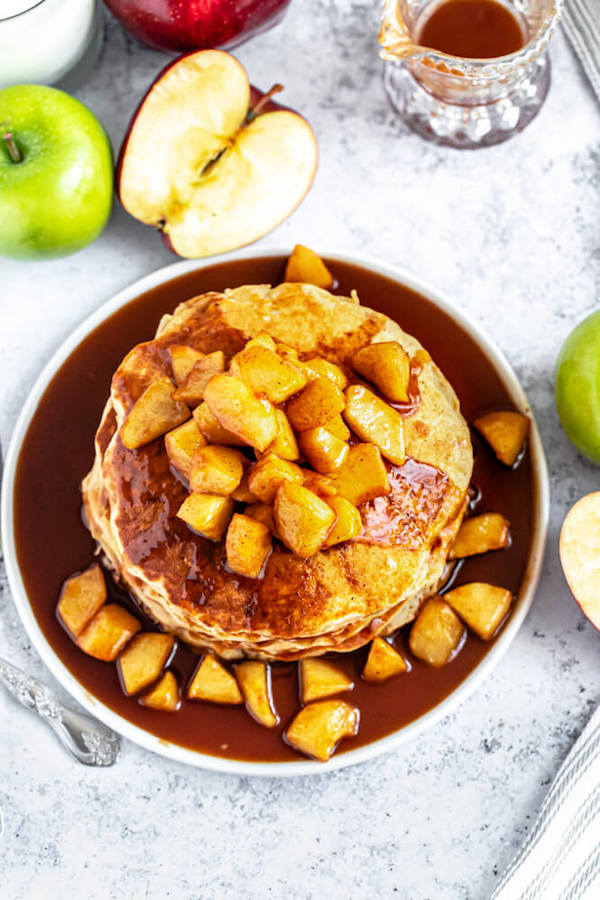 The third tip is greasing your pan. You can use either butter or oil, I personally prefer using butter. If you're using oil, pour a little bit into a paper towel, then wipe the pan with the same paper towel, spreading the oil.
If you're using butter, melt the butter in the pan. Once it's melted, use a paper towel to wipe the butter off. You don't have to wipe the pan completely clean, but you don't want there to be a lot of butter in the pan, as this will effect the appearance of your pancake. Wiping the pan is what gives your pancakes that gorgeous golden top.
The final tips are pouring and flipping the pancakes. The best way to pour your pancake batter into the pan is with a ¼ measuring cup or an ice cream scoop. This is to make sure all of your pancakes are the same size. It also gives you more control over the shape over your pancakes. You can use the measuring cup or scoop to spread the batter out and create a perfect circle.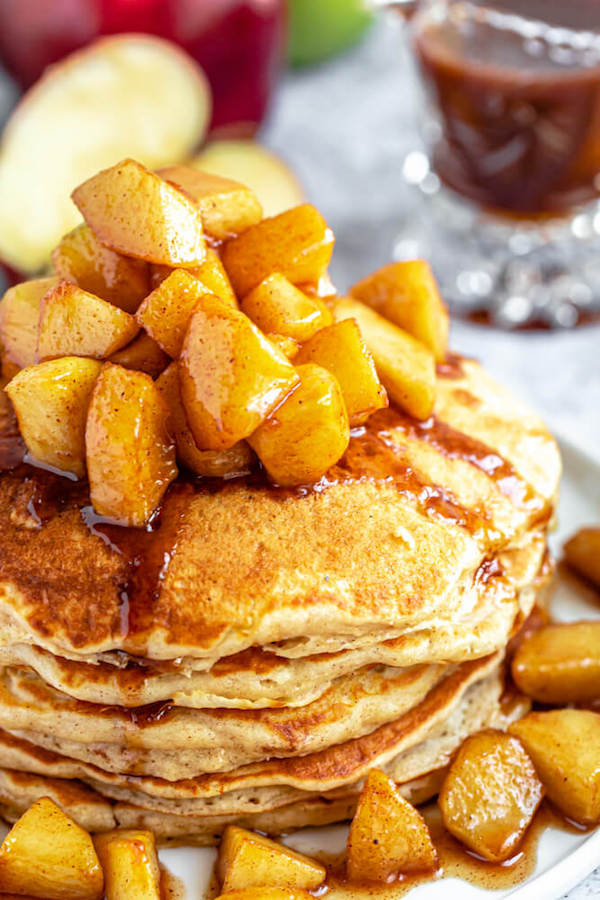 Lastly, do not flip the pancakes too early. Wait until bubbles begin to pop and there are holes on the top of the pancake and the edges look dry. This usually takes about 2 minutes for me, but it may or may not take a bit longer for you. Use a big spatula when flipping, and flip it CAREFULLY. You don't want to be sloppy when you flip, or else the batter will splat all over the pan.
If you follow these tips, you should have perfect pancakes every time!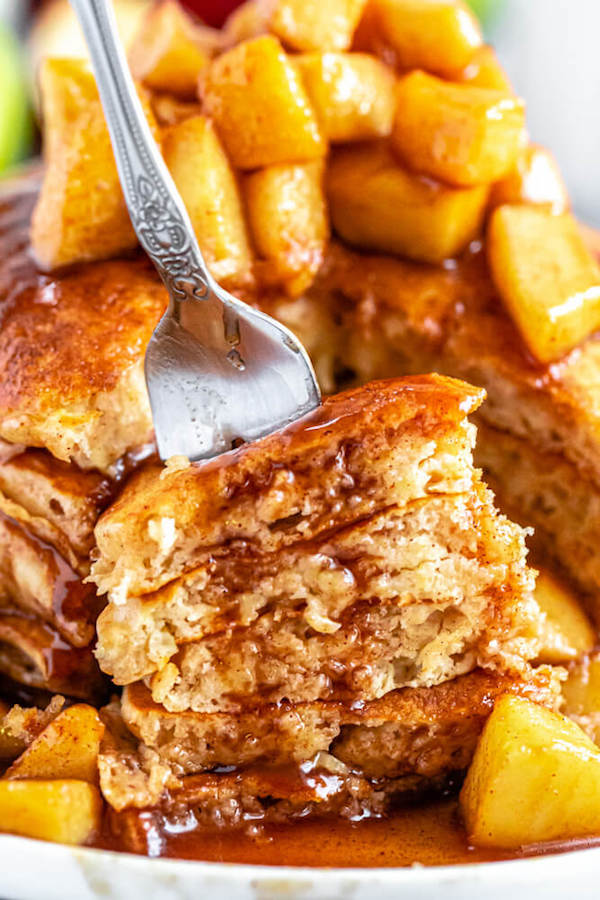 Maple Cinnamon Apple Topping
These fluffy cinnamon pancakes are amazing on their own, but the maple cinnamon apple topping makes them 10x better!
The apple topping is really easy and only takes about 6 minutes to make. Just cook butter, apples, brown sugar, cinnamon and nutmeg on the stove until the apples are nice and soft and the brown sugar begins bubbling. Stir in the maple syrup, then spoon the warm apple topping onto the soft cinnamon spiced apple pancakes.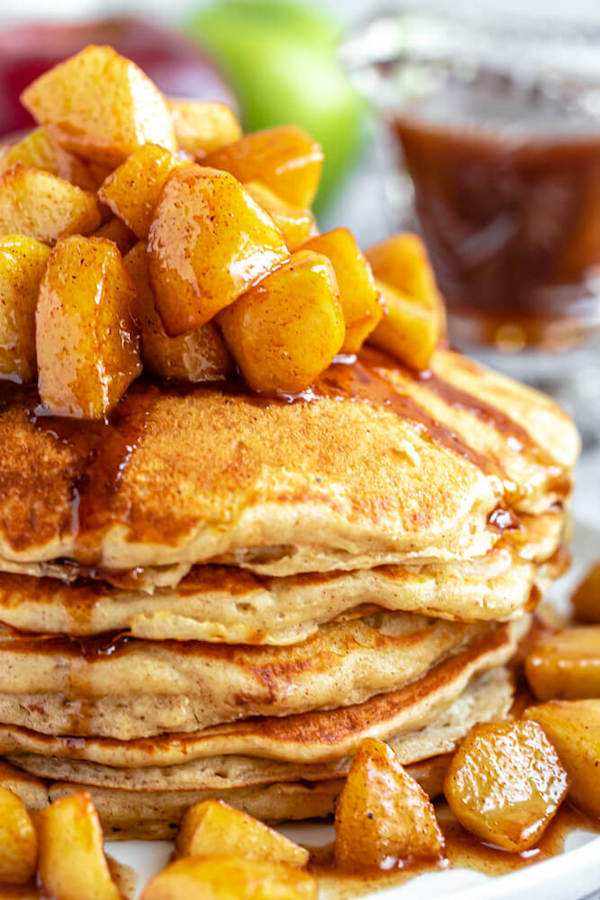 After spooning on the apples, drench the pancakes in the leftover brown sugar-apple-cinnamon-maple-syrup!
Are you drooling yet?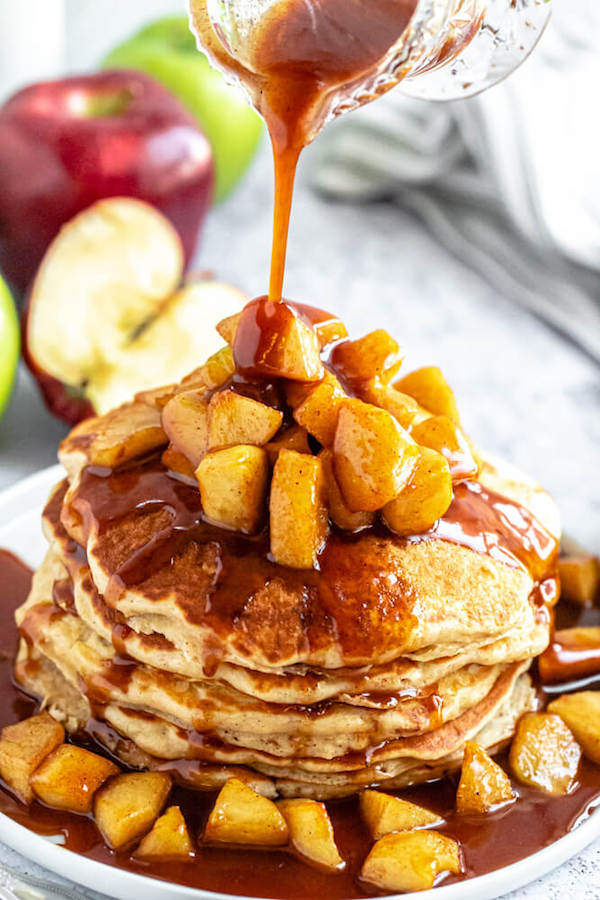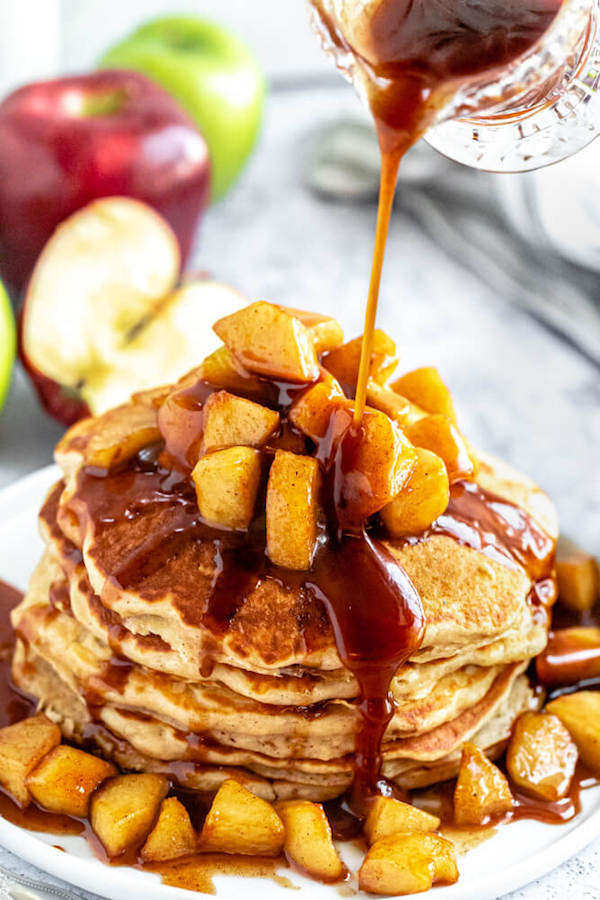 Did you make these Apple Cinnamon Pancakes? Let me know how they turned out in the comments below! And don't forget to leave a rating!
>>PIN THIS FOR LATER<<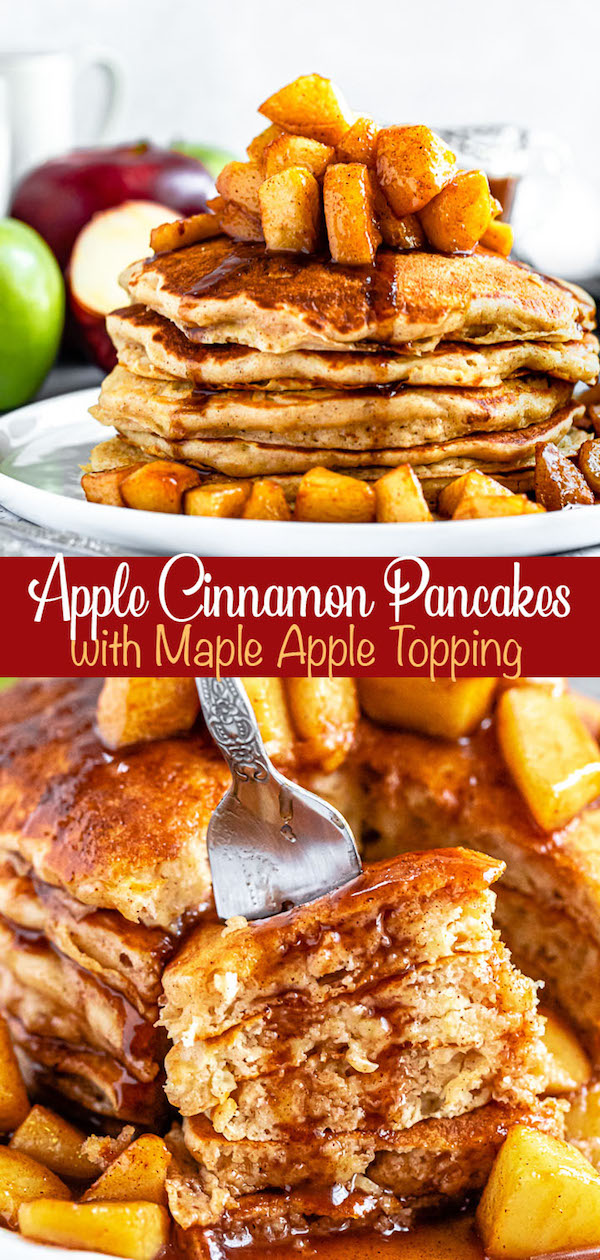 Craving More Fruit Pancakes? Check these out:
FOLLOW QUEENSLEE APPÉTIT
Like what you see? Make sure you're following Queenslee Appétit for more tasty recipes!
Pinterest | Instagram | Facebook | Twitter |
Have any questions about the recipe? Contact me here, and I'll be happy to help!
SHARE YOUR PICS!
Tag me on Instagram @queensleeappetit or use the hashtag #queensleeappetit so I could see your gorgeous creations!
Let's get baking!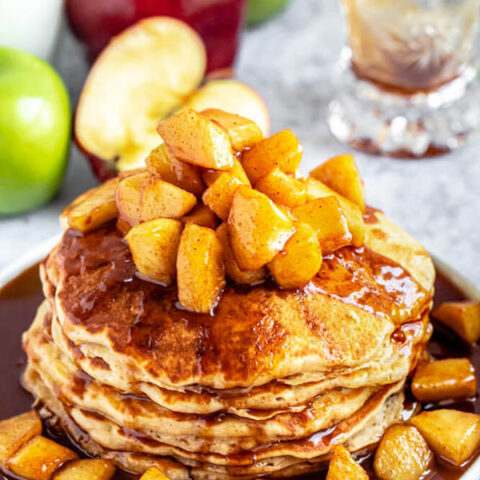 Apple Cinnamon Pancakes
Fluffy cinnamon pancakes with a sweet and gooey apple cinnamon syrup topping. These Apple Cinnamon Pancakes are the perfect breakfast for the fall season!
Ingredients
Apple Cinnamon Pancakes:
2 cups all-purpose flour
¼ cup granulated sugar
1 tablespoon + 1 teaspoon baking powder
¼ teaspoon baking soda
½ teaspoon salt
1 teaspoon ground cinnamon, or to taste
¼ teaspoon ground nutmeg (optional)
2 cups buttermilk
2 large eggs, room temperature
¼ cup unsalted butter, melted and cooled + more for greasing pan
2 teaspoon pure vanilla extract
2 medium apples, peeled and grated (I used Granny Smith)
Maple Apple Cinnamon Topping:
2 tablespoon unsalted butter
2 apples, peeled and diced (I used Granny Smith)
2 tablespoon brown sugar
½ teaspoon ground cinnamon
⅛ teaspoon ground nutmeg
½ cup maple syrup
Instructions
For the Cinnamon Pancakes:
In a large bowl, add flour, sugar, baking powder, baking soda, salt, cinnamon and nutmeg. Whisk to combine. Set aside.
Heat the buttermilk in the microwave until lukewarm, about 30 seconds.
In a separate bowl, add the buttermilk, eggs, melted butter and vanilla and whisk to combine.
Create a well in the centre of the dry ingredients and pour the wet ingredients in the centre. Whisk in the beginning until just combined, then use a rubber spatula to fold the batter until no streaks of flour remain. Do not overmix. Batter will be lumpy.
Carefully fold in the grated apples (see notes).
Allow batter to rest. Meanwhile, preheat a griddle or a skillet over medium-low heat.
Use a tablespoon of butter to grease the pan or spray with cooking spray. Use a paper towel to wipe off the butter. Pour ¼ or ⅓ cup of batter (depending on how big you want your pancakes) into the pan and gently spread into a circle shape using the measuring cup.
Cook until bubbles form on the top and the edges look dry, about 2 minutes. Flip and cook for another 1-2 minutes. Repeat with remaining batter.
For the Apple Topping:
Add butter, diced apples, brown sugar, cinnamon and nutmeg to a medium saucepan over medium heat and cook until apples soften, 4-6 minutes. Stirring occasionally to coat the apples.
Add maple syrup and stir to combine. Top pancakes with apples and pour on the leftover syrup. Enjoy!
Notes
Apple Topping: The apple topping can be made ahead of time and stored in the refrigerator. Just reheat on the stove over medium-heat until it warms back up.
Grated Apples: You can use a grater to grate the apples, or you could use the shredder blade on a food processor. Make sure the apples are peeled and cored, and if using a food processor, cut the apples into smaller pieces so they can fit in the chute.
Nutrition Information:
Yield:

9
Serving Size:

1
Amount Per Serving:
Calories:

331
Total Fat:

10g
Saturated Fat:

6g
Trans Fat:

0g
Unsaturated Fat:

3g
Cholesterol:

64mg
Sodium:

343mg
Carbohydrates:

56g
Fiber:

3g
Sugar:

30g
Protein:

6g
BON APPÉTIT!
Love, Dedra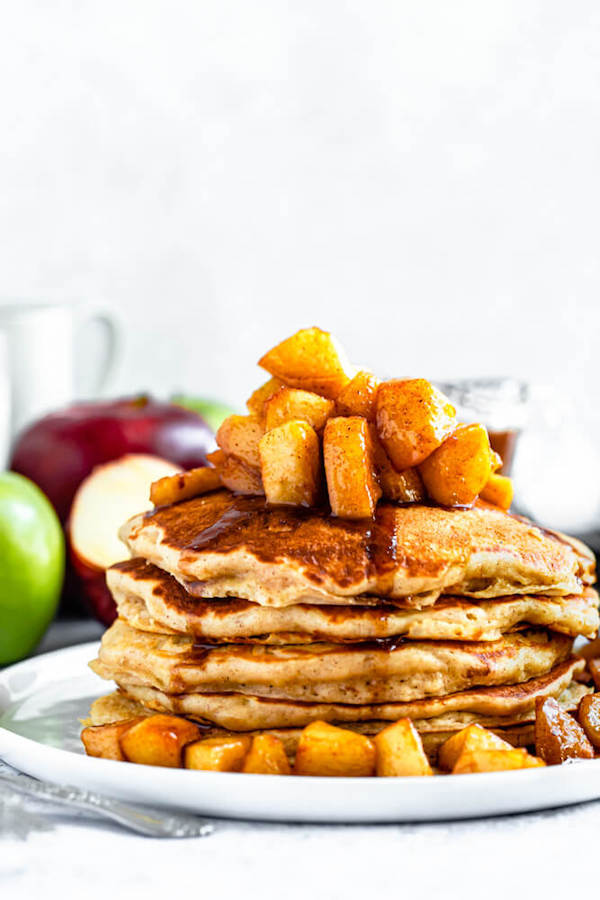 ©QUEENSLEE APPÉTIT. All images & content are copyright protected. Please do not use my images without prior permission. If you want to republish this recipe, please re-write the recipe in your own words, or link back to this post for the recipe.