This Homemade Raspberry Sauce is perfect for filling cakes and topping waffles, pancakes, scones, cheesecake and so much more!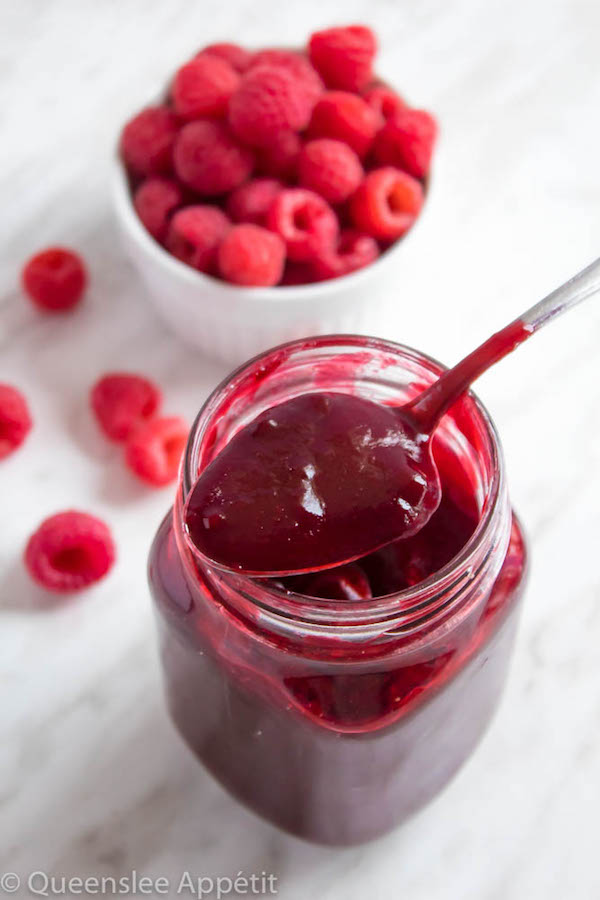 I've been having a major craving for raspberries lately. First I made these Buttermilk Biscuits that I couldn't stop lathering with raspberry jam. The sweet raspberry paired with the fluffy honey butter soaked biscuit is pure heaven, I swear! After that, I took the remaining raspberry jam I had to create these gorgeous Raspberry Rose Buns for a lovely Mother's Day treat! Eventually, I ran out of my giant jar of raspberry jam so I decided to whip up a batch of my own sweet raspberry sauce (which is better than jam, in my opinion).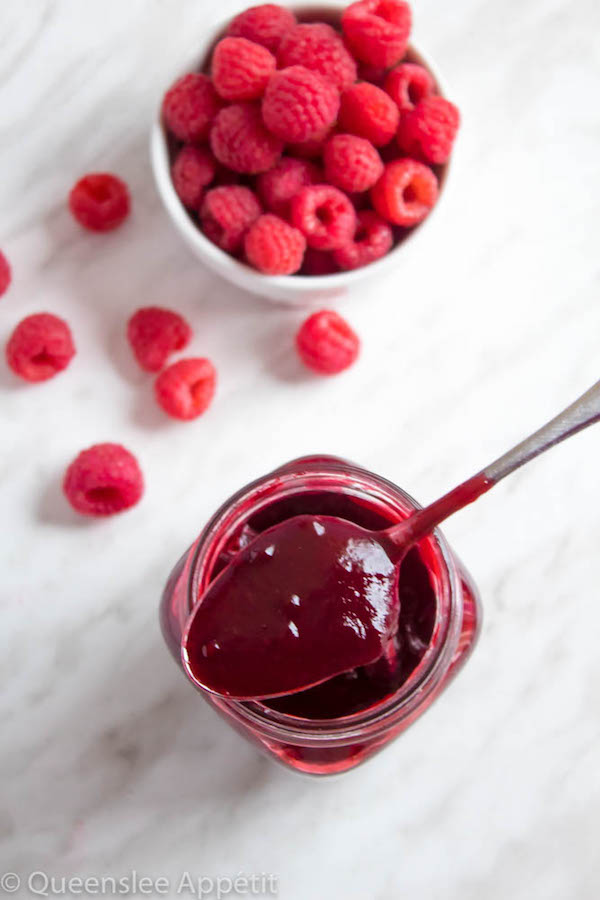 I actually ended up making way more raspberry sauce than I needed, so I ended up using some of it to make more dessert! And before you ask, yes they're Mother's Day themed. For some reason, every time I think of Mother's Day treats, raspberries are the first thing that come to mind. Maybe it's because of the gorgeous pink colour they create when added to desserts.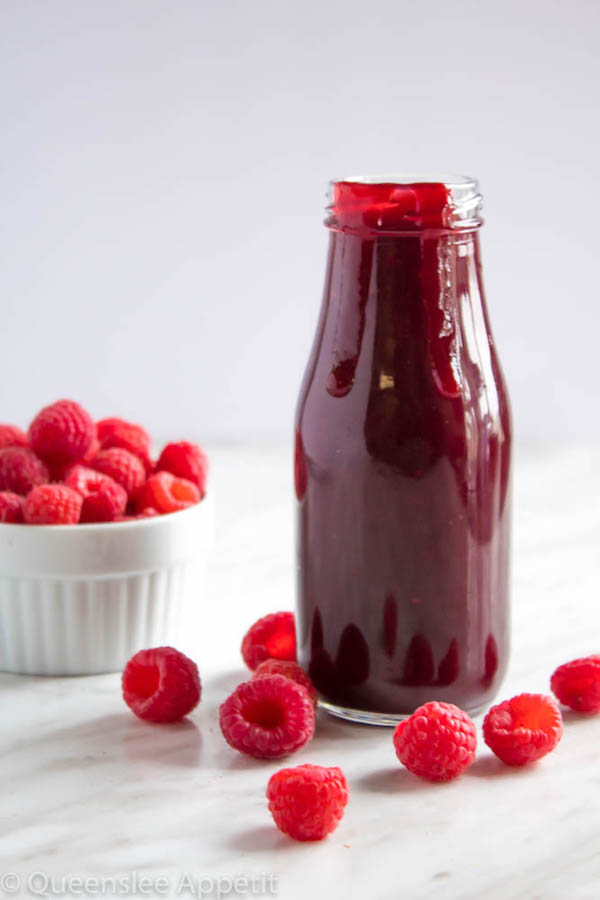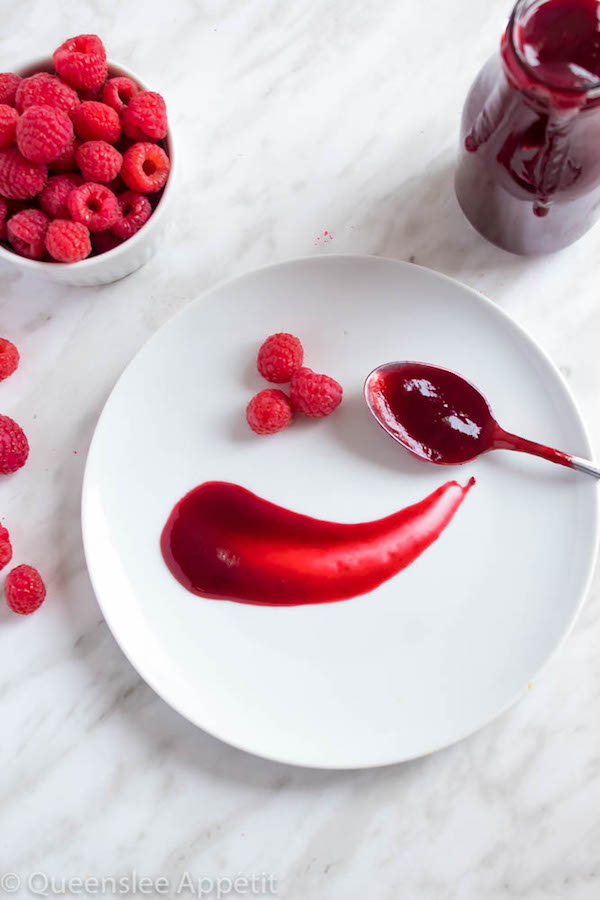 The sauce can definitely be adjusted according to your liking. Fresh or frozen, I don't judge. You can add as much or as little sugar as you like depending on the sweetness of your berries and your own taste. The lemon juice, however, is a must because it enhances the flavour of the berries and makes the sauce taste that much sweeter!
I used 2 tablespoons of cornstarch in the sauce because I wanted to use it as a cake filling, but you could use 1 tablespoon with 3 tablespoons of cold water to make the sauce thinner. You can even leave out the cornstarch all together and just allow the sauce to thicken as it cools, and also if you want the sauce to be brighter as the cornstarch does darken the colour.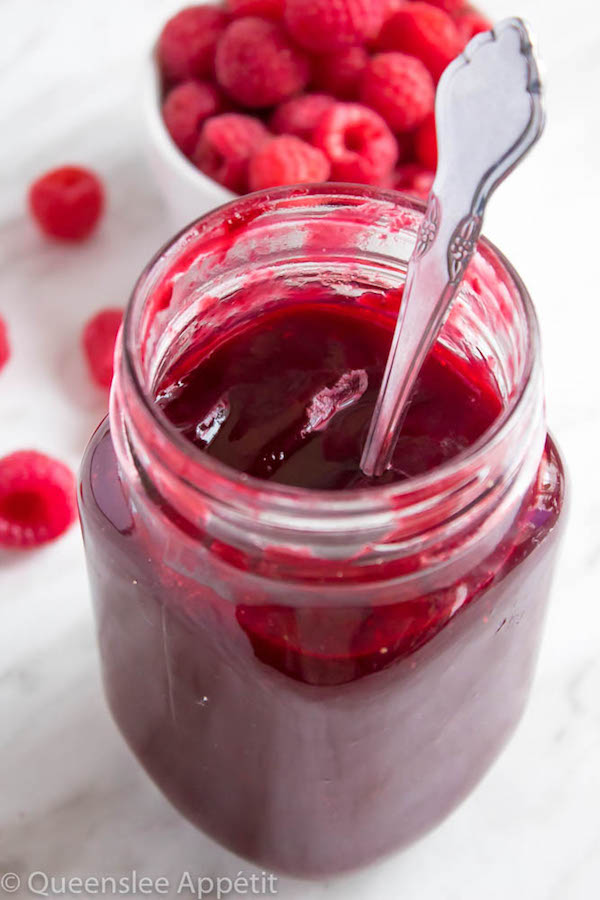 I decided to strain the sauce to get rid of the seeds because I hate raspberry seeds. They're pretty much like pulp in orange juice, just a nasty nuisance getting in the way of the sweet fruity goodness. However, if raspberry seeds are your thing, you can keep it in your sauce and just skip the straining step. But I mean, look how perfect it looks without them!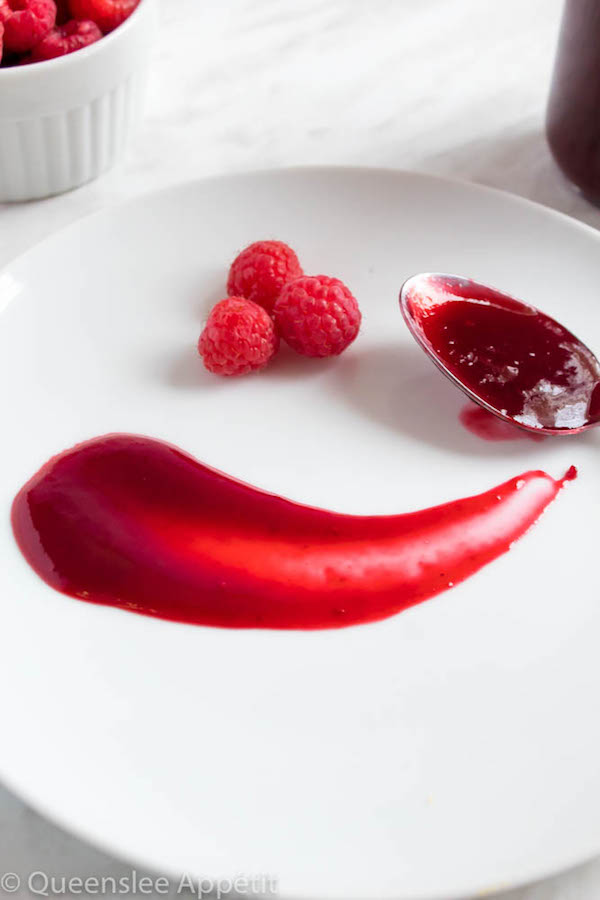 >>PIN ME FOR LATER<<

Recipes Using Homemade Raspberry Sauce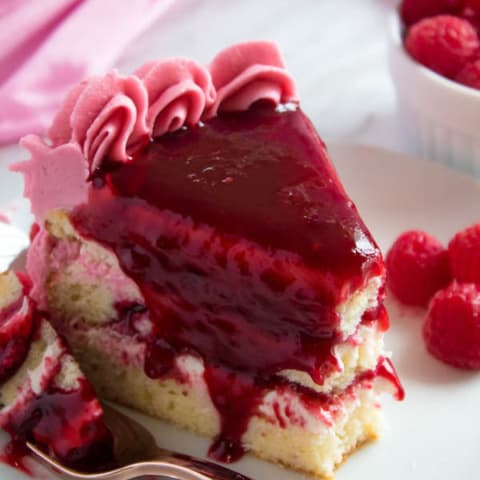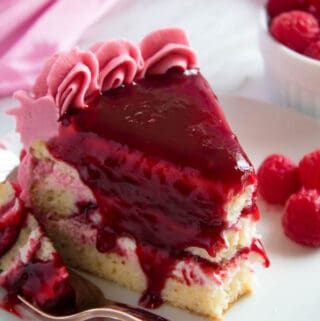 You May Also Like
Homemade Strawberry-Raspberry Sauce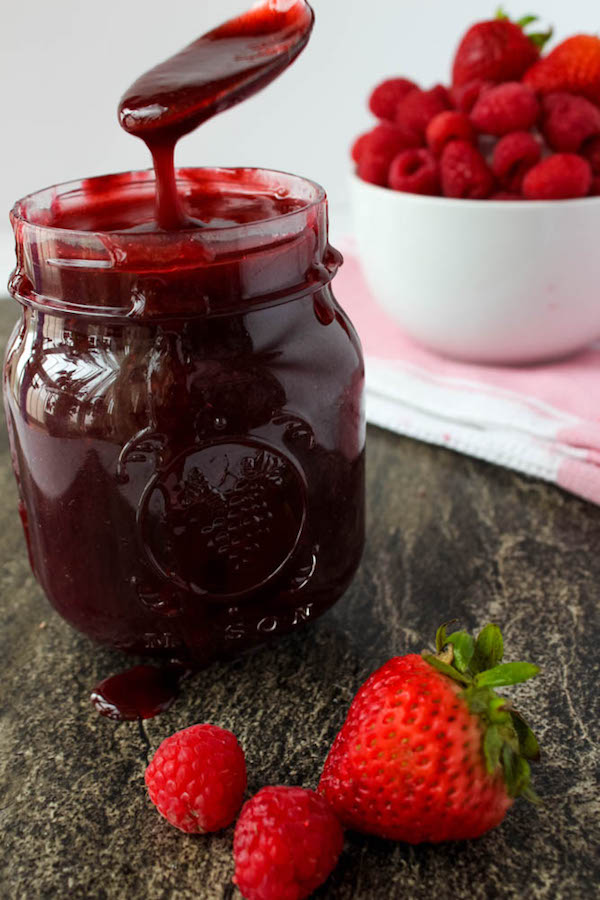 FOLLOW QUEENSLEE APPÉTIT
Pinterest | Instagram | Facebook | Twitter |
Did you make a recipe? I'd love to see how it turned out! Follow me on Instagram and use the hashtag #queensleeappetit so I can see all of the Queenslee Appétit recipes you've made!
Let's get baking!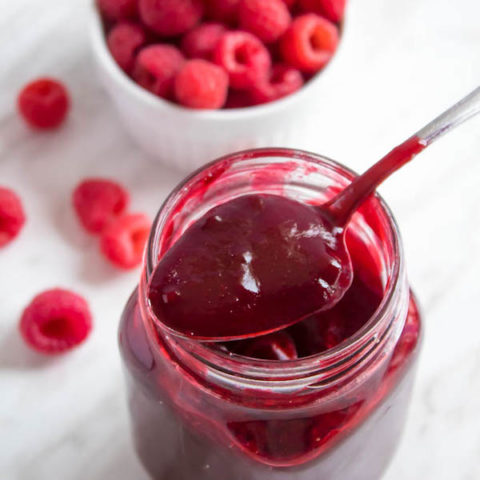 Homemade Raspberry Sauce
This Homemade Raspberry Sauce is perfect for filling cakes and topping waffles, pancakes, scones, cheesecake and so much more!
Ingredients
4 cups (18 oz) fresh or frozen raspberries, thawed
⅔ cup granulated sugar (or to taste)
⅔ cup water
1 teaspoon lemon juice
2 tablespoon cornstarch
6 tablespoon cold water
Instructions
Combine fresh or thawed raspberries, sugar, water, and lemon juice in a saucepan on high heat and bring to a boil.
Once the mixture begins to boil, lower the heat and allow raspberries to cook and soften, stirring occasionally for about 8-10 minutes.
(If you would like to keep the raspberry seeds in your sauce, skip this part and move on to the next step.) Remove sauce from heat and press through a fine mesh strainer, discard the seeds. Return to stove.
Add 2 tablespoons of cornstarch to 6 tablespoons of water and whisk to combine. Add to raspberry sauce and cook on high heat, whisking constantly until glaze thickens, about 1 minute.
Transfer to a separate bowl to cool completely. Once cooled, pour sauce into an airtight jar and refrigerate until ready to use.
Notes
- Store the sauce in a jar or airtight container in the refrigerator for up to a week, or you can keep the sauce in the freezer for a few months.

- You can use 1 tablespoon of cornstarch with 3 tablespoons of water if you would like a thinner sauce. You can also leave out the cornstarch all together if you want.

- The sweetness of this sauce depends entirely on the sweetness of your berries and your personal taste, so feel free to adjust the ingredients to your liking.
©QUEENSLEE APPÉTIT. All images & content are copyright protected. Please do not use my images without prior permission. If you want to republish this recipe, please re-write the recipe in your own words, or link back to this post for the recipe.
BON APPÉTIT!
Love, Dedra ❤