Super soft, moist and perfectly spiced carrot cake is baked in one rectangular cake pan to give us thick, tall slices. Top with a flavourful brown butter cream cheese frosting for an easy, yet divine Easter dessert!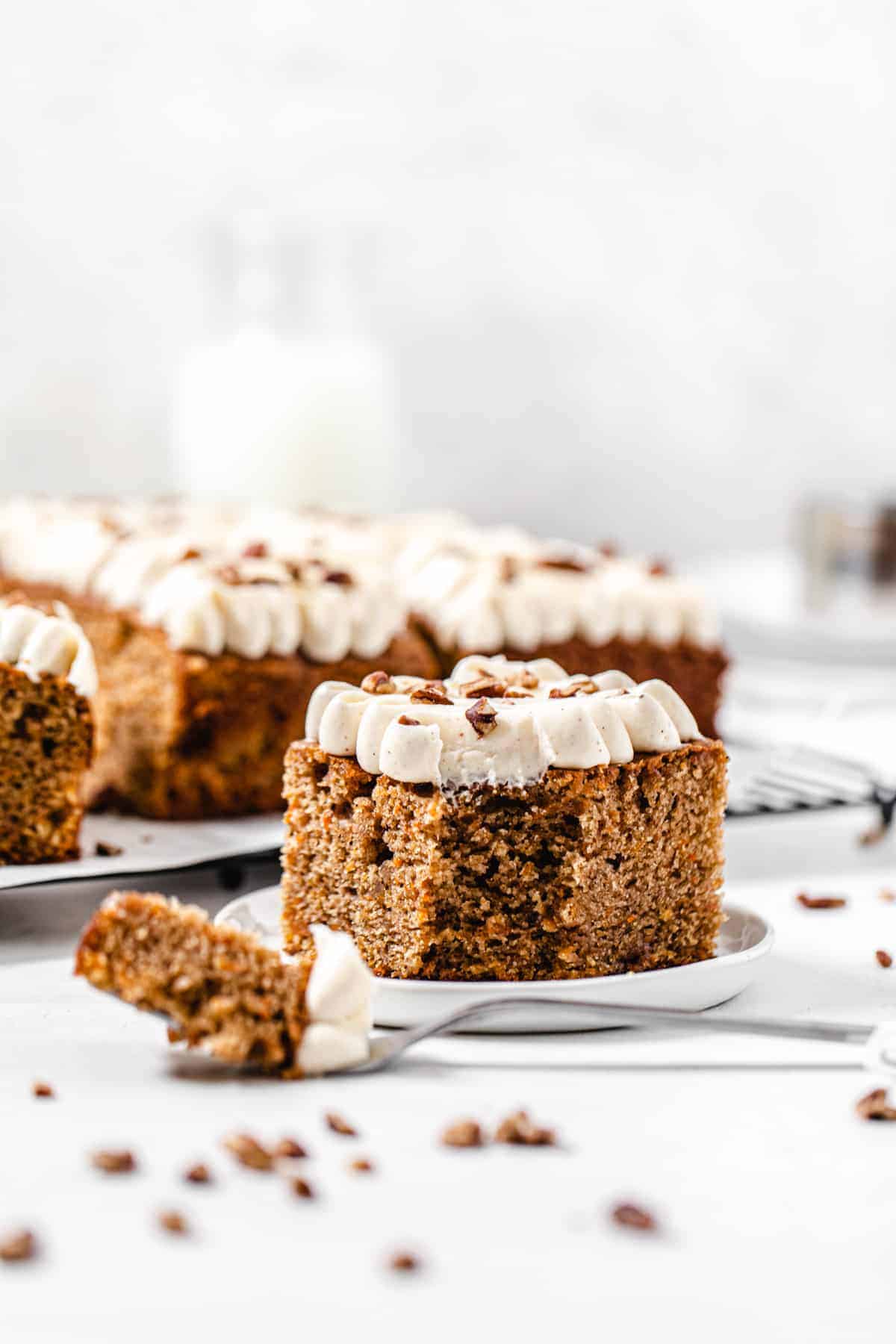 This post may contain affiliate links. As an Amazon Associate I earn from qualifying purchases. Please see my full disclosure policy for details.
Carrot cake isn't really a ground-breaking unique recipe. And as some of you know, I already have a perfect carrot cake recipe on this site, and I use the same recipe here.
Now, I've always wanted to make a one-layer version of a carrot cake, but I didn't want to just make the exact same recipe in another pan. So to spruce things up a bit, I topped this amazing carrot cake with an equally amazing, ridiculously tasty BROWN BUTTER cream cheese frosting!
What to Love About This Carrot Cake
Everyone who's had the pleasure of tasting this cake has declared it the best they've ever had! Here's what they (and YOU will) love about it:
Perfect cake-to-frosting ratio
Extra fluffy and moist
Melt-in-your-mouth soft
Gets its beautiful flavour from the cinnamon, nutmeg, cloves and ginger
Easy for anyone to make no matter the level of baking skills
Made in one single layer (no need to worry about stacking and filling layers)
Super creamy cream cheese frosting that gets extra flavour from its brown butter base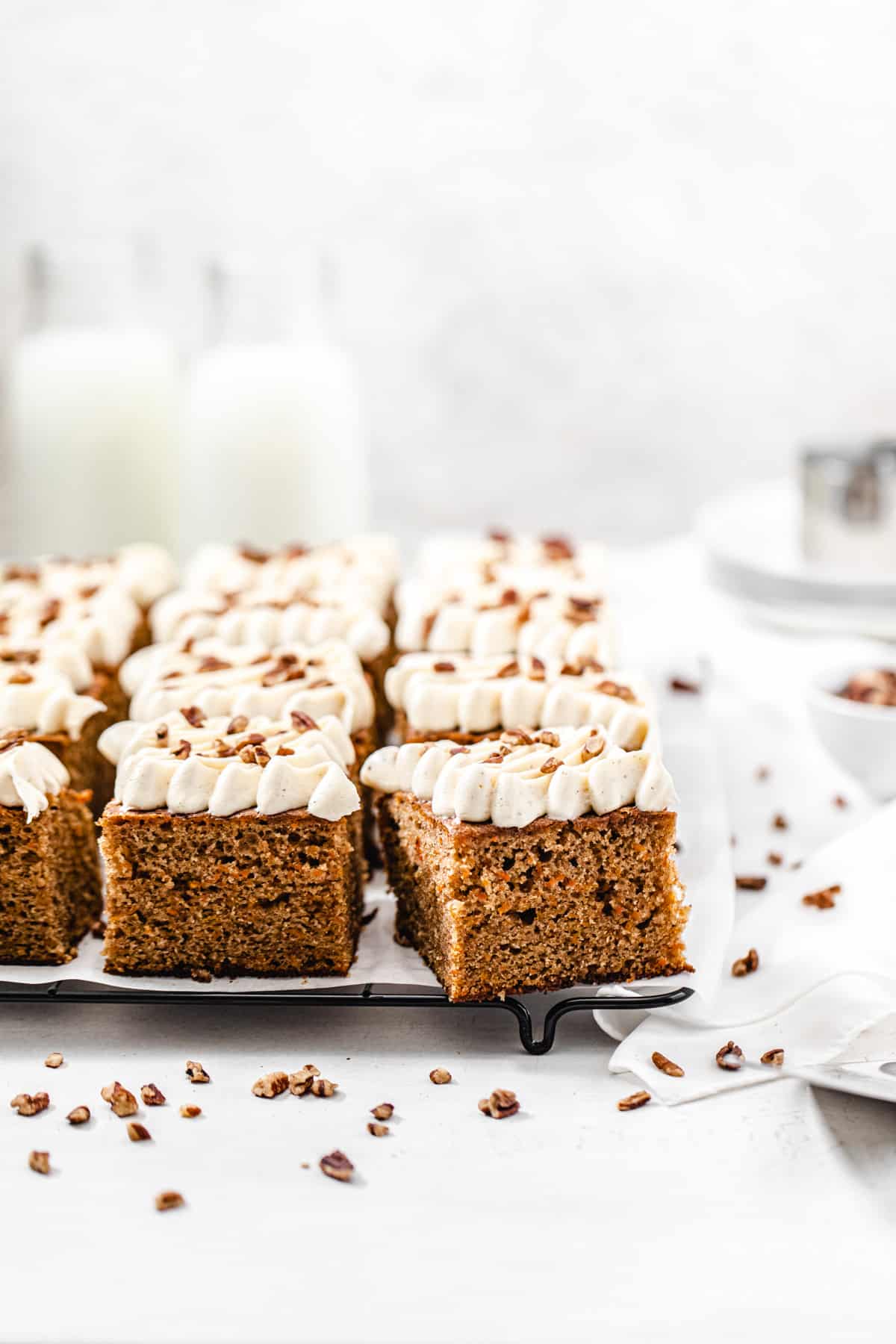 Carrot Cake Ingredients
If you scroll down and look at the ingredients list, your eyes may widen at how many ingredients goes into a carrot cake. Trust me when I say they're all simple, easy to find ingredients and it's even easier to put them together!
Flour: we use a simple all purpose flour in this recipe. Carrot cake is already pretty light and soft, so there's no need to substitute for cake flour.

Baking Powder + Baking Soda: you see how incredibly tall and thick each slice is? This is thanks to the 1 tablespoon of baking powder and ½ teaspoon of baking soda we add to the batter!
Spices: for the best carrot cake flavour, the key spices to use are cinnamon, nutmeg, ginger and cloves!
Oil: instead of butter, this cake is oil-based! Use a neutral oil like vegetable oil, canola, avocado, extra virgin olive oil or sunflower oil.

Brown + White Sugar: I use an equal amount of both brown and white sugar to add sweetness and flavour (thanks to the brown sugar). We use a total of 3 cups, but trust me, the cake won't taste overly sweet.

Applesauce: the applesauce boosts the flavour and all around texture of the cake. You won't taste it in the final cake, so don't worry if you're not a fan of applesauce. Make sure to use unsweetened since we don't need any extra sugar in the cake.

Sour Cream: as always, this softens the cake texture and gives it a nice and tender crumb!
Eggs: yes, you need 6 large eggs! Plenty of moisture, and since there's no butter acting as a sturdy base, the eggs add plenty of structure!
Vanilla: flavour, of course!
Shredded Carrots: you'll need 4 cups of shredded carrots. Start by peeling and washing/ drying your carrots. Cut the tops off, then push it through the food processor shredding blade. Or, if you don't have a food processor, use a grater.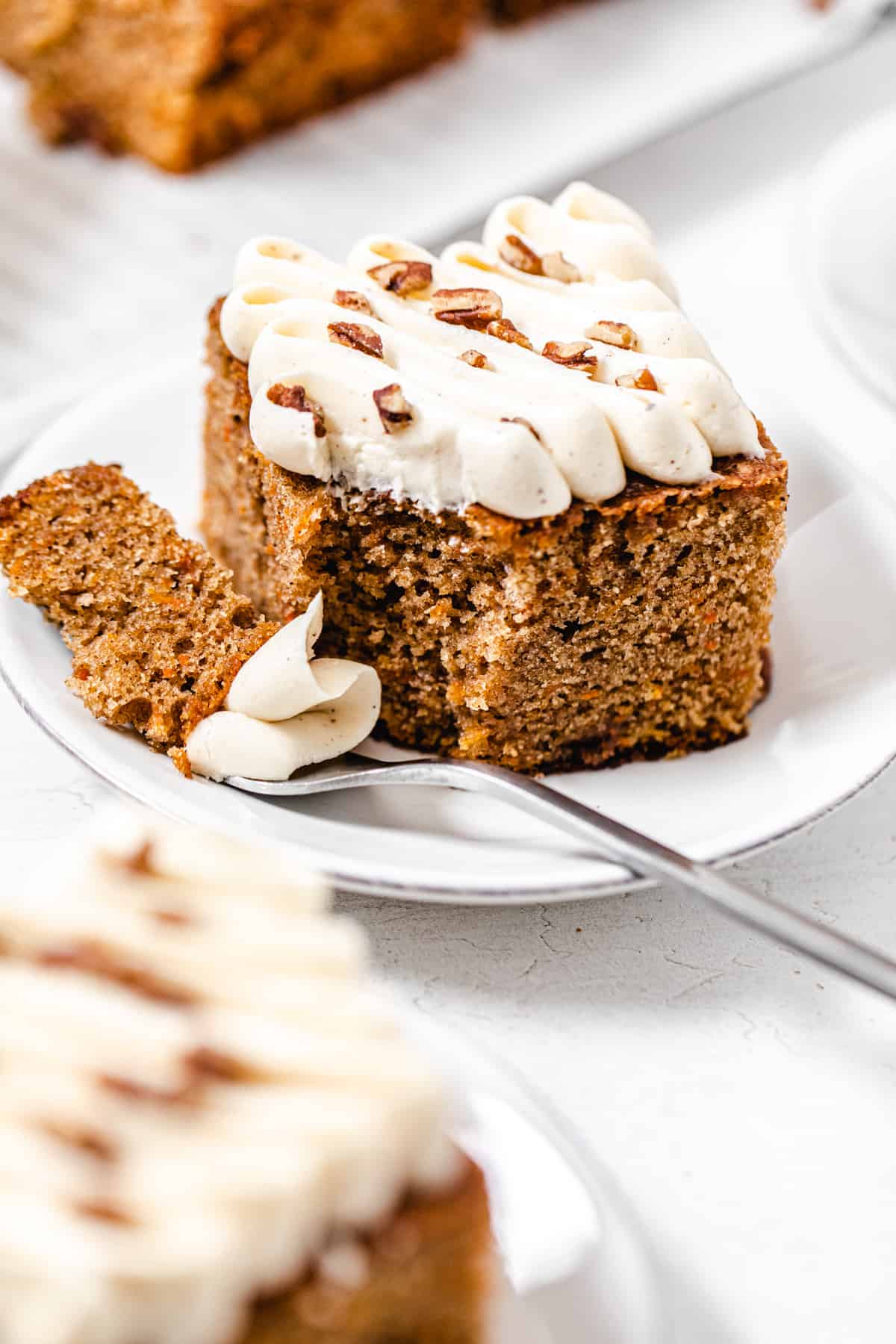 Let's Make Carrot Cake
Mix the dry ingredients: combine the flour, baking powder, baking soda, salt and spices in a bowl. Set it aside.

Combine the oil and sugars: you can use any neutral oil like vegetable oil, canola oil, avocado oil, extra-virgin olive oil or sunflower oil. You can mix everything together using a large whisk, but I find a mixer to be much easier. The mixture will be crumbly at this point.

Add the applesauce and sour cream: once these are added, the batter will be much smoother.

Mix in the eggs and vanilla: add the eggs one at a time. Slowly mix after each egg is added until it's JUST combined before adding the next. One thing I like to do is add my vanilla to my bowl of eggs so they just go in at the same time. This helps prevent over mixing!
Add the dry ingredients: We're gonna mix in the dry ingredients in three additions to keep the batter smooth throughout the process.

Fold in the shredded carrots: add your 4 cups of shredded carrots, along with any other add-ins like pecans or raisins. Use a rubber spatula to fold it into the batter until it's evenly distributed throughout.

Bake: pour and spread the filling into a greased 9x13-inch pan. I don't really line the bottom with parchment paper because the non-stick spray helps the cake slide right out. The cake is done when a toothpick, skewer or butter knife inserted into the middle comes out clean. This takes me about 45 minutes.
As the cake cools, we'll make the brown butter frosting!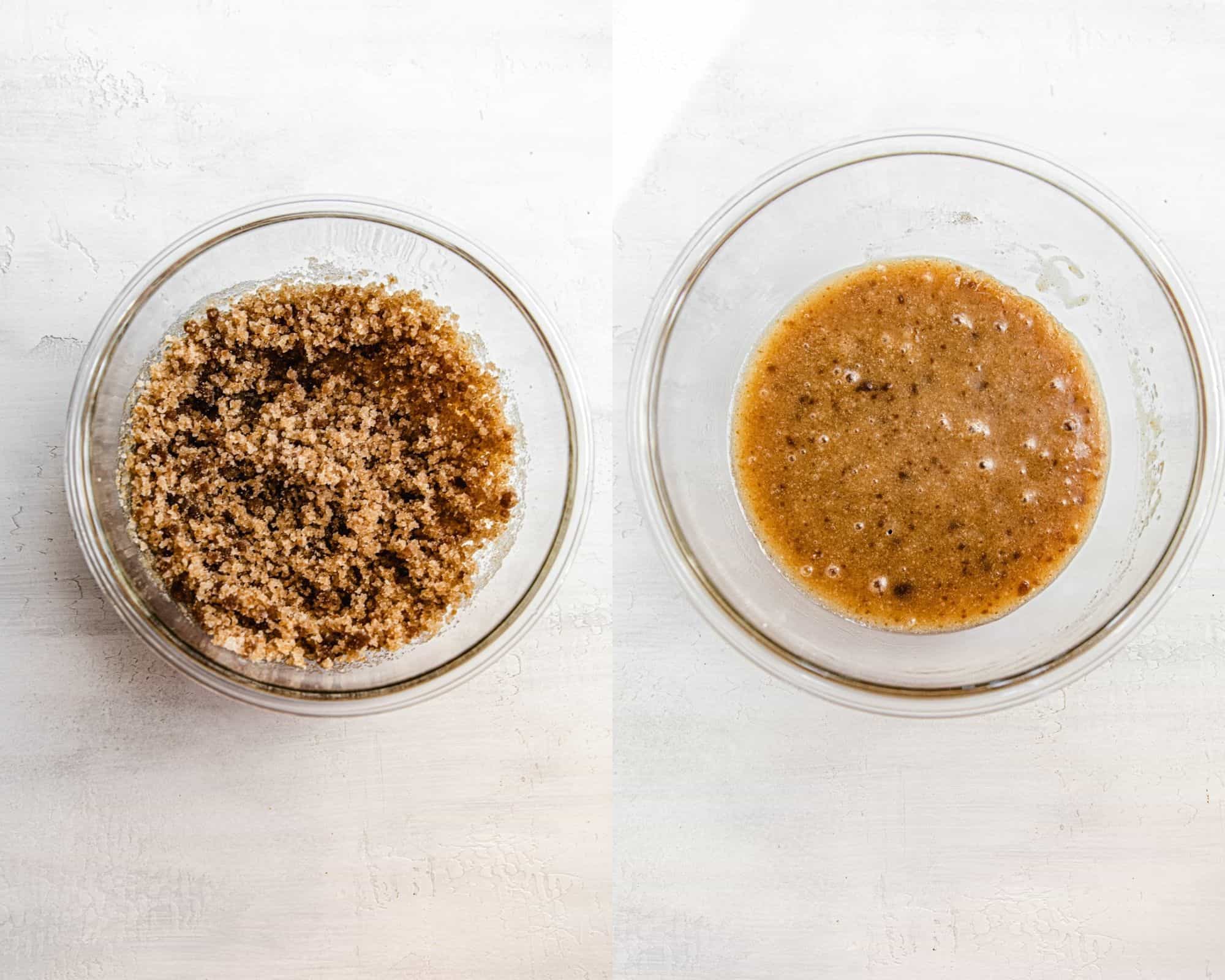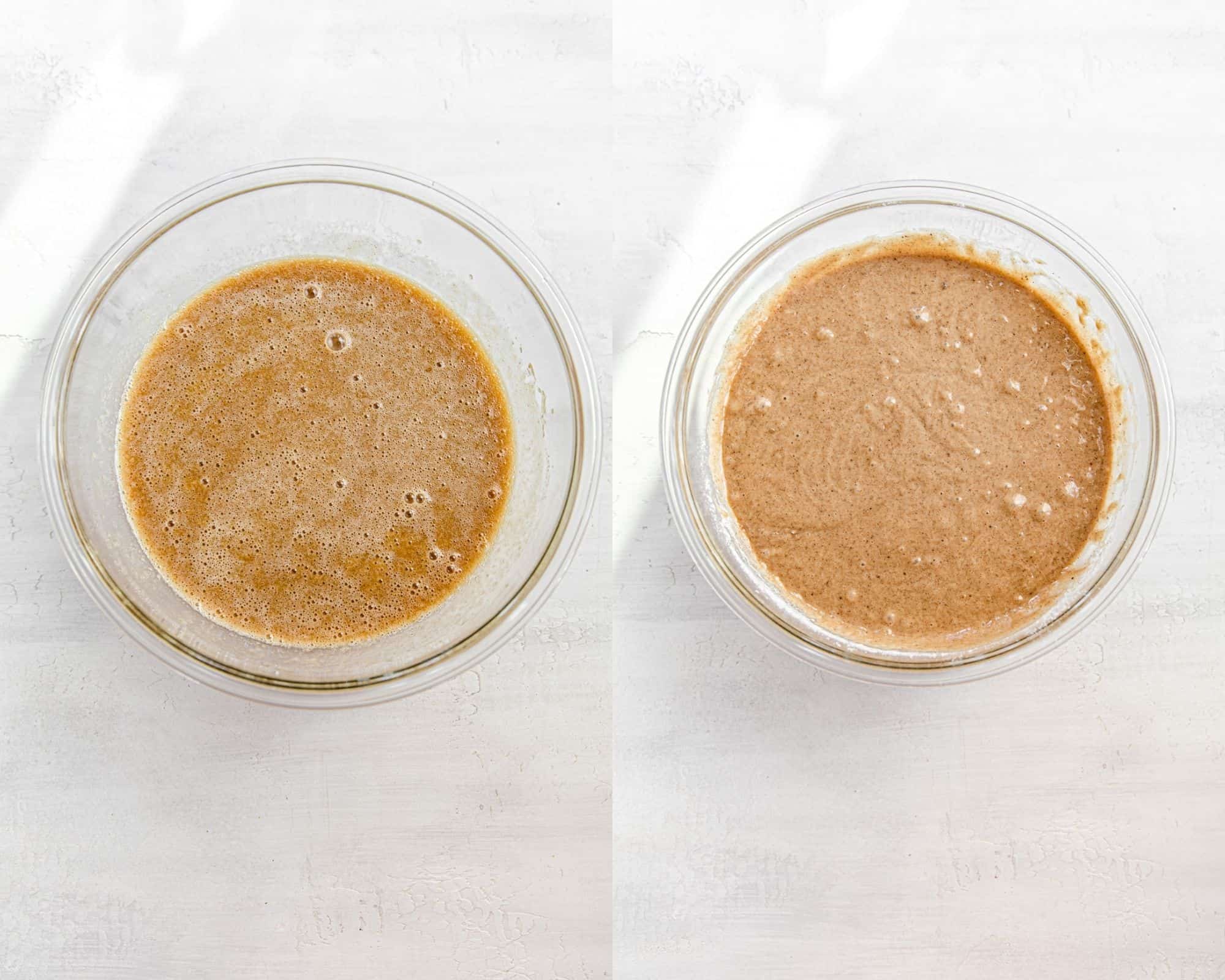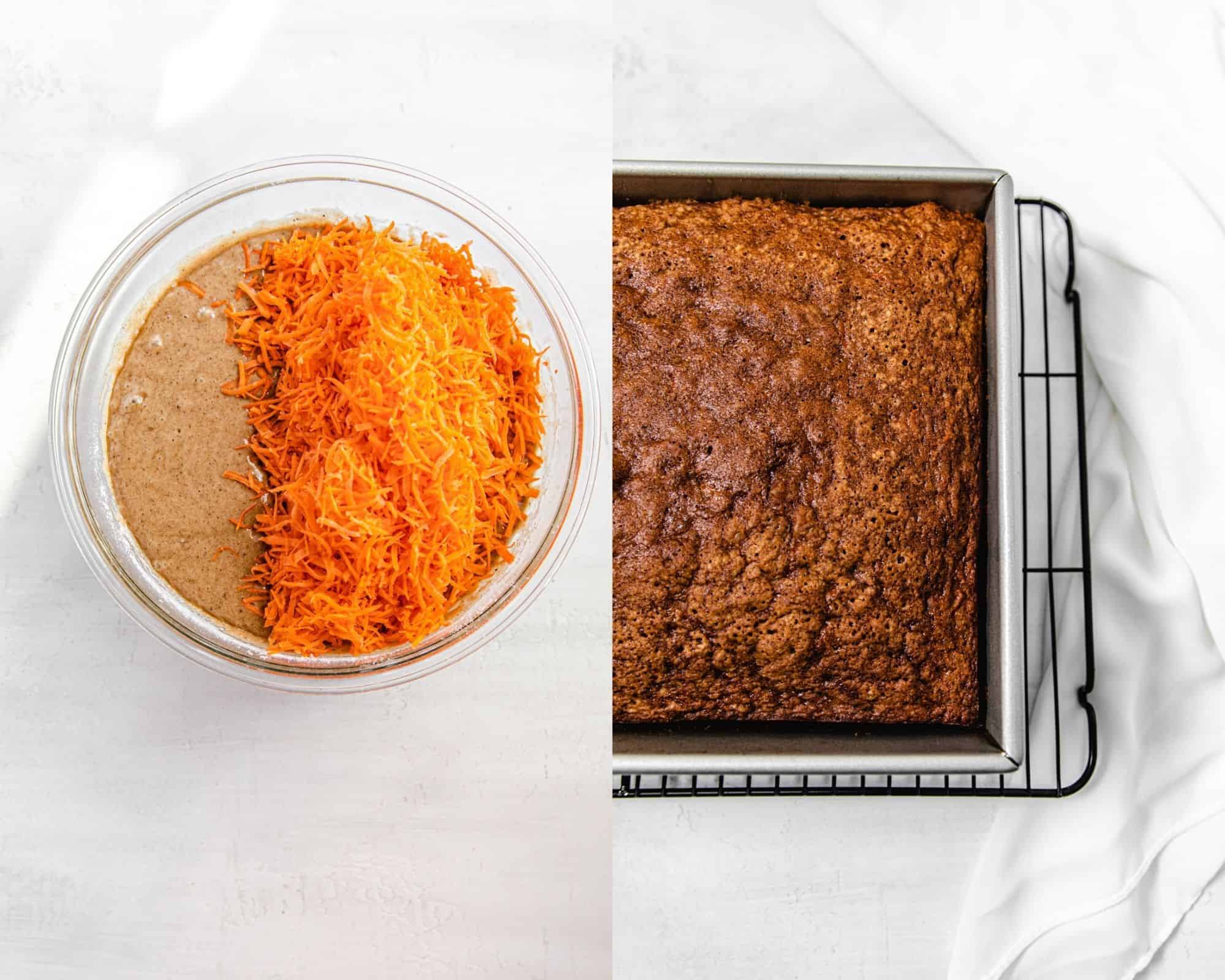 Brown Butter Cream Cheese Frosting
If you don't know what brown butter is, it's essentially butter that's been melted down enough to cook the milk solids until they're caramelized. This gives it a beautiful brown colour and an intensely delicious flavour!
This butter can boost any dessert to the highest level! So for this recipe, I took my simple cream cheese frosting recipe and gave it a flavour boost by browning the butter!
Don't be intimidated at all, I perfected browning butter on my first try and I'm certainly no professional!
So How do We Brown Butter?
Start with cold butter
Use a saucepan with a light bottom (to see the colour change easily)
Melt the butter over medium heat
Once melted, continue to cook the butter until it foams up
Let it cook, stirring occasionally until the butter browns
It's that easy! And the smell is absolutely intoxicating! Now, since the base of my cream cheese frosting is softened butter, you'll need to pour the brown butter into a separate bowl and let it cool completely. The. Refrigerate until it's solid. Once it's solid, allow it to sit at room temperature again to soften.
I know it's a few extra steps, but it's literally just putting it in the refrigerator and taking it out. Scoop the softened brown butter into a mixing bowl and beat until fluffy.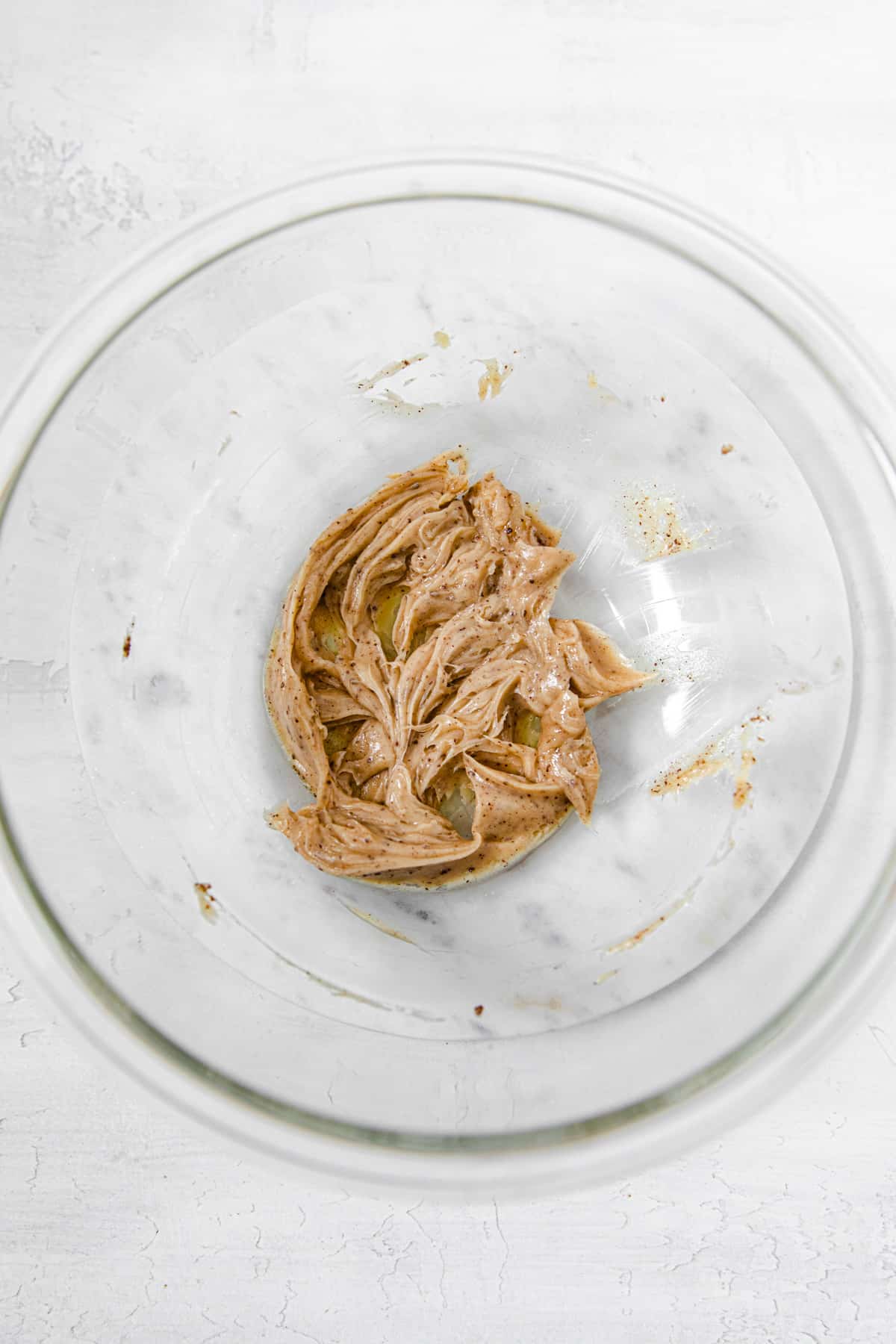 How gorgeous does that look? Add the softened cream cheese and do the same. Then mix in the powdered sugar, vanilla and salt. Beat everything until it's smooth, creamy and fluffy!
This frosting is honestly fantastic enough to eat with a spoon!
How to Pipe a ZigZag Design
You can spread the frosting onto the cake like normal, but this zigzag design just makes this beautiful frosting even more beautiful!
To achieve this look, I started by cutting the cake and removing each slice. This is so I could pipe a neat zigzag pattern on each slice. Scoop the frosting into a piping bag with a large petal tip, then pipe in a side to side zigzag motion. Start from one corner and work your way to the next side.
Sprinkle on some chopped pecans for extra texture and serve!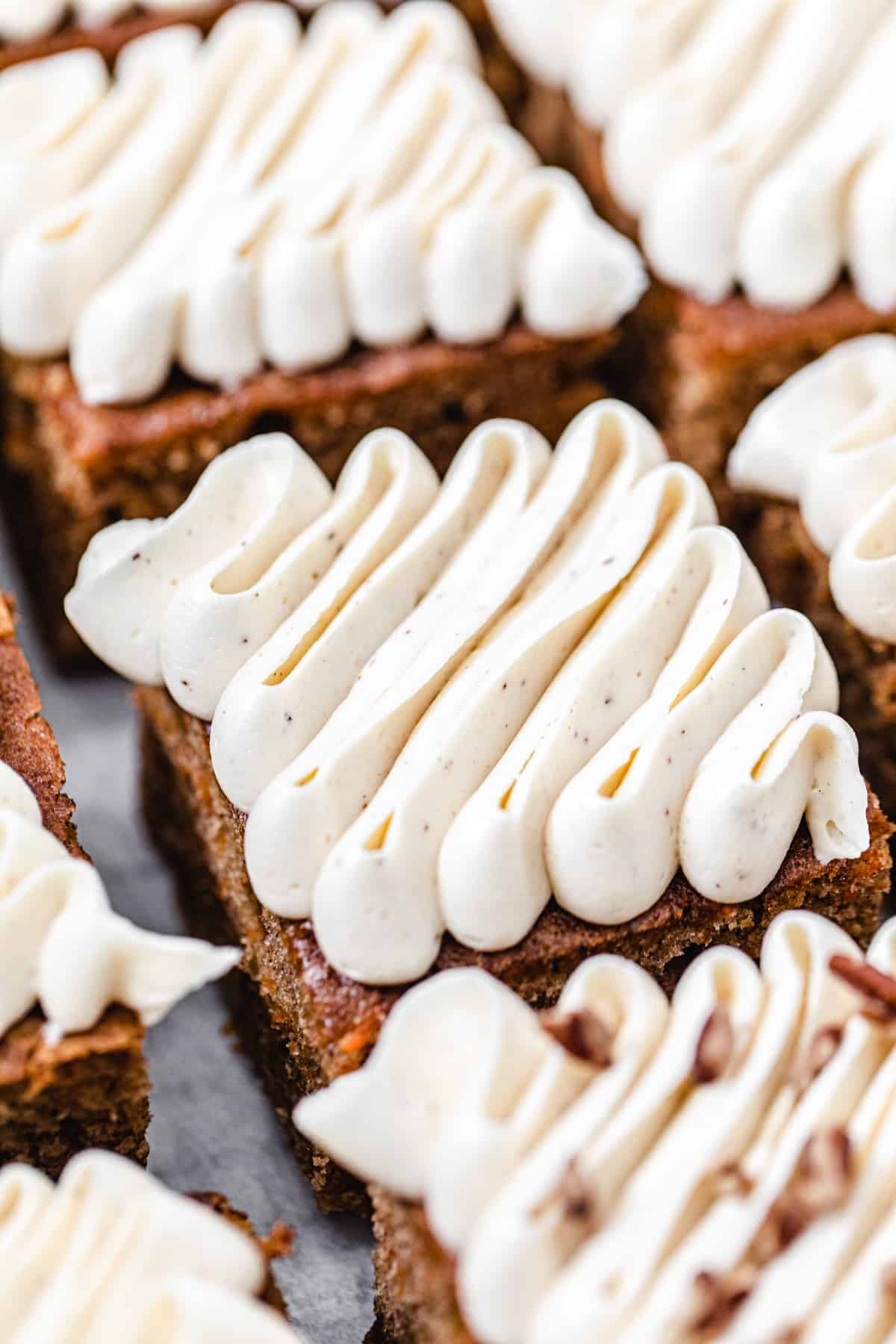 SHARE YOUR PICS!
Follow me on Instagram and tag #queensleeappetit so I can see and share all of your Queenslee Appétit creations in my stories and the QA Newsletter!
>>PIN ME FOR LATER<<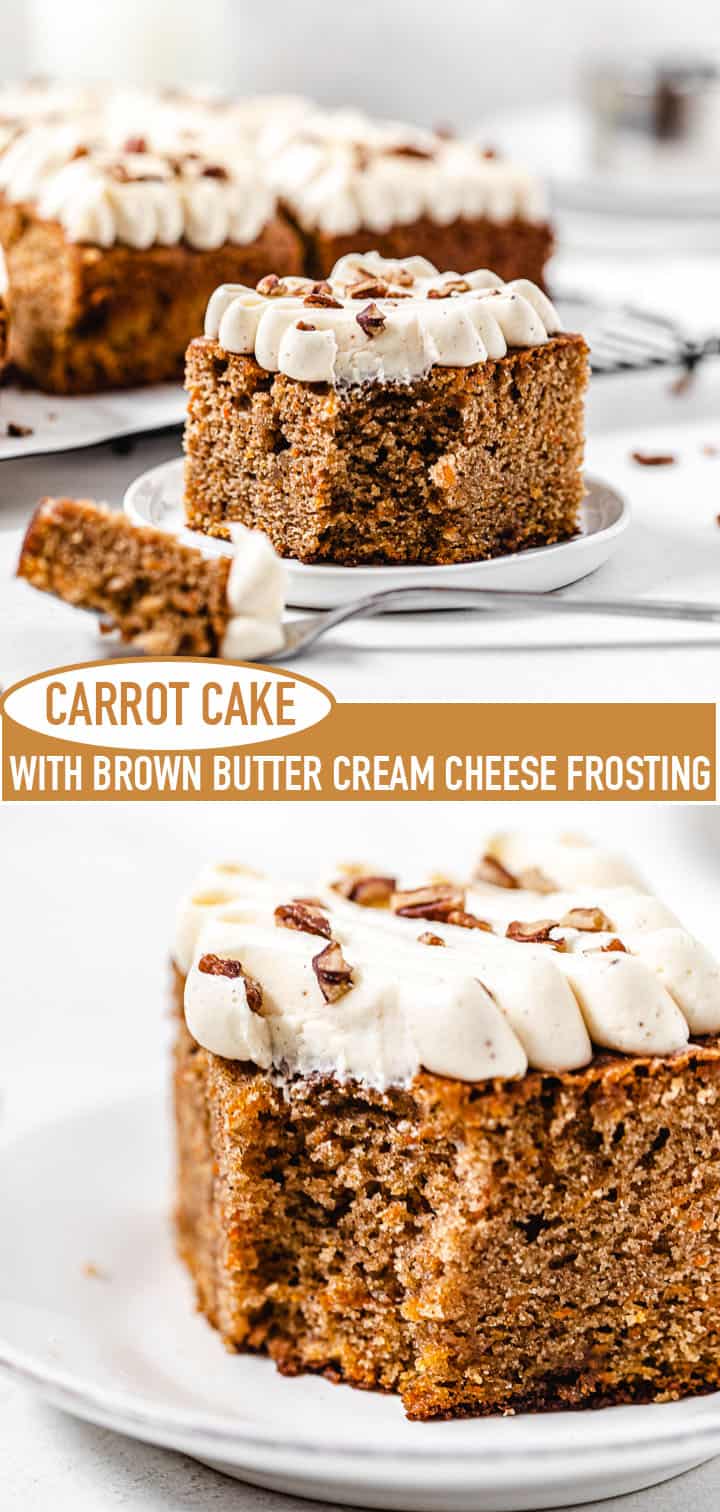 FOLLOW QUEENSLEE APPÉTIT
Like what you see? Make sure you're following Queenslee Appétit for more tasty recipes!
Pinterest | Instagram | Facebook |
Have any questions about the recipe? Contact me here, and I'll be happy to help!
SWEETEN UP YOUR INBOX!
SUBSCRIBE to the Queenslee Appétit Newsletter to recieve new recipe notifications, monthly baking tips, sneak peeks to upcoming recipes, exclusive recipes and more!
Let's get baking!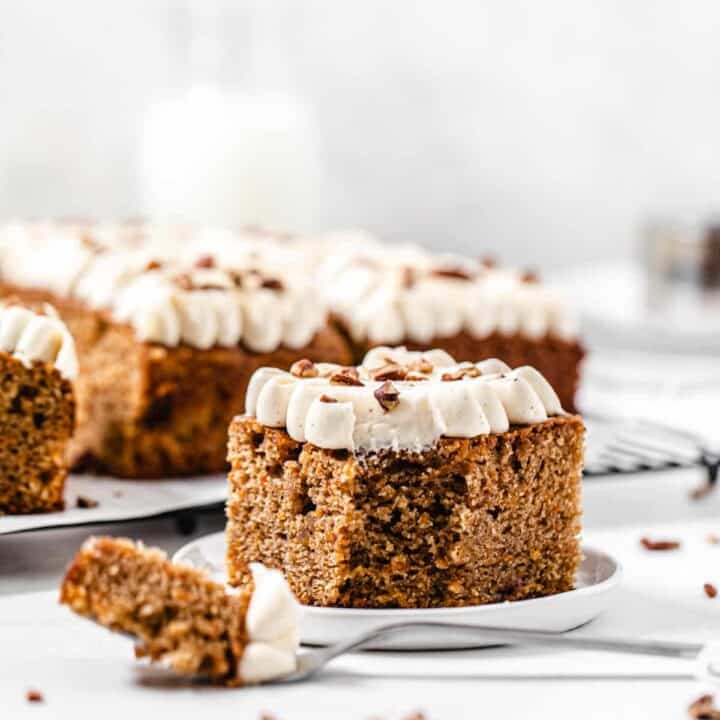 Carrot Cake with Brown Butter Cream Cheese Frosting
Total Time:
4 hours
15 minutes
Super soft, moist and perfectly spiced carrot cake is baked in one rectangular cake pan to give us thick, tall slices. Top with a flavourful brown butter cream cheese frosting for an easy, yet divine Easter dessert!
Ingredients
Carrot Cake:
3 cups All purpose flour
1 tablespoon Baking powder
½ teaspoon Baking soda
1 teaspoon salt
1 tablespoon ground cinnamon
¾ teaspoon ground nutmeg
¾ teaspoon ground ginger
⅛ teaspoon ground cloves
1 and ¼ cup Vegetable oil (can substitute with canola oil, avocado oil, extra virgin olive oil or sunflower oil)
1 and ½ cups dark brown sugar, packed
1 and ½ cups granulated Sugar
⅓ cup unsweetened applesauce, room temperature
⅓ cup sour cream, room temperature
6 large Eggs, room temperature
1 tablespoon Pure Vanilla Extract
4 cups shredded carrots (6-7 large carrots)
Brown Butter Cream Cheese Frosting:
½ cup unsalted butter, cold
1 (8 ounce) package cream cheese, softened to room temperature
5 cups powdered sugar, sifted
1 and ½ teaspoon Pure Vanilla Extract
⅛ teaspoon salt
½ cup chopped toasted pecans, for topping (optional)
Instructions
For the Carrot Cake:
Position oven rack to the middle. Preheat oven to 350° F (177°C). Grease the bottom and sides of a 9x13-inch rectangular cake pan with non-stick cooking spray. Set aside.
In a large bowl, add the flour, baking powder, baking soda, salt, cinnamon, nutmeg, ginger and cloves. Whisk to combine. Set aside.
In the bowl of a stand mixer fitted with the paddle attachment (or in a large bowl using a whisk or hand mixer), add the oil and both sugars. Mix on medium-high speed until combined.
Add the applesauce and sour cream and continue to mix until completely combined.
Scrape down the sides and bottom of the bowl. Lower the speed to medium-low and mix in the eggs, one at a time until just combined. Mix in the vanilla.
Add the dry ingredients in three additions, mixing on low speed after each addition until completely combined.
Using a rubber spatula, fold in shredded carrots and up to 1 or 2 cups of any add-ins, if you desire (see notes).
Pour batter into prepared pan and spread into an even layer. Bake for 45 minutes or until a toothpick inserted into the center comes out clean or with a few moist crumbs.
Remove cake from oven and place on cooling rack to cool completely.
For the Brown Butter Cream Cheese Frosting:
Add the cold butter to a small saucepan, preferably one with a light bottom so you can easily see the colour change.
Heat over medium heat until butter has melted.
Once melted, the butter will begin to bubble and foam. Continue to stir, cooking until the butter turns a golden brown. This can take about 3-5 minutes, but don't rely on time. Keep your eyes on the butter to see when it starts to turn brown!
Immediately remove the browned butter from the stovetop and pour it into a small bowl. Allow to cool for 15 minutes.
Cover the bowl and place in the refrigerator so the brown butter can solidify (around 1-2 hours. I just left it overnight).
Once solid, remove brown butter from the refrigerator and let it sit at room temperature for at least 30 minutes to soften up again. Scrape butter into the bowl of a stand mixer, or a large mixing bowl (if using a hand mixer).
Beat the softened browned butter on medium-high speed until fluffy, 1-2 minutes.
Add the softened cream cheese and continue to beat until pale and fluffy, about 4-5 minutes.
Scrape down the sides and bottom of the bowl. Add the powdered sugar, one cup at a time and beat on low speed after each cup until combined.
Once combined add vanilla and salt and continue to beat until combined and smooth.
Increase speed to medium-high and beat for about 5-7 minutes, or until frosting is light and fluffy.
For the Zigzag Frosting Design:
You can simply spread the frosting onto the whole cake, or you could decorate like I did!
To do this, I sliced the entire cooled cake and removed the slices from the pan.
Scoop the frosting into a piping bag fitted with a ruffle tip (I used Wilton 104).
Starting on the corner of the slice, pipe in a side to side motion, working your way to the other corner. Make sure the wide part of the ruffle tip is on the bottom and positioned at a 90° angle. Repeat for each slice. Doing this on individual slices rather than the whole cake keeps the design neat!
Sprinkle some chopped pecans onto each slice, if desired. Serve and enjoy!
Notes
Tools You'll Need: 9x13-rectangular cake pan | stand mixer | hand mixer | measuring cups & measuring spoons | rubber spatula | cooling rack | mixing bowl | small saucepan
Make Ahead: (1) Carrot Cake: After baking and cooling the cake, you can cover it with plastic wrap and refrigerate for 2-3 days before frosting. Serve at room temperature. (2) Brown Butter can be made at least 2 days ahead of time and stored covered in the refrigerator. (3) Frosting can be made a day or two ahead of time and stored covered in the refrigerator. Bring to room temperature and re-whip before using.
Storage: Store cake in the refrigerator for up to 3 days.
Add-ins: you can add 1 or 2 cups of add-ins like chopped toasted walnuts, pecans, raisins etc.
Shredded Carrots: Make sure the carrots are finely shredded so they can blend into cake well enough for you not to have crunchy chunks of carrot. I used the shredding blade on my food processor which created nice thin strips. If you don't have one, use a hand grater.
Layer Cake/Cupcakes: The carrot cake recipe is the same one I used for this layer cake and these cupcakes (halved recipe)! The only difference is the frosting. Follow the instructions here to brown the butter in the layer cakes or cupcakes frosting recipe!
Nutrition Information:
Yield:

12
Serving Size:

1
Amount Per Serving:
Calories:

573
Total Fat:

20g
Saturated Fat:

7g
Trans Fat:

0g
Unsaturated Fat:

11g
Cholesterol:

120mg
Sodium:

449mg
Carbohydrates:

92g
Fiber:

3g
Sugar:

64g
Protein:

8g
BON APPÉTIT!
Love, Dedra
©QUEENSLEE APPÉTIT. All images & content are copyright protected. Please do not use my images without prior permission. If you want to republish this recipe, please re-write the recipe in your own words, or link back to this post for the recipe.