Got leftover Halloween Candy? Use it to make cookies. Or better yet, a giant cookie! This Leftover Halloween Candy Cookie Cake is soft, chewy and loaded with yummy assorted chocolate bars and sweets!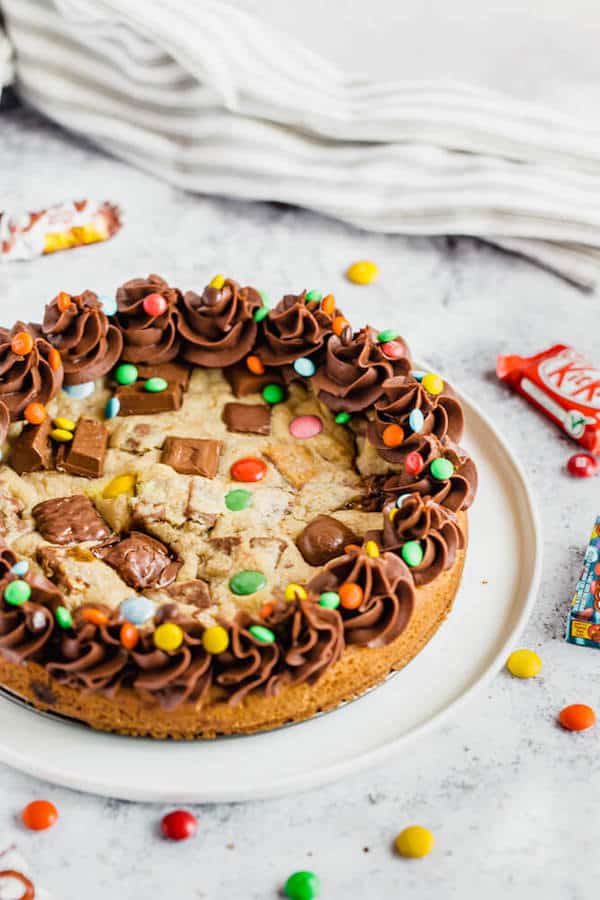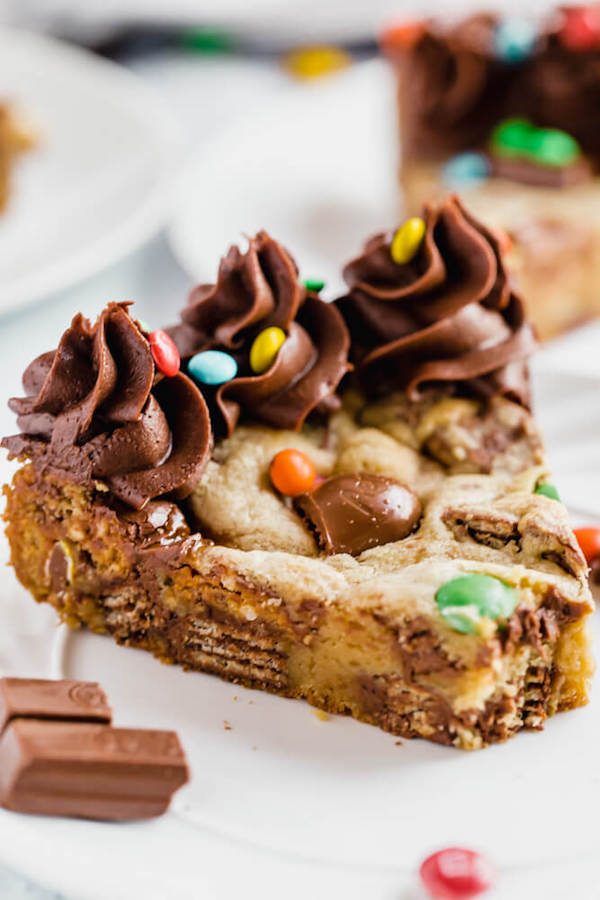 Post updated: 11/01/19
The best thing about Halloween is the candy. I stopped trick or treating a long time ago, because as an adult, I could easily buy as many boxes of candy as I want instead of walking around for hours in the cold to beg strangers for some.
And that's exactly what I did this year. Three 50-pack boxes of candy later and I realized I may have over done it. But they were all on sale for $5.99, I couldn't help myself! So to put all of that candy to good use, I decided to make a few desserts to share with all of you!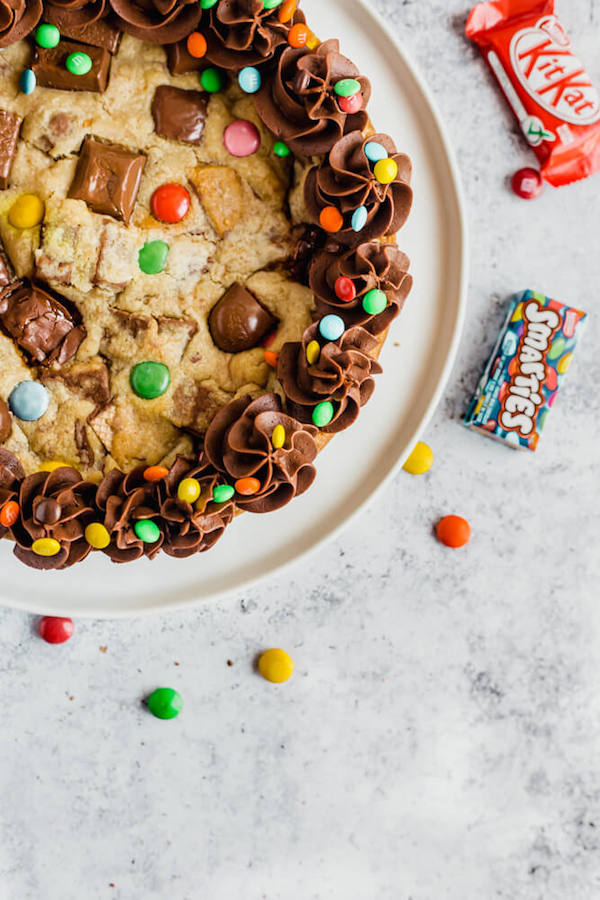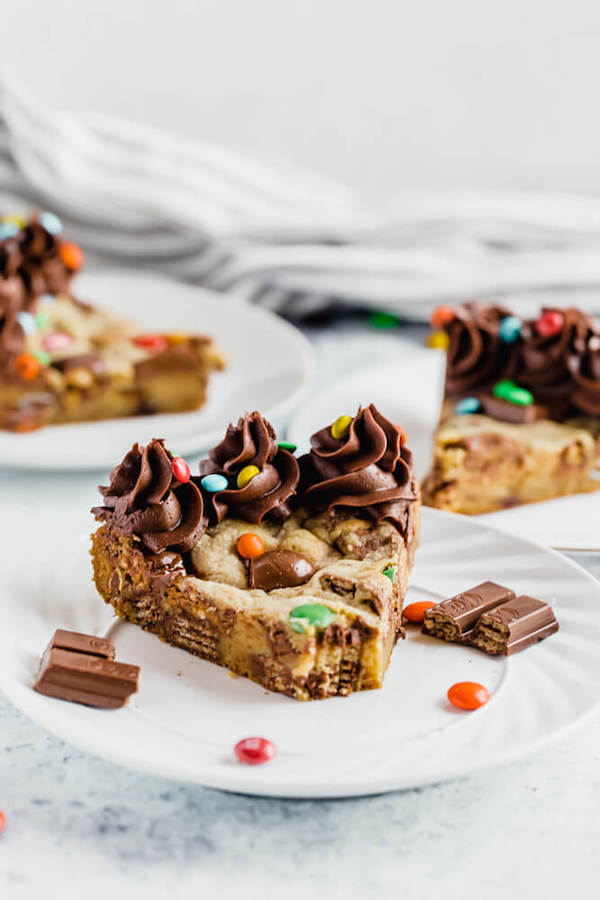 On Monday, I shared these Halloween Candy Fudge Brownies, which were a chocolate lovers dream come true! Even after making those brownies I still had about 100 pieces of candy left, so I figured this was the best time to make something I've never made before — Cookie Cake!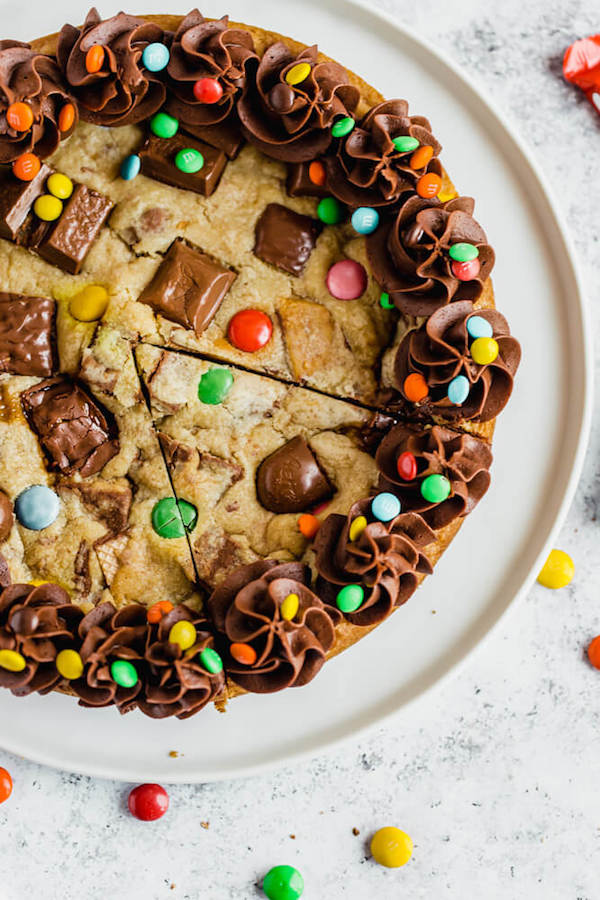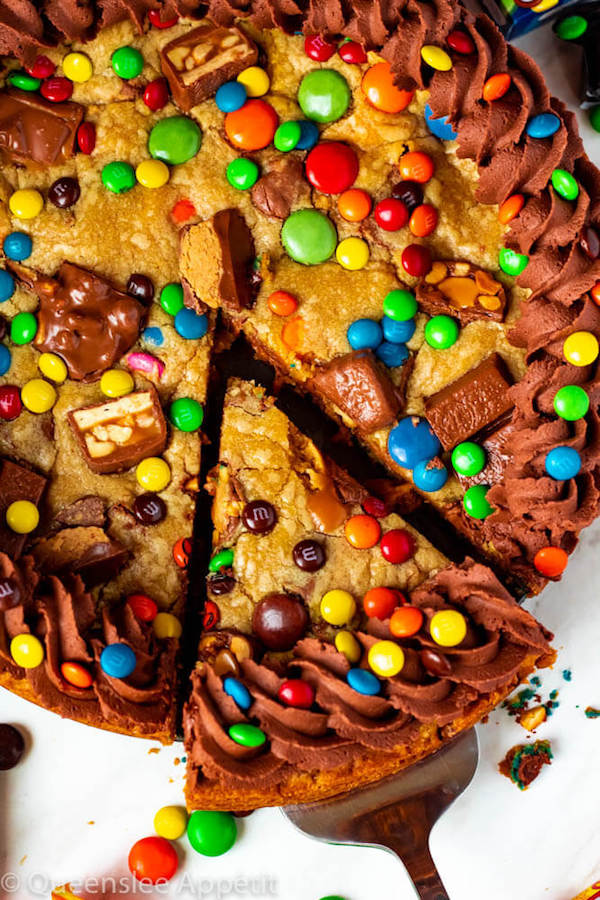 Leftover Halloween Candy Cookie Cake
As I mentioned above, I made this cookie cake with a ton of candy I bought from the store. However, if you're a parent or if you live with a kid that has gone trick-or-treating, I highly recommend grabbing a handful (or ten) of THEIR candy to make this recipe.
They may throw a tiny little fit, but in the end it'll totally be worth it. Not only do you save money, but once your kids see what you've done with their stolen Halloween candy, they'll be ecstatic!
I mean, back in my childhood days, my parents only stole my Halloween candy for the purpose of eating it themselves, not to make a delicious cookie cake. Kids these days are way too spoiled.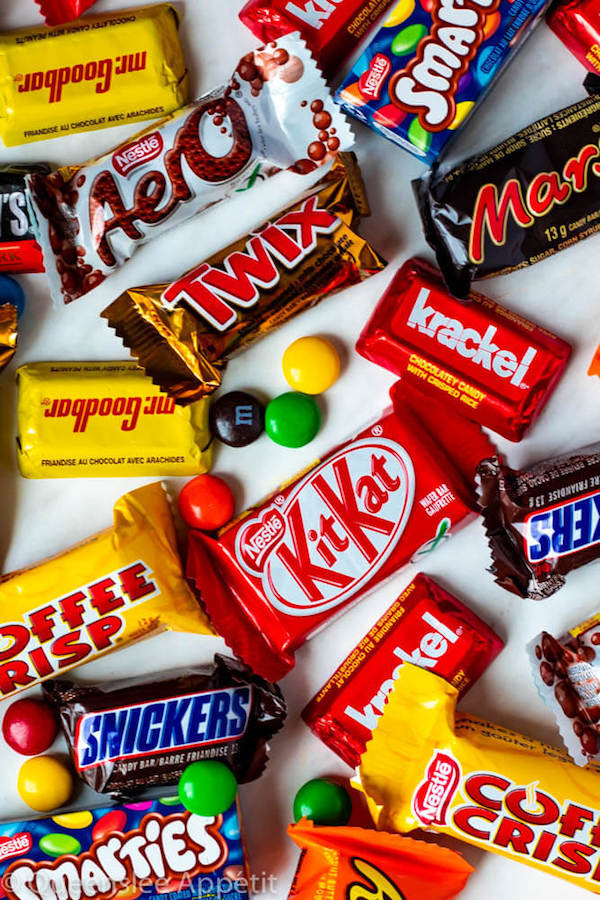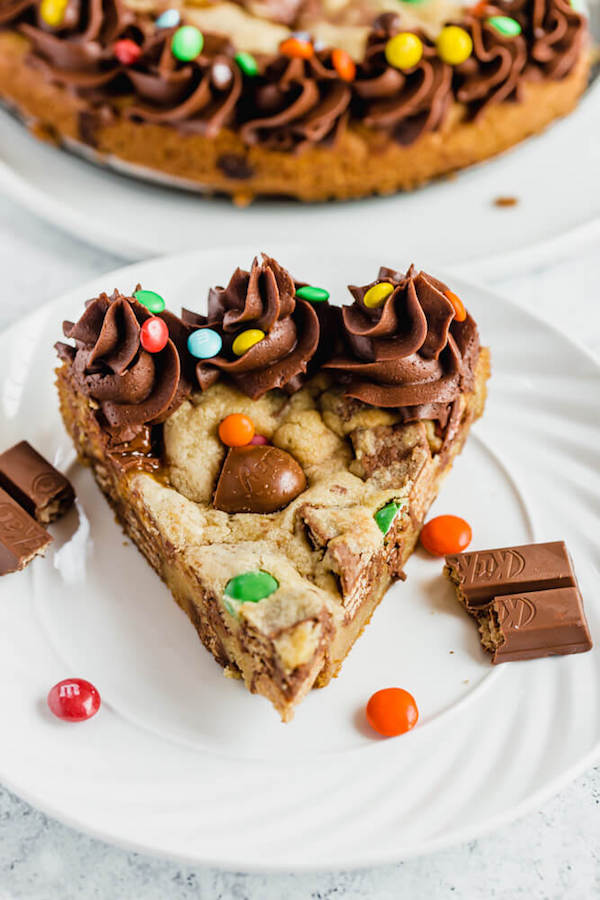 How to make a Cookie Cake
Making a cookie cake is so much easier than making individual cookies, I don't know why I didn't try it sooner! There's no chilling involved, you don't have to scoop or roll, or bake in batches. Simply press all of the cookie dough into your cake pan or pie dish and bake it all at once for about 20 minutes. So easy!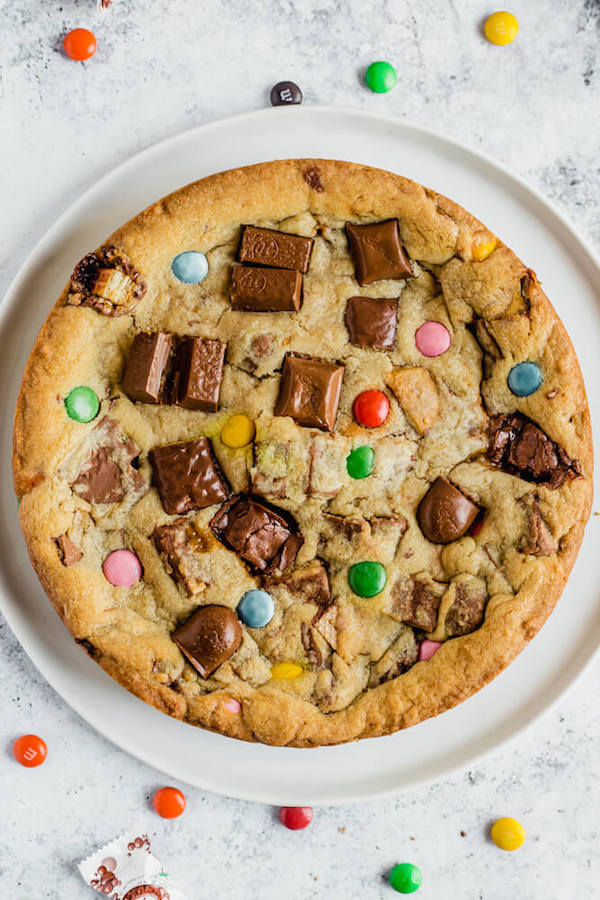 The cookie dough recipe is super simple. It's your basic cookie dough recipe, nothing really special about it. All you have to do is cream the butter and sugars together, add eggs and flavouring, then mix in the dry ingredients. You know, the usual.
I added about 2 cups of chopped Halloween candy to the dough. All the candy I used were mini assorted chocolate bars, M&M's, Smarties (the Canadian version) etc. You could use some non-chocolate candy if you prefer, like gummy worms, sour patch kids and more.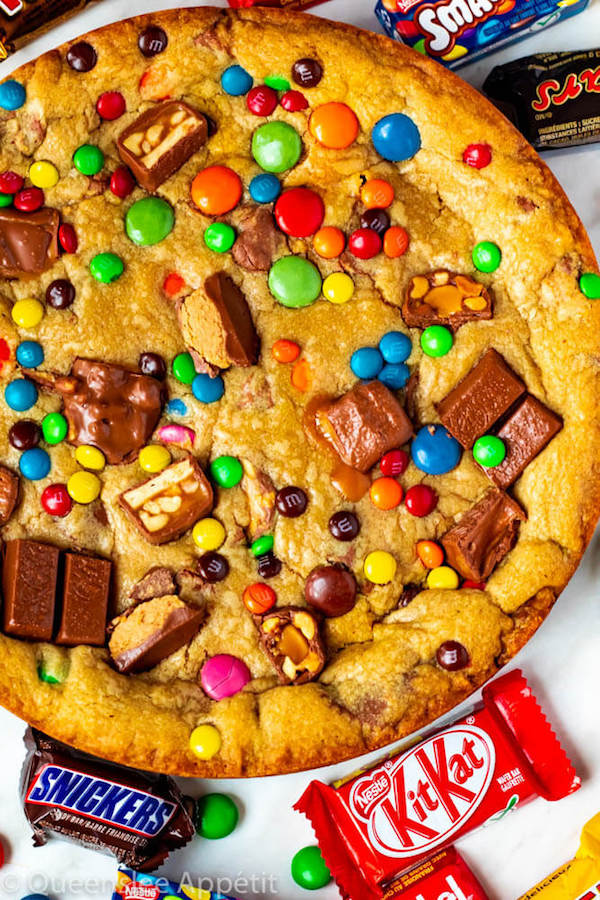 What type of pan should I use?
When it comes to cookie cakes, you can use any type of pan as long as it's a 9-inch pan. Some people bake cookie cakes in a pie dish or a round cake pan, which is perfectly fine but it may be a bit difficult to get out.
For this reason, I decided to use a springform pan. That way, after the cookie cake finished baking, I could easily slide off the ring and have neat and beautiful sides.
You could also bake this in a 9-inch square pan to make cookie bars! You can either pipe little swirls of frosting in the middle of each bar, or omit the frosting all together.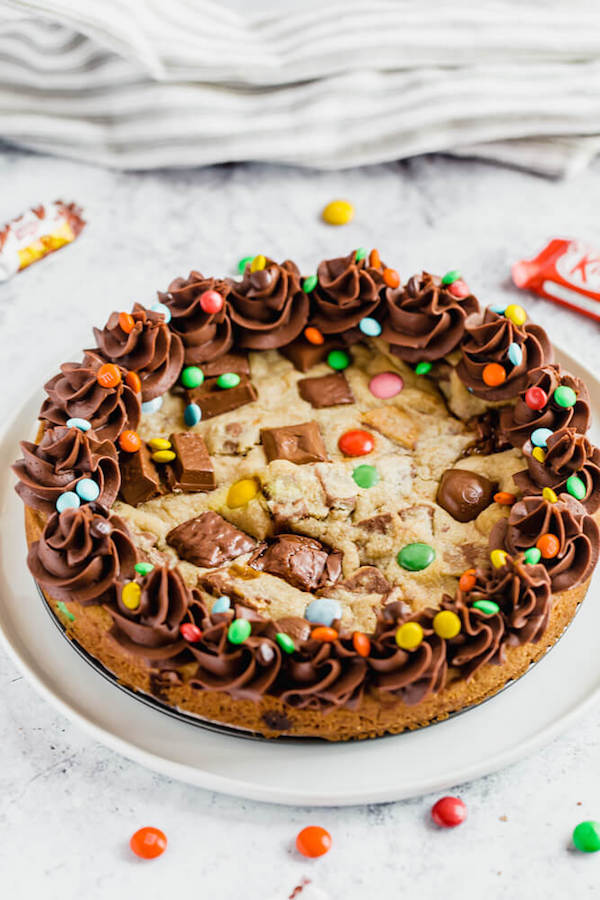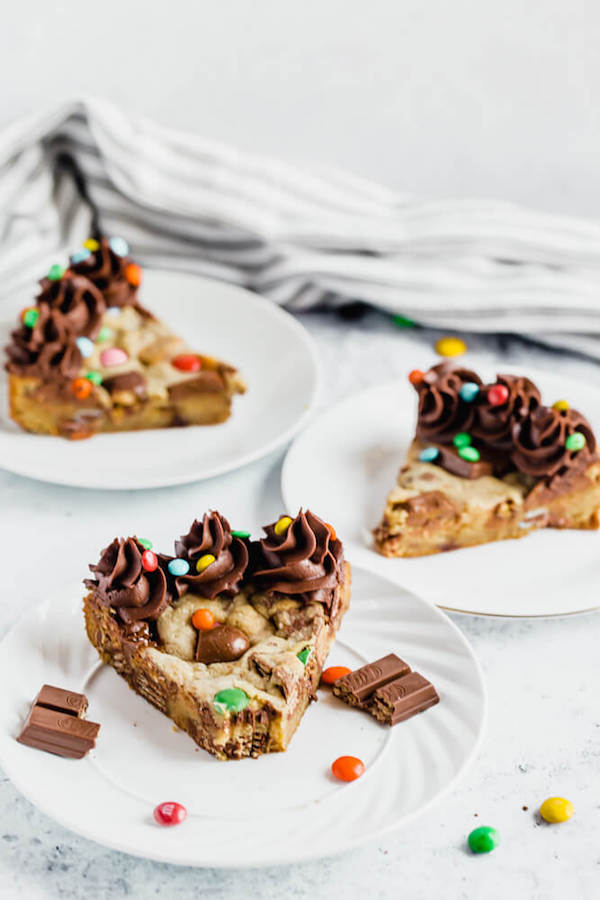 Frosting or no Frosting?
To decorate the cookie cake a bit, I piped some chocolate frosting around the edges. The frosting recipe is super easy and only requires 5 ingredients: butter, icing sugar, cocoa powder, vanilla and heavy cream.
I originally used a mixture of butter and shortening, but I didn't like the way the frosting hardened up after awhile, so the recipe below calls for all butter.
Now I personally prefer eating cookies without frosting, so I ended up scraping it off after taking photos. I know, what a waste. If you feel the same, you could omit the frosting completely. Or you could use other types of frosting flavours, like vanilla, strawberry, raspberry, Nutella Ganache Frosting (my favourite).
You also have the option of drizzling chocolate and caramel sauce on top and calling it a day. This is your cookie cake, so do what you want!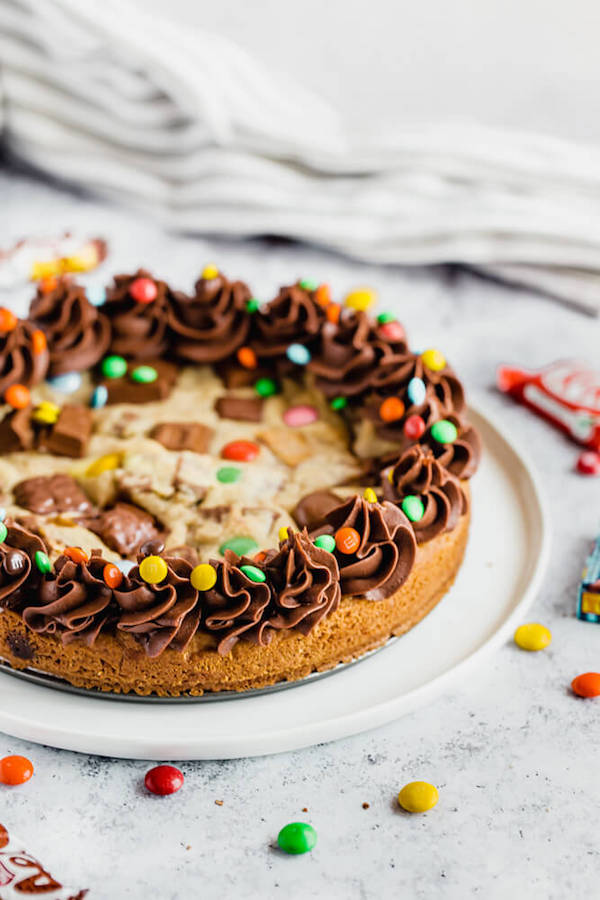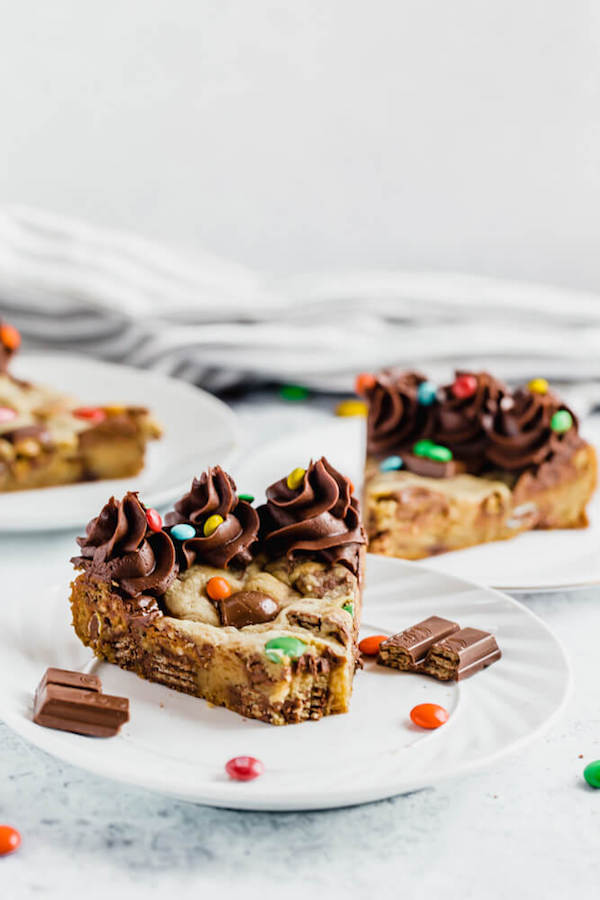 This cookie cake must be eaten with a fork. There's really no other way. Well there is the pizza method, but that just makes me feel even fatter than I already am. A fork (and maybe a knife) gives me the illusion that this is a fancy, high-quality, super healthy expensive vegan treat fit for the Gods.
And it's not as messy.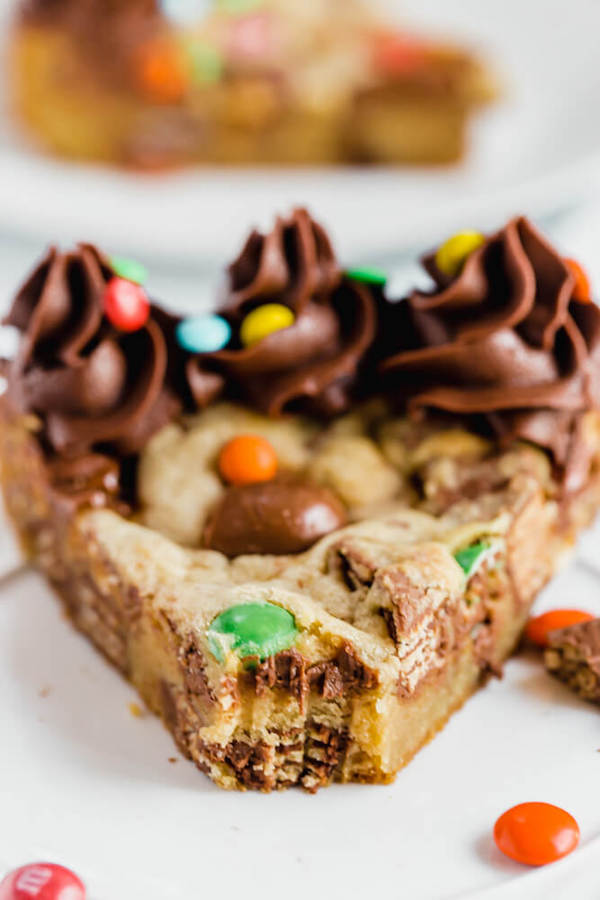 Did you make this Leftover Halloween Candy Cookie Cake? Let me know how they turned out in the comments below! And don't forget to leave a rating!
You May Also Like
Leftover Halloween Candy Fudge Brownies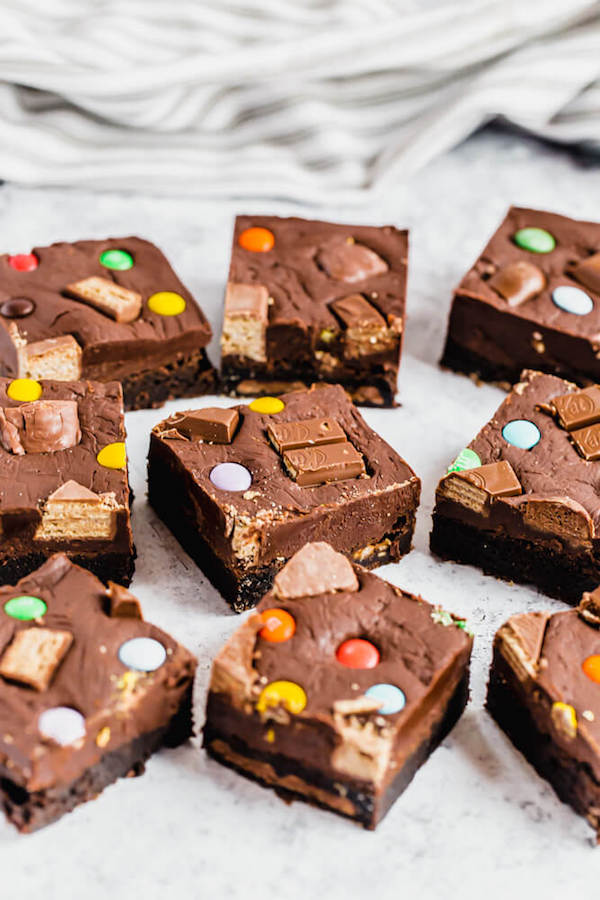 >>PIN ME FOR LATER<<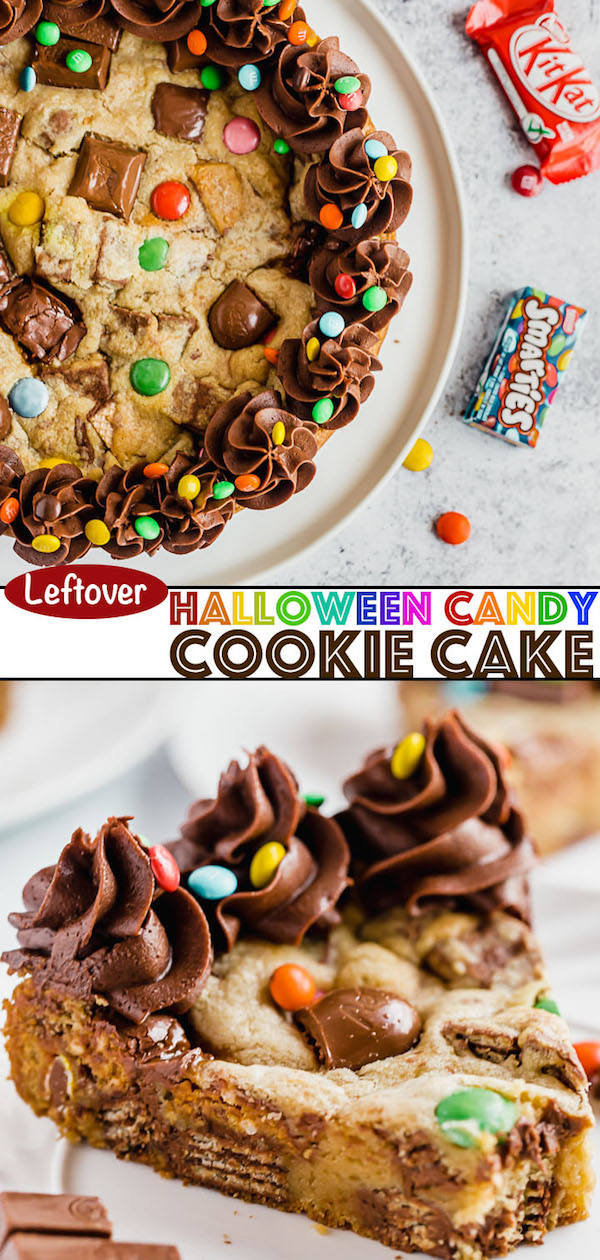 FOLLOW QUEENSLEE APPÉTIT
Like what you see? Make sure you're following Queenslee Appétit for more tasty recipes!
Pinterest | Instagram | Facebook | Twitter |
Have any questions about the recipe? Contact me here, and I'll be happy to help!
SHARE YOUR PICS!
Tag me on Instagram @queensleeappetit or use the hashtag #queensleeappetit so I could see your gorgeous creations!
Let's get baking!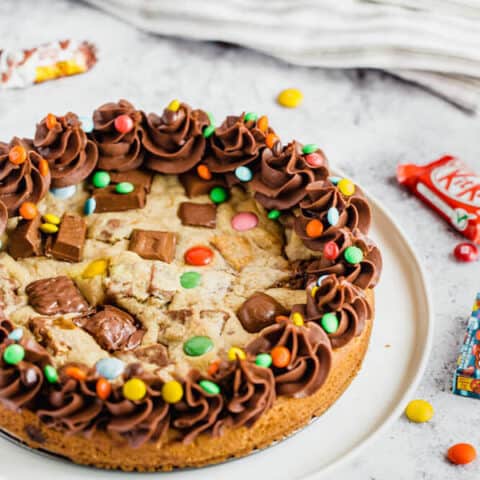 Leftover Halloween Candy Cookie Cake
Got leftover Halloween Candy? Use it to make cookies. Or better yet, a giant cookie! This Leftover Halloween Candy Cookie Cake is soft, chewy and loaded with yummy assorted chocolate bars and sweets!
Ingredients
Cookie Cake:
¾ cup unsalted butter, softened to room temperature
¾ cup light brown sugar, packed
¼ cup granulated sugar
1 large egg, room temperature
2 teaspoon pure vanilla extract
2 cups all purpose flour
1 teaspoon cornstarch
1 teaspoon baking soda
½ teaspoon salt
2 cups Halloween Candy, chopped + more for topping
Frosting:
½ cup unsalted butter
2 cups powdered sugar, sifted
¼ cup unsweetened cocoa powder
½ teaspoon pure vanilla extract
2-3 tablespoon heavy cream
Mini M&M's, for topping (optional)
Instructions
For the Cookie Cake:
Preheat oven to 350° F (177°C). Prepare one 9-inch springform pan with parchment paper on the bottom, and grease the sides. If using a pie dish, you can omit the parchment paper. You can also use a regular 9-inch cake pan. Set aside.
In the bowl of a stand mixer fitted with a paddle attachment, or in a large bowl using a handheld mixer, beat butter and both sugars on medium speed until light and fluffy, 3-4 minutes. Scrape the sides and bottom of the bowl.
Add egg and vanilla and mix on medium-low until well combined. Scrape the sides and bottom of the bowl.
In a separate bowl, add flour, cornstarch, baking soda and salt. Whisk to combine, then add to wet ingredients and stir on low speed until just combined. Do not overmix.
Add 2 cups of chopped candy and fold until completely combined. Scoop dough into the prepared pan and press into an even layer. Top with more candy, if desired.
Bake in preheated oven for 18-20 minutes, or until the edges are golden brown and the centre still looks undercooked.
Remove from oven and allow to cool on a wire rack. The cookie will continue to cook and set up while in the pan.
Once cooled, remove the springform ring. If using a pie dish, keep the cookie in the dish. If using a regular round cake pan, run a butter knife around the edges and carefully remove it from the pan. Set aside while you make the frosting.
For the Frosting:
In a medium bowl with a hand-held mixer, beat the butter on medium speed until light and fluffy (about 2-3 minutes).
Turn the mixer to low, and gradually add half of the sugar. Once incorporated, add cocoa powder and beat until combined. You may need to increase the mixer speed so everything can smoothen out.
Add the remaining powdered sugar and mix on low until combined. Add heavy cream 1 tablespoon at a time until frosting is smooth.
Increase mixer speed to high and whip until light and fluffy, about 2-3 minutes.
Transfer frosting to a piping bag fitted with a large star tip (I used Wilton 1M), and pipe a border around the cookie cake.
I piped a rope border around my cake, see my border piping tutorial for instructions on how to do this.
Store leftovers in an airtight container at room temperature for 3-4 days.
Recommended Products
As an Amazon Associate and member of other affiliate programs, I earn from qualifying purchases.
Nutrition Information:
Yield:

8
Serving Size:

1
Amount Per Serving:
Calories:

880
Total Fat:

35g
Saturated Fat:

22g
Trans Fat:

0g
Unsaturated Fat:

11g
Cholesterol:

113mg
Sodium:

350mg
Carbohydrates:

137g
Fiber:

2g
Sugar:

90g
Protein:

5g
BON APPÉTIT!
Love, Dedra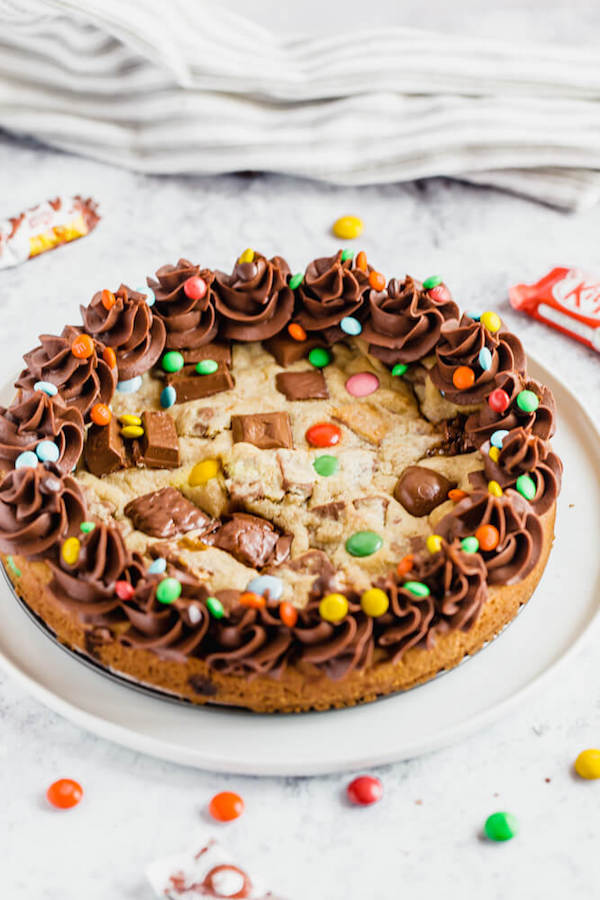 ©QUEENSLEE APPÉTIT. All images & content are copyright protected. Please do not use my images without prior permission. If you want to republish this recipe, please re-write the recipe in your own words, or link back to this post for the recipe.