This Dreamy Strawberry Buttercream Frosting is so light and creamy with an authentic strawberry flavour. It's incredibly simple and pairs perfectly with cakes, cupcakes and other desserts!
This post may contain affiliate links. Please see my full disclosure policy for details.
Strawberry Buttercream Frosting
A week ago I shared a recipe for my perfect Homemade Strawberry Sauce, so you just know I had to make something with it! My Dreamy Raspberry Buttercream Frosting seems to be a really popular recipe on this blog, so I decided to share a strawberry version.
Unfortunately this frosting isn't as gorgeously pink as that raspberry frosting was. This may be because the strawberry sauce is a few shades lighter than the raspberry sauce. However, colour aside, this frosting is so creamy and fluffy and has a ton of authentic strawberry flavour!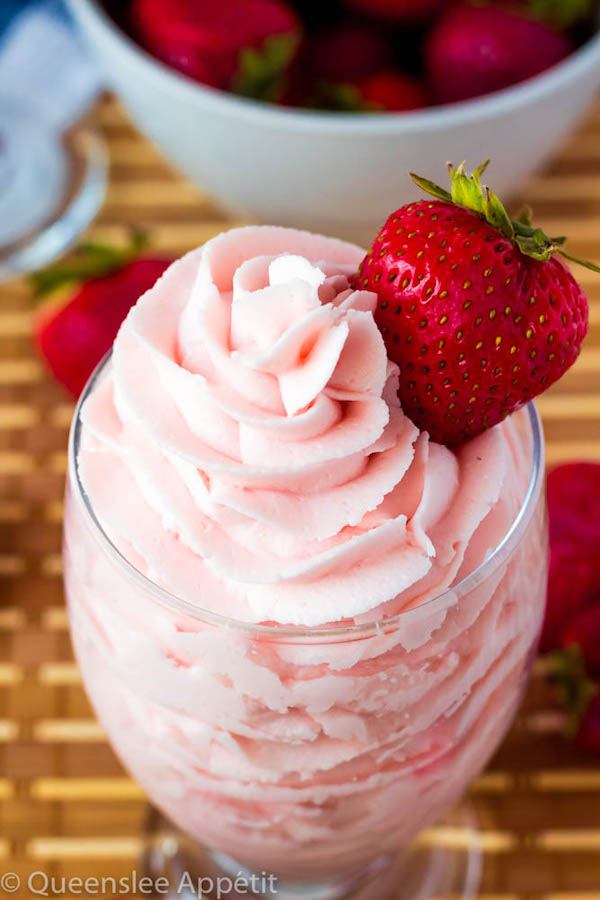 TIPS FOR MAKING DREAMY STRAWBERRY BUTTERCREAM FROSTING:
Instead of cooking the strawberries down into a purée, I decided to make a strawberry sauce and add a little bit of it to the frosting. You'll end up with a lot of extra sauce, but is that really a bad thing? There's plenty of uses for it like: topping yogurt, ice cream, cheesecake, parfaits, spread on toast, biscuits, scones and so much more! A two in one special.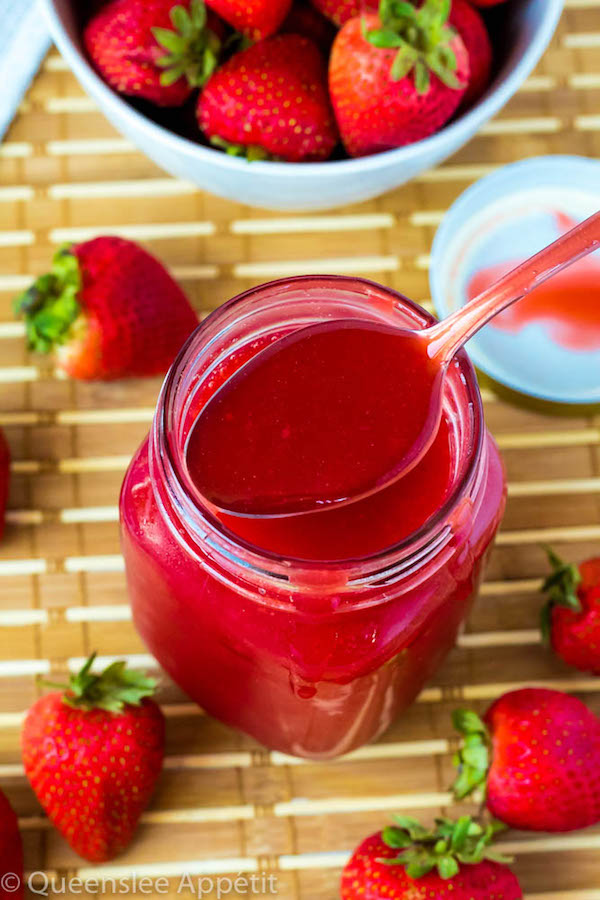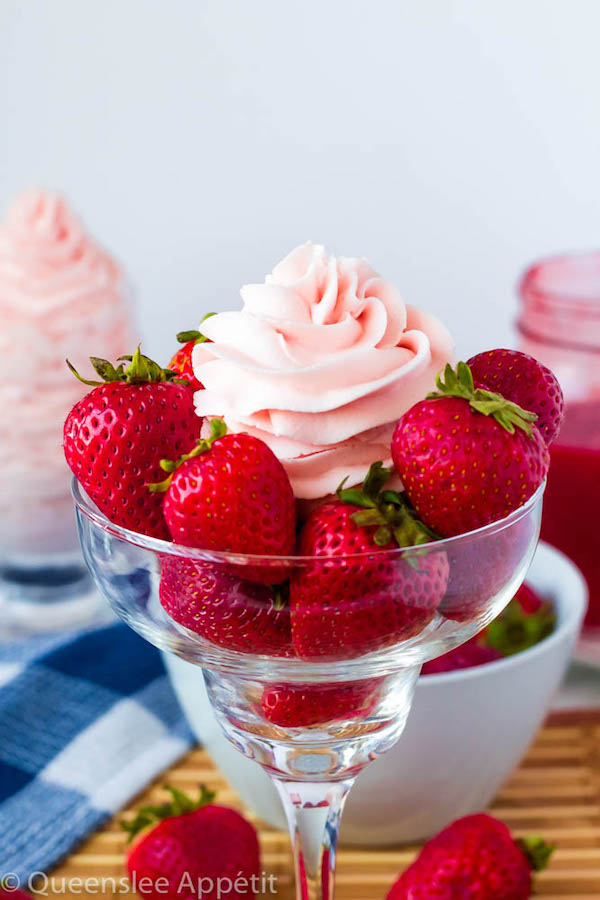 If you don't want a ton of extra sauce, you can easily cut the strawberry sauce recipe in half, though you'll still have quite a bit left.
After making the sauce, you'll need to chill it COMPLETELY. If the sauce is hot or warm, it'll mess up the frostings consistency when added, causing it to separate. I know this is an extra step, but trust me! It's completely worth it.
This frosting uses a mixture of butter and shortening so it can hold its shape in hot weather. I like to use hi-ratio shortening because it produces a better frosting consistency, but feel free to substitute with solid vegetable shortening (like Crisco). You can also leave the shortening out completely and use 1 cup of butter, though with the hot summer weather, it may not hold up for long.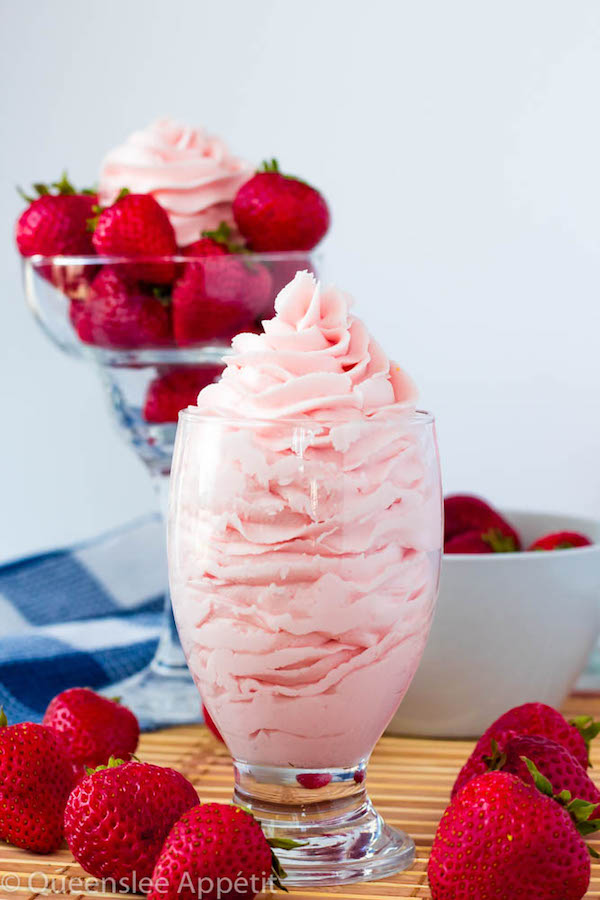 You want your butter to be softened to room temperature, meaning when you press your thumb into it, it should leave an indentation. I always take my butter out of the fridge 30 minutes before beginning. You also don't want your butter to be too soft, because we're going to whip it for at least 5-6 minutes to get it extra light and creamy. I know this is a long time, but that's the key to ALL of my dreamy buttercream's! Whipping for a few minutes is what gives the frosting it's creamy, fluffy, luscious texture! I like to use a stand mixer for this so I can get the perfect frosting consistency without getting sore arms.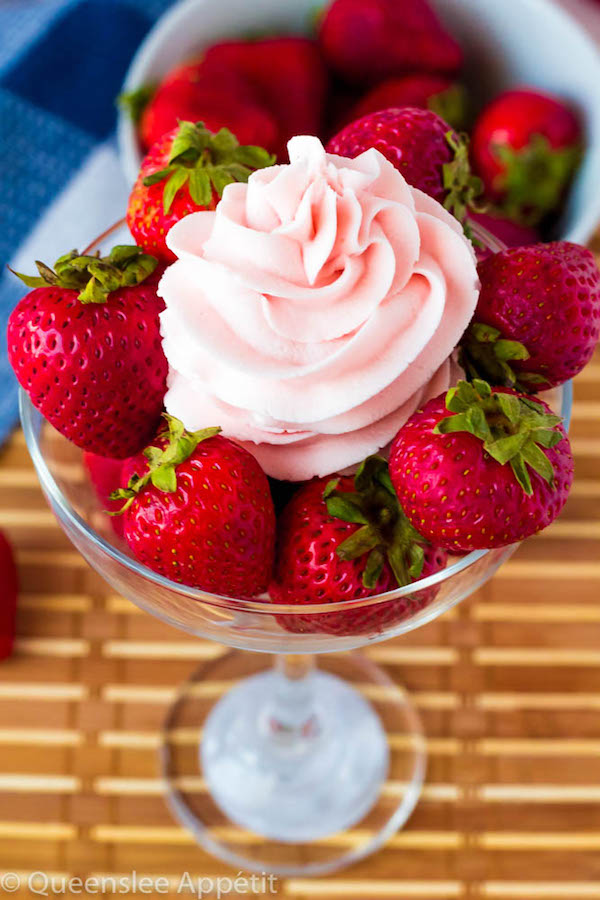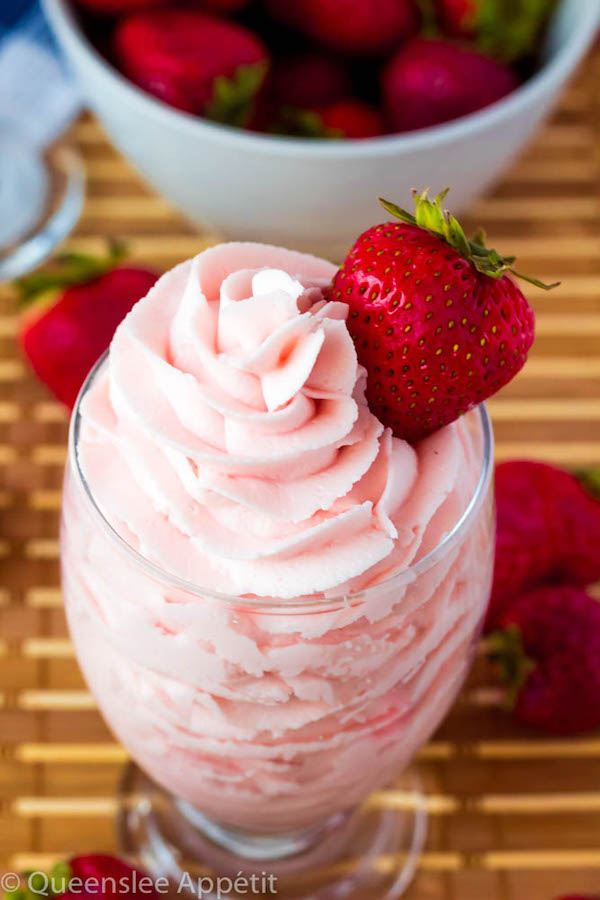 This strawberry buttercream is a sweet and fluffy frosting. It's super dreamy and creamy and it's natural strawberry flavour can add something special to any dessert. I have a yummy recipe to go with this frosting that I'll be sharing soon, but until then, I recommend pairing this sweet strawberry frosting with these recipes:
>>PIN ME FOR LATER<<

FOLLOW QUEENSLEE APPÉTIT
Like what you see? Make sure you're following Queenslee Appétit for more tasty recipes!
Pinterest | Instagram | Facebook | Twitter |
Did you make a recipe? I'd love to see how it turned out! Follow me on Instagram and use the hashtag #queensleeappetit so I can see all of the Queenslee Appétit recipes you've made!
Have any questions about the recipe? Contact me here, and I'll be happy to help!
Let's get baking!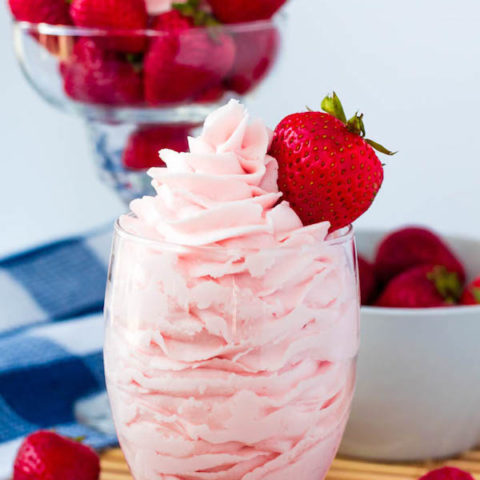 Dreamy Strawberry Buttercream Frosting
Yield:
enough to frost 24 cupcakes, or to fill and frost a 9-inch layer cake
This Dreamy Strawberry Buttercream Frosting is so light and creamy with an authentic strawberry flavour. It's incredibly simple and pairs perfectly with cakes, cupcakes and other desserts!
Ingredients
½ cup unsalted Butter, softened to room temperature
½ cup Hi-ratio Shortening (you can substitute for regular vegetable shortening)
⅛ teaspoon salt
4 cups Powdered Sugar, sifted
Pink gel food colouring (optional)
Instructions
Make one batch, or half a batch of my Homemade Strawberries Sauce and allow it to chill completely in the refrigerator, preferably overnight.
In the bowl of a stand mixer fitted with a paddle attachment, or in a large mixing bowl using a handheld mixer, beat butter, shortening and salt until light and fluffy, about 5-6 minutes.
Add half of the powdered sugar and mix on low until combined. Add ¼ cup of strawberry sauce and mix until well combined.
Gradually add remaining powdered sugar and beat until fully combined. Increase speed to medium-high and beat until light and fluffy, 5-7 minutes.
If the frosting isn't pink enough for you, you could add a few drops of pink gel food colouring if you want.
Notes
Store frosting in an airtight container in the refrigerator for up to 2 weeks, or in the freezer for several months. Before using — allow frosting to come to room temperature, then re-whip with a stand or hand mixer until the frosting is smooth and fluffy.
I used my Homemade Strawberry Sauce for this recipe, but since you only need ¼ cup, you can easily cut that recipe in half. You can even omit the sugar if you don't want the frosting to be too sweet, although I didn't find that to be a problem.
After making the frosting, you'll be left with extra straws sauce. You can use the extra sauce to mix into your yogurt, parfait, spread on toast, biscuits, scones and so much more!
Recommended Products
As an Amazon Associate and member of other affiliate programs, I earn from qualifying purchases.
©
QUEENSLEE APPÉTIT
. All
images & content are copyright protected. Please do not use my images without prior permission. If you want to republish this recipe, please re-write the recipe in your own words, or link back to this post for the recipe.
BON APPÉTIT!
Love, Dedra