These tasty Nachos are loaded with taco-seasoned ground beef, jalapeños, 2 different cheeses and so much more! Serve them at your Superbowl party, movie night, or any occasion!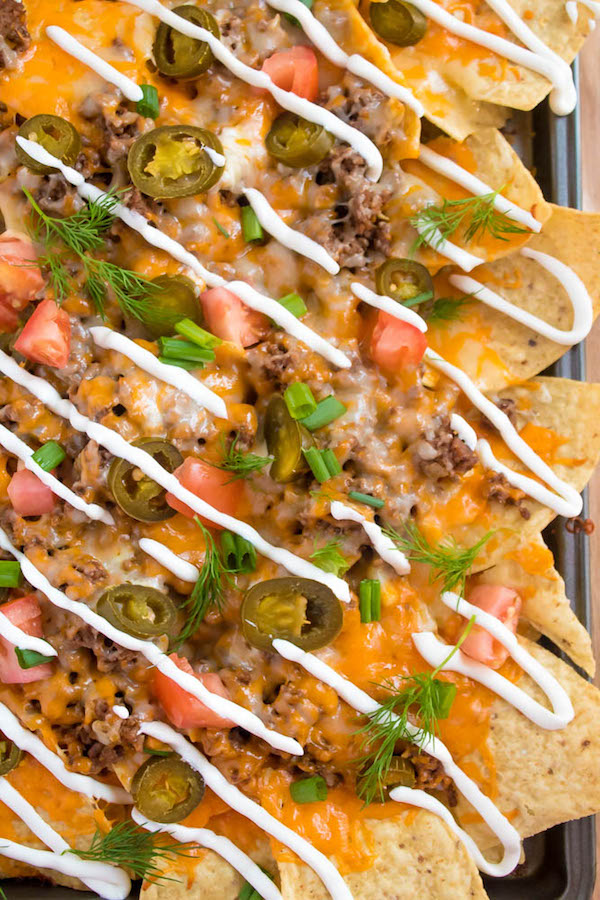 It's football season which means it's time to start planning your game day menu! Every Superbowl watch party needs one of 2 things: wings or nachos. Oh what the hell, you need both!
I shared a Spicy Buttermilk Fried Chicken recipe the other day that would be PERFECT to serve on game day, just use all wings. Pair those spicy wings with these loaded nachos for the perfect game day snack!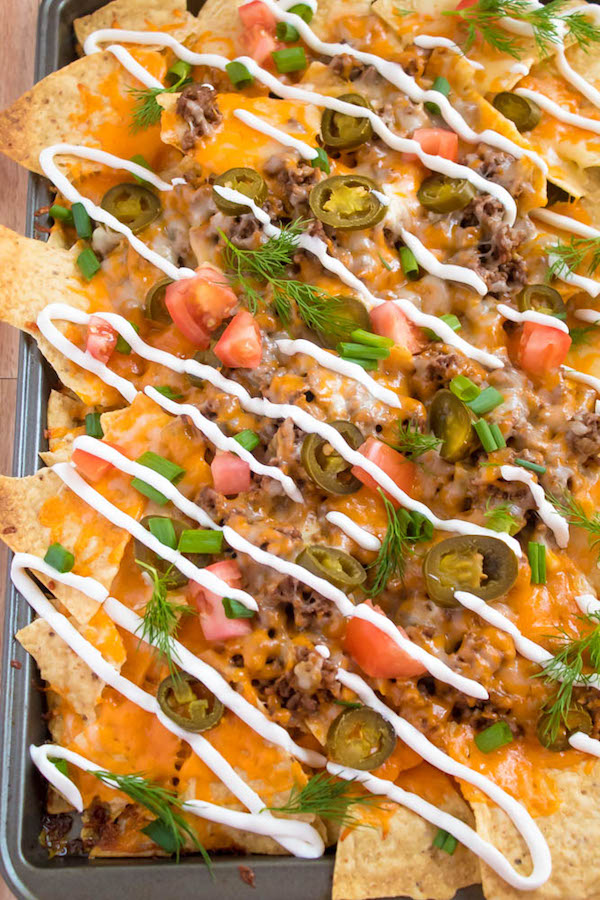 Loaded Beef Nachos
I am absolutely obsessed with nachos! I used to make them all the time, but it isn't the healthiest meal so now I make them every year for the Superbowl. I don't even watch football, but that's the excuse I use to justify me stuffing my face with the entire pan.
Although I managed to eat this entire thing on my own, it does make enough to feed an entire crowd. Oh God, here comes the guilt. Time to start a diet—oh who am I kidding, I could totally eat another sheet of these babies!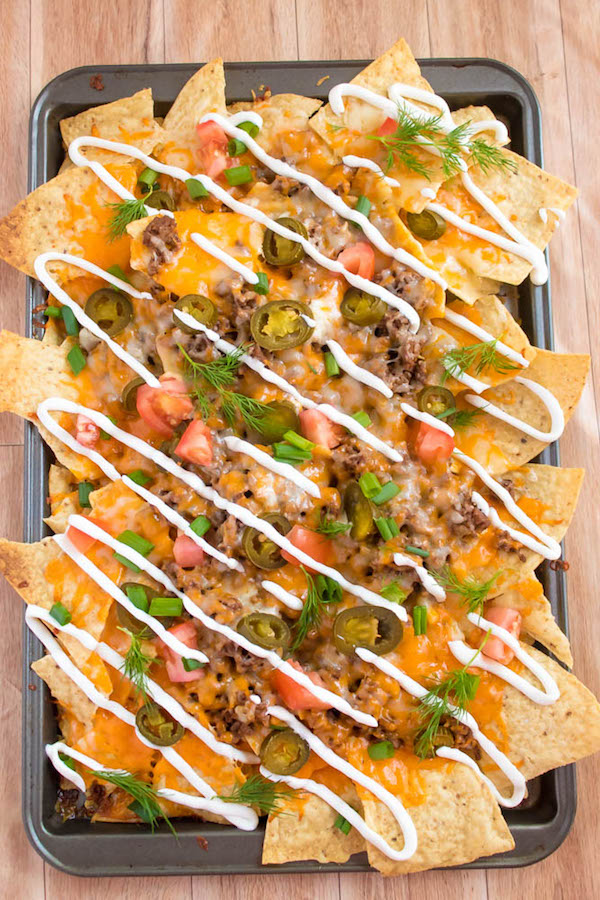 One of my favourite foods in the world is tacos! The crunchy shell, tender seasoned meat filling topped with cheese, tomatoes and more — absolute perfection! I immediately knew I had to turn these nachos into one large, delicious taco.
I mean, imagine lining up a bunch of tacos on a baking sheet and smashing them into large chunks of crunchy chips, ground beef, cheeses and all of your favourite toppings. That's pretty much what you get with these nachos.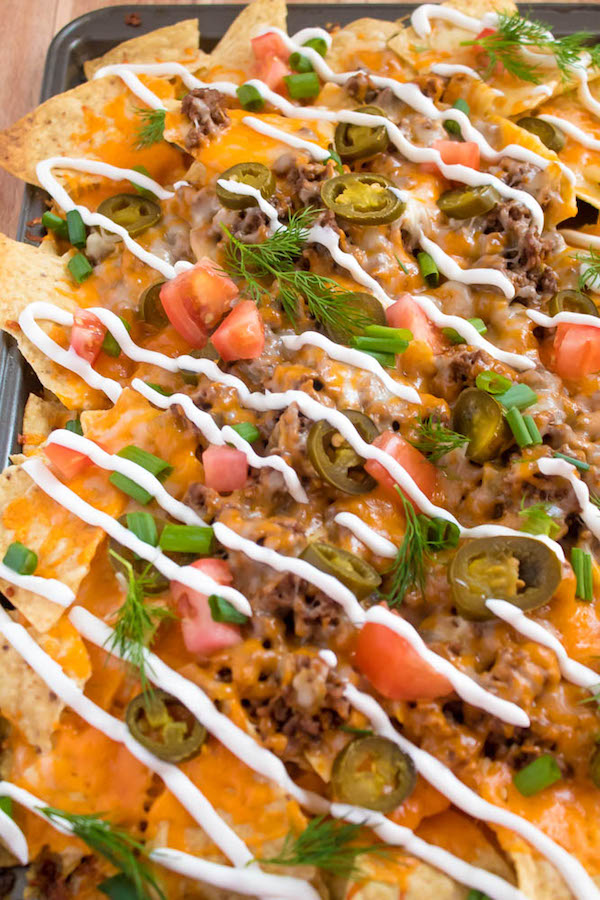 The best thing about baked nachos is that you can top them with whatever your heart desires. I loaded my nachos with taco-seasoned ground beef, 2 types of ooey gooey cheese, hot and spicy jalapeños (favourite topping ever), freshly diced tomatoes, green onions, a drizzle of sour cream and a garnish of fresh cilantro leaves.
These are MY favourite taco toppings, so you can easily customize this recipe with your own taco/nacho faves.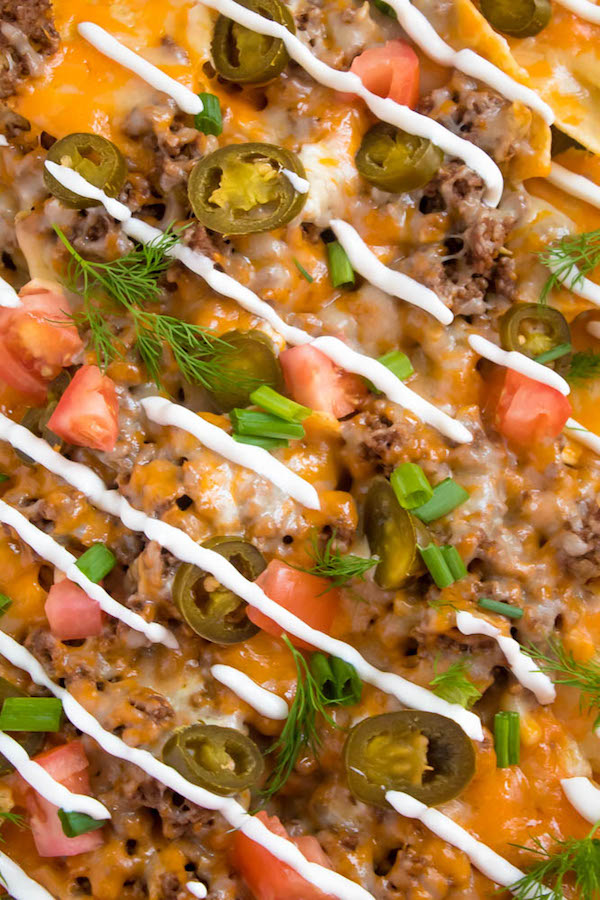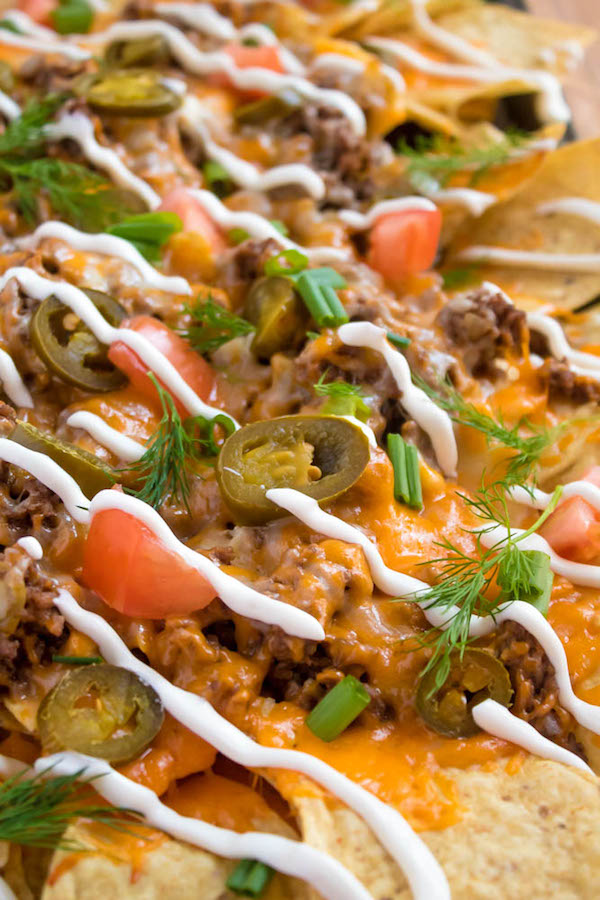 How to make Loaded Beef Nachos
The best part about these nachos is how insanely easy it is to throw together! You can easily prepare it about 15 minutes before the game starts.
To begin, heat some olive oil in a skillet and add the onions. Cook until the onions are softened, then add the garlic and continue to cook for a few more seconds. Add the ground beef and cook until it's no longer pink. Drain, mix in the taco seasoning, then set aside.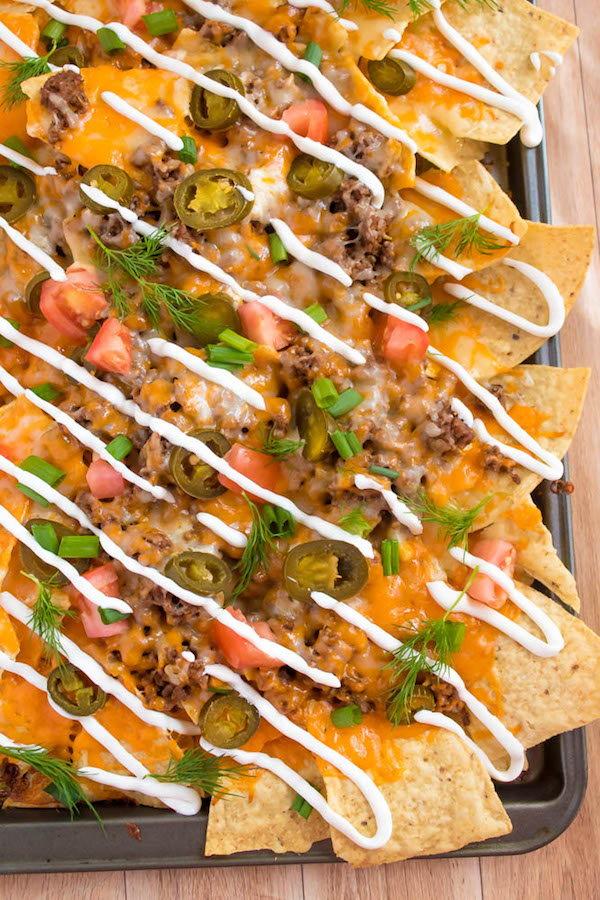 While the beef is cooking, you can prepare all of your toppings. Dice your tomatoes and slice your green onions. I usually grate my cheeses the night before and store them in an airtight container in the refrigerator to make my life easier. I highly recommend doing this because it'll make the assembly a million times quicker.
And I used a jar of jalapeños rather than seeding and slicing whole jalapeños. You don't need to use the entire jar though, just scoop out the amount you want.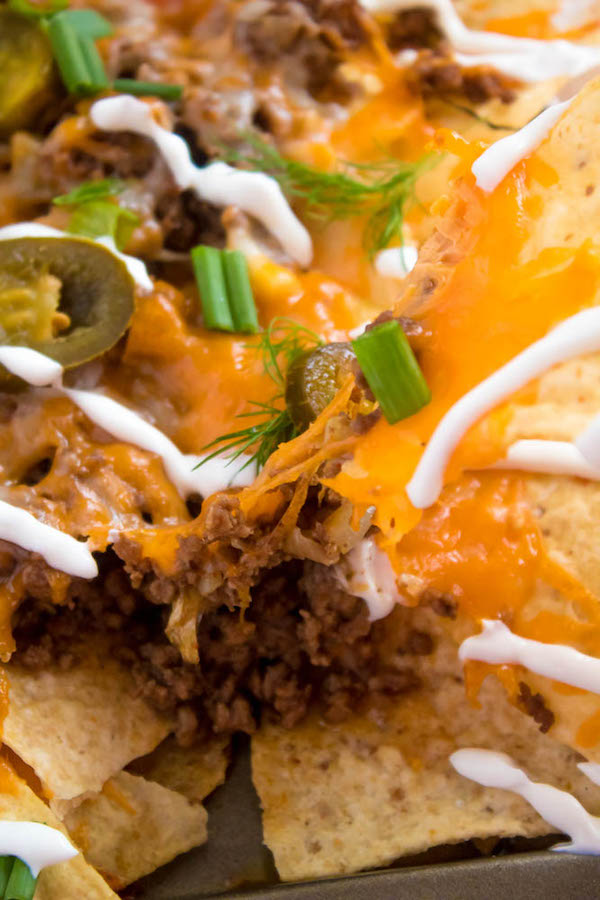 Assembly
To assemble the nachos, spread the tortilla chips onto a baking sheet, spoon the taco beef on top, sprinkle with the cheeses, and top with the jalapeños. Bake in the oven for 5 minutes to melt the cheese, remove from the oven and top with the tomatoes, green onions, sour cream and cilantro. That's all! You can't get any easier than that.
You can use any type of oven-safe pan you have, like a cast iron pan. You can also assemble the nachos on individual plates and heat in the microwave, this way everyone will get their own equal portions and you won't have to worry about that one person who hogs up all the good stuff in the middle.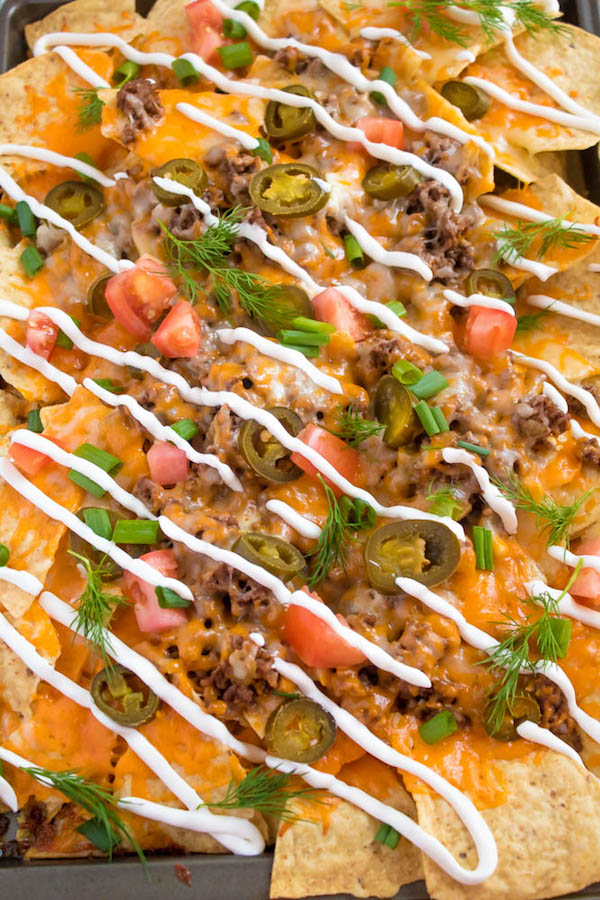 Whether you serve them for Game Day or a casual dinner, these loaded nachos will definitely be a crowd pleaser! Enjoy!
You May Also Like: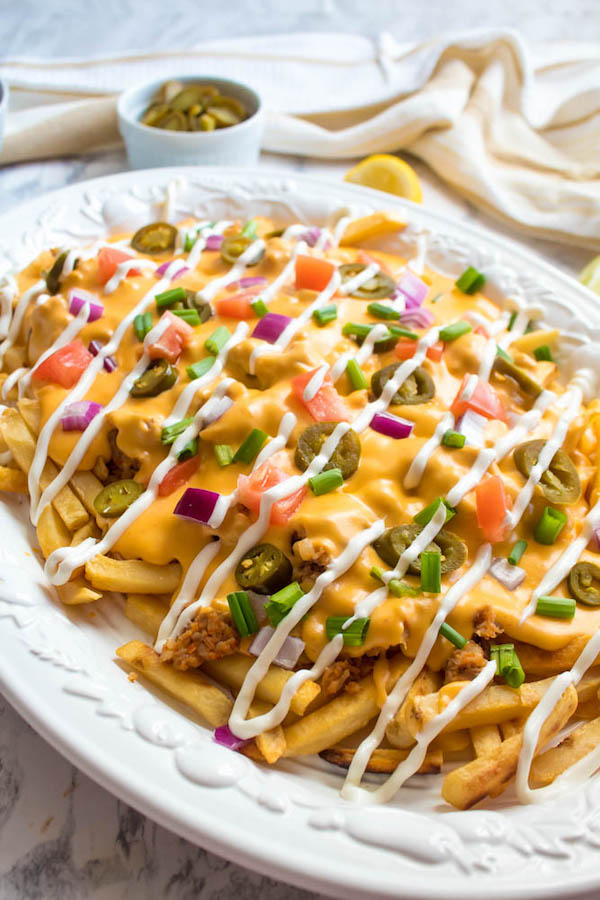 >>PIN ME FOR LATER<<

Follow Queenslee Appétit
Pinterest | Instagram | Facebook | Twitter |
Did you make a recipe? I'd love to see how it turned out! Follow me on Instagram and use the hashtag #queensleeappetit so I can see all of the Queenslee Appétit recipes you've made!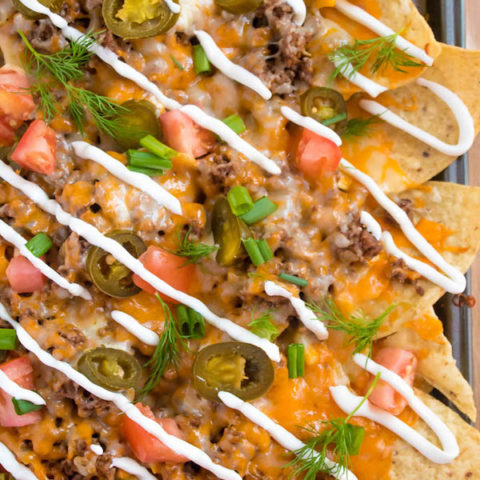 Loaded Beef Nachos
These tasty Nachos are loaded with taco-seasoned ground beef, jalapeños, 2 different cheeses and so much more! Serve them at your Superbowl party, movie night, or any occasion!
Ingredients
Nachos:
1 large bag Tortilla chips
1 tablespoon olive oil
1 onion, diced
2 garlic cloves, minced
1 lb ground beef
1 package taco seasoning
2 cups shredded cheddar cheese
2 cups shredded Monterey Jack Cheese
Small jar pickled jalapeños, drained
Topping:
sour cream
1 large tomato, diced
green onions, diced
Fresh Cilantro Leaves
Instructions
For the Nachos:
Preheat oven to 400F. Lightly spray a baking sheet with non-stick cooking spray.
Spread tortilla chips onto the prepared baking sheet. Set aside.
Heat olive oil in a large skillet over medium heat. Add onion and cook until softened, about 5-6 minutes.
Once onions are soft, add garlic and cook for about 30 seconds. Add ground beef and cook, breaking up the beef with a wooden spoon, until beef is no longer pink. Add taco seasoning and stir until incorporated. Drain the excess fat.
Spoon ground beef on top of nachos and top with jalapeños and cheeses. Bake in preheated oven for about 5 minutes, or until cheese is melted.
Remove from oven and top with sour cream, diced tomatoes, green onions and cilantro leaves. Enjoy!
Notes
Feel free to customize these nachos with any toppings of your choice.
Recommended Products
As an Amazon Associate and member of other affiliate programs, I earn from qualifying purchases.
©QUEENSLEE APPÉTIT. All images & content are copyright protected. Please do not use my images without prior permission. If you want to republish this recipe, please re-write the recipe in your own words, or link back to this post for the recipe.
Bon Appétit!
Love, Dedra ❤️