These Triple Chocolate Chip Muffins get their ultra chocolatey flavour from the melted chocolate base, cocoa powder and loads of chocolate chunks! This is the perfect excuse to enjoy chocolate for breakfast every morning!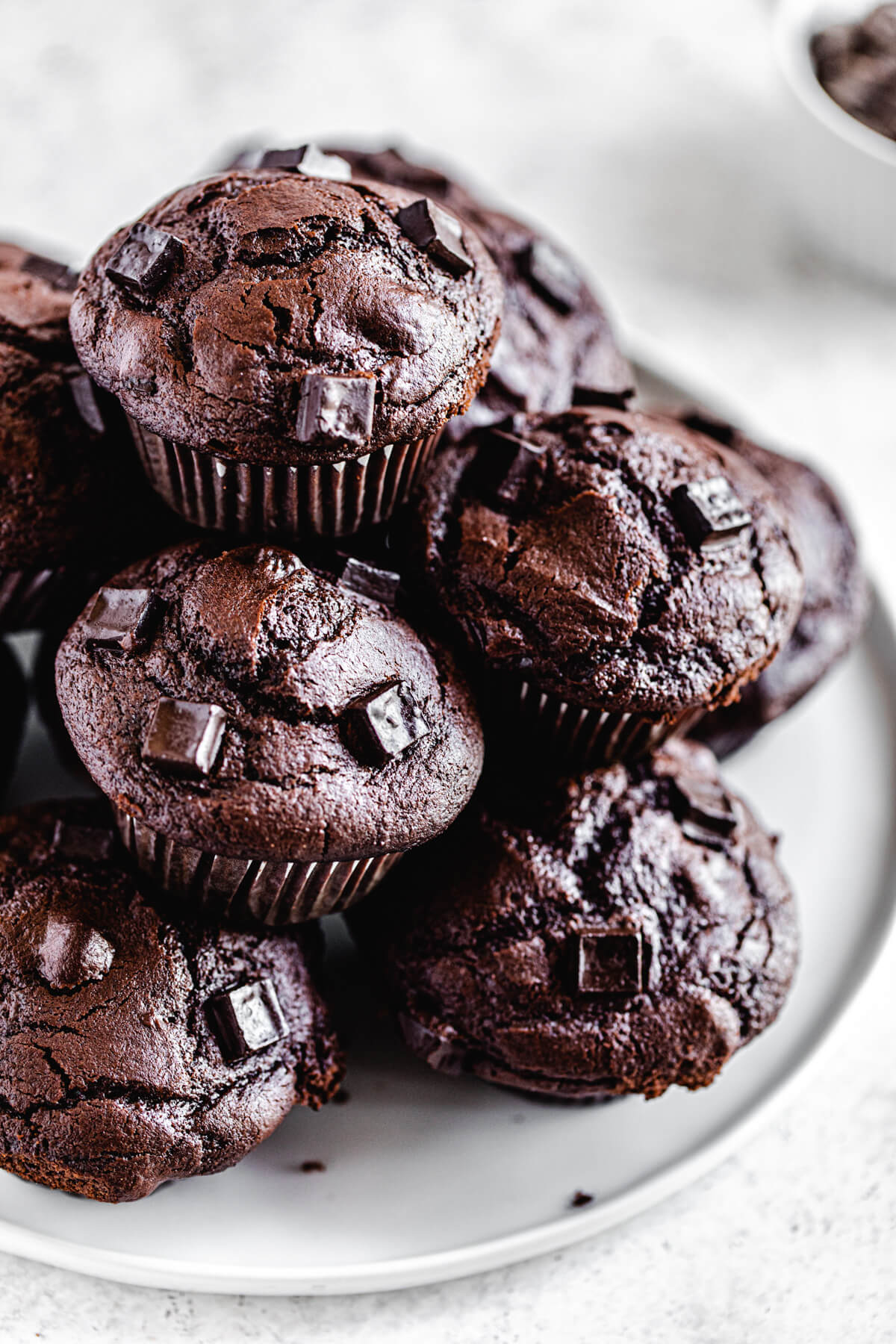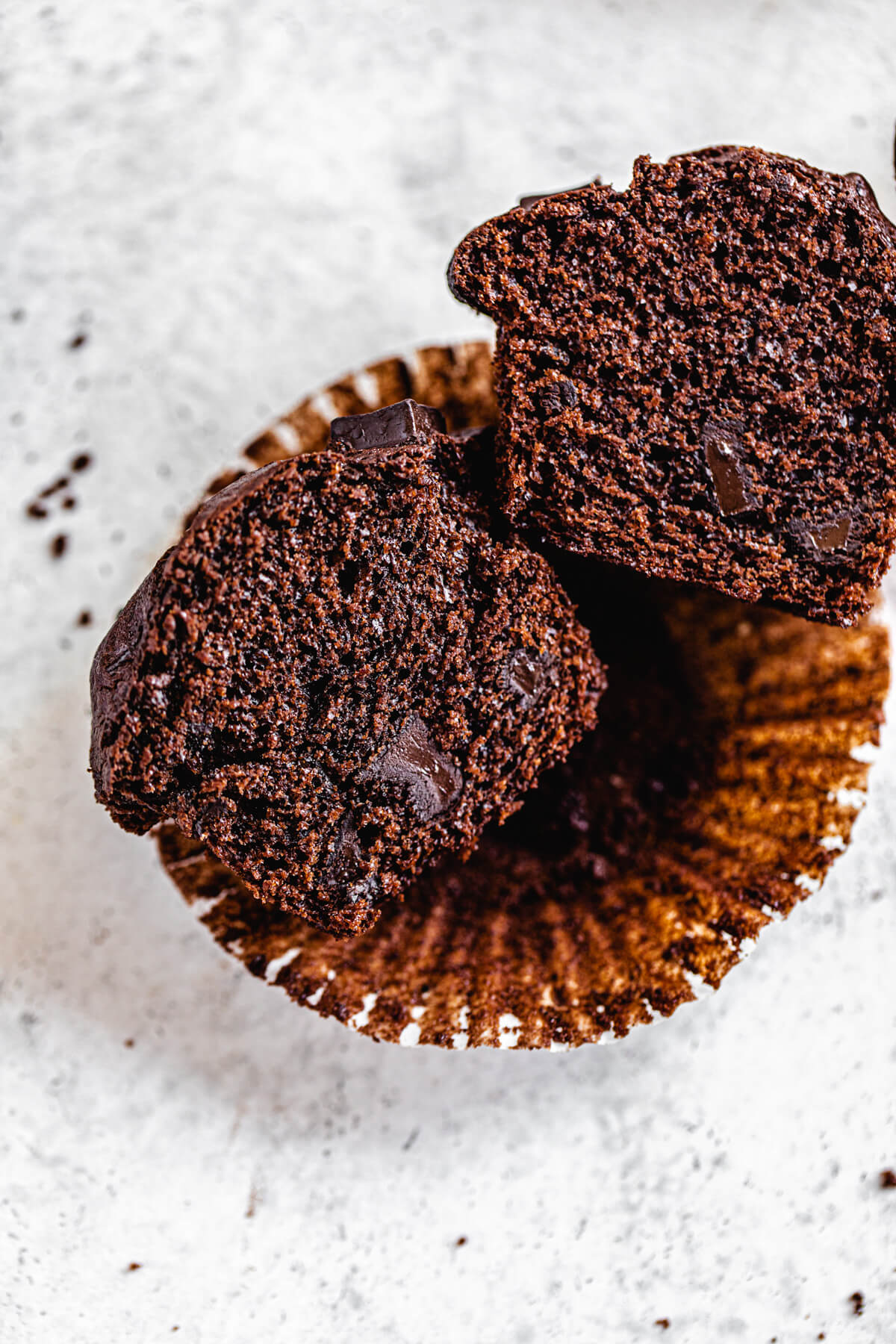 This post may contain affiliate links. As an Amazon Associate I earn from qualifying purchases. Please see my full disclosure policy for details.
I'm back with another yummy muffin recipe! And since we're in the middle of chocolate week, more specifically #Choctoberfest, it was only fitting that I share the best chocolate muffins loaded with 3 types of chocolate!
Speaking of #Choctoberfest, today is the LAST DAY to enter the giveaway for a free Kitchenaid mixer, so scroll to the bottom of the post to enter!!! If you're reading this after October 16th, then you've missed out 🙁 But I will be hosting another KA stand mixer giveaway on Instagram soon, so look out for that!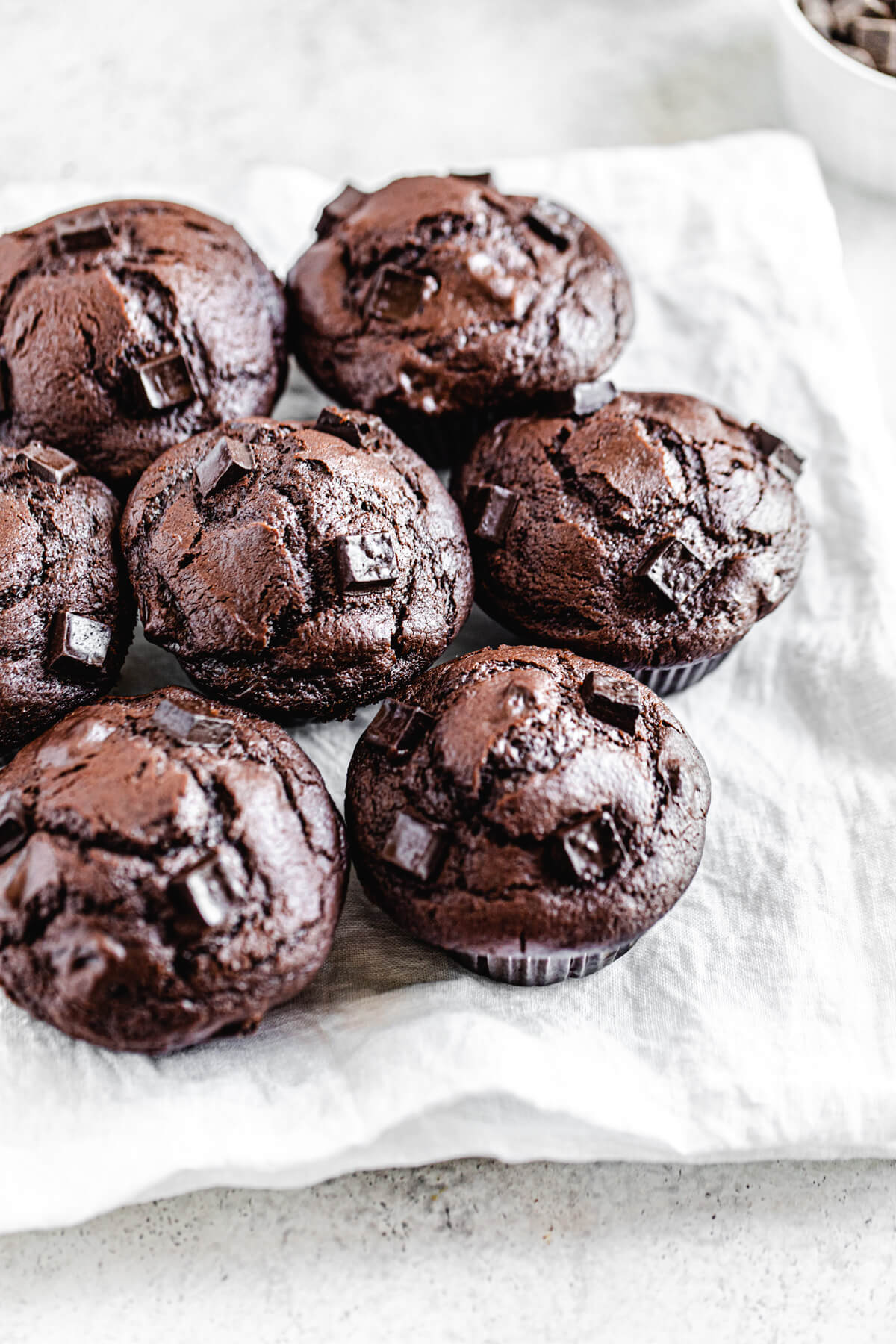 Hmm, would I call these muffins "Bakery-Style"? I mean they fit the criteria: moist, dense, tight crumb, huge muffin tops. These are definitely the type of muffins you'd find at a cafe, but luckily for you, won't have to pay over $30 for a dozen!
Most of the ingredients should already be in your pantry or refrigerator, so the cost of making these shouldn't be too high! And with a few short simple steps, you can have 12 big, beautiful, extra chocolatey muffins all to yourself!
I mean you can share, if you want to but after one bite, you may not want to.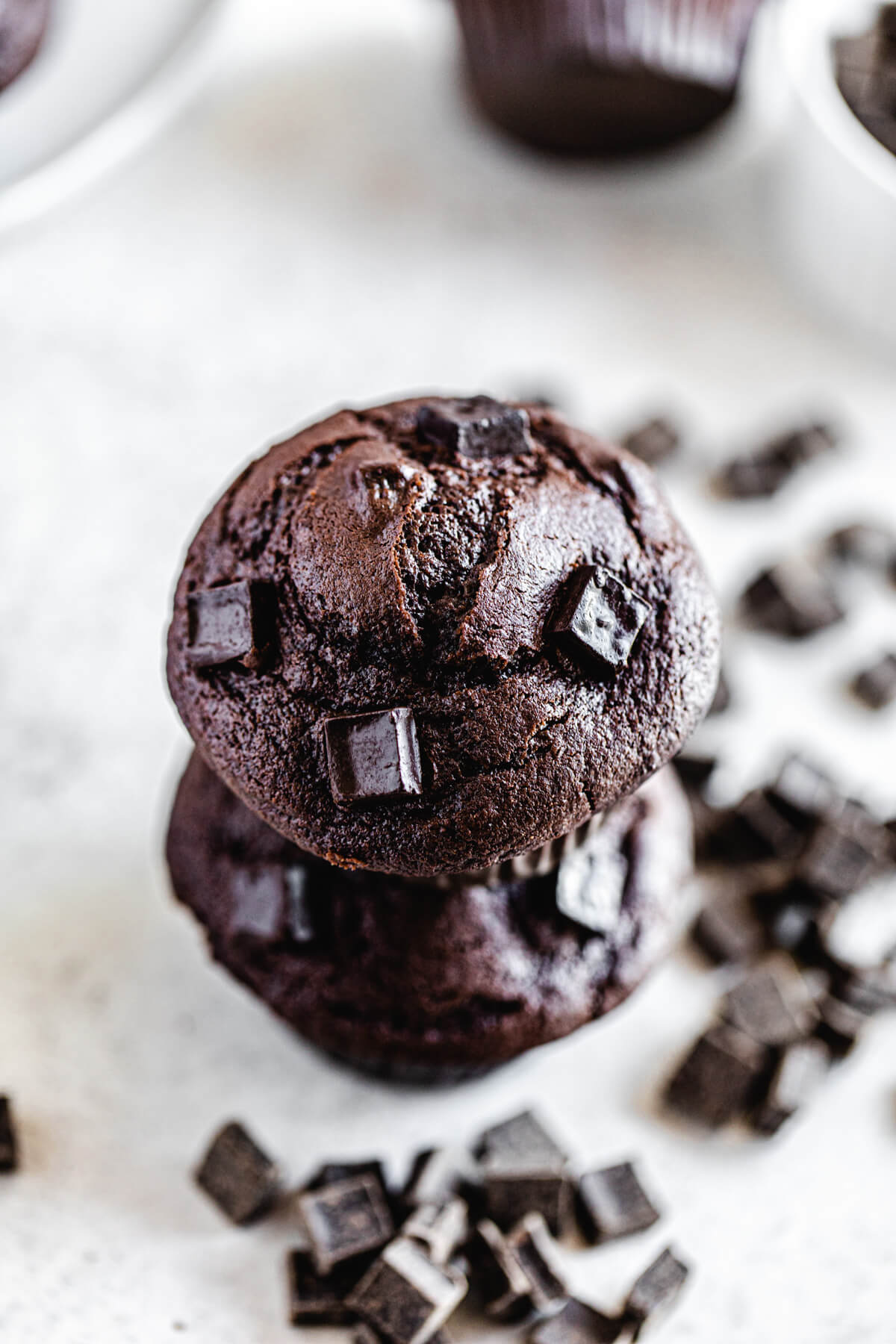 After making these Lemon Blueberry Muffins, my first ever muffin recipe, I just had to make a chocolate version! However, things didn't work out very well in my first attempt.
I thought I could just replace ½ cup of the flour with cocoa powder, then keep the rest of the measurements the same. Remove the lemon juice, replace the blueberries with chocolate chunks etc. I thought they'd be as moist and fluffy as my lemon muffins, but they were suuupperrr dry and tough, so I had to make a few changes.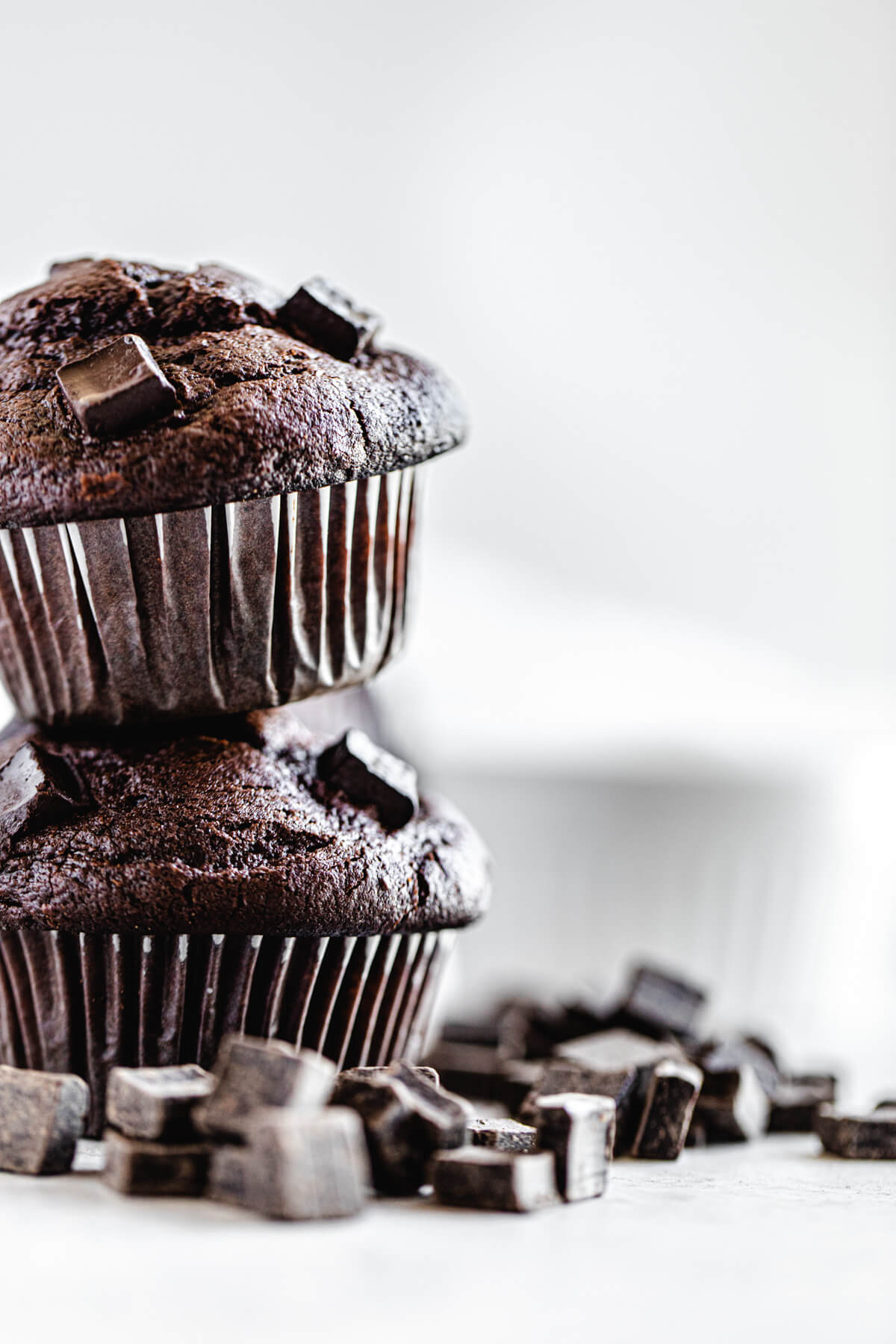 New & Improved Tripe Chocolate Chip Muffins
Alright now here's the ingredients I used, and the changes I made in my new version of these chocolate muffins.
All Purpose Flour: My lemon blueberry muffins used 3 cups of flour to keep the batter nice and thick, but since I was using cocoa, I removed ½ cup of the flour. I found that 2 and ½ cups of flour + ½ cup of cocoa made these muffins extra dry and tough for some reason, so this new recipe only uses 2 cups. The perfect amount!
Unsweetened Cocoa Powder: Chocolate addition #1! As I mentioned before, we only use ½ cup. Make sure to sift to keep your batter light!
Baking Powder + Salt: I used the same amount for both, but the 4 teaspoons of baking powder caused these muffins to rise even higher than the lemon muffins!

Butter + Chocolate: If you've made any of my brownie recipes, you're probably familiar with the melted butter + chocolate base. This is the second addition of chocolate!
Instant Coffee Granules: If you're familiar with any of my chocolate recipes, especially the cakes and cupcakes, you've seen me add instant coffee granules to all of them. Why do we do this? To enhance the flavours!
White and Brown Sugar: We add white sugar for sweetness and brown sugar for flavour and moisture!
Eggs + Vanilla: Build structure and add vanilla!
Buttermilk + Sour Cream: The power duo! This combo adds softness to the muffins and keeps everything light and tender!
Vegetable Oil: Moisture! Soft crumbs and awesome flavours are great, but they mean nothing if you don't have the moisture to tie it all together!
Chocolate Chunks: The third addition of chocolate! You can replace this with chocolate chips, but chunks of chocolate in every bite sounded way better!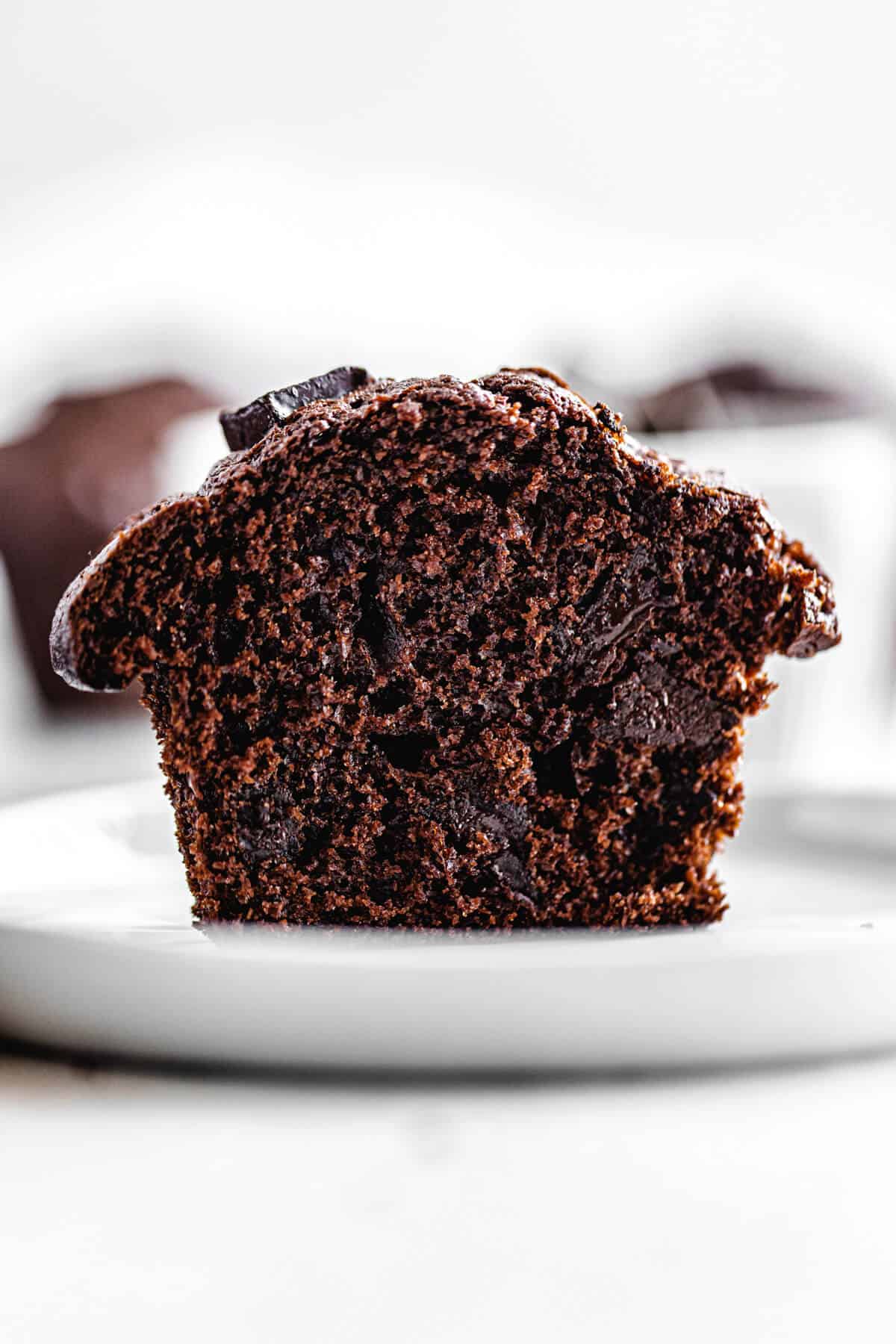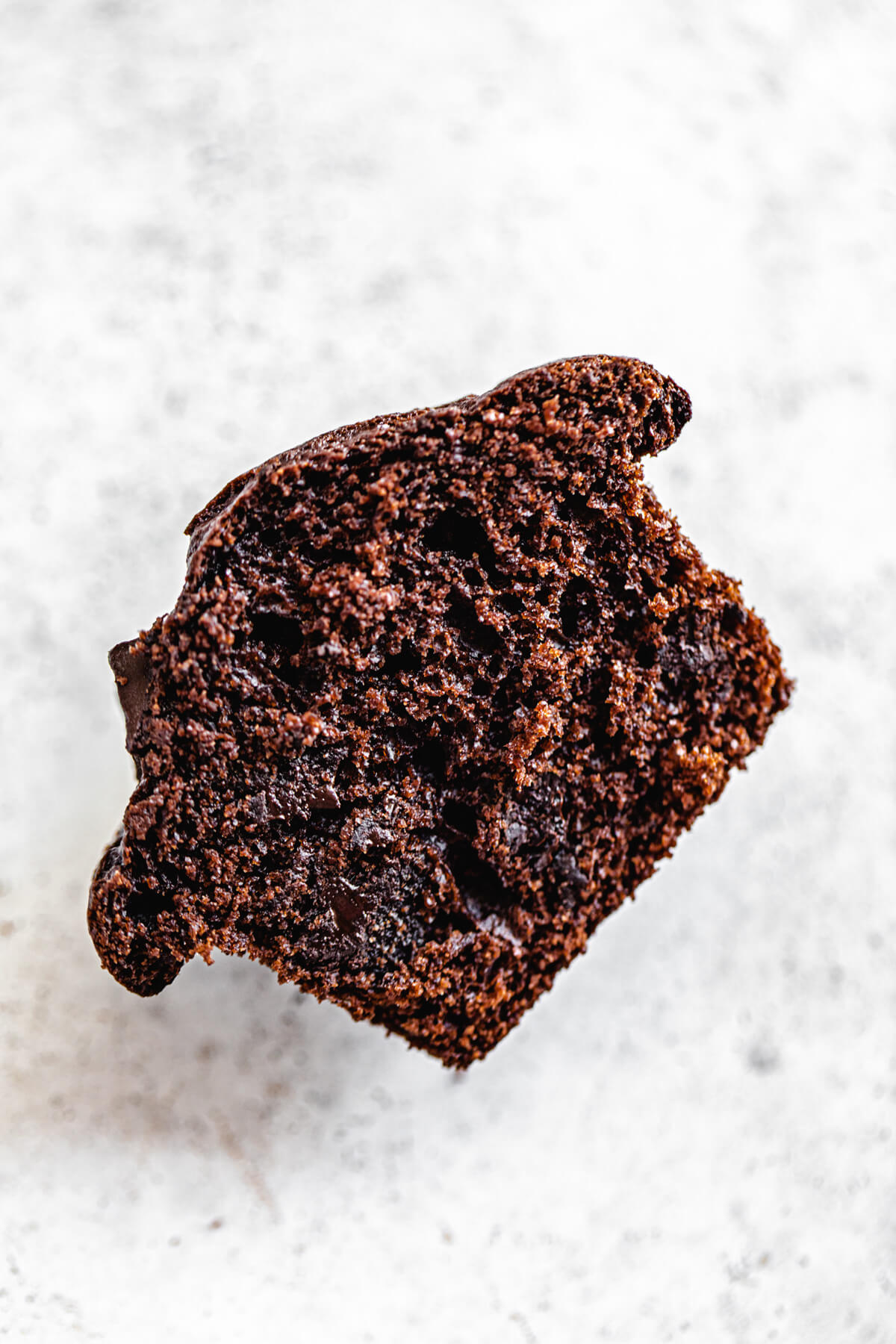 How to Make Chocolate Muffins
Let's start with the pan. You can choose to use cupcake liners or just spoon the batter directly into the cups. If you go with the latter, make sure to spray your pan with nonstick spray so the muffins can easily slide out once they're baked.
Whisk all the dry ingredients in one bowl, then set them aside. Now place a saucepan filled with an inch of water onto the stove over medium heat and let it come to a simmer. Once it begins to simmer, lower the heat and place a glass or stainless steel bowl filled with both butter and chocolate over it. This is called a double broiler! The steam from the simmering water will help melt the chocolate and butter as you stir it around.
Once the chocolate and butter are melted and combined, mix in the eggs and vanilla one at a time. You can use a whisk for this, but I chose to use a mixer just to make things easier once I start adding the dry ingredients.
In a liquid measuring cup, whisk the buttermilk, sour cream and vegetable oil together. We do this in a liquid measuring cup to make it easier to pour into the batter while mixing! Now just like my other chocolate cake/cupcake recipes, we'll be alternating between adding ⅓ of the dry ingredients and ½ of the buttermilk mixture. Remember to mix after each addition before adding the next. This keeps the batter nice and smooth throughout the entire process so you won't have to worry about over mixing! Fold in those chocolate chunks and you're ready to go!
The first batter for these muffins were a lot lighter (in colour) and pretty thick. As you can see, the new batter is a rich dark chocolate colour, perfectly smooth, perfectly silky and perfectly splendid (I hope you understand that reference).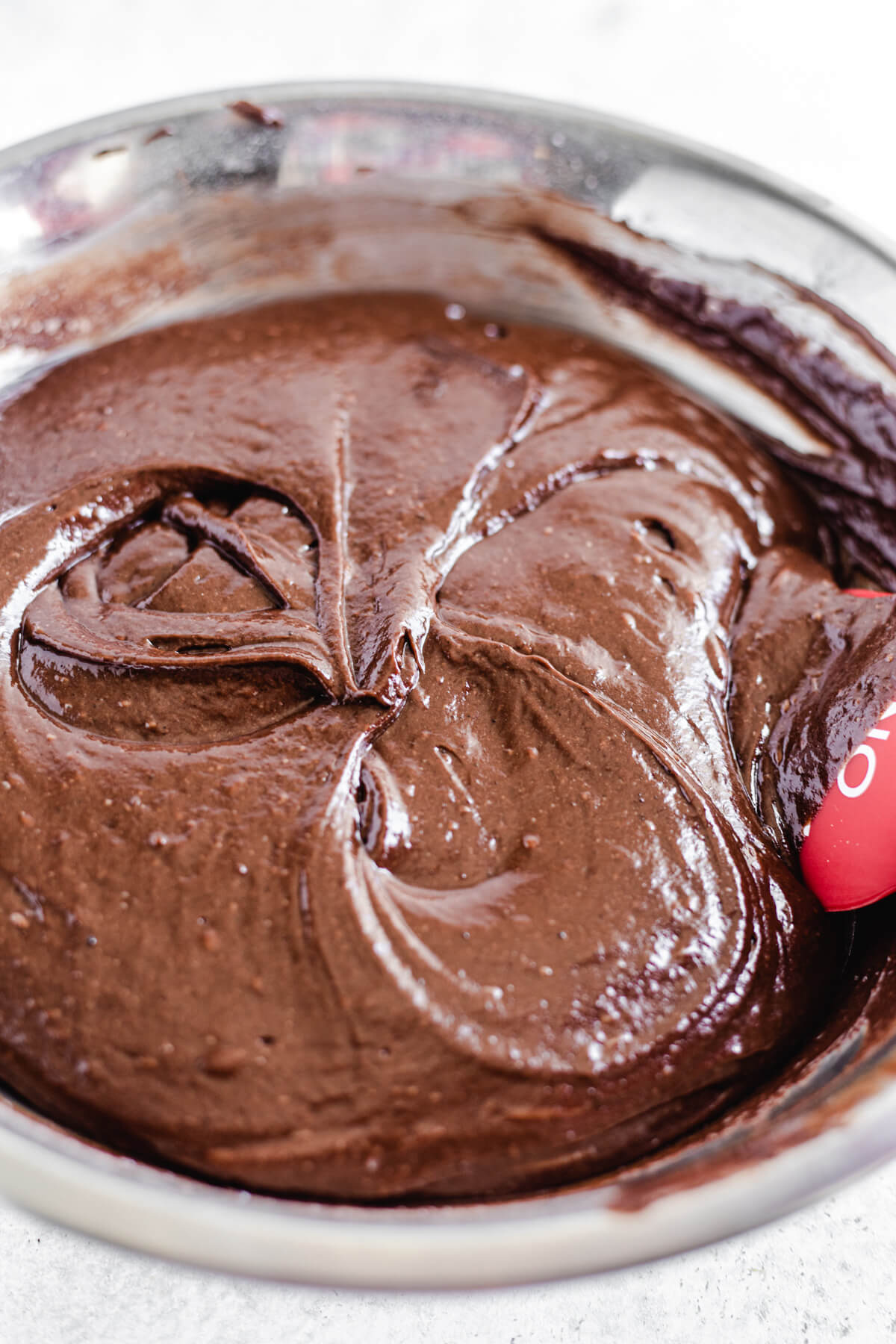 Baking the Muffins
Use an ice cream or cookie scoop to divide the batter between each liner. Fill each liner all the way to the top. You want that tall muffin top! Top with some more chocolate chunks, then bake at 400°F for 23-25 minutes.
We bake the muffins at a high temperature to get a high rise on the muffin tops. Remember, every oven is different so check the muffins at the lowest temperature, to see if they're finished yet.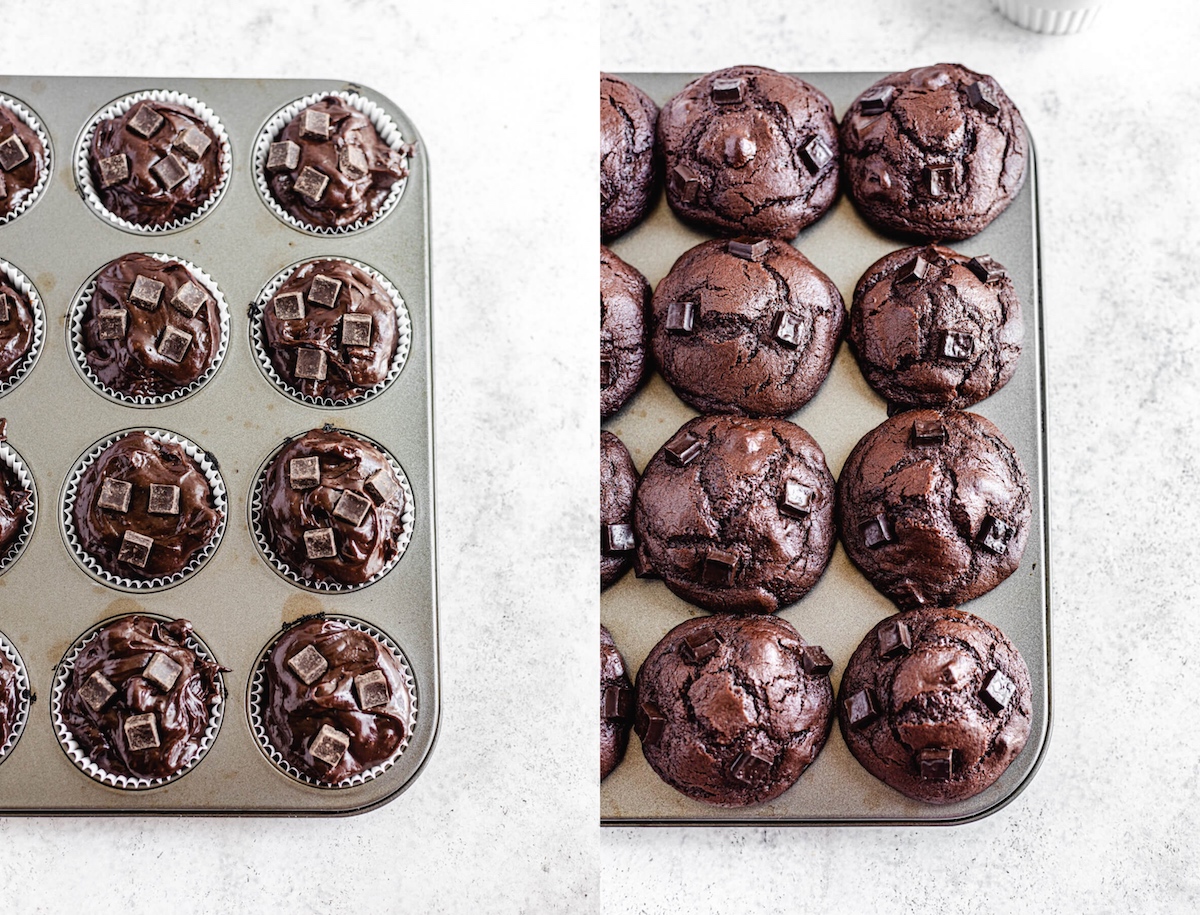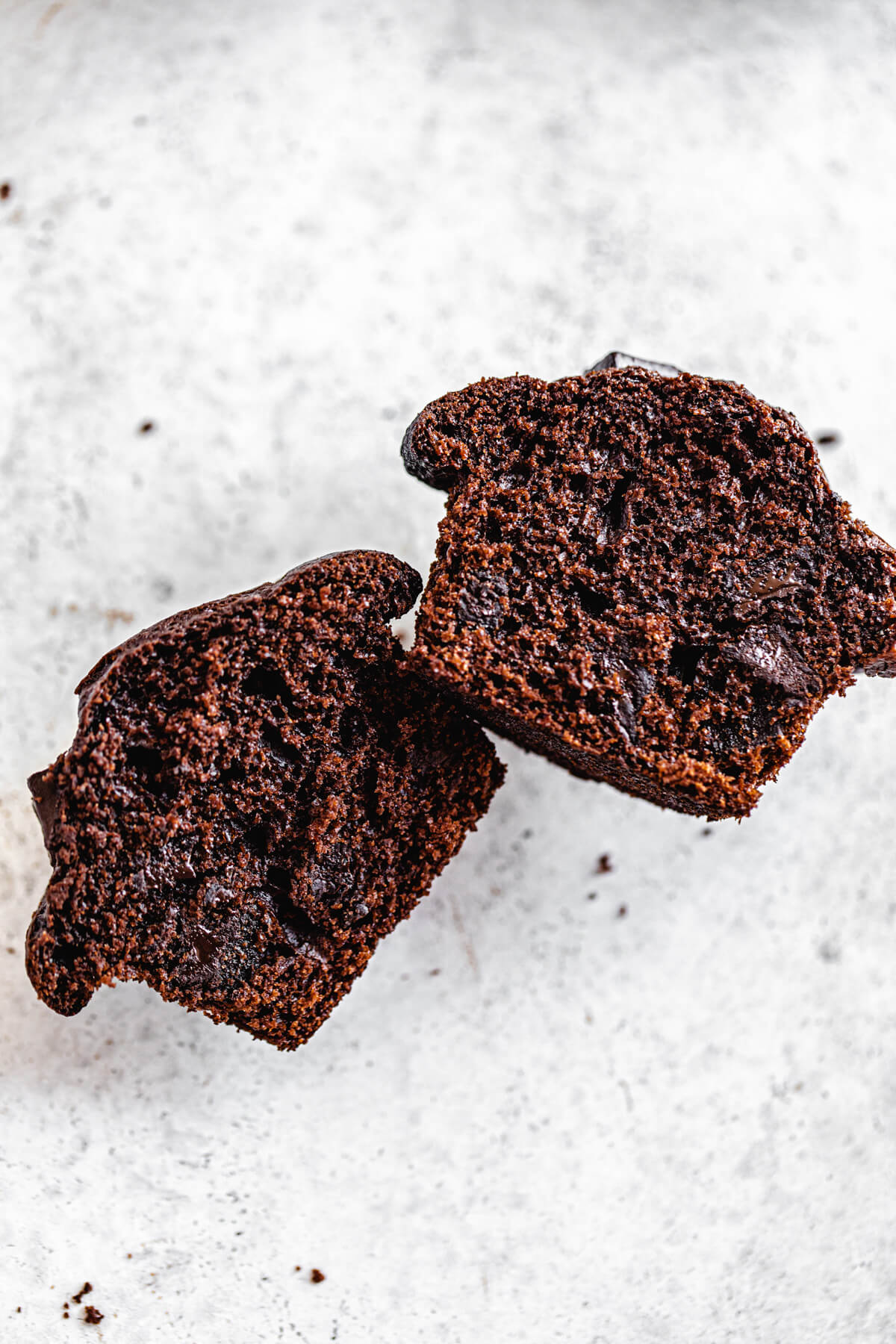 Don't forget to enter the #Choctoberfest giveaway! Just a few hours left!
You are invited to the Inlinkz link party!
SHARE YOUR PICS!
Follow me on Instagram and tag #queensleeappetit so I can see and share all of your Queenslee Appétit creations in my stories and the QA Newsletter!
>>PIN ME FOR LATER<<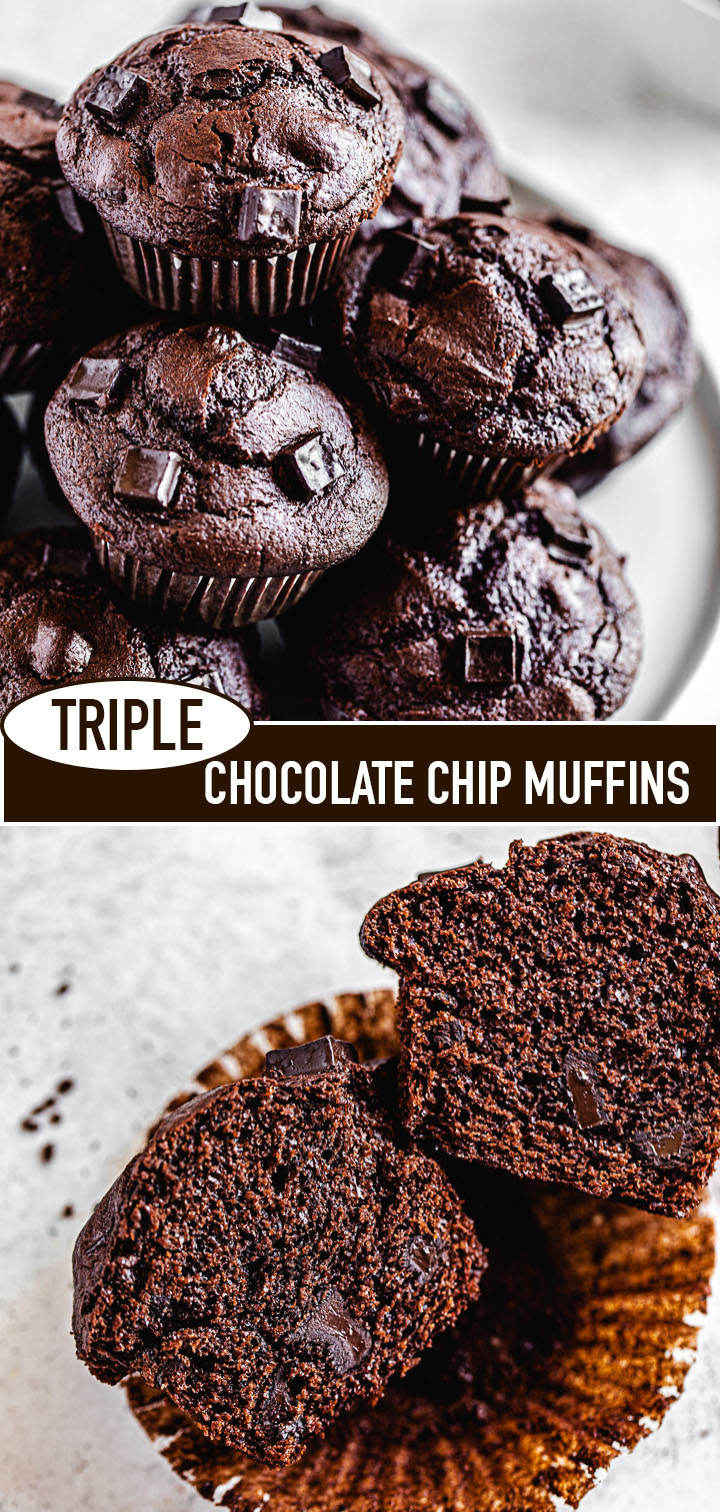 FOLLOW QUEENSLEE APPÉTIT
Like what you see? Make sure you're following Queenslee Appétit for more tasty recipes!
Pinterest | Instagram | Facebook |
Have any questions about the recipe? Contact me here, and I'll be happy to help!
SWEETEN UP YOUR INBOX!
SUBSCRIBE to the Queenslee Appétit Newsletter to recieve new recipe notifications, monthly baking tips, sneak peeks to upcoming recipes, exclusive recipes and more!
Let's get baking!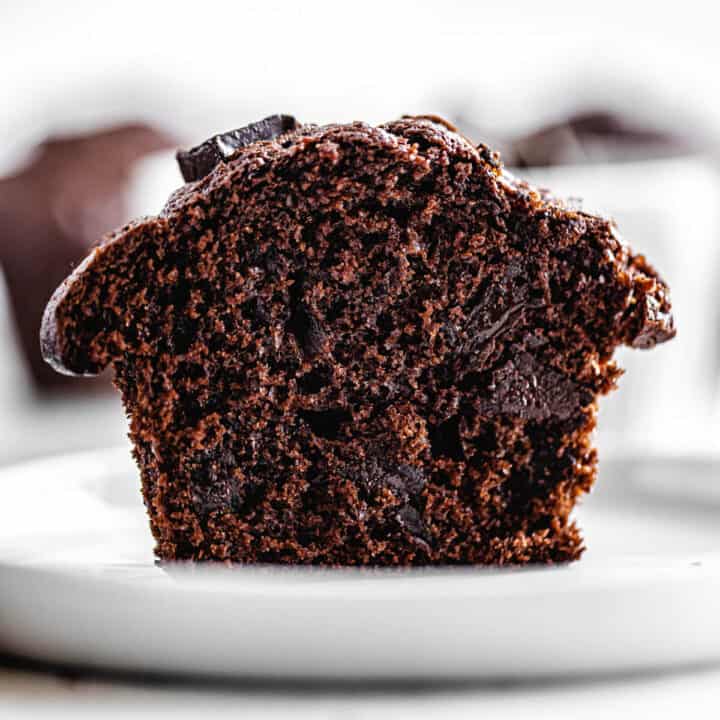 Triple Chocolate Chip Muffins
These Triple Chocolate Chip Muffins get their ultra chocolatey flavour from the melted chocolate base, cocoa powder and loads of chocolate chunks! This is the perfect excuse to enjoy chocolate for breakfast every morning!
Ingredients
2 cups (256g) all purpose flour
½ cup (50g) unsweetened cocoa powder, sifted
1 tablespoon + 1 teaspoon baking powder
½ teaspoon salt
½ cup (115g) unsalted butter, cut into cubes
4 oz. dark chocolate, chopped
1 teaspoon instant coffee granules (optional)
½ cup (100g) granulated sugar
½ cup (110g) light brown sugar, packed
2 large eggs, room temperature
2 teaspoon pure vanilla extract
¾ cup (180ml) buttermilk, room temperature
½ cup (120g) sour cream, room temperature
¼ cup (60ml) vegetable oil
2 cups (280g) dark chocolate chunks + more for topping
Instructions
Preheat the oven to 400° F (205°C), and line a standard muffin pan with paper liners. You can also leave out the liners and spray the pan with nonstick cooking spray.
In a large bowl, add flour, cocoa, baking powder and salt. Whisk to combine. Set aside.
Place chopped chocolate and cubed butter in a large bowl over a saucepan of simmering water. Stir constantly until the butter and chocolate are both melted and combined, about 3-4 minutes.
Remove bowl from heat and immediately stir in instant coffee.
Add both sugars, and using a whisk or a hand mixer, beat until sugar is dissolved and mixture is smooth.
Add eggs, one at a time, mixing after each addition until combined. Add vanilla and mix until combined.
Combine buttermilk, sour cream and vegetable oil together in a liquid measuring cup. Set aside.
Alternately add dry ingredients in thirds and buttermilk mixture in 2 additions to the batter, beginning and ending with the dry ingredients. Beat each addition just until combined. Do not overmix. Fold in chocolate chunks.
Evenly divide batter between the liners, filling them all the way to the top.
Bake in preheated oven for 23-25 minutes or until a toothpick inserted into the muffin comes out clean. Allow muffins to cool in pan for 10 minutes.
Remove the muffins and transfer to a wire rack to cool completely or enjoy warm!
Nutrition Information:
Yield:

12
Serving Size:

1
Amount Per Serving:
Calories:

178
Total Fat:

6g
Saturated Fat:

3g
Trans Fat:

0g
Unsaturated Fat:

2g
Cholesterol:

35mg
Sodium:

159mg
Carbohydrates:

28g
Fiber:

1g
Sugar:

10g
Protein:

4g
BON APPÉTIT!
Love, Dedra
The original recipe may not have turned out the best, but they sure do look amazing, don't they?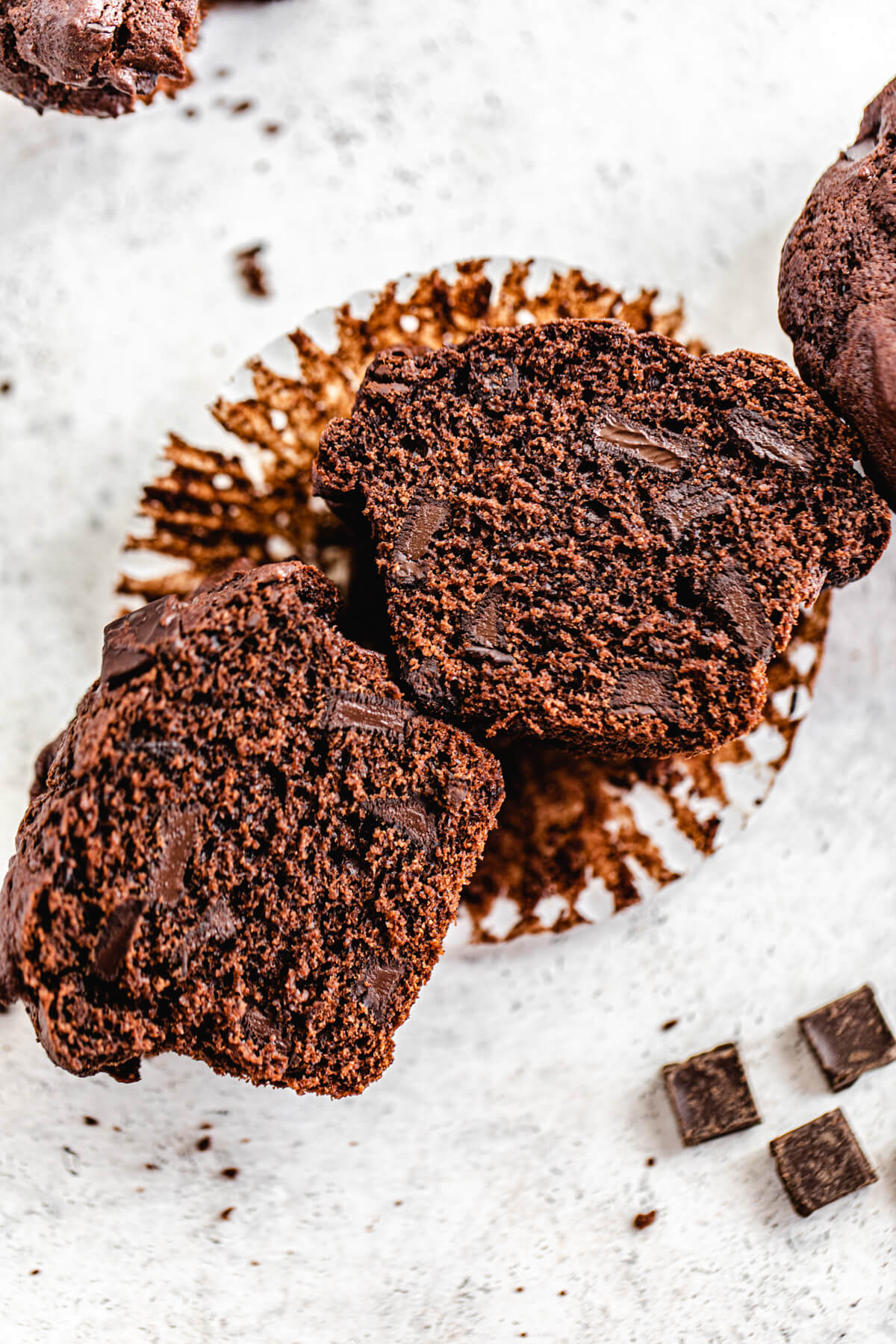 ©QUEENSLEE APPÉTIT. All images & content are copyright protected. Please do not use my images without prior permission. If you want to republish this recipe, please re-write the recipe in your own words, or link back to this post for the recipe.