These Vegan Chocolate Cupcakes are super moist and full of chocolate flavour! Topped with a luxuriously rich Vegan Chocolate Buttercream, you'd never guess that these cupcakes are 100% dairy and egg-free!
I recently shared a recipe for Vegan Chocolate Buttercream, and if you've been following this blog you should know that my frosting recipes are always accompanied with a yummy dessert to pair it with! So what's a better pairing for vegan chocolate buttercream than vegan chocolate cupcakes?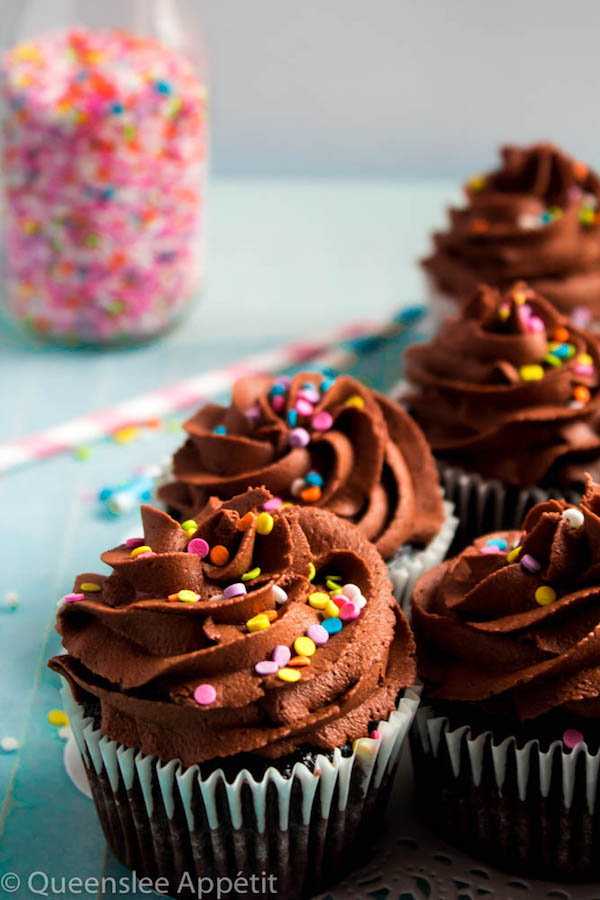 Vegan Chocolate Cupcakes
These cupcakes were adapted from my go-to Perfectly Moist Chocolate Cupcakes recipe. The recipe technique is exactly the same — mix the dry ingredients, then mix the wet ingredients then combine them. So easy! I replaced some of the ingredients with non-dairy substitutes to make them vegan!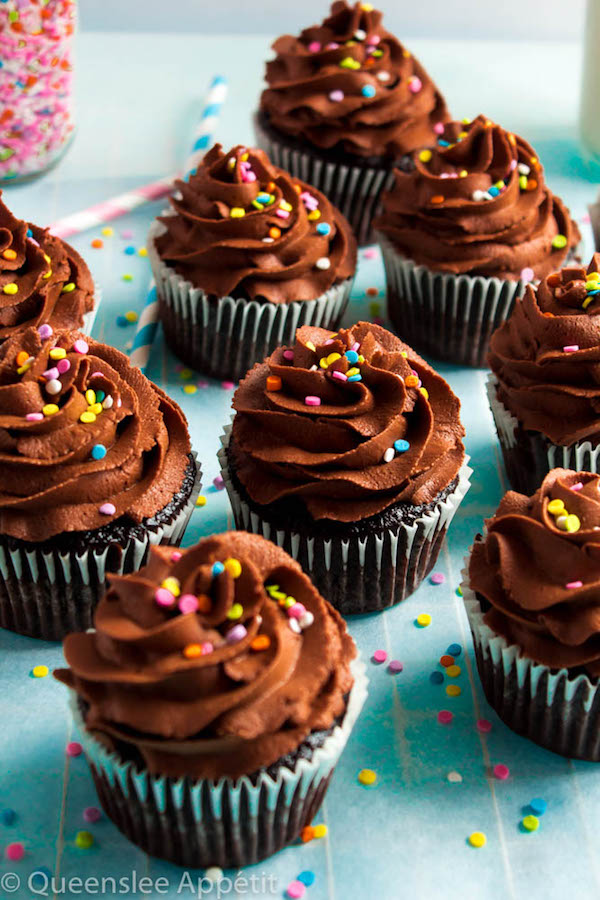 I was contemplating whether or not I should use a vegan egg replacer like applesauce, bananas or flax seeds etc. In the end, I decided to leave the eggs and the replacers out completely and just cross my fingers and hope it works. As you can see, it did! Absolutely no eggs or egg substitutes and these cupcakes are just as moist, rich and fluffy as my non-vegan cupcakes were!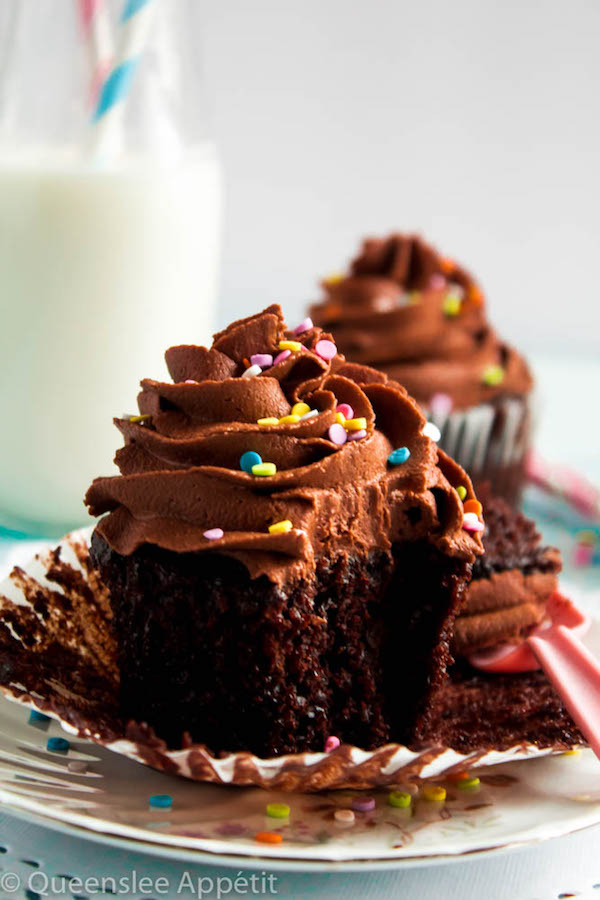 So how do we make these super moist and rich egg and dairy-free chocolate cupcakes? Well to start, we have to make a dairy-free buttermilk. It's basically the same process as making regular buttermilk. To make it, simply add apple cider vinegar to unsweetened soy milk and allow it to sit at room temperature for 5-10 minutes until it curdles. Boom, vegan buttermilk!
Next, we whisk the dry ingredients together: all purpose flour, caster sugar, cocoa, baking powder, baking soda and salt. Remember these are vegan cupcakes, not gluten-free so these ingredients are perfectly fine to use. Although, the cocoa powder can be substituted for raw cocoa powder if you prefer.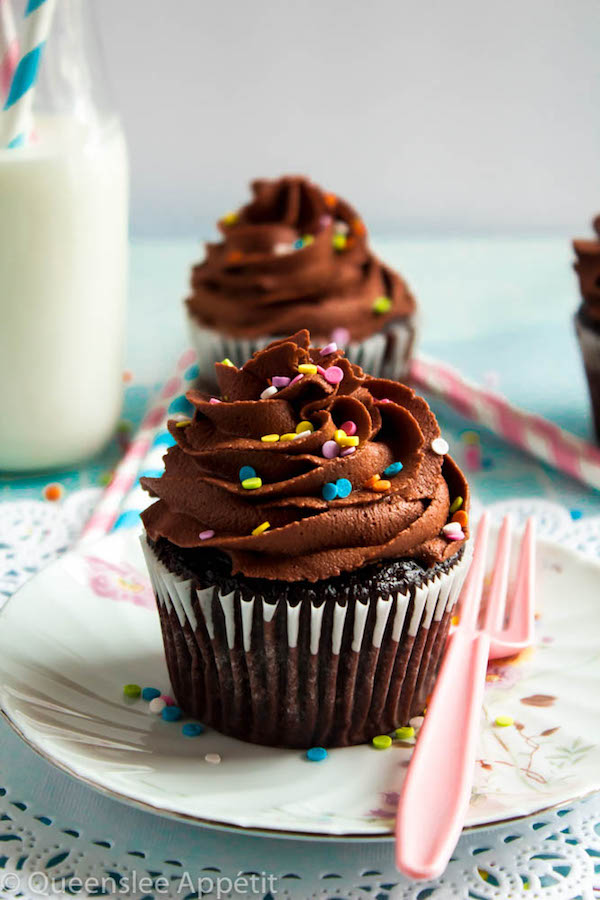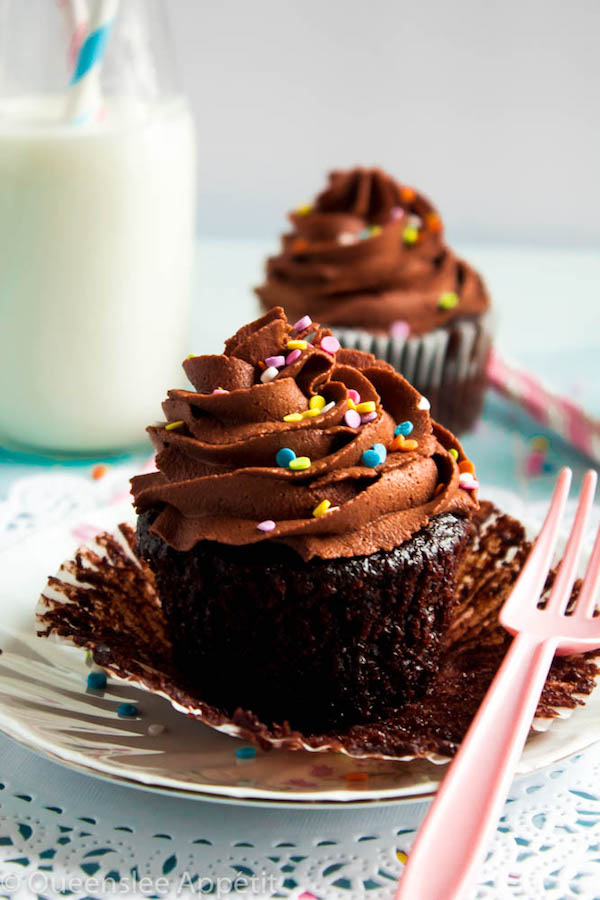 Now mix together the wet ingredients: canola oil, vanilla and the vegan buttermilk. The oil is the key to making these cupcakes extra moist, and the vegan buttermilk gives the cupcake that soft and tender crumb. Add the wet ingredients to the dry ingredients and whisk together.
The batter may be pretty thick at first, but we're gonna thin it out with some boiling water. This is an important addition to the cupcake, as it enhances the chocolate flavour for a more rich and chocolatey cupcake. You can also add hot coffee for a deeper chocolate flavour.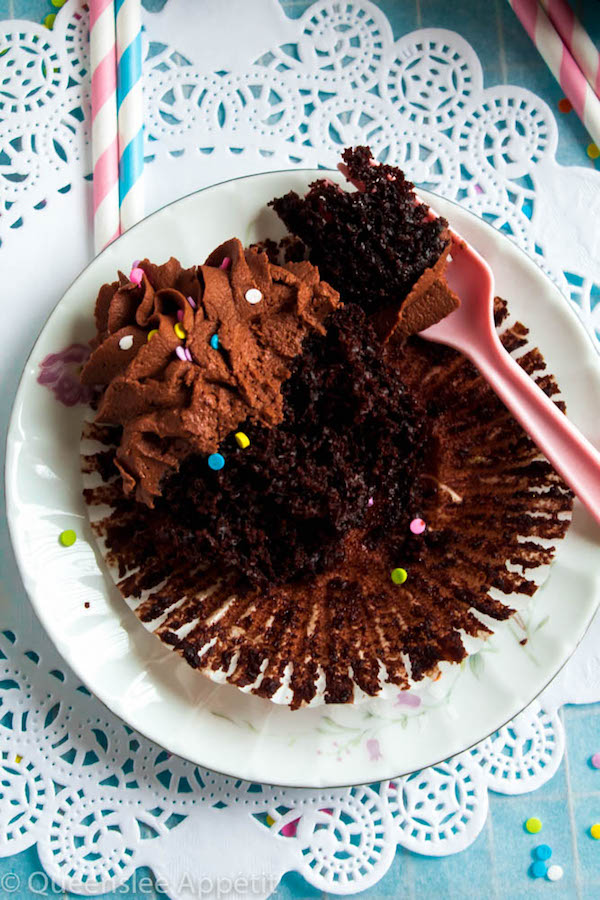 Vegan Chocolate Buttercream
Once the cupcakes are baked and cooled, we'll make rich and creamy vegan chocolate buttercream. I whipped up a batch of my Dreamy Vegan Chocolate Buttercream Frosting and piled it on top of these amazing cupcakes.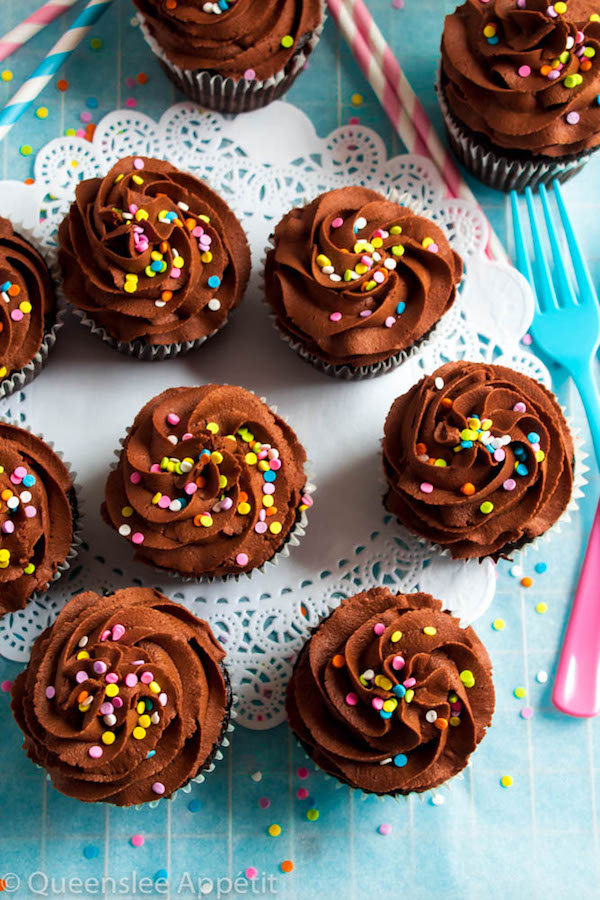 This frosting uses very few ingredients that are all vegan-friendly (I go into more details about the ingredients in the post). Although the frosting doesn't use real melted chocolate like my other chocolate buttercream recipe, it's still super duper chocolate-y and decadent and will have you licking the beaters clean!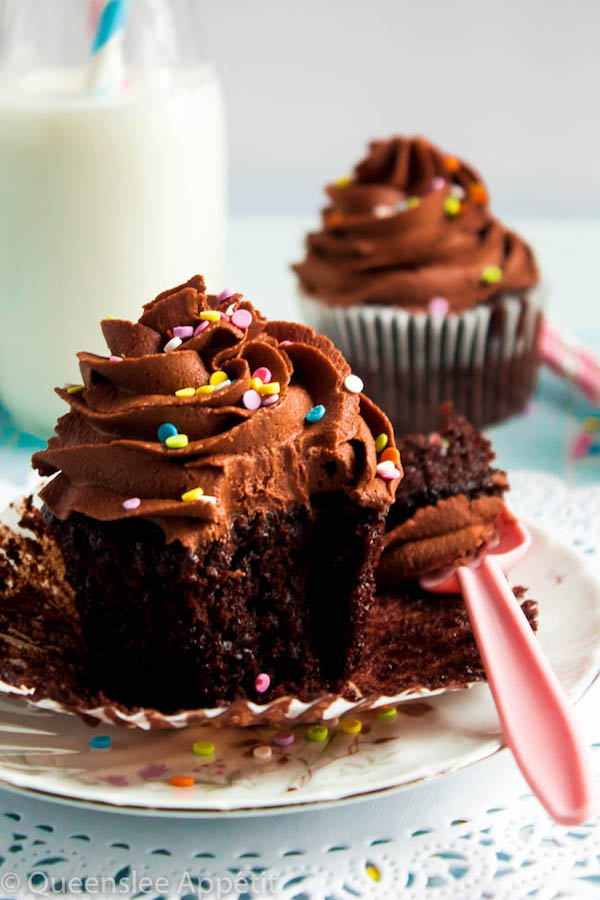 The confetti sprinkles on the top add more colour and texture to the cupcakes, but you can definitely leave them out if you like. I kinda went crazy with the sprinkles because I just love that added crunch you get when you bite into the soft cupcake and silky frosting!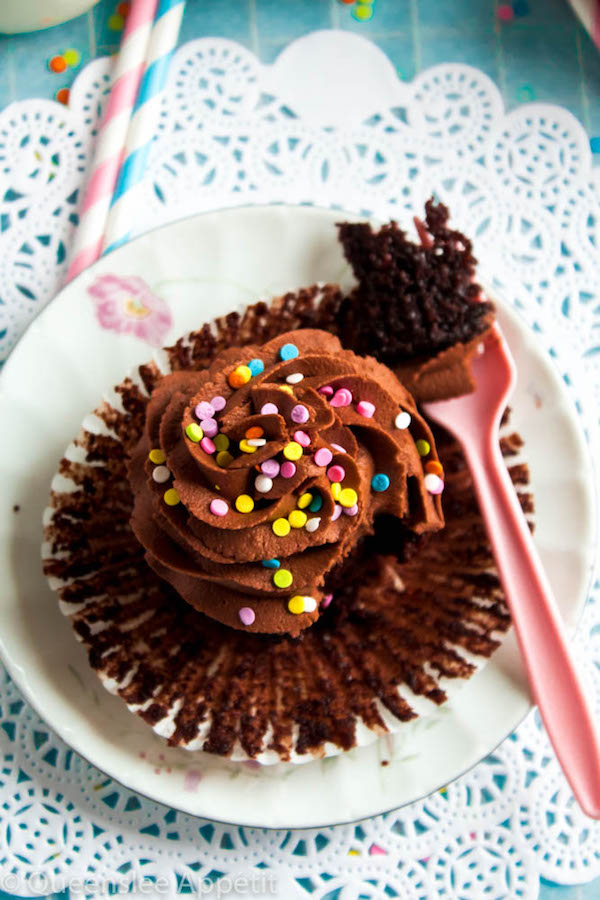 Whether you're vegan or not, I strongly urge you to give these Vegan Chocolate Cupcakes a try. No dairy or eggs are needed to make the most amazing moist and decadent chocolate cupcakes that are sure to please any chocolate lover!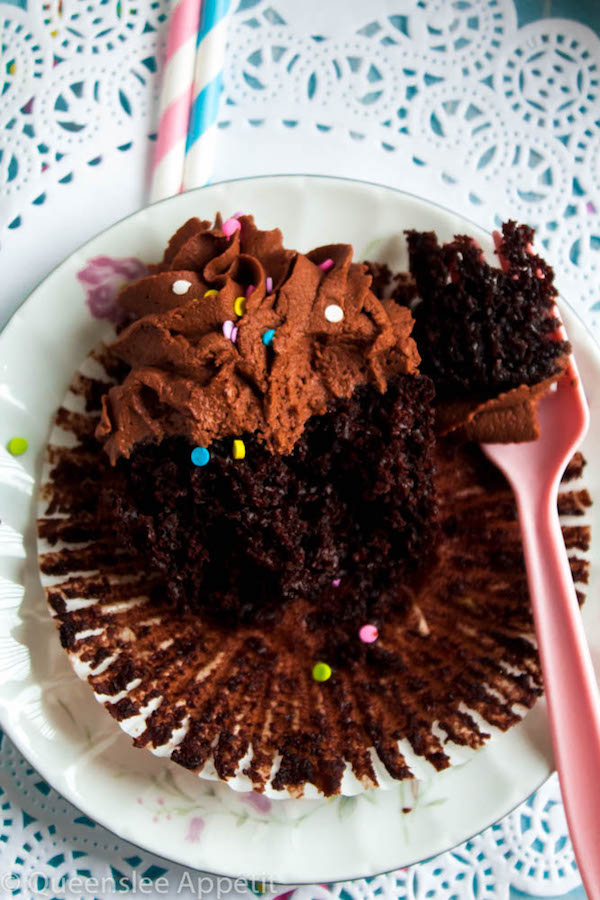 >>PIN ME FOR LATER<<

FOLLOW QUEENSLEE APPÉTIT
Pinterest | Instagram | Facebook | Twitter |
Did you make a recipe? I'd love to see how it turned out! Follow me on Instagram and use the hashtag #queensleeappetit so I can see all of the Queenslee Appétit recipes you've made!
Let's get baking!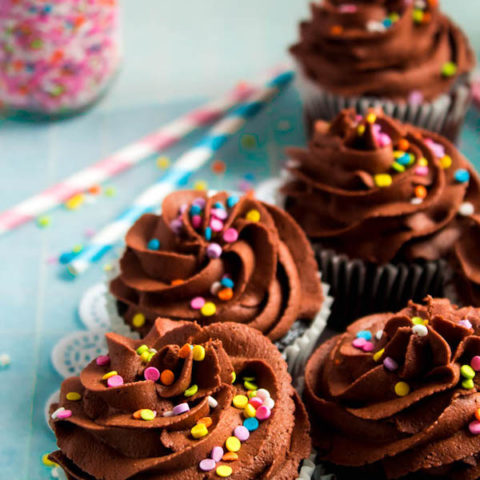 Vegan Chocolate Cupcakes
These Vegan Chocolate Cupcakes are super moist and full of chocolate flavour! Topped with a luxuriously rich Vegan Chocolate Buttercream, you'd never guess that these cupcakes are 100% dairy and egg-free!
Ingredients
¾ cup unsweetened soy milk, room temperature
2 and ¼ teaspoon apple cider vinegar
1 and ½ cups All purpose flour
1 and ½ cups caster/superfine sugar
¾ cup natural unsweetened cocoa powder (can use raw cocoa)
1 and ½ teaspoons Baking powder
½ teaspoon Baking soda
½ teaspoon salt
½ cup canola oil
2 teaspoon Pure Vanilla Extract
½ cup hot coffee or boiling water
Confetti Sprinkles, for decorating (optional)
Instructions
Preheat the oven to 350°F (177°C), and line 2 standard cupcake pans with paper liners.
Add 2 and ¼ teaspoon of apple cider vinegar to the soy milk. Allow to sit for 5-10 minutes. Set aside.
Meanwhile, in a large mixing bowl, sift flour, sugar, cocoa powder, baking powder, baking soda and salt. Whisk to combine.
In a measuring cup, whisk together the canola oil, soy milk mixture and vanilla. Pour the wet ingredients into the dry ingredients and whisk to combine. Add boiling water OR hot coffee and mix until combined and smooth. Batter will be runny.
Scoop batter into cupcake liners, filling them ⅔ way full. Bake for 14-16 minutes or until a toothpick inserted into the centre comes out clean.
Remove cupcakes from oven and allow to cool in pans for about 10 minutes, then transfer to cooling racks to cool completely before frosting.
While cupcakes are cooling, make one recipe of my Dreamy Vegan Chocolate Buttercream Frosting.
Transfer frosting to a piping bag fitted with a large star tip and pipe a swirl on each cupcake. Decorate with confetti sprinkles, if desired. Enjoy!
Notes
Store cupcakes in an airtight container at room temperature for up to 3-4 days.
Both cupcakes and frosting can be made ahead of time. You can store the unfrosted cupcakes in an airtight container at room temperature for at least 2 days before frosting.
The frosting can be stored in the refrigerator for up to 2 weeks, or in the freezer for several months. Before using — allow frosting to come to room temperature, then re-whip in a stand mixer, adding additional dairy-free milk until the frosting is smooth and fluffy.
Recommended Products
As an Amazon Associate and member of other affiliate programs, I earn from qualifying purchases.
©
QUEENSLEE APPÉTIT
. All
images & content are copyright protected. Please do not use my images without prior permission. If you want to republish this recipe, please re-write the recipe in your own words, or link back to this post for the recipe.
BON APPÉTIT!
Love, Dedra ❤