All the flavours of a banana split sundae wrapped up into one insane cupcake! These Banana Split Cupcakes start with a moist and delicious banana cupcake that's been decorated with strawberry and vanilla buttercream, colourful sprinkles, chocolate sauce, chopped nuts and a bright red cherry on top! These are the perfect treats for a party!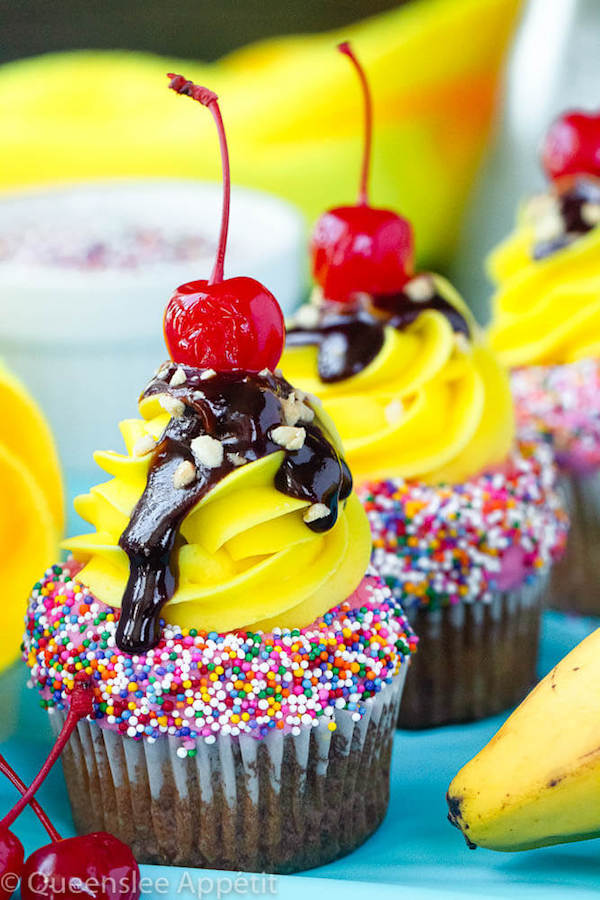 This post may contain affiliate links. Please see my full disclosure policy for details.
Happy Tuesday, everyone! This is the third cupcake recipe in a row that I've shared, and just like the other two recipes, this one is a combination of two desserts! In fact, now that I think about it, nearly all the recipes coming this month are inspired by other classic desserts!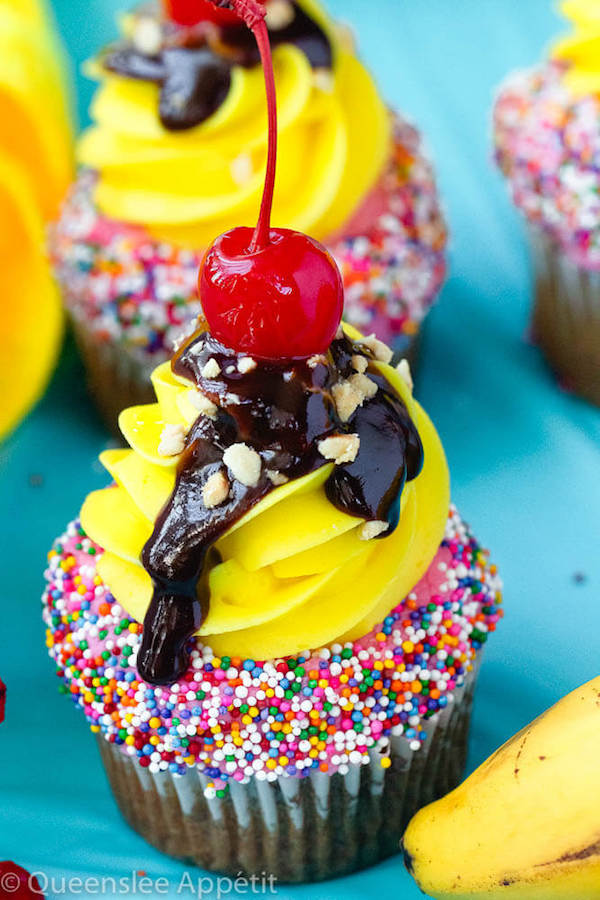 Banana Split Cupcakes
So last week we had Cinnamon Roll Cupcakes and Turtle Cupcakes and now we're doing Banana Split Cupcakes! I've been wanting to make a banana split dessert for years now!
What is a Banana Split?
For those of you who aren't familiar with banana splits, it's pretty much an ice cream sundae dish. They're served in long dishes called "boats" and a banana is split in half (hence the name) and placed on both sides of the boat. Then three flavours of ice cream are scooped in between the split bananas, usually chocolate, vanilla and strawberry.
Each ice cream scoop is then topped with a swirl of whipped cream, nuts, chocolate sauce, and a cherry! It's delicious in both ice cream form and cupcake form!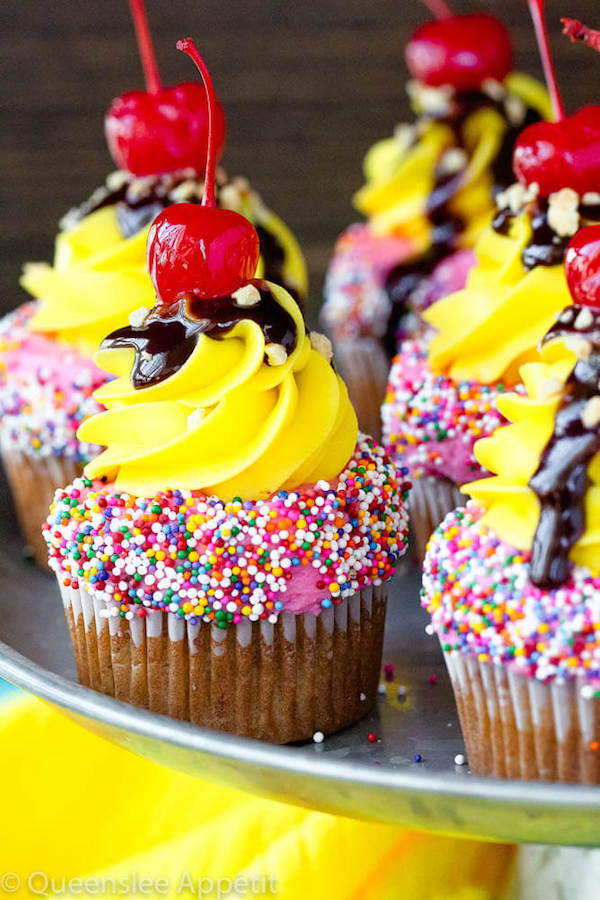 Moist Banana Cupcakes
Now let's take all those great banana split flavours and put them in a cupcake, shall we? Starting with the banana, of course!
I've never really been a fan of the banana part of a banana split (since they're my least favourite fruit), but these banana cupcakes are without a doubt my favourite part of the entire recipe!! I know it's really weird to me that I hate bananas, but I LOVE banana baked goods (especially banana bread, I can't get enough!) so I made a double batch of the cupcakes so I can enjoy some without any frosting.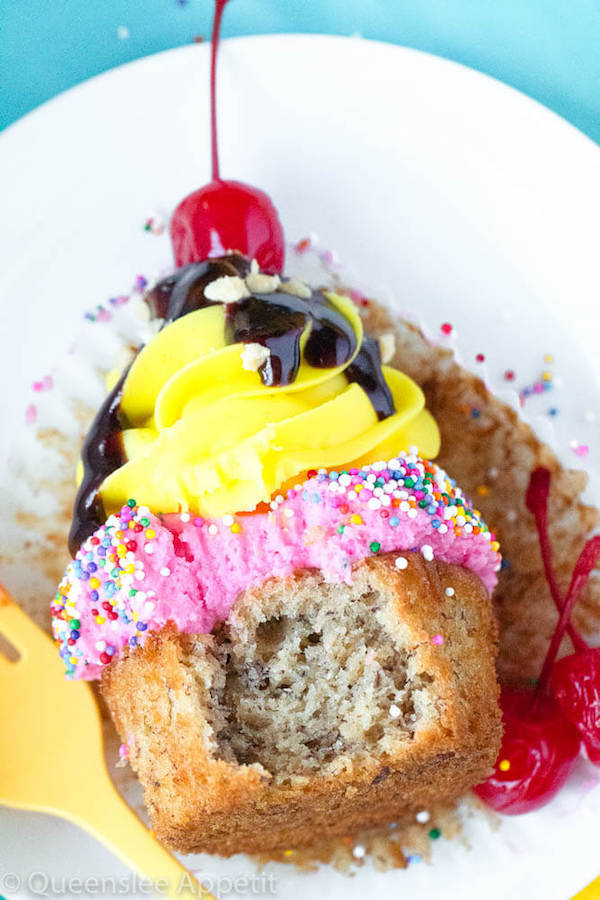 Pre-warning: there's a lot of steps to making these cupcakes, but they're all very simple and most can be made ahead of time so when you're ready to put the cupcakes together, every part will be ready to go.
So the day before, make the banana cupcakes and strawberry sauce and store them both in the refrigerator in airtight containers.
A tip on the banana cupcakes, make sure your bananas are very ripe with brown spots. If your bananas aren't ripe enough, place them in a brown paper bag and place them on top of the refrigerator and they should start to brown in a few days.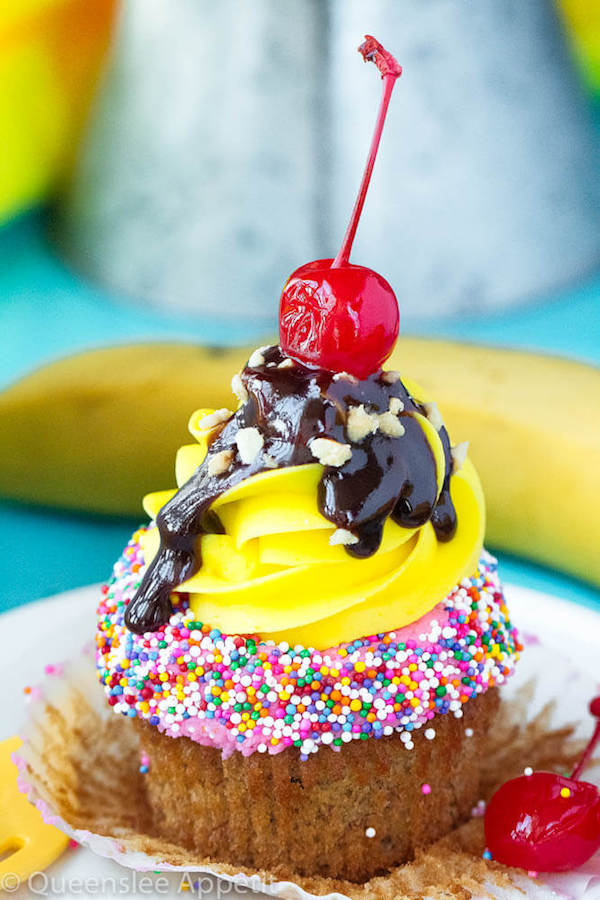 Homemade Strawberry Sauce + Strawberry Buttercream
So we got the banana part of the banana split, now we've got to add the strawberry flavour. For the strawberry flavour I just added a row of strawberry buttercream on top, but since you need to make my homemade strawberry sauce to make the strawberry frosting, you could also use it to drizzle on top of the cupcakes!
The strawberry sauce is very easy to make, simply combine strawberries, sugar, water and lemon juice in a saucepan and let it boil on the stovetop for 8-10 minutes. Then you can either push the sauce through a strainer and discard the fruit pieces, or you could blend the sauce up until it's all smooth.
This is another part that could and should be made ahead of time so it can chill completely in the refrigerator. I think it's pretty self-explanatory as to why hot strawberry sauce being added to buttercream is a big no-no.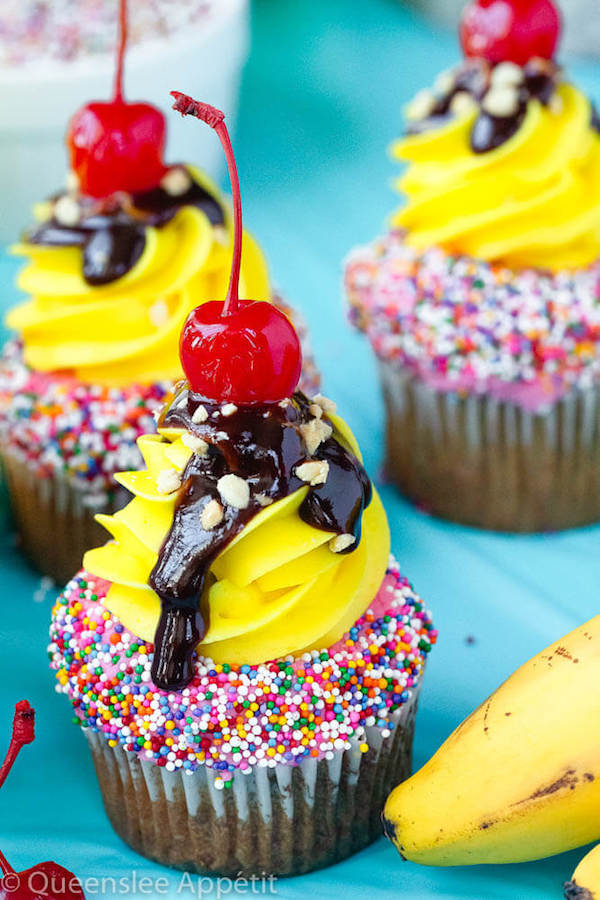 Yellow Vanilla Buttercream
For the vanilla flavour, I also made a simple vanilla buttercream and tinted it yellow. As you will see in the recipe below, both the strawberry and vanilla buttercream are all one recipe.
So make one large batch of vanilla buttercream, then divide it in half and mix cooled strawberry sauce into one half, and mix yellow food colouring into the other half.
To create the frosting design, I started by using a medium cookie scoop to scoop the strawberry frosting onto each cupcake. Then I used a small offset spatula to smooth out the top and sides.
Now you can't have a banana split dessert without sprinkles, so I covered the sides of the strawberry frosting in rainbow nonpareils. Once that's done, pipe a swirl of gorgeous yellow vanilla buttercream on top.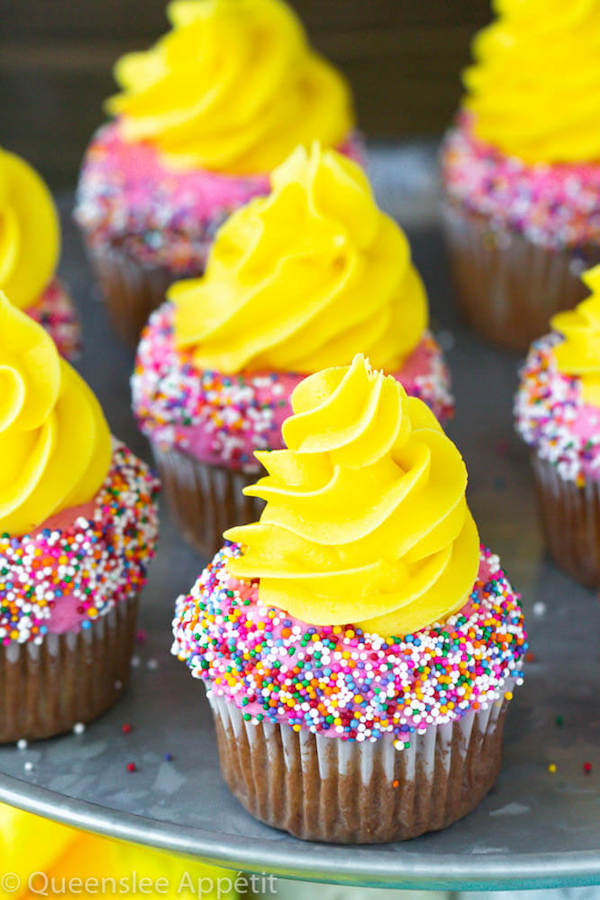 Banana Split Toppings
It's finally time to add the finishing touches to this banana split: the toppings! If you remember, I mentioned that one of the banana split toppings is chocolate sauce, so I drizzled some on top of the vanilla buttercream.
We already got the sprinkles, so all that was left was the chopped peanuts and a maraschino cherry on top! These Banana Split Cupcakes are such a fun and whimsical treat to serve at birthday parties or any end of summer BBQs you may have!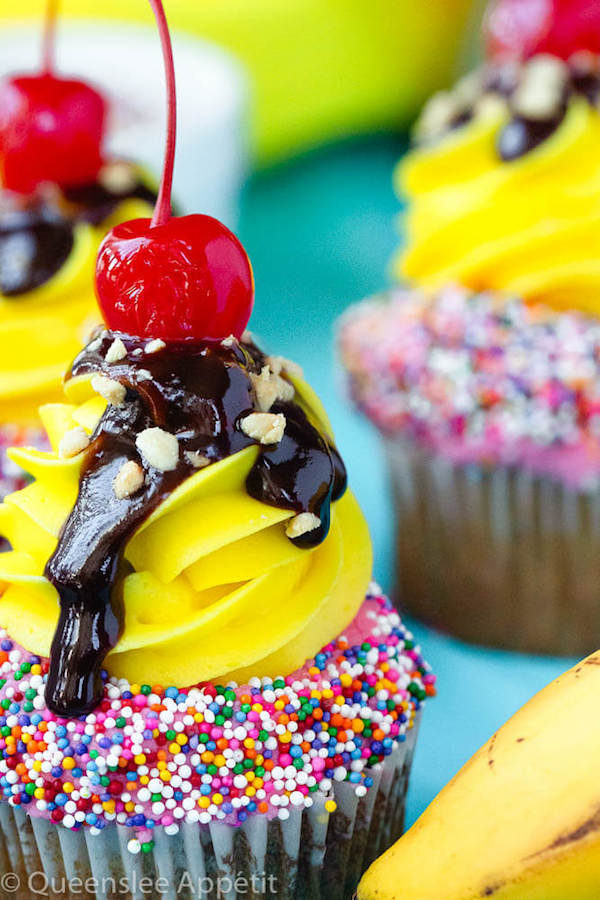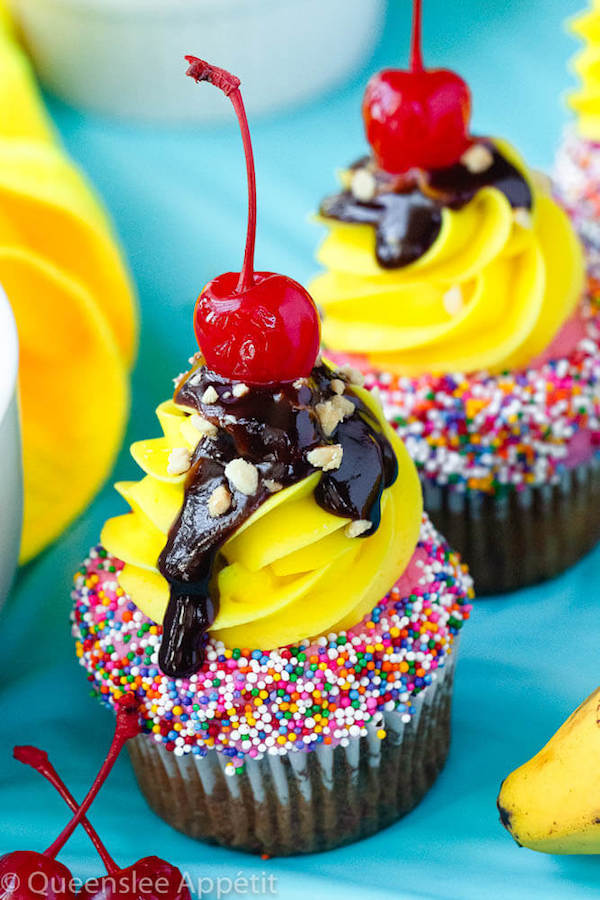 >>PIN THIS FOR LATER<<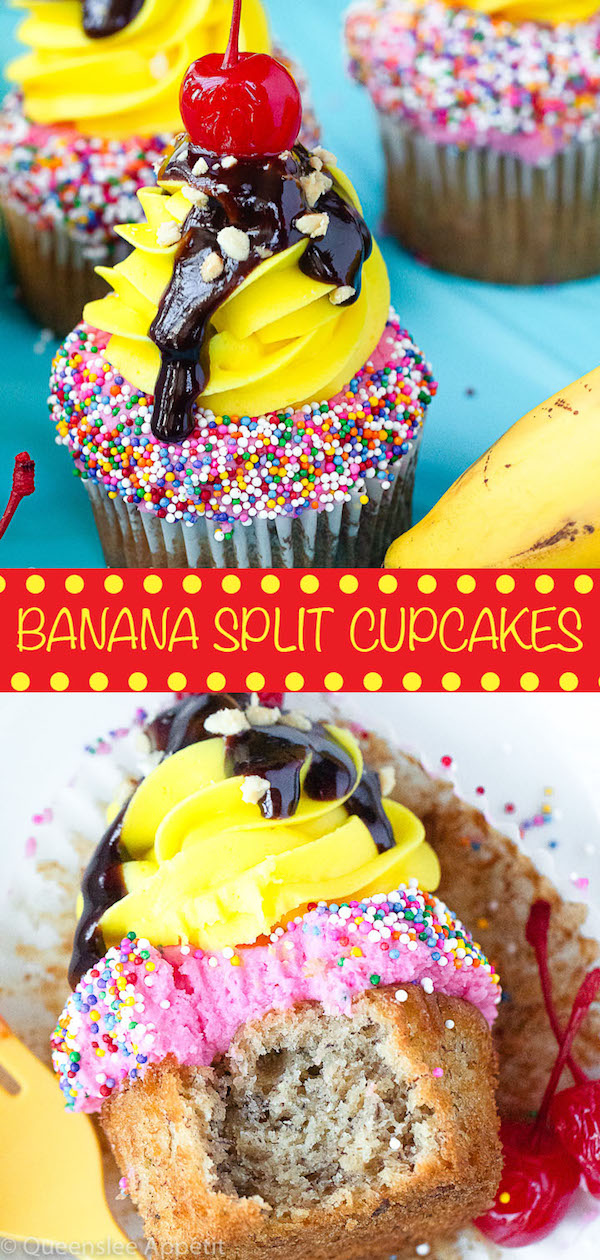 FOLLOW QUEENSLEE APPÉTIT
Like what you see? Make sure you're following Queenslee Appétit for more tasty recipes!
Pinterest | Instagram | Facebook | Twitter |
Have any questions about the recipe? Contact me here, and I'll be happy to help!
Let's get baking!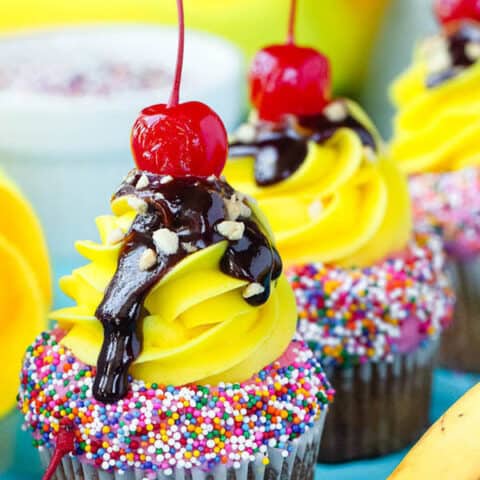 Banana Split Cupcakes
Total Time:
1 hour
10 minutes
All the flavours of a banana split sundae wrapped up into one insane cupcake! These Banana Split Cupcakes are the perfect treats for a party!
Ingredients
Strawberry Sauce:
1 cup (8 oz) fresh or frozen strawberries, stems removed and diced (if frozen, thawed)
2-3 tablespoon granulated sugar (or to taste)
3 tablespoon water
½ teaspoon lemon juice
Banana Cupcakes:
1 and ½ cups all purpose flour
1 and ½ teaspoon baking powder
½ teaspoon baking soda
½ teaspoon salt
½ teaspoon ground cinnamon (optional)
½ cup unsalted butter, room temperature
¾ cup granulated sugar
¼ cup light brown sugar, packed
2 tablespoon vegetable oil
½ cup sour cream, room temperature
1 and ½ teaspoon pure vanilla extract
2 large eggs, room temperature
2-3 overripe large bananas, puréed or mashed (about 1 and ½ cups)
Strawberry and Vanilla Buttercream:
¼ cup Strawberry Sauce, chilled (recipe above)
2 cups unsalted butter, softened to room temperature
⅛ teaspoon salt
8 cups Powdered Sugar, sifted
½ cup Heavy Whipping Cream
1 tablespoon pure vanilla extract
Few drops of pink gel food colouring (optional)
Few drops of yellow gel food colouring (optional)
Topping:
Rainbow non pareils
Chocolate sauce
Chopped peanuts
Maraschino cherries, with stems
Instructions
For the Strawberry Sauce:
Combine the strawberries, sugar, water, and lemon juice in a saucepan on medium-high heat and bring to a boil.
Once the mixture begins to boil, lower the heat and allow the strawberries to cook and soften, breaking up the strawberries and stirring occasionally with a wooden spoon for about 8-10 minutes.
Pour sauce into a blender or food processor and pulse until the strawberries are smooth. Press through a fine mesh sieve and discard the seeds. Allow to cool completely.
Once cooled, cover with plastic wrap and refrigerate until ready to use.
For the Banana Cupcakes:
Preheat oven to 350° F (177°C) and line a standard cupcake pan with paper liners. Set aside.
In a large bowl, sift the flour, baking powder, baking soda, salt and cinnamon and whisk to combine. Set aside.
In the bowl of a stand mixer fitted with a paddle attachment, beat the butter and both sugars on medium-high until light and fluffy, 2-3 minutes. Scrape down the sides and bottom of the bowl.
Add oil, sour cream and vanilla and mix until combined.
Lower speed to medium-low and add the eggs one at a time. Make sure to occasionally stop and scrape down the bowl.
Gradually add the dry ingredients and slowly mix until just combined. Add the banana purée and mix until well combined. DO NOT OVERMIX. Batter should be thick.
Scoop batter into cupcake liners, filling them ⅔ way full. Bake for 20-25 minutes or until a toothpick inserted into the centre comes out clean.
Remove cupcakes from oven and allow to cool in pans for about 10 minutes, then transfer to cooling racks to cool completely.
For the Strawberry and Vanilla Buttercream:
In the bowl of a stand mixer fitted with the paddle attachment, or in a large bowl with a hand-held mixer, beat the butter, shortening and salt on medium speed until light and fluffy (about 5-6 minutes).
Turn the mixer to low, and gradually add half of the sugar one cup at a time. Once incorporated, add heavy cream and vanilla and beat until combined.
Add the remaining powdered sugar one cup at a time and mix on low until combined.
Once the sugar is combined, increase mixer speed to high and whip until light and fluffy, about 5 minutes.
Divide the frosting between 2 bowls, add ¼ cup of strawberry sauce to one bowl and beat until combined, if you want a deeper pink, mix in a few drops of pink gel food colouring.
Add a few drops of yellow gel food colouring to the other half of frosting.
Assembly:
Using a medium ice cream or cookie scoop, scoop the strawberry buttercream onto each cupcake.
With a small offset spatula, spread out the top until it's nice and flat, then smooth out the sides.
Pour the rainbow nonpareils into a small shallow dish and dip the sides of the frosting.
Transfer the yellow frosting to a piping bag fitted with a large star tip, then pipe a swirl of frosting on top.
Drizzle on chocolate sauce, chopped peanuts and top with a maraschino cherry! Serve and enjoy!
Notes
Store cupcakes in an airtight container in the refrigerator for up to 3 days.
You can drizzle the remaining strawberry sauce on top of the cupcakes, if you please.
Go ahead and switch up the frosting flavours, maybe use chocolate buttercream and raspberry buttercream!
You don't have to decorate the cupcakes exactly like I did, you could place both frostings into a large piping bag and just pipe two-toned swirls onto each cupcake.
Recommended Products
As an Amazon Associate and member of other affiliate programs, I earn from qualifying purchases.
Nutrition Information:
Yield:

20
Serving Size:

1
Amount Per Serving:
Calories:

530
Total Fat:

28g
Saturated Fat:

17g
Trans Fat:

0g
Unsaturated Fat:

10g
Cholesterol:

90mg
Sodium:

133mg
Carbohydrates:

70g
Fiber:

1g
Sugar:

64g
Protein:

2g
BON APPÉTIT!
Love, Dedra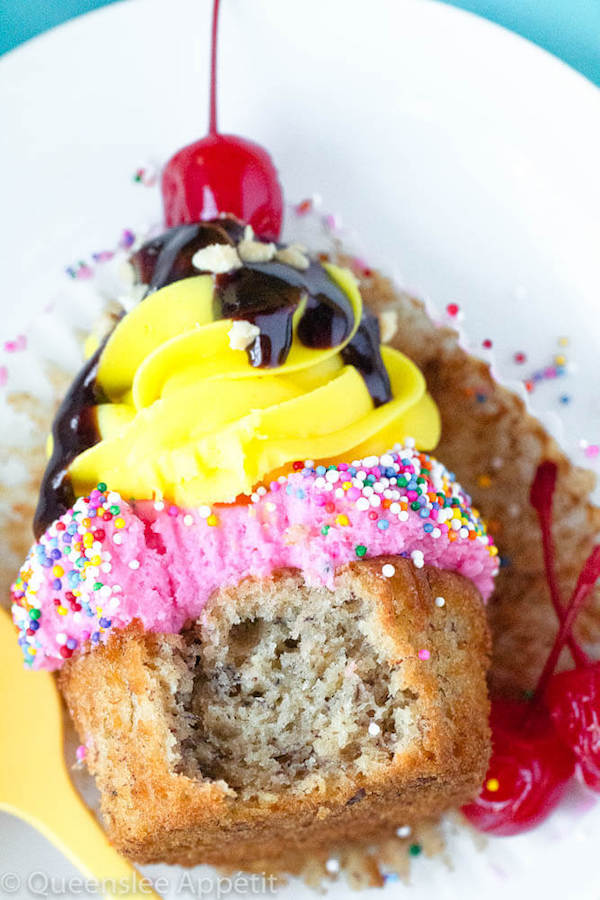 ©QUEENSLEE APPÉTIT. All images & content are copyright protected. Please do not use my images without prior permission. If you want to republish this recipe, please re-write the recipe in your own words, or link back to this post for the recipe.