This Dreamy Vegan Chocolate Buttercream Frosting is perfectly rich, creamy and delicious. It's 100% dairy-free so it would pair perfectly with all of your favourite vegan cakes and cupcakes!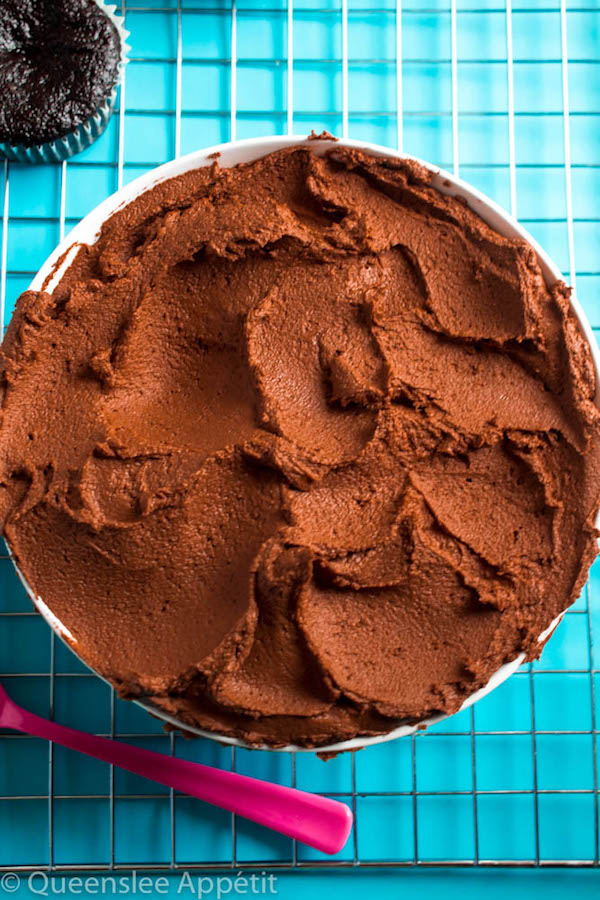 Let me just start by saying I'm not a vegan, and this is the first time I've made something vegan related. Before developing this recipe, I looked up a few vegan recipes online to see what kind of ingredients I should use. A lot of these recipes were pretty complicated and used a ton of hard to find ingredients that I've never heard of.
I wanted my own recipe to be pretty easy and straightforward, no avocado, medjool dates or anything like that. For this recipe, we use simple ingredients: butter (vegan), shortening, icing sugar, salt, cocoa, vanilla and dairy-free milk.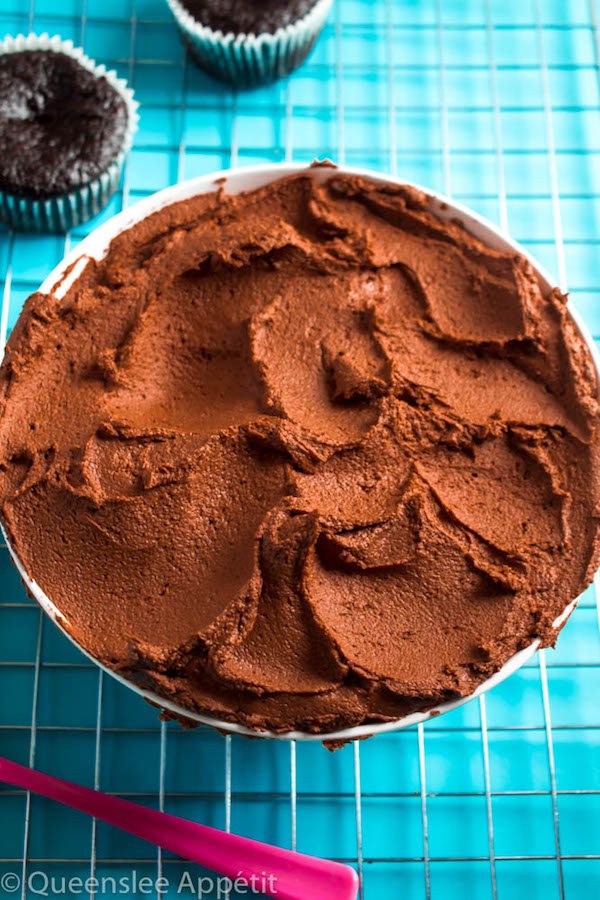 Vegan Chocolate Buttercream
This buttercream is similar to my other chocolate frosting recipes, except the ingredients were replaced with a vegan friendly alternative. I really don't know if I should call this a "Vegan" frosting or a "Dairy-free" frosting, but I made sure to do my research to make sure every ingredient used was vegan.
So let's break them down!
Vegan (non-hydrated) Margarine — Instead of regular margarine, I used vegan margarine, which is basically a blend of seed oils like canola and sunflower oil. It's also kosher and gluten free! I usually let my butter sit out for 30 minutes to soften before beginning, but since margarine is already soft, this isn't necessary.
Crisco All-Vegetable Shortening — All of my buttercream recipes use a mixture of butter and shortening. The shortening is used for the purpose of creating a stable frosting that can hold up in hot weather. I specifically used Crisco All-Vegetable Shortening for this recipe because they use 100% vegan ingredients in their product like soybean oil, hydrogenated palm oil etc.
Powdered Sugar — You can certainly use Organic Icing Sugar if you want, but I used regular icing sugar, specifically RedPath. On the official RedPath website, they stated that their icing sugars "do not use animal products or by-products in the refining process for sugar, so Redpath Sugar products are suitable for Vegetarians and Vegans". So it's 100% vegan-friendly!
Unsweetened Cocoa Powder — I used Fry's Unsweetened Cocoa Powder because the only ingredients used are cocoa and sodium carbonate. You can definitely use raw cocoa powder instead if you prefer.
Pure Vanilla Extract — Regular vanilla extract is perfectly fine to use in this vegan buttercream, and is used to add some extra flavour.
Non-Dairy Milk — I used unsweetened soy milk, but you can use almond milk, coconut milk, cashew milk or any dairy-free milk of your choice. I wanted this frosting to be nice and pipeable so I added 6 cups of powdered sugar, which made the frosting pretty thick. A lot of my frosting recipes say to add half of the sugar, then the milk or cream, then the remaining sugar. This time we add the milk at the end, and instead of adding ½ cup like I usually do, we only need about 1-2 tablespoons to get this frosting to the perfect consistency.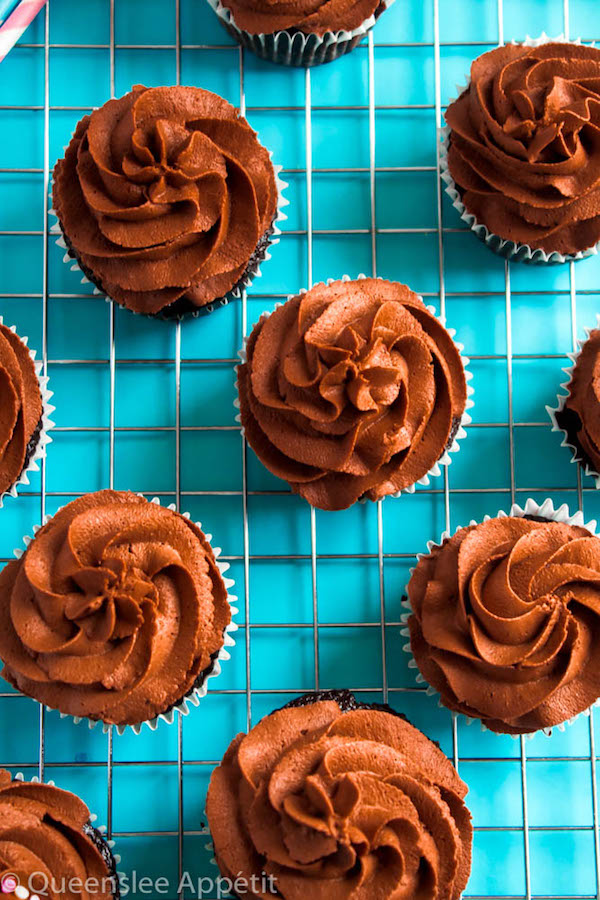 The end result is a super rich and creamy chocolate "buttercream" made with 100% vegan and dairy-free ingredients. It pipes perfectly so you can pipe it onto some vegan cupcakes (recipe coming soon), or pipe fancy borders on a cake!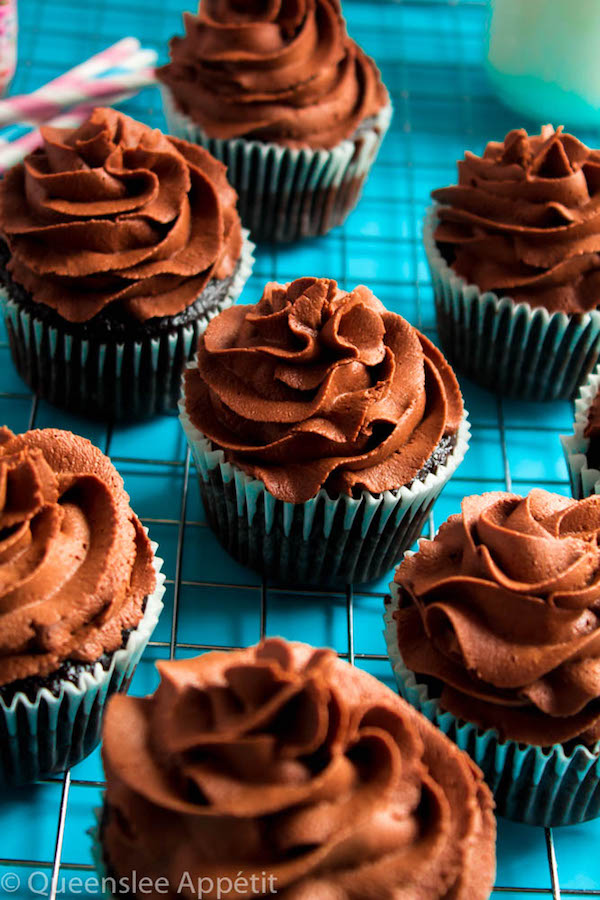 Oh, and as far as taste goes, this vegan frosting tastes just as amazing as my other chocolate buttercream's do! I couldn't even tell that it was dairy-free. It's also so much easier to prepare. Win!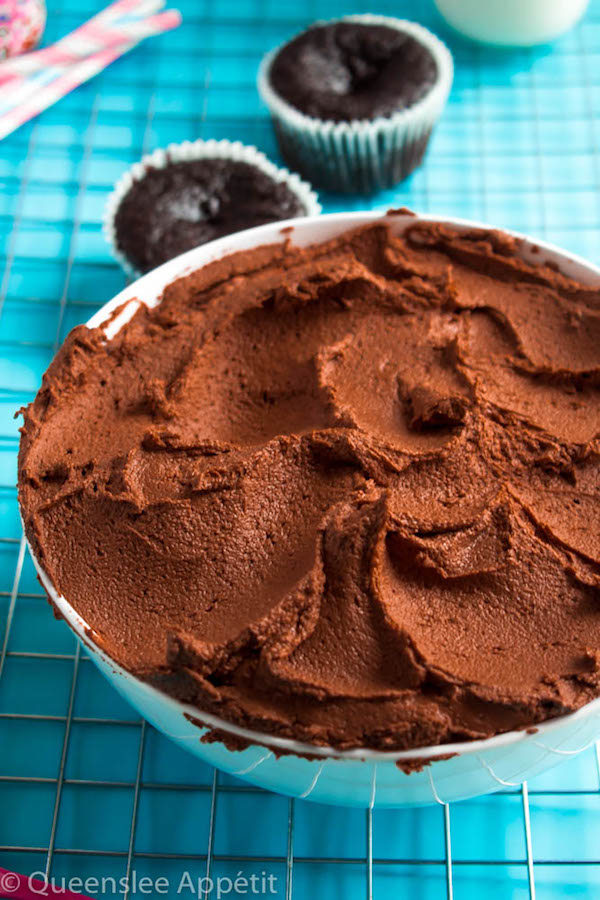 >>PIN ME FOR LATER<<

You May Also Like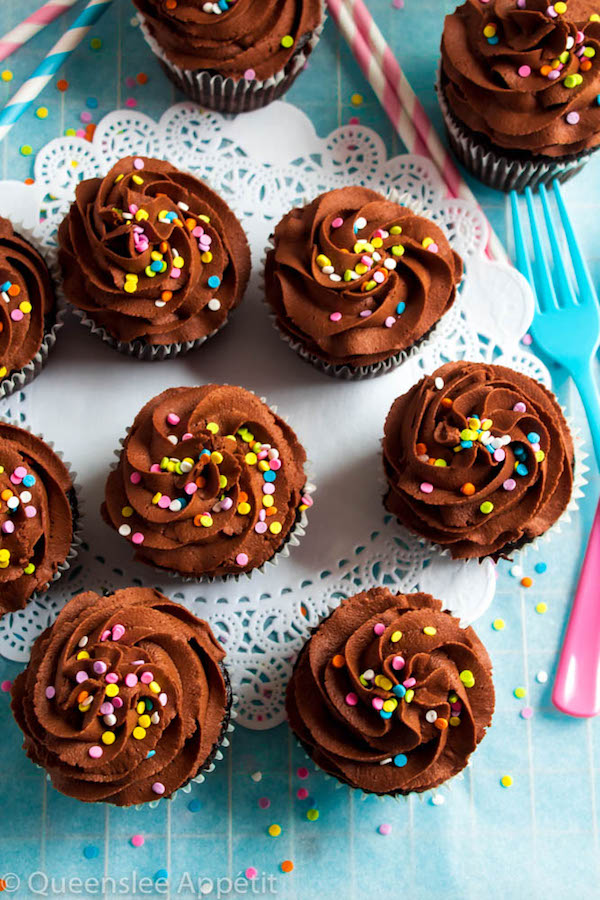 FOLLOW QUEENSLEE APPÉTIT
Pinterest | Instagram | Facebook | Twitter |
Did you make a recipe? I'd love to see how it turned out! Follow me on Instagram and use the hashtag #queensleeappetit so I can see all of the Queenslee Appétit recipes you've made!
Let's get baking!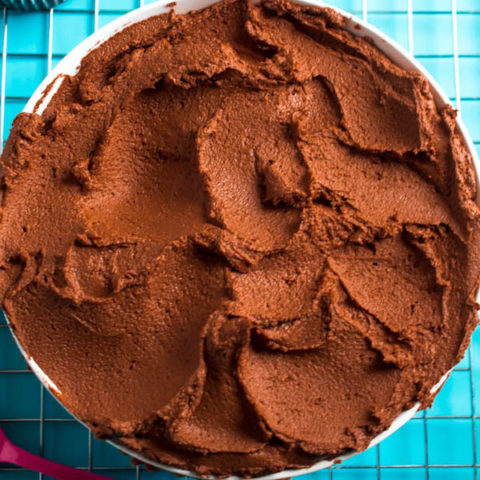 Dreamy Vegan Chocolate Buttercream Frosting
Yield:
enough to frost 24-36 cupcakes, or to fill and frost a 9-inch layer cake
This Dreamy Vegan Chocolate Buttercream Frosting is perfectly rich, creamy and delicious. It's 100% dairy-free so it would pair perfectly with all of your favourite vegan cakes and cupcakes!
Ingredients
1 cup vegan, non-hydrated margarine
1 cup Crisco Vegetable Shortening
¼ teaspoon salt
6 cups powdered sugar, sifted (Regular powdered sugar is fine, but you can use organic powdered sugar)
1 cup unsweetened cocoa powder, sifted (can use raw cocoa)
2 teaspoons pure vanilla extract
1-2 Tablespoons non-dairy milk (like unsweetened soy milk, coconut milk or almond milk)
Instructions
In a large bowl using a hand-held mixer, beat the margarine, shortening and salt on medium speed until light and fluffy (about 1 minute). Scrape down the sides and bottom of the bowl.
Turn the mixer to low, and gradually add the sugar 1 cup at a time and beat on low speed until just combined. Add the sifted cocoa and vanilla and mix on medium-low speed until combined.
Add dairy-free milk 1 tablespoon at a time until you reach a smooth and creamy consistency.
Increase mixer speed to medium-high and whip until light and fluffy, about 2-3 minutes. Use to frost cakes, cupcakes and more!
Notes
Store frosting in an airtight container in the refrigerator for up to 2 weeks, or in the freezer for several months. Before using — allow frosting to come to room temperature, then re-whip in a stand mixer, adding additional dairy-free milk until the frosting is smooth and fluffy.
Recommended Products
As an Amazon Associate and member of other affiliate programs, I earn from qualifying purchases.
©
QUEENSLEE APPÉTIT
. All
images & content are copyright protected. Please do not use my images without prior permission. If you want to republish this recipe, please re-write the recipe in your own words, or link back to this post for the recipe.
BON APPÉTIT!
Love, Dedra ❤
This post may contain affiliate links. Please see my full disclosure policy for details.