These Pina Colada Cupcakes are a yummy tropical treat perfect for the summertime! It starts with a moist Pina Colada flavoured cupcake, then it's filled with a pineapple sauce, frosted with a Pina Colada buttercream, dipped in toasted coconut and decorated with cherries, pineapples, umbrellas and cute little straws to resemble a Pina Colada!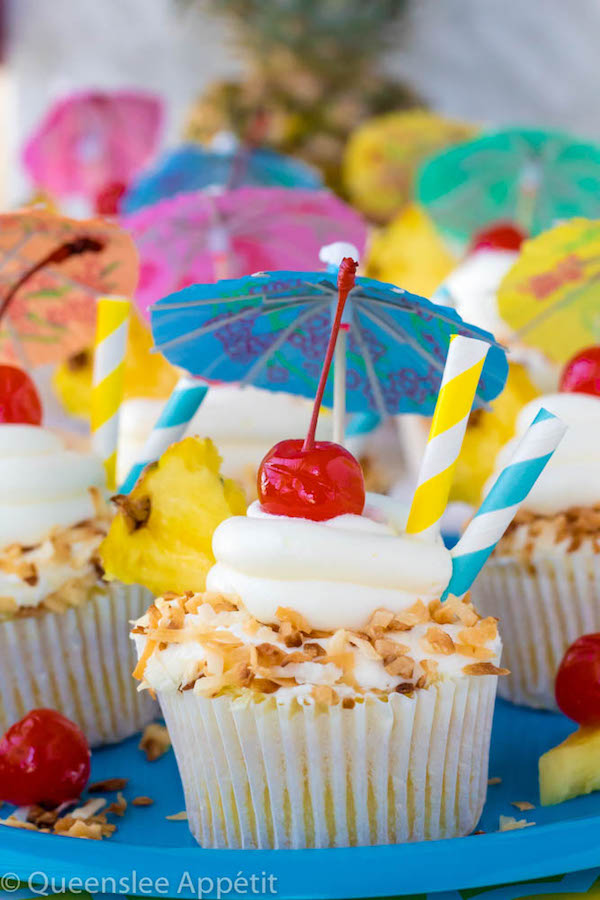 Oh my God, this heat wave is getting out of hand. It's gotten so bad that I actually have to carry a spray bottle around and give myself a good ole spritz every now and then to keep from over-heating. The worst thing about this heatwave, however, is that there's not a single beach anywhere near me. 
So since I can't go to the beach, I've decided to bring the beach to me! And with today being National Pina Colada Day, I couldn't think of a better summer treat than these Pina Colada Cupcakes!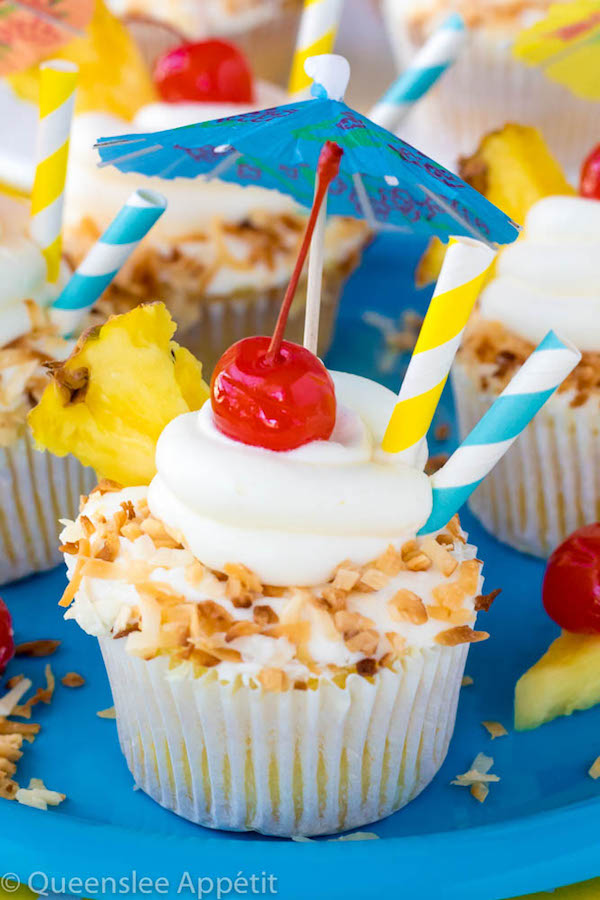 When I think of Pina Colada's, I think of laying on a tropical beach with the sun shining in your face and the wind blowing through your hair while you watch the waves of the ocean. These cupcakes will have you fantasizing that perfect setting.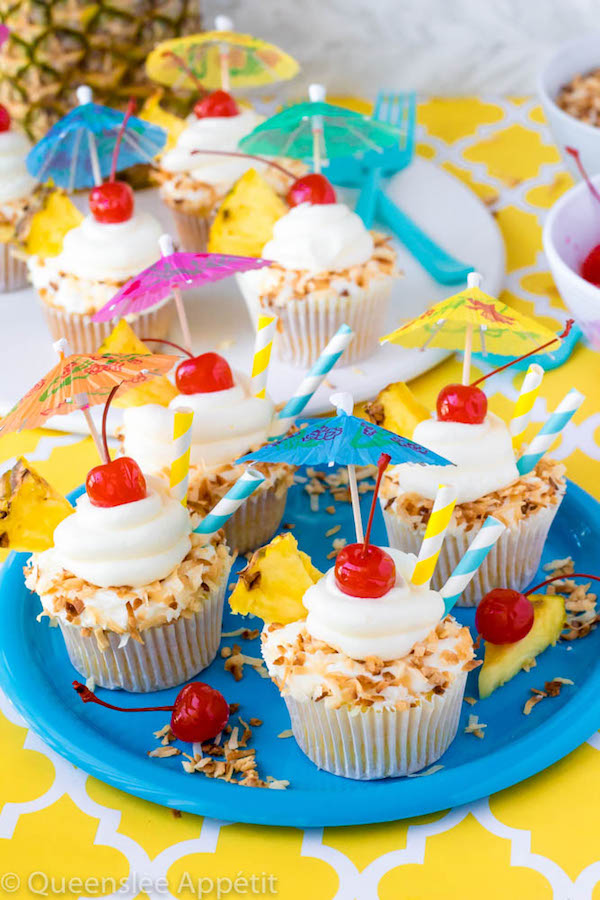 Pina Coladas are the ultimate summer drink, and these are the ultimate summer cupcakes! With the perfect combination of coconut, pineapple and rum, these cupcakes taste EXACTLY like a Pina Colada! The cupcakes and frosting are both flavoured with pineapple, coconut and rum. I also stuffed the cupcake with a homemade pineapple filling and dipped it in toasted coconut so you get a burst of tropical flavour in every bite!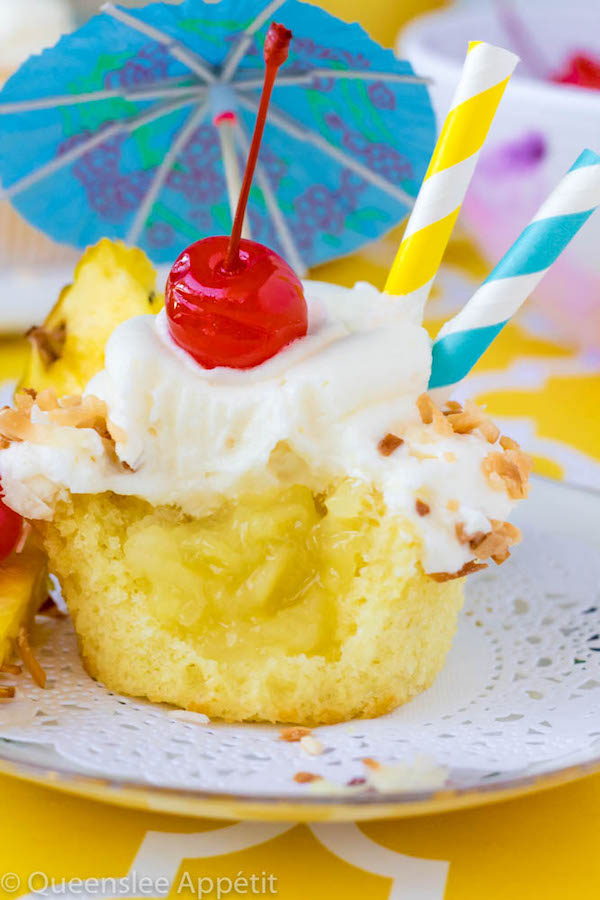 Pina Colada Cupcakes
So let's start with the cupcakes. The base of the cupcake is the same as my Perfect Vanilla Cupcakes, however, these are Pina Colada Cupcakes so I had to make them Pina Colada flavoured! I started by replacing the vanilla in that recipe with both coconut and rum extract. You can replace the rum extract with 1 tablespoon of real rum to kick these cupcakes up a notch, if you prefer. I just decided to use the extract since I already had some on hand. 
I also replaced the vegetable oil with the same amount of pineapple juice to add some pineapple flavour on top of the coconut and rum. There's also coconut milk instead of buttermilk, but we still use the sour cream which gives the cupcakes a soft and tender texture. There's no fancy techniques or electric mixers needed. Simply combine the dry ingredients in one bowl, the wet ingredients in another, then mix them together.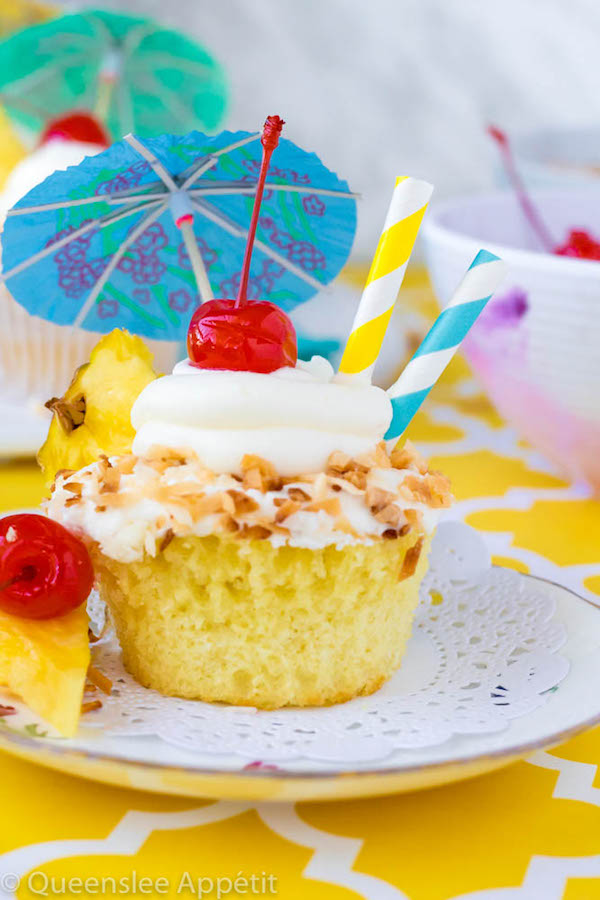 Pineapple Filling
It's official. I'm obsessed with stuffing my cupcakes with a sweet and yummy filling. A majority of my cupcakes have a surprise filling, because there's nothing better than biting into a cupcake and finding another layer of yumminess inside! 
I decided to stuff these cupcakes with a homemade pineapple filling. This filling is sort of like pineapple jam. It's nice and thick, with chunks of pineapple inside. I'm in love! And it's so simple to make. Simply combine sugar, cornstarch, crushed pineapple (with the juice) and water in a saucepan on the stove and let it boil. The cornstarch helps it thicken up and the sugar adds a bit more sweetness. I originally planned on leaving the water out, but I needed to remove some of the pineapple juice for the cupcake and frosting, so the water acts as a replacement. 
Once it chills it'll thicken up, and once you fill all the cupcakes, you'll have a lot left. But hey! This means you have homemade pineapple jam that you can use as a topping for scones, pancakes, biscuits, toast, ice cream, shall I go on?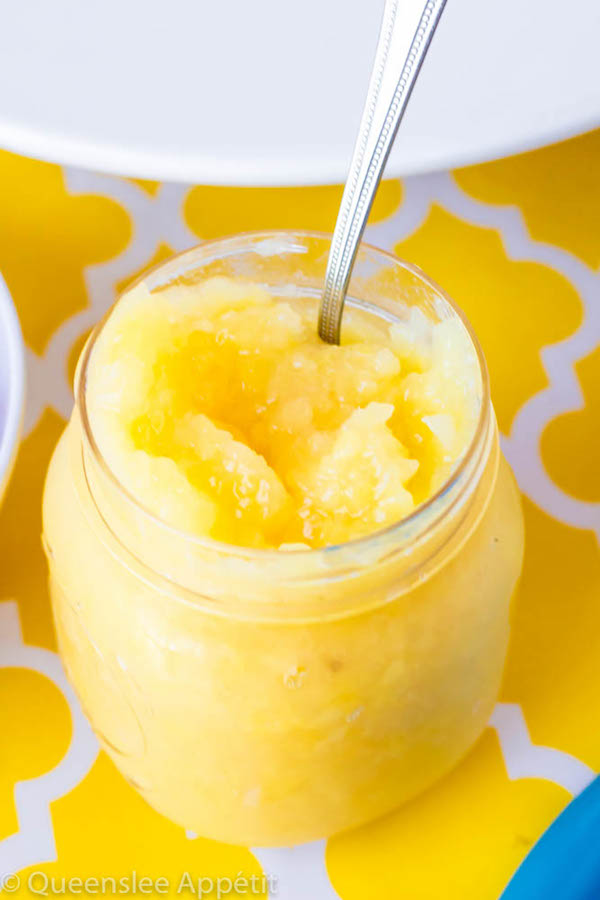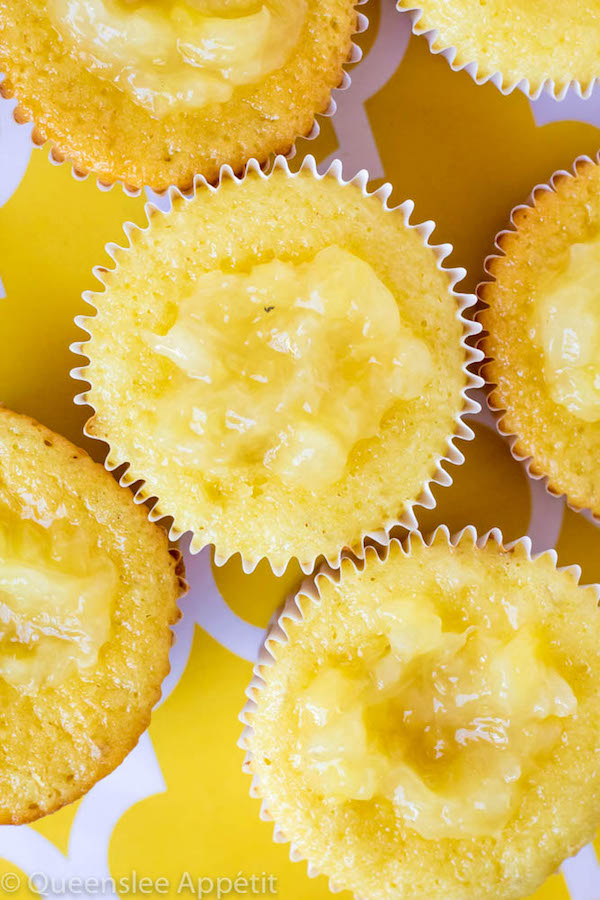 Pina Colada Buttercream
Now for the Pina Colada Buttercream Frosting! I'm swooning! This frosting was modified from my Dreamy Vanilla Buttercream Frosting recipe. I replaced the heavy cream with half coconut milk and half pineapple juice. I then flavoured it with some coconut and rum extract. It's literally a Pina Colada in frosting form! I'm honestly not sure if the frosting is soft or if my house was way too hot, but it seemed to hold up well once the frosting began to crust.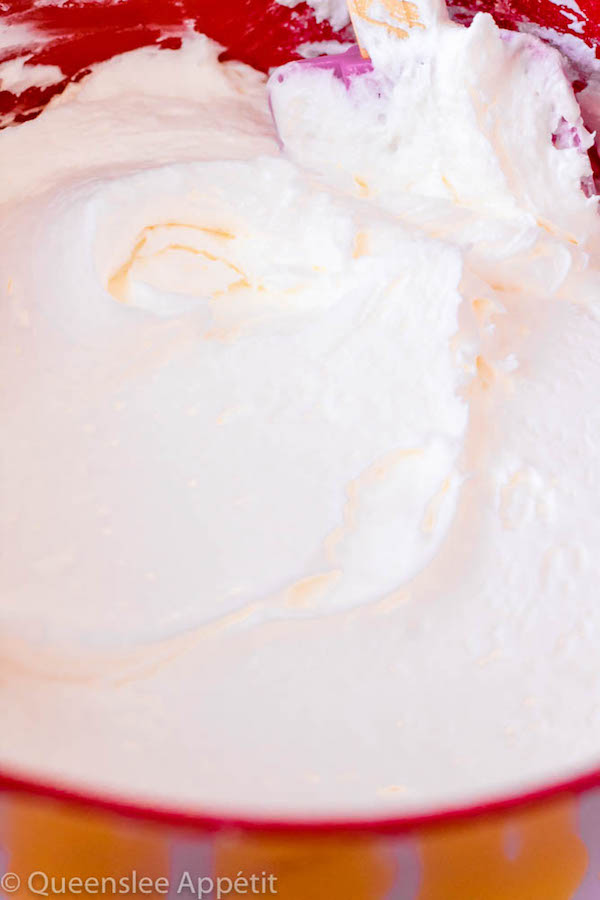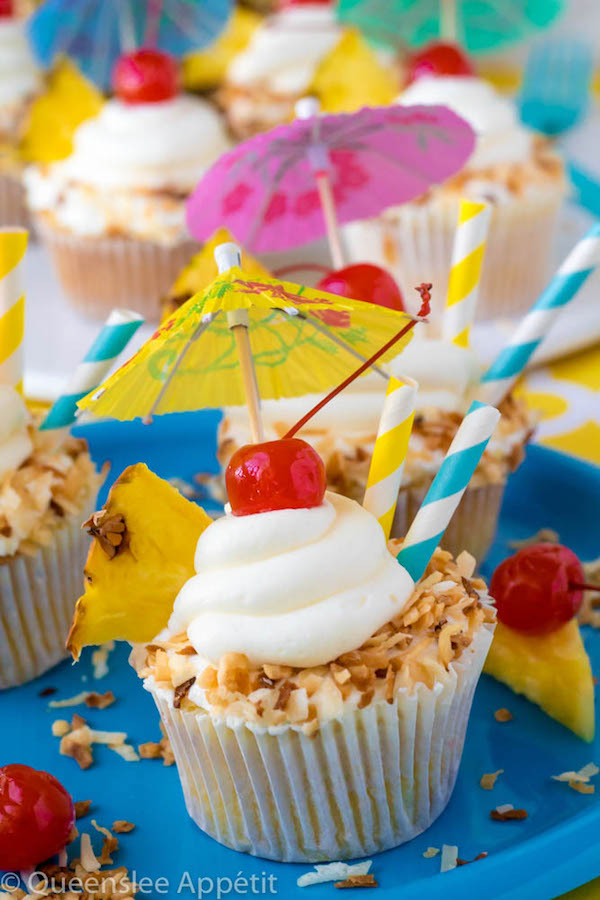 Decoration
This recipe makes a lot of frosting because I decided to use the same decoration technique I did with these Banana Caramel Cupcakes. 
I started by squeezing out a large poof of frosting on top of the cupcakes. I then used a small offset spatula to spread out the top and sides of the frosting before dipping them in some toasted coconut. I found this part to be a bit difficult because the pineapple filling was sitting on top of the cupcake, underneath the frosting causing it to slip around a bit. 
Once the sides were covered with the coconut (did I mention I hate coconut? I had to scrape it off before taking a bite), I piped another swirl of the frosting on the top, making sure to only pipe in the centre so the shredded coconut was visible.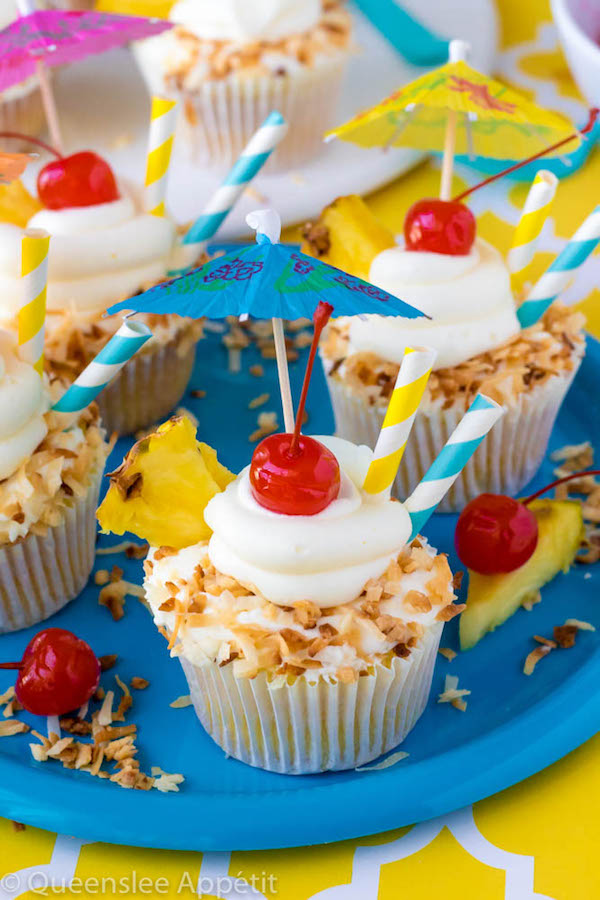 I finished these cupcakes off with some maraschino cherries, which might I say, are pretty nasty but they look gorgeous so I don't mind. And finally a chunk of fresh pineapple and a cocktail umbrella, because no Pina Colada is complete without one! I also added some paper straws so these can really look like a Pina Colada drink!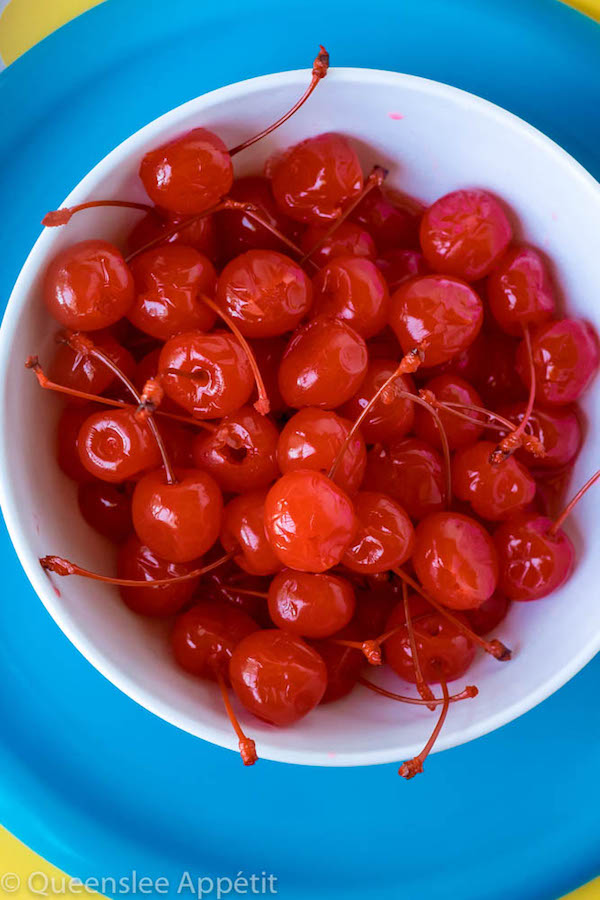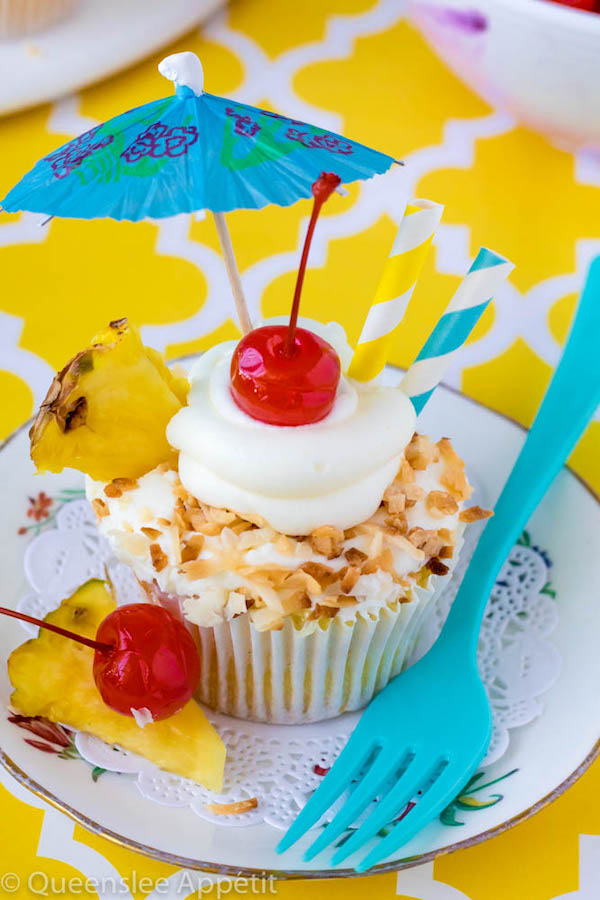 How adorable are these cupcakes? They are the perfect homage to the classic summer drink. It's a great treat to bring to any barbecues or parties you go to this summer. Your friends and family will surely be blown away when they see and taste this creative dessert!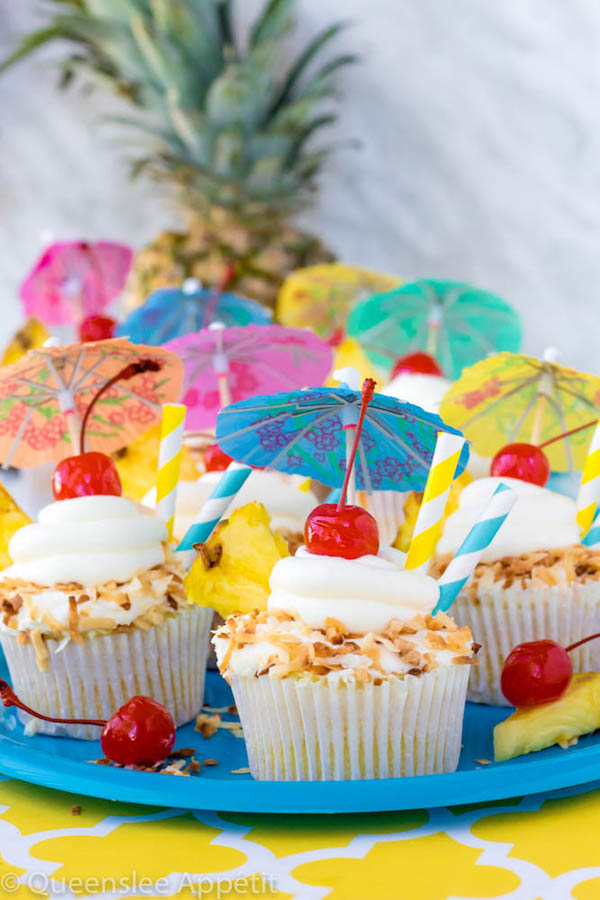 >>PIN ME FOR LATER<<

SHOP THE RECIPE
Here are some of the tools I used to create today's recipe: 
Cupcake Pan | Cupcake Scoop | Apple Corer | Wilton 2A Tip | Pastry Bag | 3 Qt. Saucepan | Cocktail Umbrellas | Blue Paper Straws | Yellow Paper Straws |
FOLLOW QUEENSLEE APPÉTIT
Like what you see? Make sure you're following Queenslee Appétit for more tasty recipes!
Pinterest | Instagram | Facebook | Twitter |
Did you make a recipe? I'd love to see how it turned out! Follow me on Instagram and use the hashtag #queensleeappetit so I can see all of the Queenslee Appétit recipes you've made!
Never miss a recipe, SUBSCRIBE at the bottom of this post!
Have any questions about the recipe? Contact me here, and I'll be happy to help!
Let's get baking!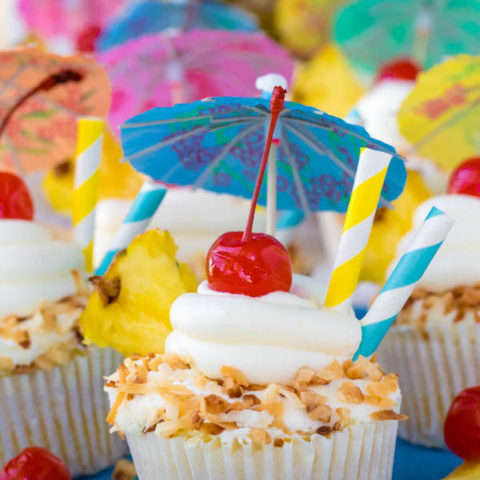 Pina Colada Cupcakes
Yield: 16 - 18 cupcakes

Cook Time: 26 minutes

Total Time: 26 minutes

These Pina Colada Cupcakes are a yummy tropical treat perfect for the summertime!
Ingredients
Homemade Pineapple Filling:
1/2 cup granulated sugar
2 Tbsp cornstarch
20 oz can crushed pineapple (juice included)
2/3 cup water
Pina Colada Cupcakes:
1 and ½ cups All purpose flour
1 and ½ cups granulated Sugar
1 and ½ teaspoons Baking powder
½ teaspoon Baking soda
½ teaspoon salt
2 large Eggs, room temperature
1 and 1/2 teaspoons Coconut Extract
1 tsp pure rum extract (or 1 Tbsp rum)
⅓ cup pineapple juice (from canned pineapples)
½ cup sour cream, room temperature
½ cup coconut milk, room temperature
Pina Colada Buttercream:
1 cup unsalted butter, softened to room temperature
1 cup hi-ratio shortening (can substitute with solid vegetable shortening)
1/4 tsp salt
8 cups powdered sugar, sifted
1/4 cup canned coconut milk (shake well before opening)
1/4 cup pineapple juice
2 tsp pure coconut extract
1 tsp pure rum extract (or 1 Tbsp rum)
Topping:
Toasted Coconut
Maraschino Cherries with Stems
Quartered Pineapples
Umbrellas
Instructions
For the Homemade Pineapple Filling:
Remove 2/3 cup of pineapple juice from your can of crushed pineapples. Make sure there's no chunks in the juice. Set aside in the refrigerator until ready to use.
In a medium saucepan, combine the sugar, cornstarch, remaining crushed pineapples, and water. Heat over medium heat until mixture begins to boil.
Once mixture begins to boil, continue to cook, stirring constantly until the mixture is thickened, 6-8 minutes. Allow to boil for an additional 1-2 minutes.
Remove from heat and allow to cool completely at room temperature. Transfer to an airtight jar and chill completely in the refrigerator overnight.
For the Pina Colada Cupcakes:
Preheat the oven to 350°F (177°C), and line a standard cupcake pan with paper liners. Line a second pan with 4-6 liners. This recipe makes about 16-18 cupcakes.
In a large mixing bowl, add flour, sugar, baking powder, baking soda and salt. Whisk to combine.
In a measuring cup, whisk together the eggs, coconut extract, rum extract pineapple juice, sour cream and coconut milk. Pour the wet ingredients into the dry ingredients and whisk to combine. Fill each liner HALFWAY full.
Bake in preheated oven for 14-18 minutes or until a toothpick inserted into the cupcake comes out with a few moist crumbs. Allow cupcakes to cool in pan for 5 minutes.
Remove the cupcakes and transfer to a wire rack to cool completely before decorating. Meanwhile, make the buttercream.
For the Pina Colada Buttercream:
In the bowl of a stand mixer fitted with the paddle attachment, or in a large bowl with a hand-held mixer, beat the butter, shortening and salt on medium speed until light and fluffy (about 5-6 minutes).
Turn the mixer to low, and gradually add half of the sugar one cup at a time. Once incorporated, add coconut milk, pineapple juice, coconut and rum extract and beat until combined.
Add the remaining powdered sugar one cup at a time and mix on low until combined.
Once the sugar is combined, increase mixer speed to high and whip until light and fluffy, about 5-7 minutes.
Assembly:
Core the centre of each cupcake using the bottom of a large piping tip, or an apple corer.
Using a spoon or piping bag, fill the cupcakes with the pineapple filling.
Fit a piping bag with a large round tip and fill with the pina colada frosting. Squeeze a large amount of frosting on top of the cupcake.
Use a small offset spatula to smooth the top and edges. Roll the sides in the toasted coconut. Pipe a swirl of frosting on top of the cupcake.
Garnish with a maraschino cherry, pineapple quarters, a cocktail umbrella and a paper straw, if desired. Enjoy!
Notes
- Once you fill all the cupcakes, you'll have a lot of the pineapple filling left. You can either cut the recipe in half, or you can use the remaining filling as a topping for scones, pancakes, biscuits, toast, ice cream and more!


©QUEENSLEE APPÉTIT. All images & content are copyright protected. Please do not use my images without prior permission. If you want to republish this recipe, please re-write the recipe in your own words, or link back to this post for the recipe.
BON APPÉTIT!
Love, Dedra
This post may contain affiliate links. Please see my full disclosure policy for details.