Best Ever Hot Chocolate! This super chocolatey hot chocolate is thick, rich and creamy. It's perfect drink to sip on during those cold winter nights!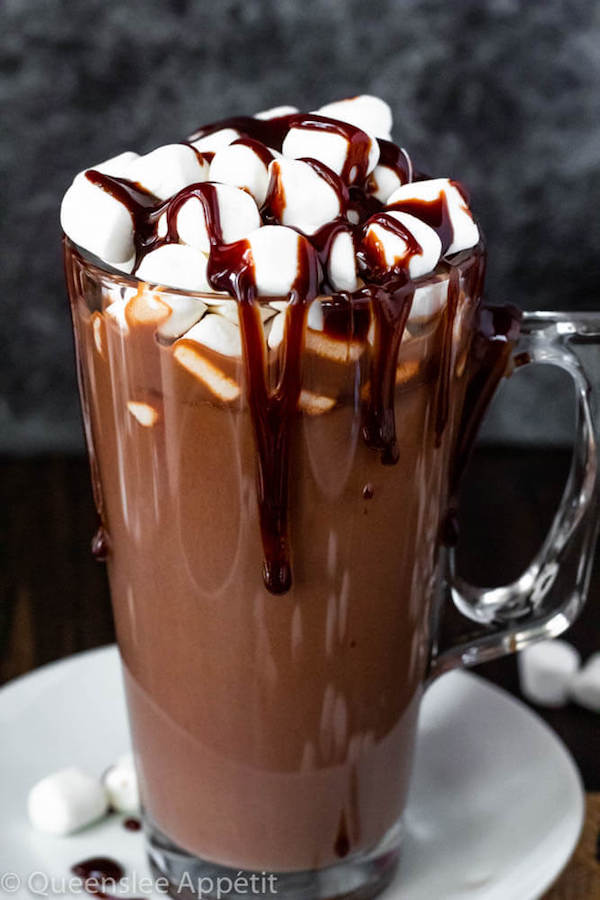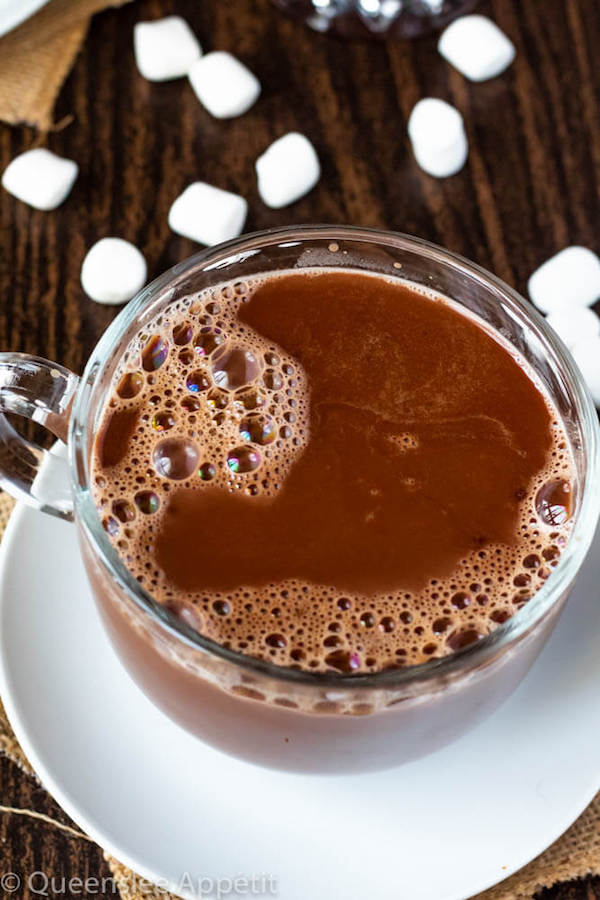 Happy New Year everyone! Hope you all enjoyed your holiday, and for those of you that re-created some of my recipes, I hope they were a hit!
We're kicking off the New Year with the best hot chocolate recipe ever! Even though Christmas has passed, it's still Winter which means it's still acceptable to drink tons of delicious hot chocolate to keep warm.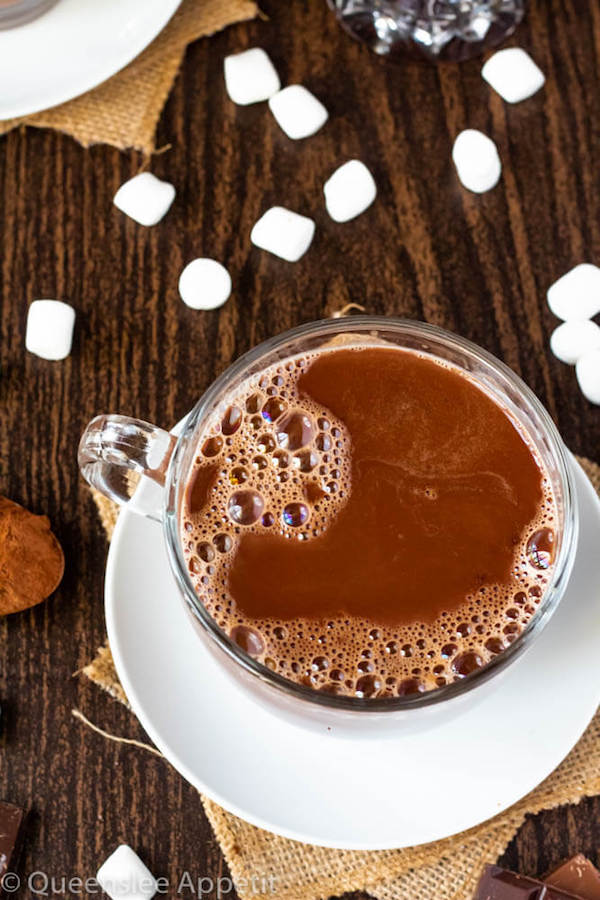 Best Ever Hot Chocolate
I've tried lots of hot chocolate from different establishments, I've even made my own hot chocolate from others recipes. That being said, this right here is the best hot chocolate I've ever had! It's perfectly rich, creamy, chocolatey, steamy and can be decked out with a ton of fancy toppings for the ultimate hot chocolate!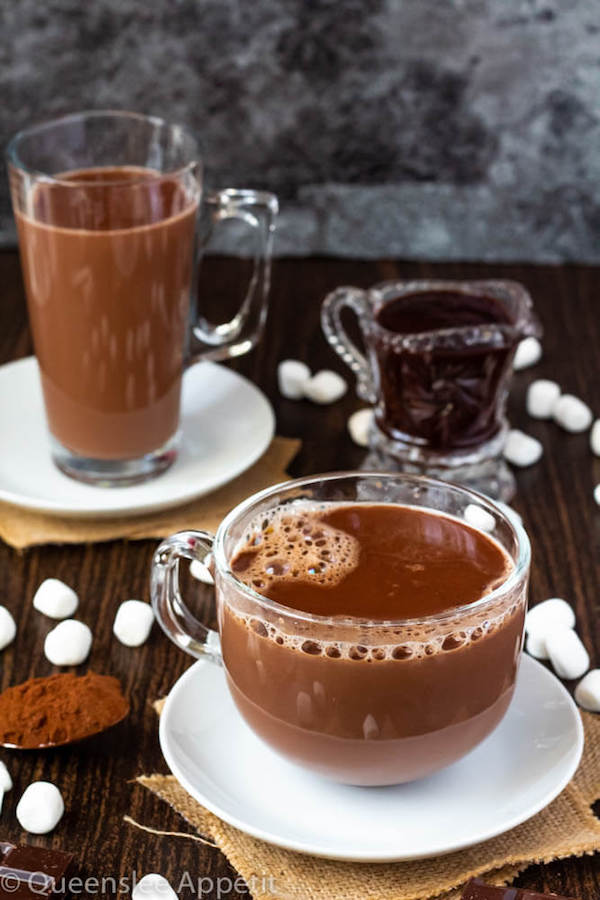 What's in this Decadent Hot Chocolate?
Let's start with the star of the show: chocolate. I like to use both milk chocolate and dark chocolate in my hot chocolate recipes. The dark chocolate gives a deeper and richer flavour while the milk chocolate adds some sweetness.
I like using chopped bar chocolate instead of chocolate chips because the chocolate chips don't melt as smoothly, at least not with my experience. I always end up with grains of chocolate in my hot chocolate which I don't like. When using chopped chocolate the hot chocolate will be completely smooth and rich all throughout.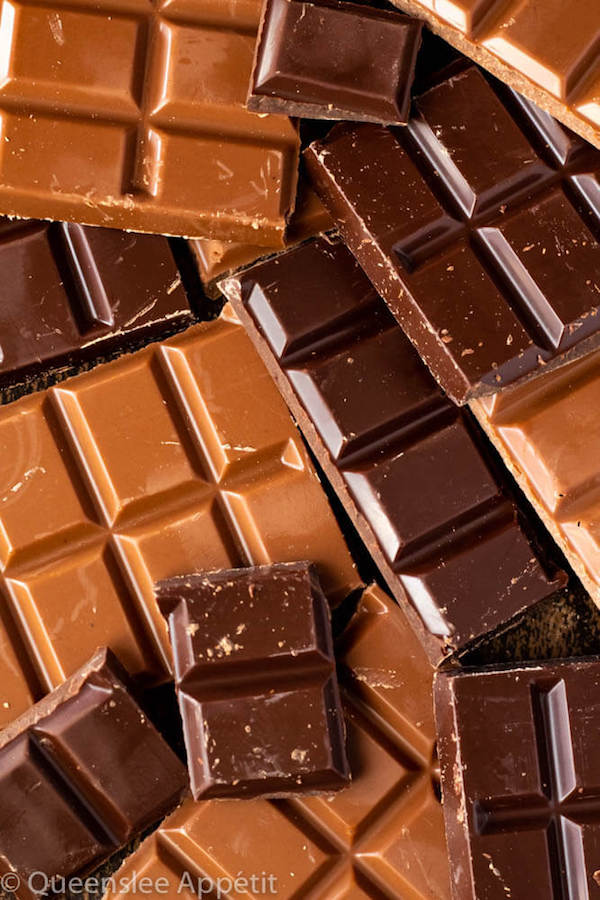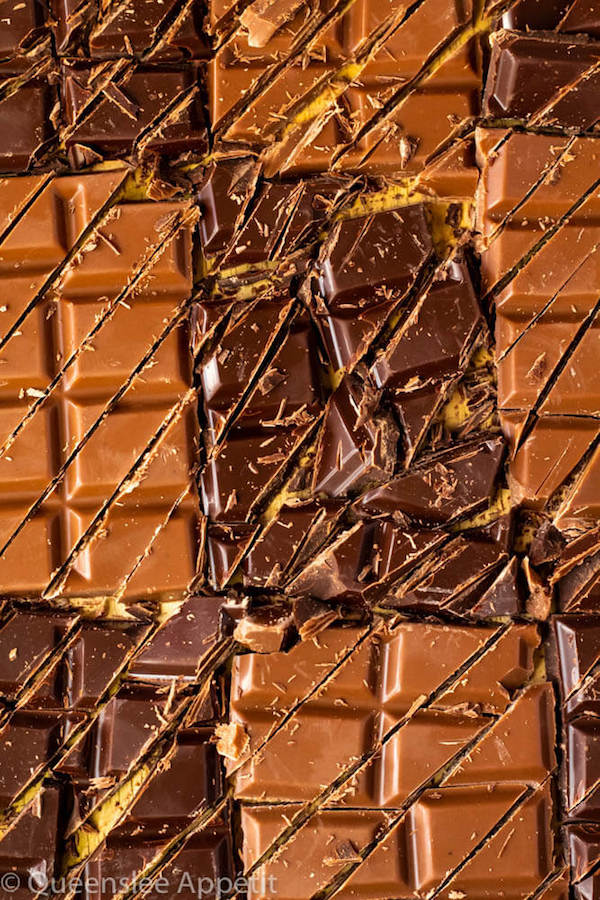 Next up is the liquid. I like to use whole milk because it's the only dairy milk I can keep down, but you can substitute for soy, 2%, almond or any other type of dairy or non-dairy milk you prefer.
A lot of recipes use cornstarch to thicken up their hot chocolate, but I prefer to use heavy cream to achieve a nice thick hot chocolate. Not only does the heavy cream thicken up the hot chocolate, it also makes it extra creamy! So please don't substitute or leave it out, trust me you'll love it.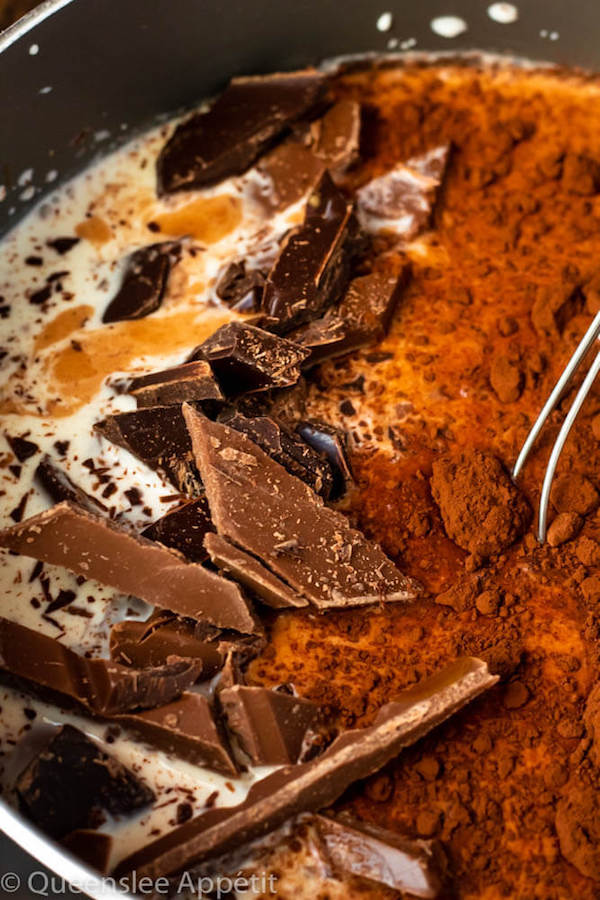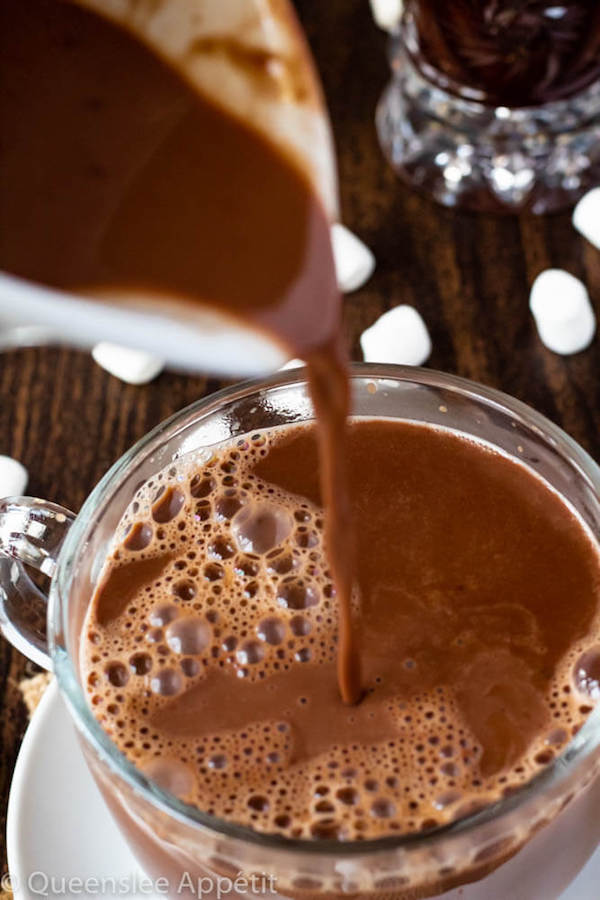 Best Hot Chocolate Toppings
Every perfect hot chocolate needs the perfect topping (with an exception of my Eggnog White Hot Chocolate). I mean this hot chocolate is one million percent enjoyable without any topping, but I just love to fancy things up a bit!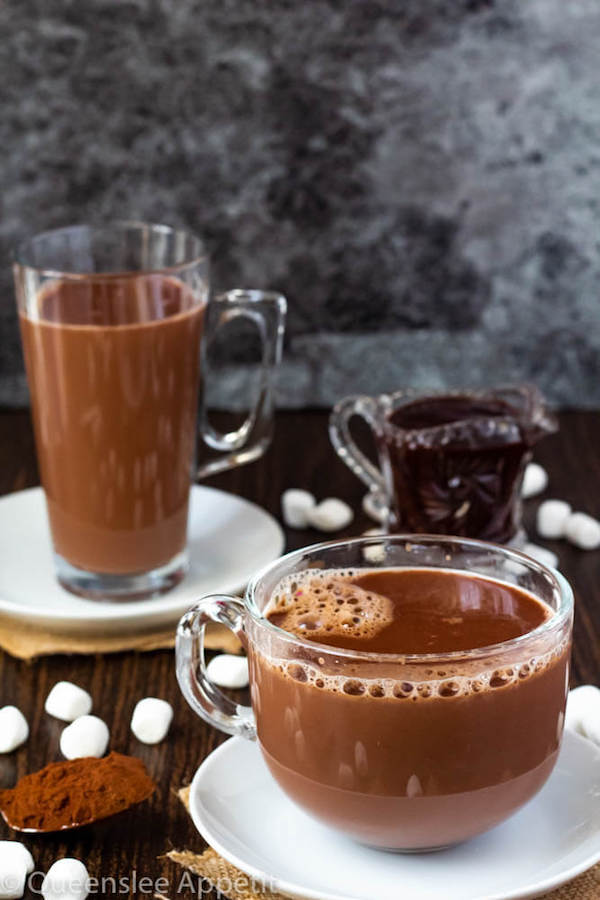 Whipped Cream vs Marshmallows
Ahh the debate older than time itself: whipped cream or marshmallows, which is the better hot chocolate topping? My opinion? Both!
I love topping my hot chocolate with a generous swirl of sweet whipped cream and maybe some chocolate curls! You can either swirl the whipped cream and chocolate curls into the hot chocolate or you can drink the liquid gold, then enjoy spoonfuls of whipped cream at the end. So good!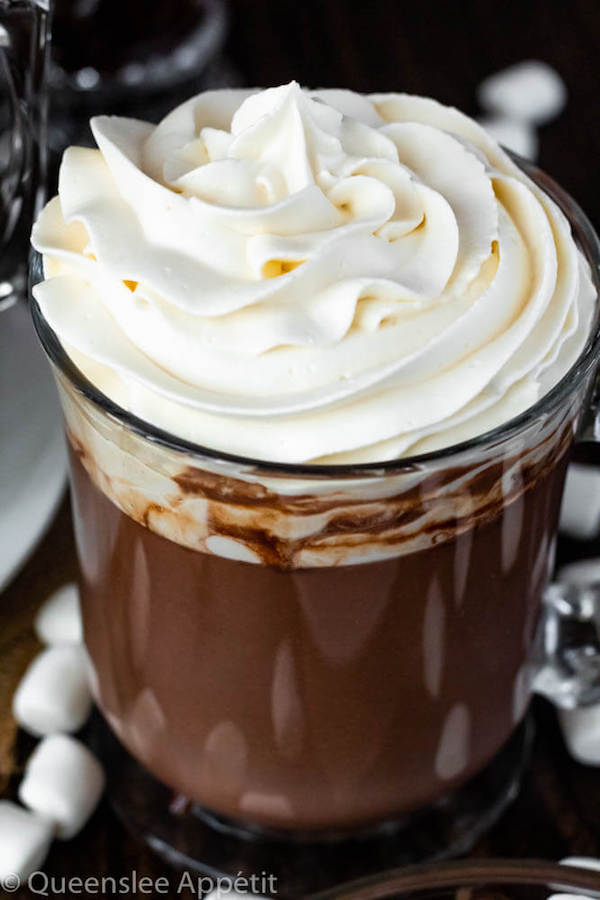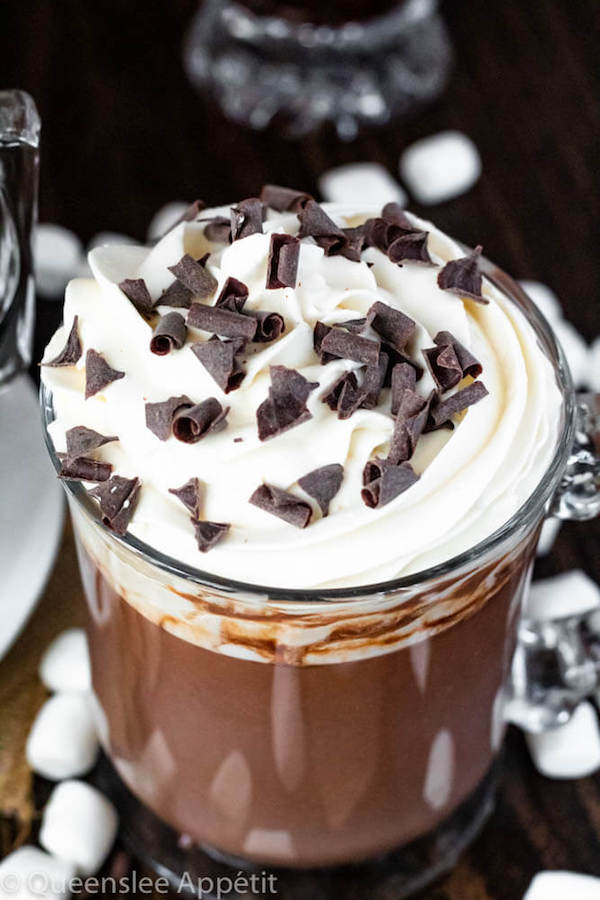 And I absolutely LOVE hot chocolate topped with mini marshmallows. Emphasis on the MINI. Large marshmallows just won't cut it. Pile on a handful of those adorable miniature marshmallows and let it melt and blend with the hot chocolate. Trust me, there's nothing better than a bunch of gooey marshmallows that have been marinating in a mug of hot chocolate. And the drizzle of chocolate sauce on top is an added bonus!
Other suggestions you could try as a hot chocolate topping are cinnamon sticks, marshmallow fluff (I have to try this), or a few scoops of ice cream for a delicious ice cream float!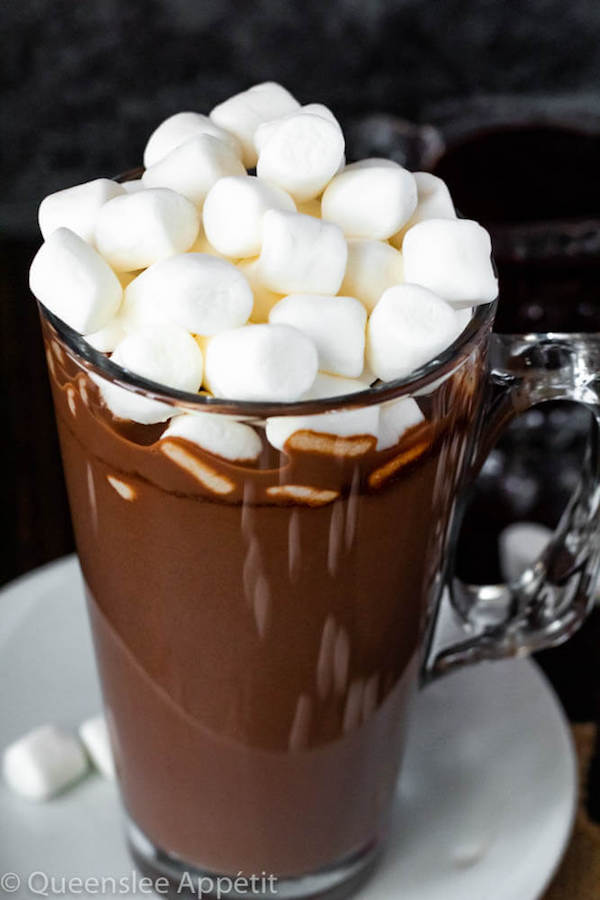 This hot chocolate is a real treat after a long day out in the cold. It's simple, thick, rich and super decadent — totally knocks those store-bought packages out of the park! Sip and savour the best hot chocolate you'll ever have, ladies and gents.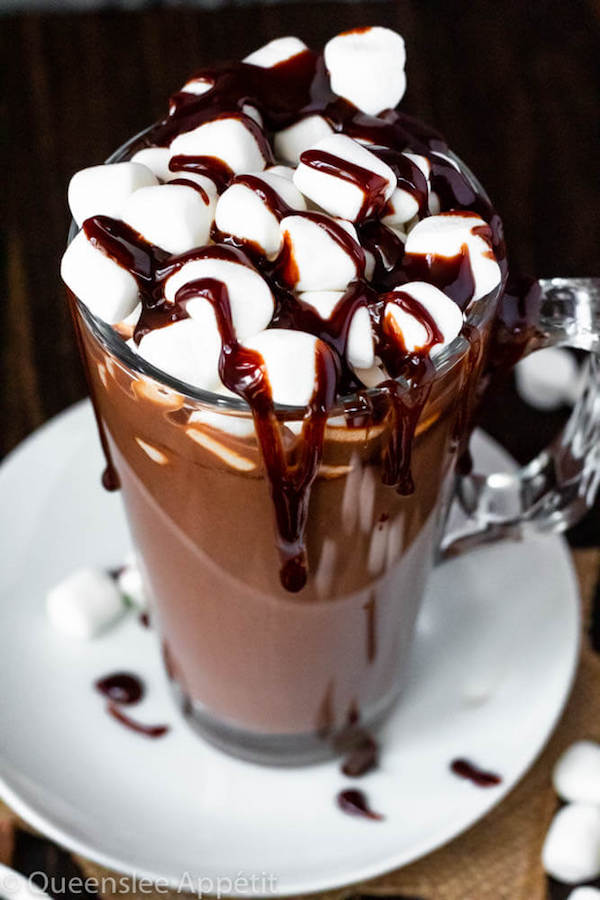 More Hot Chocolate Recipes:
Chocolate Lovers Hot Chocolate
You May Also Like: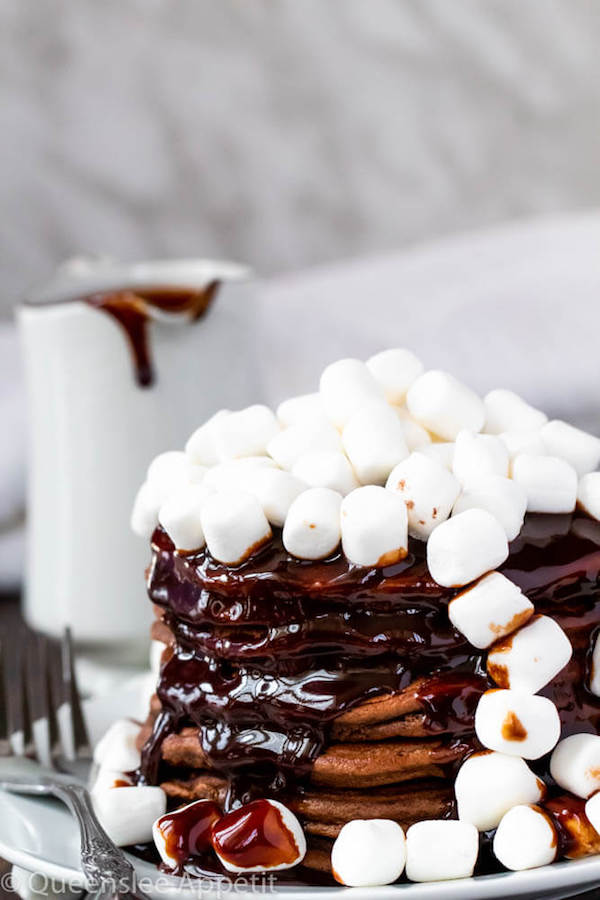 >>PIN ME FOR LATER<<

FOLLOW QUEENSLEE APPÉTIT
Like what you see? Make sure you're following Queenslee Appétit for more tasty recipes!
Pinterest | Instagram | Facebook | Twitter |
Have any questions about the recipe? Contact me here, and I'll be happy to help!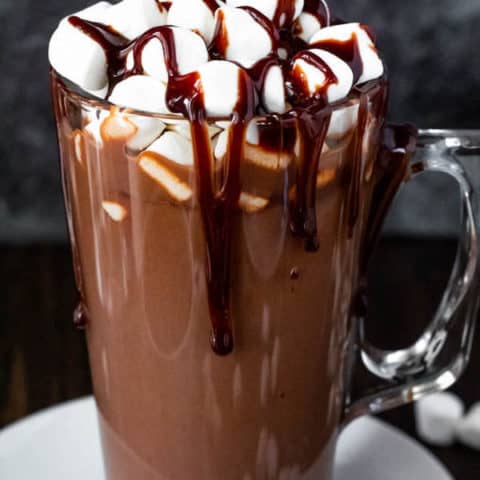 Best Ever Hot Chocolate
Best Ever Hot Chocolate! This super chocolatey hot chocolate is thick, rich and creamy. It's perfect drink to sip on during those cold winter nights!
Ingredients
Hot Chocolate:
3 cups whole milk
1 cup heavy cream
2 tablespoon unsweetened cocoa powder
1 teaspoon pure vanilla extract
6 oz. milk chocolate, chopped
6 oz. dark or semisweet chocolate, chopped
Optional Toppings:
Whipped cream (recipe below)
Mini marshmallows
Chocolate shavings
Chocolate sauce
Marshmallow fluff
Cinnamon Sticks
Candy Canes
Sweetened Whipped Cream: (optional)
½ cup heavy cream, chilled
4 tablespoon powdered sugar
½ teaspoon pure vanilla extract
Instructions
For the Hot Chocolate:
Add the milk, cream, cocoa, vanilla and chopped chocolate to a medium saucepan and heat over medium-low heat, whisking constantly, until the chocolate is completely melted and the mixture is simmering, about 8-10 minutes. Do not boil.
Pour hot chocolate into mugs. Top with one of the above optional toppings, if desired (Whipped Cream recipe below, if using) Serve and enjoy!
For the Sweetened Whipped Cream:
In a medium stainless steal bowl, using a handheld mixer, whip the chilled cream, powdered sugar and vanilla until cream holds peaks.
Recommended Products
As an Amazon Associate and member of other affiliate programs, I earn from qualifying purchases.
BON APPÉTIT!
Love, Dedra ❤
DID YOU MAKE A RECIPE?
Follow me on Instagram and use the hashtag #queensleeappetit so I can see all of the Queenslee Appétit recipes you've made!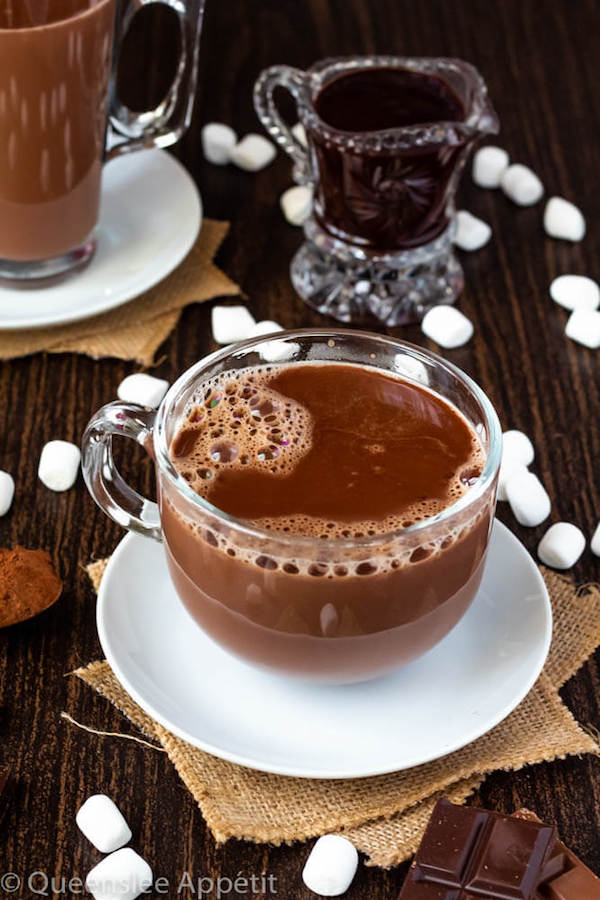 ©QUEENSLEE APPÉTIT. All images & content are copyright protected. Please do not use my images without prior permission. If you want to republish this recipe, please re-write the recipe in your own words, or link back to this post for the recipe.
This post may contain affiliate links. Please see my full disclosure policy for details.