This Salted Caramel Chocolate Chip Banana Bread is soft, moist and fluffy. Packed with chocolate chips and swirled with salted caramel sauce, this banana bread will surely be your new favourite!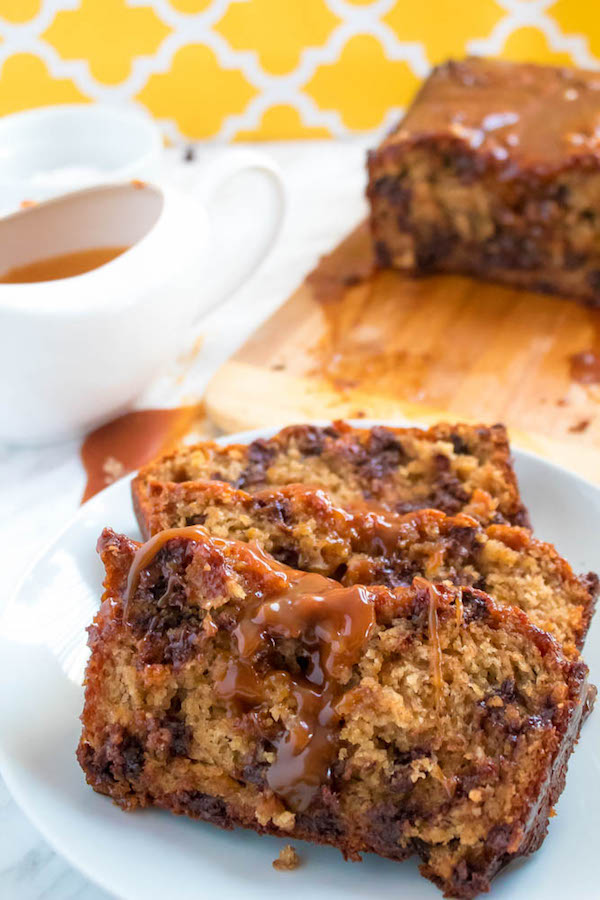 Ever since I made my popular "Most Amazing Banana Bread", I've fallen in love with banana bread. I've been purposely buying bananas (despite how much I hate eating them) and letting them overripe just so I could make my perfect banana bread over and over again!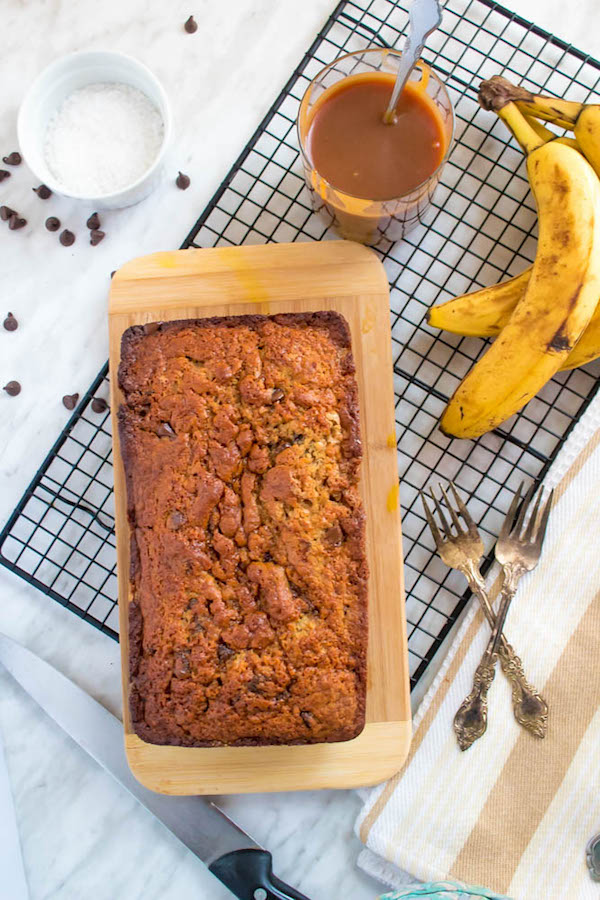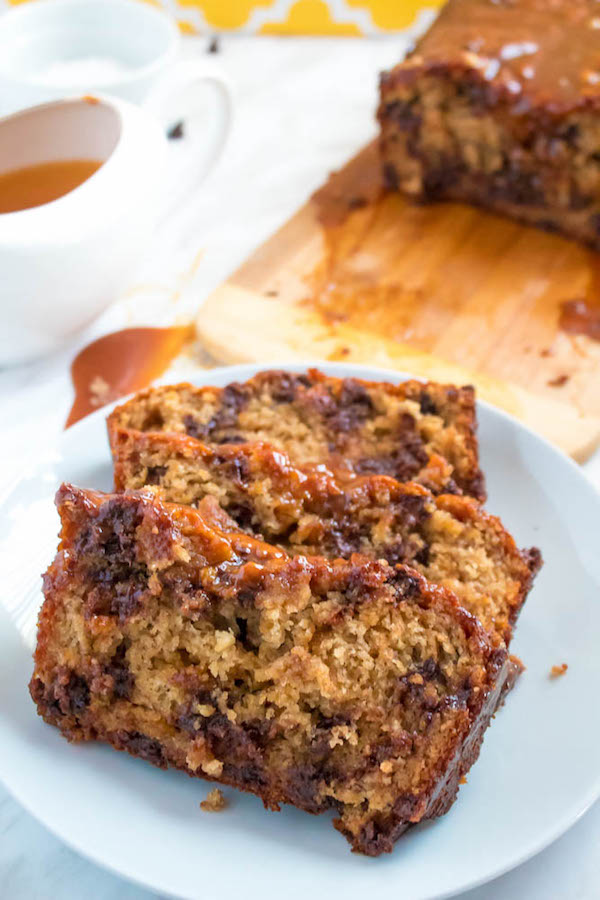 As amazing as my plain and simple banana bread recipe is, I decided it was time for a change. I always added chopped nuts to my banana bread to add more flavour and texture, but I wanted to try something new so I added chocolate chips instead. Now chocolate chip banana bread sounds great, but it was still too plain for me — so I swirled in some sweet and salty Salted Caramel Sauce!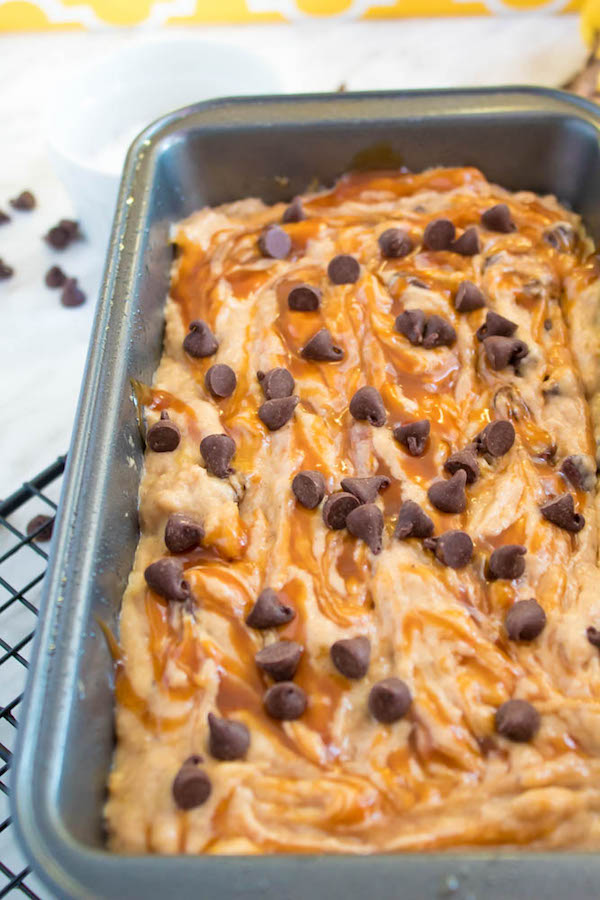 This decadent bread is moist, soft, fluffy and full of fantastic flavours. You get the taste of banana, rich chocolate, and sweet and salty caramel in every bite! How yummy is that?! It's the perfect excuse to enjoy dessert for breakfast.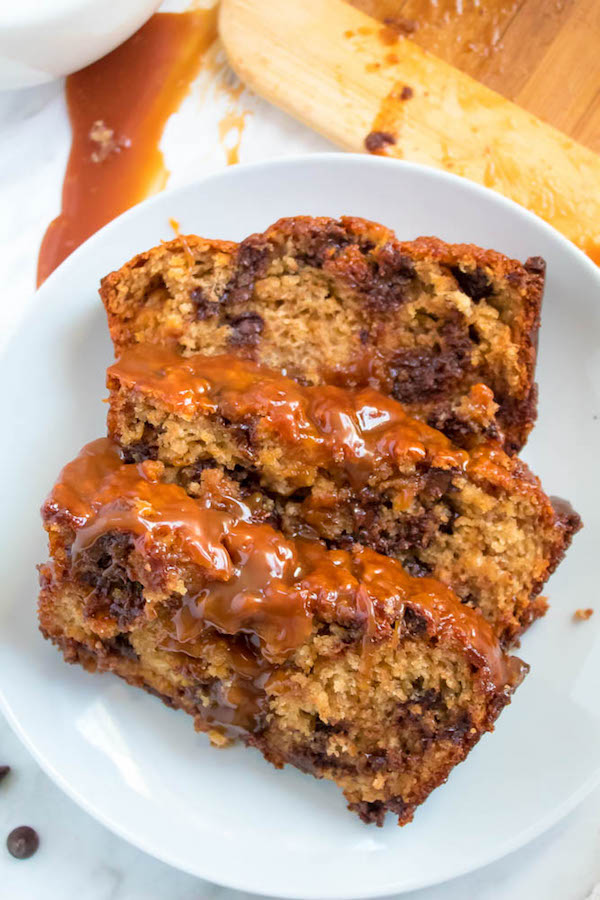 For the banana bread itself, I like to cream the butter in a stand mixer, rather than melting it like most people do. Melting the butter may be easier, but creaming the butter and sugar together makes this bread the super light and fluffy texture that I love!
Instead of using white granulated sugar, like I did for my previous banana bread recipe, I used light brown sugar. The brown sugar did wonders for this banana bread!! The brown sugar adds moisture and makes the bread taste even better!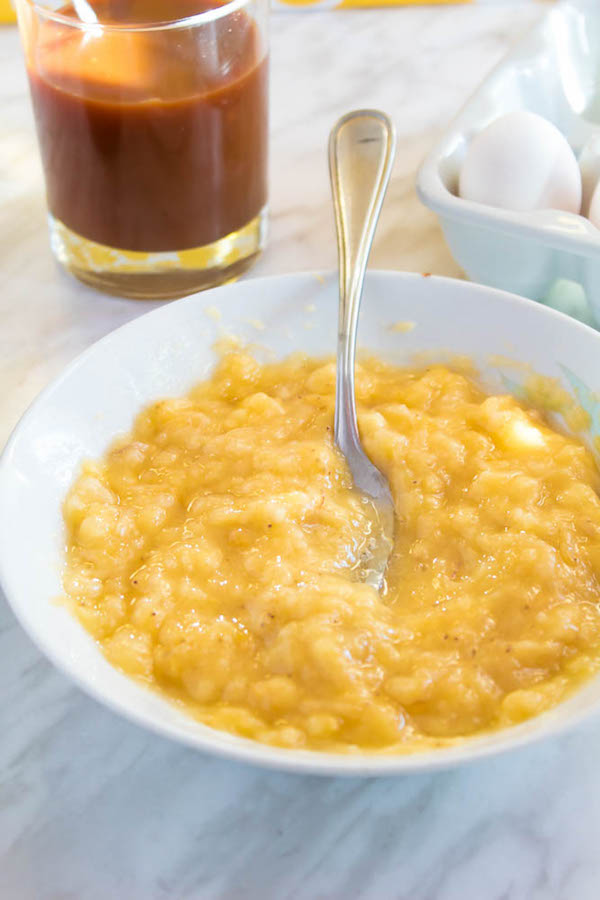 I also added a dash of cinnamon for more flavour, and buttermilk for a soft and tender crumb. Sour cream or greek yogurt will yield the same results so feel free to substitute with either one.
This bread is honestly perfection on its own, but we're gonna throw in some chocolate chips for good measure. I mean, chocolate just makes everything better right? Bad days, cramps, depression and banana bread!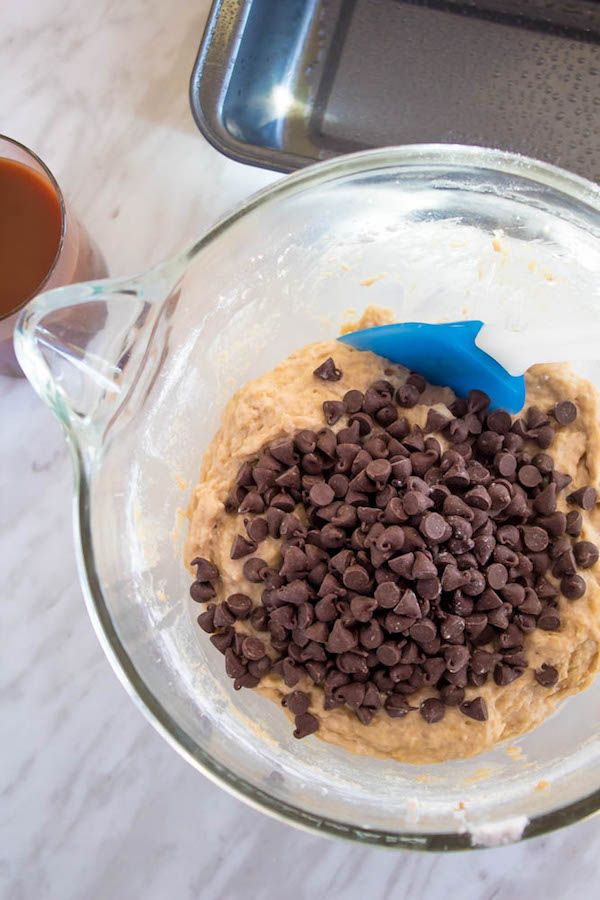 Next up is the salted caramel sauce. I made a batch of my silky smooth Homemade Salted Caramel Sauce and swirled it into the chocolate chip banana bread batter. The salted caramel sauce is super simple to make and you probably already have all the ingredients on hand — granulated sugar, salted butter, heavy cream and salt! You can even throw in some vanilla for extra flavour.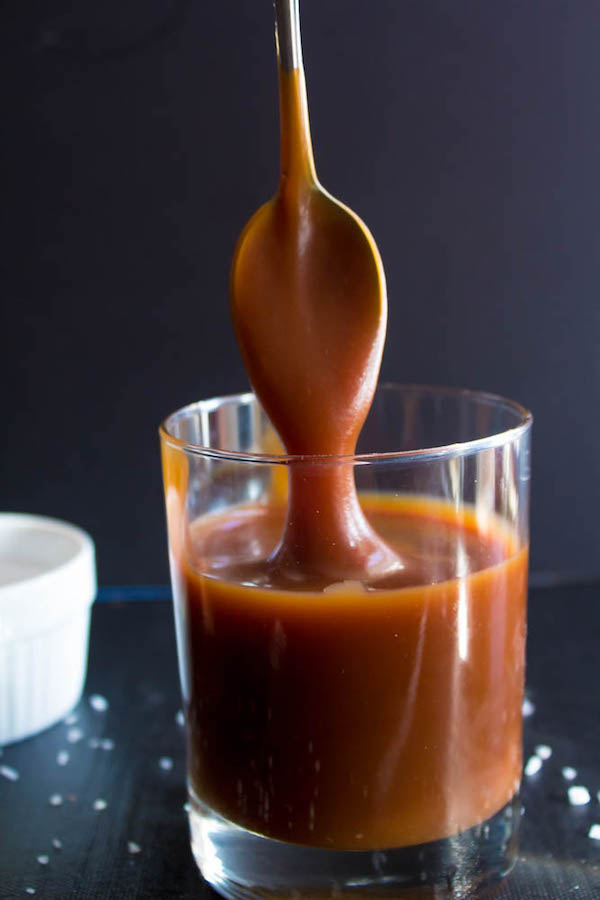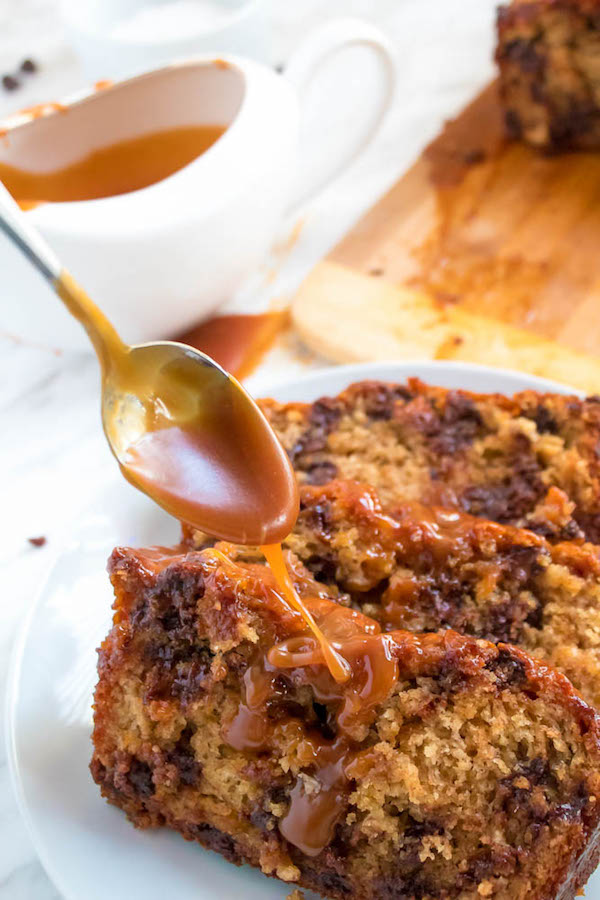 To add the salted caramel sauce to the banana bread, pour half the batter into your loaf pan, then drizzle a generous amount of caramel sauce on top and swirl it into the batter. Pour the rest of the banana batter on top and swirl in more caramel sauce. This ensures theres yummy caramel all throughout this bread!
Now sprinkle some more chocolate chips on top, because you could never have enough chocolate, am I right?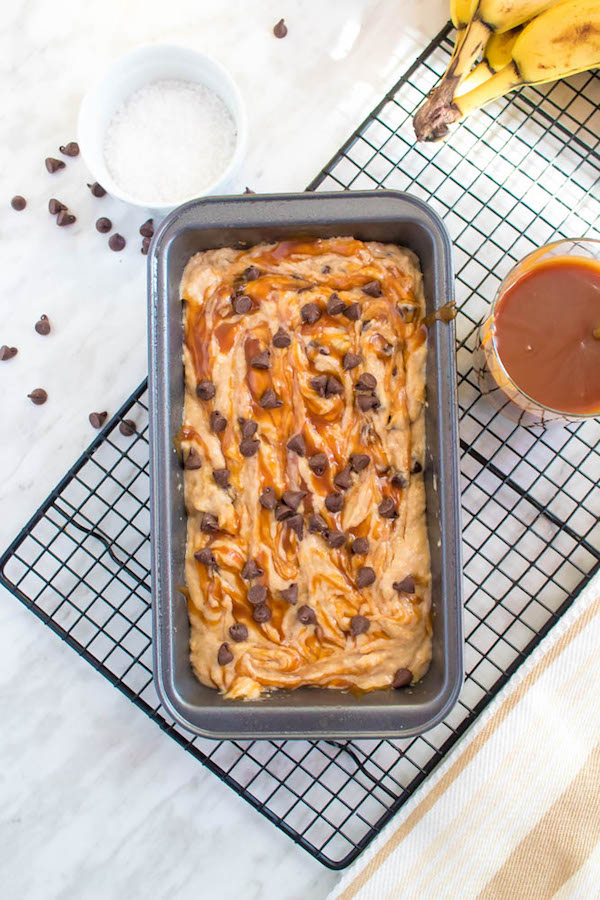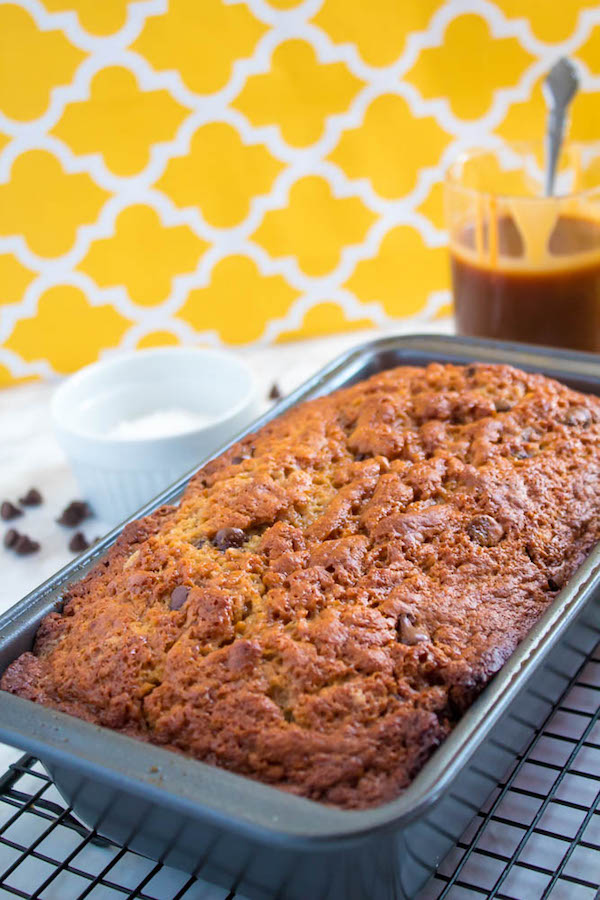 I've mentioned before that the smell of banana bread in the oven is one of the greatest smells in the world. Add some chocolate chips and salted caramel sauce to the mix and the smell will knock you off your feet!
Once the bread has baked and cooled, drizzle some more salted caramel sauce on top and enjoy for breakfast or dessert!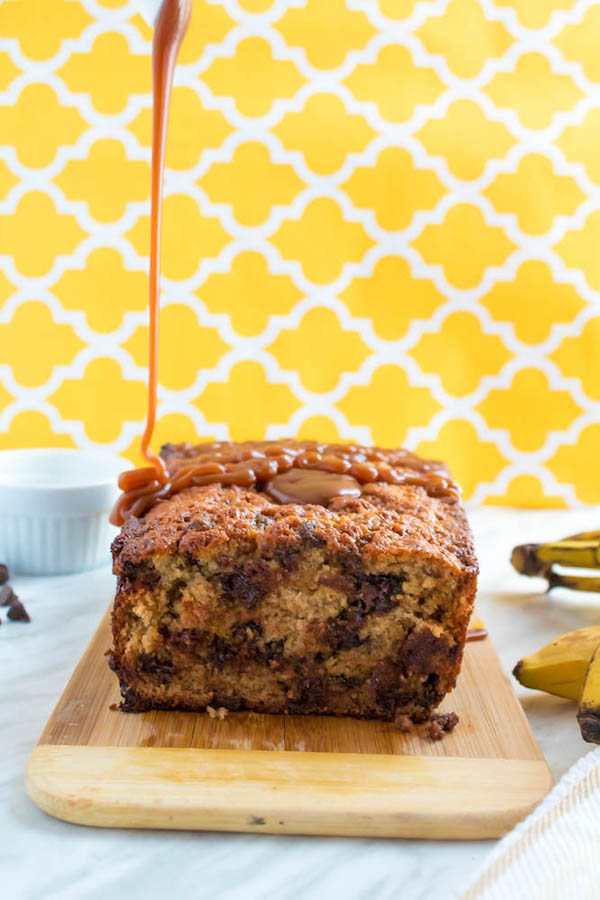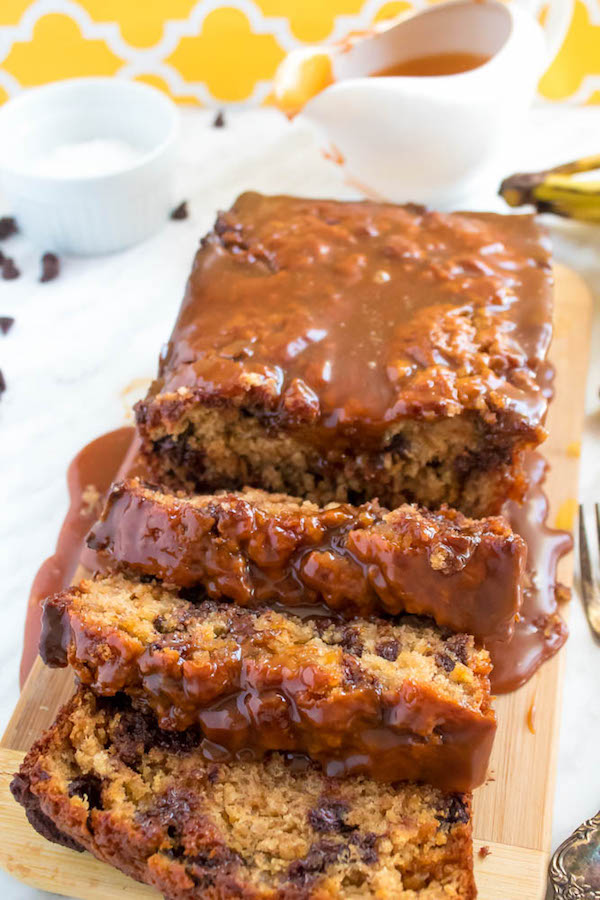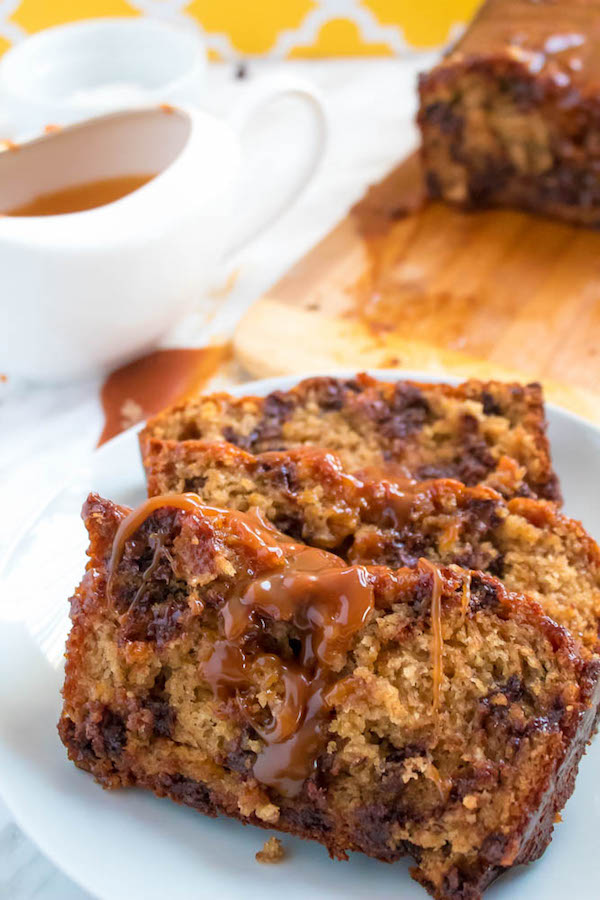 >>PIN ME FOR LATER<<

Like this recipe? Then you'll love these!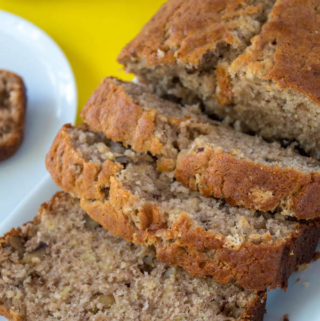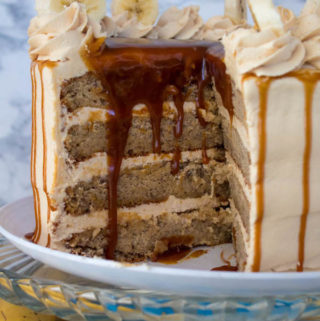 Follow Queenslee Appétit
Pinterest | Instagram | Facebook | Twitter |
Did you make a recipe? I'd love to see how it turned out! Follow me on Instagram and use the hashtag #queensleeappetit so I can see all of the Queenslee Appétit recipes you've made!
Let's get baking!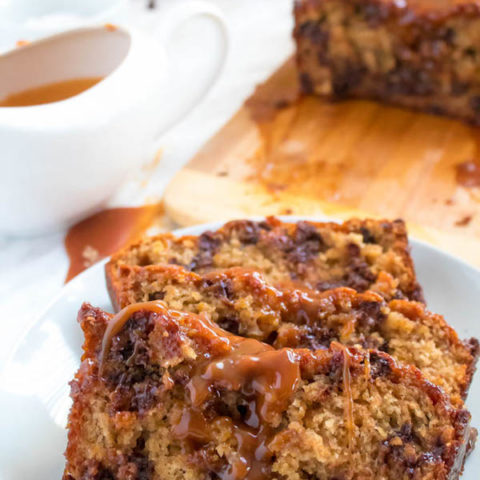 Salted Caramel Chocolate Chip Banana Bread
This Salted Caramel Chocolate Chip Banana Bread is soft, moist and fluffy. Packed with chocolate chips and swirled with salted caramel sauce, this banana bread will surely be your new favourite!
Ingredients
1/2 cup unsalted butter, softened to room temperature
1 cup light brown sugar, packed
2 large eggs, room temperature
1 tsp pure vanilla extract
3 large overripe bananas, mashed or puréed
1/2 cup buttermilk, room temperature
2 cups all purpose flour
1 Tbsp baking powder
1/4 tsp baking soda
1/2 teaspoon salt.
1 tsp ground cinnamon (optional)
1 cup semisweet chocolate chips + more for topping
Instructions
Prepare the Homemade Salted Caramel Sauce, then set aside to cool.
Preheat oven to 350℉ (177℃). Lightly grease a 9x5-inch loaf pan with non-stick cooking spray. Set aside.
In the bowl of a stand mixer fitted with a paddle attachment, or in a large mixing bowl using a handheld mixer, cream the butter and sugar on medium speed until light and fluffy, about 3 minutes. Scrape down the sides and bottom of the bowl.
With the mixer on low, add the eggs one at a time, mixing after each addition until just combined. Add vanilla and mashed bananas and mix on low to combine.
While the mixer is running, slowly pour in the buttermilk and continue to mix until combined. Turn off the mixer and scrape down the sides and bottom of the bowl.
In a separate bowl, sift the flour, baking powder, baking soda, salt and cinnamon. Whisk to combine.
Add all of the dry ingredients to the wet ingredients and mix on low speed until just combined. Do not overmix. Fold in chocolate chips.
Pour half of the batter into a 9x5 inch loaf pan and drizzle some of the salted caramel sauce on top and swirl with a butter knife (the amount depends on your taste, you can add as much or as little as you like).
Pour remaining batter on top and drizzle on more salted caramel. Swirl the caramel into the batter. Sprinkle more chocolate chips on top, if desired.
Bake in preheated oven for 50-55 minutes, or until a toothpick inserted into the bread comes out clean. Allow bread to cool completely on a wire rack.
Remove banana bread from the loaf pan and transfer to a serving platter. Drizzle more Salted Caramel Sauce on top, if you have any left. Enjoy!
Notes
- Buttermilk can be substituted for sour cream or greek yogurt.
- Feel free to use store bought salted caramel sauce instead of homemade.



©QUEENSLEE APPÉTIT. All images & content are copyright protected. Please do not use my images without prior permission. If you want to republish this recipe, please re-write the recipe in your own words, or link back to this post for the recipe.
Bon Appétit!
Love, Dedra ❤️