This Blueberry Banana Bread is soft, moist and fluffy and packed with fresh blueberries. Top it off with a sweet lemon glaze for a burst of citrus flavours!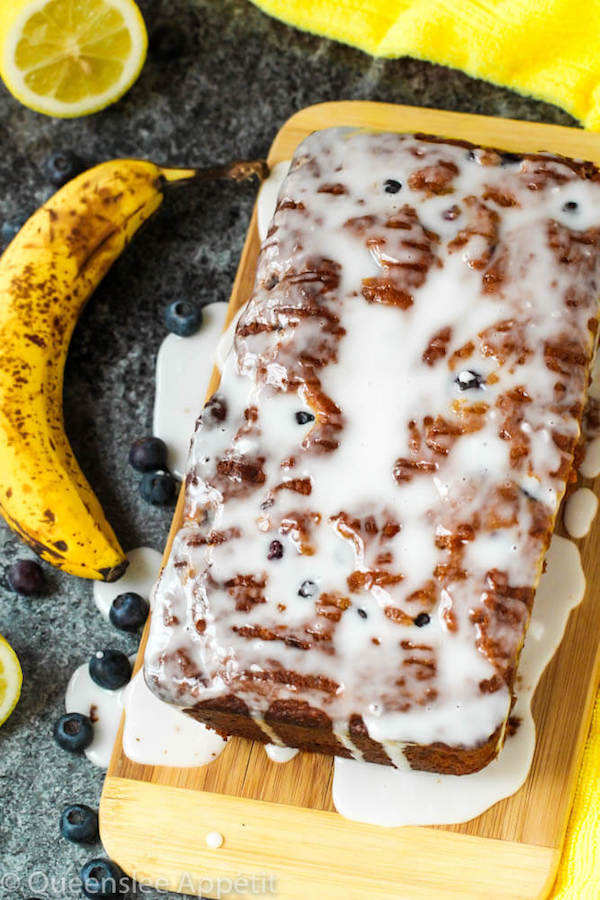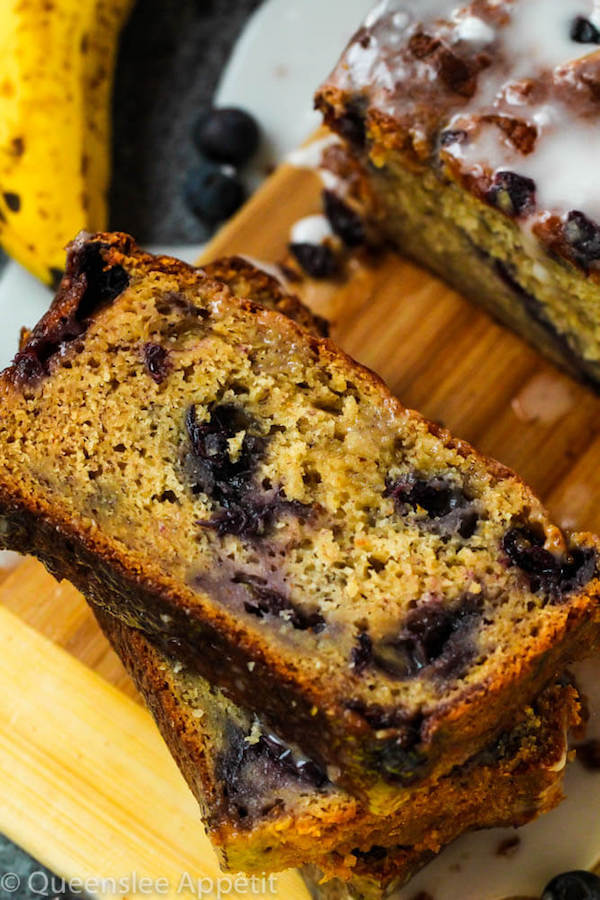 I'm back with another amazing banana bread recipe! A little over a year ago I shared my recipe for the most amazing banana bread ever, and that title can definitely be backed up by all the people who've made it themselves.
Since then I've created a few different flavours of banana bread using that recipe as the base. First I made a Salted Caramel Chocolate Chip version, then I made a Chocolate and Peanut Butter version, now I'm bringing you a Blueberry version of my best ever banana bread!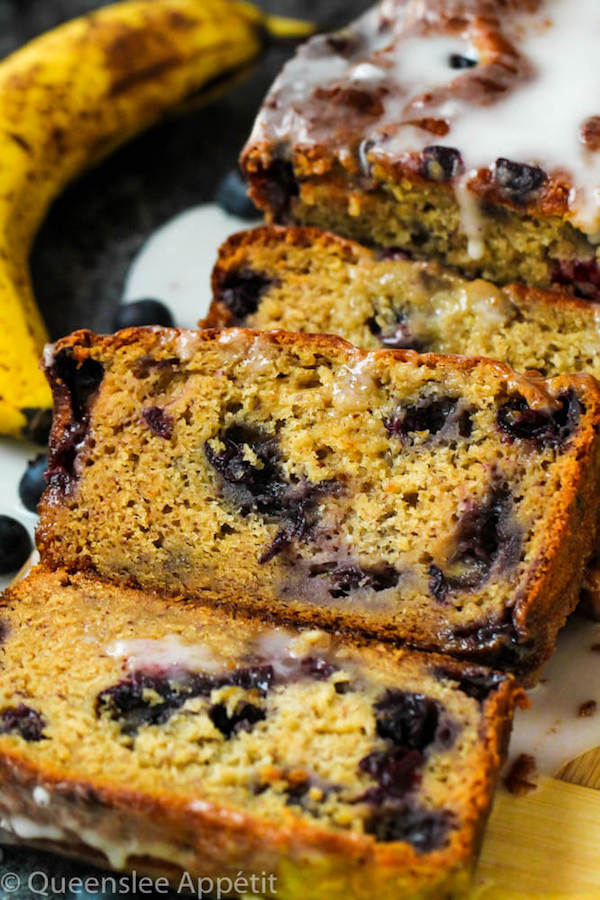 Blueberry Banana Bread
This Blueberry Banana Bread has everything you'd wish to have in a banana bread — full of banana flavour, super moist and STAYS moist, soft and fluffy texture, jam packed with sweet juicy blueberries, delicious enough to be enjoyed with or without the lemon glaze and most importantly, it's super addictive! I think I ended up eating half the loaf in one day without noticing.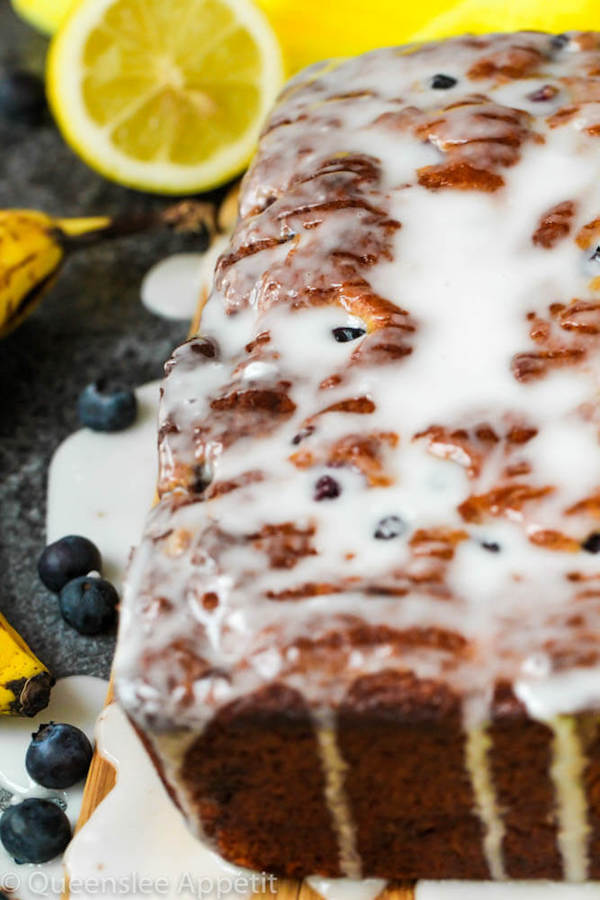 Secret to the Perfect Banana Bread
So to make this recipe, we start by whipping up a batch of my tried and true banana bread. Obviously the most important ingredient in a banana bread are the bananas. You want your bananas to be nice and overripe with brown spots all over the peel. If you have any bananas that are sitting around starting to go bad (but definitely NOT rotten), always make banana bread! It would be a crime not to.
And they have to be nice and mushy and speckled. Not firm and ripe enough for you to eat on its own. Regular ripe bananas will not give you a sweet and delicious banana bread, trust me.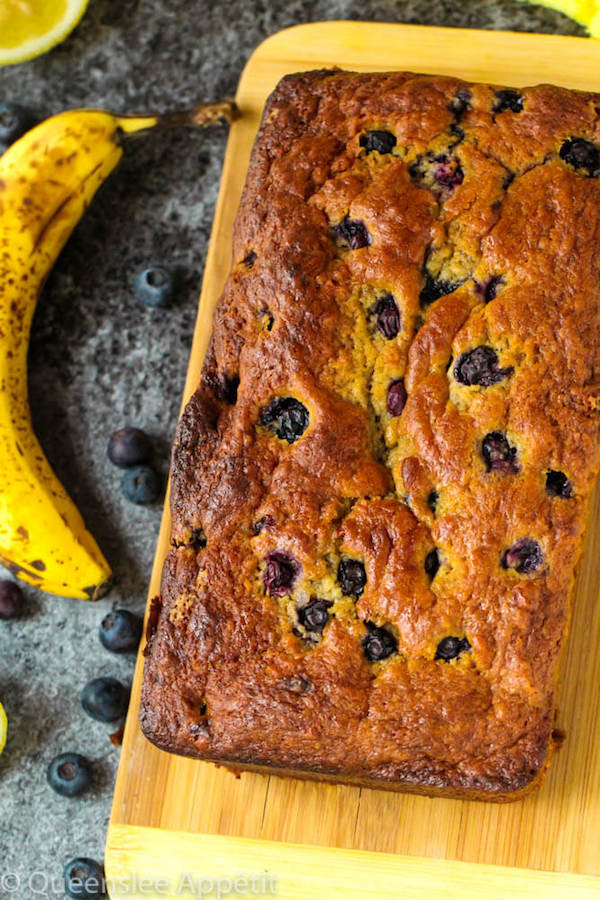 And if you decide to make this recipe, but don't have any overripe bananas at home, you can ripen them quickly if you put them in a brown paper bag and leave them on top of the refrigerator. This is the method I always use and within a week or less (depending on how ripe they were to begin with) my bananas are at the perfect stage of ripeness to bake with.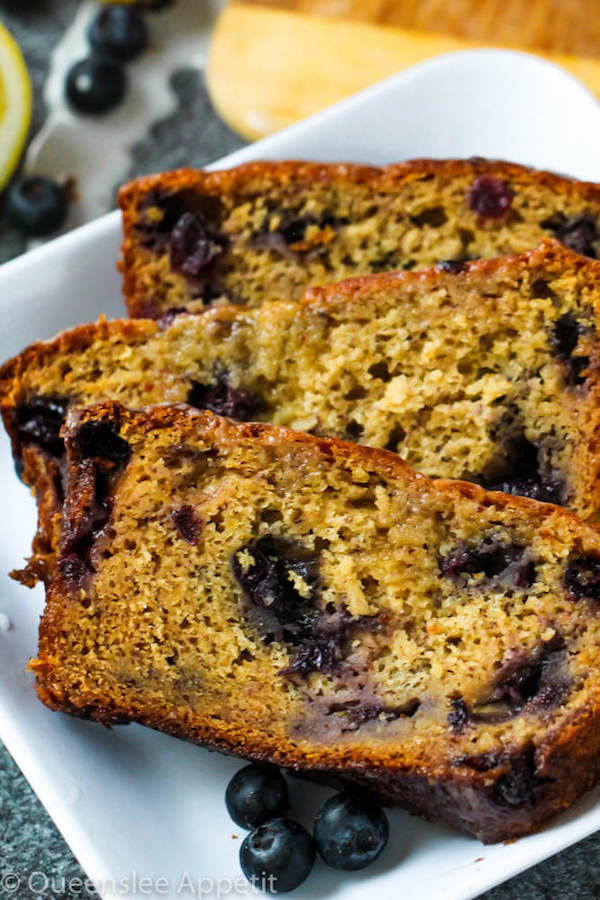 How to make Blueberry Banana Bread
To make this blueberry banana bread, we start by creaming the butter and sugar. Now with my recipe, you could get away with using either melted butter or softened butter. I personally like using softened butter because I love the light and fluffy texture it gives the bread.
As for the sugar, you could use either brown sugar or white granulated sugar. I've used both in the past and each one resulted in an incredible banana bread! Aside from one bread being lighter than the other in terms of appearance, I would say the brown sugar deepens the flavours of the bread and adds extra moisture!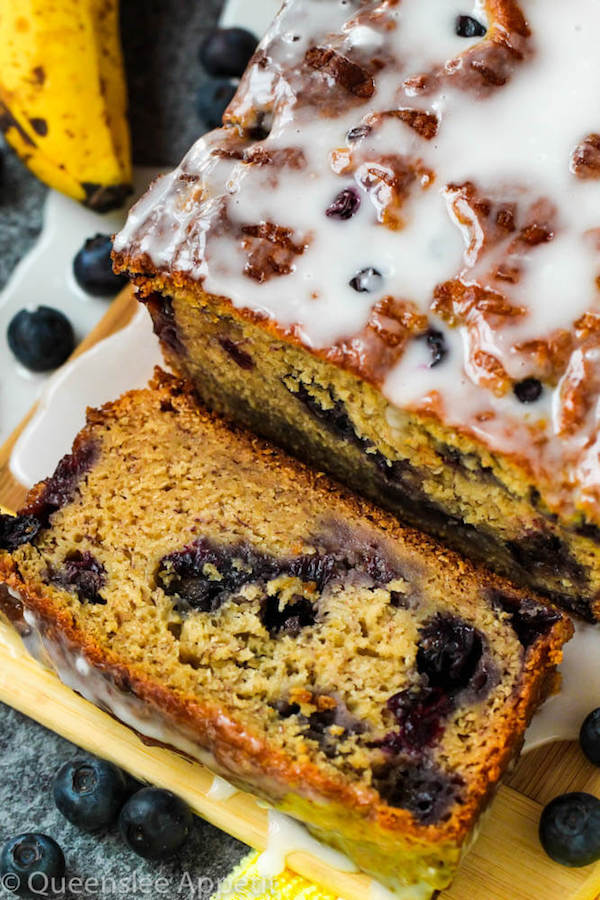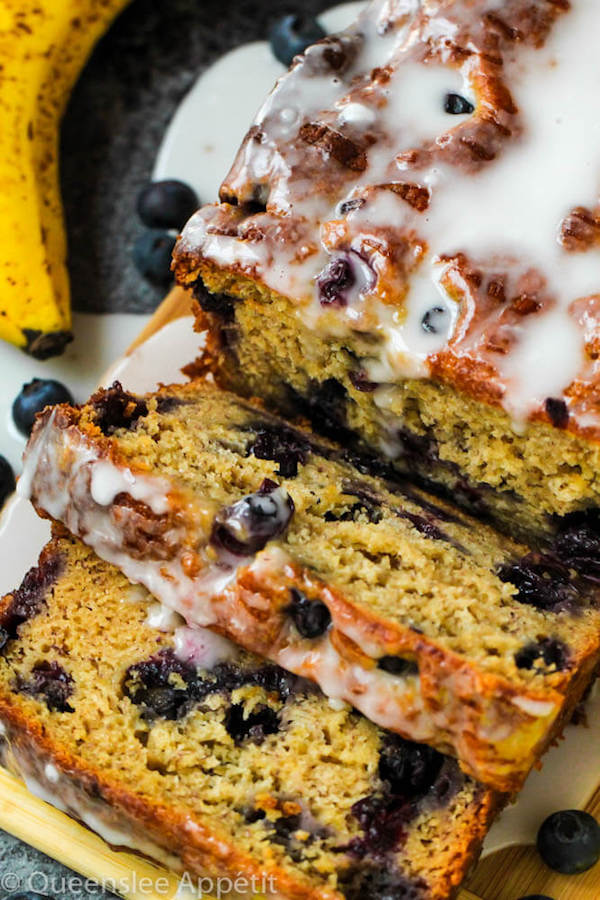 Next we mix in some eggs, vanilla, mashed bananas and sour cream. I usually use buttermilk, but I didn't have any on hand so I used sour cream instead. The sour cream gives the bread its super soft and tender texture and also adds a lot of flavour!
Then I sift in the flour baking powder, baking soda, salt and a dash of cinnamon for even more flavour. You may see the 1 tablespoon of baking powder along with the ¼ teaspoon of baking soda and think that that's way too much, but it's the perfect amount! Trust me, I've made this banana bread plenty of times in a regular 9x5-inch loaf pan and it NEVER overflows, so there's no need to divide it between 2 pans or use a larger pan.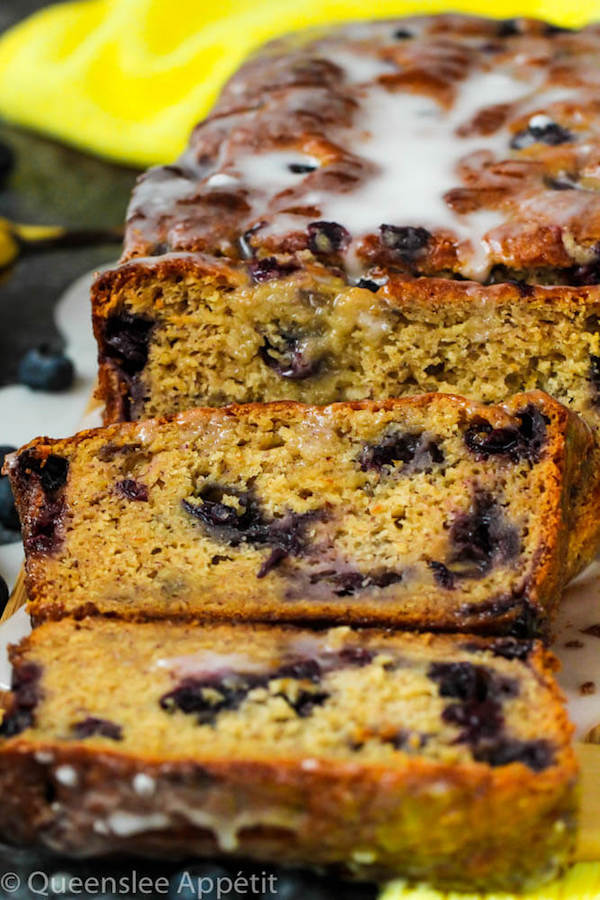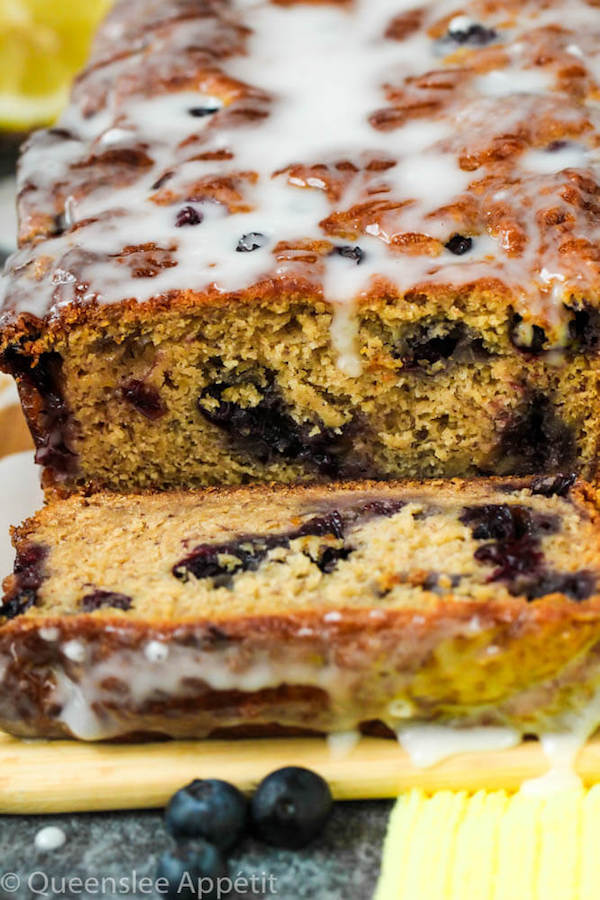 Adding the Blueberries
I highly recommend using fresh blueberries instead of frozen blueberries in this bread. The ice on frozen blueberries will add too much moisture to the batter which may have a negative effect on the texture. Also, when frozen fruit thaw out, they're usually mushy and let out their juices, so frozen blueberries may also discolour your batter.
Before adding the blueberries to the banana bread, you'll want to toss it with an extra tablespoon of flour. This will keep the blueberries from sinking to the bottom of the banana bread. This is also a great method to use when adding chocolate chips!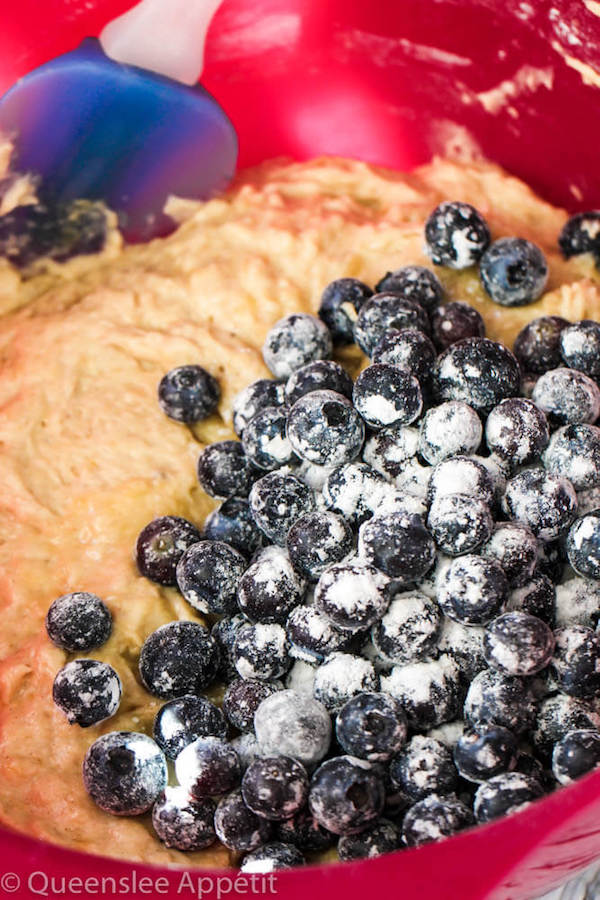 Pour the batter into your loaf pan and top with a few extra blueberries if you wish. You won't have to toss the extra in any flour. Then let it bake in the oven for about an hour and enjoy the wonderful banana smells wafting throughout your house!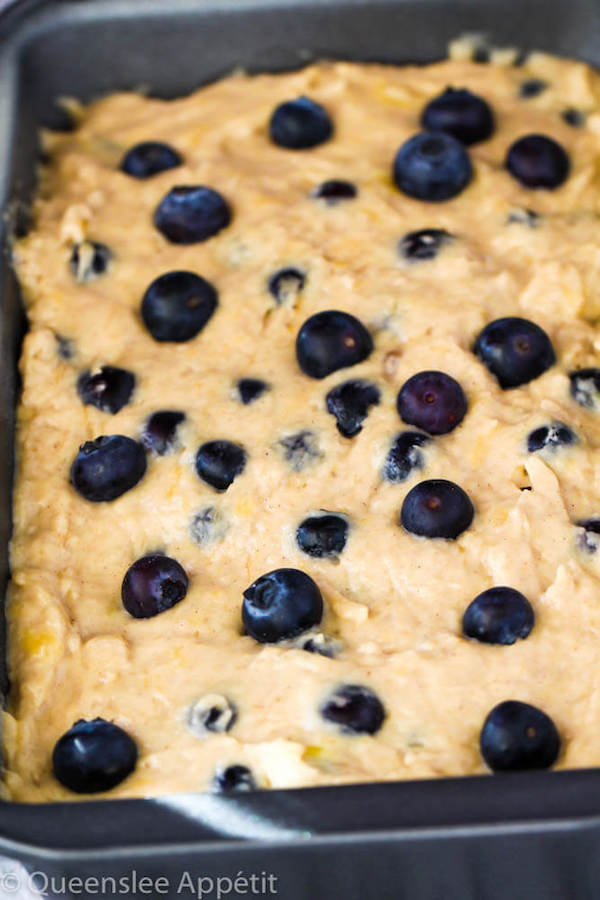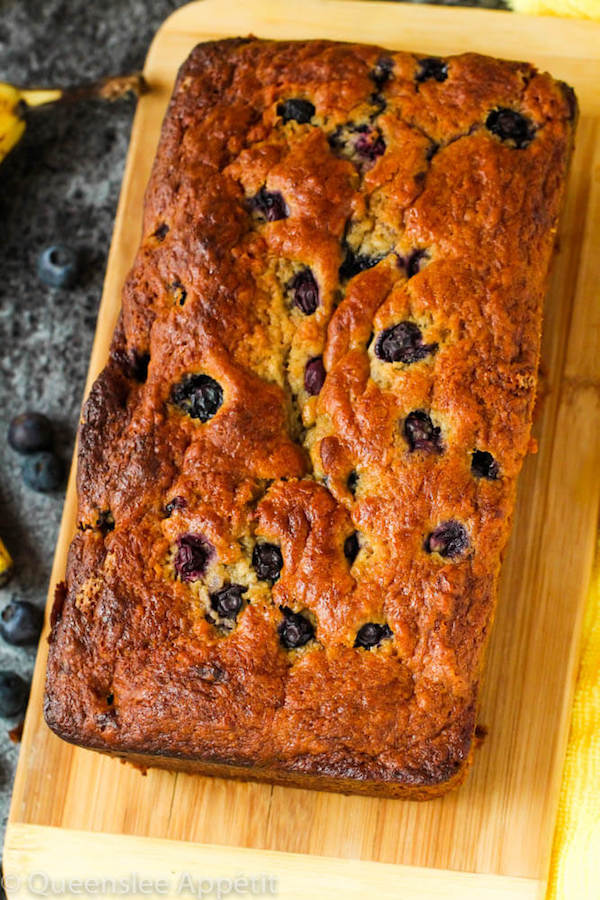 Lemon Glaze
Out comes a gorgeously golden loaf that you now have the option of enjoying plain, or drowning in a sweet lemon glaze! When I say the lemon glaze is easy, I mean it is EASY! Only 2 ingredients needed: icing (powdered) sugar and fresh lemon juice. Just combine both of those ingredients in a small bowl and you have your glaze!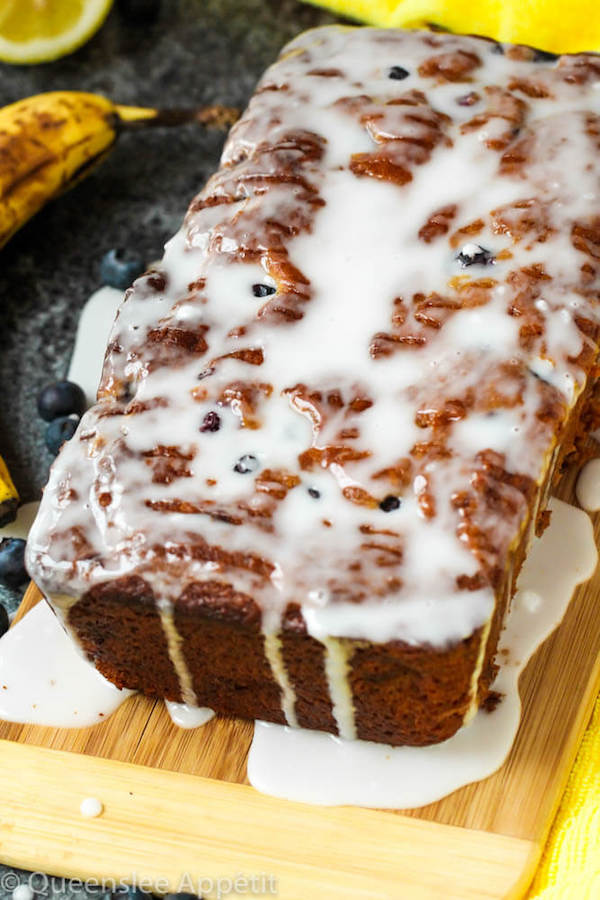 I added quite a bit of lemon juice, so my glaze came out thinner than I wanted it to be. But if you add less then you'll end up with a thicker glaze that won't run down the sides as easily, and may dry itself after a while.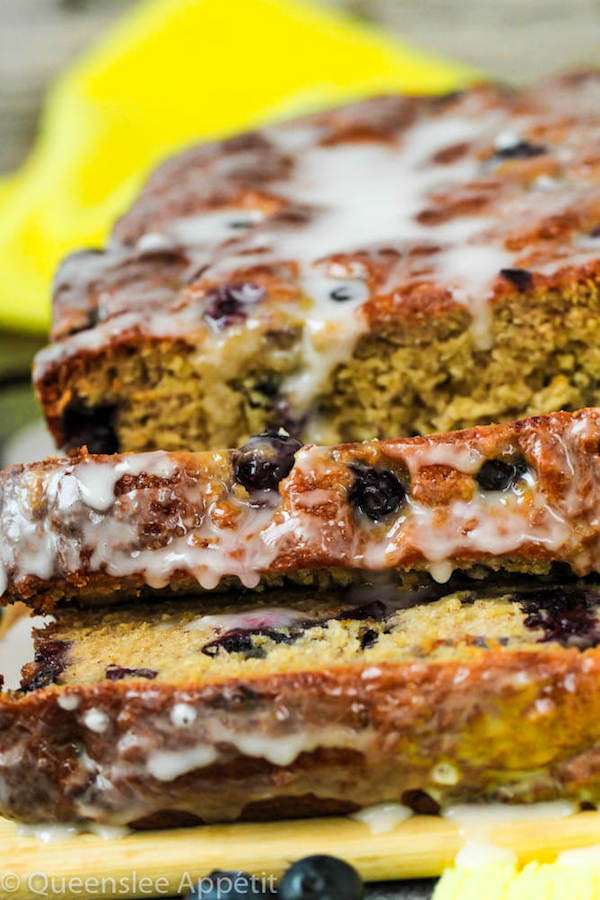 Moist and fluffy banana bread with fresh blueberry and lemon flavour in every bite! This is a quick and easy loaf that the whole family will enjoy for breakfast or dessert!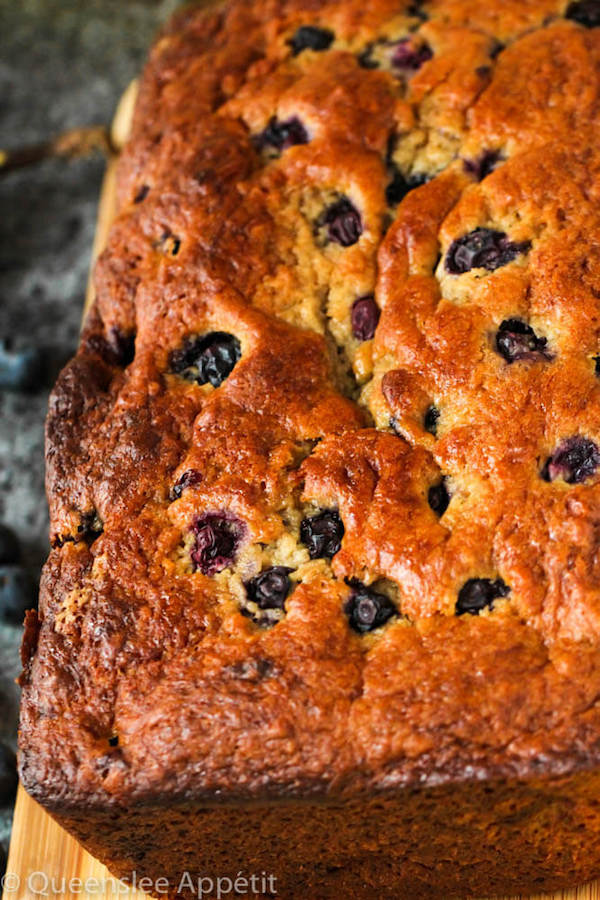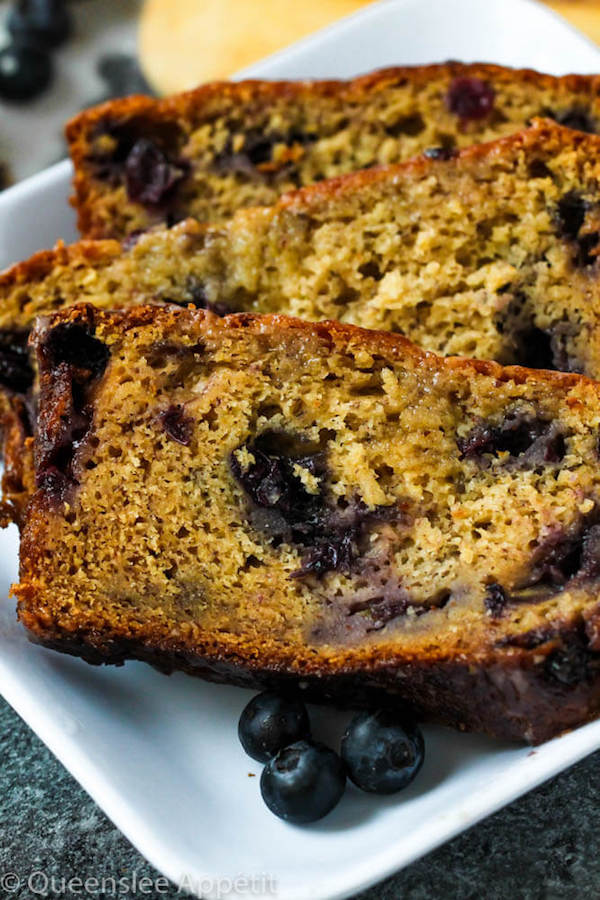 >>PIN ME FOR LATER<<

FOLLOW QUEENSLEE APPÉTIT
Like what you see? Make sure you're following Queenslee Appétit for more tasty recipes!
Pinterest | Instagram | Facebook | Twitter |
Have any questions about the recipe? Contact me here, and I'll be happy to help!
Let's get baking!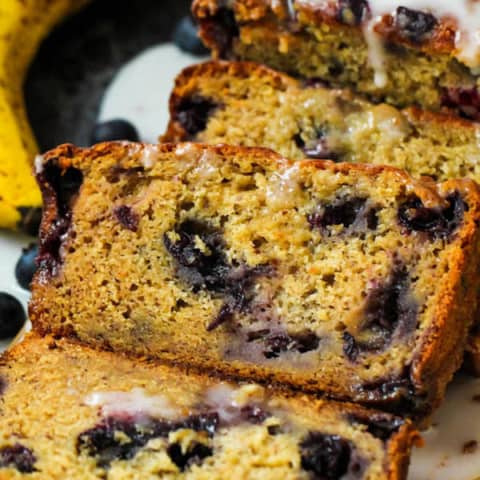 Blueberry Banana Bread
Total Time:
1 hour
10 minutes
This Blueberry Banana Bread is soft, moist and fluffy and packed with fresh blueberries. Top it off with a sweet lemon glaze for a burst of citrus flavours!
Ingredients
Banana Bread:
½ cup unsalted butter, softened to room temperature
1 cup packed light brown sugar OR granulated sugar
2 large eggs, room temperature
1 teaspoon pure vanilla extract
3 large overripe bananas, mashed
½ cup sour cream, room temperature
2 cups all purpose flour + 1 tablespoon for coating blueberries
1 tablespoon baking powder
¼ teaspoon baking soda
½ teaspoon salt
1 teaspoon ground cinnamon (optional)
1 and ½ cups fresh blueberries + more for topping
Lemon Glaze:
¾ cup powdered sugar
1-2 tablespoon lemon juice
Instructions
For the Banana Bread:
Preheat oven to 350℉ (177℃). Lightly grease a 9x5-inch loaf pan with non-stick cooking spray. Set aside.
In the bowl of a stand mixer fitted with a paddle attachment, or in a large mixing bowl using a handheld mixer, cream the butter and sugar on medium speed until light and fluffy, about 3 minutes. Scrape down the sides and bottom of the bowl.
With the mixer on low, add the eggs one at a time, mixing after each addition until just combined. Add vanilla and mashed bananas and mix on low to combine.
Add sour cream and continue to mix until combined. Turn off the mixer and scrape down the sides and bottom of the bowl.
In a separate bowl, sift 2 cups of flour, baking powder, baking soda, salt and cinnamon. Whisk to combine.
Add all of the dry ingredients to the wet ingredients and mix on low speed until just combined. Do not overmix.
In a separate bowl, toss the blueberries with 1 tablespoon of flour. Add to the batter and fold to combine.
Pour batter into a 9x5-inch loaf pan and top with more fresh blueberries, if desired. Bake in preheated oven for 55-60 minutes, or until a toothpick inserted into the bread comes out clean. Allow bread to cool completely on a wire rack.
Remove banana bread from the loaf pan and transfer to a serving platter. Slice, serve and enjoy! You can also top it with a lemon glaze if you want, recipe below.
For the Lemon Glaze:
In a small bowl, combine the powdered sugar and add the lemon juice 1 tablespoon at a time until smooth. Drizzle on top of loaf.
Notes
I recommend using fresh blueberries instead of frozen blueberries. The ice on frozen blueberries will add too much moisture to the batter which may effect the final texture.
Store bread in an airtight container at room temperature.
You can substitute the blueberries for any other type of berries, like raspberries or blackberries.
Recommended Products
As an Amazon Associate and member of other affiliate programs, I earn from qualifying purchases.
BON APPÉTIT!
Love, Dedra ❤
DID YOU MAKE A RECIPE?
Follow me on Instagram and use the hashtag #queensleeappetit so I can see all of the Queenslee Appétit recipes you've made!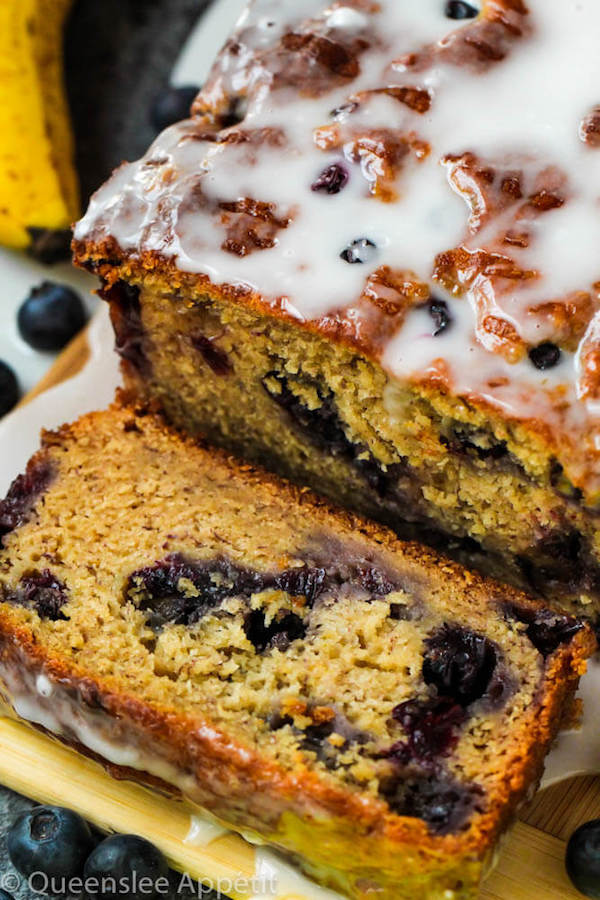 ©QUEENSLEE APPÉTIT. All images & content are copyright protected. Please do not use my images without prior permission. If you want to republish this recipe, please re-write the recipe in your own words, or link back to this post for the recipe.
This post may contain affiliate links. Please see my full disclosure policy for details.