This Bananas Foster Cheesecake is made with a buttery brown sugar and cinnamon spiced vanilla wafer/graham cracker crust. This amazing crust is then filled with a rum spiked cinnamon banana cheesecake filling and topped with a gooey banana foster topping and cinnamon whipped cream!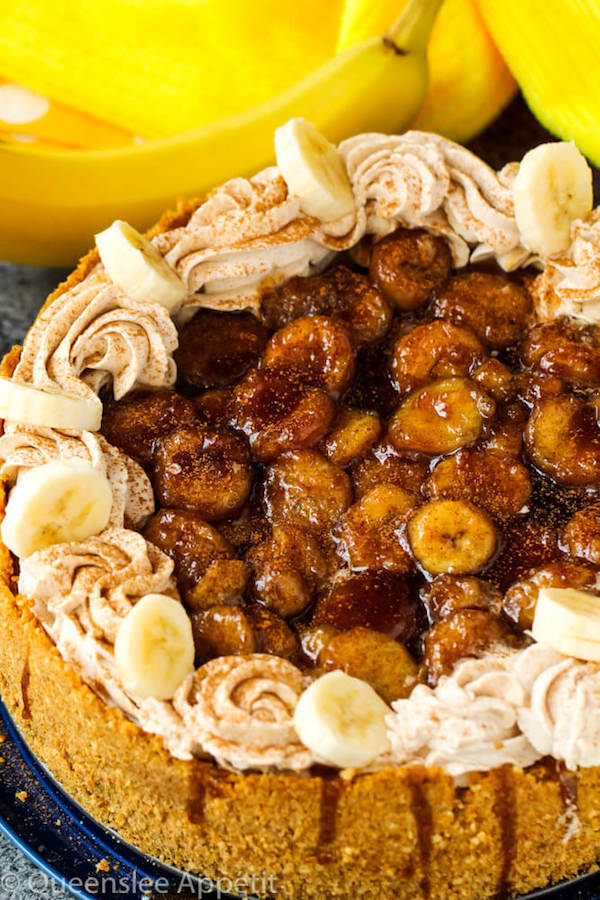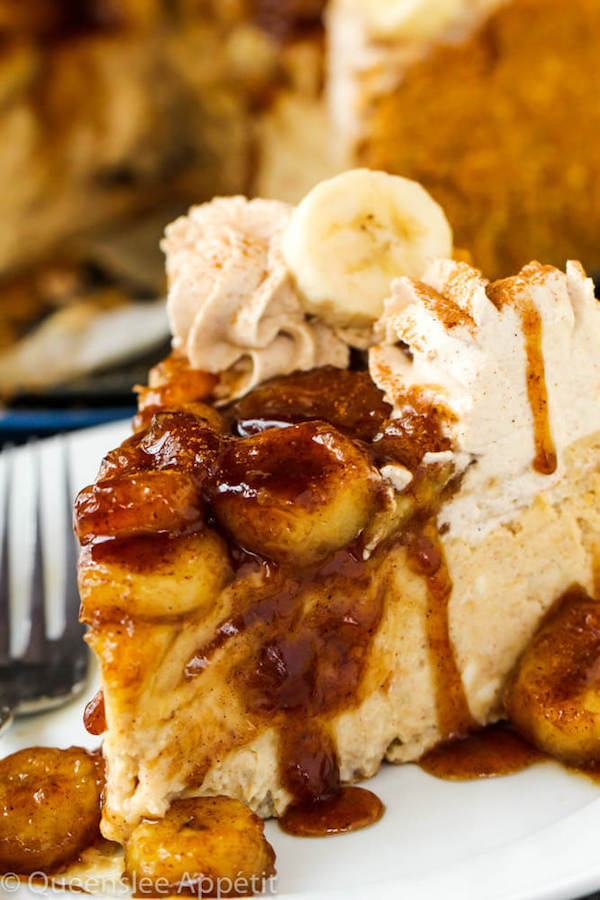 This post may contain affiliate links. Please see my full disclosure policy for details.
A few months ago I received a message on Facebook asking me to make a bananas foster cheesecake recipe, so I immediately got to work on creating one! Although I already have a million and one recipe ideas planned out, I would LOVE to receive more requests from readers. These recipes are for you guys, after all!
Anyways, I ended up making this cheesecake less than 2 weeks after it was requested, but I already had so many recipes scheduled that I couldn't share this one until now!
So without further ado, allow me to introduce you to: Bananas Foster Cheesecake!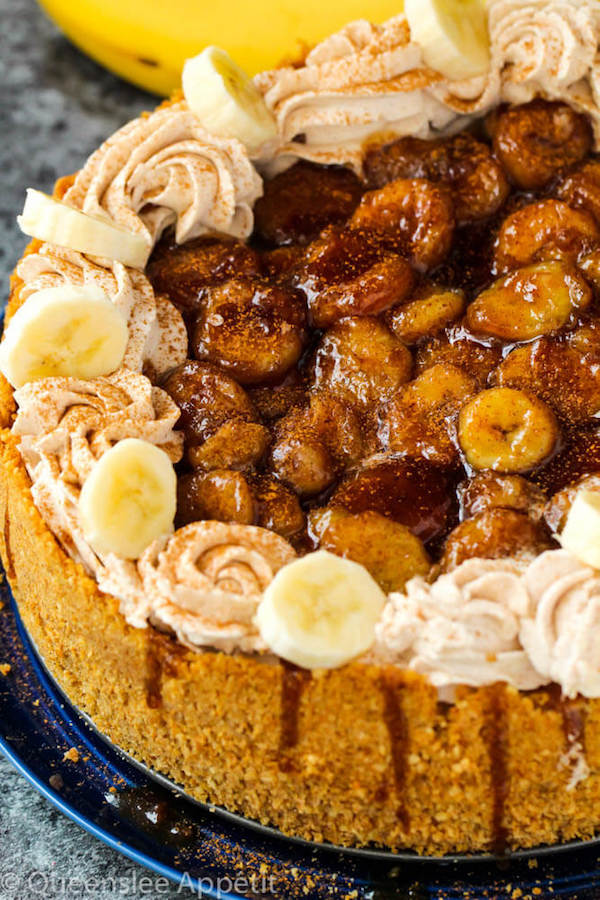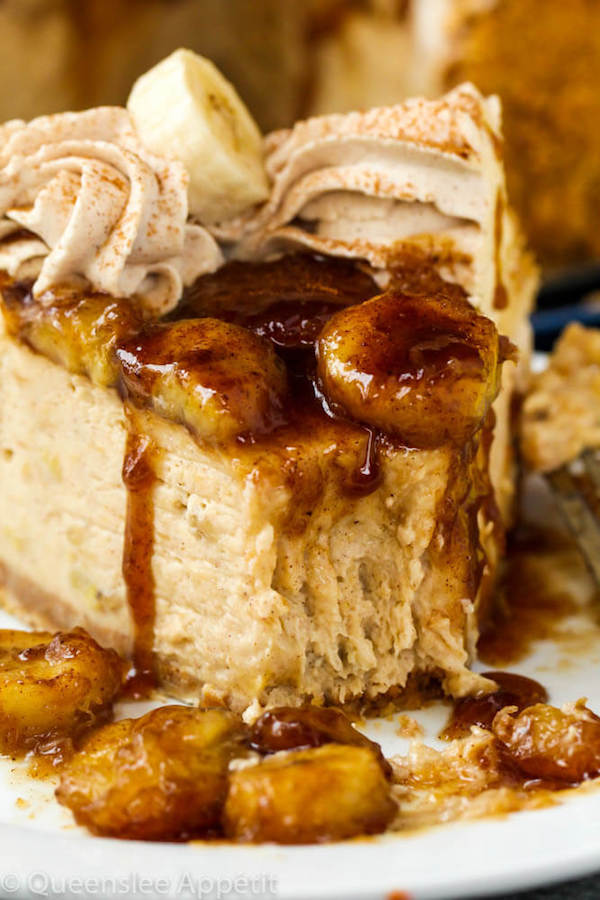 Bananas Foster Cheesecake
I'm not really a huge fan of bananas, but I gotta say, this cheesecake is something special. I've never tried Bananas Foster before and had always wanted to try making it, so when a reader suggested I make this cheesecake, I couldn't resist! I love taking 2 classic desserts and combining them into one ultimate treat!
So in this recipe, we'll be taking all of the key flavours of a classic bananas foster along with all of the best textures and flavours of the best cheesecakes, and merge them together to create one of the best desserts ever!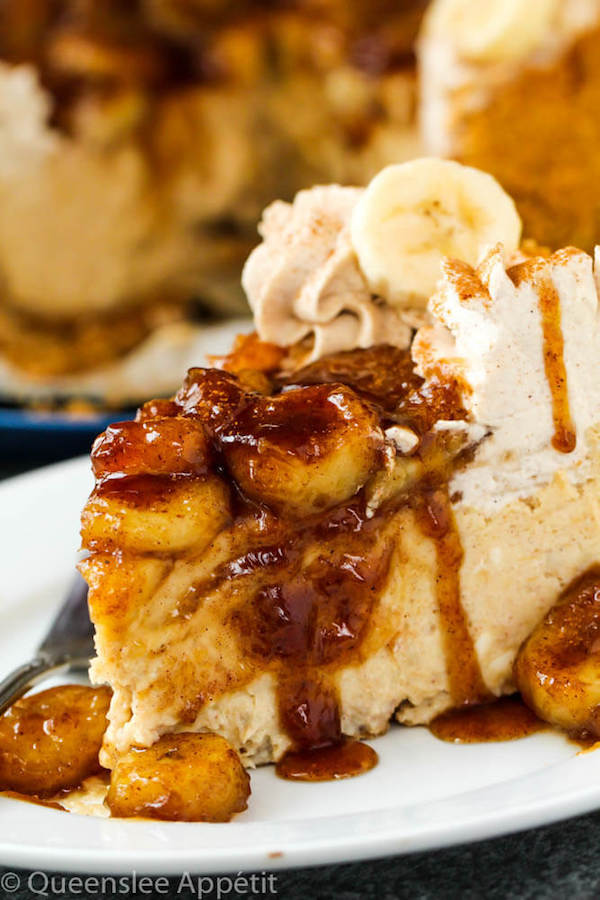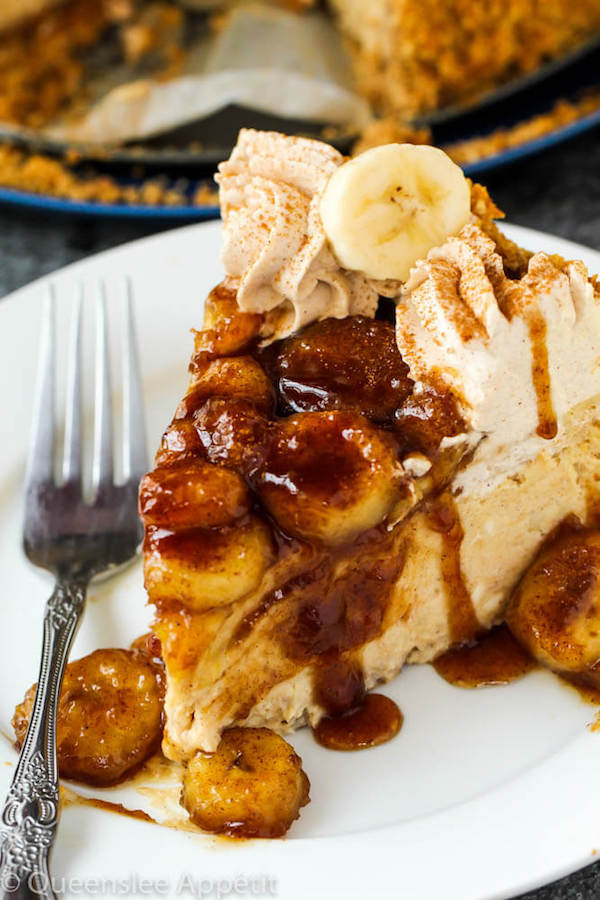 Cinnamon Brown Sugar Crust
After doing a bit of research on bananas foster, I learned that some of the key ingredients (aside from bananas) are brown sugar, cinnamon and rum. So I knew I had to incorporate those flavours throughout the entire cheesecake.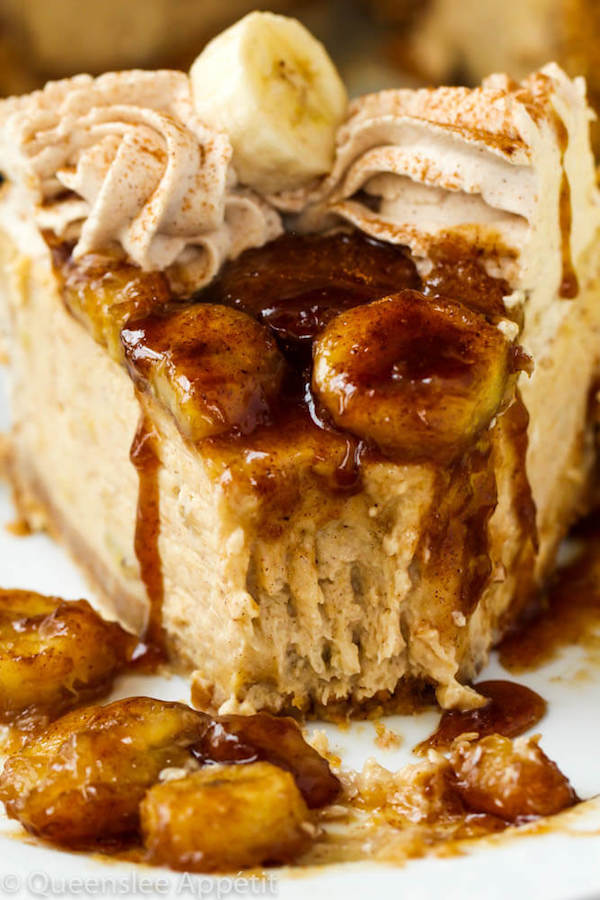 Starting with the crust. I was gonna do an all graham cracker crust, but decided to throw in some vanilla wafers at the last minute because it's like THE ultimate cookie to pair with banana!
To the vanilla wafer and graham cracker crumbs, brown sugar, cinnamon, and rum extract is added, making this crust super flavourful! Real rum is used in this recipe, but I saved it for the cheesecake itself.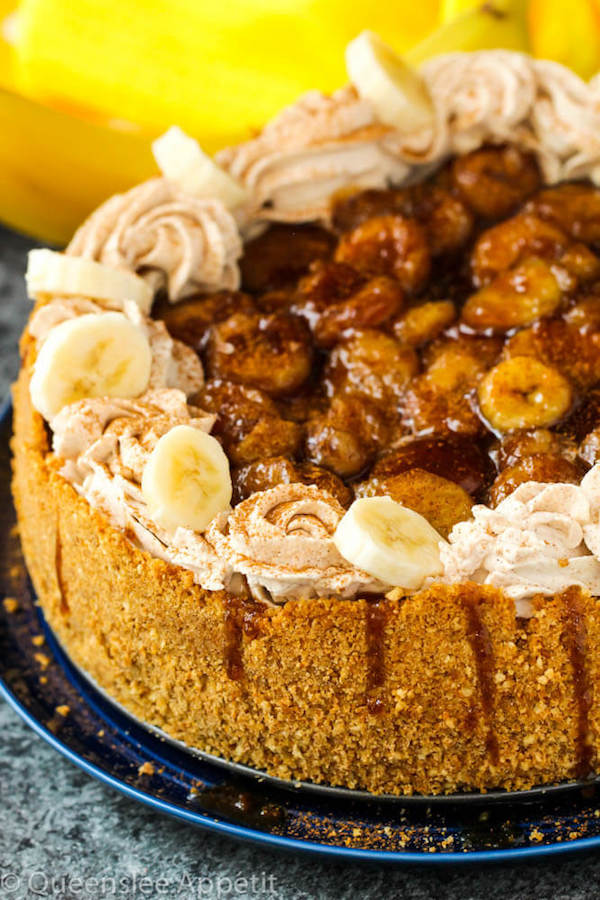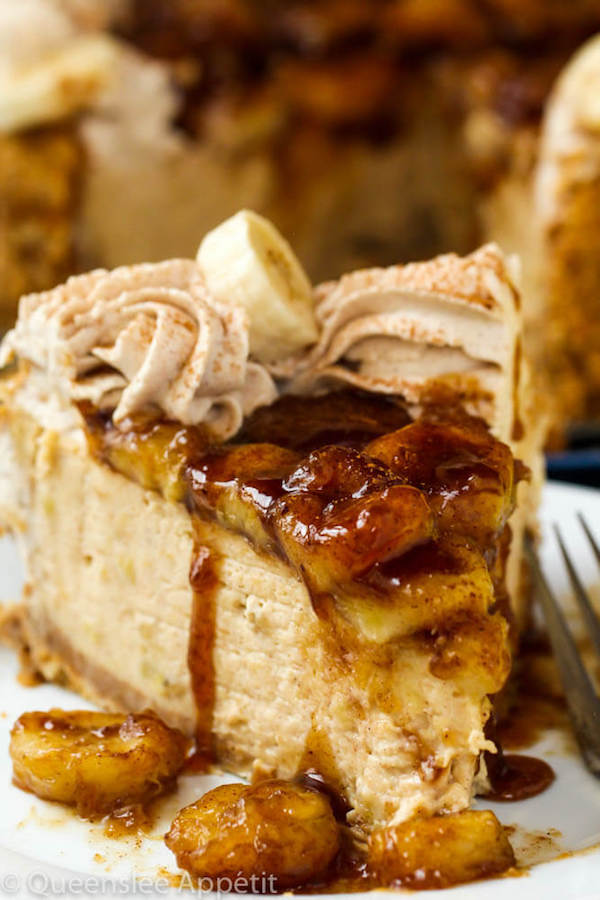 Banana Cheesecake Filling
The banana cheesecake filling is super thick and creamy and loaded with plenty of flavours! To start, instead of using granulated sugar, we're gonna use brown sugar. The molasses in the brown sugar will enhance the flavour of the bananas, cinnamon and rum.
Speaking of which, I usually use a full cup of sour cream in my cheesecakes, but this time I reduced the amount to ¼ cup because we get plenty of moisture and flavour from the cup of mashed bananas!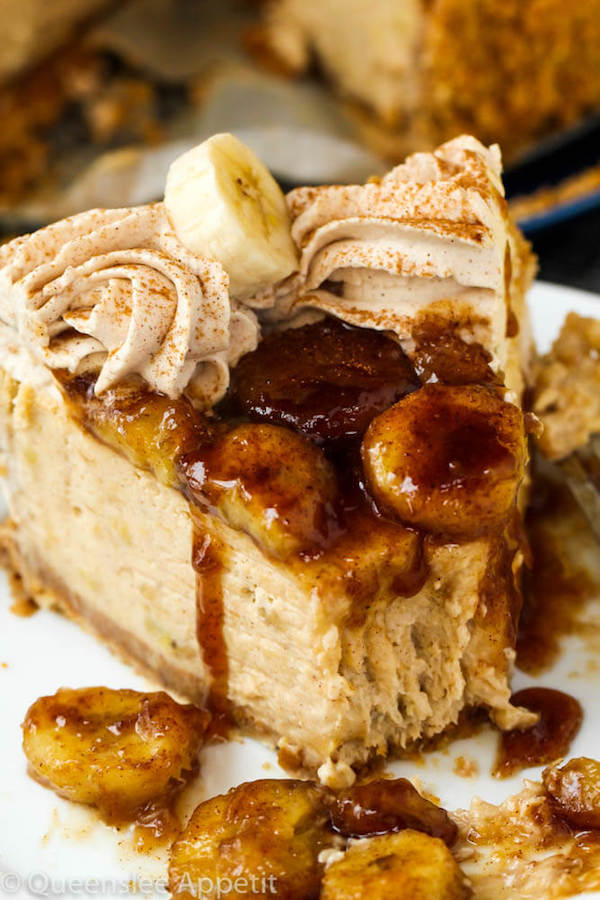 Make sure your bananas are ripe and a bit spotted for extra sweetness and flavour. If you don't want chunks of bananas in your cheesecake, I recommend puréeing them in a food processor for a nice and smooth consistency.
Also added to the cheesecake is some cinnamon, because banana and cinnamon are a match made in flavour heaven. Then a tablespoon of dark rum. I used dark rum because that's what's used to make bananas fosters, but if you don't have any you can probably get away with using white rum or even rum extract.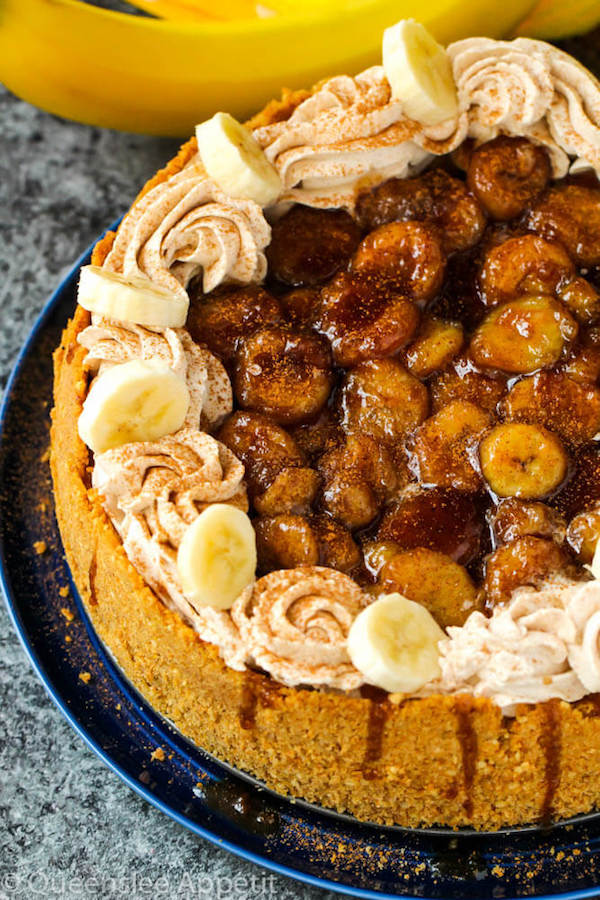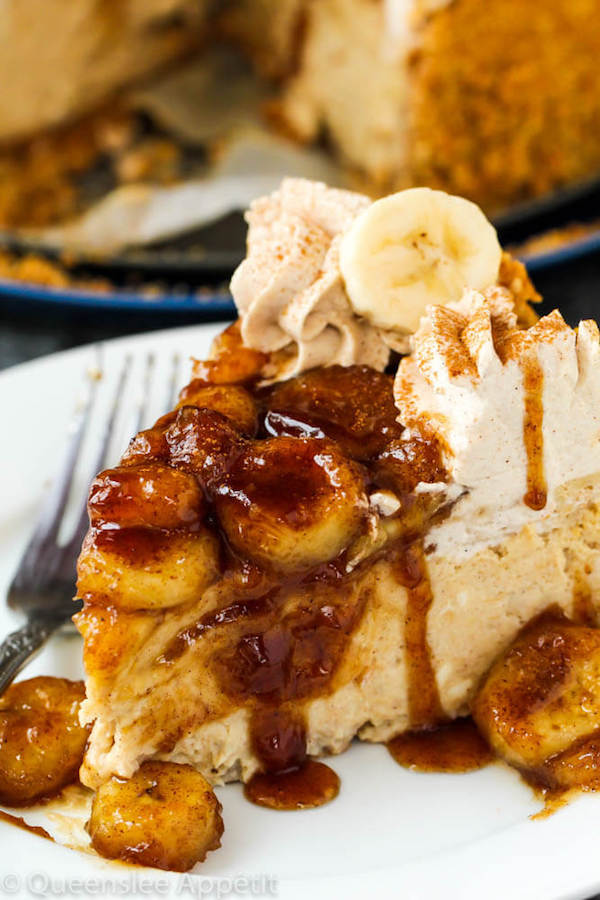 Bananas Foster Topping
Here's the most nerve-wrecking part for me, the star of the show: the Bananas Foster Topping. I was super nervous because I've never made bananas foster before, but it actually ended up being really easy!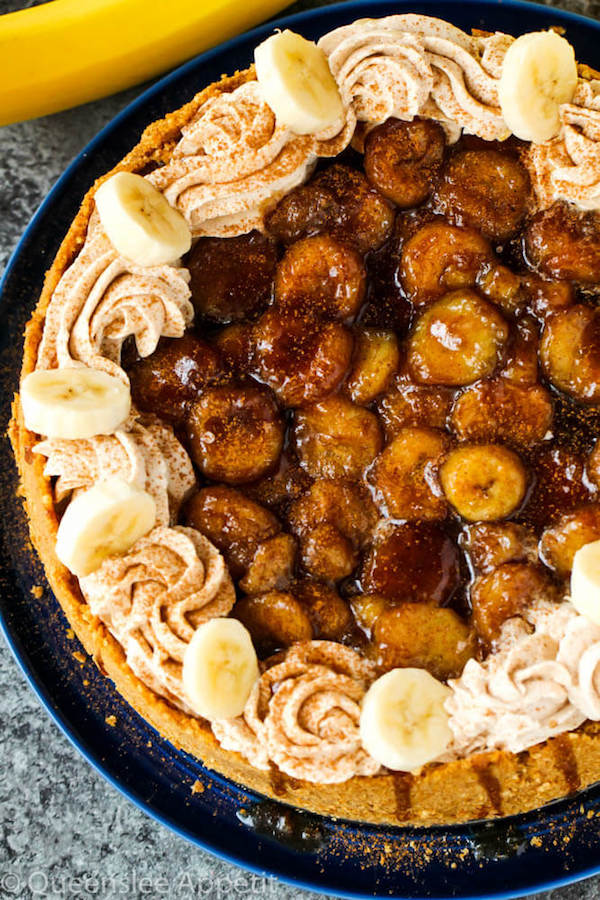 We start by melting some butter in a pan over the stovetop. Once is the butter is melted, add the brown sugar and stir until it's completely melted. Then stir in the vanilla, cinnamon and salt.
Next we add the banana slices. Bananas Foster usually has longer strips of banana, but since this is going on top of a cheesecake, you want to have smaller round slices. Add them to the pan all at once, but use your wooden spoon to arrange them into an even layer so the bottom of the banana slices can brown.
After a few minutes, flip the bananas over and cook on the other side for another minute or 2. When the bananas are cooked, we'll finally add the rum.
As someone who's never made bananas foster before, I decided to completely skip over the flambé part of the process. I've never flambéed anything before in my life and felt it wasn't worth burning myself and the house down. As far as taste goes, I doubt there's much of a difference because it still tasted amazing!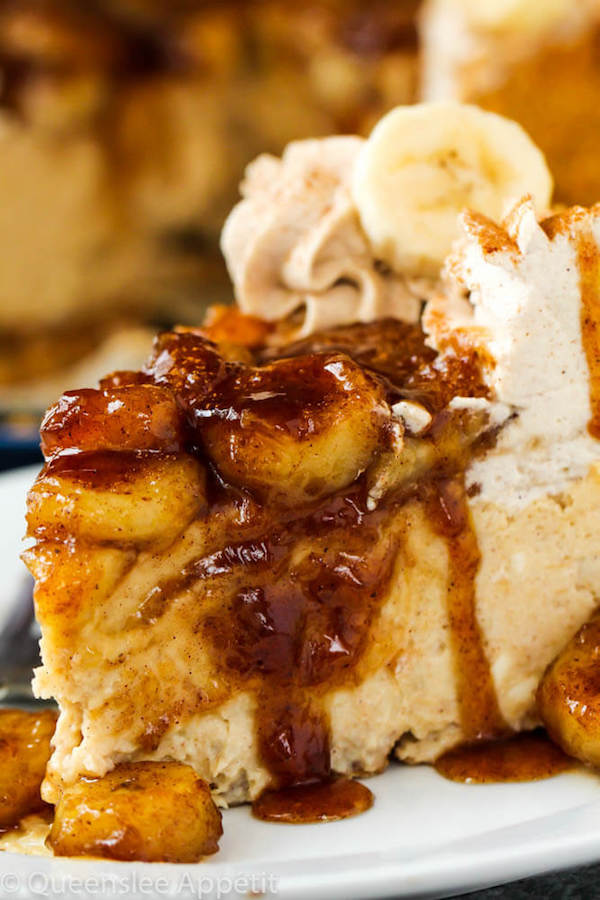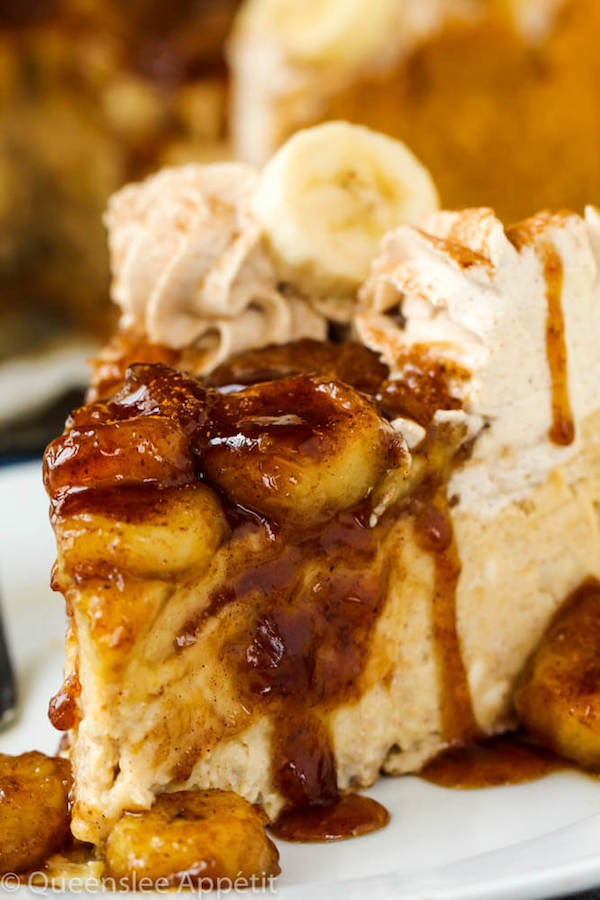 Now if you're anything like me, you'd want to cool the bananas foster completely before putting it on top of the chilled cheesecake. Here's the thing, bananas foster dries up pretty quickly, so if you leave it for too long it won't be the same smooth consistency, so it should only cool for about 2-3 minutes.
That's not the best news for our cheesecake, because obviously if you put something hot onto a cold cheesecake, it can melt. Now this didn't happen to my cheesecake at all, and it won't happen to yours.
BUT my cheesecake did begin to get a bit soft after awhile because of the topping. That's why I suggest you top the cheesecake immediately before serving, especially if you want to enjoy the bananas foster topping while it's still warm.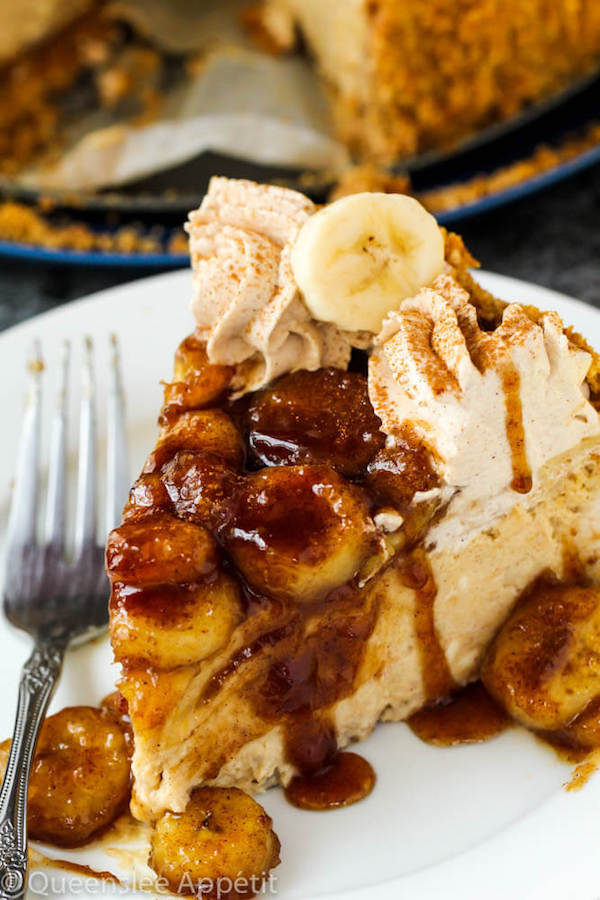 Cinnamon Whipped Cream
This is optional, but I really thought this decadent cheesecake needed a nice and light whipped cream topping, not just for decoration but to tie all the flavours together. And I feel like it's a crime to have cheesecake without whipped cream (unless it's covered in red velvet crumbs and Oreos, therefore it's totally not needed).
The cinnamon whipped cream couldn't be easier to make and only requires 4 simple ingredients: heavy whipping cream, icing (powdered) sugar, vanilla and cinnamon. Just throw all those ingredients into a mixing bowl and whip at high speed using a hand mixer until it's thick and fluffy.
To decorate the cheesecake, I piped a reverse shell border on top, which is the exact same border I did for this Perfect Carrot Cake. I made the silly mistake of taking some extra bananas foster sauce and drizzling it over the whipped cream, completely forgetting the fact that whipped cream melts easily.
Because of this I had to pipe over my initial border, but it looked a bit weird so I decided to add a dust of cinnamon along with a few slices of fresh banana around the border.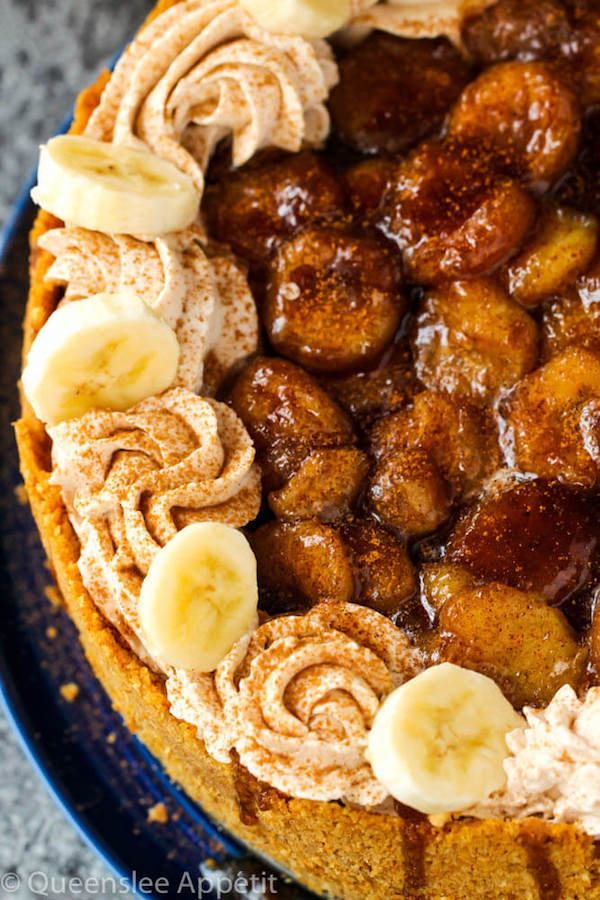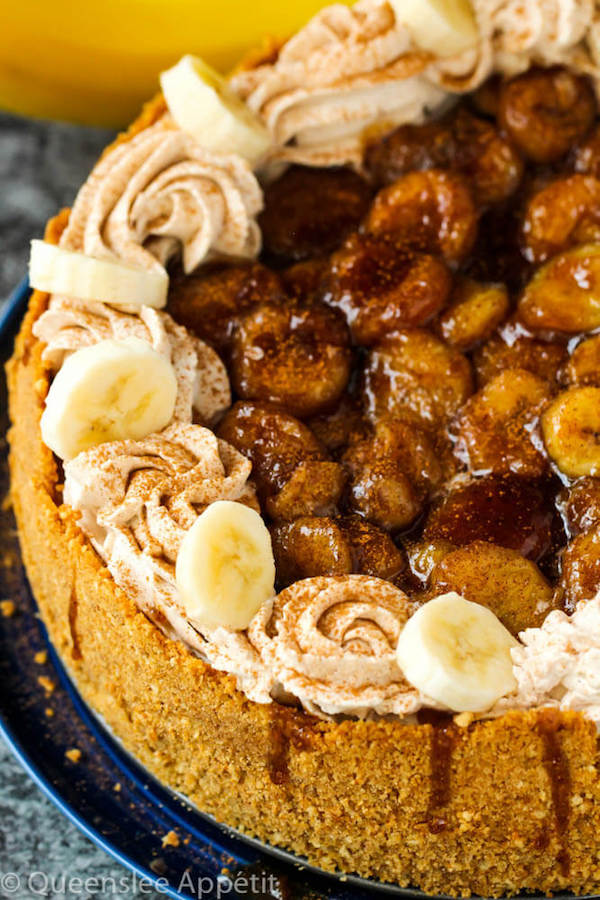 And that's it! Classic bananas foster combined with thick and creamy cheesecake for a dreamy dessert experience! This Bananas Foster Cheesecake is a MUST try for all banana lovers!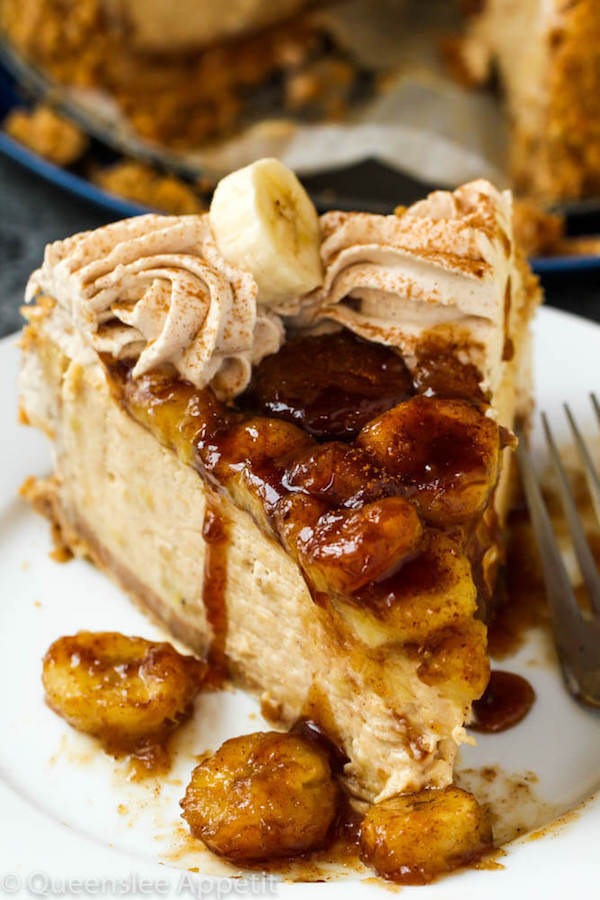 >>PIN ME FOR LATER<<

FOLLOW QUEENSLEE APPÉTIT
Like what you see? Make sure you're following Queenslee Appétit for more tasty recipes!
Pinterest | Instagram | Facebook | Twitter |
Have any questions about the recipe? Contact me here, and I'll be happy to help!
Let's get baking!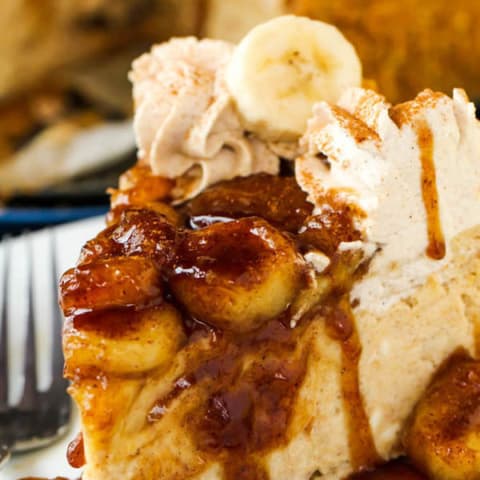 Bananas Foster Cheesecake
Prep Time:
1 hour
30 minutes
Cook Time:
1 hour
40 minutes
Total Time:
11 hours
10 minutes
This Bananas Foster Cheesecake is made with a buttery brown sugar and cinnamon spiced vanilla wafer/graham cracker crust. This amazing crust is then filled with a rum spiked cinnamon banana cheesecake filling and topped with a gooey banana foster topping and cinnamon whipped cream!
Ingredients
Crust:
2 cups vanilla wafer cookie crumbs
¾ cup graham cracker crumbs
⅓ cup light brown sugar, packed
1 and ½ teaspoon ground cinnamon
1 teaspoon rum extract
½ cup unsalted butter, melted
Banana Cheesecake:
3 (8 ounce) packages cream cheese, room temperature
1 cup light brown sugar, packed
1 tablespoon cornstarch (or 3 tablespoon all purpose flour)
2-3 ripe medium bananas, puréed or mashed (about 1 cup)
¼ cup sour cream, room temperature
2 teaspoon fresh lemon juice
1 and ½ teaspoon ground cinnamon
1 tablespoon dark rum (or 2 teaspoon rum extract)
3 large eggs, room temperature
1 large egg yolk
Bananas Foster Topping:
¼ cup unsalted butter
½ cup light brown sugar, packed
½ teaspoon pure vanilla extract
½ teaspoon ground cinnamon
⅛ teaspoon salt
2-3 ripe medium bananas, sliced
¼ cup dark rum
Cinnamon Whipped Cream:
¾ cup heavy whipping cream, chilled
5 tablespoon powdered sugar
½ teaspoon pure vanilla extract
½ teaspoon ground cinnamon
Optional Garnishes:
Fresh banana slices
Ground cinnamon, for dusting
Instructions
For the Crust:
Preheat the oven to 325°F (163°C). Make sure the rack is positioned in the centre of the oven. Grease sides of one 9-inch springform pan with butter or non-stick spray and line the bottom with parchment rounds.
In a medium bowl, mix together the crust ingredients
Transfer mixture to the greased 9-inch springform pan and, using the flat bottom of a glass or measuring cup, press into the bottom and up the sides of the pan.
Bake the crust until its slightly darkened, 8-10 minutes. Remove from oven and reduce the oven temperature to 300°F.
Take 1 extra large piece of aluminum foil that's bigger than your springform pan. Place springform pan in the centre and fold aluminum up to the sides to cover the outside of the pan. This ensures that no water seeps into the pan during the water bath. Alternatively, I placed my pan in a slightly larger pot to completely protect my crust from the water.
For the Banana Cheesecake Filling:
In the bowl of an electric mixer fitted with the paddle attachment, or in a large bowl using a handheld mixer, beat the cream cheese on low speed until creamy, about 2-4 minutes.
Scrape down the sides of the bowl and add brown sugar and cornstarch. Beat on low until smooth and combined.
Add the mashed bananas, sour cream, lemon juice, cinnamon and dark rum. Continue beating until smooth. Scrape down the sides and bottom of the bowl and continue to beat until everything is combined.
Add eggs and yolk one at a time, beating slowly until just combined, do not overbeat. Scrape sides and bottom of the bowl with a rubber spatula to make sure everything is combined.
Pour the cheesecake onto the cooled crust and place into a larger pan. Bring a few cups of water to a boil and carefully pour into the larger pan. The water should only be a few inches up the sides of the pan. Do not go over the top.
Bake at 300°F for about 1 hour and 25 minutes. The cheesecake is done when the edges are set and the center jiggles just slightly.
Turn off oven and leave the cheesecake to cool for 30 minutes. After 30 minutes, crack the door open and continue cooling the cheesecake for another 30 minutes. This helps prevent cracking.
After an hour, remove cheesecake from waterbath and aluminum foil. Run a knife around the edge of the pan so it's not sticking to the sides and allow to cool to room temperature on a rack. Then Transfer to the refrigerator to chill for 6-8 hours or preferably overnight.
For the Bananas Foster Topping:
Melt the butter in a skillet over medium heat. Add the brown sugar and stir until melted.
Once brown sugar has melted, add the vanilla, cinnamon and salt. Stir to combine.
Add the banana slices and arrange into an even layer. Cook for 1-2 minutes until bananas have softened. Using a fork, flip banana slices over.
Remove pan from heat and pour in the dark rum, then return pan to medium heat and bring to a simmer. Continue to cook for another 1-2 minutes, or until sauce has thickened. Set aside to cool while preparing the whipped cream.
For the Cinnamon Whipped Cream:
In a medium stainless steal bowl, using a handheld mixer, whip the chilled cream, powdered sugar, vanilla and cinnamon until cream holds peaks.
Assembly:
Remove cheesecake from the refrigerator and unlatch the springform pan ring. Pour banana foster on top of the cheesecake.
Transfer whipped cream to a piping bag fitted with a large star tip (I used Wilton 1M). Pipe a reverse shell border around the edges of the cheesecake. Check out my Border Piping Tutorial for more detail.
Garnish with a dust of cinnamon and fresh banana slices, if desired. Slice and serve! Enjoy!
Notes
Store in an airtight container in the refrigerator for up to 3 days, no longer as the bananas can spoil after too long.
I skipped igniting the rum for safety reasons, but if you want to, you can flambé the bananas foster after adding the rum and cook until the flames die out.
If you don't want bits of banana in your cheesecake, you can purée it in a food processor for a smoother consistency.
Recommended Products
As an Amazon Associate and member of other affiliate programs, I earn from qualifying purchases.
BON APPÉTIT!
Love, Dedra
DID YOU MAKE A RECIPE?
I'd love to see how it turned out! Follow me on Instagram and use the hashtag #queensleeappetit so I can see all of the Queenslee Appétit recipes you've made!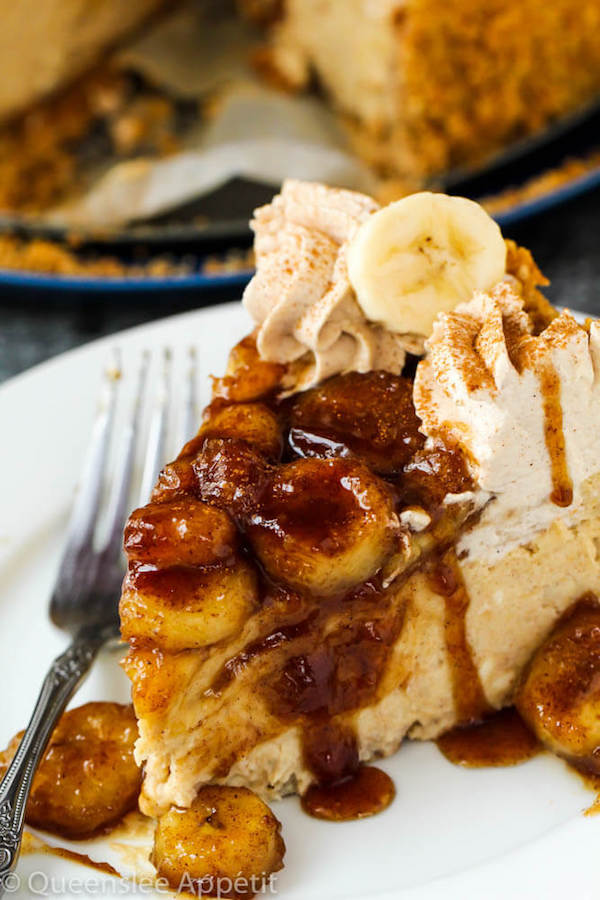 ©QUEENSLEE APPÉTIT. All images & content are copyright protected. Please do not use my images without prior permission. If you want to republish this recipe, please re-write the recipe in your own words, or link back to this post for the recipe.