Baked Canada Day Donuts — Soft and fluffy vanilla donuts dipped in a red and white glaze and decorated with Canadian themed sprinkles to make a fun and festive dessert to share at your Canada Day celebrations this summer!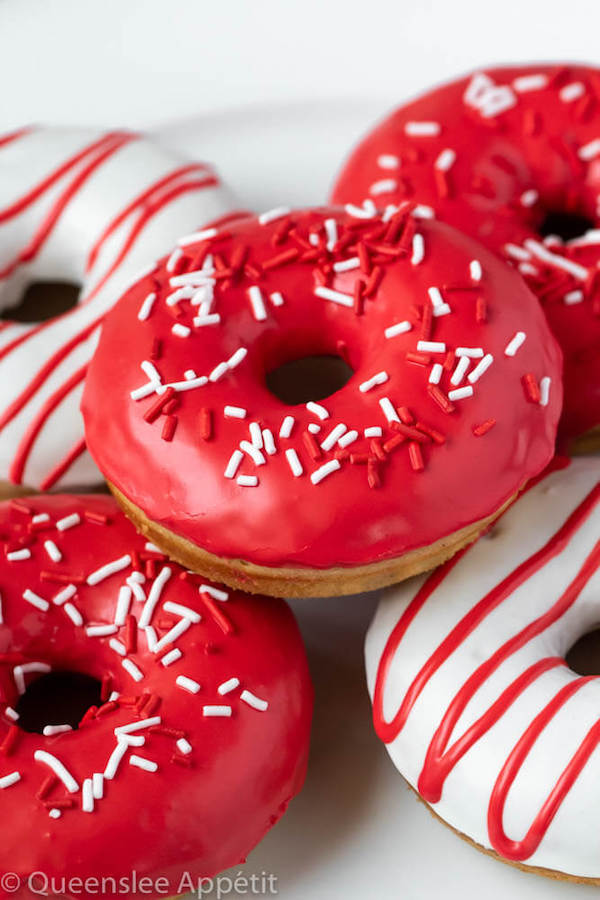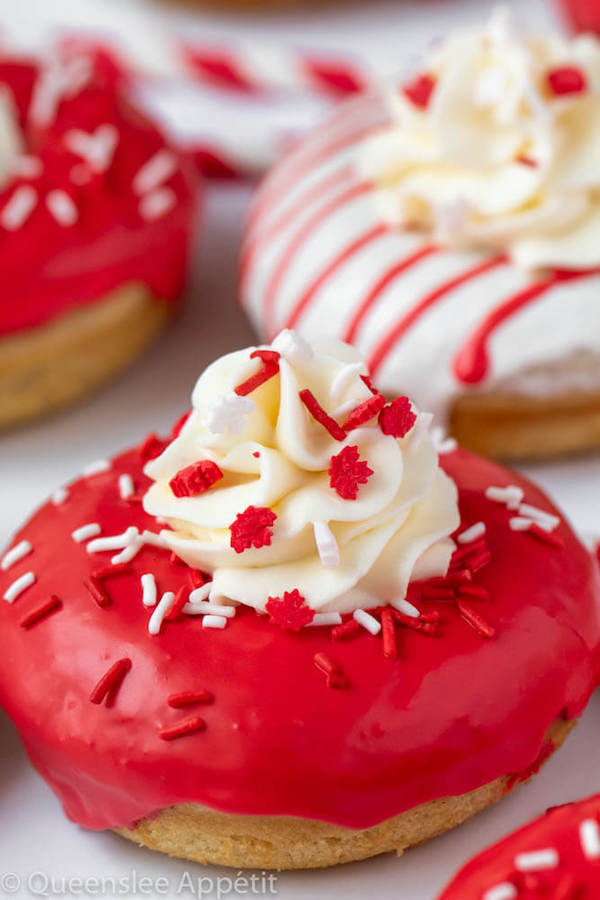 This post may contain affiliate links. Please see my full disclosure policy for details.
We the North, baby!!! Not only is Canada Day rapidly approaching, but this past week has been a huge historical moment for my beloved country and city. For the first time ever, the Toronto Raptors have become NBA Champions!!!
I'll admit, I don't even watch basketball, but I did watch this last game and I had multiple panic attacks the entire time. And when we won? I haven't felt that much joy and relief in a while!
I almost ran downtown to celebrate with the rest of the 6, but it was late and my bonnet was already on, but I did attend the parade a few days ago and showed more Canadian Pride in one day then I have my whole entire life.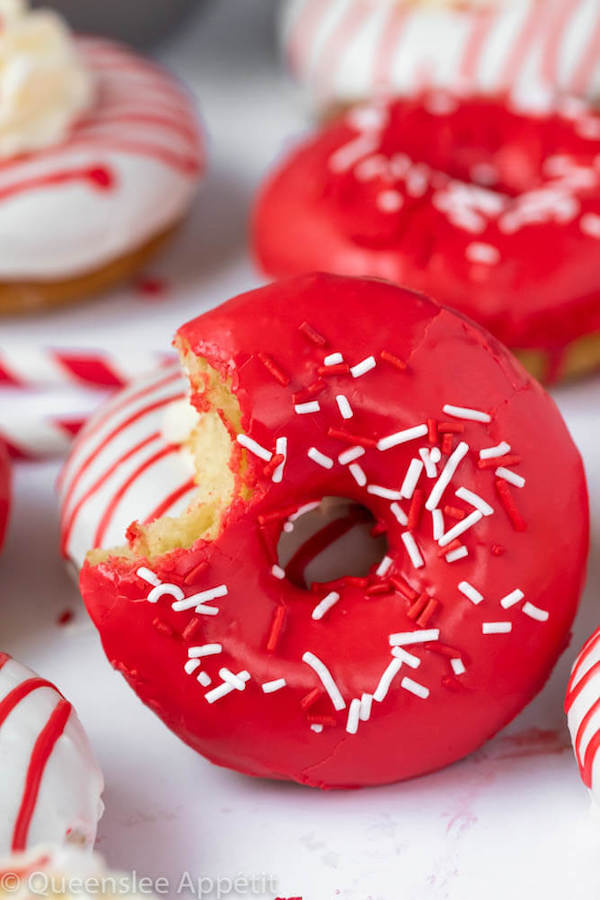 Baked Canada Day Donuts
I really wish I didn't make these donuts before the final game because I definitely would've changed them to Raptors donuts instead. But these adorable Canadian themed donuts are just as good!
These Canada Day Donuts are so adorable and simple to make. They only require a few basic ingredients and they're ready to enjoy in under 30 minutes!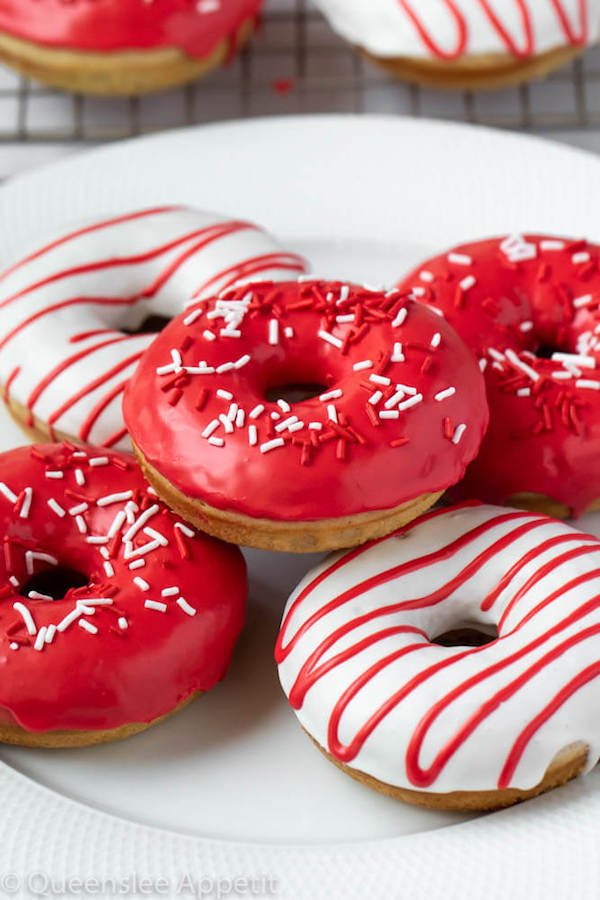 Now yes, you can easily stop by your local Tim Hortons to buy some Canada Day Donuts, but making them from scratch costs a whole lot less. Also this simple recipe makes a dozen donuts, and since the ingredients are so basic, you can double, triple or even QUADRUPLE the recipe so you have plenty to share at your festive celebrations!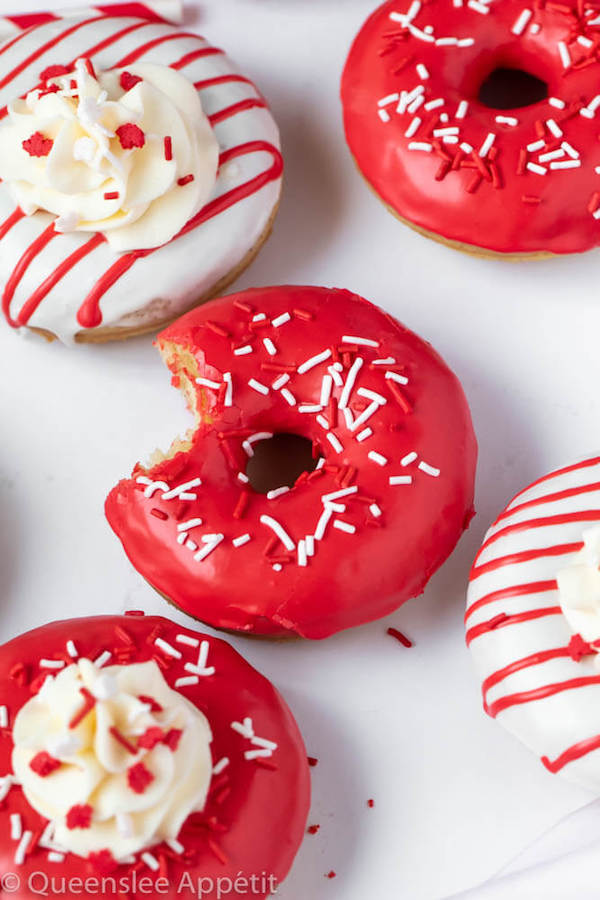 Moist and Fluffy Vanilla Donuts
I'm not really a fan of vanilla donuts, so I didn't think I'd like these very much, but holy Lord these were some of the fluffiest little donuts I've ever had! And, even with the glaze, they're not too sweet which is perfect.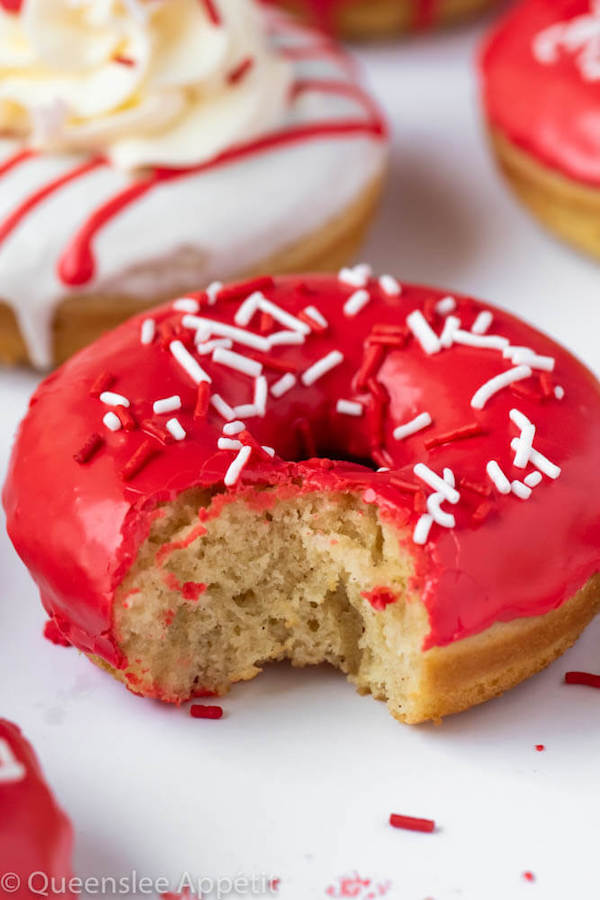 Making baked donuts from scratch is actually pretty simple and straight forward. We start by whisking the dry ingredients together which consists of all purpose flour, sugar, baking powder, baking soda, salt and a bit of nutmeg for extra flavour.
Then in a separate bowl, add the melted butter, some vegetable oil for moisture, eggs, vanilla, buttermilk and sour cream which gives these donuts their extreme fluffiness!
Pour the wet ingredients into the dry ingredients and whisk to combine. That's literally all! Your donut batter is complete, now it's time to bake.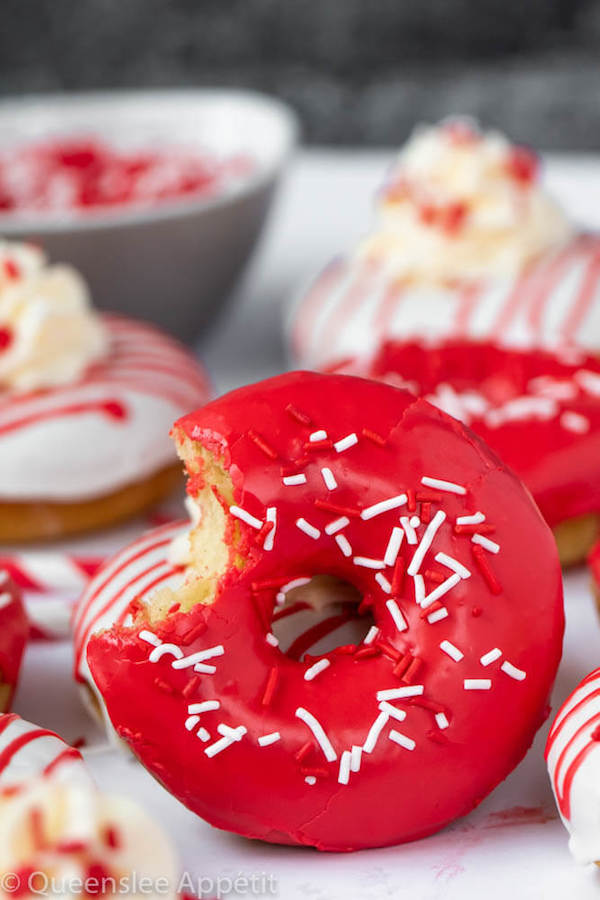 Baking the Donuts
To bake the donuts, you're gonna need to purchase a donut pan. There may be a few baking hacks out there that you could try that'll give you similar results, but a donut pan is the best and easiest option.
You're gonna wanna spray your donut pan with non-stick spray so they can easily pop out when they're done baking. This is very important, trust me, I've had donuts stick to the pan before and it was very messy. It was almost impossible to get them out without them falling apart.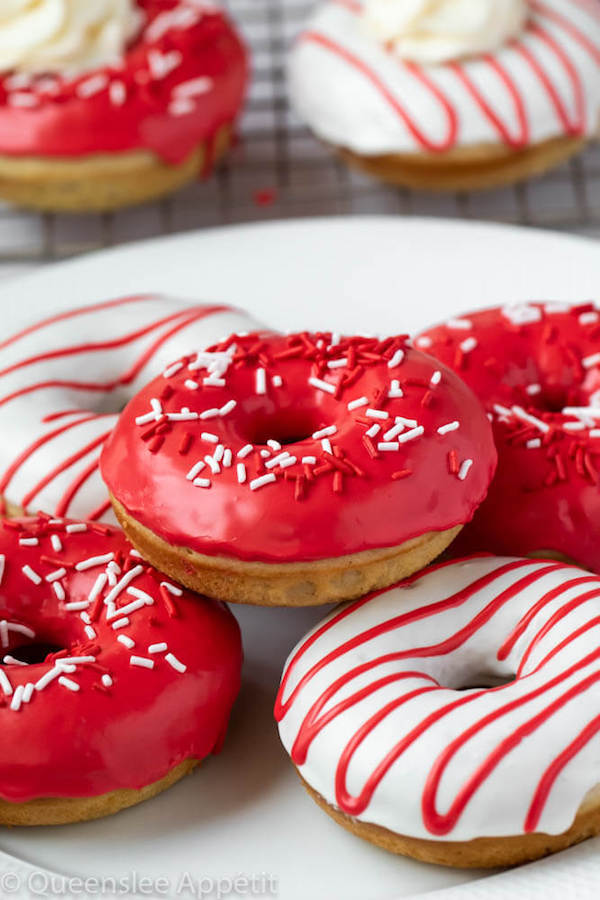 To neatly add the thick batter to the donut pan, I recommend using a large piping bag fitted with a large round tip, or in a large disposable piping bag or ziplock bag with the end cut off. Then just pipe a row of batter into each donut cavity. So easy!
These donuts only take about 8-10 minutes to bake up. Seriously! Let them cool in the pan for a few minutes, then use a butterknife and gently run it around the edges of each donut cavity, then lift the donut out of the pan and place it on a wire rack while you prepare the glaze.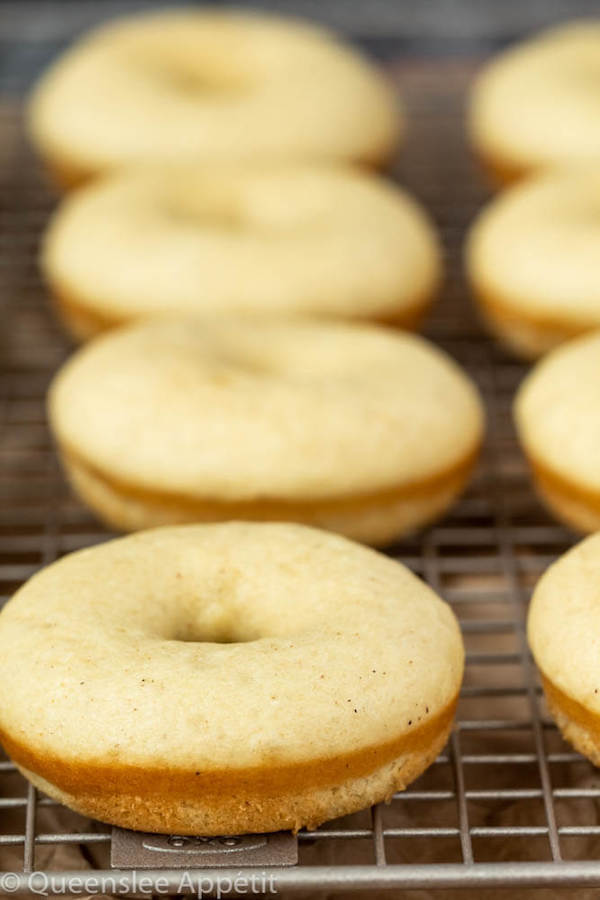 Red and White Glaze
Only 3 ingredients, excluding the red food colouring are needed to make the glaze. We start with powdered sugar, then we add the milk and vanilla. Although there's 1 and ½ cups of powdered sugar, you'll only need about 2 tablespoons of milk to create a nice glaze.
The glaze was more of a yellowish colour because of the vanilla, so to whiten it I had to add a squirt of Icing Whitener.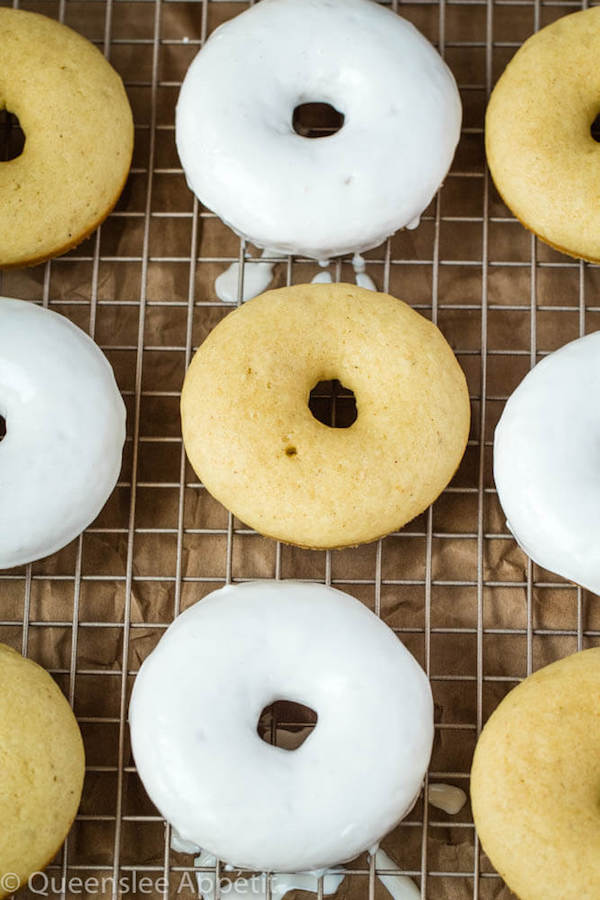 Instead of dividing the glaze between 2 bowls, I just dipped half of the donuts in the white glaze. Then I tinted the remaining glaze red and dipped the other half.
Thanks to the whitener, I had to use double the amount of red food colouring because it was more of a pinkish colour at first instead of red.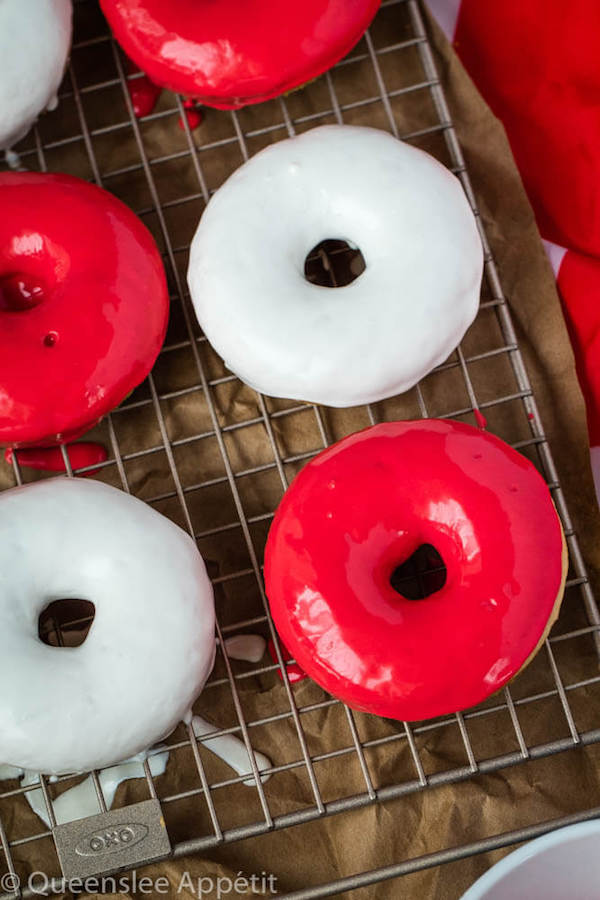 Decorating the Donuts
Silly old me completely forgot that the icing glaze dries right up in no time, so by the time I went back to add the sprinkles, they sadly bounced right off. That's why the white donuts are decorated with red stripes, and the red donuts have sprinkles because I managed to get some on there before the glaze dried.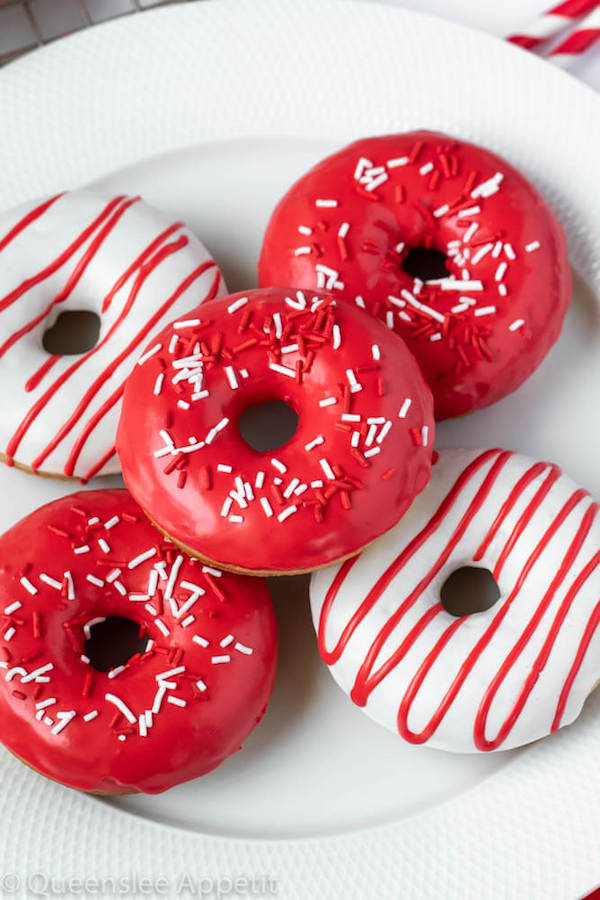 As you could see in these Nutella Donuts and these Pumpkin Donuts, I love adding a delicious swirl of something on top of my donuts. Whether it's Nutella Ganache or Salted Caramel Cream Cheese Frosting.
For these donuts, I stuck with a simple whipped cream topping. This is totally optional, and I only added the whipped cream to some of the donuts that set up before I could add sprinkles. That way I could put the sprinkles on the whipped cream.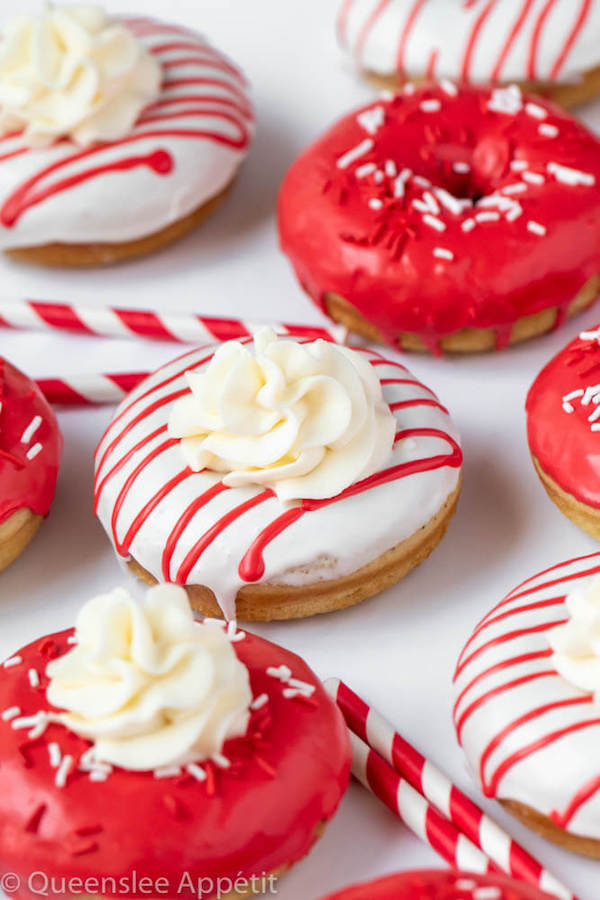 Speaking of the sprinkles! I just mixed together some red and white jimmies along with red and white maple leaf quinns to create a Canada Day sprinkle mix. I got the maple leaf sprinkles at Bulk Barn, but if you can't find any, simple red and white sprinkles will work just fine. I'm sure your friends and family will see the Canadian Pride in these donuts with or without the maple leafs.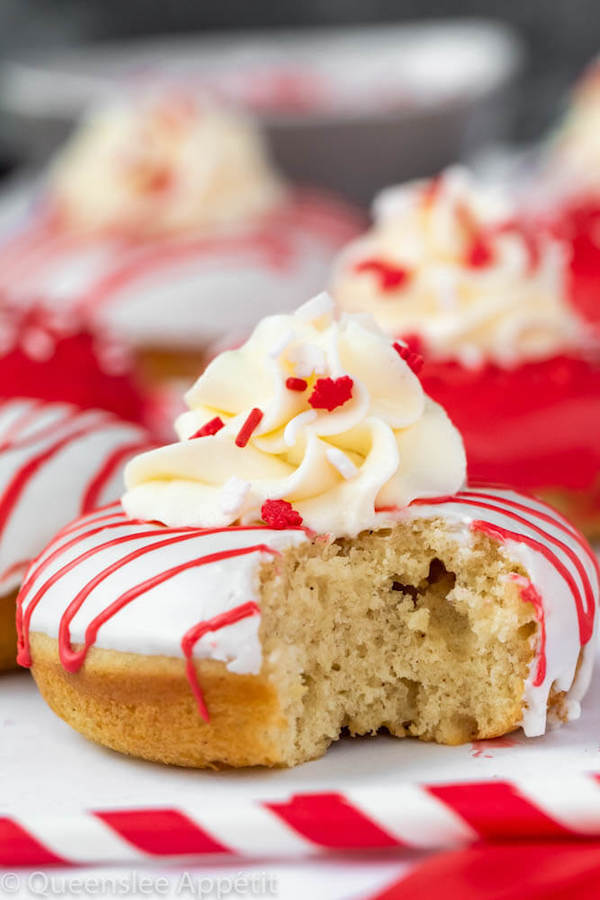 More Canada Recipes You May Enjoy
This No-Bake Canada Day Cheesecake is an unbelievably easy dessert that takes absolutely no time or effort to make! The red and white layers, cool whip topping and red and white sprinkles makes this the perfect dessert for Canada Day!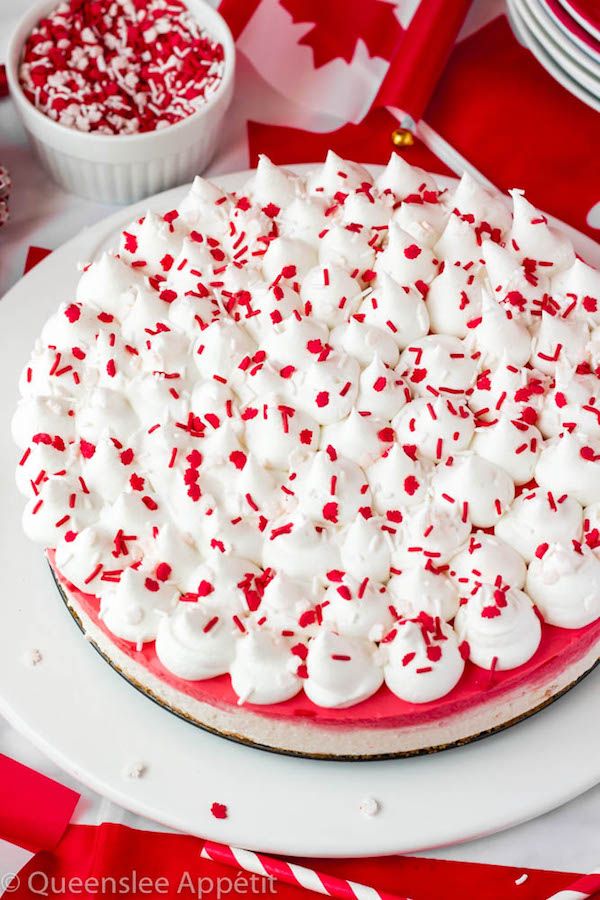 I'd love to know how these turn out for you, so if you make this recipe or any other recipe of mine, come back and leave a comment down below to tell me how they turned out!
And don't forget to take photos and tag me on Instagram @queensleeappetit or use the hashtag #queensleeappetit so I could see your gorgeous creations!
>>PIN THIS FOR LATER<<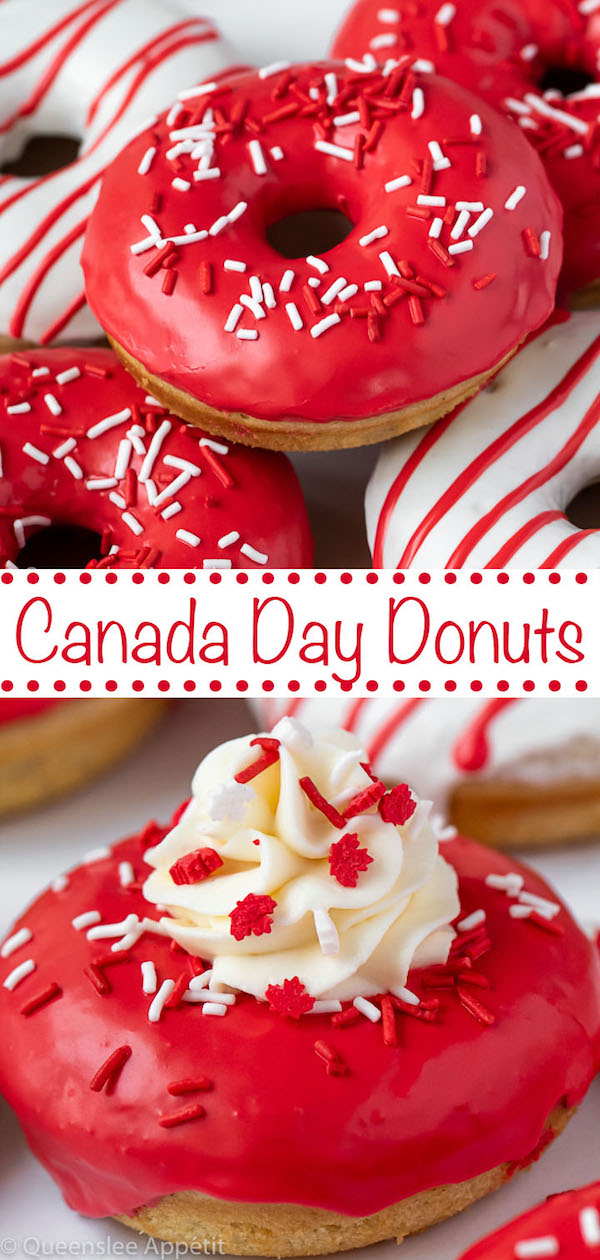 FOLLOW QUEENSLEE APPÉTIT
Like what you see? Make sure you're following Queenslee Appétit for more tasty recipes!
Pinterest | Instagram | Facebook | Twitter |
Have any questions about the recipe? Contact me here, and I'll be happy to help!
Let's get baking!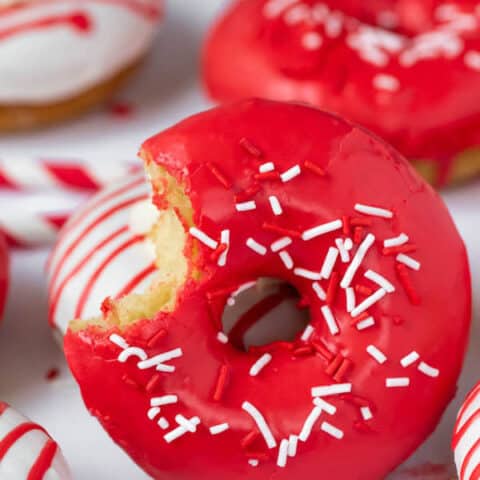 Baked Canada Day Donuts
Baked Canada Day Donuts — Soft and fluffy vanilla donuts dipped in a red and white glaze and decorated with Canadian themed sprinkles to make a fun and festive dessert to share at your Canada Day celebrations this summer!
Ingredients
Vanilla Donuts:
2 cups all-purpose flour
⅔ cup granulated sugar
1 teaspoon baking powder
½ teaspoon baking soda
½ teaspoon nutmeg (optional)
½ teaspoon salt
¼ cup unsalted butter, melted
¼ cup vegetable oil
2 large eggs, room temperature
½ cup buttermilk, room temperature
½ cup sour cream, room temperature
2 teaspoon pure vanilla extract
Red and White Glaze:
½ cup white sprinkles
½ cup red sprinkles
½ cup maple leaf confetti sprinkles
1 and ½ cups powdered sugar
2-3 tablespoon milk
1 teaspoon pure vanilla extract
Red gel food colouring
Sweetened Whipped Cream (Optional):
½ cup heavy whipping cream, chilled
4 Tbsp. powdered sugar
½ teaspoon vanilla extract
Instructions
For the Vanilla Donuts:
Preheat oven to 350°F (177°C). Spray a 6-cavity donut pan with nonstick cooking spray. Set aside.
In a large mixing bowl, add the flour, sugar, baking powder, baking soda, nutmeg and salt. Whisk to combine. Set aside.
In a separate bowl, add the melted butter, vegetable oil, eggs, buttermilk, sour cream and vanilla. Whisk until completely combined and smooth.
Pour wet ingredients into the dry ingredients and whisk until just combined. Do not overmix.
Spoon into prepared donut pan or transfer batter to a ziplock bag, snip off the end, and pipe into donut cavities. You can also use a piping bag fitted with a large round tip (like Wilton 2A)
Bake for 8-10 minutes, or until toothpick inserted into the donut comes out clean and donuts spring back when lightly touched. Allow donuts to cool in the pan for 2 minutes.
To remove the donuts, run a butterknife around the edges of each cavity and use the knife to help you gently lift the donut out of the pan. Place onto a wire rack to cool.
Bake remaining batter, then prepare the glaze while they cool.
For the Red and White Glaze:
Line a baking sheet with parchment paper or a silpat mat. Place a wire rack on top. Set aside.
Combine the red, white and maple leaf sprinkles in a small bowl. Set aside.
Add powdered sugar to a bowl along with 2 tablespoons of milk and vanilla. Using a fork or a spoon, gently stir until combined and smooth. You could add another tablespoon if the glaze is too thick.
To make the glaze whiter, you could add a squirt of icing whitener. Dip half of the donuts in the white glaze and place onto the rack.
Once 6 of the donuts have been dipped, immediately decorate with sprinkles before the glaze dries.
Tint the remaining glaze with red gel food colouring until you get a nice red colour. Dip the other 6 donuts in the red glaze and immediately decorate with the sprinkles.
You can stop there or you could add a swirl of whipped cream on top (recipe below).
For the Sweetened Whipped Cream (optional):
In a medium stainless steal bowl, using a handheld mixer, whip the chilled cream, powdered sugar and vanilla until cream holds peaks. Pipe around the donut hole and garnish with extra sprinkles, if desired.
Notes
Donuts are best the day they are made. After a day or two the glaze will begin to crack, so you could store the unglazed donuts in an airtight container at room temperature and don't glaze them until the day you plan to serve.
I piped stripes of red glaze onto my white donuts because the glaze set up before I could add sprinkles. If you like that design, you could pour the remaining red glaze into a small ziplock bag and cut off a small corner. Then hold it over the donuts and squeeze lightly while moving in a back and forth motion to create the stripes.
Recommended Products
As an Amazon Associate and member of other affiliate programs, I earn from qualifying purchases.
Nutrition Information:
Yield:

12
Serving Size:

1
Amount Per Serving:
Calories:

452
Total Fat:

23g
Saturated Fat:

7g
Trans Fat:

1g
Unsaturated Fat:

15g
Cholesterol:

59mg
Sodium:

233mg
Carbohydrates:

57g
Fiber:

1g
Sugar:

35g
Protein:

4g
BON APPÉTIT!
Love, Dedra
©QUEENSLEE APPÉTIT. All images & content are copyright protected. Please do not use my images without prior permission. If you want to republish this recipe, please re-write the recipe in your own words, or link back to this post for the recipe.