This Mississippi Mud Pie is made with a delicious Oreo crust, fudgy brownie base, a thick and decadent chocolate pudding filling and topped with a fluffy and yummy meringue! This pie is definitely one of my favourite desserts of all time!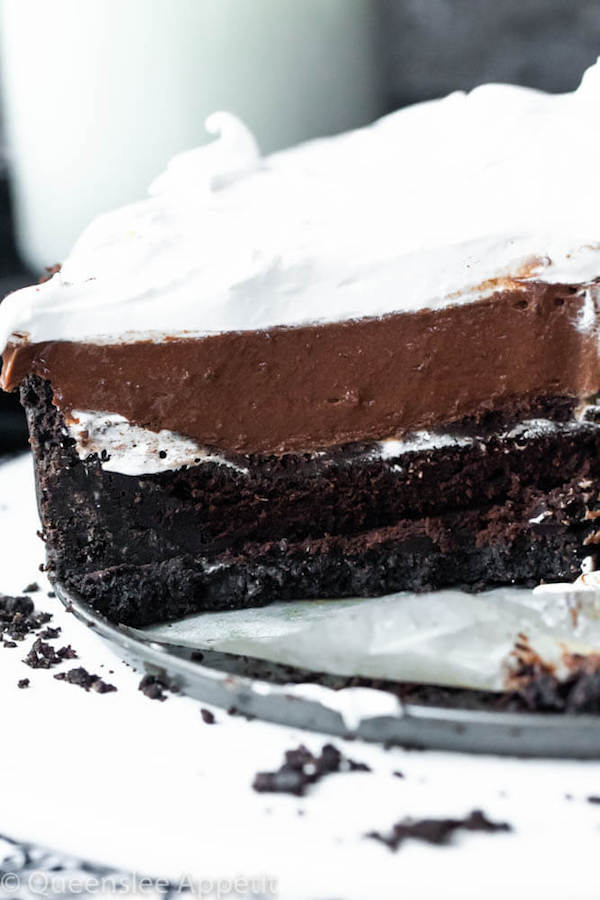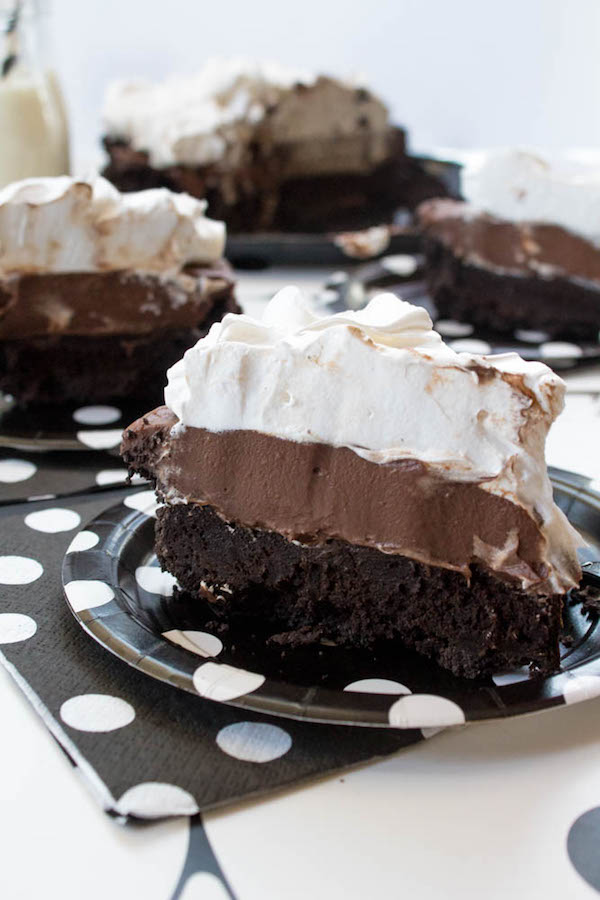 Post Updated 04/23/2019
Mississippi Mud Pie
There are many different ways to make Mississippi Mud Pie. Some recipes use a graham cracker crust, others use a chocolate cookie crust. Some include a flourless chocolate base or just a chocolate cream filling, and are topped with either whipped cream or ice cream and chocolate curls.
My recipe was inspired by the lovely Manuela from Passion For Baking's Mississippi Mud Pie. I got the idea from her recipe to use an Oreo crust, brownie base, chocolate pudding filling and a meringue topping. All of these layers put together created the most delicious pie I've ever tasted. I'm OBSESSED with this dessert!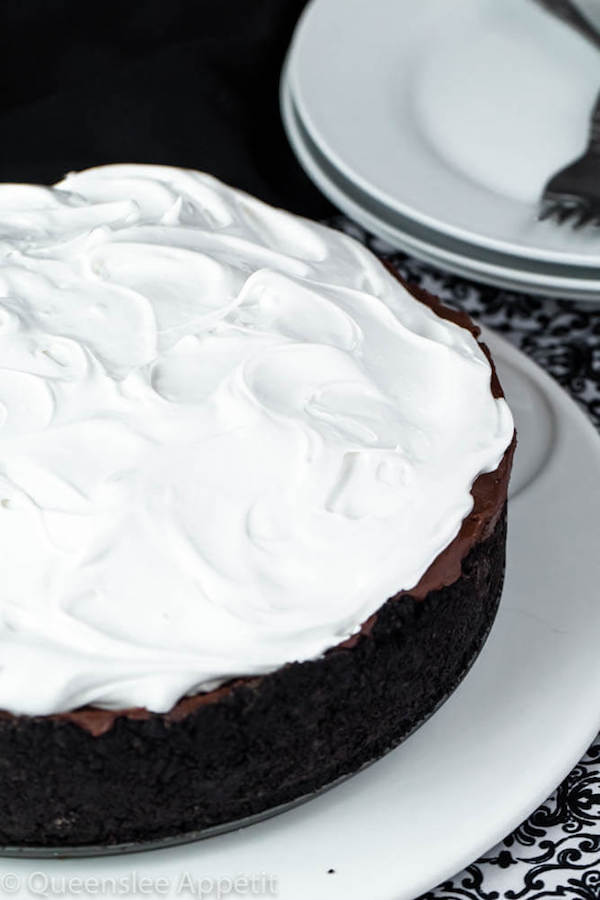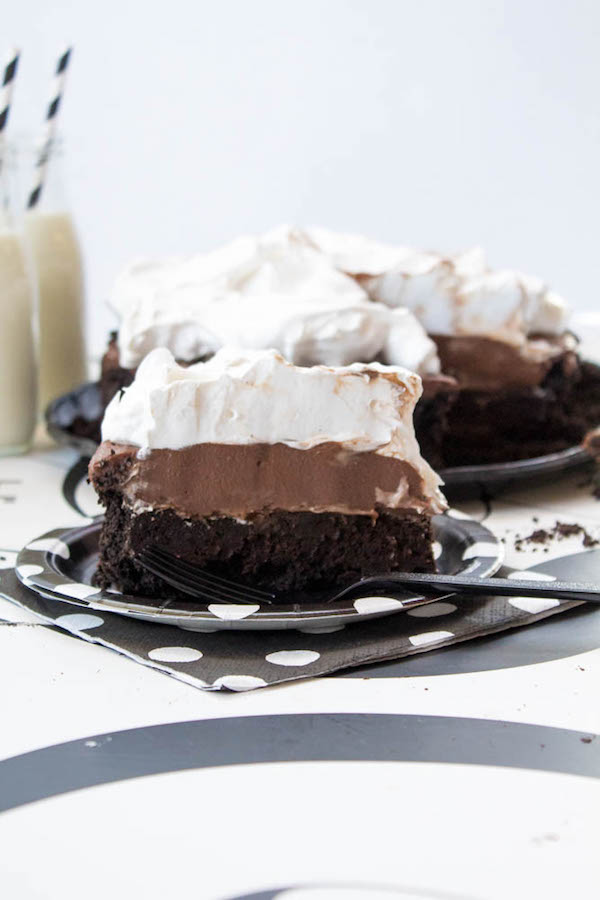 Oreo Crust
So let's go through the layers on this bad boy. First, we begin with an Oreo crust. You're gonna need about 40, yes FOURTY Oreos to make the crust, which I believe is about 1 full sized package. The reason why you'll need so much is because you need enough excess crumbs to go up the sides of the pan. This is so your brownie base and filling have a nice bed to snuggle in.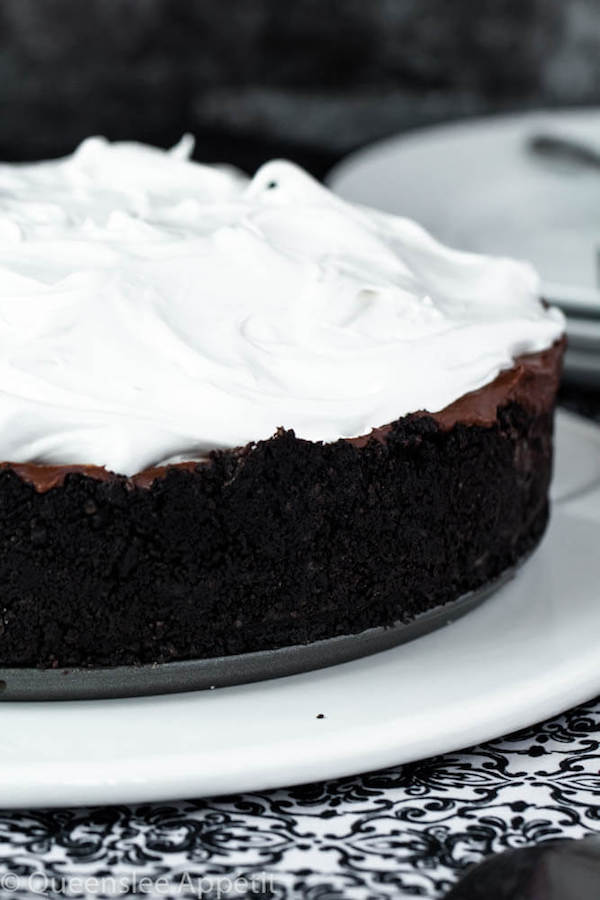 A trick for getting a flat and tight crust is using the flat bottom of a measuring cup or glass and pressing the crumbs into the bottom of the pan. This will also push the excess crumbs to the sides of the pan. You can either use the side of the measuring cup or glass to push the crumbs into the sides or just use your fingers.
Another trick to consider is, when releasing the pie from the pan, run a knife around the edges of the springform pan before releasing. This will prevent your crust from falling apart once you remove the ring.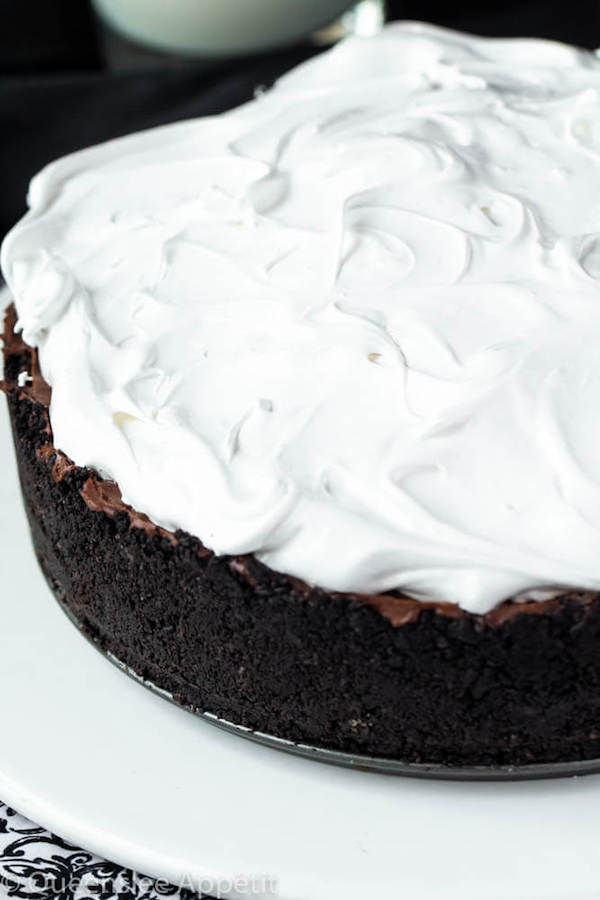 Brownie Base
The brownie base is incredibly fudgy, decadent and has a rich chocolate flavour. It's made similar to a flourless chocolate cake, because the eggs are whipped until doubled in volume, then you add melted chocolate etc. The only difference, of course, is the added flour.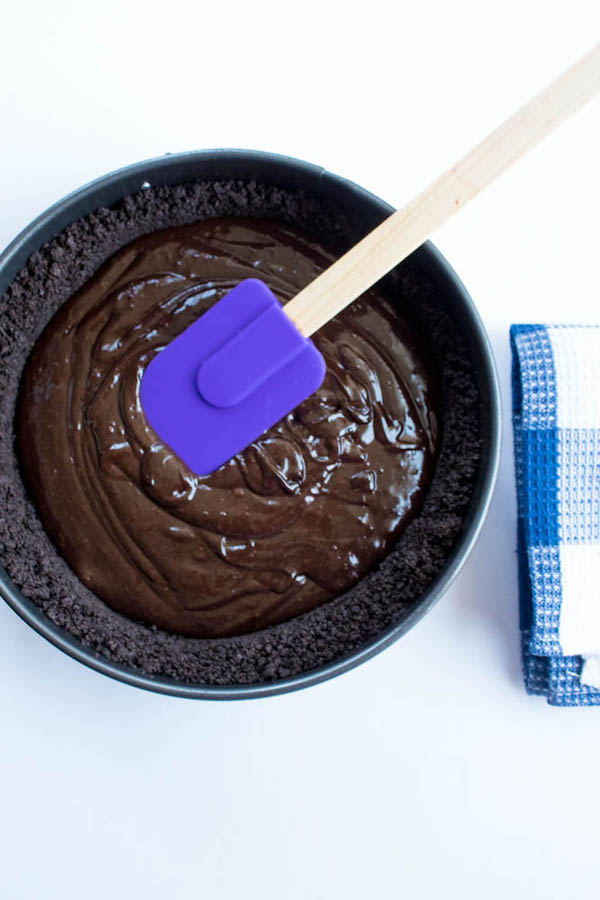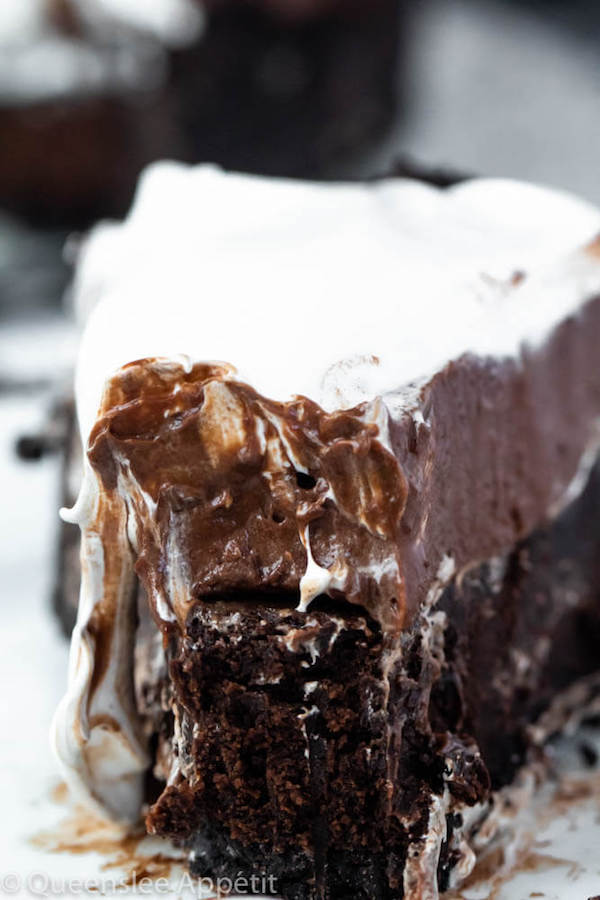 Chocolate Pudding Filling
For the filling, I used my recipe for The Best Homemade Chocolate Pudding. This pudding is chocolatey, silky, creamy and very easy to make. I added an extra tablespoon of cornstarch so the pudding could be stable enough to stand in the pie.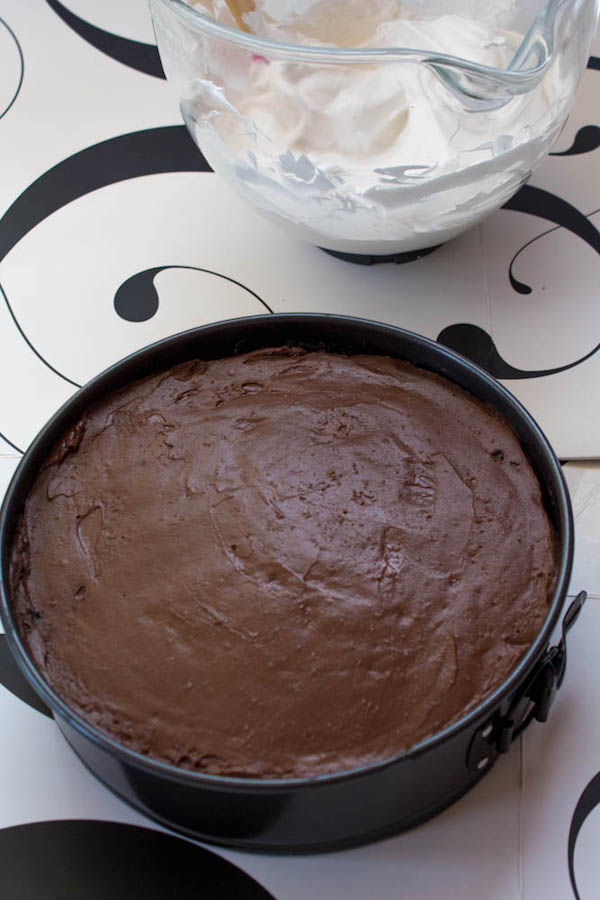 Light and Fluffy Meringue
Finally, I topped the pie with a light and fluffy meringue. I decided to use the leftover egg whites from the pudding to make this yummy meringue and it just ties this entire dessert together. You could even top it with sweetened whipped cream instead, if desired.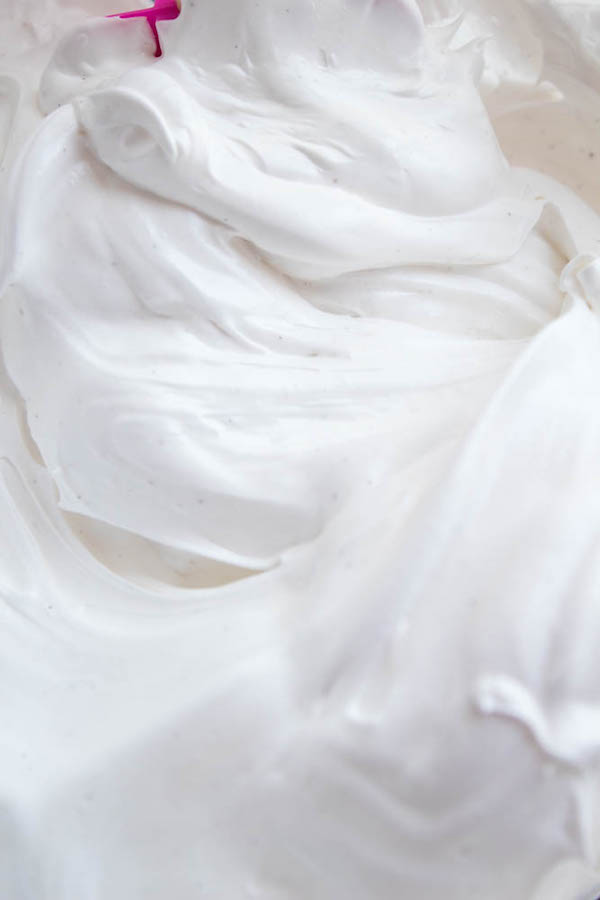 This meringue is light and fluffy and melts in your mouth with every bite! For this recipe I heated the egg whites and sugar on the stove while whisking constantly until the egg whites reached a safe temperature (140-160F).
You can use a kitchen thermometer to check the temperature of the egg whites, or you can test it by rubbing the egg white mixture between your fingers, you'll know it's ready when the sugar is completely dissolved. Then you want to whip up the hot sugary egg whites in a stand mixer or using a hand mixer for a few minutes until it becomes a white, fluffy, cloud-like marshmallow meringue.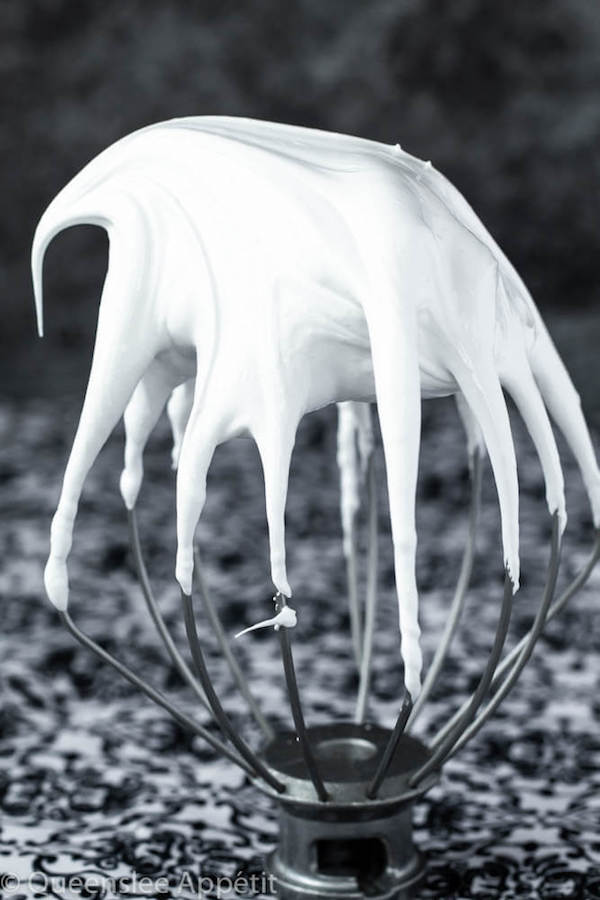 Layer after layer of pure heavenly, chocolatey bliss. This recipe is at the top of my favourites list, and I guarantee it'll be at the top of yours.
Let's get baking!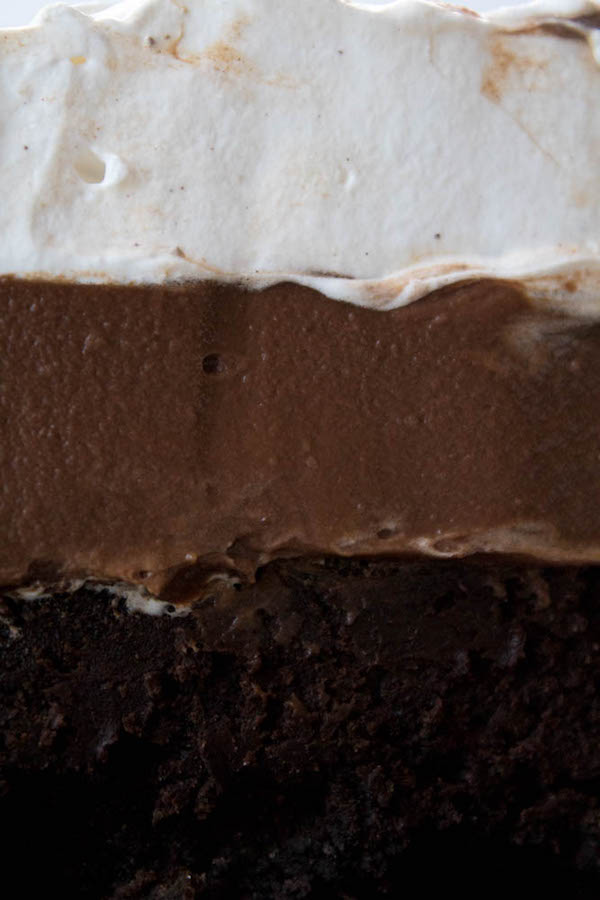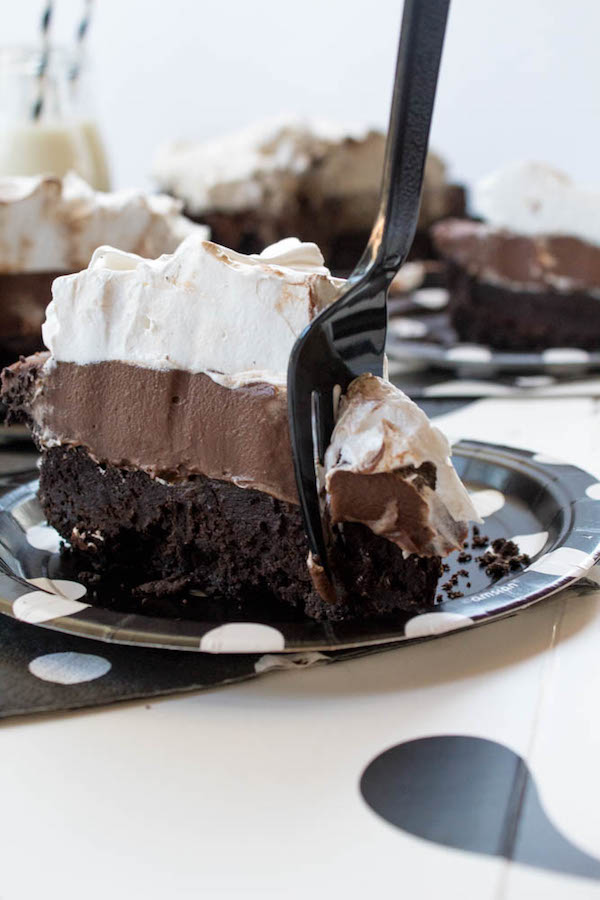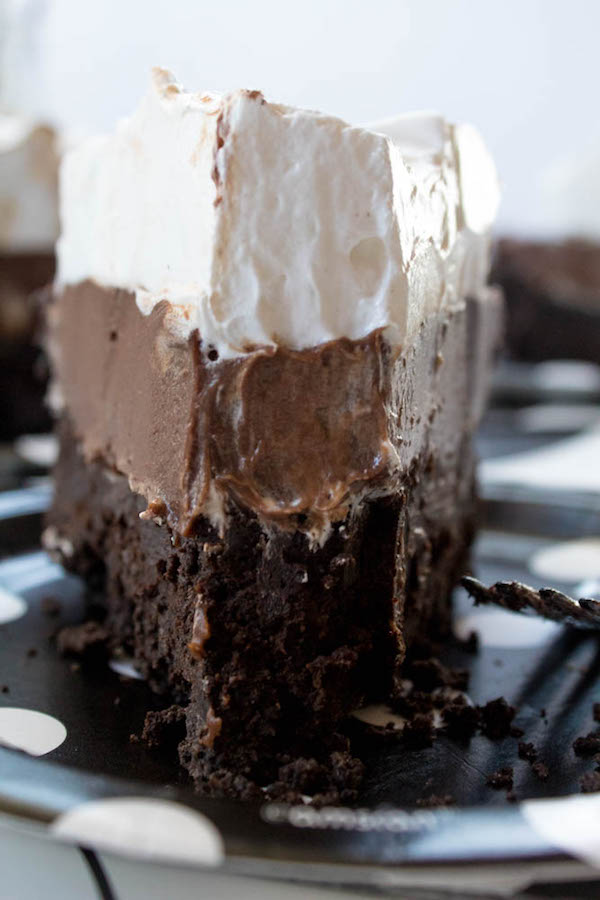 Did you make a recipe?
I'd love to see how it turned out!
Follow me on Instagram
and use the hashtag
#queensleeappetit
so I can see all of the Queenslee Appétit recipes you've made!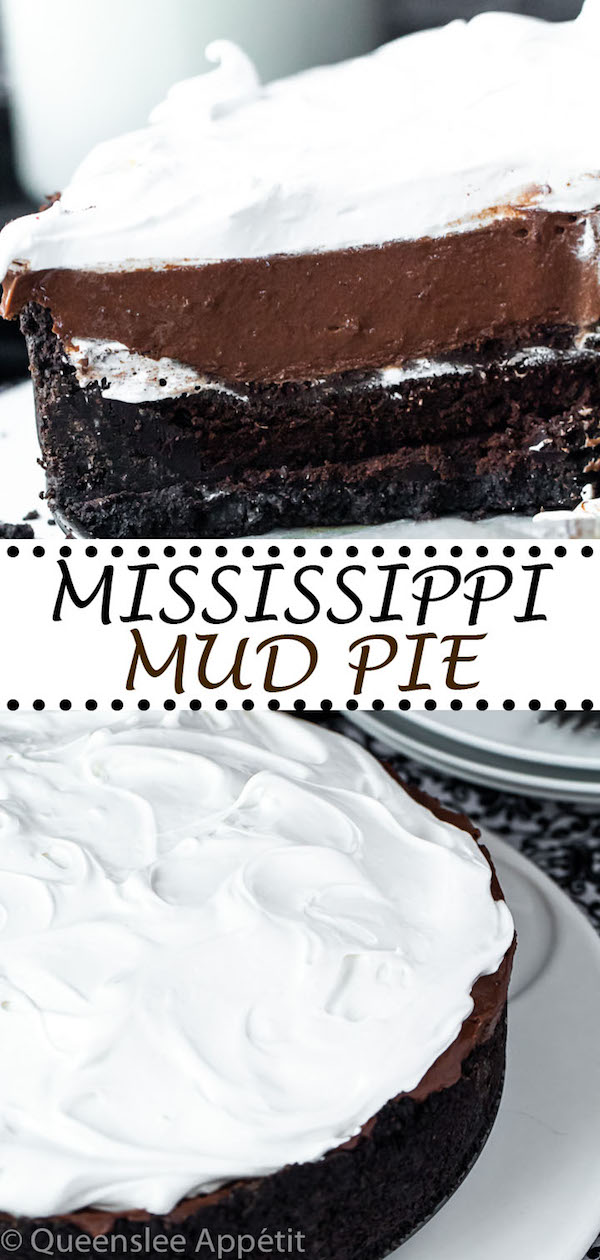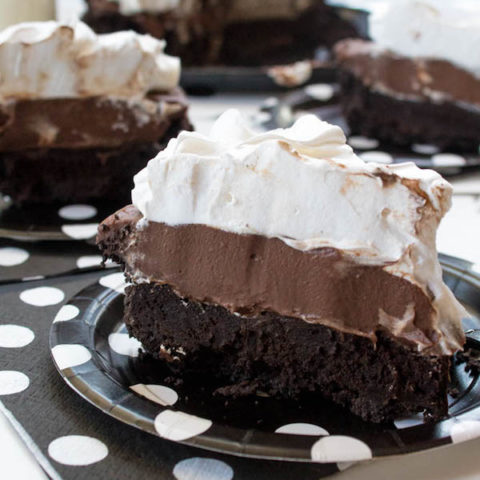 Mississippi Mud Pie
Total Time:
7 hours
45 minutes
This Mississippi Mud Pie is made with a delicious Oreo crust, fudgy brownie base, a thick and decadent chocolate pudding filling and topped with a fluffy and yummy meringue! This pie is definitely one of my favourite desserts of all time!
Ingredients
Crust
3 and 1/3 cup (335g) Oreo crumbs (35-40 Oreos)
6 Tbsp (85g) unsalted butter, melted + more for greasing the pan
Brownie Base
8 oz (175 g) dark chocolate, chopped
1/2 cup (170 g) unsalted butter, cubed
1 tsp instant espresso powder (optional)
2 teaspoons (10ml) pure vanilla extract
2/3 cup (150 g) granulated sugar
3 large eggs, room temperature
1/2 cup (96 g) all-purpose flour
1/2 tsp baking powder
2 tablespoons (15g) dark dutch-process or unsweetened cocoa powder, sifted
1/4 teaspoon salt
Chocolate Pudding
2 and 1/2 cups (600ml) whole milk
1/2 cup (120ml) heavy whipping cream
1/4 cup (21g) unsweetened cocoa powder, sifted
2/3 cup (134g) granulated sugar
5 Tbsp (35g) cornstarch
1/4 teaspoon salt
4 large egg yolks
8 oz. dark or semi-sweet chocolate chips
3 tablespoons (45g) unsalted butter, cut into pieces
1 tsp pure vanilla extract
Meringue Topping
4 large egg whites
1 cup (200g) granulated sugar
1 tsp vanilla bean paste or pure vanilla extract
Instructions
For the Crust:
Grease sides and bottom of one 9-inch springform pan with butter and line with parchment rounds.
In a food processor or using a rolling pin and a large Ziploc bag, crush Oreos into fine crumbs-you should have 3 to 3 and 1/3 cups. Pour Oreo crumbs into a medium bowl and mix in melted butter using a fork until all the crumbs are coated.
Transfer mixture to the greased 9-inch springform pan and, using the flat bottom of a glass or measuring cup, press into the bottom and up the sides of the pan.
Preheat oven to 325F. Transfer the crust to the freezer and chill for 10 minutes.
Once crust is chilled, remove from freezer and bake in preheated oven for 8-10 minutes. Set aside to cool. Increase the oven temperature to 350F.
For the Brownie Base:
Bring an inch of water to a simmer in a large saucepan over medium heat. Once it begins to simmer, turn heat to low so the water doesn't begin to boil
Place chopped chocolate and cubed butter in a large bowl and place over the saucepan of simmering water. Stir constantly until the butter and chocolate are both melted and combined.
Remove bowl from heat. In a small bowl, add espresso powder and vanilla and stir until espresso powder is dissolved. Pour into chocolate mixture and stir to combine. Set aside.
In the bowl of a stand mixer fitted with a whisk attachment, whip the sugar and eggs on medium-high speed until it doubles in volume and is pale and fluffy, about 5-8 minutes. Meanwhile, sift flour, baking powder, cocoa and salt into a large mixing bowl and whisk to combine.
Decrease mixer speed to low and pour in melted chocolate mixture, then add flour mixture. Mix on low speed until combined. Do not overmix.
Pour batter onto cooled Oreo crust and spread into an even layer. Bake in preheated oven for about 20-25 minutes or until edges are set and center jiggles slightly. Allow to cool completely on a wire rack. Once cooled, cover tightly with plastic wrap and refrigerate for at least 3 hours.
For the Chocolate Pudding:
In a glass measuring cup, combine the milk and heavy cream. Set aside.
Sift cocoa, sugar, cornstarch and salt into a medium saucepan and whisk together. Add egg yolks and a little bit of the milk mixture and whisk until combined and smooth.
Slowly pour the remaining milk mixture into the egg mixture while whisking constantly until combined.
Place saucepan on the stove and heat on medium heat and cook, stirring constantly until the mixture is thickened and begins to boil, 6-8 minutes. Mixture should coat the back of a spoon. Allow to boil for an additional 30 seconds.
Remove from heat and add chocolate chips, butter and vanilla. Whisk until melted and smooth. Strain pudding through a fine mesh sieve into a bowl.
Cover bowl with plastic wrap, placing the plastic directly on top of the pudding so it doesn't form a skin while cooling. Chill in the refrigerator for at least 3 hours.
Assembly of the Mississippi Mud Pie:
Remove both cake and pudding from the refrigerator. Stir the pudding to loosen and pour over the brownie base and spread into an even layer. Cover and chill in the refrigerator for up to 3 hours or overnight.
For the Meringue Topping:
Bring an inch of water to a simmer in a large saucepan over medium heat. Once it begins to simmer, turn heat to low so the water doesn't begin to boil.
Add the egg whites and sugar to the bowl of a stand mixer or a large stainless steel or glass bowl.
Place bowl over the saucepan of simmering water and whisk constantly until the sugar is dissolved and egg whites are warm. You can test this by rubbing the mixture between two fingers. If it doesn't feel grainy, the sugar has dissolved and can be removed from the heat. If you still feel grains, continue whisking and keep testing until the sugar is fully dissolved.
Move bowl to stand mixer, or using a handheld mixer, beat on low speed until the mixture is frothy, about 1 minute.
Gradually increase the speed to high and beat until the frosting is thick and glossy, 5-6 minutes.
Add vanilla and mix until combined. Remove cake from the refrigerator and dollop meringue on top. Unlatch the springform pan ring, slice and serve! Enjoy!
Notes
•Store pie in an airtight container in the refrigerator for up to 3 days.
Bon Appétit!
Love, Dedra ❤️
This post may contain affiliate links. Please see my full disclosure policy for details.