These thick and juicy Bacon Cheeseburger Sliders are sure to be a crowd pleaser. A super flavourful beef patty is topped with loads of cheese, bacon, lettuce, tomatoes, pickles, jalapeños and my favourite homemade spicy aioli!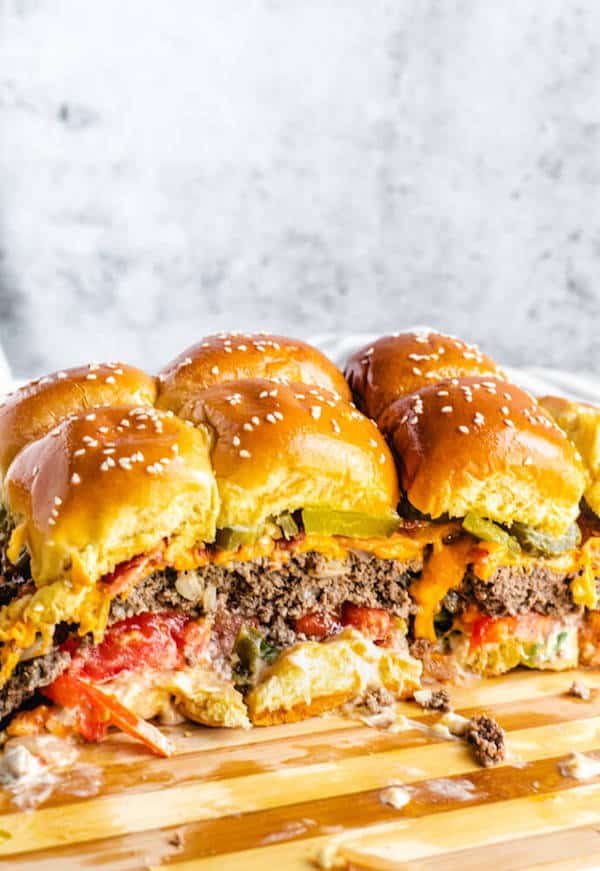 This post may contain affiliate links. As an Amazon Associate I earn from qualifying purchases. Please see my full disclosure policy for details.
Whoo, whoo!! Time to get into the game day recipes! These sliders were requested by a reader a couple of months ago, and since the Superbowl is coming up, I thought now would be the best time to share them!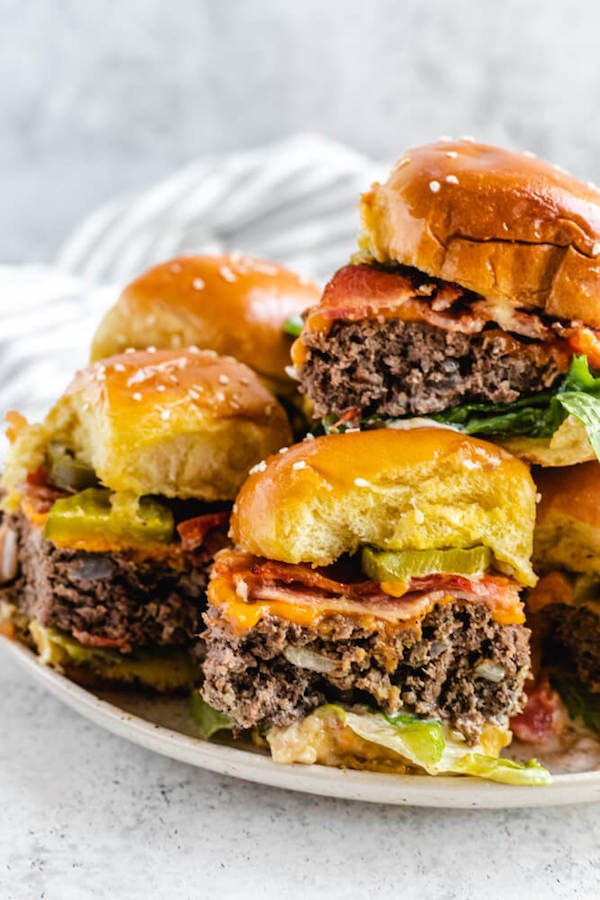 Bacon Cheeseburger Sliders
These bacon cheeseburger sliders are DEE-LICOUS!! This is only the second slider recipe I've made, the first being a turkey cranberry version.
I wasn't sure how I would make these sliders to be honest. Most slider recipes I know simply call for stuffing everything between the slider buns, then baking it in the oven but we definitely couldn't do that for these burgers.
So I began brainstorming. At first I was thinking about cooking and crumbling the ground beef on the stove, then mixing it with cheese and scooping that melty yumminess onto the slider buns. However, I wanted these buns to be like mini burgers, not mini sloppy joes (which actually sounds amazing).
This led me to my other idea, creating one large juicy beef patty that we cook separately. But I also wanted to toast the buns so we'll be doing that separately too! It takes a bit more time than traditional sliders, but you surely won't mind once you take that first bite through layer after layer of savoury goodness!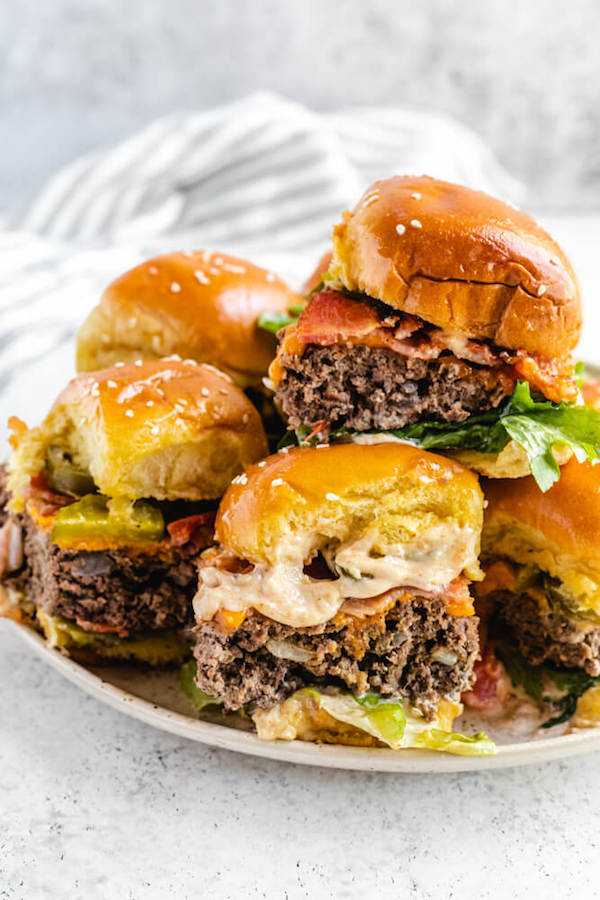 Beef Burger Patty
I know people say all a good burger needs is salt and pepper, but I wanted a lot more flavour to go into my burger. So on top of the salt and pepper, I added Worcestershire sauce, dijon mustard, garlic and onion powder and some diced onions.
Believe me when I tell you this is one of the most flavourful burgers I have ever tasted!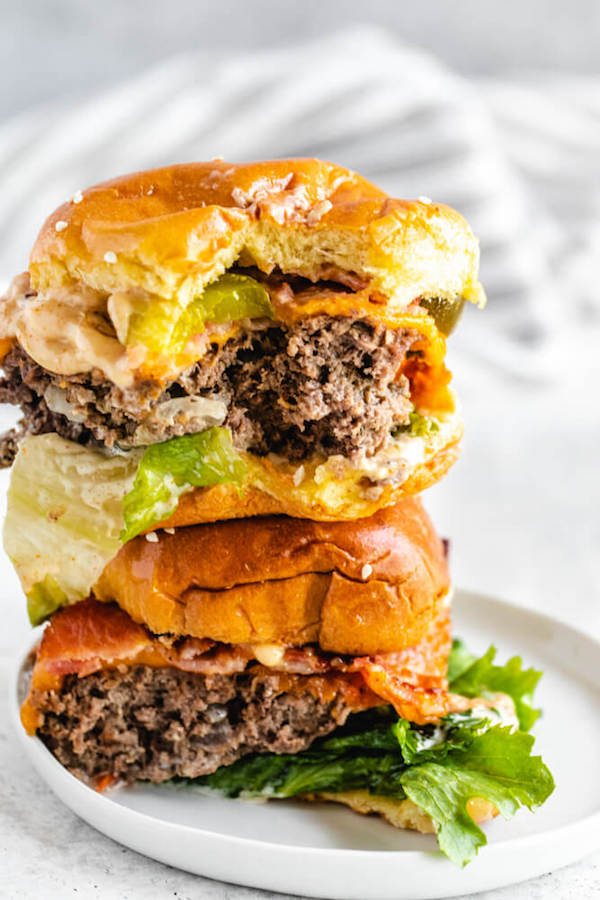 After mixing all the patty ingredients together in a bowl, we're gonna press it into a 9x13-inch baking dish. If you've cooked burger patties, you'll know that the patty shrinks a lot and the same will happen when you bake this one. Luckily, the patty was still about the same size as my buns, if an inch smaller.
Oh, but wait! This is a bacon cheeseburger, so we've gotta add the cheese and bacon! Slap on 12 slices of cheddar cheese, and if you want these burgers to be EXTRA cheesy, go ahead and add another layer for 24 whole slices of cheese!
Then top that cheese with some strips of bacon. I used an entire pack of bacon, which ended up being about 12 slices. Again, feel free to double up and use 24 strips of bacon. This is a recipe meant to be enjoyed while watching the biggest football game of the year, no one should be thinking about calories.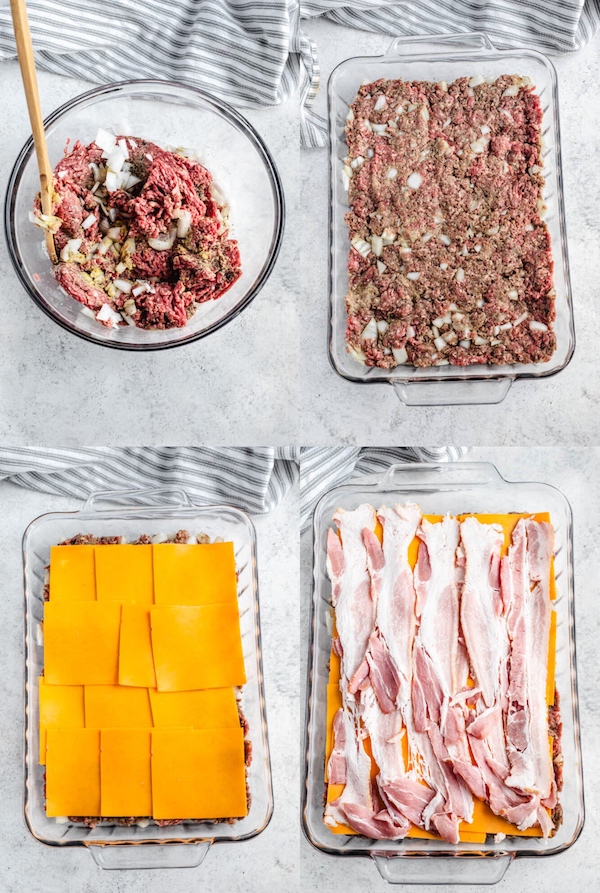 The cooking time in the recipe is for well-done burgers, because that's what I prefer. If you enjoy your burgers medium rare (I'll never understand) you may wanna decrease the baking time to 20 minutes, while medium-well burgers can be baked for about 25 minutes.
Keep in mind that the bacon is cooked with the burgers, so if you bake the patty for less time, the bacon may not be as crispy. You can just cook the bacon separately and add it on later.
Assembling the Cheeseburger Sliders
The "hard" part is over, now all you have to do is assemble the burger! But first, let's toast those buns! Slice the slider buns in half, keeping them connected. Speaking of the buns, here in Toronto we don't have the big Hawaiian dinner rolls. At least, I couldn't find any in stores or online, so I had to use some mini brioche buns I found at Walmart.
The reason why the serving amount is 12-15 is because regular Hawaiian dinner rolls are bigger than the mini brioche ones I used. So if you're using the Hawaiian rolls, you'll only need the 12-pack. I, on the other hand, had to use 15 mini rolls to cover the whole burger patty. So it depends on the size of your rolls.
Heck, you can even cut the beef into squares and put it between regular hamburger buns!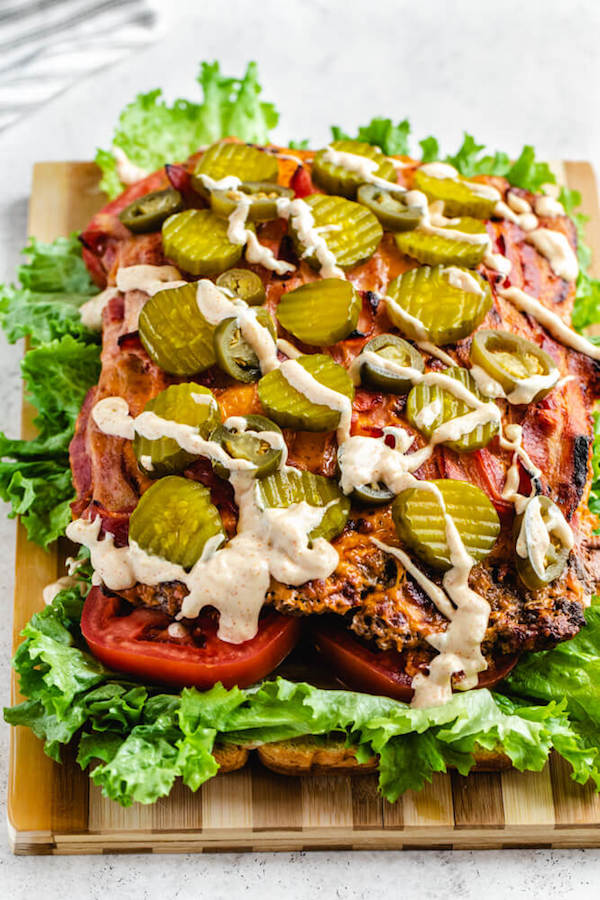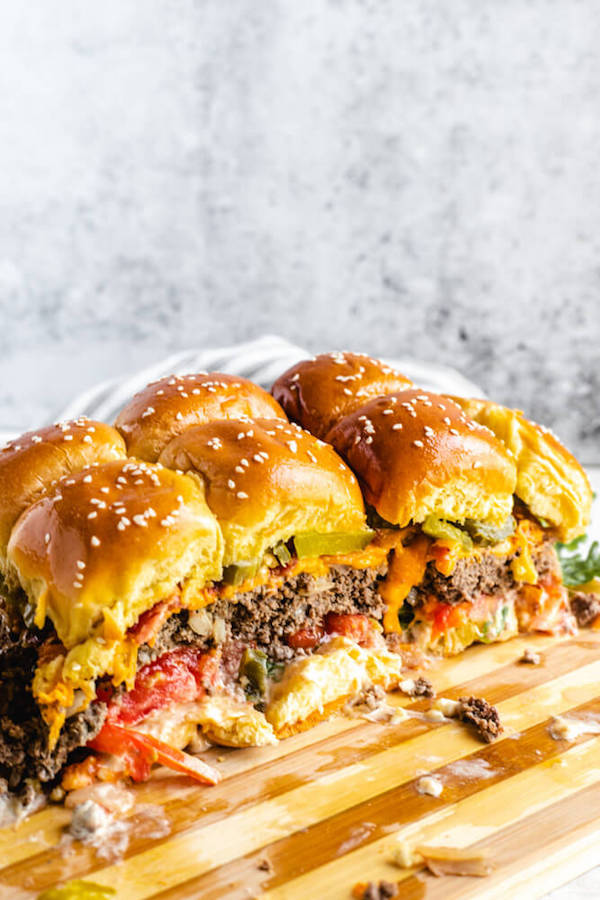 Ok, back to business. Spread melted butter on the inside of the bottom half and the top of the top half. Sprinkle some sesame seeds on the top half, then toast the top and bottom until they're both lightly golden.
Now make a batch of my super delicious spicy aioli and spread half on the bottom bun. You only need to stir 5 ingredients together to make the spicy aioli, and it pairs perfectly with so many things! Hamburgers, chicken burgers, fries and so much more!
You can load these burgers with whatever you want, but I like to stick with the traditional lettuce, tomatoes, pickles and jalapeños for a bit of heat. Spoon more of the aioli on top, cover with the top half, then slice into individual servings!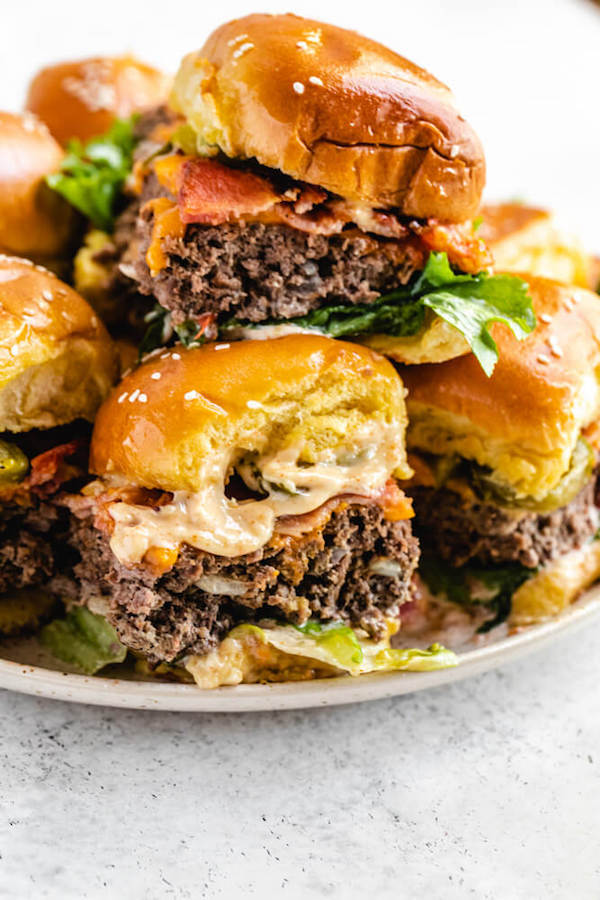 >>PIN RECIPE FOR LATER<<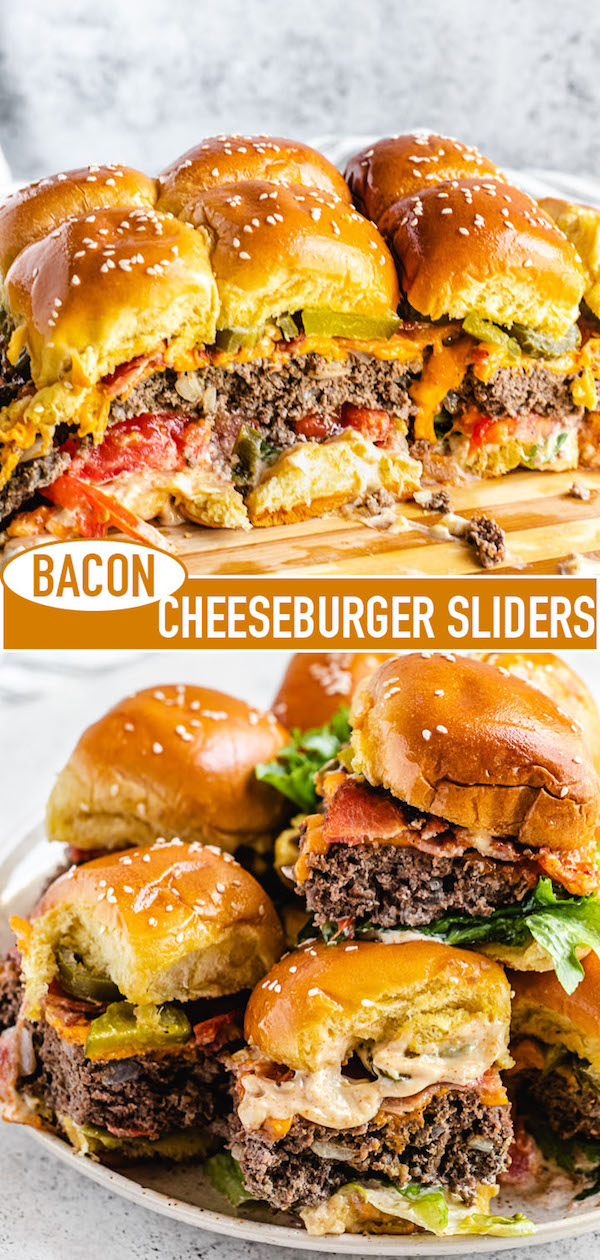 FOLLOW QUEENSLEE APPÉTIT
Like what you see? Make sure you're following Queenslee Appétit for more tasty recipes!
Pinterest | Instagram | Facebook | Twitter |
Have any questions about the recipe? Contact me here, and I'll be happy to help!
SHARE YOUR PICS!
Tag me on Instagram @queensleeappetit or use the hashtag #queensleeappetit so I could see your gorgeous creations!
HUNGRY FOR MORE?
SUBSCRIBE to the Queenslee Appétit Newsletter to recieve new recipe notifications, monthly baking/cooking tips, sneak peeks to upcoming recipes, exclusive recipes and more!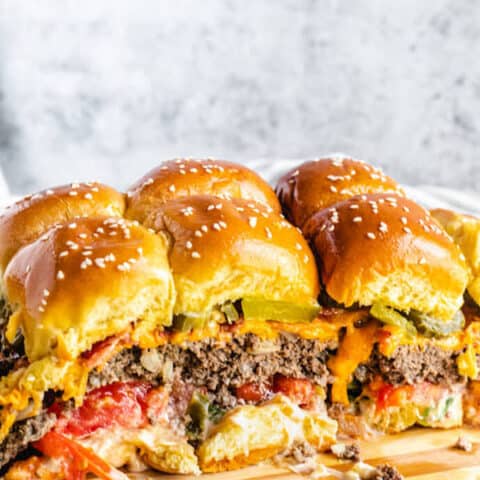 Bacon Cheeseburger Sliders
These thick and juicy Bacon Cheeseburger Sliders are sure to be a crowd pleaser. A super flavourful beef patty is topped with loads of cheese, bacon, lettuce, tomatoes, pickles, jalapeños and my favourite homemade spicy aioli!
Ingredients
Burger Patty:
2 pounds lean ground beef, (80/20 lean-to-fat ratio)
2 tablespoon Worcestershire sauce
2 tablespoon Dijon Mustard
2 teaspoon kosher salt
2 teaspoon ground black pepper
2 teaspoon garlic powder
1 and /2 teaspoon onion powder
½ white onion, diced
6 slices sharp cheddar cheese
6 slices mild cheddar cheese
12 pieces of bacon, uncooked
Buns:
12-15 brioche dinner rolls
2 tablespoon unsalted butter, melted
1 tablespoon sesame seeds
Additional:
Green leaf lettuce
2 large tomatoes, thinly sliced
Sliced pickles
1 jar jalapeños, drained (optional)
Instructions
For the Burger Patty:
Preheat oven to 400°F. In a large bowl, add the beef, Worcestershire sauce, dijon mustard, salt, pepper, garlic powder, onion powder and diced onions. Using a wooden spoon or clean hands, mix all the ingredients into the beef until completely combined.
Transfer patty mixture to a 9x13-inch dish and pat into an even layer. Top with the cheese slices and bacon. Bake for 30 minutes until beef is browned, cheese is bubbling and bacon is cooked.
Prepare a batch of my Spicy Aioli, while the patty is baking.
Once burger is cooked, remove dish from the oven and use 2 large spatulas to carefully lift and transfer the patty to a paper towel lined baking sheet. Keep the oven on.
Toast the Buns:
Slice the attached rolls in half. Spread 1 tablespoon of melted butter onto the bottom half and the other tablespoon onto the top part of the top half. Sprinkle sesame seeds onto the top buns.
Place both halves of the bun onto a baking sheet and bake in the oven for 2-3 minutes, or until lightly golden.
Assembly:
Place the toasted bottom half onto a serving platter. Spread half of the spicy aioli on top, then top with lettuce and tomatoes.
Carefully transfer the patty to the bun. Top with sliced pickles, jalapeños and drizzle with the remaining spicy aioli. Cover with top bun and slice into individual servings.
Notes
I couldn't find Hawaiian Rolls here in Canada so I had to use 1 and ½ packages of mini Brioche buns to get 15 servings. Hawaiian Rolls are much larger, so if you use them, you'll end up with 12 servings.
If you want the bacon extra crispy, you can place the patty dish on the top rack after it's done cooking and broil on high for 30 seconds to 1 minute or until the bacon is crisped to your liking.
This recipe is mainly for the burger patty and buns, feel free to top these sliders with whatever you want!
Nutrition Information:
Yield:

12
Serving Size:

1
Amount Per Serving:
Calories:

762
Total Fat:

47g
Saturated Fat:

22g
Trans Fat:

1g
Unsaturated Fat:

20g
Cholesterol:

246mg
Sodium:

1295mg
Carbohydrates:

43g
Fiber:

2g
Sugar:

9g
Protein:

40g
BON APPÉTIT!
Love, Dedra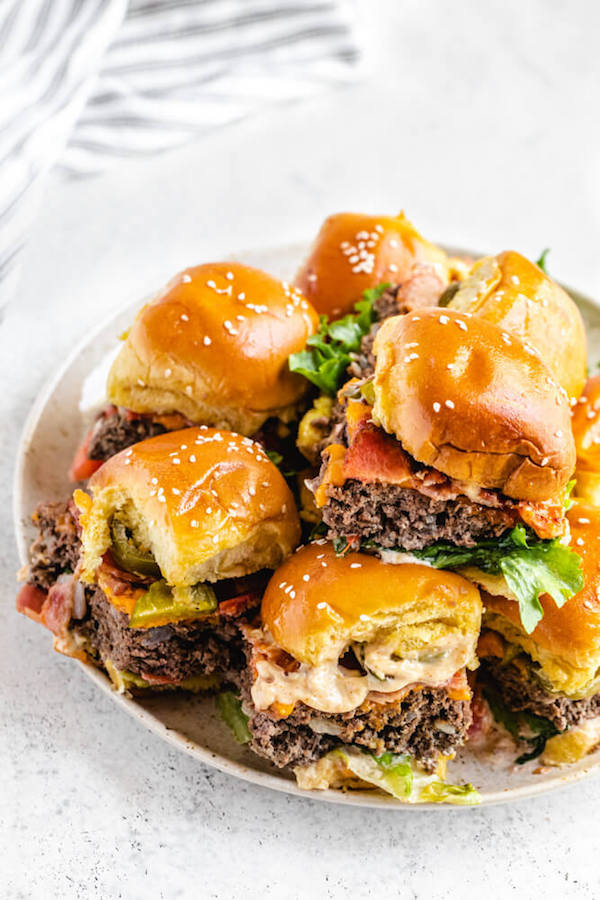 ©QUEENSLEE APPÉTIT. All images & content are copyright protected. Please do not use my images without prior permission. If you want to republish this recipe, please re-write the recipe in your own words, or link back to this post for the recipe.