Buffalo Chicken Fries — Crispy fries are loaded with even crispier bite-sized chicken pieces coated in a spicy buffalo sauce and drizzled with a spicy aioli. These quick, easy and delicious Buffalo Chicken Fries are sure to be a crowd pleaser!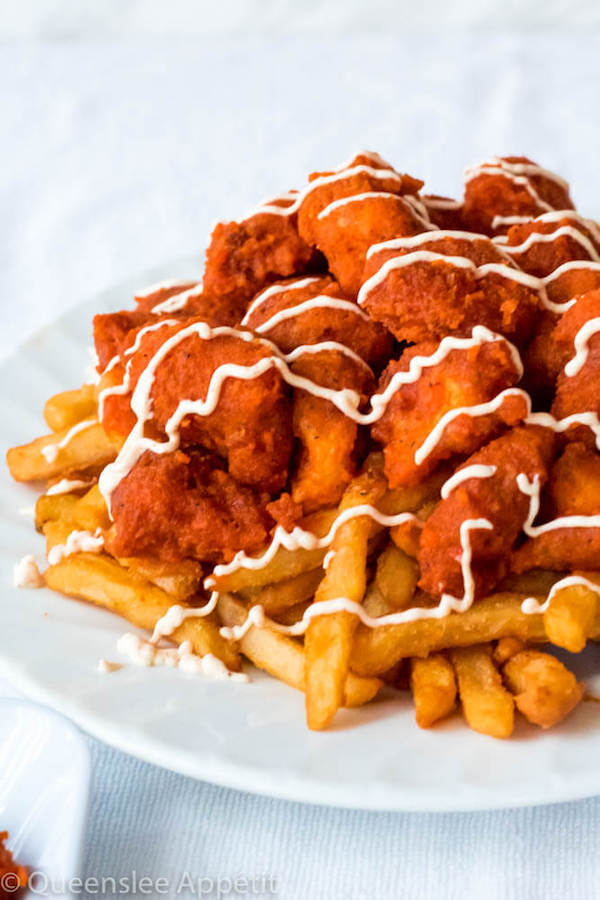 Buffalo Chicken Fries
Has anyone ever tries these "World Famous" Buffalo Fries from The Buffalo Spot? I haven't because they don't have a restaurant here in Canada, but I've seen a lot of photos of those fries and I've been dying to try them myself. 
Luckily for us both, I have the ability to re-create something in my own kitchen with my own recipe. So now we both can make those World Famous Buffalo Chicken Fries at home that I'm sure tastes just as amazing as the restaurant version.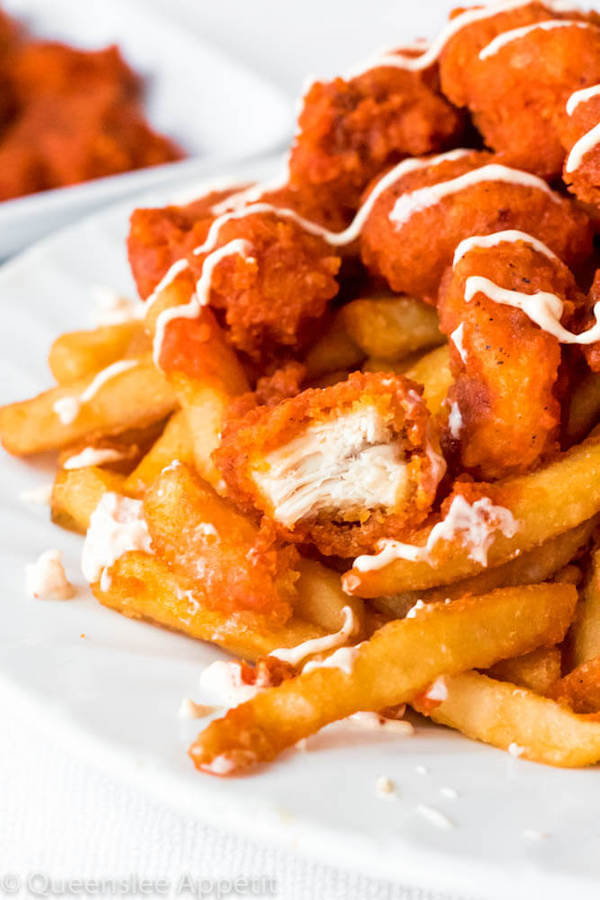 I know it isn't football season yet, but these Buffalo Chicken Fries would be the perfect appetizer to make for Game Day. Two of the best appetizers wrapped up into one: Buffalo chicken + Fries = Food Heaven.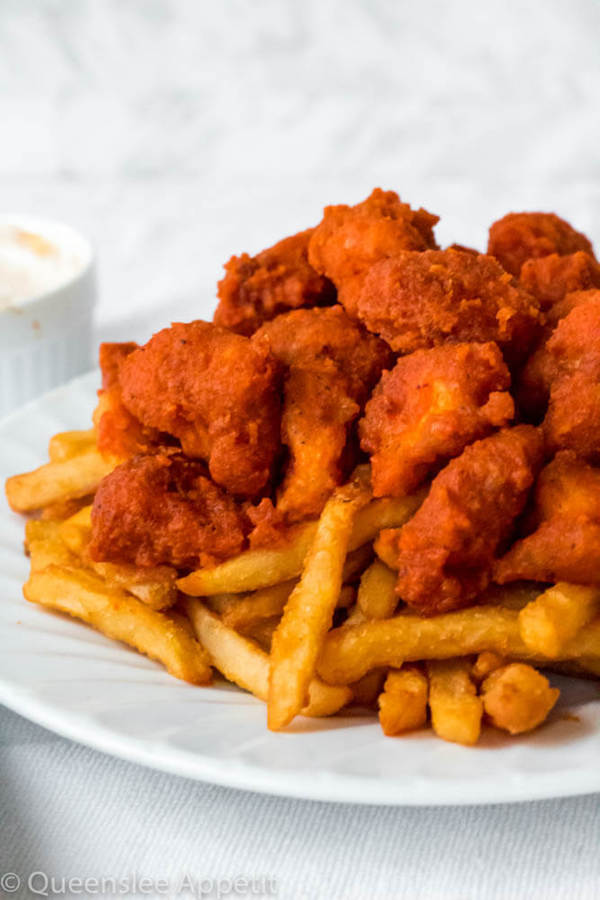 This recipe uses restaurant fries, so all you need to do is make the chicken bites which takes absolutely no time or skill at all. Then whip up the spicy aioli that comes together in less than 2 minutes! The perfect party snack/appetizer. I wouldn't really call this a dinner recipe, but you could totally serve it for dinner if you like.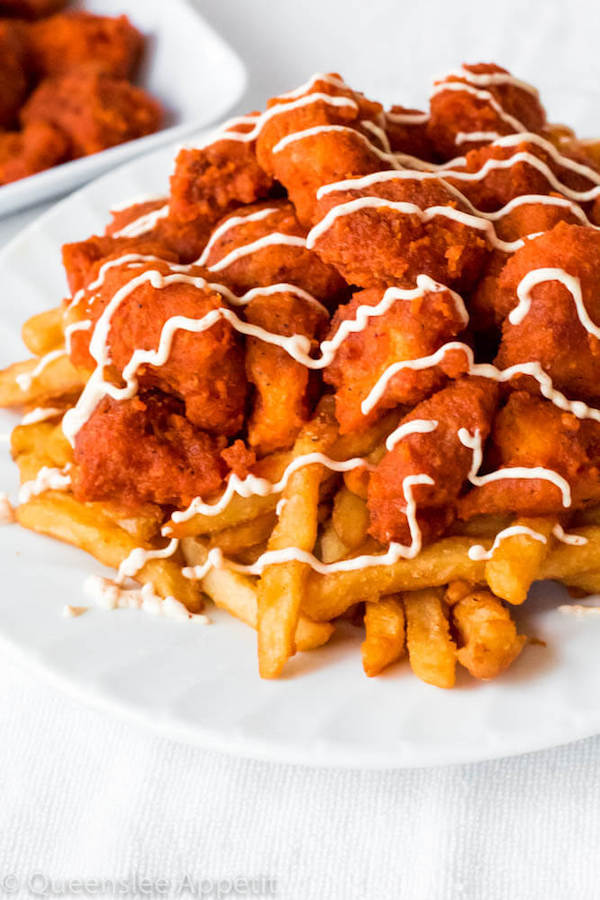 Fries
I wanted this recipe to be as simple as possible, so I went out and bought a large portion of my favourite restaurant french fries. 
You can bake up a bag of frozen fries, or you can slice up some potatoes to make your own from scratch. You can also swap the fries out for tater tots, potato wedges, whatever you want!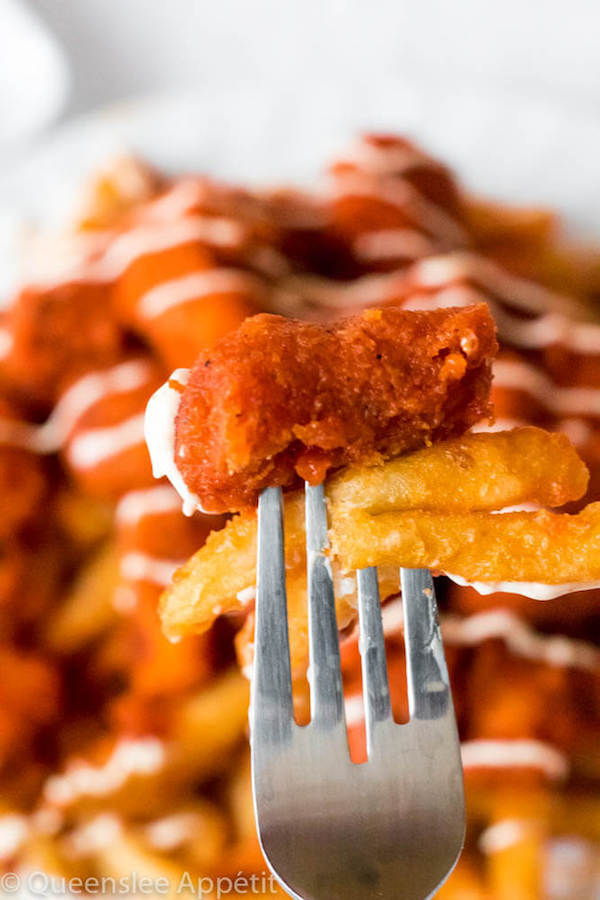 Crispy Buffalo Chicken
These bite-sized buffalo chicken pieces are extra crispy. The secret to the perfect crispiness is the cornstarch. We start by coating the chicken pieces in a bit of cornstarch. Then we make our cornstarch dipping batter, which is just cornstarch, flour, baking powder, salt, seasonings and water all combined. 
Simply dip each chicken piece into the seasoned cornstarch batter, then fry for a few minutes. I honestly couldn't resist eating a few without the buffalo sauce. They tasted just like McNuggets!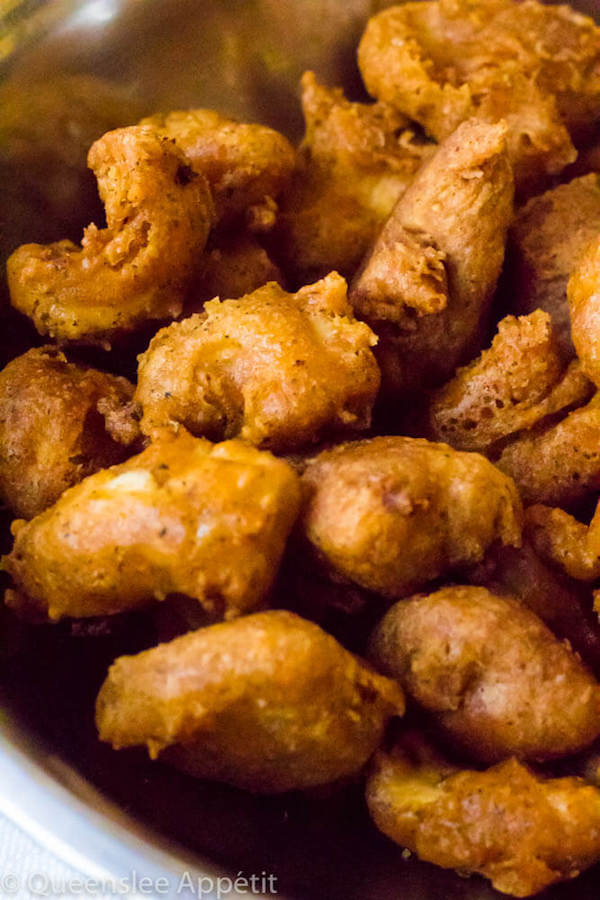 Buffalo Sauce
To finish the chicken off, we're gonna toss them in some buffalo sauce. This buffalo sauce is insanely easy to make and only requires 2 ingredients: butter + hot sauce. 
Simply heat the butter and hot sauce together in the microwave until the butter is completely melted. Stir to combine, then pour over the chicken and toss until completely coated.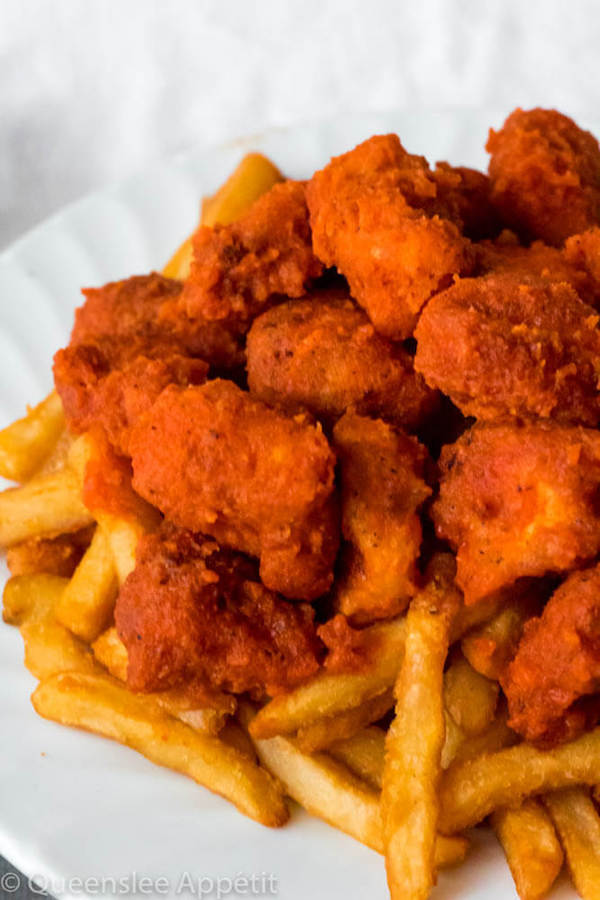 Spicy Aioli
You can serve the Buffalo Chicken Fries plain, or you can mix together a batch of my easy Spicy Aioli recipe. This aioli only requires a small handful of ingredients you probably have on hand already. 
This super flavourful aioli would make the perfect dipping sauce for these Buffalo Chicken Fries, so I highly recommend giving it a try!
I drizzled a teensy amount of the aioli onto the Buffalo Chicken Fries to make them look pretty for the photos, but believe me, they were drenched in the spicy aioli once I was done. It adds so much flavour to the buffalo fries, I couldn't get enough.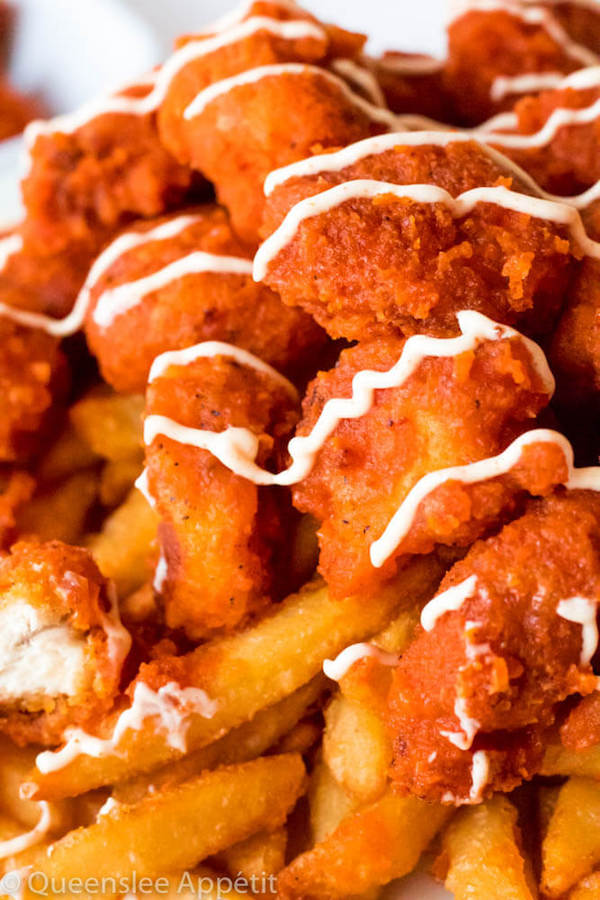 And there you have it, a delicious appetizer that's easy to make and even easier to eat! Perfect for game day, potlucks, parties or a quick an easy weeknight meal. 
>>PIN ME FOR LATER<<

FOLLOW QUEENSLEE APPÉTIT
Like what you see? Make sure you're following Queenslee Appétit for more tasty recipes!
Pinterest | Instagram | Facebook | Twitter |
Never miss a recipe, SUBSCRIBE at the bottom of this post!
Have any questions about the recipe? Contact me here, and I'll be happy to help!
Let's get cooking!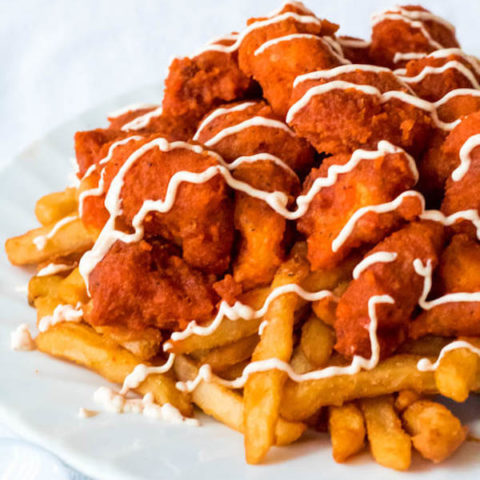 Buffalo Chicken Fries
Prep Time: 7 minutes

Cook Time: 25 minutes

Total Time: 32 minutes

These quick, easy and delicious Buffalo Chicken Fries are sure to be a crowd pleaser!
Ingredients
1 bag frozen fries, baked (or your favourite restaurant fries)
Boneless Buffalo Wings:
2 boneless skinless chicken breasts, sliced into chunks
3/4 cup cornstarch, divided
1/4 cup all purpose flour
2 tsp baking powder
2 tsp salt
1 tsp ground black pepper
1 tsp garlic powder
1 tsp paprika
1 tsp cayenne pepper
2/3 cup water
Vegetable oil, for frying
Buffalo Sauce:
2 Tbsp unsalted butter
1/2 cup hot sauce
Topping:
Instructions
If using a bag of frozen fries, bake according to package directions.
For the Boneless Buffalo Wings:
In a bowl, toss the chicken chunks with 1/4 cup of cornstarch. Place the chunks of chicken on a wire rack and place in the refrigerator to rest for 15-20 minutes.
Meanwhile, pour your oil into a pot, clipping a frying/candy thermometer to the side of your pot (making sure it's not touching the bottom) and heat until the oil reaches 350°F.
In a medium bowl, combine the remaining 1/2 cup of cornstarch, flour, baking powder, salt, black pepper, garlic powder, paprika, cayenne and water.
Remove chicken from refrigerator and dip in the cornstarch batter, then place in the oil. Fry in batches until brown and crispy, about 4-7 minutes.
Remove from oil and place on a paper towel lined plate to drain the excess oil.
For the Buffalo Sauce:
Heat the butter and hot sauce in a heat safe bowl in the microwave in 30 second intervals until butter is melted. Stir until smooth.
Pour buffalo sauce over the chicken and toss to completely coat the chicken.
Pour baked fries onto a serving plate and place chicken pieces on top. Serve with my Spicy Aioli recipe, if desired. Enjoy!

Chicken recipe slightly adapted from: https://tasty.co/recipe/the-best-crispy-buffalo-wings
BON APPÉTIT!
Love, Dedra
Did you make a recipe? I'd love to see how it turned out! Follow me on Instagram and use the hashtag #queensleeappetit so I can see all of the Queenslee Appétit recipes you've made!
More Party Food Recipes You'll Enjoy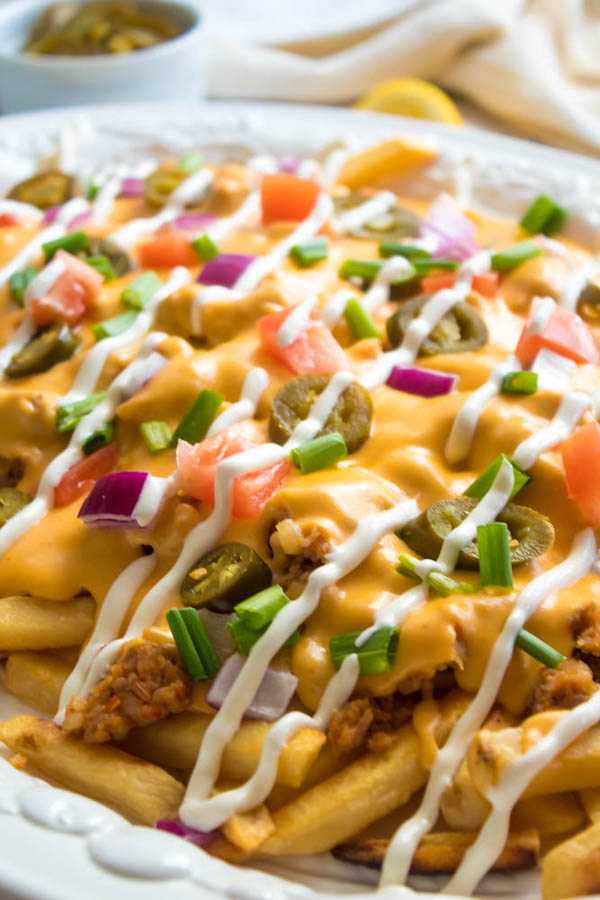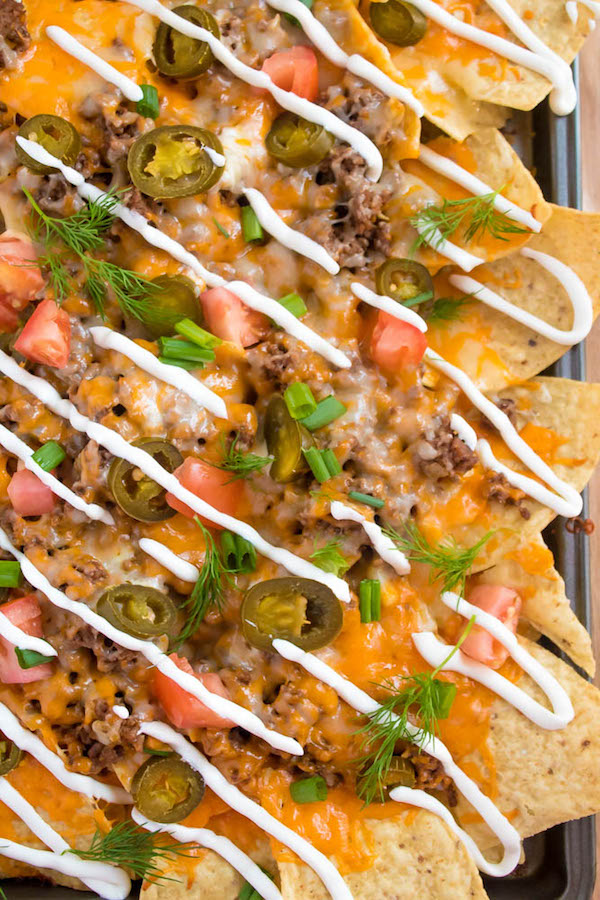 ©QUEENSLEE APPÉTIT. All images & content are copyright protected. Please do not use my images without prior permission. If you want to republish this recipe, please re-write the recipe in your own words, or link back to this post for the recipe.