These quick, easy and delicious Buffalo Chicken Fries are sure to be a new family favourite! Crispy fries are loaded with even crispier bite-sized chicken pieces that are coated in a spicy buffalo sauce and drizzled with a spicy aioli!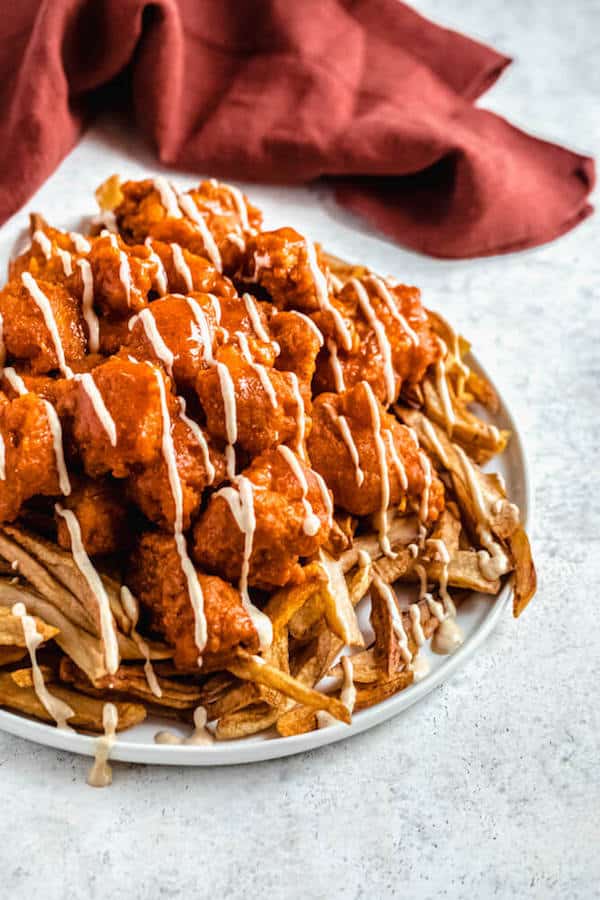 This post may contain affiliate links. As an Amazon Associate I earn from qualifying purchases. Please see my full disclosure policy for details.
Post Updated: 01/21/2020
BUFFALO CHICKEN FRIES
Has anyone ever tries these "World Famous" Buffalo Fries from The Buffalo Spot? I haven't because they don't have a restaurant here in Canada, but I've seen a lot of photos of those fries and I've been dying to try them myself!
Luckily for us both, I have the ability to re-create something in my own kitchen, so now we both can make those World Famous Buffalo Chicken Fries at home, and I'm sure my homemade version tastes just as amazing as the restaurant.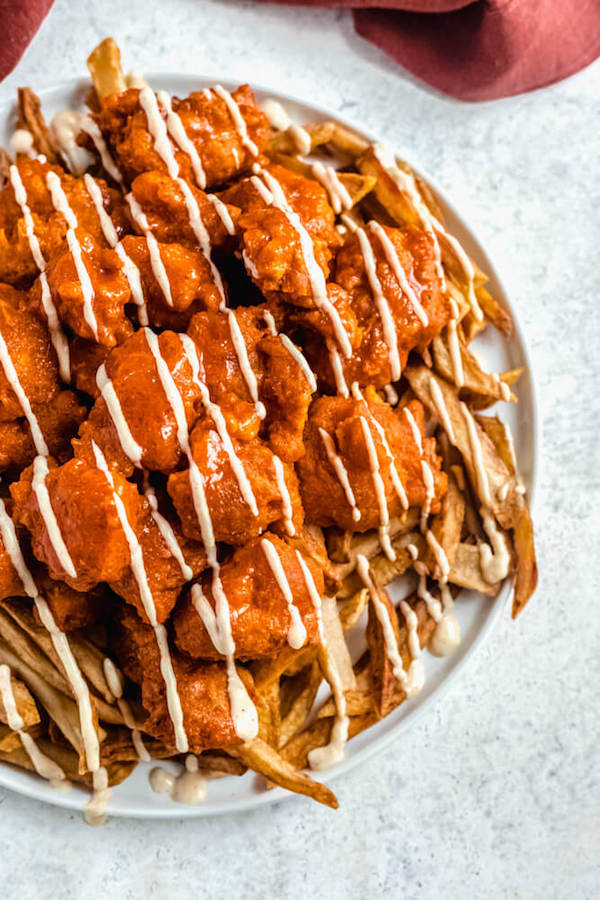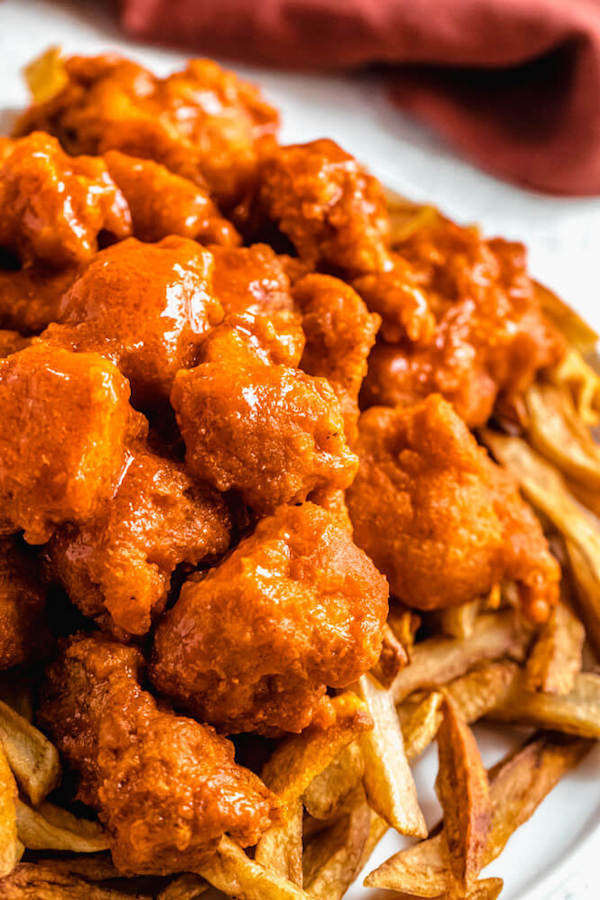 Homemade French Fries
The first time I made this recipe, I used restaurant bought fries. This time I decided to give homemade fries a try. Making fries from scratch ended up being a whole lot easier than I thought it'd be (despite a few hiccups that were totally my fault).
The only ingredients you'll need for the french fries are russet potatoes, vegetable oil and salt. I'll admit I was stupidly stressing out trying to come up with a recipe because I thought there was more to that, but there isn't! At the same time, though, there are a few steps to ensure you end up with the best results.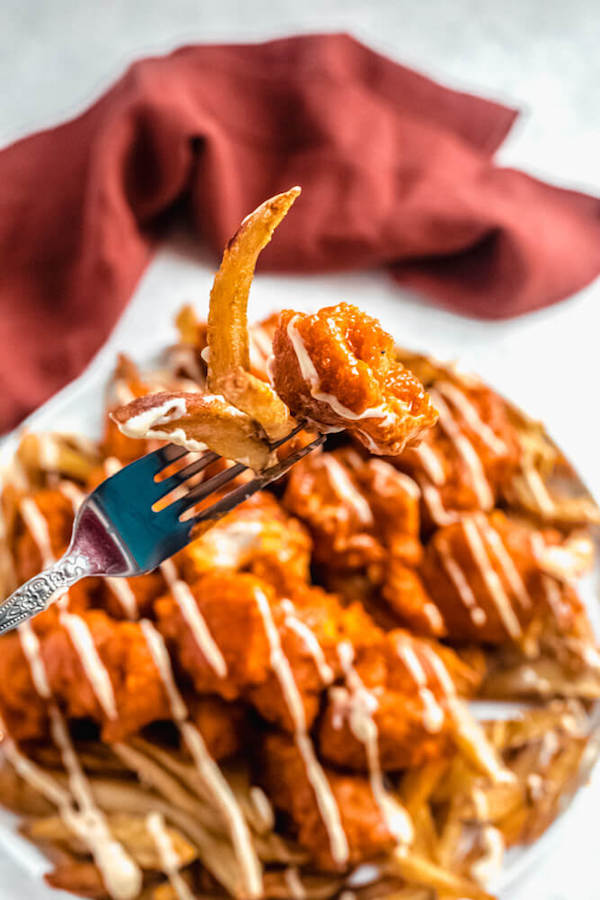 How to Cut Fries
There's no need for a fancy french fry cutter to cut your potatoes into sticks. All you need is a knife and a potato peeler (though that's not necessary).
You won't need to wash the potatoes since we'll be soaking the sticks in cold water. However, if you plan on keeping the skin on, go ahead and scrub the potatoes before slicing. To cut the fries, start by slicing the potatoes lengthwise in ¼-inch thick disks. Then slice each disk into sticks.
Let 'Em Soak!
As I mentioned above, the potato sticks need to soak in cold water. This is to get rid of the starch in the potatoes. Let 'em soak for at least an hour, or preferably overnight in the refrigerator which'll make the fries extra crispy!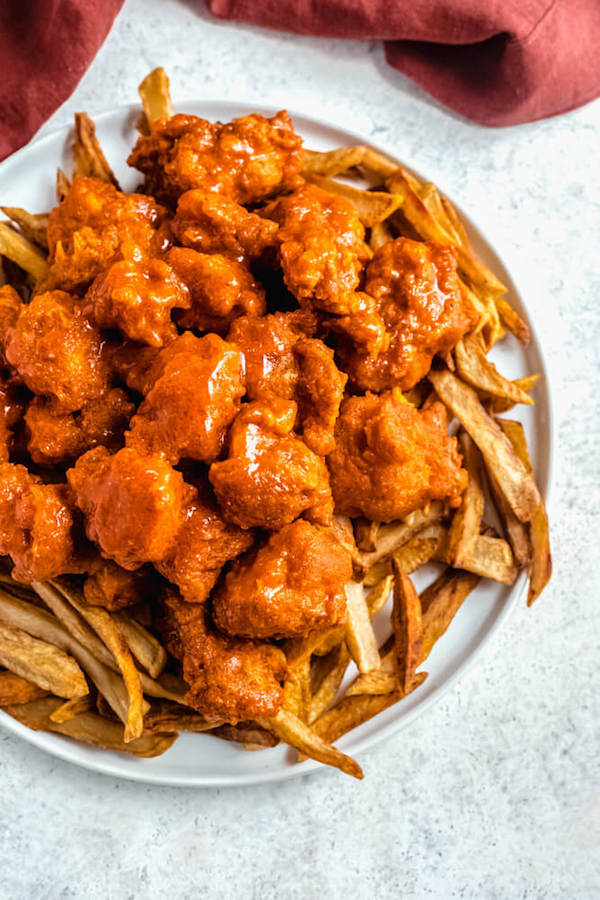 How to Fry French Fries
Before frying your french fries, make sure to dry them as much as you can. Not only do water and oil make a popping mess, but the drier they are, the crispier they'll be.
Now these fries are deep fried, so you'll need 8 cups of oil. I know it's a lot, but it can and should be re-used! Heat the oil to 300°F, you can use a thermometer or test the oil with 1 fry and if it starts frying gently, it should be ready.
Fry in SMALL BATCHES
You'll need to fry in small batches. I mean this, please please PLEASE do not add too many fries to the oil at once. When you add a small amount, the oil will begin to bubble rapidly, then dissipate after a few minutes. If you add too many fries, the oil will bubble right to the top of your pot (use a large deep pot, by the way) and spill over onto your stove causing it to catch fire.
So yes, if you fry too many fries at once, your stove, kitchen, then even house can go down in flames and that is the LAST thing we want. This happened to me when I accidentally added an extra handful of fries to the pot. The oil spilled and the stove went up in flames, but I was lucky enough to put it out in time and carry on.
This was also caused by my pot not being big enough. Though it was the deepest pot in my house, it wasn't the widest, so make sure the pot you use has enough room to hold all of the oil and rise up a few inches without reaching the top.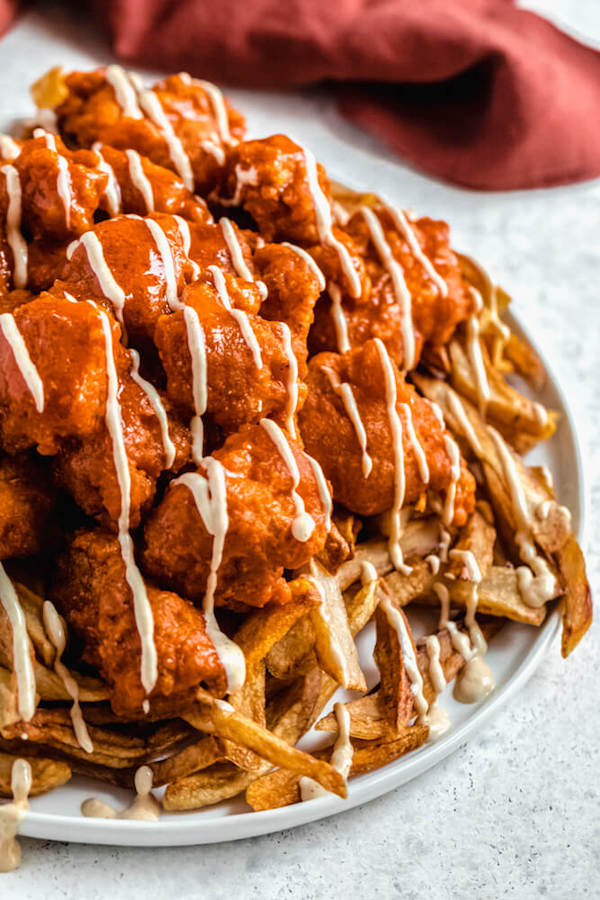 If you want extra crispy fries, you'll need to fry them twice. Once at 300°F for 4-5 minutes, just to get them to cook on the inside. When you've fried the entire batch once, heat the oil to 400°F, then fry a second time for another 3-5 minutes until the outside is golden and crispy.
Place them on a paper towel lined baking sheet, then sprinkle some salt over them and you've got your very own homemade french fries!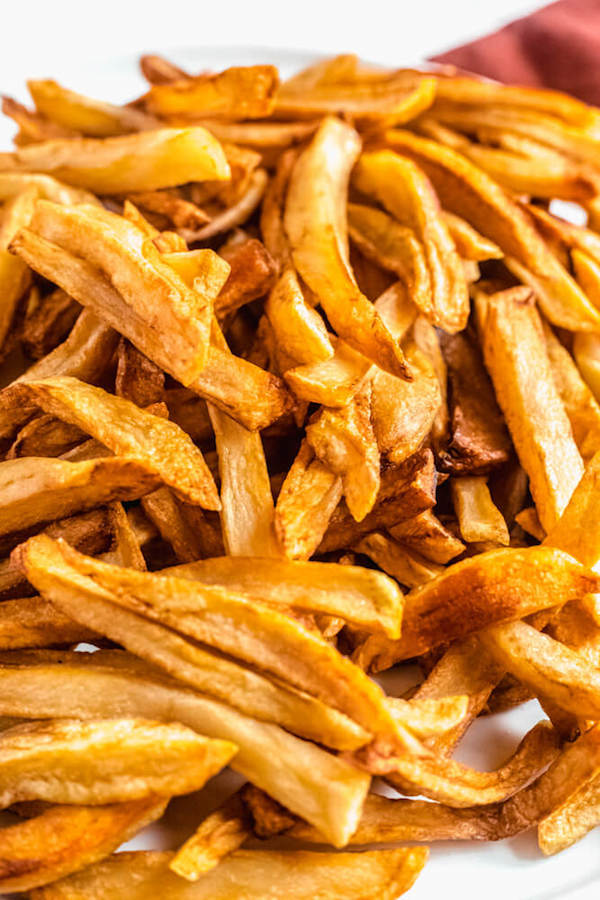 Buffalo Chicken Bites
Ok, we've discussed the fries part, now let's discuss the delicious pile of buffalo chicken bites sitting on top of the plate of crispy goodness!
These bite-sized buffalo chicken pieces are extra crispy. The secret to the perfect crispiness is the cornstarch. We start by coating the chicken pieces in a bit of cornstarch and letting them sit in the fridge so the starch can create a sticky coating on the chicken.
Then we make a cornstarch dipping batter, which is just cornstarch, flour, baking powder, salt, a few seasonings and water all combined.
Dip each chicken piece one at a time into the seasoned cornstarch batter, then fry until golden and crispy. I honestly couldn't resist eating a few without the buffalo sauce. They tasted just like McNuggets!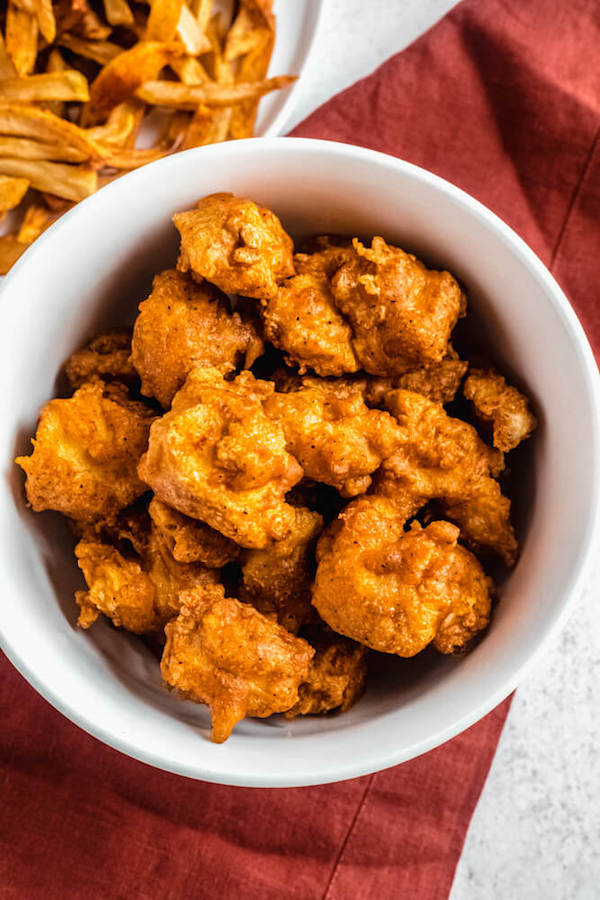 Buffalo Sauce
To finish the chicken off, we're gonna toss them in some buffalo sauce. This buffalo sauce is insanely easy to make and only requires 2 ingredients: butter + hot sauce.
Simply heat the butter and hot sauce together in the microwave until the butter is completely melted. Stir to combine, then pour over the chicken and toss until completely coated.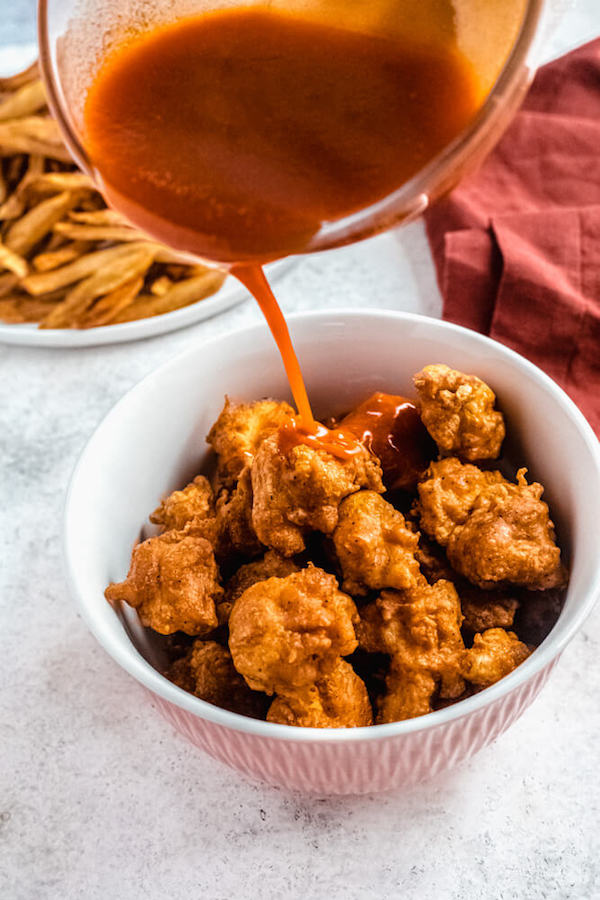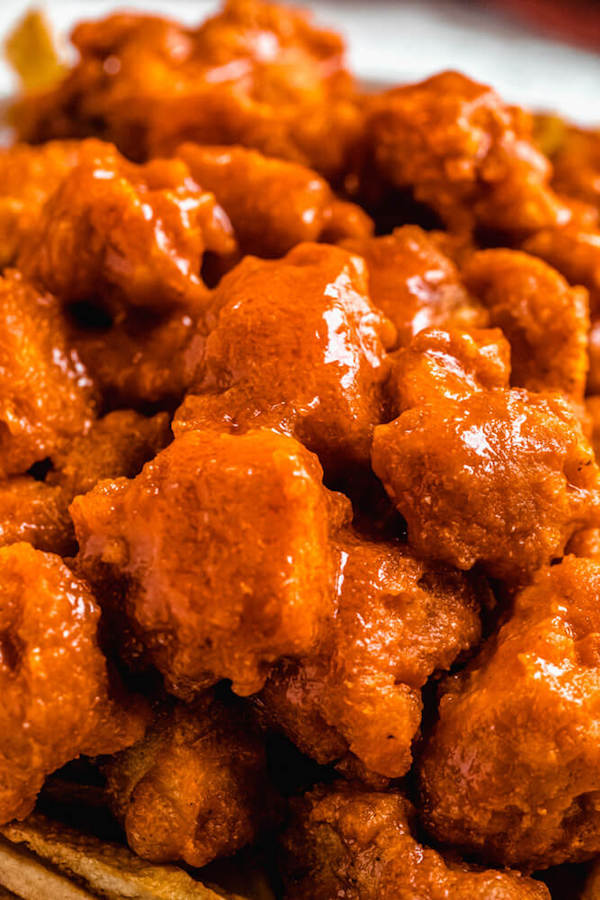 Spicy Aioli Drizzle and Dip
You can serve the Buffalo Chicken Fries plain, or you can mix together a batch of my easy Spicy Aioli recipe. This aioli only requires a small handful of ingredients you probably have on hand already!
This super flavourful aioli would make the perfect dipping sauce for these Buffalo Chicken Fries, so I highly recommend giving it a try!
I drizzled a teensy amount of the aioli onto the Buffalo Chicken Fries to make them look pretty for the photos, but believe me, they were drenched once I was done. It adds so much flavour to the buffalo fries, I couldn't get enough!
And there you have it, a delicious appetizer that's easy to make and even easier to eat! Perfect for game day, potlucks, parties or a quick and easy weeknight meal.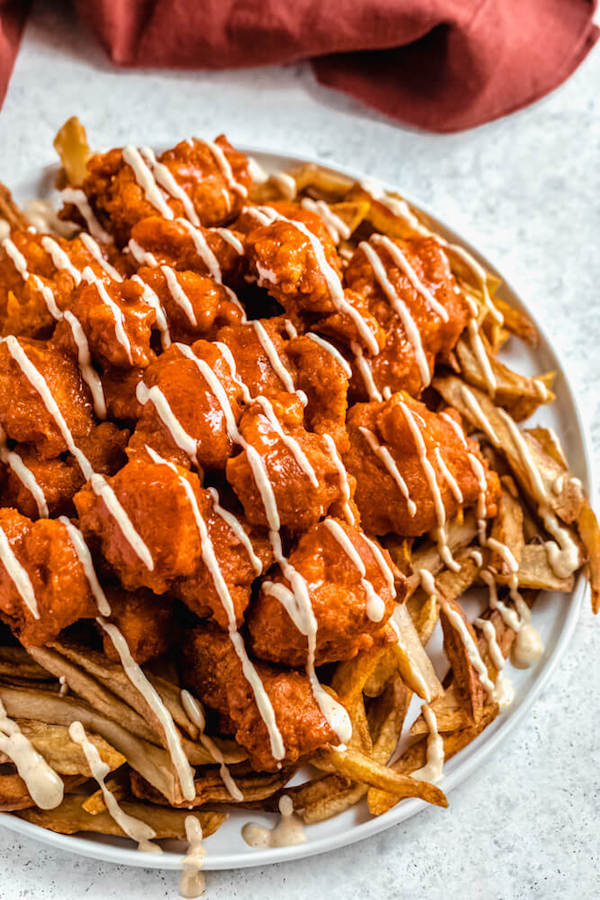 >>PIN RECIPE FOR LATER<<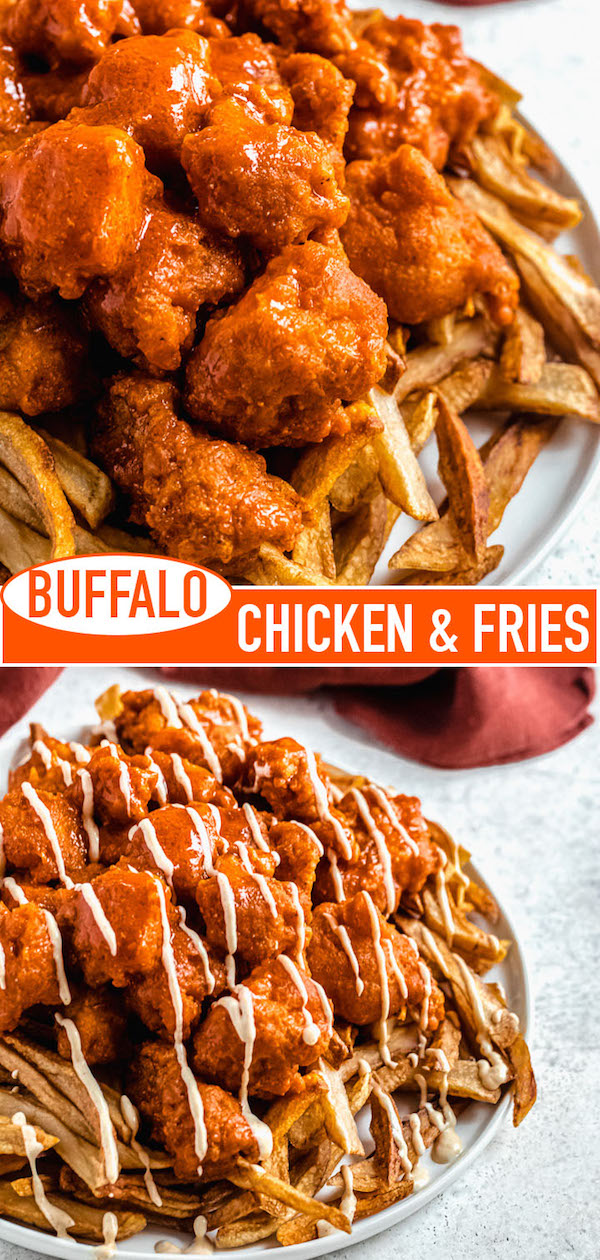 FOLLOW QUEENSLEE APPÉTIT
Like what you see? Make sure you're following Queenslee Appétit for more tasty recipes!
Pinterest | Instagram | Facebook | Twitter |
Have any questions about the recipe? Contact me here, and I'll be happy to help!
SHARE YOUR PICS!
Tag me on Instagram @queensleeappetit or use the hashtag #queensleeappetit so I could see your gorgeous creations!
HUNGRY FOR MORE?
SUBSCRIBE to the Queenslee Appétit Newsletter to recieve new recipe notifications, monthly baking/cooking tips, sneak peeks to upcoming recipes, exclusive recipes and more!
Let's get cooking!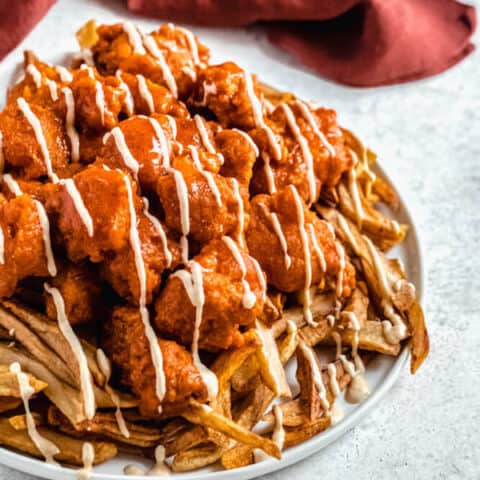 Buffalo Chicken Fries
Prep Time:
1 hour
30 minutes
Total Time:
1 hour
47 minutes
These quick, easy and delicious Buffalo Chicken Fries are sure to be a new family favourite! Crispy fries are loaded with even crispier bite-sized chicken pieces that are coated in a spicy buffalo sauce and drizzled with a spicy aioli!
Ingredients
Fries:
2 and ½ pounds russet potatoes, cut into ¼" thick sticks
2 Qt. vegetable oil for frying
Salt
Boneless Buffalo Wings:
2 boneless skinless chicken breasts, sliced into chunks
¾ cup cornstarch, divided
¼ cup all purpose flour
2 teaspoon baking powder
2 teaspoon salt
1 teaspoon ground black pepper
1 teaspoon garlic powder
1 teaspoon paprika
1 teaspoon cayenne pepper
⅔ cup water
Vegetable oil, for frying
Buffalo Sauce:
2 tablespoon unsalted butter
½ cup hot sauce
Topping:
Instructions
For the Fries:
Peel the potatoes and slice lengthwise into ¼-inch thick disks. Slice each disk into ¼-inch thick sticks. If you want to keep the skin on, wash the potatoes before slicing.
Place all of the potato sticks into a container or large bowl filled with cold water. Set aside to soak for at least an hour or preferably overnight. If soaking overnight, cover and keep in the fridge. This removes the starch, making the fries extra crispy!
Drain the starch water and rinse off the fries twice with cold water. Transfer fries to a paper towel lined baking sheet and use another sheet of paper towel to pat and dry them as much as possible.
Pour oil into a large deep pot, heat to 300°F. You can use a thermometer or wait a few minutes, then drop a small fry in the oil to check if it starts to fry gently. If it doesn't, wait a bit longer, if it begins to pop, turn the heat down.
Once the oil is hot enough, grab a handful of fries (don't actually use your hands) and place them in the oil. Fry for 4-5 minutes to cook the inside, remove them from the oil if they begin to brown.
Place fries onto another paper towel lined baking sheet or plate while you fry the remaining batches. You'll need to work in small batches because if too many fries are added at once, the oil can bubble up and spill over, so stick with a handful at a time to be safe.
Once all fries are cooked, heat the oil to 400°F, then once again fry the fries in small batches until they are golden and crispy, another 3-5 minutes. Keep an eye on them, you don't want them to burn.
Place them on paper towels to soak up the oil, then sprinkle with some salt. There's no measurements for this, feel free to sprinkle as much or as little salt as you like.
For the Boneless Buffalo Wings:
In a bowl, toss the chicken chunks with ¼ cup of cornstarch. Place the chunks of chicken on a wire rack and place in the refrigerator to rest for 15-20 minutes.
Meanwhile, pour your oil into a pot, clipping a frying/candy thermometer to the side of your pot (making sure it's not touching the bottom) and heat until the oil reaches 350°F.
In a medium bowl, combine the remaining ½ cup of cornstarch, flour, baking powder, salt, black pepper, garlic powder, paprika, cayenne and water.
Remove chicken from refrigerator and dip in the cornstarch batter, then place in the oil. Fry in batches until brown and crispy, about 4-7 minutes.
Remove from oil and place on a paper towel lined plate to drain the excess oil.
For the Buffalo Sauce:
Heat the butter and hot sauce in a heat safe bowl in the microwave in 30 second intervals until butter is melted. Stir until smooth.
Pour buffalo sauce over the chicken and toss to completely coat the chicken.
Transfer fries to a serving plate and place chicken pieces on top. Serve with my Spicy Aioli recipe, if desired. Enjoy!
Notes
Chicken recipe slightly adapted from: here
Nutrition Information:
Yield:

6
Serving Size:

1
Amount Per Serving:
Calories:

284
Total Fat:

12g
Saturated Fat:

3g
Trans Fat:

0g
Unsaturated Fat:

8g
Cholesterol:

44mg
Sodium:

1576mg
Carbohydrates:

28g
Fiber:

2g
Sugar:

1g
Protein:

14g
BON APPÉTIT!
Love, Dedra
More Party Food Recipes You'll Enjoy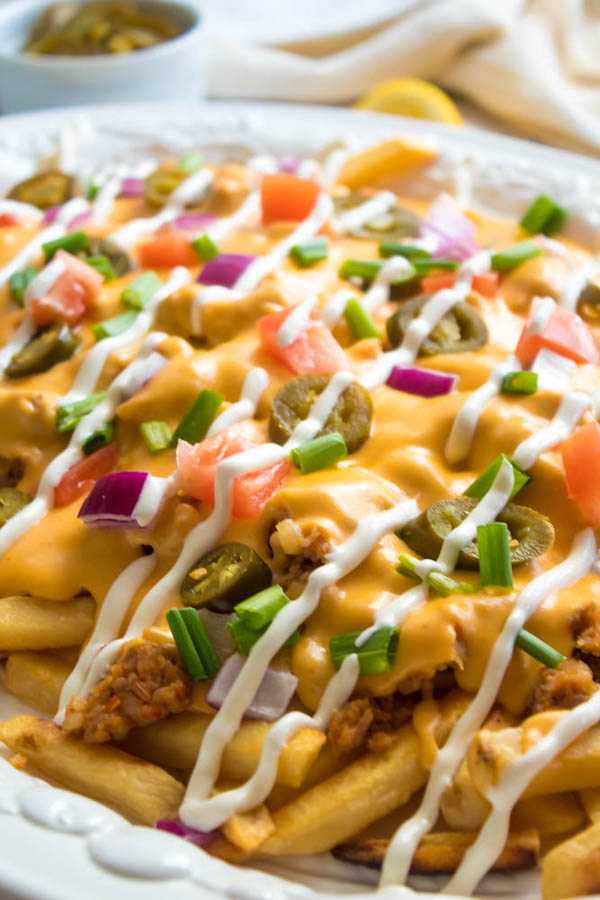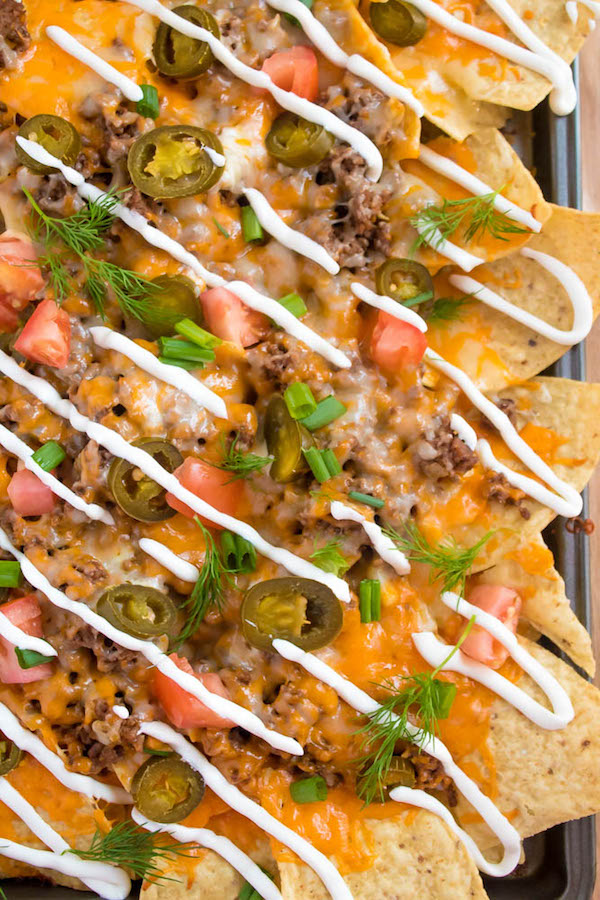 ©QUEENSLEE APPÉTIT. All images & content are copyright protected. Please do not use my images without prior permission. If you want to republish this recipe, please re-write the recipe in your own words, or link back to this post for the recipe.