These Birthday Cake Oreo Fudge Brownies are super rich and decadent. Layers of fudgy Birthday Cake Oreo stuffed brownies and Funfetti fudge are topped with more Oreos and plenty of sprinkles. Drizzle these bars with hot pink candy melts and you've got a party in a brownie!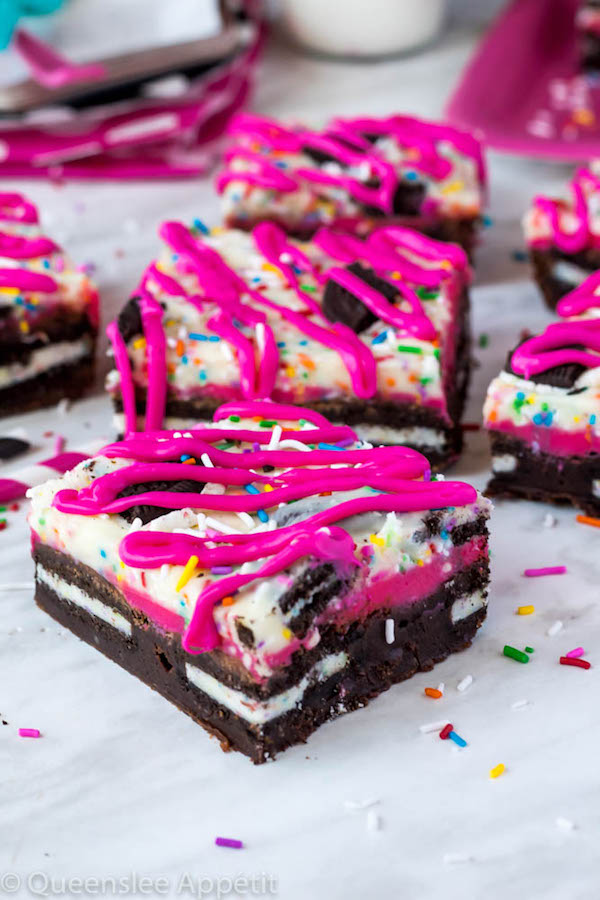 Guess what? As of today, Queenslee Appétit is ONE YEARS OLD! I can't believe it's been a whole year since I've started this blog. I gotta tell ya, it hasn't been easy. There have been times where I just wanted to say "screw it" and give up, but I always have to remind myself that it's only the first year. I can't expect to have a successful blog/career as soon as I start, so all I can do is work my hardest and continue to share all of my amazing food creations with the world. I can only hope that all my hard work pays off one day and I'm able to achieve all of my goals.
Until then, Happy One Year Anniversary Queenslee Appétit!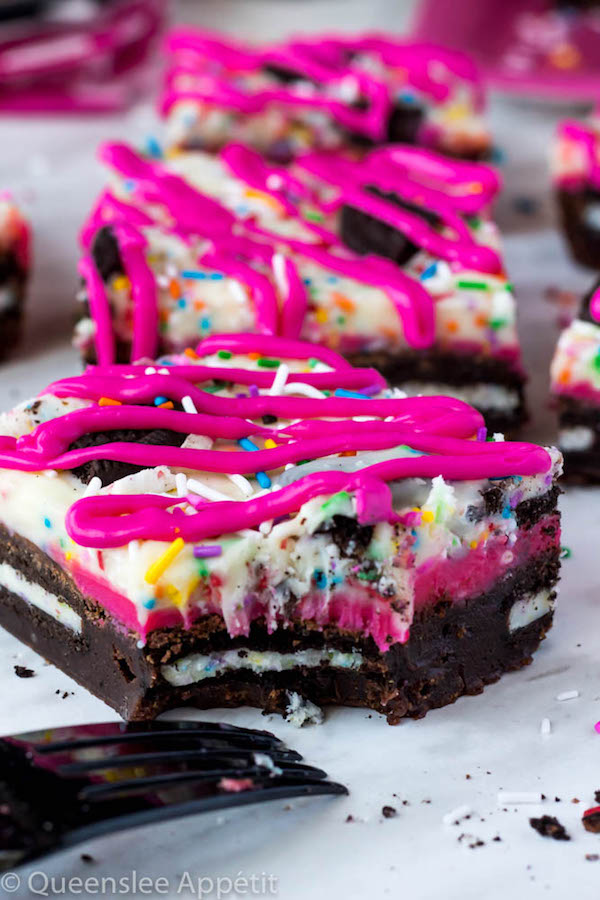 I know I've posted a ton of Fudge Brownie recipes in the past year, but I can't help it. It's such an easy, delicious dessert and it's become my #1 go-to recipe for every celebration!
My original Oreo Fudge Brownie recipe is one of my favourite recipes ever! That was one of the first recipes I tested before starting this blog, so it was only fitting to re-make it for its anniversary.
These decadent bars combine everything I love: brownies, Oreos, fudge and SPRINKLES! Since we're celebrating my blog birthday, I decided to give my original Oreo Fudge Brownie a Funfetti twist! Instead of stuffing the brownies with regular Oreos, I stuffed them with Birthday Cake Oreos, which are basically regular Oreos with a delicious sprinkl-y birthday cake filling.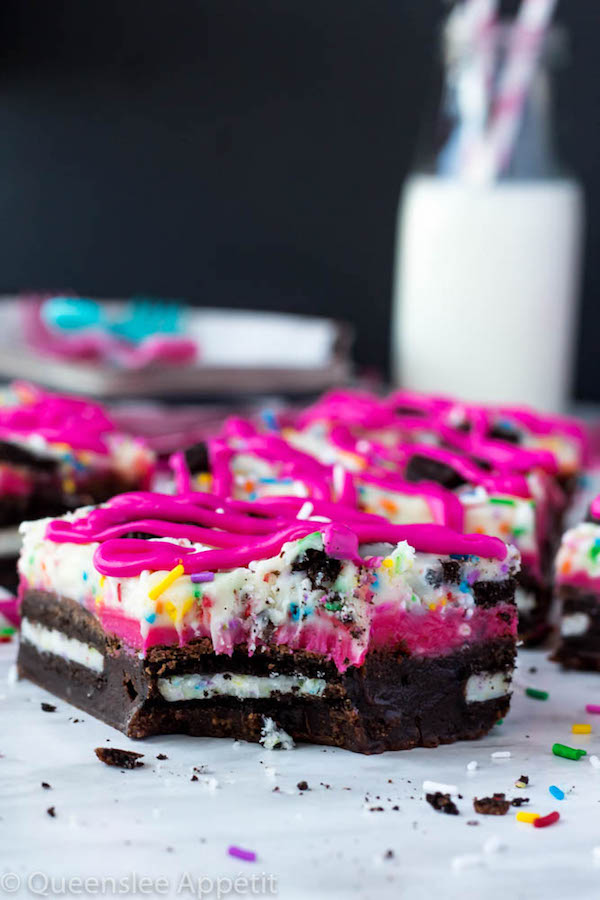 The brownie is the same recipe I use for most of my brownie recipes. When it comes to brownies I'm team fudgy 1000%! I want my brownies to be as dense and fudgy as the fudge on top. All of my brownies consist of melted chocolate, white sugar, brown sugar and a very small amount of flour to get the fudgiest, chewiest brownie ever!
The Birthday Cake Oreos add so much incredible flavour to the brownies. Like I mentioned above, the Oreos actually taste like a birthday cake so you get the rich chocolate flavour from the brownies mixed with the sweet birthday cake flavour from the cookies! What's not to love?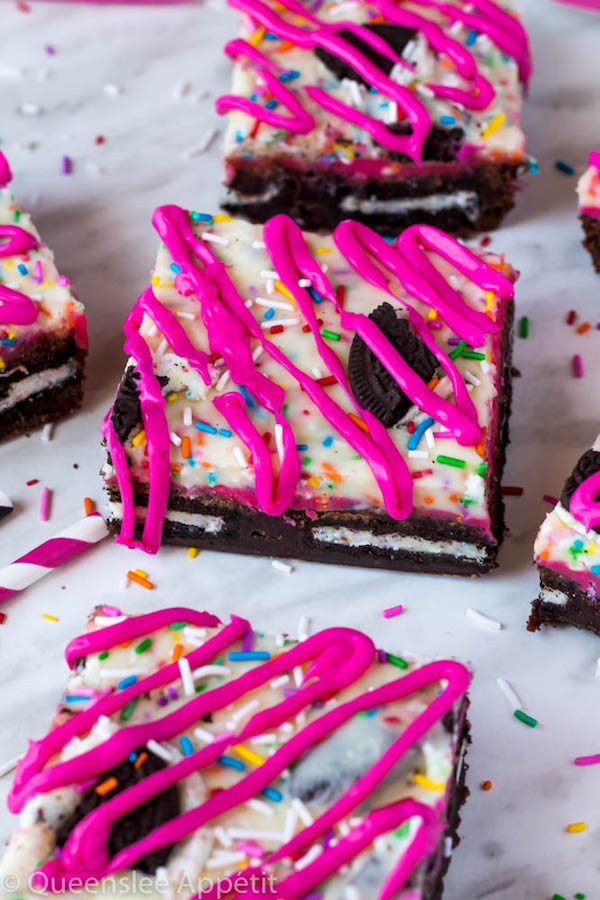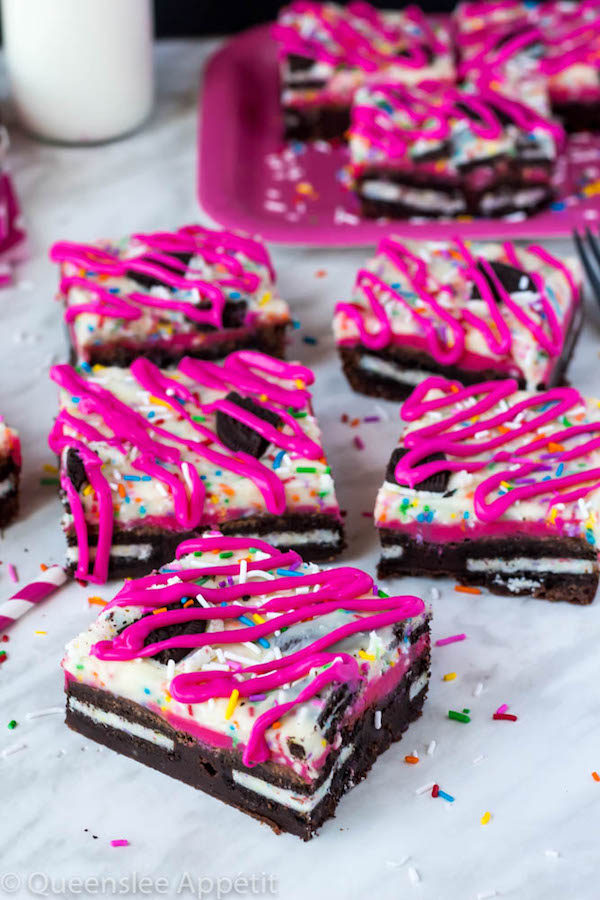 To top the brownies, I made a simple white chocolate fudge. Unfortunately, I ran out of Oreos! So instead of making Oreo fudge, I decided to divide the fudge in half, tint one half hot pink and add sprinkles to the other half. I actually like this look better, especially since hot pink is always a colour I've seen in other Birthday Cake Oreo desserts.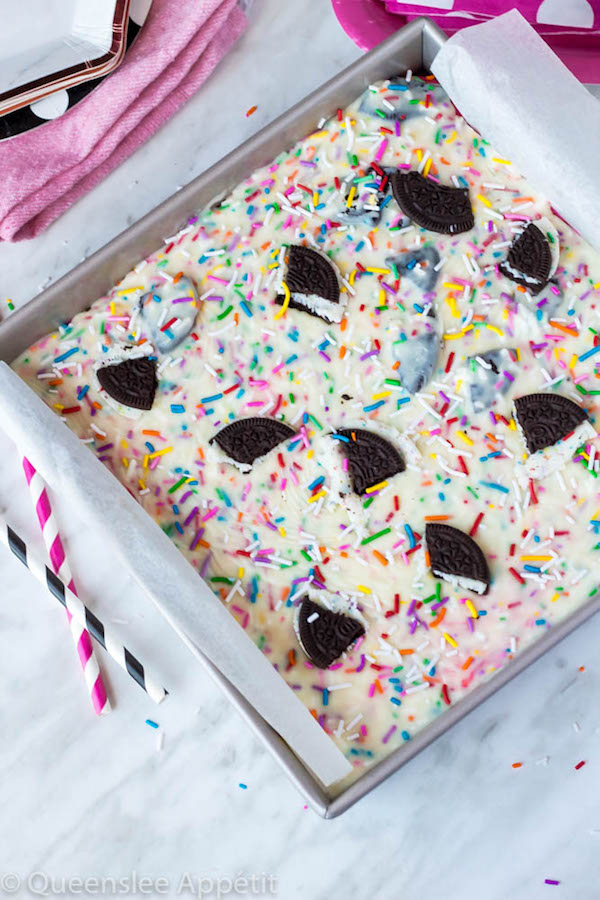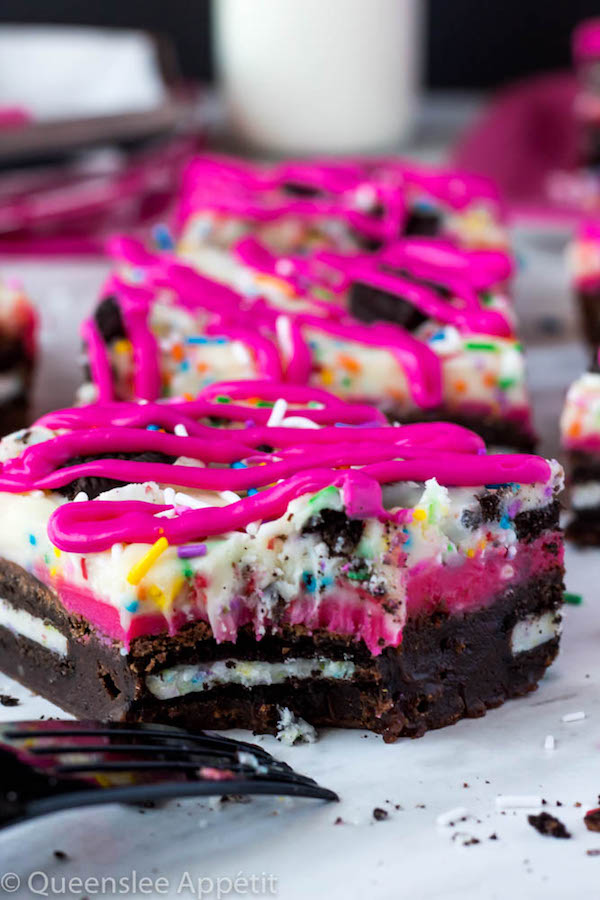 To finish these brownie bars off, I topped them with more sprinkles (you can never have enough) and chopped Oreos. I then drizzled each bar with some melted hot pink candy wafers, which is completely optional and was mainly for decoration purposes. You can totally skip this part if you want. I actually found it to be too much and had to scrape it off after taking the photos.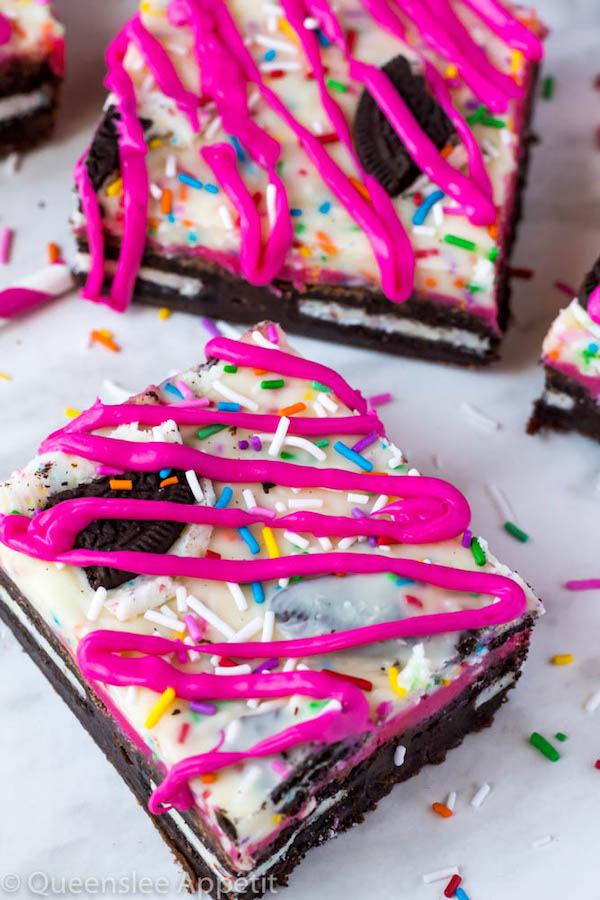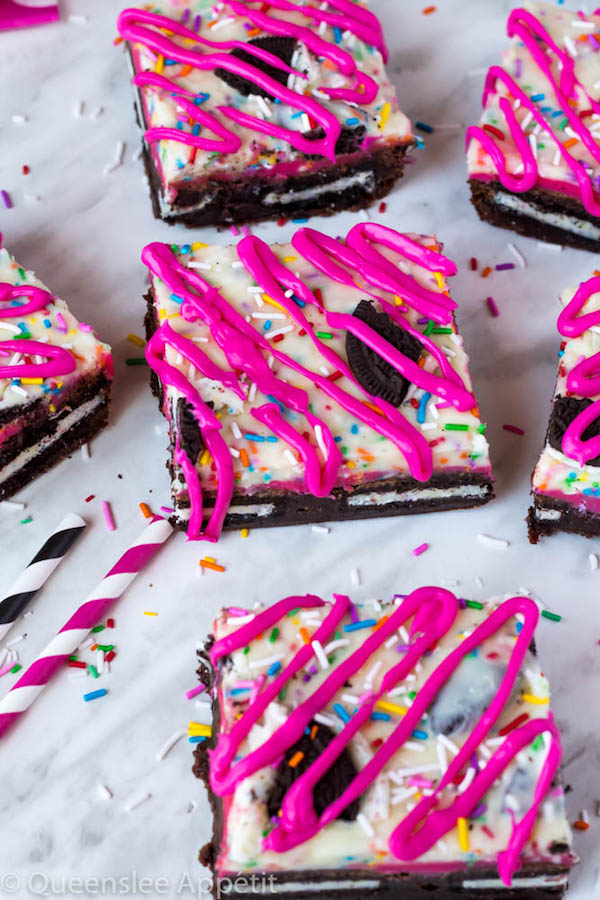 Rich, decadent, and fudgy. These colourful brownies are jam-packed with Funfetti cake flavoured Oreos and sprinkles, making them the perfect treat for a birthday party! With no mixer required, they're super simple to make and they taste just as good as they look. Enjoy!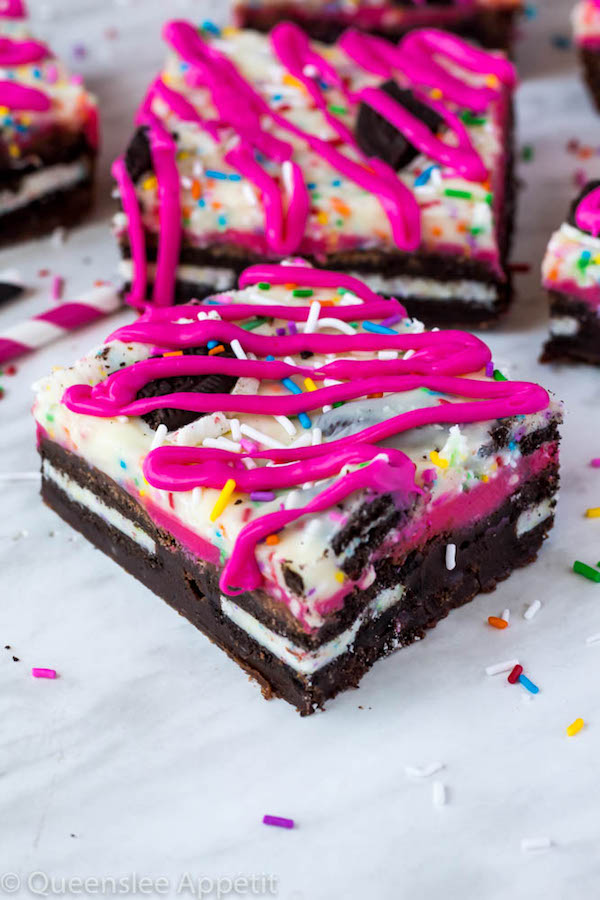 >>PIN ME FOR LATER<<

SHOP THE RECIPE
Here are some of the tools I used to create today's recipe:
9x9 inch Square Baking Pan | Birthday Cake Oreos | Rose Gel Food Colouring | Bright Pink Candy Melts |
FOLLOW QUEENSLEE APPÉTIT
Like what you see? Make sure you're following Queenslee Appétit for more tasty recipes!
Pinterest | Instagram | Facebook | Twitter |
Did you make a recipe? I'd love to see how it turned out! Follow me on Instagram and use the hashtag #queensleeappetit so I can see all of the Queenslee Appétit recipes you've made!
Never miss a recipe, SUBSCRIBE at the bottom of this post!
Let's get baking!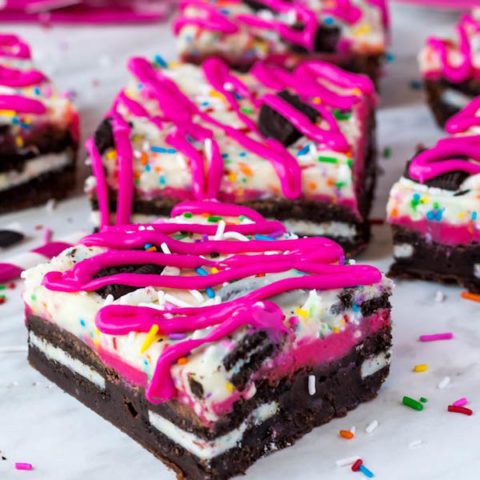 Birthday Cake Oreo Fudge Brownies
Yield:
9 large bars or 18 smaller bars
These Birthday Cake Oreo Fudge Brownies are super rich and decadent. Layers of fudgy Birthday Cake Oreo stuffed brownies and Funfetti fudge are topped with more Oreos and plenty of sprinkles. Drizzle these bars with hot pink candy melts and you've got a party in a brownie!
Ingredients
Birthday Cake Oreo Brownies:
6 oz. bittersweet chocolate (70%), chopped
¾ cup unsalted butter, cubed
¾ cup granulated sugar
½ cup light brown sugar, packed
2 large eggs, room temperature
1 large egg yolk
1 teaspoon pure vanilla extract
¾ cup all-purpose flour
2 tablespoons unsweetened cocoa powder, sifted
¼ teaspoon salt
16 Birthday Cake Oreos
Funfetti Fudge:
3 cups white chocolate chips, divided
1 and ¼ cup (14 oz) sweetened condensed milk, divided
½ cup rainbow sprinkles + more for topping
Pink gel food colouring
4 Birthday Cake Oreos, chopped
Topping:
½ bag Pink Candy Melts, for drizzling (optional)
Instructions
For the Birthday Cake Oreo Brownies:
Preheat the oven to 350°F (325°F for dark pans) (180°C). Line a 9x9-inch square baking pan with aluminum foil or parchment paper, leaving about 2-inches hanging over the sides and spray with non-stick spray. Set aside.
Place chopped chocolate and cubed butter in a large bowl over a saucepan of simmering water. Stir constantly until the butter and chocolate are both melted and combined, about 3-4 minutes.
Remove bowl from heat and immediately add both sugars, whisk until sugar is dissolved and mixture is smooth.
Add eggs, egg yolk and vanilla and slowly whisk until combined. Do not overmix. Add flour, cocoa, and salt and stir with a rubber spatula until well blended.
Pour half of the batter into the prepared pan and place Oreos in an even layer. Pour the rest of the batter on top and spread into an even layer to cover Oreos. Bake for 25-30 minutes or until a toothpick inserted into the brownie comes out with a few moist crumbs. Allow to cool completely in the pan on a wire rack.
For the Funfetti Fudge:
Add 1 and ½ cups of white chocolate chips to 2 separate bowls. Add ⅔ cup of sweetened condensed milk to each bowl.
Microwave one bowl in 30 second intervals, stirring after each interval until mixture is fully melted and smooth.
Tint with rose gel food colouring until you reach the desired shade of pink. Spread pink fudge in an even layer over the brownies. Transfer to the refrigerator to firm up while you melt the second batch.
Once the second bowl of fudge is melted, fold in ½ cup of sprinkles.
Remove brownies from refrigerator and pour the funfetti fudge on top of the pink fudge and spread into an even layer. Press in the chopped Oreos and sprinkle with more sprinkles, if desired. Place in the refrigerator to set, about 2 hours or overnight.
Once the fudge layers are set, lift the bars out of the pan and slice into 9 even squares, or 18 smaller portions.
For the Topping:
Add candy melts to a microwave safe bowl and microwave in 30 second intervals, stirring after each until completely melted and smooth.
Transfer to a small ziploc bag and snip off a small corner. Drizzle onto the brownies. Serve and Enjoy!
Notes
- Store in an airtight container in the refrigerator for up to 1 week. Serve at room temperature.
©
QUEENSLEE APPÉTIT
. All
images & content are copyright protected. Please do not use my images without prior permission. If you want to republish this recipe, please re-write the recipe in your own words, or link back to this post for the recipe.
BON APPÉTIT!
Love, Dedra ❤
This post may contain affiliate links. Please see my full disclosure policy for details.