These fluffy, golden Eggnog Pancakes are spiked with rum and have a delicious Eggnog flavour. Top this stack of Christmas flapjacks with fresh cranberry syrup for a delightful holiday breakfast!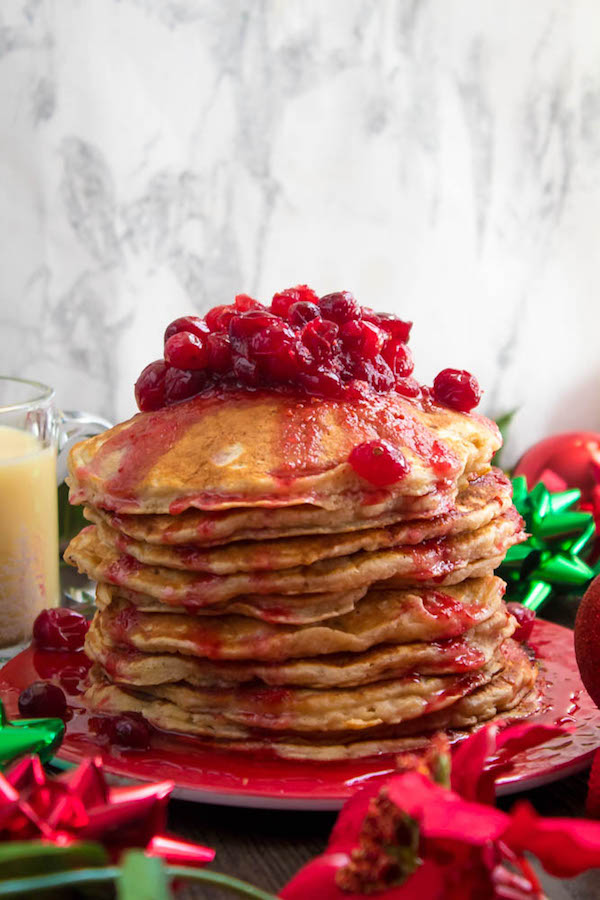 I may have a small obsession with pancakes. I've already shared plenty of pancake recipes on this blog, all incredibly delicious and unique. But I can't help it, who doesn't enjoy a tall stack of fluffy, buttery and golden cakes in the morning?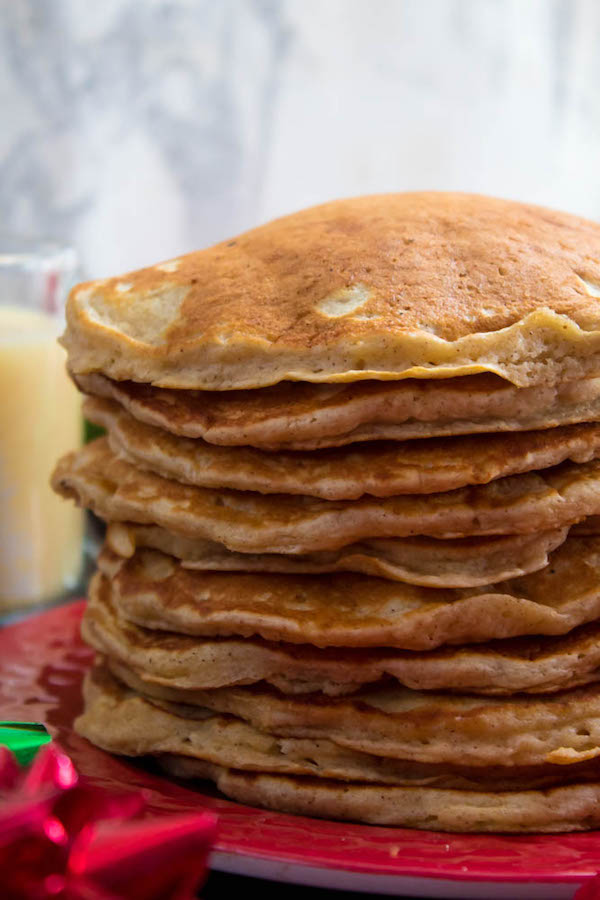 So here we are, another pancake recipe. As those following this blog may know by now, the flavour combination theme this month is Eggnog and Cranberry! These are two of the best Christmas flavours, so I had to combine them in every delicious way possible!
Speaking of eggnog, remember in this post and this post, where I talked about how much I hate eggnog? Well, guess what? I maybe, kinda, sorta love it now. I took a sip of the glass you see in the photos and I was amazed by how great it tasted! This may be because of the brand, or because of the amount of eggnog infused desserts I've been enjoying this month has caused this classic drink to grow on me.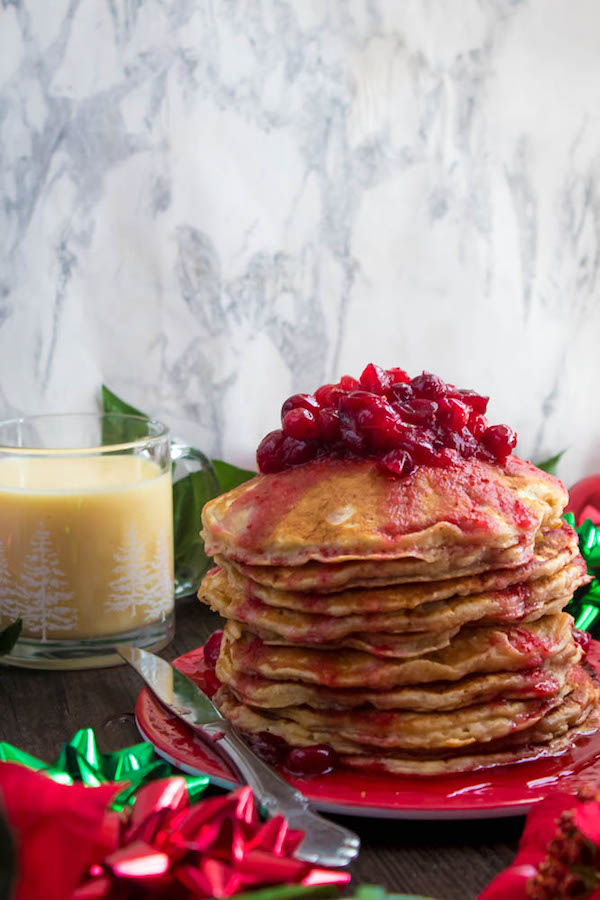 Eggnog Pancakes
Even if you aren't a lover of eggnog, I'm sure you'll fall in love with these pancakes. The flavour isn't too strong at all, even with the added rum extract. The eggnog still shines through, but it's not too overwhelming.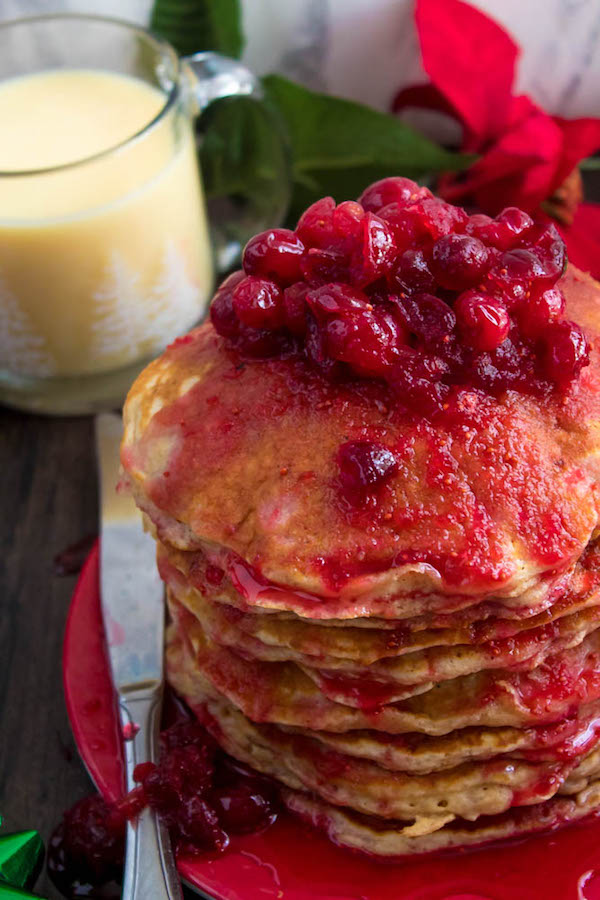 This is a simple and basic pancake recipe. We just replaced the milk/buttermilk with creamy eggnog. The consistency of eggnog is similar to buttermilk, and it adds amazing flavour so it works perfectly! I also added some nutmeg and cinnamon to boost the eggnog flavour, and a splash of rum extract for a delicious seasonal breakfast!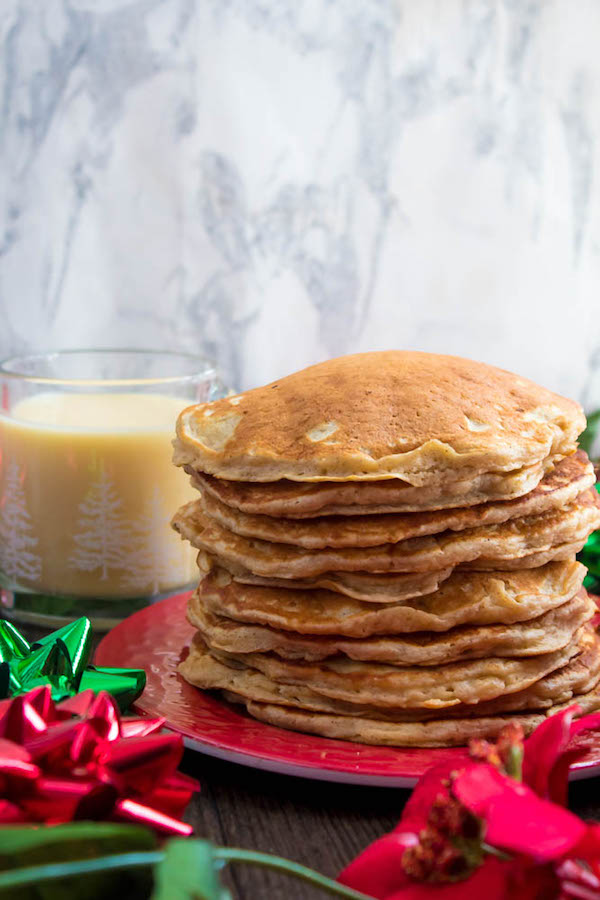 I added quite a bit of eggnog since I preferred thinner pancakes this time. You can add less eggnog if you want your pancakes to be thicker and fluffier. For thicker pancakes, use around 1 and ½ cups instead of 2.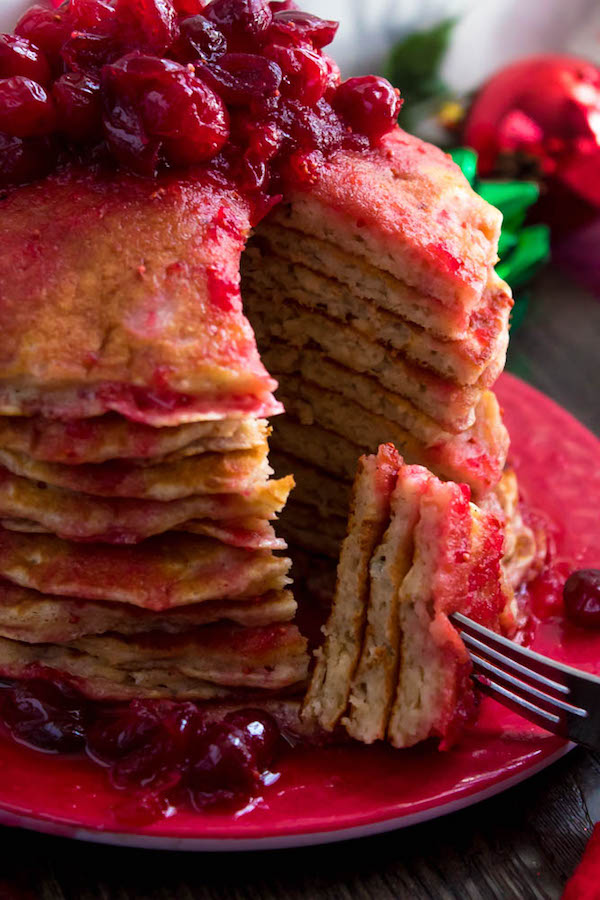 Fresh Cranberry Syrup
As my previous recipes have shown, I'm not one to simply top my pancakes with maple syrup and call it a day. I love topping a stack of fluffy pancakes with an extra delicious and gooey topping!
I love the combination of eggnog and cranberry, so I chose to top these pancakes with a fresh cranberry syrup. The tartness of the orange flavoured cranberry syrup blended with the sweetness of the eggnog pancakes make these pancakes the ultimate holiday breakfast!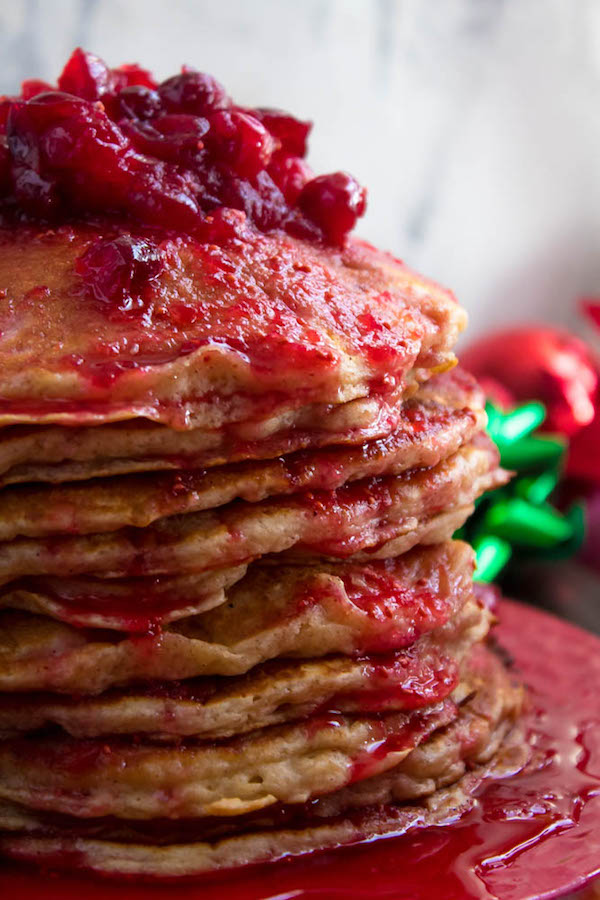 The syrup is super simple to make and only requires 3 ingredients. The syrup looks pretty thin be cause I topped the pancakes immediately after cooking it. I recommend making the syrup before the pancakes and allowing it to thicken up so it's not too watery.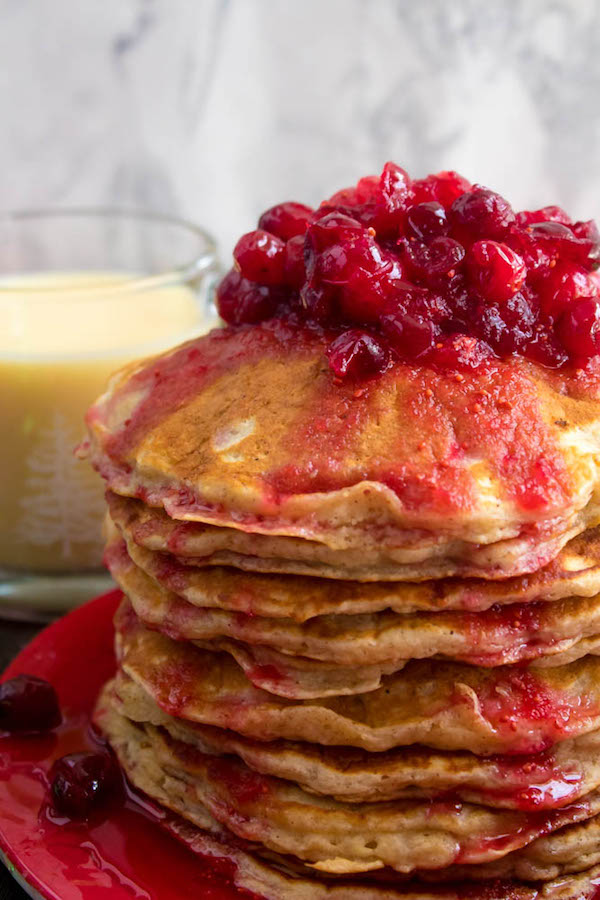 A simple and festive way to start off your holiday celebrations. These fluffy Eggnog Pancakes with fresh Cranberry Syrup are like Christmas joy on a plate! Enjoy!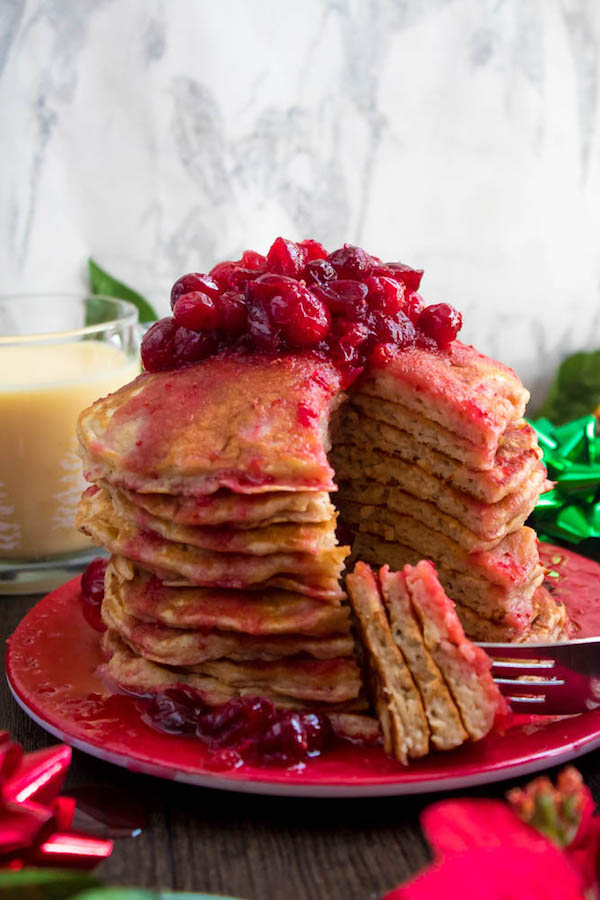 Love eggnog? Check out more of my delicious eggnog infused recipes: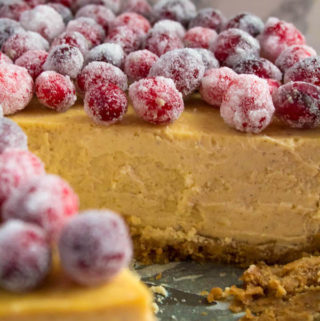 Eggnog Cheesecake with Sugared Cranberries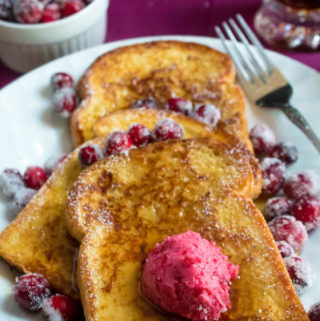 Eggnog French Toast with Whipped Cranberry Honey Butter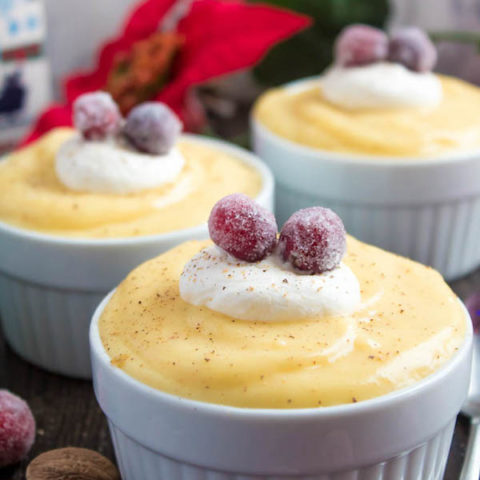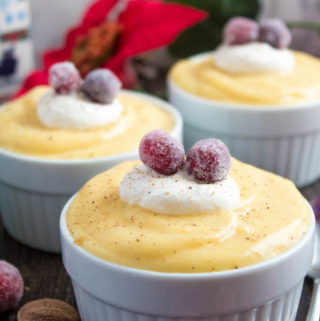 >>PIN ME FOR LATER<<

FOLLOW QUEENSLEE APPÉTIT
Like what you see? Make sure you're following Queenslee Appétit for more tasty recipes!
Pinterest | Instagram | Facebook | Twitter |
Have any questions about the recipe? Contact me here, and I'll be happy to help!
Let's get baking!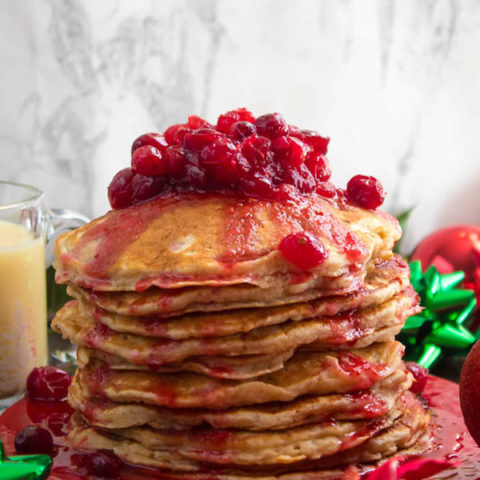 Eggnog Pancakes with Cranberry Syrup
These fluffy, golden Eggnog Pancakes are spiked with rum and have a delicious Eggnog flavour. Top this stack of Christmas flapjacks with fresh cranberry syrup for a delightful holiday breakfast!
Ingredients
Eggnog Pancakes:
2 cups all purpose flour
½ teaspoon ground nutmeg
½ teaspoon ground cinnamon
1 tablespoon + 1 teaspoon baking powder
½ teaspoon salt
2 cups Eggnog*
2 large eggs
¼ cup unsalted butter, melted and cooled + more for greasing pan
½ teaspoon rum extract (can substitute for vanilla extract)
Cranberry Syrup:
1 cup orange juice
1 cup granulated sugar
12 oz. fresh or frozen cranberries
Instructions
For the Eggnog Pancakes:
Preheat a griddle or a skillet over medium heat.
In a large bowl, add flour, nutmeg, cinnamon, baking powder and salt. Whisk to combine.
In a separate bowl, add the Eggnog, eggs, melted butter, and rum extract and whisk until combined.
Add wet ingredients to dry ingredients and whisk until just combined. Do not overmix. Let batter sit for 2-3 minutes to thicken.
Use a tablespoon of butter to grease the pan or spray with cooking spray. Use a paper towel to wipe off the excess butter. Pour ⅓ cup of batter into skillet and gently spread into a circle shape using the measuring cup.
Cook until bubbles form on the top and the edges look dry, about 2 minutes. Flip and cook for another 1-2 minutes. Repeat with remaining batter.
For the Cranberry Syrup:
Add the orange juice and sugar to a small saucepan and cook over high heat, stirring occasionally, until mixture begins to boil.
Add the cranberries and allow mixture to return to a boil. Once mixture is boiling, turn the heat down to medium-low and cook for 10 minutes, until the cranberries begin to pop.
Remove from heat and allow to cool to room temperature to thicken before pouring on top of the pancakes.
Notes
For thicker Pancakes you can use 1 and ½ cups of Eggnog instead of 2.
BON APPÉTIT!
Love, Dedra ❤
DID YOU MAKE A RECIPE?
Tag @queensleeappetit and use the hashtag #queensleeappetit so I can see all of the Queenslee Appétit recipes you've made!
©QUEENSLEE APPÉTIT. All images & content are copyright protected. Please do not use my images without prior permission. If you want to republish this recipe, please re-write the recipe in your own words, or link back to this post for the recipe.
Bon Appétit!
Love, Dedra ❤️