This Eggnog Cheesecake starts with a fluffy, spiced eggnog cake base that's topped with a smooth and creamy eggnog cheesecake, and a light and fluffy eggnog whipped cream! If you're crazy for eggnog, this dessert NEEDS to be on your holiday baking list!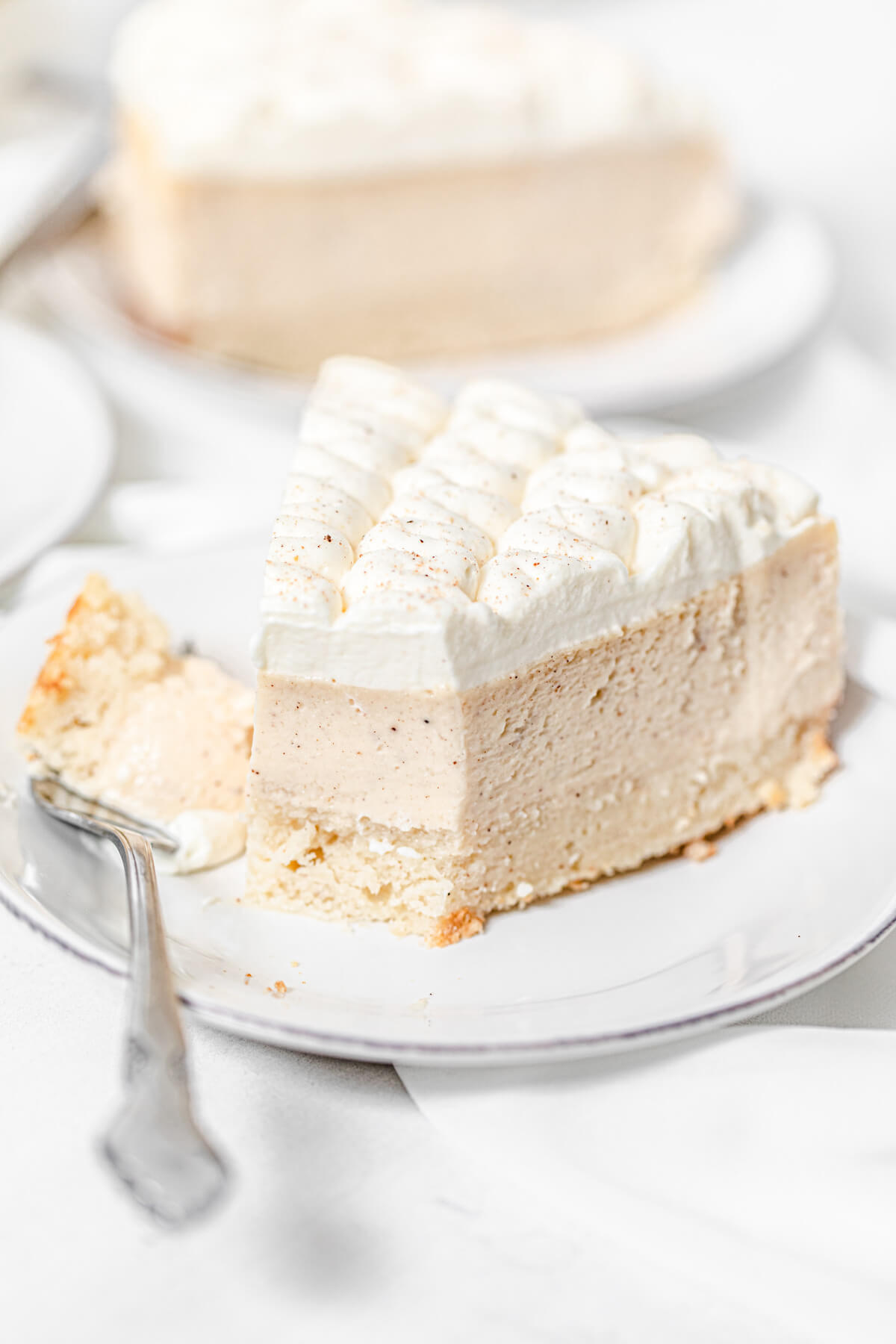 This post may contain affiliate links. As an Amazon Associate I earn from qualifying purchases. Please see my full disclosure policy for details.
Ever since I shared my first cake bottom cheesecake recipe, I've been OBSESSED with replacing the traditional cheesecake cookie crusts with cake! I made a chocolate version, carrot cake version and a red velvet version.
Now that we're entering the holiday season, it's only right that I create a good old eggnog version of my favourite kind of cheesecake!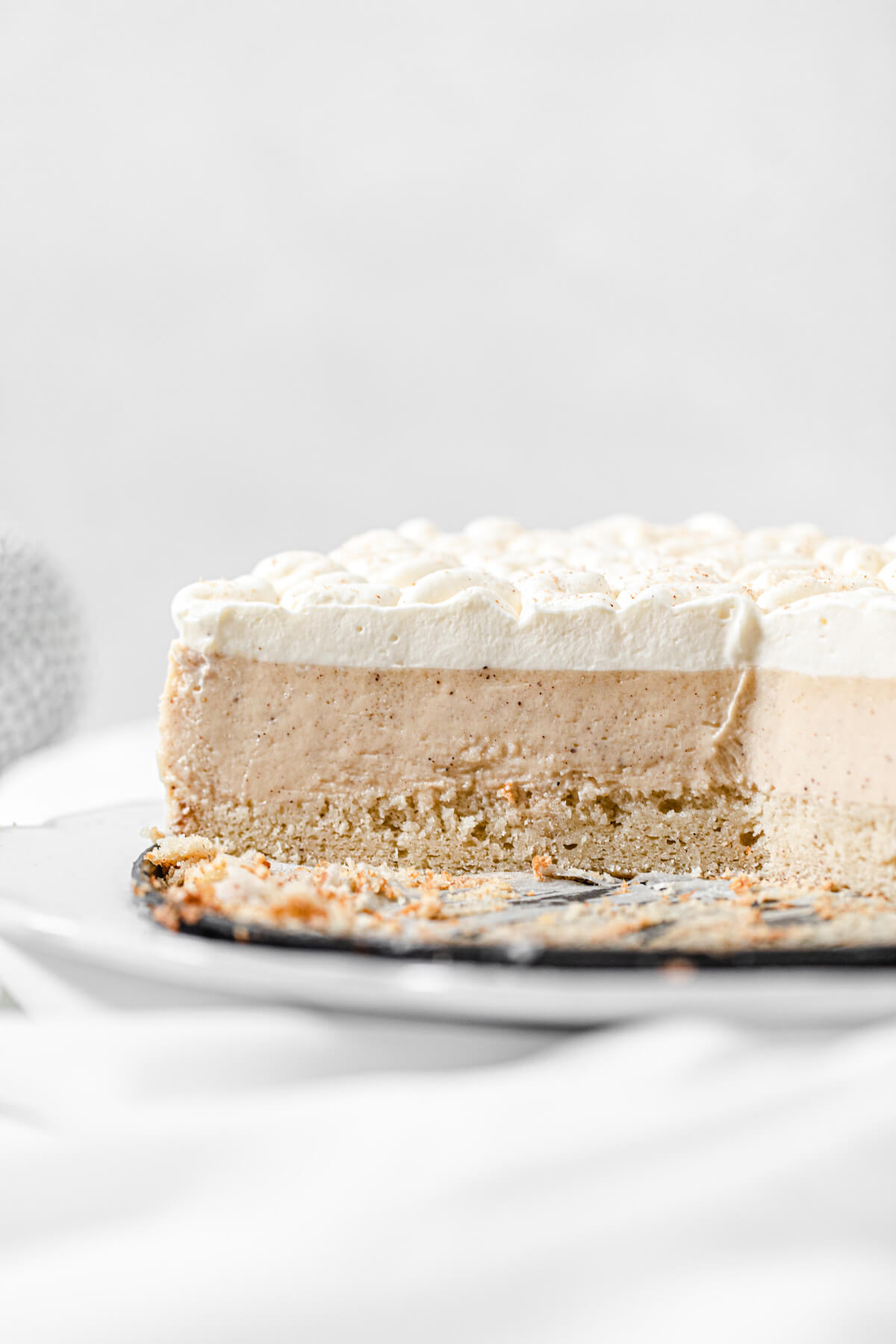 What To Love About This Cheesecake
I mean what's not to love?! A 2-in-1 dessert loaded with traditional holiday flavours! The fluffy cake base provides the best textural contrast to the extra creamy cheesecake filling and light and airy whipped cream topping!
In every bite, the cheesecake and whipped cream just melts on your tongue, then you're left with enjoying the ultra fluffy spiced eggnog cake! If that's not heaven, I don't know what is!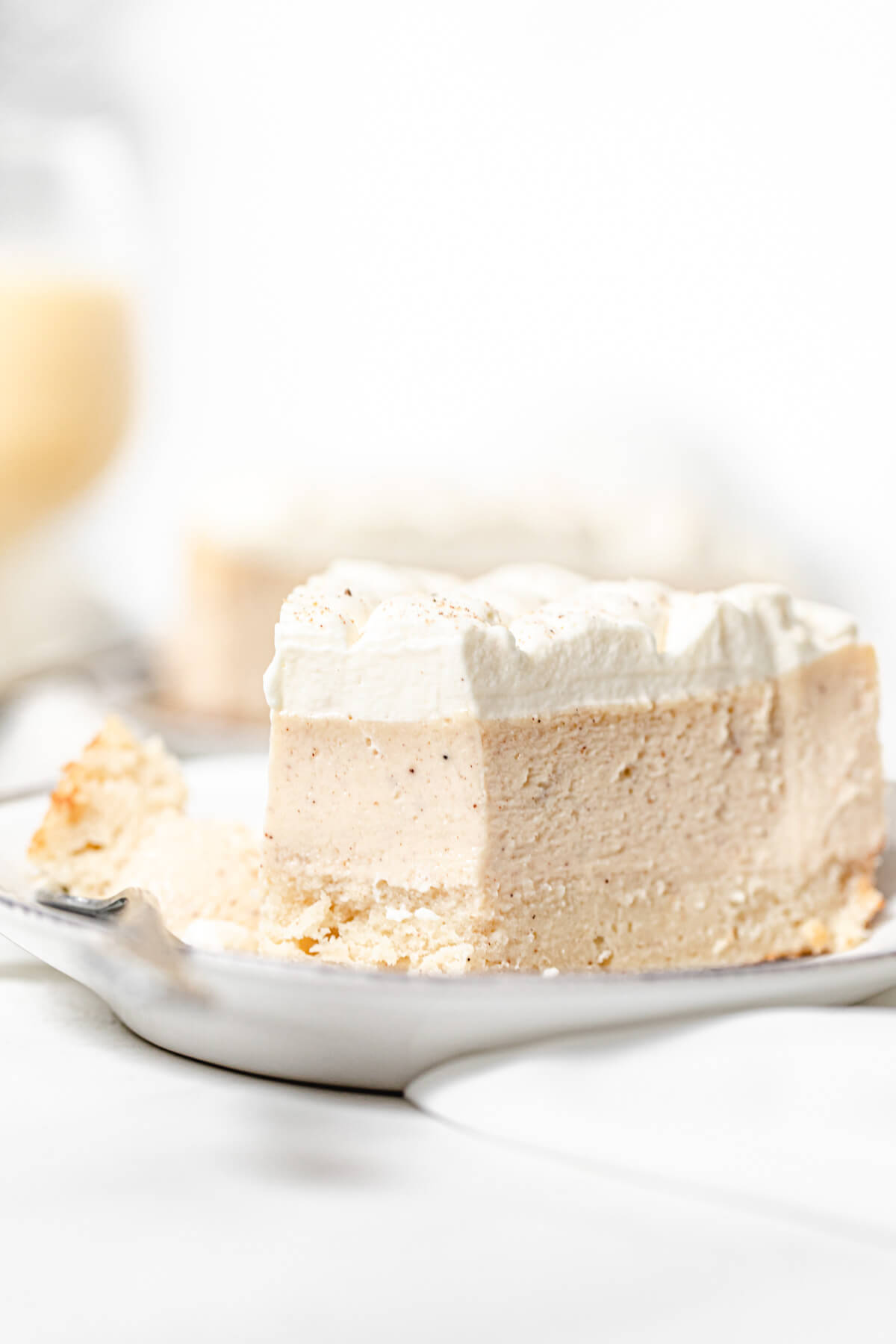 Eggnog Cake Base
Alright, let me walk you through how to make this rich cheesecake. It's surprisingly very simple! To start, we gotta make a small batch of eggnog cake.
If you've made my Strawberry Champagne Cake Cheesecake, this cake recipe should look familiar to you. To make it eggnog flavoured, I made a few tweaks like replace the champagne with eggnog, switched vanilla for rum extract and added a bit of nutmeg for an extra kick!
To actually make the cake, simply combine the dry ingredients in a small bowl. Then use a mixer to beat the softened butter and sugar together for at least 4 minutes (to ensure the fluffiest texture!).
Tip: to soften your butter, let it sit at room temperature for at least 30 minutes to an hour.
Next, mix in the sour cream and rum extract. Beat in the egg whites one at a time, then alternate between adding ½ of the dry mixture, all of the eggnog, then remaining dry mixture. Remember to mix on low after each addition until it's combined.
And there you have it! Simple eggnog cake batter! Spread it onto the bottom of your springform pan, then bake it for 20 minutes or until an inserted toothpick comes out with a few moist crumbs. Yes, we need to bake it completely! Don't worry about the cake drying out. The waterbath and low temperature baking surprisingly keep the cake moist throughout the long baking time.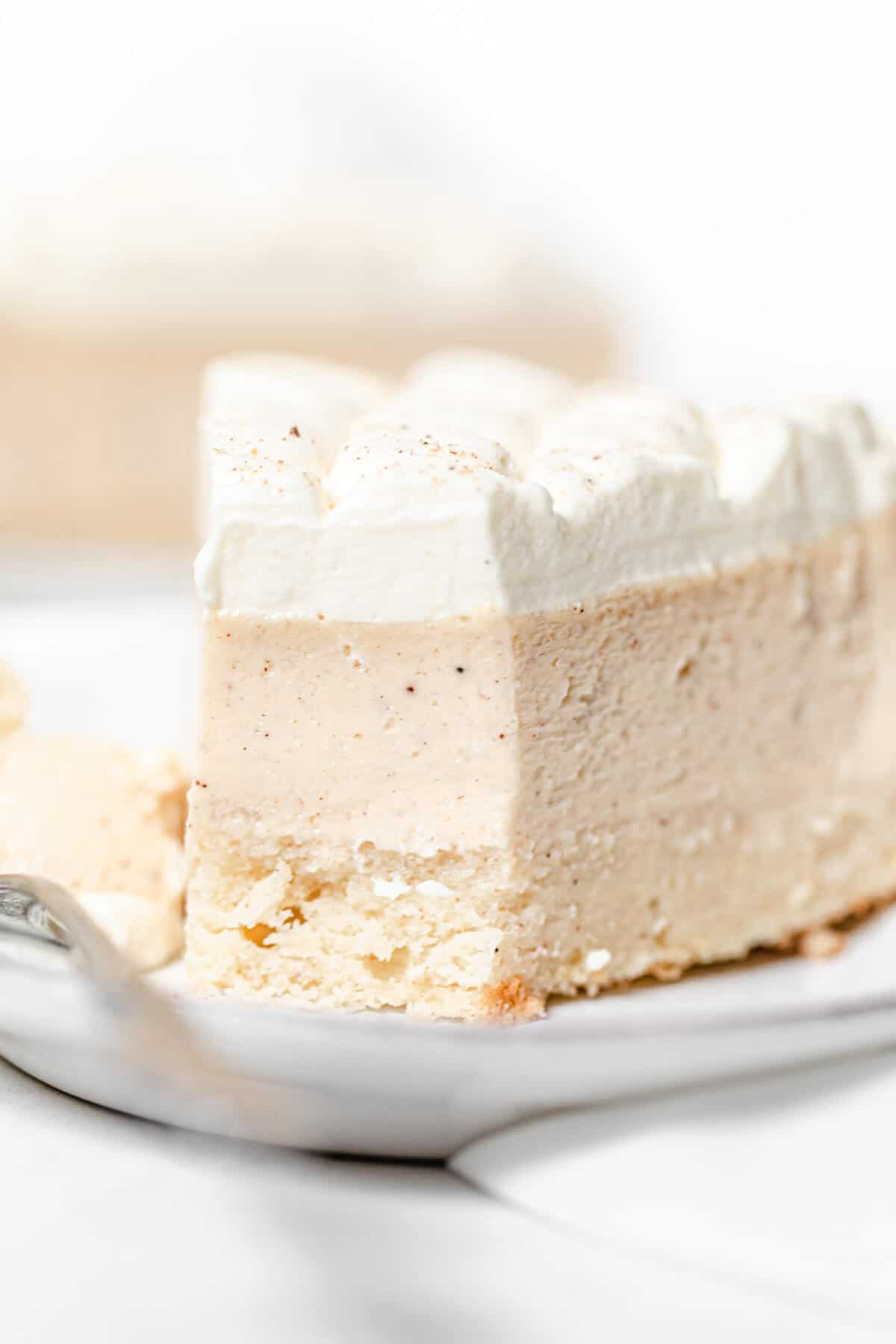 Eggnog Cheesecake Filling
This uses the same recipe as the eggnog cheesecake with sugared cranberries I posted a few years ago! You only need a few ingredients to make it:
Cream Cheese: 3 packages of cream cheese is the perfect amount for a full cheesecake. Take them out of the refrigerator at least 1-2 hours before beginning so the cream cheese can soften up nicely.

Sugar: granulated sugar adds a good amount of sweetness, but not too much. I use 1 cup in every recipe!
Cornstarch: helps prevent cracking! Don't have cornstarch? Replace with 3 tablespoons of all purpose flour for the same results!
Spices: cinnamon and nutmeg add plenty of flavour and enhance the eggnog taste!
Eggnog: well obviously we need some of this stuff! 1 cup of eggnog is gonna make this batter very thin, but it adds loads of bold eggnog flavour! You'll need to bake the cheesecake longer but it'll be worth it!
Sour Cream: with the cup of eggnog providing the creaminess in this cheesecake, the sour cream isn't exactly needed. However, I adore the the amazing things sour cream does to a cheesecakes texture, so I had to add a bit!
Flavourings: both vanilla and rum extract provide extra flavouring to this cheesecake. Rum is one of the ingredients in eggnog which is why I love to add a bit of extra rum flavour to every eggnog dessert I make!
Eggs: use 4 eggs (3 whole eggs and 1 eggy yolk) for added structure and creaminess!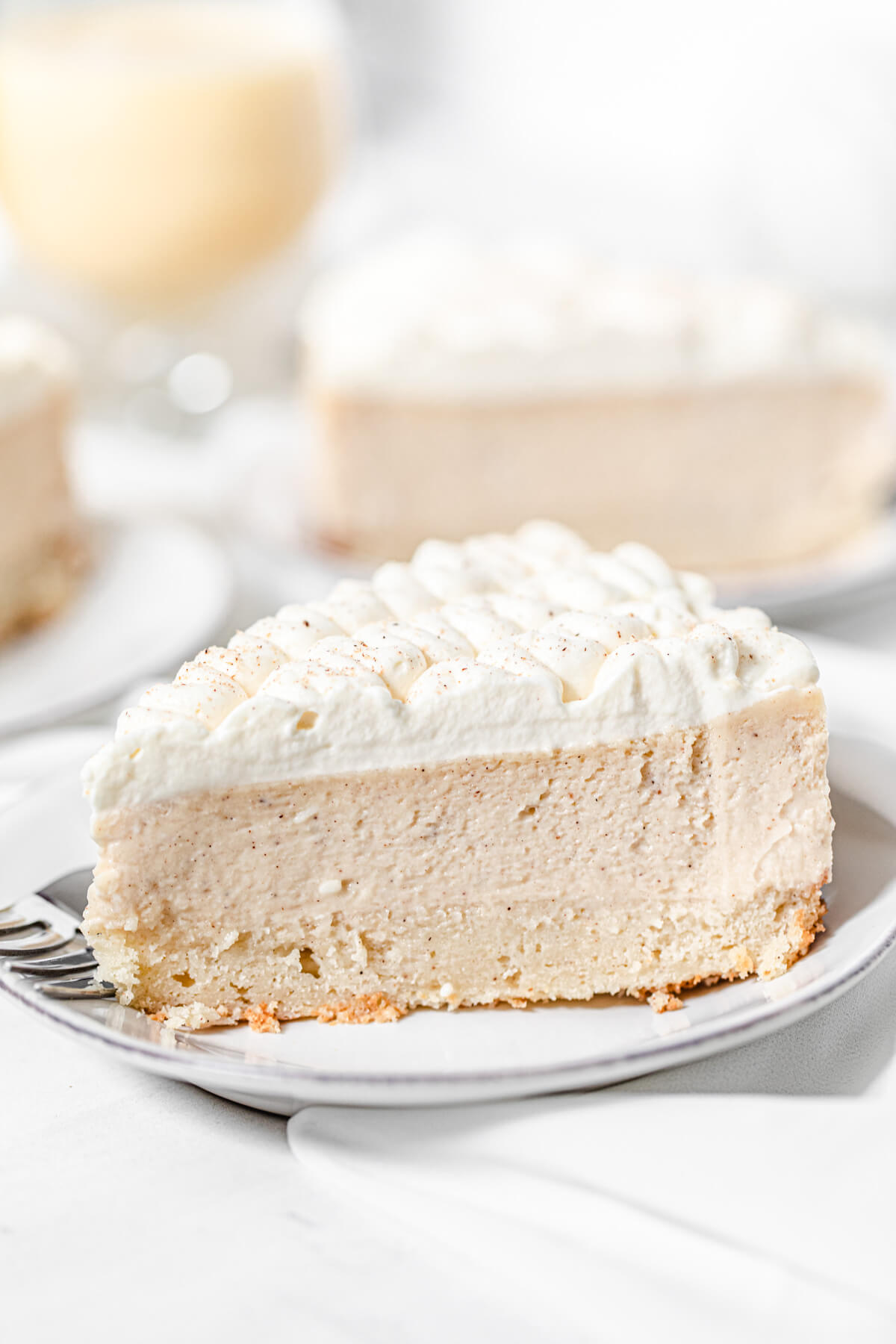 Eggnog Whipped Cream
That's right my friends, EGGNOG whipped cream! I actually had to make this twice since I messed up the original recipe. I first introduced this whipped cream in my mini eggnog cheesecake recipe, so since I needed twice as much for this full sized version, I figured I could just double the entire recipe.
I found out the hard way that adding ¼ cup of eggnog to the whipped cream prevents it from whipping up at all. It ended up being super soupy, even after whipping for 10 minutes. A big no-no.
So I decided to double everything in my original recipe EXCEPT for the eggnog. This time it whipped up pretty well, but still not as stiff as normal whipped cream. This is fine if you just plan on spreading it onto the cheesecake, but I wanted to pipe out a unique petal tip ruffle design. I was able to do it, but as you can see, the whipped cream was a bit too soft.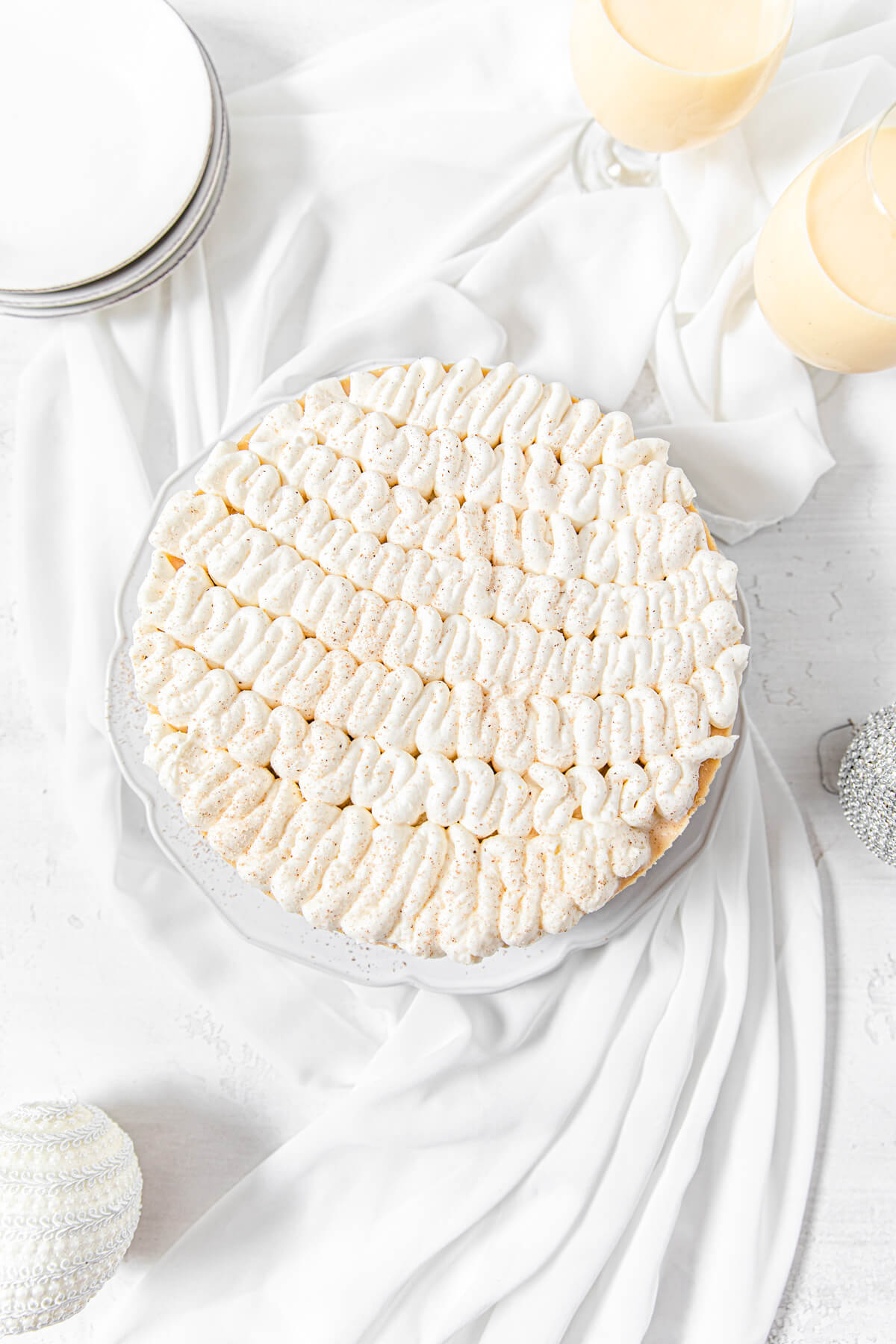 Luckily the design held its shape and the whipped cream had plenty of eggnog flavour with only 2 tablespoons used! To top the cheesecakes, I used a zester to grate a whole nutmeg over top. This yummy garnish ties the whole dessert together!
It's hard to compete with this kind of perfection!
SHARE YOUR PICS!
Follow me on Instagram and tag #queensleeappetit so I can see and share all of your Queenslee Appétit creations in my stories and the QA Newsletter!
FOLLOW QUEENSLEE APPÉTIT
Like what you see? Make sure you're following Queenslee Appétit for more tasty recipes!
Pinterest | Instagram | Facebook |
Have any questions about the recipe? Contact me here, and I'll be happy to help!
SWEETEN UP YOUR INBOX!
SUBSCRIBE to the Queenslee Appétit Newsletter to recieve new recipe notifications, monthly baking tips, sneak peeks to upcoming recipes, exclusive recipes and more!
Let's get baking!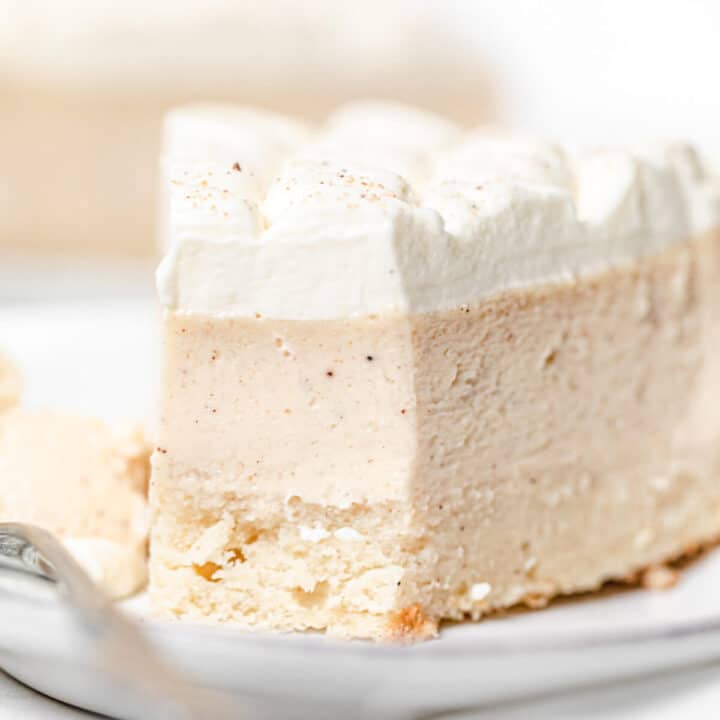 Cake Bottom Eggnog Cheesecake
This Eggnog Cheesecake starts with a fluffy, spiced eggnog cake base that's topped with a smooth and creamy eggnog cheesecake, and a light and fluffy eggnog whipped cream! If you're crazy for eggnog, this dessert NEEDS to be on your holiday baking list!
Ingredients
Eggnog Cake Bottom:
¾ cups all purpose flour
1 and ¼ teaspoon baking powder
¼ teaspoon salt
¼ teaspoon ground nutmeg
¼ cup unsalted butter, softened to room temperature
½ cup granulated sugar
¼ cup sour cream, room temperature
½ teaspoon pure rum extract
2 large egg whites, room temperature
⅓ cup eggnog, room temperature
Eggnog Cheesecake:
3 (8 ounce) packages (24 oz) cream cheese, room temperature
1 cup granulated sugar
1 tablespoon cornstarch
1 teaspoon ground cinnamon
½ teaspoon ground nutmeg
1 cup eggnog, room temperature
½ cup sour cream, room temperature
1 teaspoon pure vanilla extract
½ teaspoon rum extract
3 large eggs, room temperature
1 large egg yolk
Eggnog Whipped Cream:
1 cup heavy whipping cream, chilled
2 tablespoon Eggnog, chilled
1 cup powdered sugar
½ teaspoon rum extract
Whole nutmeg, for grating
Instructions
For the Eggnog Cake Bottom:
Preheat the oven to 350°F (180°C). Line the bottom of a 9-inch springform pan with parchment paper, and spray the sides with non-stick spray. Set aside.
Sift flour, baking powder, salt and nutmeg in a medium bowl. Whisk to combine. Set aside.
In the bowl of a stand mixer fitted with the paddle attachment, or in a large bowl using a hand mixer, cream the butter and sugar until pale and fluffy, about 3-4 minutes.
Scrape down the sides of the bowl and add the sour cream and rum extract. Mix until combined.
Add the egg whites, one at a time and continue to mix until combined.
Scrape down the sides of the bowl. Add half of the dry ingredients to the bowl and mix until combined.
Add eggnog and mix until well incorporated.
Add remaining dry ingredients and continue to mix until well combined.
Pour the batter into the prepared pan and spread into an even layer. Bake for 18-20 minutes or until a toothpick inserted into the cake comes out with a few moist crumbs. Allow to cool completely in the pan on a wire rack. Lower the oven temperature to 300°F.
For the Eggnog Cheesecake:
Take 1 extra large piece of aluminum foil that's bigger than your springform pan. Place springform pan in the centre and fold aluminum up to the sides to cover the outside of the pan. This ensures that no water seeps into the pan during the water bath. Alternatively, I placed my pan in a slightly larger pot to completely protect my cheesecake from the water.
In the bowl of a stand mixer fitted with the paddle attachment, or in a large bowl using a handheld mixer, beat the cream cheese on low speed until smooth and creamy.
Add sugar, cornstarch, cinnamon and nutmeg and continue to beat on low speed until completely combined and smooth.
Scrape down the sides of the bowl and add eggnog, sour cream, vanilla and rum extract and continue beating until smooth.
Add eggs and yolk one at a time, beating slowly until just combined, do not overbeat. Scrape sides and bottom of the bowl with a rubber spatula to make sure everything is fully combined. Forcefully tap bowl on the counter a few times to release any air bubbles. Pour into prepared springform pan and place into a larger pan.
Bring 6 cups of water to a boil and carefully pour into the larger pan. The water should only be a few inches up the sides of the pan. Do not go over the top.
Bake at 300°F for about 1 hour and 30 minutes to about 1 hour and 40 minutes. The cheesecake is done when the edges are set and the center jiggles just slightly.
Turn off oven and leave the cheesecake to cool for 30 minutes. After 30 minutes, crack the door open and continue cooling the cheesecake for another 30 minutes. This slow cooling helps prevent cracking.
After an hour, remove cheesecake from waterbath and aluminum foil or pot. Run a knife around the edge of the pan so the cheesecake is not sticking to the sides and allow to cool completely on a rack.
Refrigerate until firm and chilled, about 8 hours or preferably overnight.
For the Eggnog Whipped Cream:
In a medium mixing bowl, using a hand mixer, whip the chilled cream, eggnog, powdered sugar, and rum extract for about 5-6 minutes, or until stiff peaks form.
Transfer whipped cream to a piping bag fitted with a large petal tip and pipe ruffles on top of cheesecake. Grate a whole nutmeg on top to garnish, if desired. Enjoy!
Recommended Products
As an Amazon Associate and member of other affiliate programs, I earn from qualifying purchases.
Nutrition Information:
Yield:

12
Serving Size:

1
Amount Per Serving:
Calories:

365
Total Fat:

18g
Saturated Fat:

10g
Trans Fat:

0g
Unsaturated Fat:

6g
Cholesterol:

139mg
Sodium:

131mg
Carbohydrates:

45g
Fiber:

0g
Sugar:

38g
Protein:

7g
BON APPÉTIT!
Love, Dedra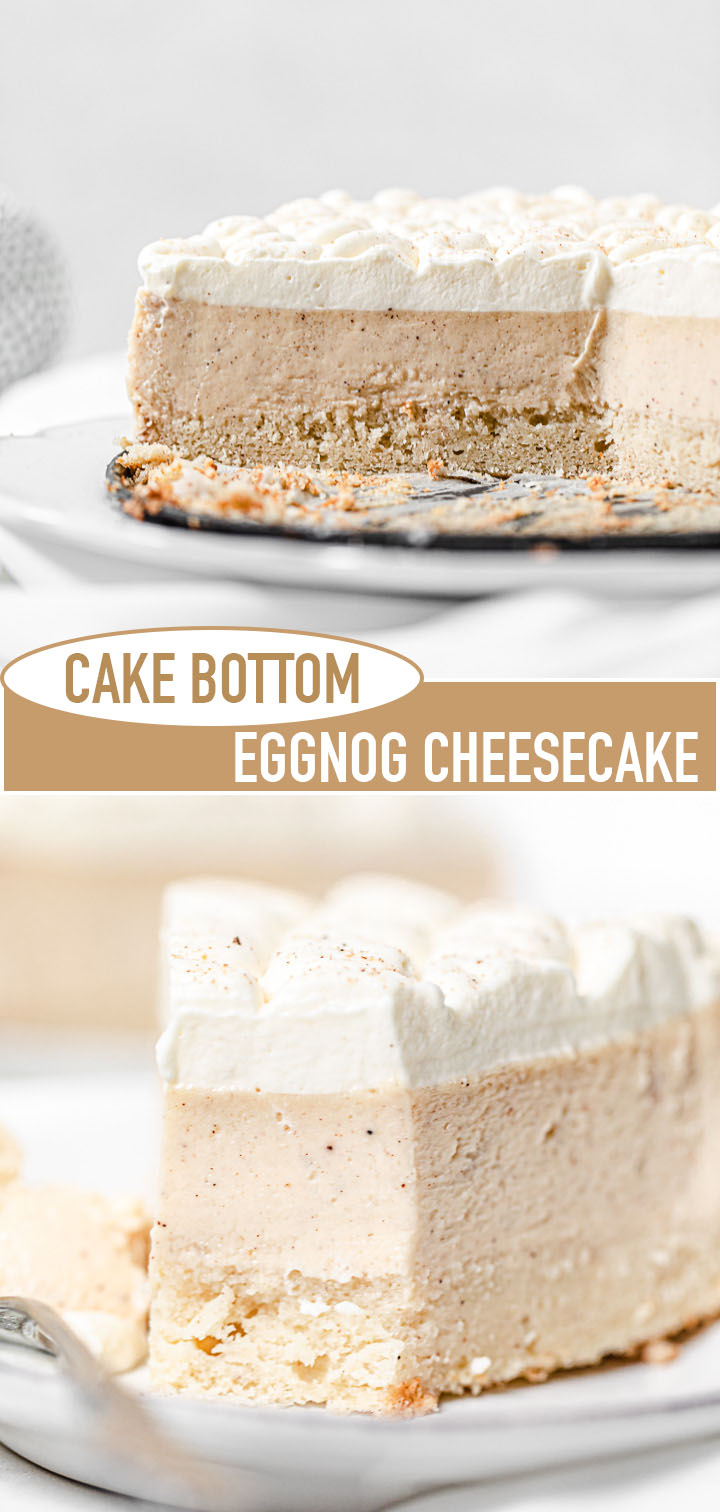 ©QUEENSLEE APPÉTIT. All images & content are copyright protected. Please do not use my images without prior permission. If you want to republish this recipe, please re-write the recipe in your own words, or link back to this post for the recipe.