This Homemade Pumpkin Pudding is smooth, creamy and full of pumpkin flavour. Serve it with a dollop of whipped cream and a gingersnap cookie and this makes for a perfect fall dessert!
We've been going a bit pumpkin crazy this month. I mean, it's only natural with it being the fall time and National Pumpkin Month. This means you're allowed to eat pumpkin in every way, shape and form. Whether it's in the form of a drink, cheesecake, cookies, pie etc.
And today I bring you another one of the many amazing ways to enjoy pumpkin - as pudding!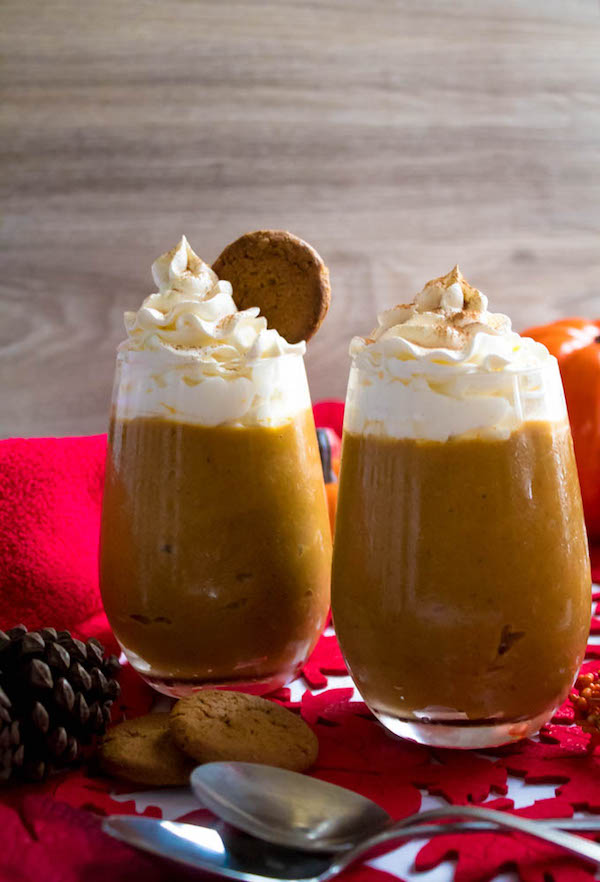 This pudding pretty much tastes like pumpkin pie in a cup. It's so creamy and delicious and could be eaten as an evening snack - or you could serve it for Thanksgiving dessert instead of (or along with) pumpkin pie!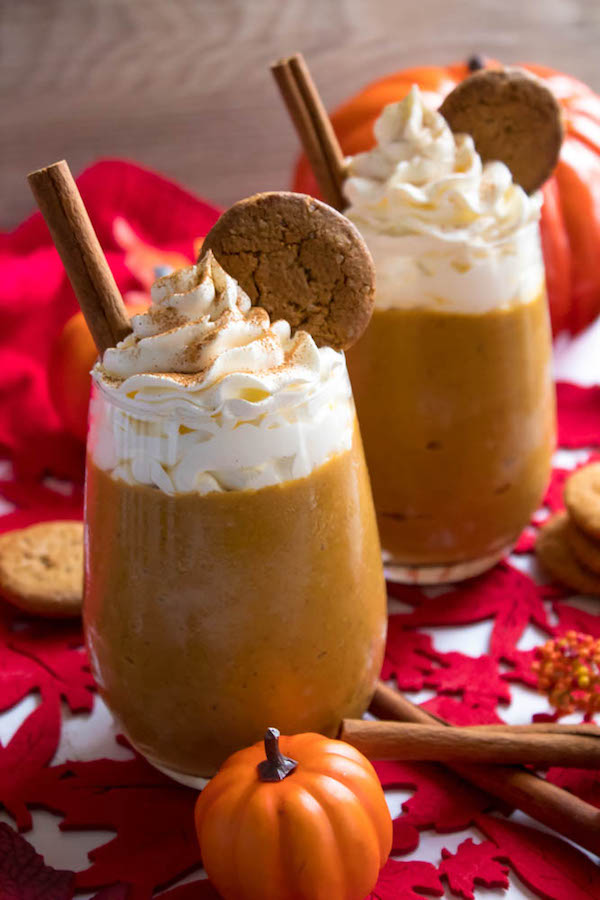 So let's discuss the pudding cooking process. I've shared a few pudding recipes on here already, and they all follow the same cooking instructions. Basically, mix the dry ingredients in the sauce pan, mix the eggs and the milk/cream together, then mix everything together and cook until thickened.
Since we're adding pumpkin in this recipe, the steps are a bit different - actually, they're pretty similar to how you make pumpkin pie! First, we mix the dry ingredients in a mixing bowl. Then we whisk the egg yolks in the saucepan, add the pumpkin purée and dry ingredients and mix until smooth. After that, we will add the milk and cream. At this point the mixture will look just like pumpkin pie filling!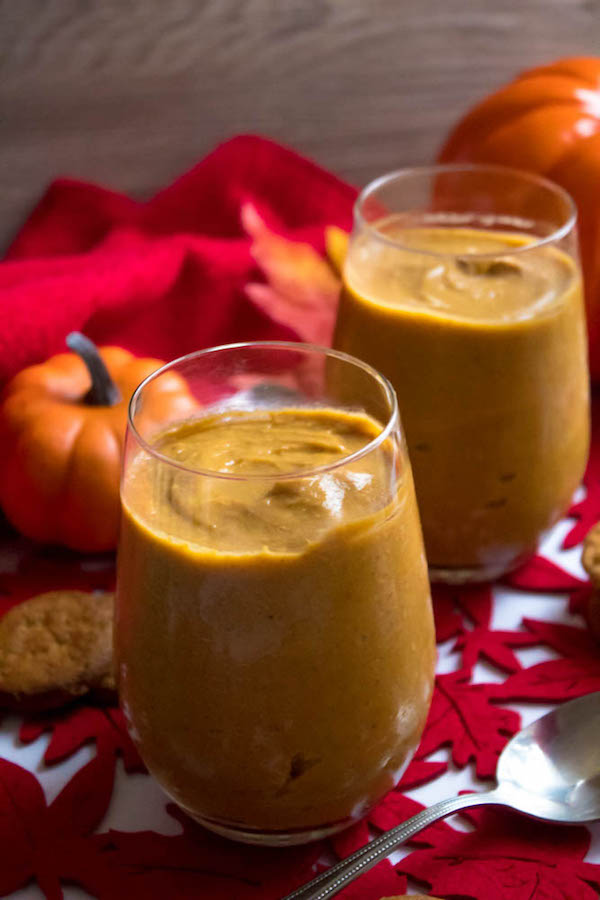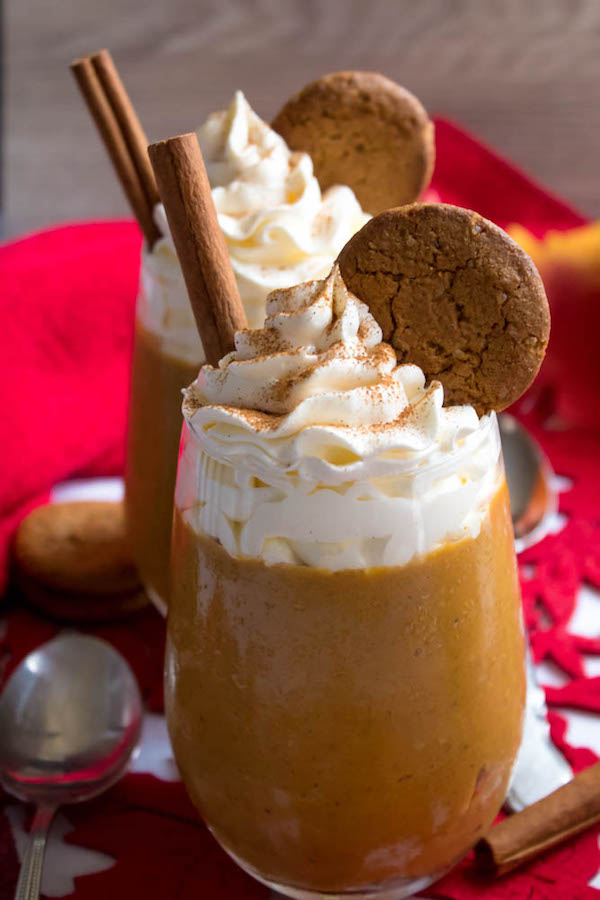 Now for the cooking. This is where things get a bit "tricky" - don't get me wrong, this recipe is still incredibly easy! The "tricky" part, for me that is, is waiting for the pudding to thicken. I ran in to a few issues while doing this. I cooked the pudding, while stirring, for about 10 minutes just like I do with my other recipes, and the pudding began to boil and thicken like it's supposed to. Or so I thought. After I removed the pudding from the refrigerator, stirred in the butter and vanilla, strained it, chilled it etc. I noticed that the pudding wasn't setting up like it's supposed to! It was still thin and soupy a whole 24 hours later!
But don't worry, I have a few tips for you so this doesn't happen. First, cook the pudding for a longer time, like 10-15 minutes instead of 8-10, or until the pudding is thick. Your pudding should thicken up eventually, BUT if it doesn't, then you can do what I did. I simply mixed 2 tablespoons of cornstarch with 6 tablespoons of water until the cornstarch was dissolved, then I turned the heat to low and added the mixture to the pudding. I then allowed the pudding to boil for another few minutes and VOILA! Nice and thick pudding, as good as new!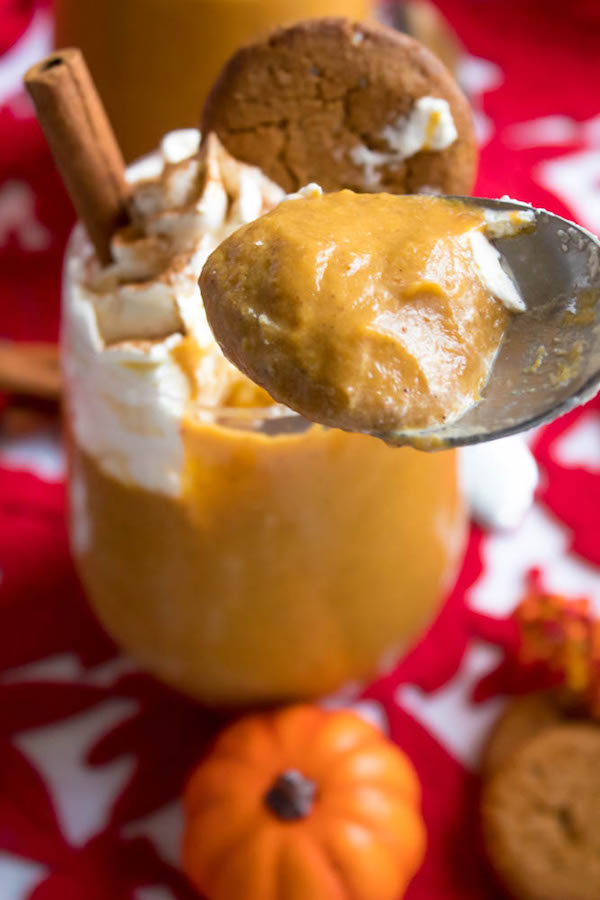 I topped the pudding with a generous amount of whipped cream, and dusted it with pumpkin pie spice. I was going to leave it like that, but then I thought of my mouth watering Pumpkin Cheesecake and that delicious gingersnap crust and knew exactly what this pudding needed - GINGERSNAPS! This pumpkin pudding paired with gingersnap cookies? Absolutely incredible! Instead of using a spoon, I ended up scooping the pudding out using cookie after cookie. You can also just crush the gingersnaps and sprinkle them on top! There's just something about the pumpkin flavour mixed with spicy gingersnaps that just gets me. I seriously can't get enough.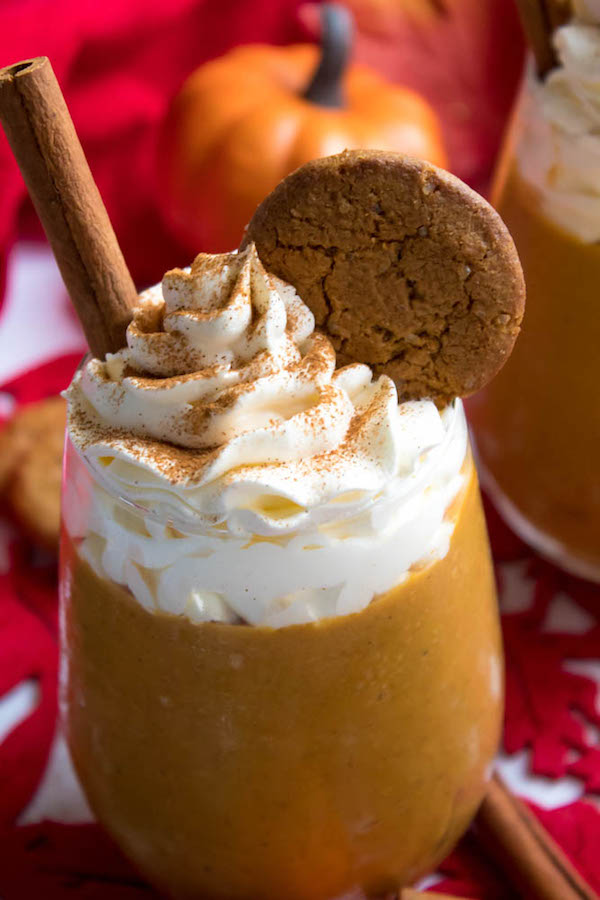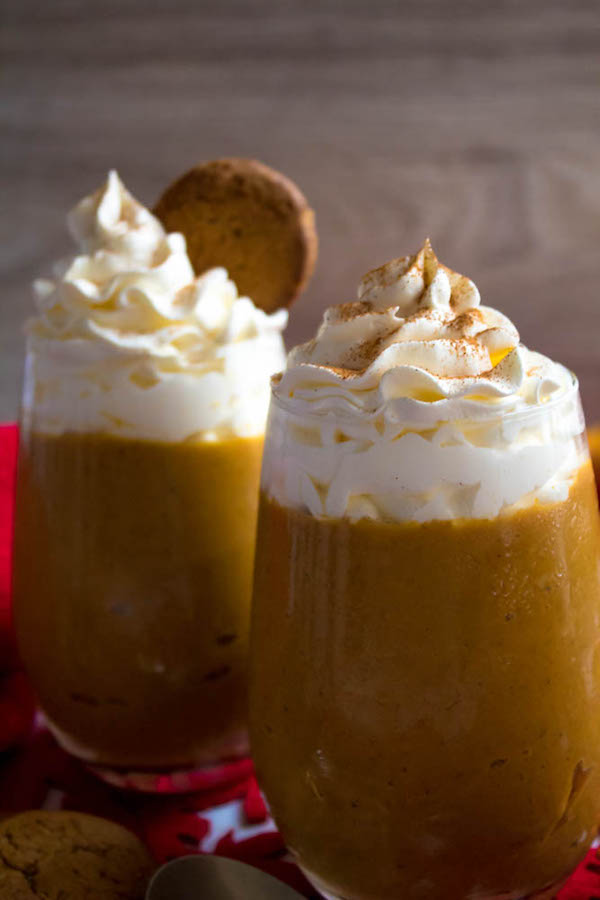 If you have about 35 cans of pumpkin in your pantry (like I do), I highly recommend you grab one and make this yummy breakfast/snack/dessert ASAP! It only takes about 10-15 minutes to make, but requires a few hours of chilling time. Although, it's completely worth it once you experience that first spoonful of sweet and creamy pumpkin bliss!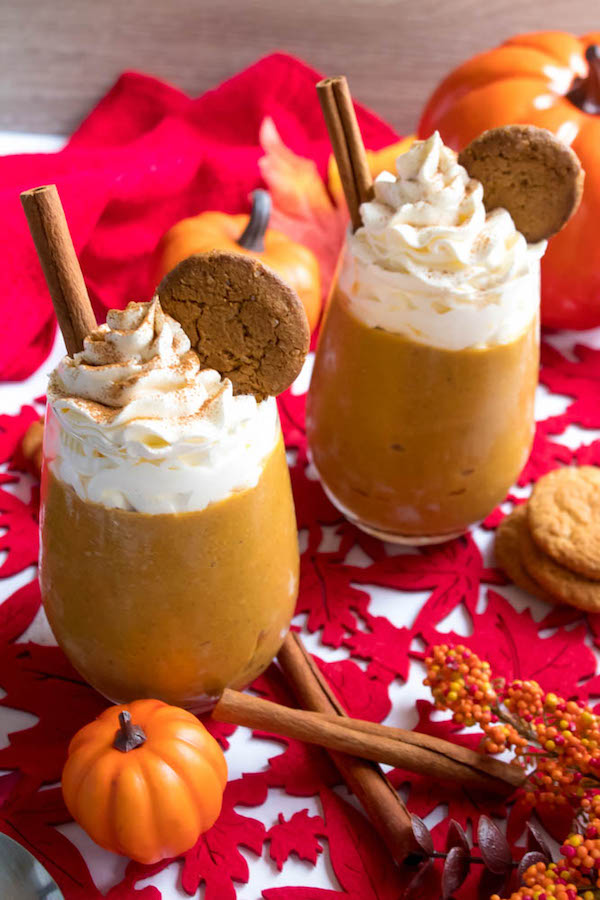 More Pumpkin Recipes to Enjoy:
Did you make a recipe? I'd love to see how it turned out! Follow me on Instagram and use the hashtag #queensleeappetit so I can see all of the Queenslee Appétit recipes you've made!
>>Pin me for Later!<<

Let's get baking!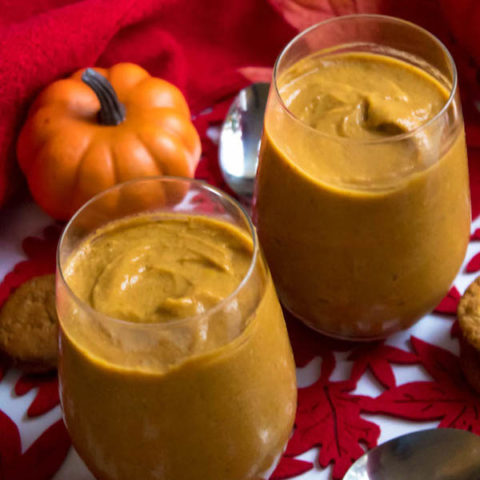 Homemade Pumpkin Pudding
This Homemade Pumpkin Pudding is smooth, creamy and full of pumpkin flavour. Serve it with a dollop of whipped cream and a gingersnap cookie and this makes for a perfect fall dessert!
Ingredients
⅔ cup granulated sugar
4 tablespoon cornstarch
¼ teaspoon salt
1 teaspoon ground cinnamon
½ teaspoon ground ginger
¼ teaspoon allspice
¼ teaspoon ground nutmeg
⅛ teaspoon ground cloves
4 large egg yolks
2 cups pure pumpkin purée
2 and ½ cups whole milk
½ cup heavy whipping cream
2 teaspoon pure vanilla extract
3 tablespoons unsalted butter, cut into pieces
Optional Garnishes:
Whipped cream
Ground cinnamon or pumpkin pie spice, for dusting
Gingersnap cookies
Instructions
Add sugar, cornstarch, salt, cinnamon, nutmeg, ginger, cloves and allspice to a medium bowl and whisk together. Set aside.
In a medium saucepan, whisk the egg yolks, then add the pumpkin purée and the dry ingredients. Whisk until combined and smooth.
In a glass measuring cup, combine the milk and heavy cream. Slowly pour the milk mixture into the saucepan while whisking constantly until combined and smooth.
Place saucepan on the stove and heat on medium heat and cook, stirring constantly until the mixture thickens and begins to boil, 10-15 minutes. (SEE NOTES) Allow to boil for 1 more minute.
Remove from heat and add vanilla and butter. Whisk until melted and smooth. Strain pudding through a fine mesh sieve into a bowl.
Divide pudding into individual serving cups and cover each with plastic wrap, placing the plastic directly on top of the pudding so it doesn't form a skin while cooling. Chill in the refrigerator for 4 hours or overnight.
Garnish with whipped cream and dust with cinnamon or pumpkin spice and gingersnaps. Enjoy!
Notes
If your pudding is still thin after 10-15 minutes, reduce the heat to low and continue to boil. Meanwhile add 6 tablespoon of water to 2 tablespoon of cornstarch and stir until cornstarch is dissolved.

Add the cornstarch/water mixture to the pudding and stir until combined. Allow the mixture to boil for another 3-5 minutes, or until pudding has thickened.
Bon Appétit!
Love, Dedra ❤️
©QUEENSLEE APPÉTIT. All images & content are copyright protected. Please do not use my images without prior permission. If you want to republish this recipe, please re-write the recipe in your own words, or link back to this post for the recipe.