These Halloween Pancakes are a fun and easy breakfast to enjoy this Halloween!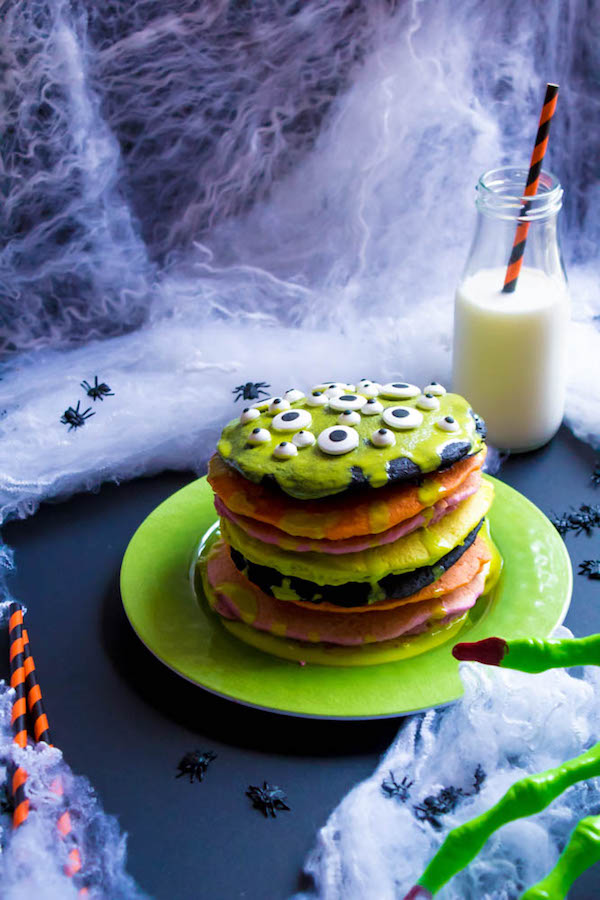 Halloween is near, and I couldn't be more excited! I used to love dressing up to go trick or treating as a kid. Now that I'm older, my Halloween traditions have changed to eating an entire box of Halloween candy on my own (don't judge), and watching classic Horror movies. I pretty much already do this everyday so it's nothing special.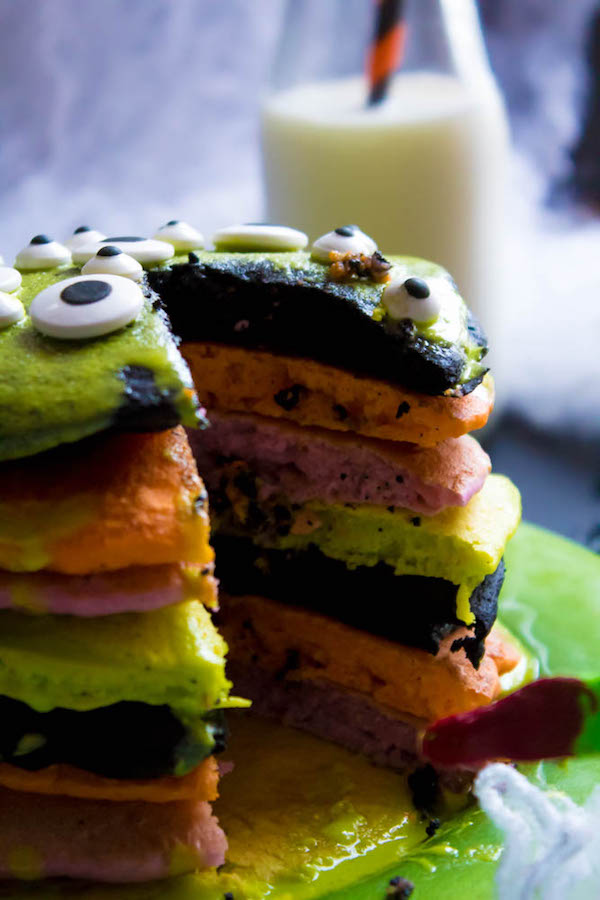 I came up with the idea for these pancakes yesterday morning while cooking breakfast. I was cooking pancakes (using a regular old pancake mix) while scrolling through Pinterest, where I saw a bunch of cute and colourful Halloween recipes. A lightbulb immediately went off in my head as I slowly turned to my slightly burnt pancakes.
I scraped those boring pancakes out of the pan and threw them away (they were a lost cause anyways. The sacrifice had to be made) I then made my Apple Cinnamon Pancakes recipe (minus the cinnamon and apples) and divided the batter into separate bowls.
Now I had many different ideas running through my mind when it came to the colour scheme of these pancakes. First, I wanted to dye half of them neon green and the other half black to create melting witch pancakes! Although, I already shared a Melting Witch themed dessert, so I wanted to do something new.
I finally came to the decision to dye these pancakes the usual Halloween colours (aside from orange and black) - Neon green, purple, black and orange! This Halloween colour combination is bright, fun and colourful!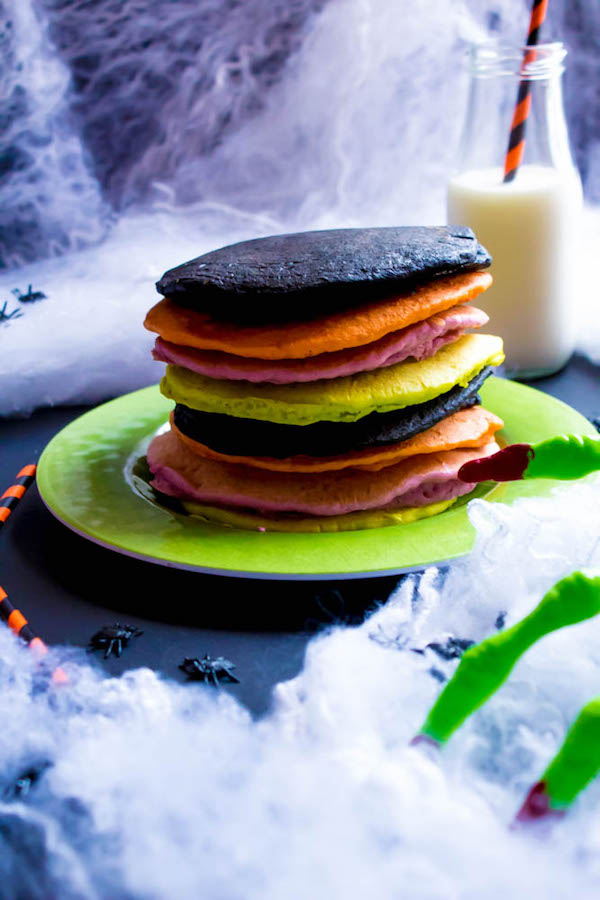 As some of you may know, I don't like to do things plain and boring. I didn't want to top these pancakes with plain old maple syrup and call it a day, so I took it up a notch.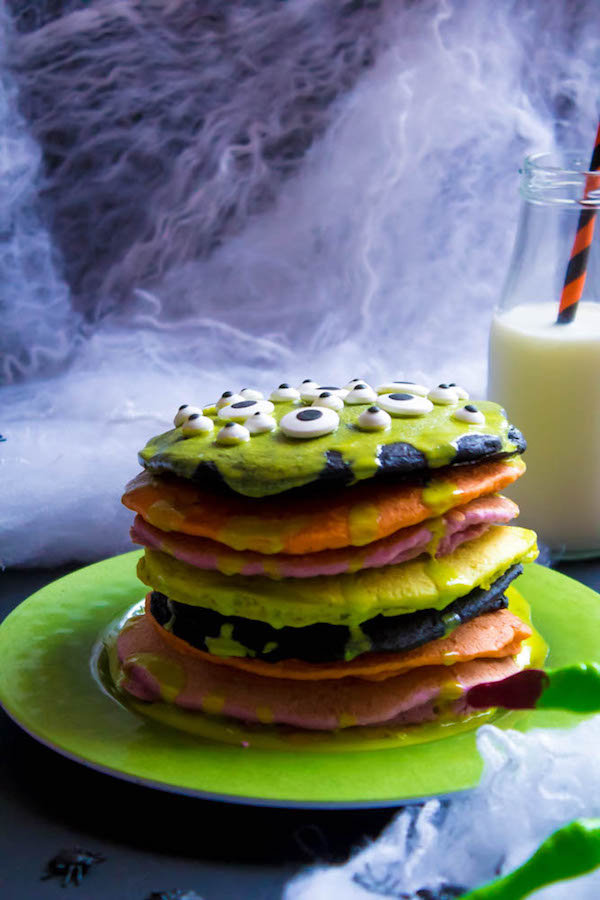 To top the pancakes, I microwaved a jar of store bought white frosting until it was melted and pourable. Then I tinted it with neon green food colouring and poured it over the pancakes to mimic green slime! I know frosting and pancakes don't really mix, but it was all I had. Feel free to substitute the frosting with a jar of yummy marshmallow fluff!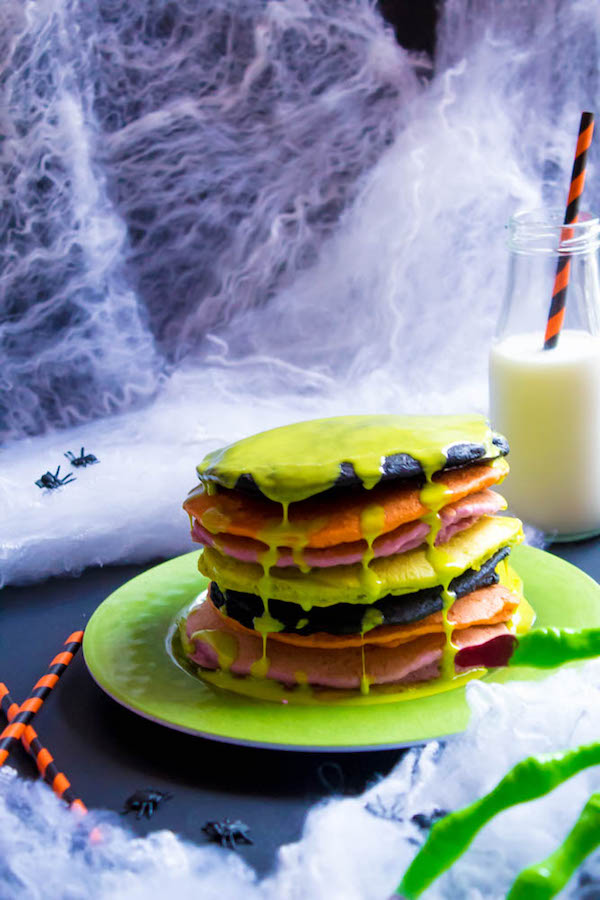 To take these fluffy, spooky babies even further, I randomly arranged some large and small royal icing candy eyes on top to look like monster eyes!
I later realized that pancakes and candy eyes don't really taste good together and scraped them off. You can leave them out but they really are the eye-cing on the pancake. I'm sorry, I had to.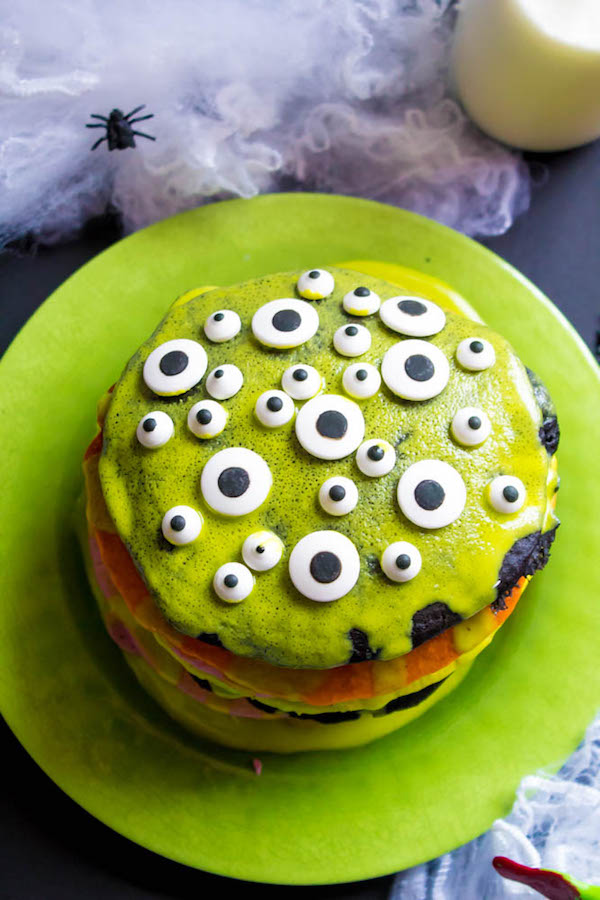 Alright, so let's talk about the actual pancakes real quick. My recipe is very, very easy to make and only requires a few ingredients you probably already have on hand! That being said, if you don't want to make the pancakes from scratch, you're more than welcome to use a pancake mix instead.
After making the batter, you'll want to divide it into 4 bowls and dye them neon green, purple, black and orange. For the black pancakes, I recommend using a good quality black food colouring to achieve that super black colour. If you use low-quality food colouring you may end up with a greyish batter, then feel the need to add a ton which will affect the taste of your pancakes. For the rest of the pancakes, I just used Club House neon food colouring and Wilton Orange Food Colouring.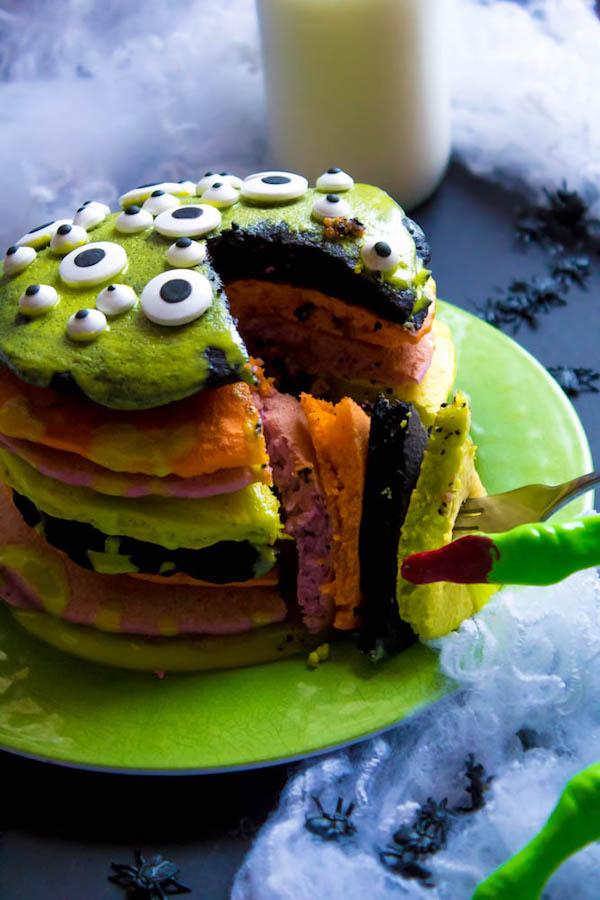 To prevent the tops of your pancakes from browning, cook the pancakes on a low heat so it can cook fully without darkening. I'll admit, I didn't really care about any of that. I was way too hungry to wait.
Once all your pancakes are cooked, all there's left to do is stack 'em and decorate 'em! This is such a cute and fun Halloween breakfast, and I'm sure your kids will be absolutely thrilled come breakfast time on Halloween morning!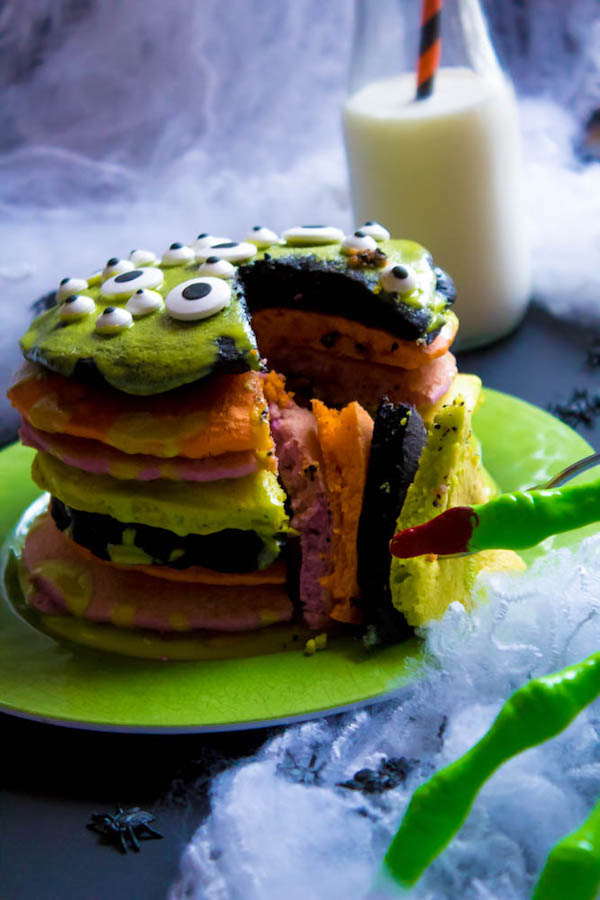 >>Pin Me For Later!<<

Shop the Recipe
Griddle | Pancake Spatula | Club house neon food colouring | Wilton orange food colouring | Americolor black gel food colouring | Royal icing eyes small and large |
The links above are affiliate links. Please see my full disclosure policy for details.
Let's get baking!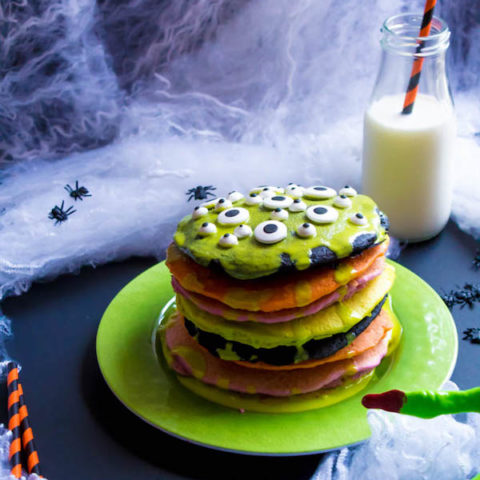 Halloween Pancakes
These Halloween Pancakes are a fun and easy breakfast to enjoy this Halloween!
Ingredients
1 and ½ cups all purpose flour
2 tablespoon granulated sugar
1 tablespoon baking powder
1 teaspoon salt
1 and ¼ cup whole milk
1 large egg
¼ cup unsalted butter, melted and cooled + more for greasing pan
1 teaspoon pure vanilla extract
Neon green food colouring
Purple food colouring
Orange food colouring
Black gel food colouring
Green Slime:
1 can of store bought white frosting or 1 jar of marshmallow fluff
Few drops of neon green food colouring
Royal Icing Candy Eyes (optional)
Instructions
For the Pancakes:
Preheat a griddle or a skillet over medium/low heat.
In a large bowl, add flour, sugar, baking powder and salt. Whisk to combine. Heat the milk in the microwave until lukewarm, about 30 seconds.
In a separate bowl, add the milk, egg, melted butter and vanilla and whisk until combined.
Add wet ingredients to dry ingredients and whisk until just combined. Do not overmix.
Divide the batter between 4 bowls, about ½ cup per bowl. Tint one bowl green, second bowl purple, third bowl orange, and fourth bowl black. Set aside.
Use a tablespoon of butter to grease the pan or spray with cooking spray. Use a paper towel to wipe off the butter. Pour ¼ cup of batter into skillet and gently spread into a circle shape using the measuring cup.
Cook until bubbles form on the top and the edges look dry, about 2 minutes. Flip and cook for another 1-2 minutes. Repeat with remaining batter colours.
Place pancakes on a serving plate, alternating between black, green, purple and orange. Set aside.
For the Green Slime:
Melt 1 can of white frosting or a jar of marshmallow fluff in the microwave in 10 second intervals until melted and pourable.
Tint with a few drops of neon green food colouring. Pour over the pancakes and allow it to drip down the sides. Decorate the top with royal icing eyes, if desired. Serve and enjoy!
Notes
-Feel free to substitute the pancakes with pancake mix.
Did you make a recipe? I'd love to see how it turned out!
Follow me on Instagram
and use the hashtag
#queensleeappetit
so I can see all of the Queenslee Appétit recipes you've made!
Bon Appétit!
Love, Dedra ❤️
©QUEENSLEE APPÉTIT. All images & content are copyright protected. Please do not use my images without prior permission. If you want to republish this recipe, please re-write the recipe in your own words, or link back to this post for the recipe.